For centuries, marble has remained the epitome of luxury in home flooring options. Whether in the lobby of the city's grandest hotel or the foyer of your home, it adds instant beauty and class to any space. Whether you've recently invested in sleek new marble flooring, or you're preparing to move into a space with marble floors already installed, you're probably wondering how to appropriately clean this elegant and expensive stone. Here are some helpful tips —
First, remember that marble floors are different than tile, hardwood and many other popular flooring materials. Some standard cleaning materials are highly acidic and may eat away at the marble, thereby dulling the appearance over time. In order to maintain the beautiful shine of your marble flooring, you should use much milder cleaning substances.
You can start the cleaning process by giving your flooring a quick sweep. However, sweep gently to avoid scratches and abrasions to the floor, and do not use a broom that has been used outdoors. Keep a special broom and mop on hand just for cleaning your marble flooring.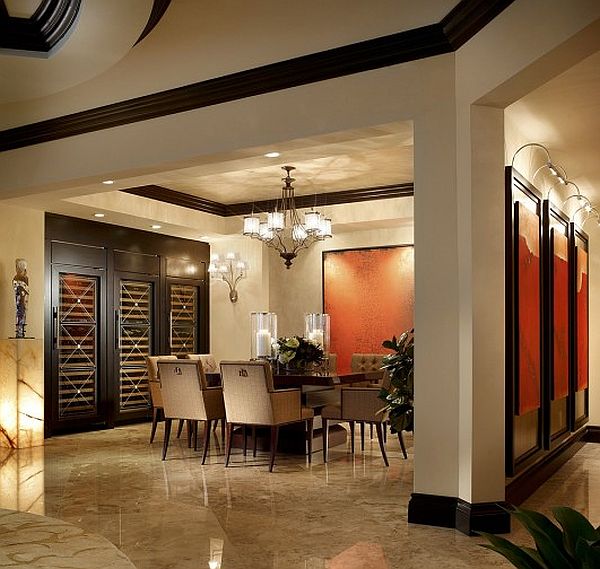 Interior Design + Architectural Photographer Barry Grossman Photography
For regular day-to-day cleaning, you should use nothing more than a sponge mop and warm water. For additional dirt and dust, warm water with a touch of mild soap should do the trick. For particularly dirty flooring, you can use a small amount of special pH detergent diluted in warm water. However, this detergent should not be used often – never more than a few times per year.
When drying your marble flooring, you should never allow it to air dry as you would with other types of flooring. Water or soap spots can cause unsightly marks and dull spaces. Instead, use a soft towel or dry rag.
Be sure to clean your marble floors often to avoid the build-up of abrasive dirt and debris. The more attention you give your beautiful flooring, the longer you can enjoy its radiant sparkle.