Brooklyn-based industrial designer Michael Bambino thinks he has a way to keep clutter away from your office desk. The guy's solution is quite simple, he is reinterpreting the classic tambour door that you find on an old roll-top desk, with a Tambour Table. Made of a solid piece of wood, the tabletop stylishly rotates to hide your little mess — there's plenty of storage space for phones, books and whatever else, lots of USB connections and a power source that hides the power cord inside of a table leg.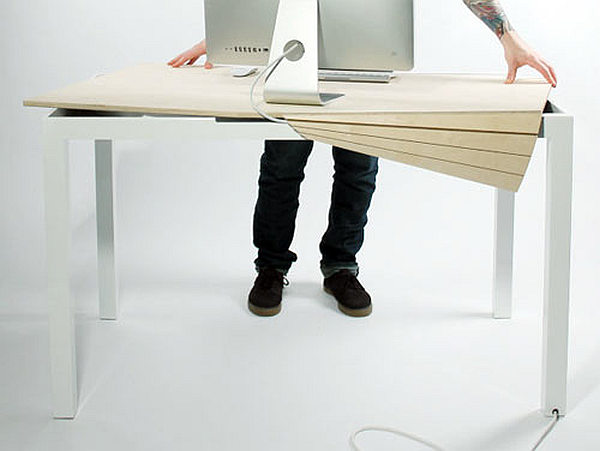 The interesting part is that the wooden tabletop rotates in a way that it doesn't require any extra space. The notched tambour part cascades down the back of the table which means that you will be able to put it against the wall, just leave an inch behind so that it can slide down.
The table top rotates in both directions with two tambour sections – one one each corner quadrant. That way you have access to all the storage space hidden beneath the top surface.
There is quite a bit of space below, but don't think you can store everything if you have a lot of clutter and even toys littering your old workspace. It does give you a great opportunity to straighten up your work area and get rid of distractions. Think minimalist and you are on your way to work surface you can effectively use.
Not sure about you folks but I like the way everything is kept hidden. I could really use a Tambour Table for my home office. Not sure what the price would be, but it's definitely on my wish list. (found on Design-Milk)