The development of skyscrapers in the 20th century created the first possibilities for penthouse living, and as Australia's city skylines grow ever higher, denser, brighter and grander, the opportunities for pushing the boundaries of penthouse architecture continue to expand.
The classic penthouse occupies the entire top floor of a high-rise apartment complex, offering 360-degree panoramas of the surrounding city. It usually opens onto outdoor areas with a swimming pool and roof terraces. Penthouse interiors typically feature exquisite décor, the very latest household appliances, formal dining areas, informal living spaces, cutting edge audio-visual entertainment systems, gym and spa facilities.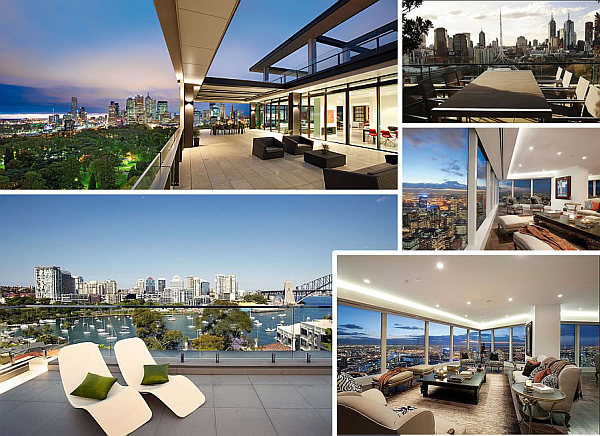 Modern residential high-rises also include sub penthouses, which are high-spec apartments on lower levels with penthouse-style layouts, fittings and furnishings.
Australia boasts some of the finest penthouse apartments in the world, and these properties continue to command incredibly high prices. The penthouse market record for sale prices is constantly being broken as constructors and architects create ever more extravagant and opulent high rise residencies. This post brings together a roundup of the most stunning penthouses currently gracing Australian inner cities, as seen by Andy Boyd, co-founder of MoneyChoices.com.au, an Australian comparison website.
Clarendon Street Penthouse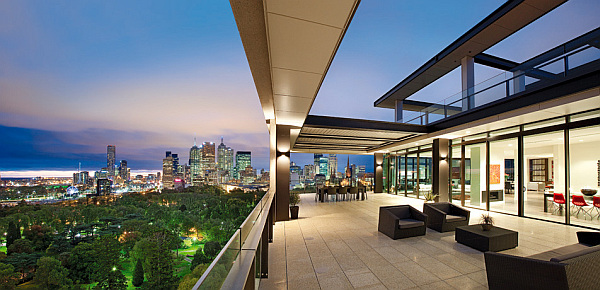 Price: $18.2 million
Location: 1101 and 1102, 150 Clarendon Street.
Architects: Bates Smart
Photo: Maggie Bufe
This penthouse located on the top floor of the apartment development at150 Clarendon Street, East Melbourne has some of the best views available in the city. The 360-degree panorama takes in the adjacent Fitzroy Gardens and vistas from Port Phillip Bay to the Dandenong Ranges. This elegantly designed penthouse is arguably one of the best in the country, and undoubtedly one of the priciest, reaching an eye watering $18.2 million at sale.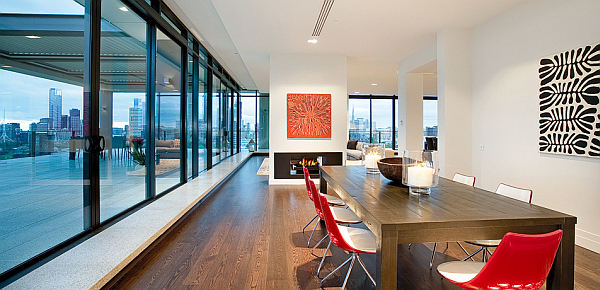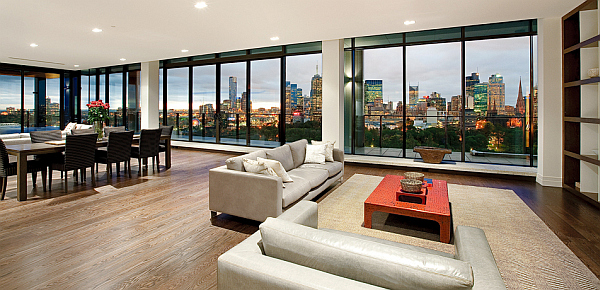 The buyer purchased two adjoining penthouse apartments, which were then merged into one massive living and entertainment area covering a total of 958 square meters. In addition to the opulent apartments, the occupant has full access to the apartment block's other facilities, including 25-meter pool, gym, massage, sauna and steam room, luxury 22-seat cinema, conference room, dry store and communal wine cellar. (more details)
Halifax St Apartment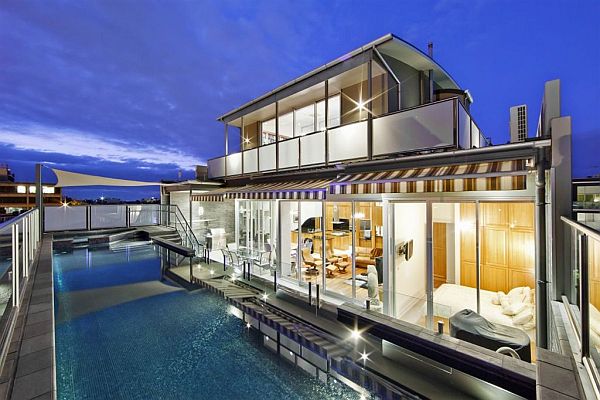 Price: $5 million
Location: 5/30 Halifax Street, Adelaide
This superb penthouse apartment is spread across two floors and flanked on all sides with expansive balconies, offering a 360-degree panorama of the surrounding Adelaide inner city. The penthouse extends over 700 square meters, featuring two floors of living space with the emphasis firmly on high-class entertainment. The upstairs area includes a movie theater with luxury seating, a billiards room complete with library, kitchen facilities and a fully equipped gym.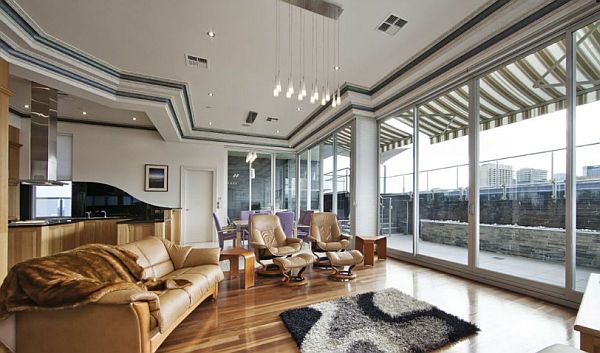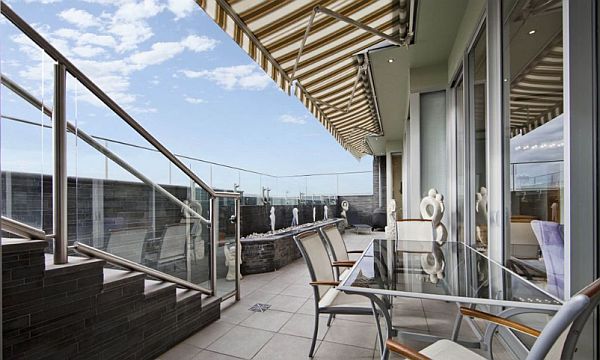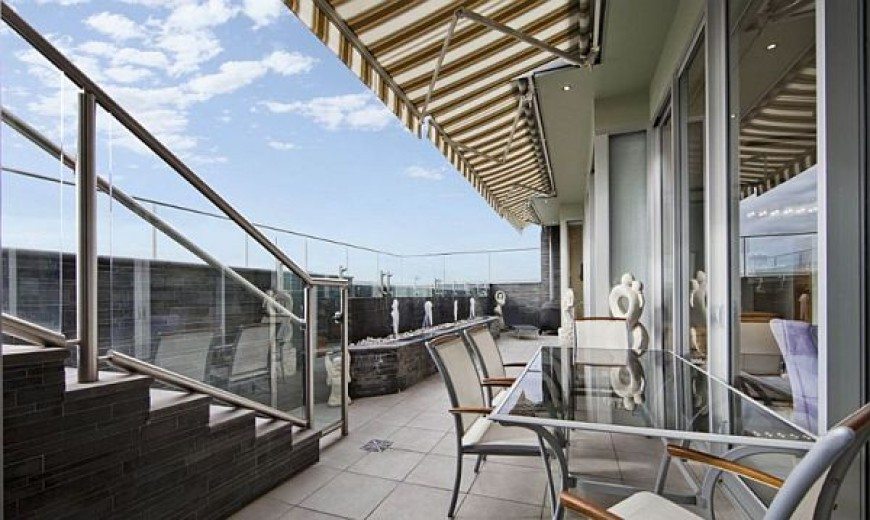 The downstairs living area includes two bedrooms and two bathrooms – the layout is designed to be flexible, allowing the owner to rearrange the floor plan to add further bedrooms. The package is completed by a spa therapy room and heated outdoor swimming pool on the terrace. The property on Halifax Street has a price tag at nearly $5 million, making it one of the most expensive apartments in Adelaide. (via Harcourts)
Air Apartment Sub Penthouse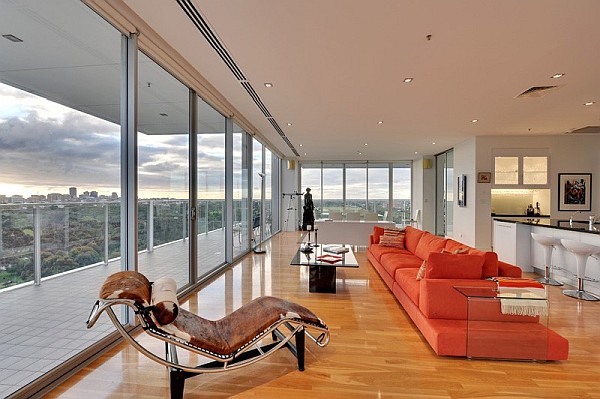 Price: $1,700,000
Location: 116/220 Greenhill Road, Adelaide
This stunning sub penthouse occupies the western end of the ninth floor of the exclusive Air Apartment complex on Greenhill Road, Adelaide. The wrap around terrace affords breathtaking views across the north, west, south and central districts of the city. The interior sprawls over 280 square meters of living space in which there are two ensuite bedrooms, a master bedroom with a walk-in wardrobe and an additional room with extensive shelving and storage that can be used as an extra bedroom or a study.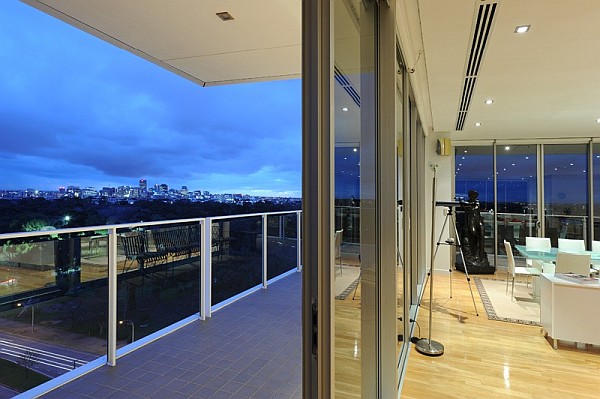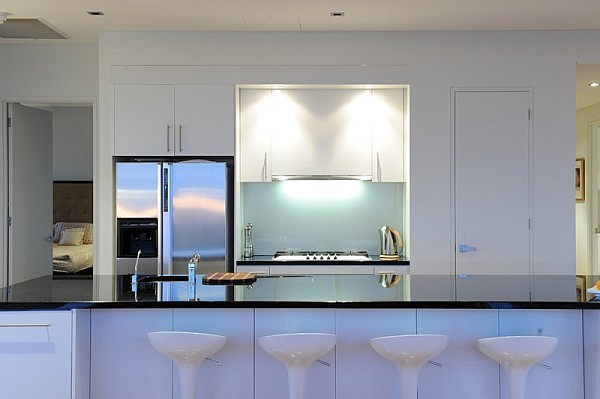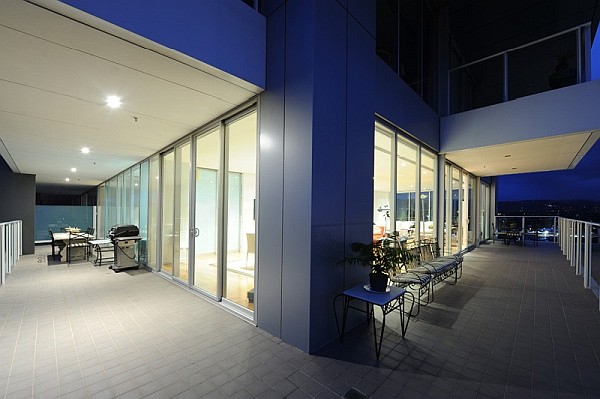 The open plan kitchen and dining area has every facility necessary for gourmet catering including the latest appliances, solid-stone worktops and a walk-in pantry. The entertainment theme is further enhanced by a fully integrated audio-visual system and synchronized speakers wired throughout the penthouse. (via Toop)
Sydney Penthouse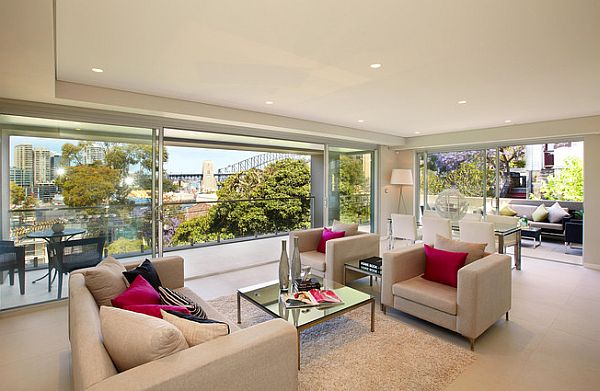 Price: $5,100,000
Location: McMahons Point, Sydney
Builders: Sean O'Brien and Paul Cubelic
Photo: CB Richard Ellis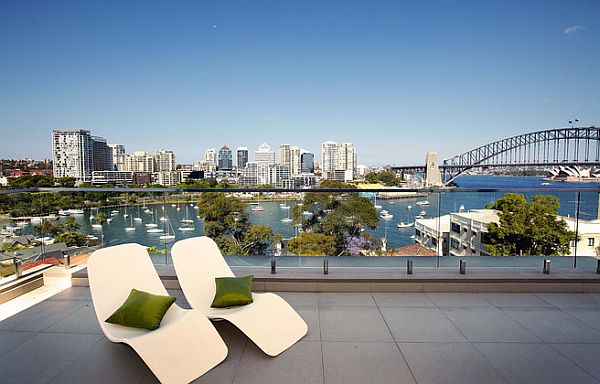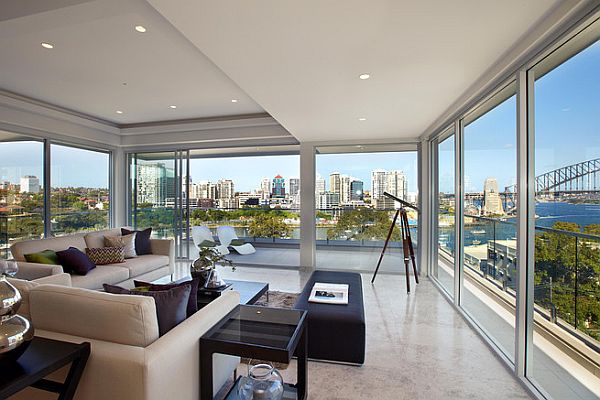 Builders Sean O'Brien and Paul Cubelic spent six years developing eight living units in a Sydney apartment block before offering them for sale. This awesome top floor penthouse, which attracted a $5,100,000 price tag, was one of them. Situated in landscaped gardens at Sydney's McMahons Point, the apartment boasts three bedrooms, each opening on to the terraces that provide amazing views of the Harbour, Bridge and Opera House. (via WSJ)
Bondi Penthouse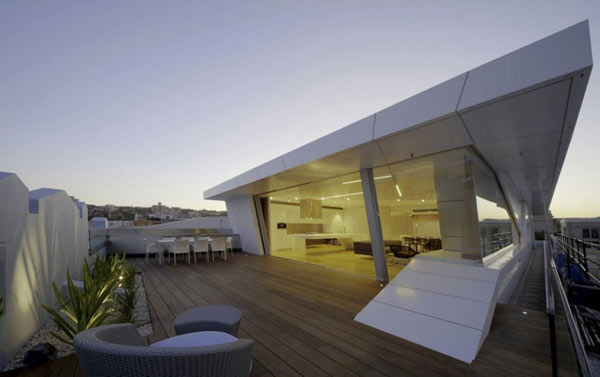 Price: Unknown
Location: Bondi Beach, Sydney
Architects: MPR Design Group
Photo: Brett Boardman
This creation from the MPR Design Group is an ultra modern penthouse apartment perched on top of an original Art Deco building above. The apartment boasts unbroken views of Bondi Bay and Beach. Angular windows and skylights allow the 180 square meters of living space to be bathed in masses of natural light.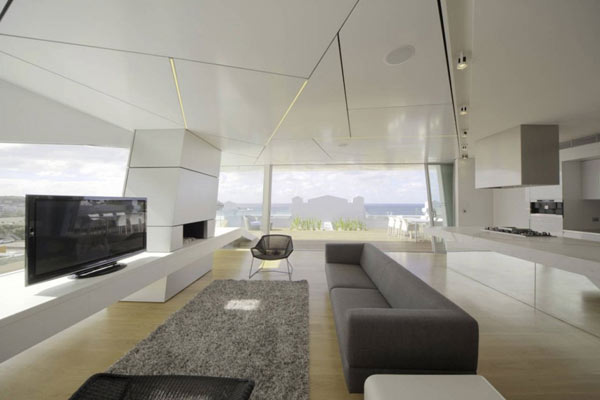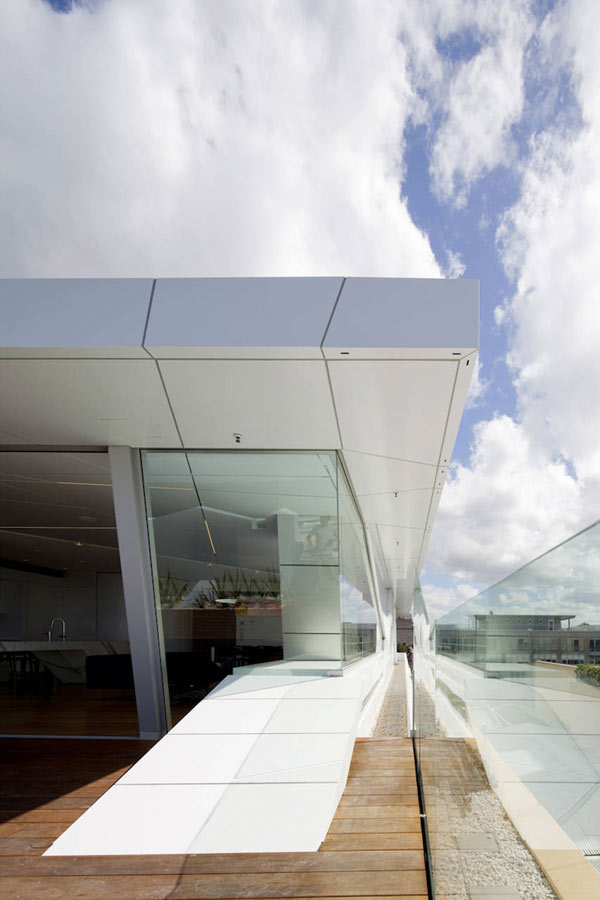 All of the apartment's architectural materials have been sensitively selected to add a contemporary feel to the apartment, both contrasting and complementing the historic frontage of the historic building beneath. The main structure is clad in a lightweight silver and white Alucobond skin; limestone and Calcutta marble stonework and lime washed timber floorboards and decking complete the elegant design.
Space Penthouse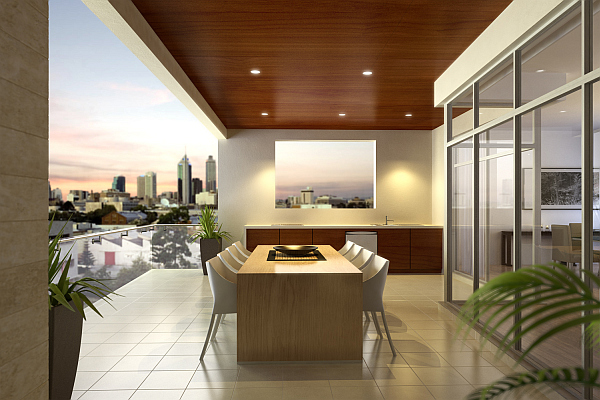 Price: Unknown
Location: East Perth
This glorious balcony forms part of the luxury penthouse on the top floor of Space Apartments in East Perth. The balcony and outdoor kitchenette area cover 100 square meters, while the internal living space spreads over 221 square meters, with four large bedrooms, study room and entertainment theater.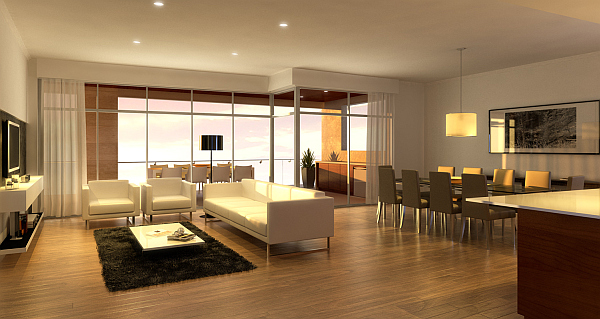 The apartment comes with two car bays and offers easy walking access to Perth's Swan River and Royal Street Café Precinct. (found on centrepointrealty)
The Melburnian Penthouse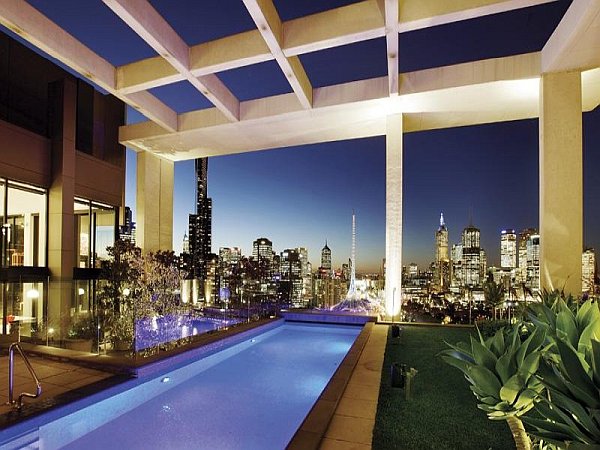 Price: $15 million
Location; 250 St Kilda Road, Melbourne
Architects: Bates Smart
Photo: Paul Rovere
Designed to the highest specifications by architects Bates Smart, the penthouse that sits atop the award-winning Melburnian building on St Kilda Road is one of the finest inner city living spaces in Australia. The wrap-around observation deck gives unbroken vistas of Melbourne's central business district, the Royal Botanical Gardens and Port Philip.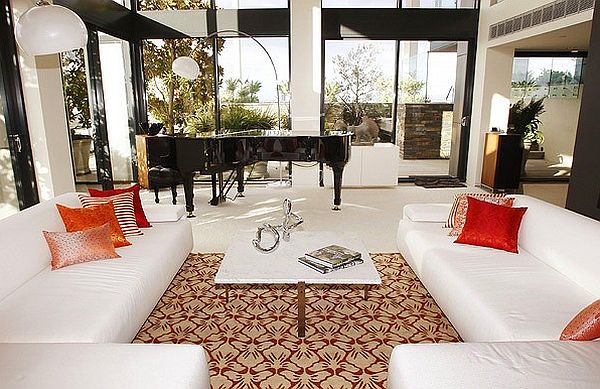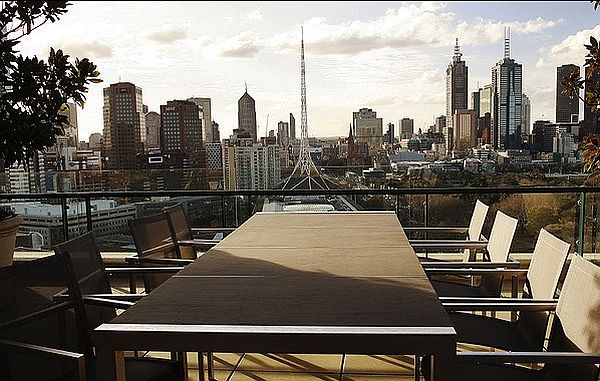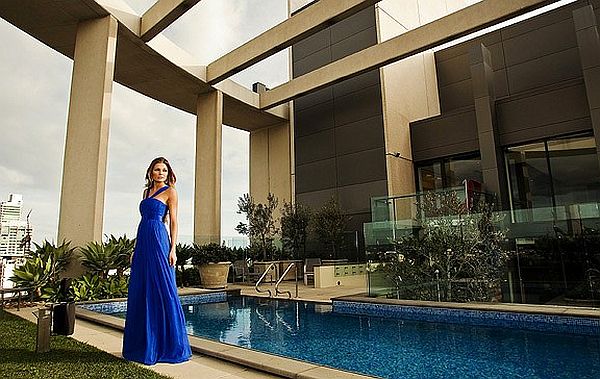 The 465 square meters of internal living space is spread over two floors with master bedroom and two additional bedrooms, three bathrooms, private lounge, sophisticated dining and entertainment areas, cinema, study room, wine cellar, spa and sauna, Gaggenau kitchen equipped to the highest standard, and a private elevator providing access to an eight vehicle garage and storage area.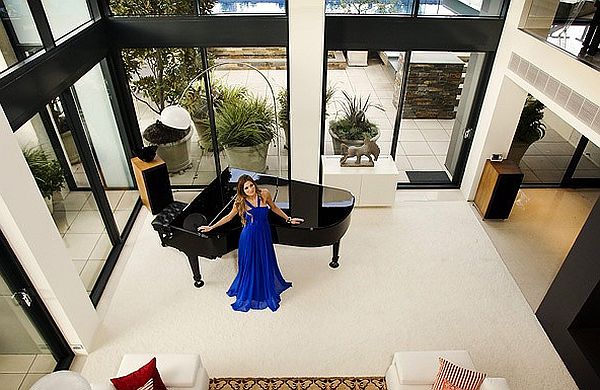 The penthouse opens on to a further 400 square meters of outdoor space with a garden, heated swimming pool and entertainment areas across four terraces. (found on TheAge)
Eureka Penthouse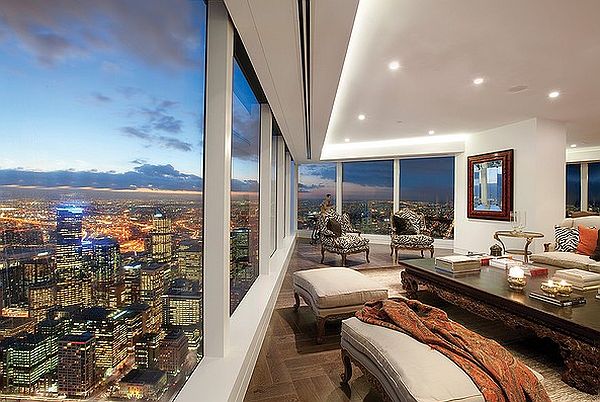 Price: $13 million
Location: Riverside Quay, Southbank, Melbourne
Architect: Fender Katsalidis
The 297.3 meter Eureka Tower in Melbourne's Southbank precinct was the world's tallest residential tower at the time of its completion in 2006. The building has since been surpassed in height by two developments in Dubai, but the Eureka is still an astonishing achievement of high-rise construction, dominating the city's skyline.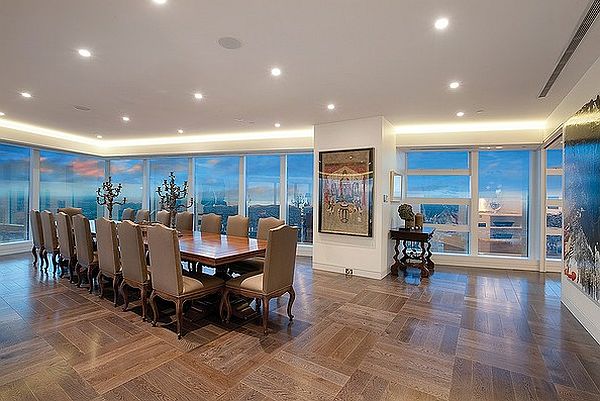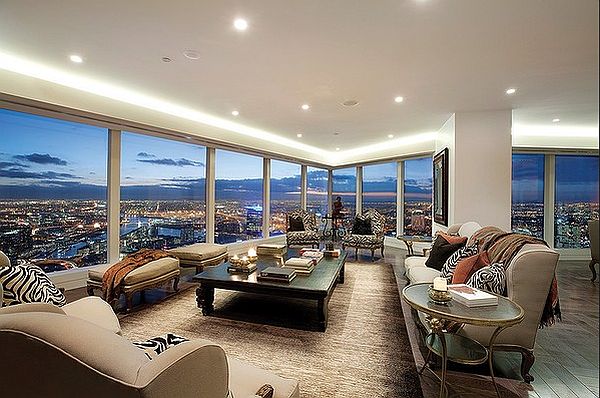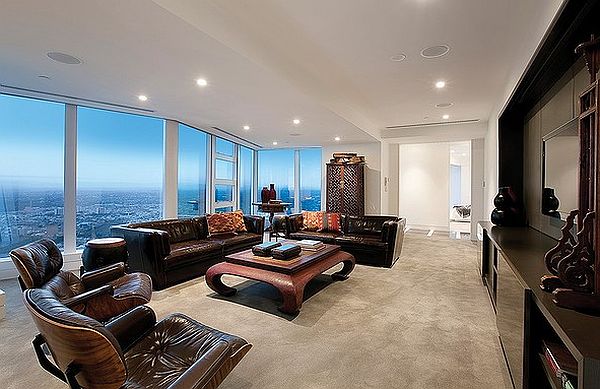 The Eureka penthouse suite encompasses the entire 84th floor of the building, with panoramic views of the whole metropolis and bay. The apartment extends across 660 square meters with a marble entrance lobby, private elevator, four bedrooms, two walk-in wardrobes, dressing rooms, study room, living and dining areas, entertainment theater, cocktail bar, main catering kitchen, separate butler kitchen and access to a six-vehicle car park. (found on domain.com.au)
Victoria Point Penthouse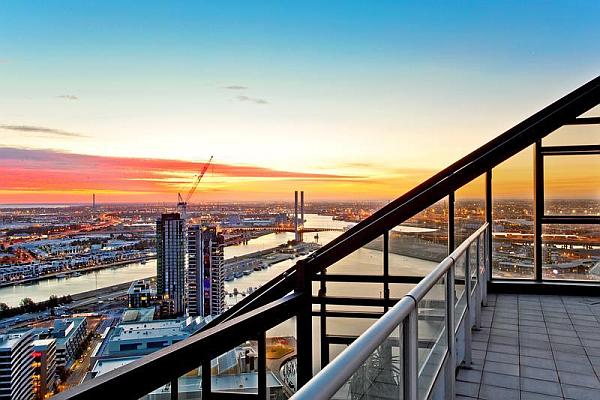 Price: $2.5 million
Location: 4001/100 Harbour Esplanade Docklands, Melbourne
Featuring 350 square meters of indoor and outdoor living space spread over the 40th and 41st floors of the Victoria Point apartment development in Melbourne's Docklands, this penthouse boasts some of the finest views available in the city, with breathtaking vistas across Port Philip Bay, Port Melbourne, St Kilda and Williamston.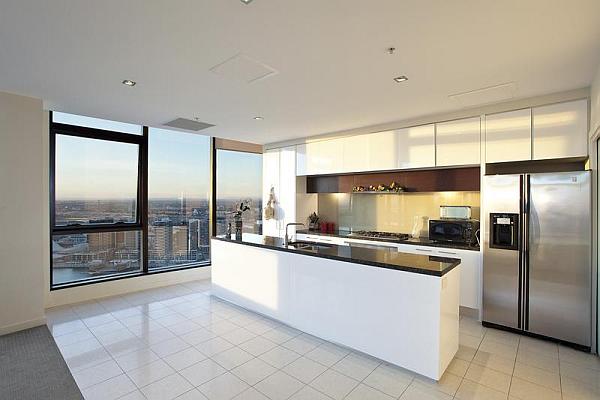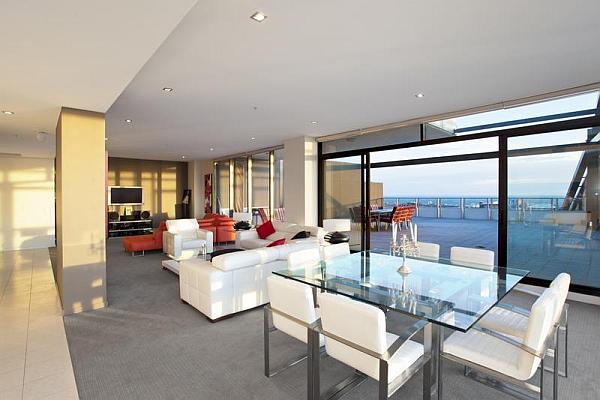 The upper floor features three bedrooms, including one master with walk-in wardrobe, private balcony and ensuite bathroom with a soak tub. A family bathroom compliments the two smaller bedrooms. The lower level is fully equipped with an expansive chef's kitchen, formal dining area and informal entertainment and living spaces. The penthouse opens onto a stunning 90 square meter patio with glass a windbreak to shelter the family
and guests as they take in the awe-inspiring inner city views. (via domain.com.au)
The Hyde Penthouse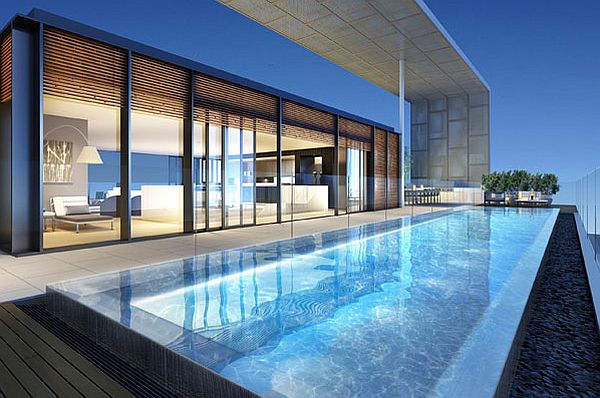 Price: $20 million
Location: Liverpool Street, Sydney
Architects: WOHA Architects and Archer + Wright
Finally, this is one of the most desirable penthouses in Australia, and at $20 million it's also one of the most expensive. The apartment sits atop The Hyde on Liverpool Street, a luxury 35-floor complex designed by WOHA Architects. Sydney-based architectural partners Archer + Wright won the commission to design the penthouse to the very highest specification. It encompasses a massive 570 square meters of internal space
over two levels including four bedrooms and four bathrooms in the upper section. The apartment's lower level includes a gym, steam room, catering kitchen, a bar and a huge drawing room with a fireplace and floor-to-ceiling windows overlooking the city.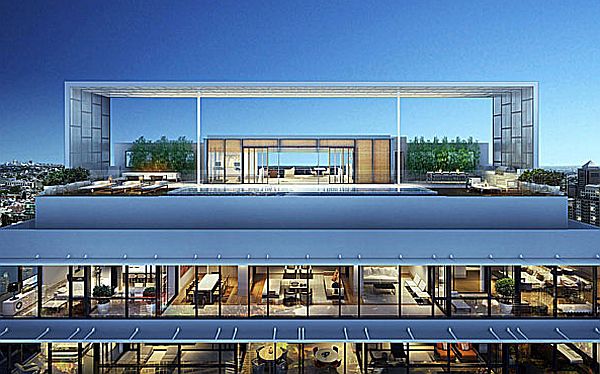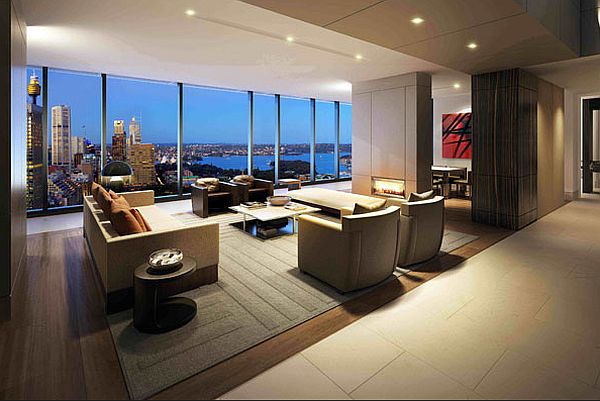 The outdoor areas encompass 312 square meters, including a 15-metre lap pool, huge roof terrace and exterior entertainment areas, along with unrivaled views over Hyde Park, Sydney Harbour, Bridge, Opera House and Heads. (found on SMH)
And if you need more inspiration, check this! out. Have any more ideas for our list?