Modern landscaping is refreshingly geometric. Clean lines and open spaces combine with sculpted detailing to create contemporary outdoor spaces. Wild overgrown areas are also welcome, as they rebel against more traditional manicured lawns. The key is putting it all together in a way that is original and eye-catching.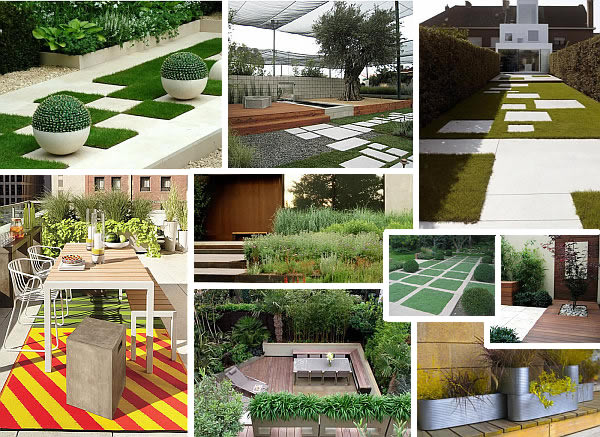 While this challenge is very doable, an abundance of frilly garden containers and accessories makes modern landscaping tricky at times, especially when homeowners adopt a DIY approach. Often the more simple, contemporary versions of basics such as pots and planters are on the expensive side, while mainstream affordable manufacturers lean toward the traditional, ornamented and detailed. Never fear: creative modern designs are out there! We've combed the web for cutting-edge ideas, and here are the results!:
Landscape Design
When getting started, the question is clear: How do you section and divide your yard to create a compelling modern space? The possibilities are endless, and while this fact can be comforting to some, it is overwhelming to others. How do you design an entire lawn and garden in a stylish, purposeful way?
Do not hesitate to bring in a landscape designer for this leg of the journey. There are plenty of other details that you can handle yourself, such as planters, edging and sculptural elements. However, if you are the DIY type and want to tackle the entire thing with the help of friends and family (or if you're looking for ideas to pass on to the experts), take inspiration from the images below!
Grass Tile
One of today's most popular modern landscape features involves outdoor grids! Concrete, grass and other plants combine to create an interesting layout of squares and rectangles. In this first yard, landscape designers selected elfin thyme to fill in the rectangular spaces. Not only is elfin thyme hardy, it can handle foot traffic and looks gorgeous when the purple blossoms bloom. Another garden grid fun fact: dividing up the yard can make the space look bigger! [from Stonegate Gardens]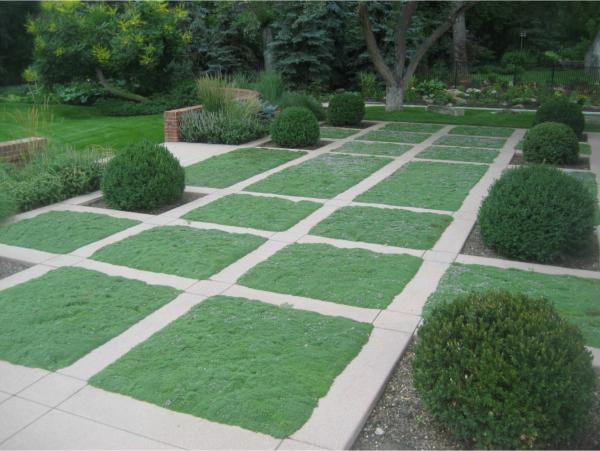 In the space below, we see a house by Belgian architecture firm dmvA Architecten. The accompanying modern yard combines grass and concrete tile to create a lawn that may as well be a work of art. Don't feel confined to traditional grid layouts. Push the boundaries with a variety of sizes, and blur the line between concrete and natural elements. [from Home Design and Furniture]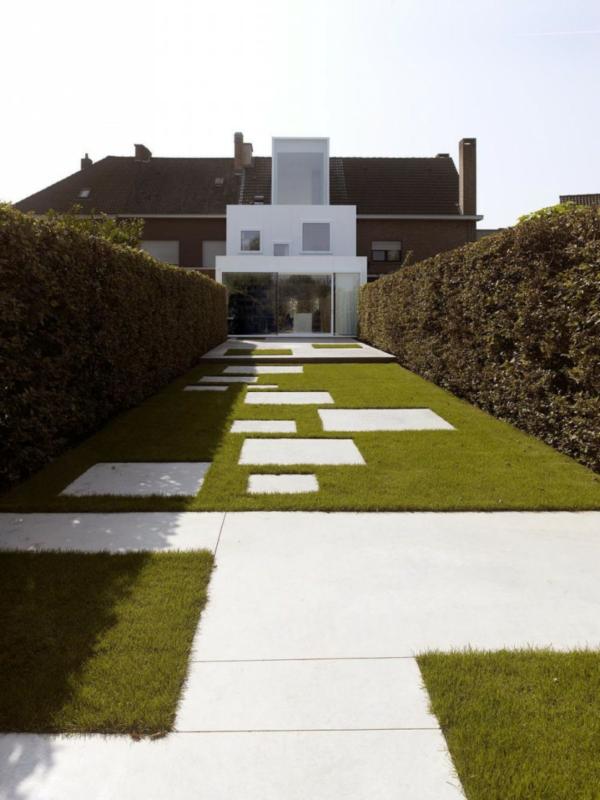 Even better, involve striking planters in your yard geometry. Below, pot and plant combine for an ice cream scoop effect, and the placement of pots directly on the tile heightens the grid effect. [from FancyHomeDesign.com]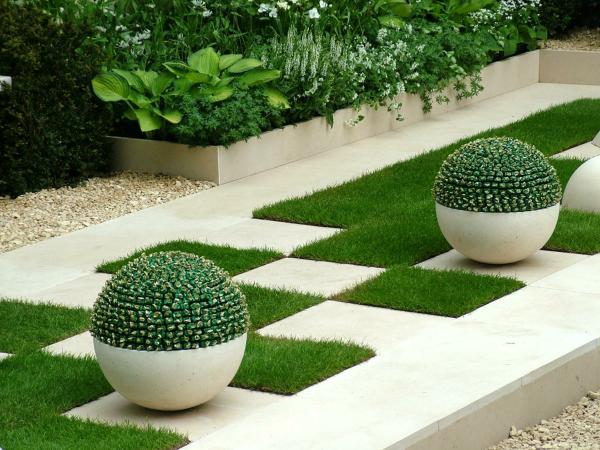 Stone Tile
Now it's time for a stony presence in the yard! In the modern English garden below, flagstone pathways and gravel define the space, and with the help of strategically placed tile, a bird bath serves as an enticing focal point. [from Stonegate Gardens]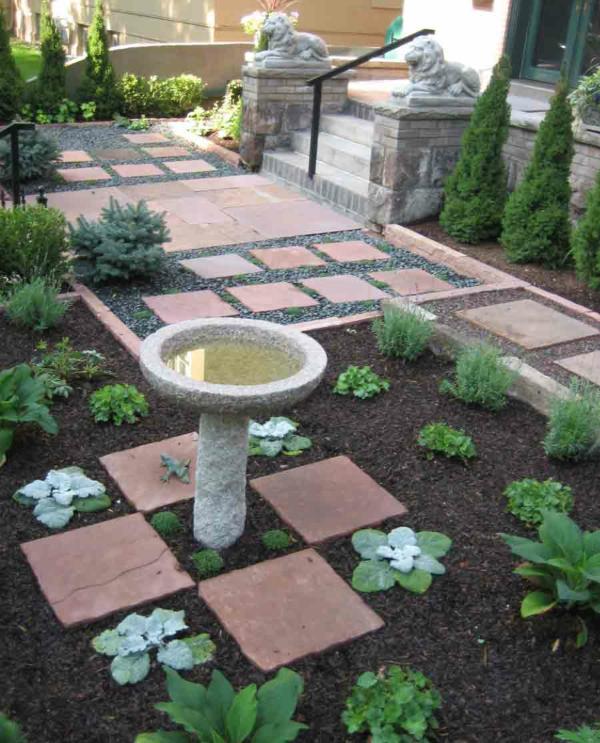 In this next yard, gravel and stone form a pathway that doubles as a rock garden. To create additional interest, try staggering the stepping stones. Add plants for a landscaping bonus, then fill in the remaining space with pea gravel and rocks. [from eichlerforsale.com via Plastolux]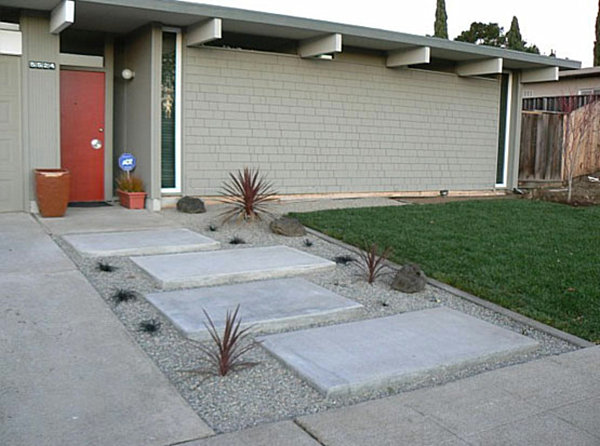 Sometimes stone is the great unifier. For a unique take on the stepping stone pathway, divide your yard into gravel and grass sections, then connect them with a stone path to tie it all together. [from Furnishism]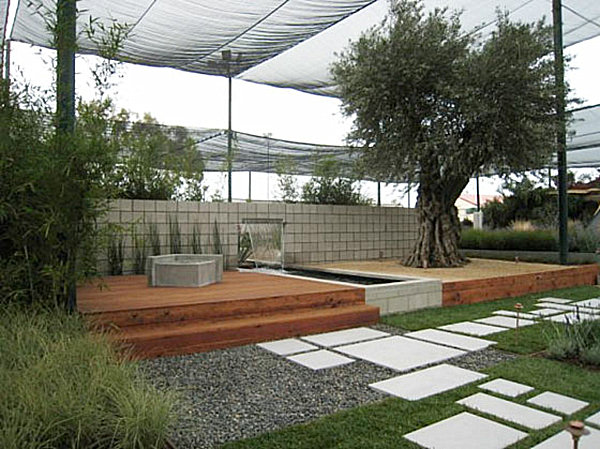 Plant Placement
While planning where to place grass, gravel and stone is challenging enough, adding large plants presents new opportunities for landscaping. Note how the space below features a "lawn" of gravel, then uses flowerbeds to create a stunning border. [from Lutsko Associates]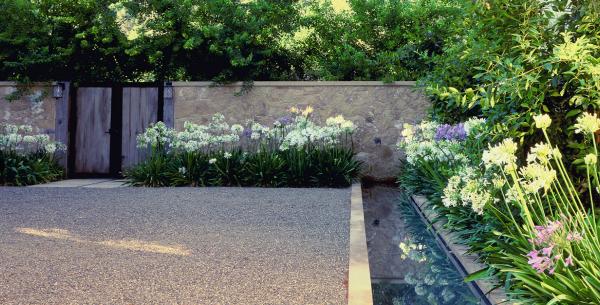 In another sans-grass space, a modern deck is outlined in greenery, much of it tropical. A favorite feature of this outdoor haven designed by Amir Schlezinger is the trio of raised planters that hold uniform sprigs of grass. [from Modern Yard Style]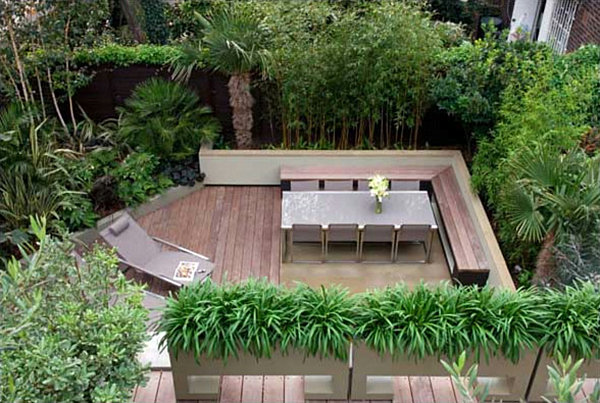 Don't forget the dramatic effect of modern terraced landscaping. In this next yard, tall grassy plants and flowers follow the stairs down the slope, creating a multi-tiered extravaganza. [from Lutsko Associates]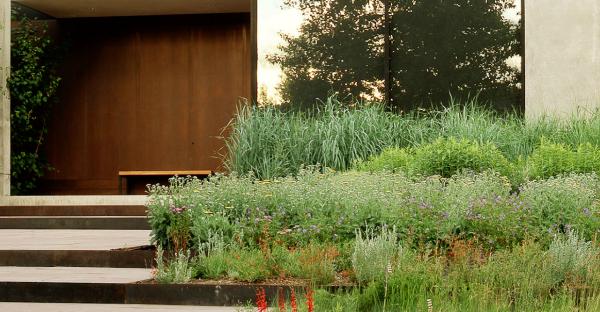 Metal edging can do wonders for a plant-filled yard. The space below is broken up into a series of rectangles. Ground cover, steps and plant beds are defined by metal strip borders, and tall grasses add just the right amount of height. [from Big Red Sun]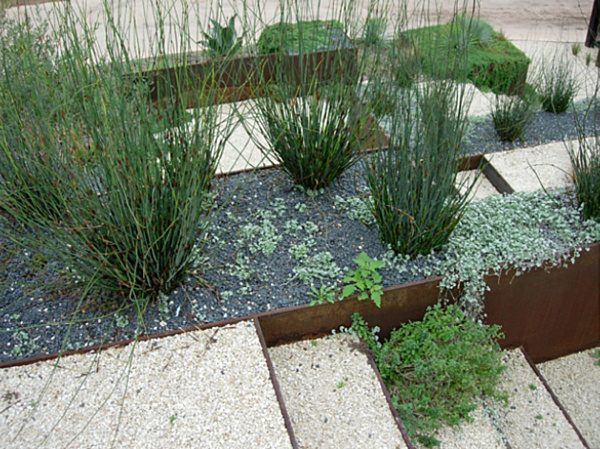 Below we see another powerful combination of metal edging, vibrant ground cover and strategic plant placement. Note how this time the metal strips confine the grass, and the gravel and plant beds are present "outside of the box." This Austin, Texas yard is a wonderful reminder of how defying expectation can produce dynamic results. [from Big Red Sun]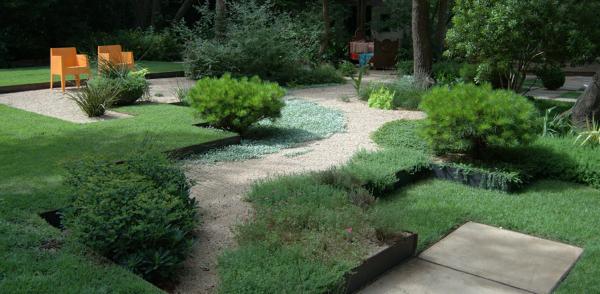 Don't forget the simple statement of a beautiful tree. In this next image, a modern courtyard is enhanced by a Japanese maple with its own stony bed. While grass is absent from the space, note the strategic placement of border plants. [from FancyHomeDesign.com]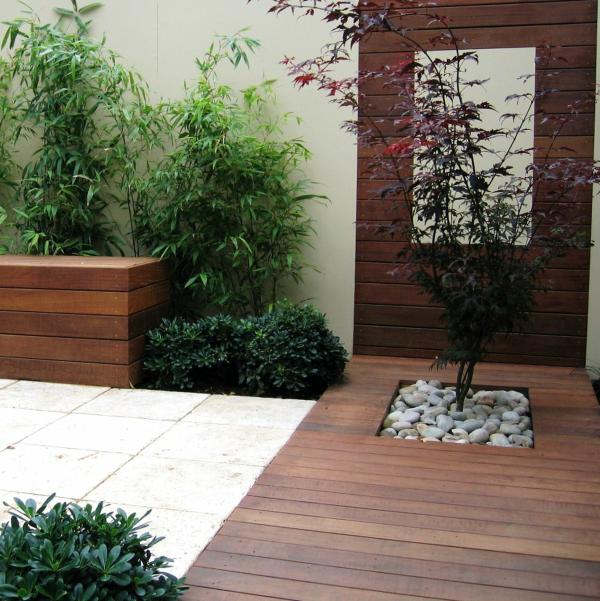 What if your outdoor space is big? Really big?! The exterior below is a series of three rooms, divided by frosted glass partitions, high walls and tall hedging. [from Lutsko Associates via Home Reviews]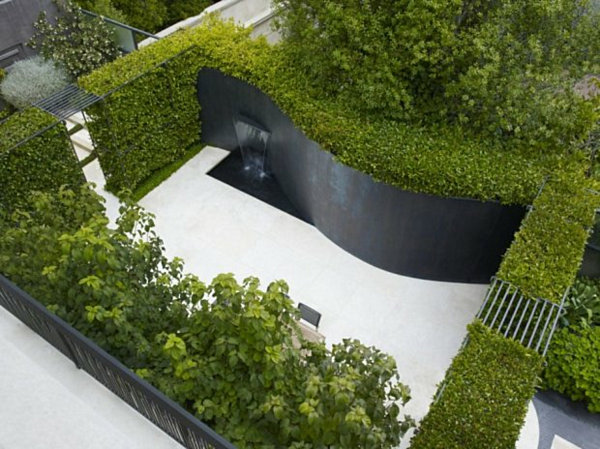 In another view of the same space, we see an abundance of quirky details, such as the fountain water feature at the right, as well as grass strips that add greenery to otherwise concrete flooring.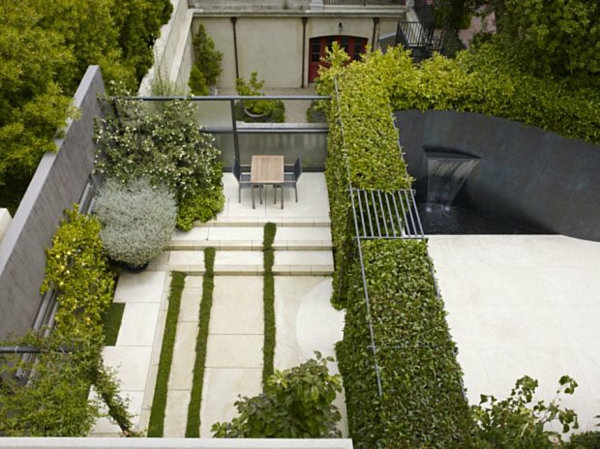 Landscape Details
So the hard work of dividing up the yard is done, and it's time to add some finishing touches. Details such as seating and planters anchor, unify and define a space, transforming it from a yard to an extension of the home.
Pots and Planters
When it comes to choosing planters, many nurseries offer affordable selections, but if the contemporary pots are extravagantly expensive or less than stylish, there are plenty of options for sleek pots. Check out the metallic, cobalt blue and lime green items below! [from Crate & Barrel]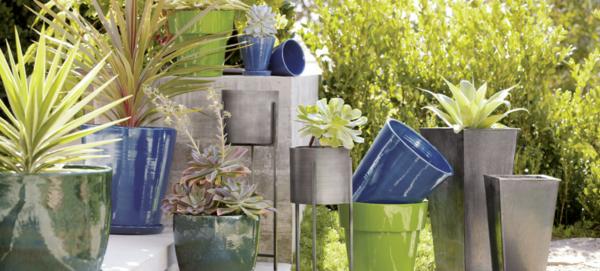 Some planters take that extra step of adding sculptural mystique to a space. The set of 5 Pony Planters below are constructed of galvanized steel. The best part: they're stackable! [from CB2]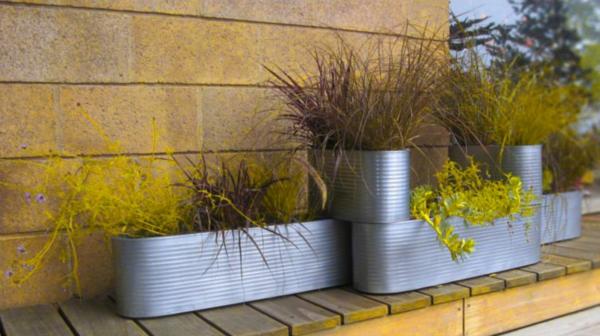 Outdoor Seating
When it comes to seating, outdoor chairs and sofas must be both durable and comfortable. In many modern spaces, especially the ones that lack grass, the seating is an important centerpiece that adds design interest. The Nest Chair is showcased below, along with an assortment of outdoor items from CB2: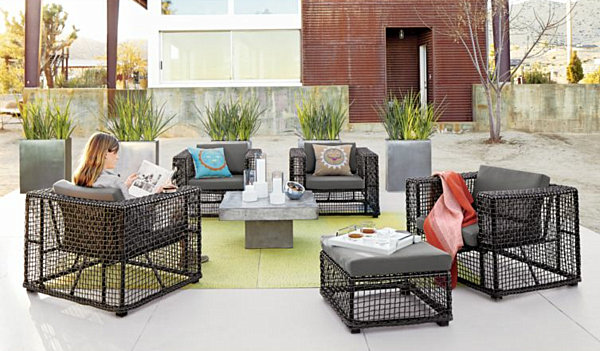 Even the smallest of outdoor balconies can be transformed into cleverly landscaped spaces. A compact seating option like the Eddy Round Outdoor Table is perfect for tight areas. Also notice how three simple planters of grass add just the right amount of greenery, especially when combined with a large table-side bush. [from CB2]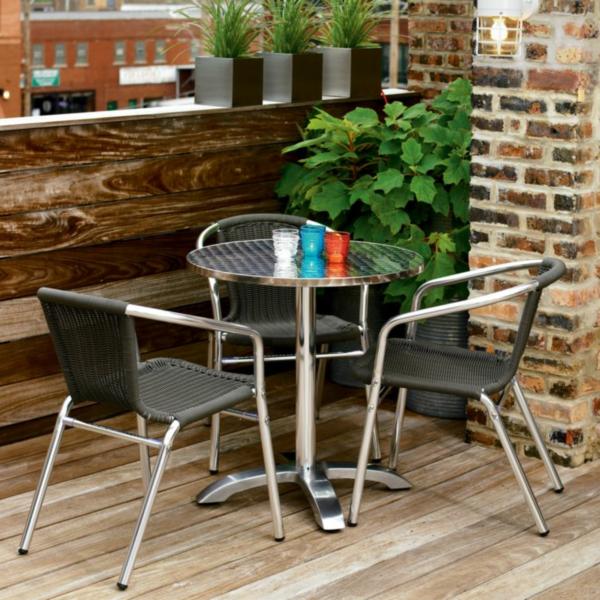 For a larger balcony or rooftop space, outdoor seating is a must. Below we see the Chelsea Dining Table. An all-weather rug unifies the ground surface, and planters bring much-needed greenery to the area. [from CB2]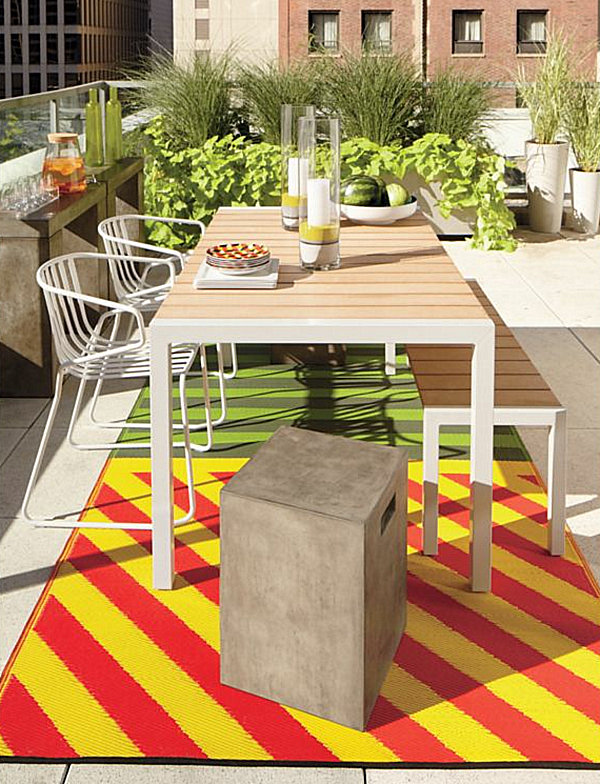 We end with a yard has it all: lawn, ground cover, a strong statement planter, sculptural boxwood hedges, and of course, modern seating. And who wouldn't want to spend hours in this magnificent yard? [from Stonegate Gardens]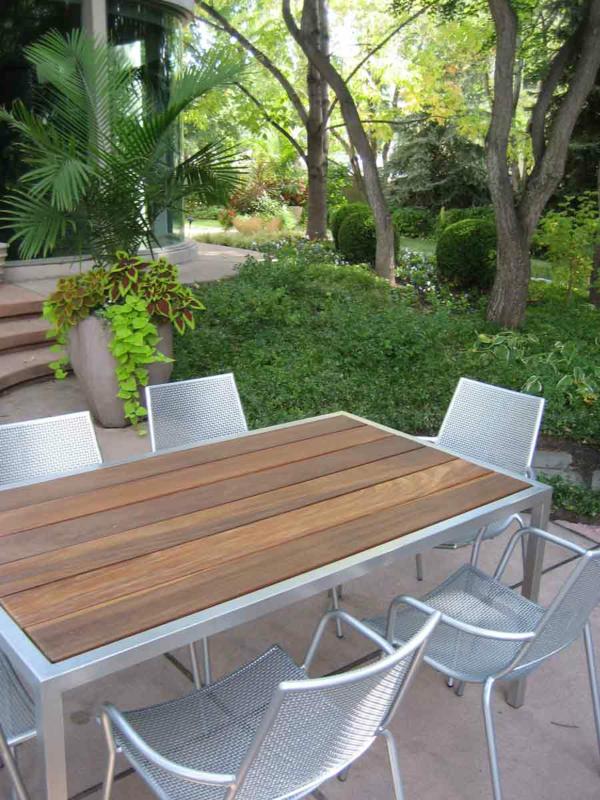 Now that you've been inspired, it's up to you to choose a landscaping path. If your yard is in need of a major overhaul, perhaps devising a plan with the help of a landscape designer is the answer. If you're confident in your design skills, you can select the layout of your dreams and hire some strong and willing helpers to assist you. Or, if you and your family members are the DIY type, perhaps you can do the work yourselves. Always choose wisely and safely. Lifting heavy stones and bags of gravel can be dangerous. Enlisting the help of others is a must.
Whether you're looking to completely redesign your yard or add a few touches here an there, take inspiration from the images above. You may be surprised at how a few planters or a new table and chair set can transform your space. Happy designing and gardening!