Generally, irregularity and visual aesthetics don't go hand in hand. Yet designers from studio KLab Architecture in Greece have decided to experiment boldly by using irregular lines and patterns to ensure that they recreate the charm of an evening on a pristine Greek beach along with a touch of natural goodness for the Cocoon Suite at Hotel Andronikos.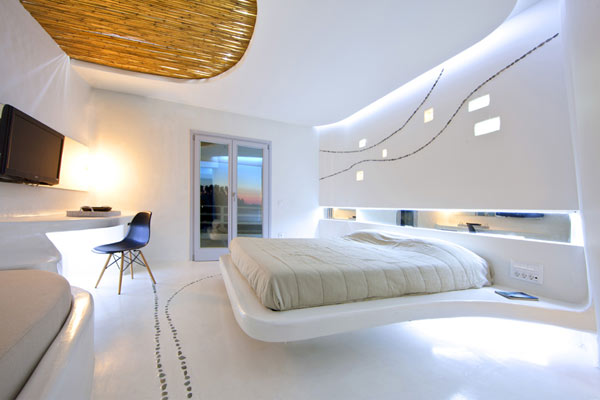 Located on the island of Mykonos, the Andronikos hotel has been in existence since 1990. Its new and revamped suites obviously make a stay here as pleasant and memorable as the stunningly gorgeous island itself.
The challenge was to use local materials and work with a limited budget and yet create interiors that will offer a refreshing change of pace from the mundane.By incorporating irregular lines which are contrary to modern design principles of sleek and well-defined lines, pebbles that offer you the look of a beach and patches of bamboo that bring nature indoors, the designers have created a truly one-of-a-kind look.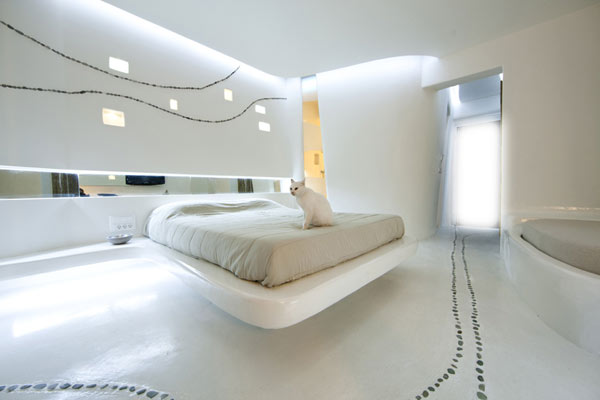 We obviously love the bed which seems to be floating mid-air, and the pristine all-white interiors that add to the the minimalist feel despite the audacious design. We're still not sure what's the cat doing on the bed; it looks like a still from the 'Cats & Dogs' flick — maybe the plan to take over the world starts from here? :)