Imagine a space in which Oriental patterns and designs mingle with Spanish accents, modern touches and elegantly simple drapery, and you will have contrived an image similar to this home in Warsaw, Poland, by interior designer Pawel Sókol.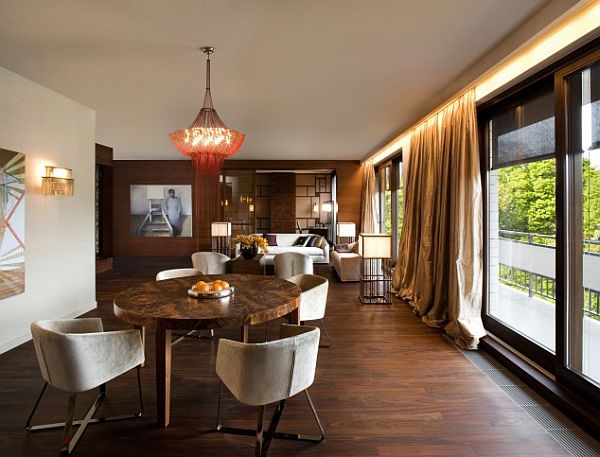 Thought the ceilings are comparatively low, this apartment is both spacious and cozy all at once. Neutral earth tones work well amongst touches of warm reds and yellows – except the bedroom, which is accented with tranquil silvery blue bedding. Unlike the bedrooms of other homes, this one is devoid of any and all distractions – such as clothes and electronics – and instead you are left with the perfect space to rest and rejuvenate your body.
However, one of the most unmistakably beautiful and truly unique elements of this home is the ceiling – which is composed of backlit onyx panels. Reminiscent of the most upscale hotel, the ceiling is visually addictive, peculiar and breathtaking. Additionally, the rich brown and deep, slick black accents within the kitchen offer a nice complement to the ceilings. The brown, bronze and black mosaic backsplash brings the design together – offering yet another example of close attention to detail.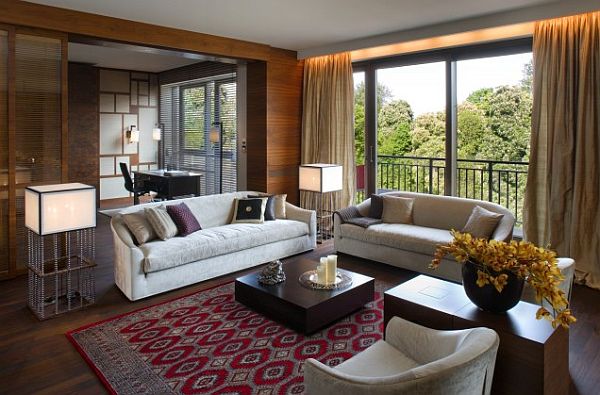 The limited décor and exquisite design within this home give the feeling of a stay at one of the world's most sought after hotels – simple, beautiful and intended for the ultimate tranquility. (via Houzz)