Nestled in the resort island of Sentosa in Singapore, this Stereoscopic House is all about merging smart features of design with a modern retreat that will offer its residents some panoramic views without compromising on their privacy. There are several architectural elements combined here as its architects, Pencil Office, had taken up the challenge of creating a lavish retreat that will also encompass several eco-friendly features and will offer both beautiful views of the landscape while guarding privacy of those behind the giant floor-to-ceiling glass walls.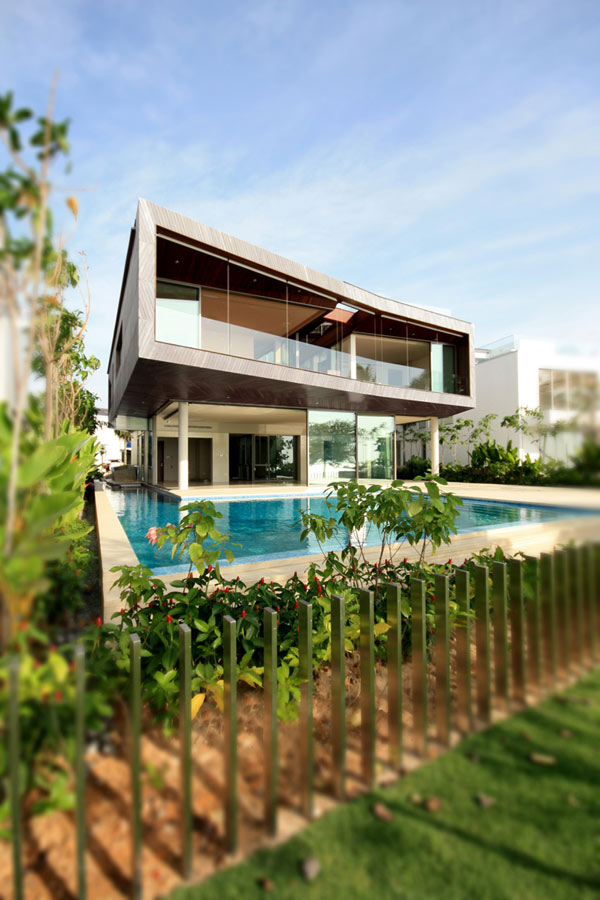 This led to the creation of a very unique house that uses uniquely crafted wooden blinds that sync with the rest of the home and shut out the outside world when needed. (OR rather when the prying eyes are not needed) Solar-water heating, cross-ventilation, rainwater harvesting features and natural lighting make up the array of green features that help the building stay sustainable. On the inside the three-floor house are covered in a fine balance of wood and concrete to offer perfect ambiance.
Of course, the pool and the back garden steal plenty of attention as they provide you a with a soothing fresh water dip in case you are bored with all the ocean views or need a change from the setting as you return from the nearest beach. This is all about living it up in an eco-friendly style.