Part spa, part beauty retreat, the bathroom is a space for daily grooming. Today's interior design trends reflect the restorative aspects of the powder room. No longer is the space a location of mere practicality. While not every bathroom is designed to mimic the style of a resort, a clean, elegant aesthetic quality has clearly emerged, a result of the powder room's transformation from simple necessity to a chic haven. When it comes to decor for the bathroom, a multitude of options are available to suit every taste and budget.
Today we spotlight bathroom makeover ideas, from simple touches to involved projects. Some of the tips below can be carried out in an hour or two, while others may involve outside help. From inexpensive refreshers to more substantial changes, a variety of options are presented for your inspiration.
Easy Bathroom Makeovers
One of the most simple and effective ways to change the look of a bathroom is to purchase a new rug. Even a basic floor mat in a geometric pattern can create a big impact, as shown in the image below. In fact, this bathroom was featured in a previous Decoist post, which spotlighted a remodeled Mid-Century Modern home in Austin, Texas. Note how fresh flowers bring an exotic quality to the space, especially when they are tropical: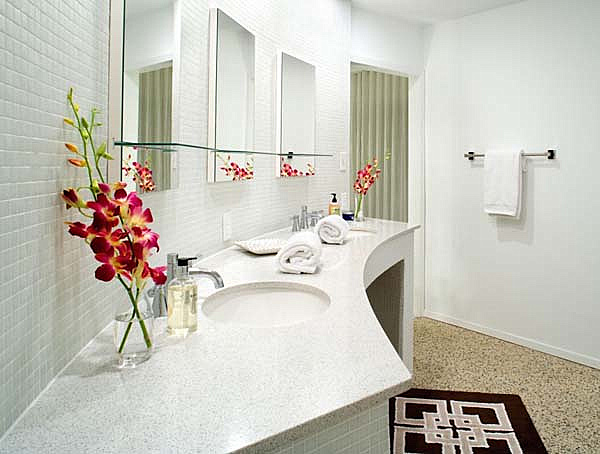 Is your bathroom a small one? Don't fret–the makeover possibilities are just as enticing for your space. In fact, some might say that each design choice has an even bigger impact in a room that's compact. Below we once again see the appeal of fresh flowers, as well as the makeover magic created by the purchase of a new shower curtain. [from Better Homes and Gardens]
For a more permanent greenery solution, place a potted plant in a bathroom with plenty of light. Ferns are excellent powder room plants, as they thrive on humidity. The space below has a conservatory feel, thanks to a potted fern and tabletop curiosities. [from Pottery Barn]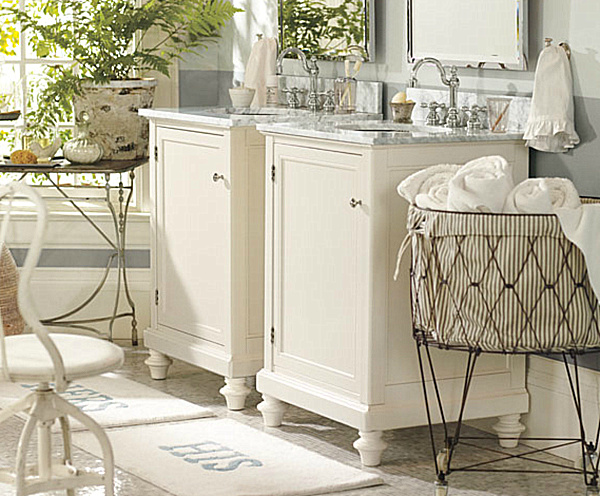 For a decadent addition to your powder room, try placing a stool next to the tub. Not only does it make a luxurious towel holder, it serves as a place to sit when getting ready for the day. While bringing another item into the room may seem like a surefire way to create clutter, keeping counter space clean sets a minimalist tone, as shown in the modern bathroom below in a home built by SB Architects. [from DigsDigs]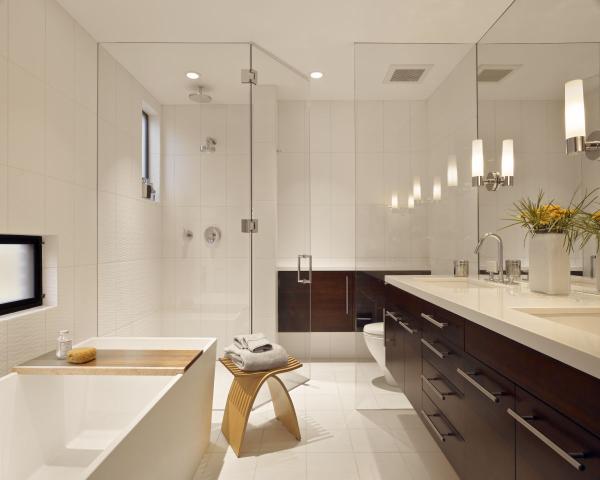 Another easy makeover addition is the placement of a chair or stool under a counter top when leg room is available. An instant vanity is created, and charming details such as makeup brushes and circular mirrors can make the space seem truly decadent. [from Hometone]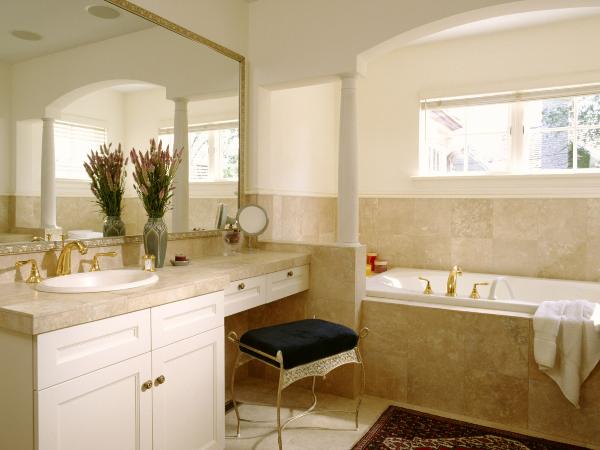 Update bathroom lighting by switching out ordinary sconces and ceiling fixtures for more dramatic choices. The modern lighting below resides in a New York City loft renovated by SPG Architects. [from Brownchair.org]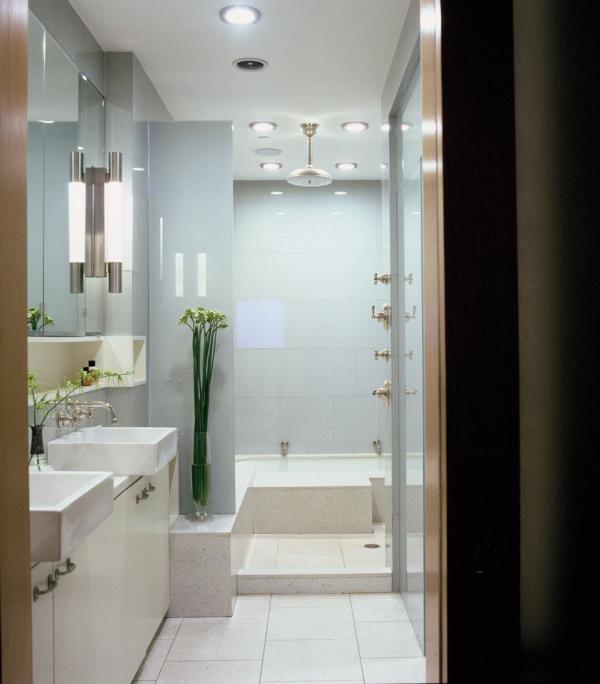 Finally, to add glamour to the powder room, hang a large framed mirror. For a fancy finishing touch, don't forget the chandelier. [from healthyhome]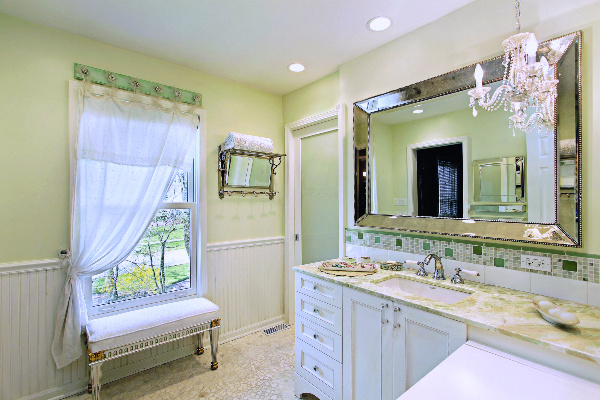 Bathroom Storage Solutions
Several bathroom storage trends have emerged in recent years, and the image below illustrates an assortment of them. For one thing, similar items are grouped. Note the soaps in the jar by the sink and the rolled towels below the counter. Also notice the neutral color scheme. Beauty products with bright labels are often concealed in drawers and cabinets, while more subtle items in classic earth-toned packaging are displayed. Finally, note how neatly the items are contained. Rather than being carelessly strewn, products are tidily stored. All of these tactics can be easily duplicated for a quick makeover of your space. [from Pottery Barn]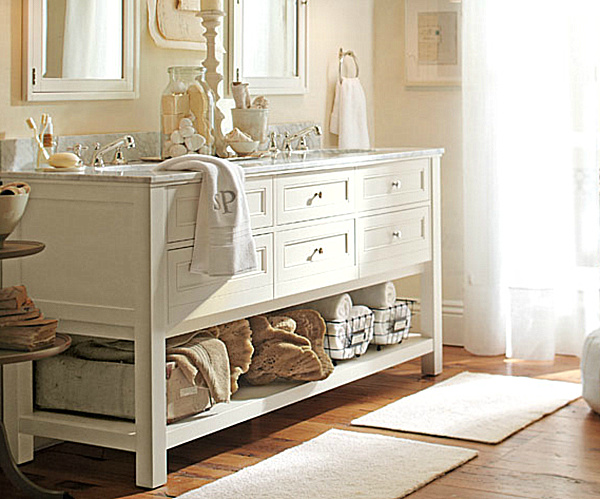 Another bathroom storage solution from Pottery Barn offers room for neatly-folded towels and beautifully stashed grooming products: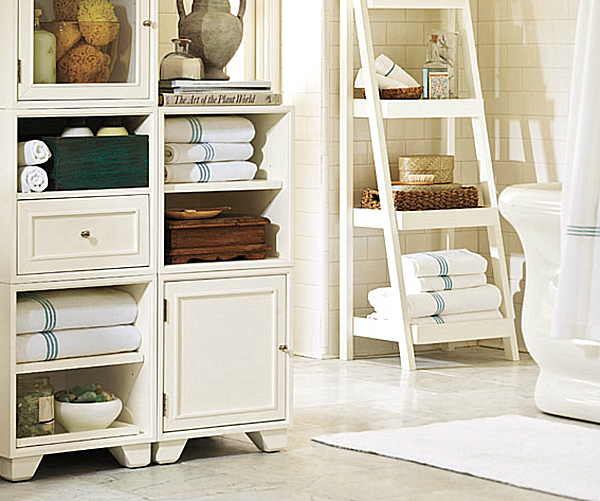 Yet another bathroom makeover with storage benefits involves the use of wall-mounted modern shelving for a focal point both functional and artistic. [from ReyuDesign.com]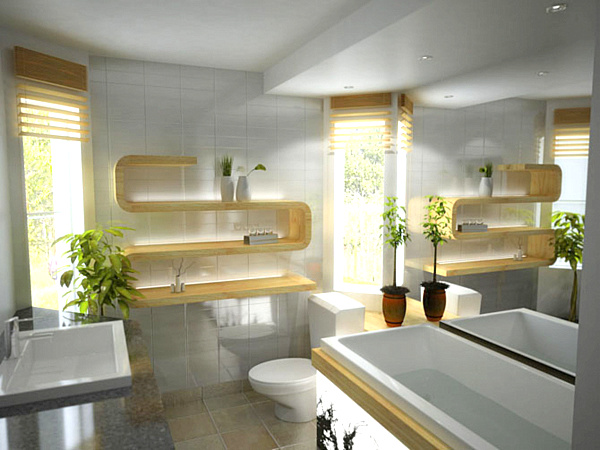 Bathroom Paint Options
Sometimes a fresh coat of paint transforms the look of an entire room. If upgrading faucets and flooring in a bathroom is not an option, try a simple paint job. White is an increasingly popular choice for this space, as it plays up the clean, fresh aspects of the room. Plus, it's classy! [from Luxury Interior Design Journal]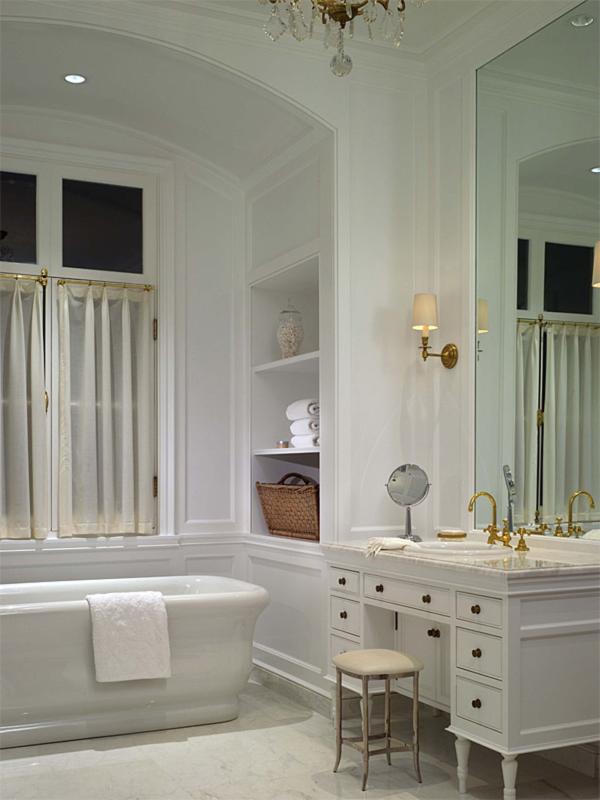 Another paint option is to choose a striking color and go to town! The effect can be stunning, as shown in the eggplant-hued minimalist bathroom below. [from Kitchen Paint Ideas]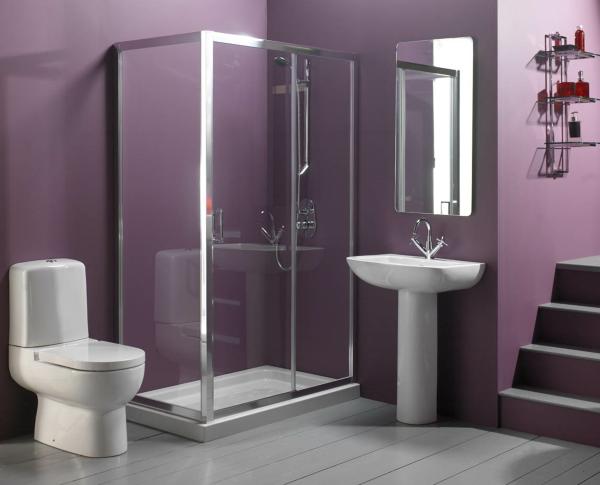 Wallpaper can be a questionable choice for a room where an abundance of humidity can lead to peeling. As an alternative, try creating a wallpaper effect with paint and stencils, as shown in the bathroom below. Even adding pattern to one small wall can make a world of difference. For more details, check out Apartment Therapy.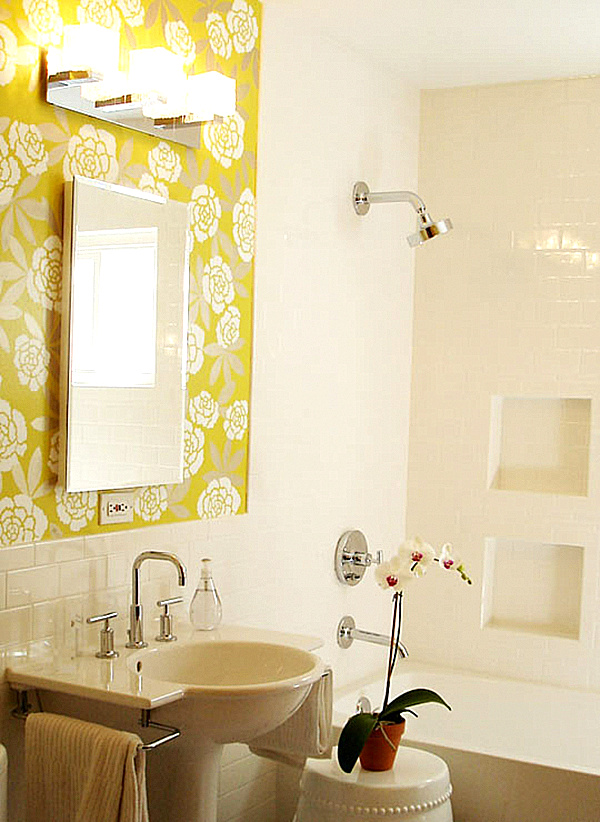 Bathroom Sink Updates
Elegance abounds in unexpected sink selections. Take the conical sinks below, which reinforce the geometric quality of the room's round mirrors. Not to mention, the uniqueness of the basins and faucets elevates the space to the level of a resort. [from Better Homes and Gardens]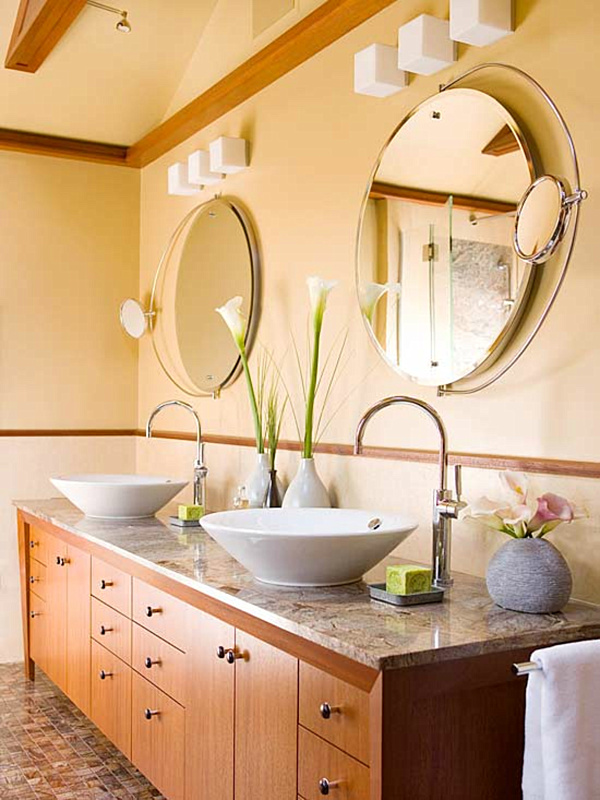 Sometimes the position of the sinks can be as interesting as their shape, as in the modern sloping basins below. [from Dornob]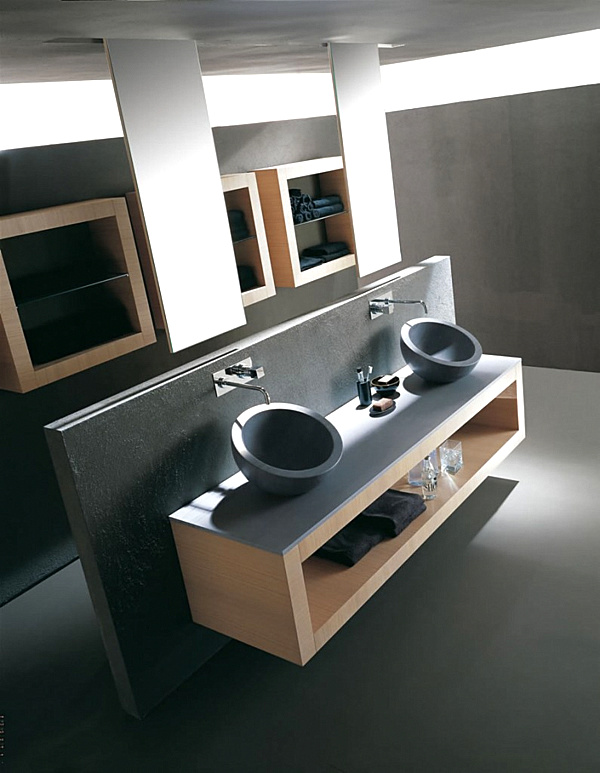 Equally intriguing is the rectangular sink below, especially in the context of a minimalist modern room. As a side note, check out the strong impact made by the Bonsai tree. [from InteriorHolic]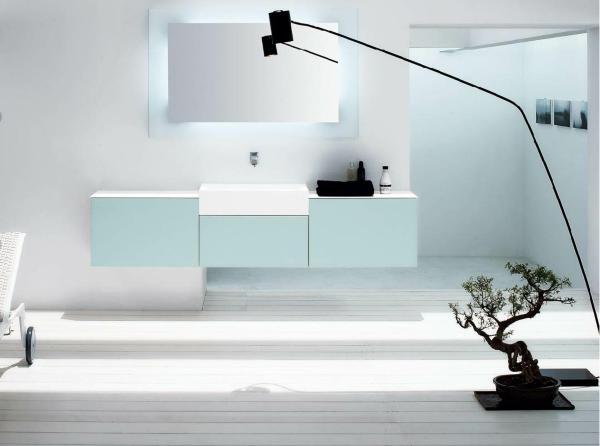 Bathroom Renovation
If the budget is larger and time is on your side, a full-on bathroom renovation may be the answer for your design needs. Consider the power of tile. In the room below, marble sets a clean yet palatial tone. [from Pottery Barn]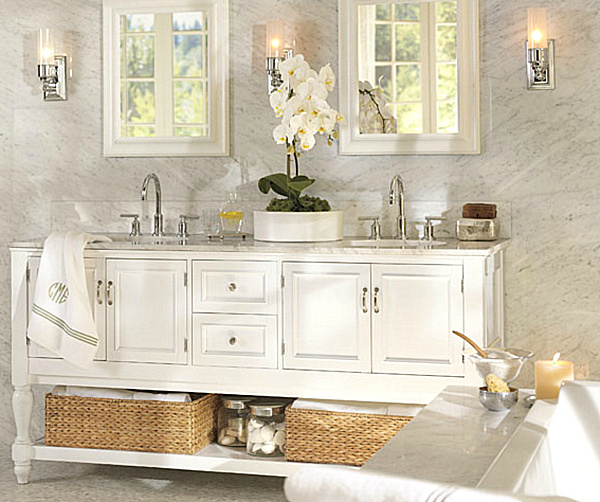 For double the fun, consider expanding the master bath to include two sinks. Matching mirrors, sconces and potted plants heighten the spacious feel created by duplicates. [from Pottery Barn]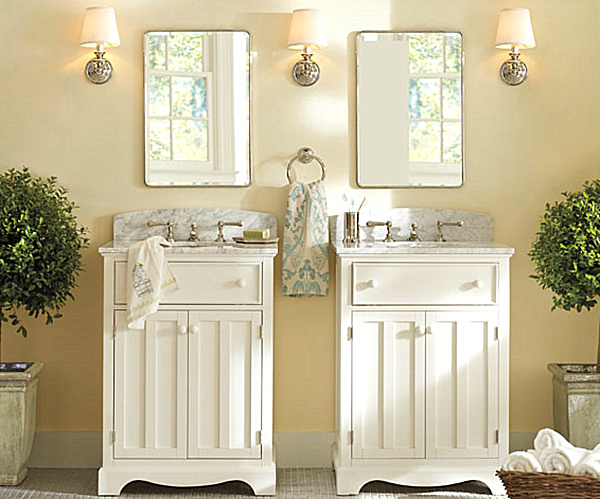 For sleek under-sink storage, replace your bathroom cabinets with updates that feature a variety of drawers for optimal organization. [designed by Candice Olson; from Better Homes and Gardens]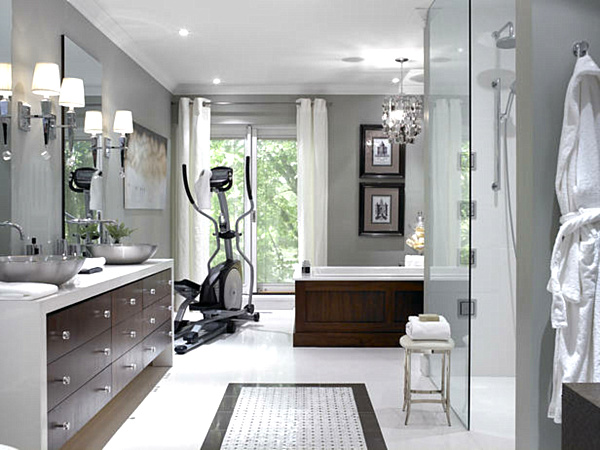 Finally, consider updating your counter tops with an easy-t0-clean surface in a shiny finish. Then add a tiled backsplash for further texture and interest. The bathroom below is designed by Jessica Mowery of MOW Design Studio. In fact, this last bathroom image sums up the wide range of makeover possibilities available. From simply adding greenery to renovating the space with the addition of glistening counter tops, a slew of options awaits you. Refresh your powder room and enjoy the results! [from Architecture and Home Interior Design]