Belgian studio Cocoon Architecten started from an existing farmhouse in Genk, Belgium, and constructed a modern oasis of comfort prepared to take on a new lifestyle. The Framework House now displays the existing building and an additional black volume facing the street. Black metal panels ensure the street facade offers complete privacy, while the glazed side facing the garden completely opens the interior to the surroundings.  From the living room area, the view of the lawn combined with the floor-to-ceiling glass gives a totally unobstructed view and a spacious feeling.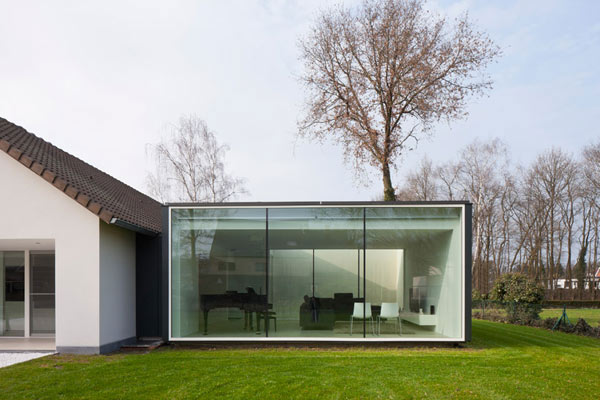 The other side of the black wall facing the street is white and flooded with light from above, where a long and narrow skylight ensures that natural light will flood the adjacent living space separated by a glass wall. Inside this ample space, the living continues with a dining/cooking area. There is an expansive food preparation area that should provide enough room for any size feast.
The table becomes part of the kitchen island's design and visually extends the flow of the surfaces. Appearing to float above the green lawn, this addition extends the interiors, offering a new space for the family to relax and socialize in. Increased comfort and a reorganization of the spaces landed this family their dream home.