A beautiful farmhouse opens its interiors to guests from all over – the Artist's Retreat in Andalucia, Spain is both a residence and a sustainable retreat for creative minds with eco-friendly intentions. Half of the residential building is reserved for the owners of the property, while the other half welcomes guests with a total of seven bedrooms, each with its own bathroom.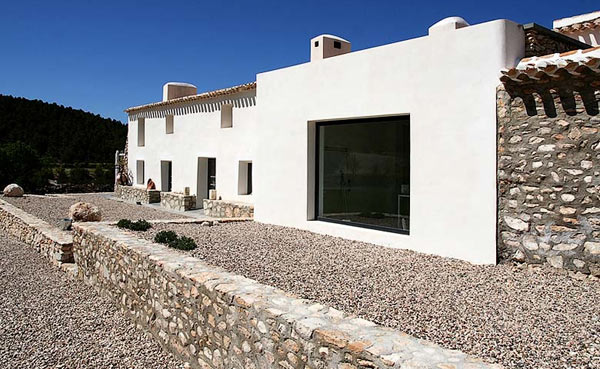 These resting spaces were designed to be flexible, because there are different sized groups of tourists coming in. Its owners speak about their love for sustainability and how this was transposed into the design – completely powered by photovoltaic and wind power, the house recycles water to irrigate fruit trees in the orchard. Rainwater is harvested from the roof and stored underground.
The building pays homage to the farmers who worked the land.  Walls and terraces are made with what looks like a lot of field stones that farmers would have cleared from the land before planting their crops.  This lets the home become a part of the surroundings with a minimal intrusive effect.
The modern interior design literally lets a light shine throughout. The white interiors spread the outside light throughout the residence during the day while requiring less light at evening than dark rooms would need.  A rustic exterior and a contemporary interior provide the best of both worlds.