In a modern home, an outdated birdhouse might seem weird, but this ultra modern creation designed by Curtis Popp of CPopp Workshop will be perfect for taking care of birds with style. Even though the contemporary birdhouses are handcrafted by local artisans, they look like having been created using the latest technologies.
The made-to-order feature ensures every client gets the perfect birdhouse for his/her home, because each piece can have a different color and finish. Made from solid hand-oiled walnut for indoors or marine-varnished teak for outdoors, the birdhouses would look splendid in a beautifully landscaped garden or by the pool.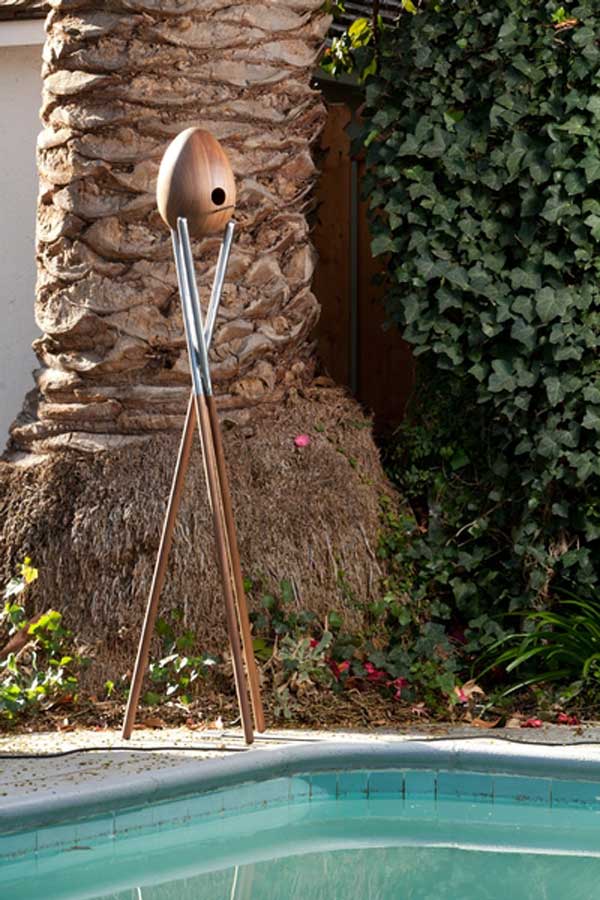 The design using an egg-shaped birdhouse is a wonderful concept.  Imagine the birds setting up house inside and the mom laying her eggs inside another protective egg!  The baby birds will later emerge from their eggshells.  After they are ready to leave the nest, they will emerge from the home: an egg.
Teaching your children to cherish design as well as nature can become an exciting thing, especially if you use the best items for your home. This interestingly-shaped birdhouse rests on a three-legged steel stand and comes in two versions – the standard raw burnished finish or a vivid powder-coated color. Originally developed for a gallery show at the local college, this fine birdhouse quickly became a part of the manufacturer's collection. (Found on Dsgnwrld)