Living Kitchen is a novel design topic adopted from ancient concepts. This is very relevant in the current day world order since many huge houses, designed without rationale, are left uninhabited as owners live far away from home mainly due to their jobs. The Living Kitchen can save lots of resources as its design is handy and purposeful.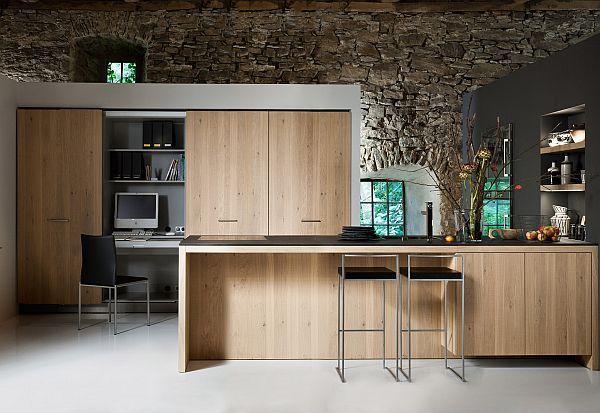 Warndorf, a German based designer, is behind this wonderful refined concept. You can see everything – from computers to library, from study to entertainment – incorporated neatly into this magnificent living kitchen. The concept is well capable of setting a spark out to revolutionize today's design industry.
White cored flooring looks gorgeous against wooden cupboard lids and stone walls. There are provisions to keep everything orderly, which makes the basics of a disciplined kitchen. Since it is living room cum kitchen, even moderate compromise will affect the system as a whole.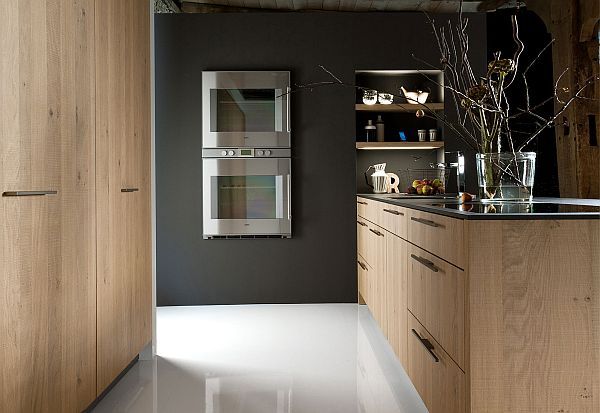 The kitchen is spacious enough to house a large worktop – plus – bar bench. The worktop can be used for study purposes too. Cupboards can be used as a wardrobe closet as well. The kitchen looks extremely simple and organized with optimal use of appliances. The concept has made use of spaces exceptionally well, living a large free space for a family gathering or the like. (from Homedit)