The Ame Lot Project by Stephane Malka Architecture, near the busy urban streets of Paris has been designed as a modern student residence. The construction is just a remodeling — without changing its original traits — of a pre-existent building. The only things new here are some wooden palettes, which impart a new outlook to this structure. Built on urban space, the Ame Lot is being praised for being ecologically well-disposed. There wasn't any reconstruction, but just some modifications to the one which already existed. This makes the Ame Lot project extremely brilliant.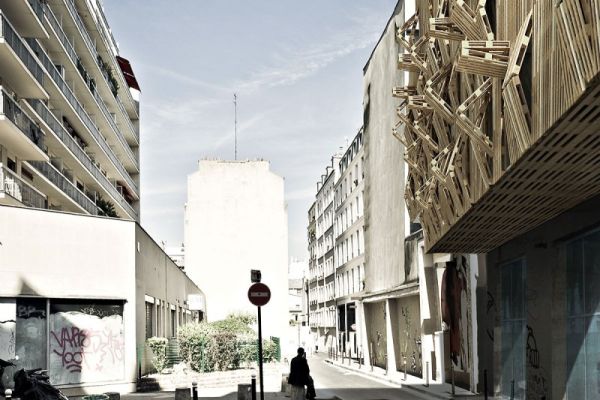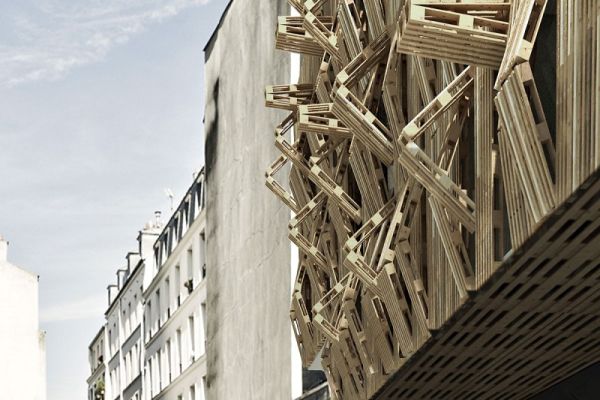 Since it is housed in a crowded town, availability of space was a major constraint. Within the limited space, the designers have marvelously managed to erect this wonderful building. They used every technology which would enable them to mask the possible difficulties of limited space.
Geometries are brilliantly selected to make the building spacious enough, out of a given limited area. Horizontal hinges are an example of their innovation, and the hinges make the wooden pallets to shrink horizontally. This provides a large opening into the outer world despite the limited interior. Care has been given in every step of the Ame Lot Project to avoid stress on the ecology. And, the Ame Lot seems to be an epitome of eco-friendly design.
(Renderings by: Tristan Spella Infographiste; Found on HomeDSGN)
[Editor's comment: Maybe I'm not adventurous enough, but I would probably cross over to the other side of the street for fear of falling palettes!]