House construction, these days, has turned even more interesting. Homes built in different designs for special purposes sport absolutely charming visages, thanks to the fun element the architects and designers find in the whole process. The Local Rock House in New Zealand is one such wonderfully built structure. As the name indicates, the apartment is developed using rock. Pattersons Associates have designed the house with local stones available in the plot itself, thereby giving an awesome appearance to the whole building. The natural home situated highly above a pohutukawa canopy, is surrounded by the white, sandy beach.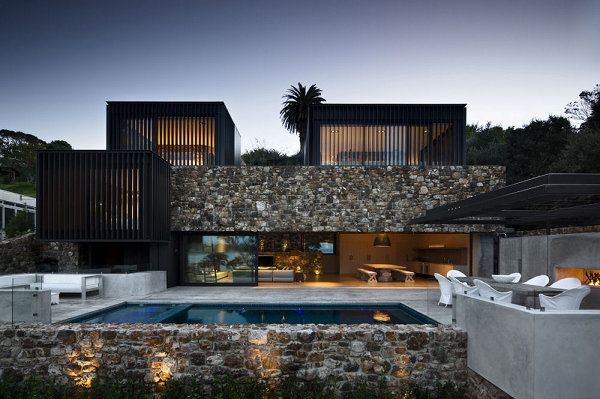 Planned according to the theme of locality, the two-level apartment perfectly fuses with the environment with its stone matched grounds near the beach and the private segments circumscribed by the trees around. The grotto-style courtyard includes a swimming pool, a dining area and an outdoor fireplace, ideal for entertaining guests and private nights for the family living there.
The upper level constituting the lookout bedrooms has been built with a louvered design, and provides a pleasant view of the ocean outside. This is one of the exceptional houses that will take you to the natural beauty of the wonderful countryside.