Located in the hilly town of Turin in Italy, House T is a house you would do anything to own for yourself. A wonderful integration of multi-functionality and judicious allocation of space, it offers a charming outlook as a whole. This magnificent residence, designed by the UAU Office, is a result of a renovation to an existing structure.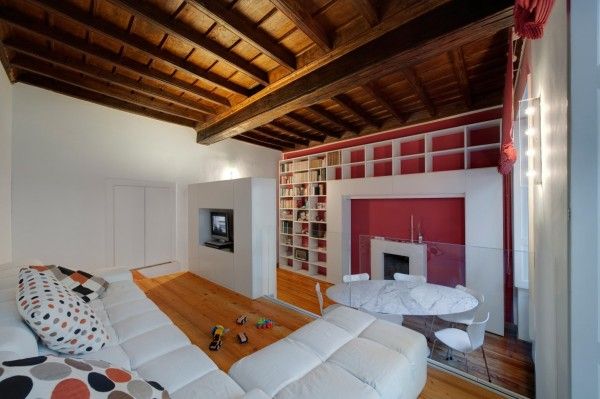 As the members living inside the house have increased, the primary objective was to optimize space as much as possible. That being said, space allocation was successfully done by assigning various functions to the already existing living room, without compromising on luxury.
A master bedroom, living and dining spaces and a beautifully furnished kitchen bring an elegant look to the building. The designers have provided a separate room for newborns, specially designed to meet their requirements.
Overall, the house is a blend of whitish structure, decorated with beautiful wooden roofs and furniture. The wooden roof will help maintain temperatures in extreme cold and hot, and could impart a classical look as well. The red curtains and white shaded windows add to the charm. A big wardrobe space has been added so as to keep personal belongings in place. (from plusmood)