Fabrica Creaton! Though you mat no't have a damn idea as to what it means, the name seems pretty interesting. It is the name of a modern tavern located in Komotini in Northern Greece that makes use of a simple black and white palette embracing the idea of a butcher shop.
Meat fridges and displayed meats lead you to a cozy, warm and clever space where we can appreciate carnivorous delicacies and a sense of understated luxury so popular in restaurant design today. The concept of this restaurant by Minas Kosmidis reflects the idea of a Greek butcher's shop, in a more industrial way.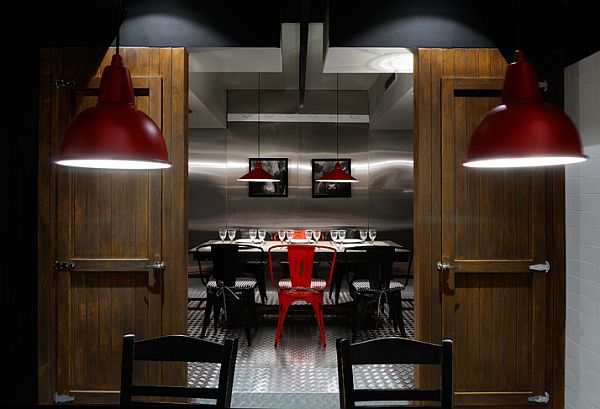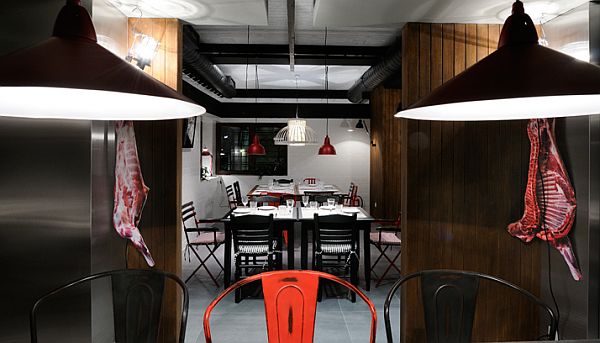 Features such as the two "butcher's refrigerators" at the entrance, the thick round tables with knifes stuck into them, the metal crooks along the walls and the frames with domestic animals on the walls, reinforce the idea to concept.
The aesthetics of this space is underlined by the contrast of black and white, while touches of red underline its symbolic role. In addition the warmth of wooden surfaces on the walls and furniture give the result of a direct, yet cuddled up space, forming a strangely pleasant atmosphere of a butcher's shop. Perfectly positioned graphic images are there to provide yet another splash of fun and energy.
The images themselves don't over power the timeless, eclectic design of the overall palette, but rather enhance and energize it. Varying styles of dining chairs and bar stools are then added into the mix. Restaurant styling has been an issue of prime importance these years and designer Yianis Tokalatsidis has done a wonderful work by designing this meat themed restaurant.