Alluringly located near the town of Hattemin, in the eastern part of the Netherlands, Villa Veth is a contemporary private residence ideally suited for a family of four. The site of this two-storey building is close to a forest, which adds more to its glamour quotient. Right from the entry point, the house offers an irresistible view. Riding past the green lawn through the grey pavement, decorated with smooth gravel, is nothing short of a spectacular experience.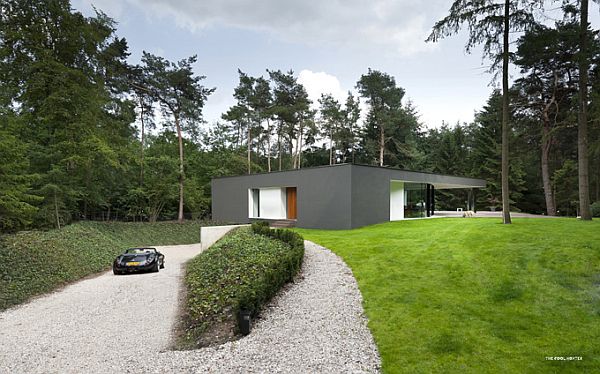 The building design has been carried out by Liong Lie, from Rotterdam-based 123DV. The designer has carefully managed to retain the classic look without draining modernity off the building.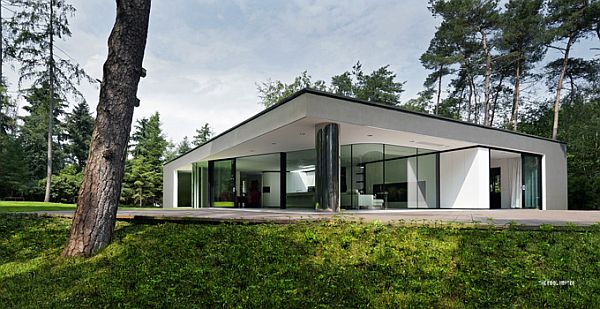 A master bedroom, two kids' bedrooms and two small studios are carved out from half of the ground floor and principal living area. The other half has been separated for an open concept living area, which comprises the kitchen, dining area and living rooms. Tile, concrete, steel and glass form the principal components of construction.
One wall of living area is made of frameless curvy glass to offer a clear view of the outdoors. The living space opens to a wide unoccupied platform, a part of which offers floor heating. The first floor finds space for an entertainment room, a laundry and a tiny powder room. The house occupies a total room space of 475 square meters. Utilization of space in a classy manner offers maximum benefit. If you are interested, don't miss a visit to Villa Veth building. {found on thecoolhunter}