Italian glassmaker Seguso, one of the first Murano Glasshouse to take up furniture making, has unveiled the Seguso Interiors- the company's furniture collection incorporating exquisitely rendered glass components. What remains after seeing this collection is just awe: you do wonder how glass can be rendered to modern interiors to make it look so elegant.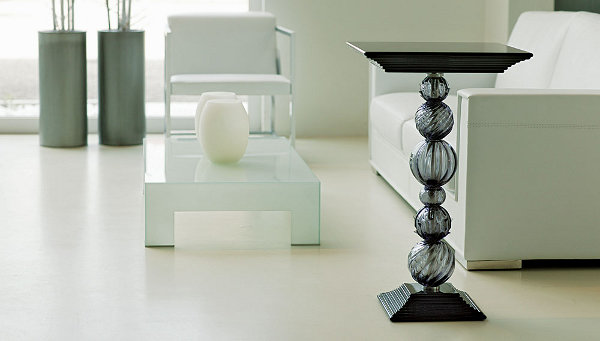 The new furniture line has a price ranging from $8,500 to about $30,000 for different pieces, based on the work done in designing the items. The collection includes coffee tables, side tables, dining tables, benches, consoles and ottomans, all of which feature graceful hand-blown glass legs, modeled after the traditional Venetian Architecture. Some of the supports consist of stacked globes that resemble Italian domes; some recollect the swirling columns of Venice's famed palazzi.
The tabletops and bases are finished in various materials- wood, glass or colored lacquer, which give the furniture a contemporary look. Each furniture piece is custom-made according to the client's requirements, and every aspect-from shape, size and color to material and dimensions of the furniture- is customized.