Ever wondered how Richie Rich (from the comics) used to live? Blooming with unequalled city and ocean views, a dynamic interaction of lights and shadows, and a gigantic area full of impressive luxury amenities, this contemporary residence might just define your dream home. Hovering atop a hill in Southern California, this recently completed project has been named the Ultimate Home 2011 by Robb Report.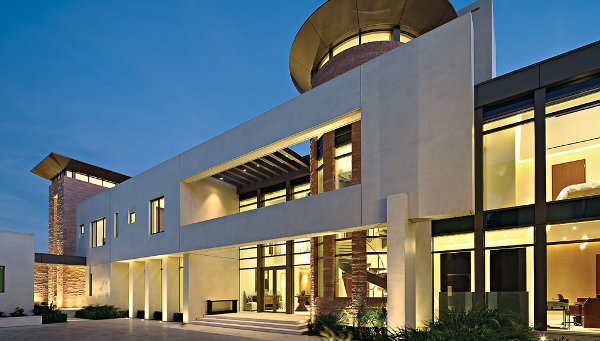 Designed by architect Richard Landry of Los Angeles-based Landry Design Group, the 28-bedroom, 40,000-square-foot residence on roughly 1.5 acres of land, is a modern family compound made up of several discrete buildings, including the main house and separate quarters for staff, guests, and entertaining. All the areas have full access to the exceptional views afforded by the hillside site.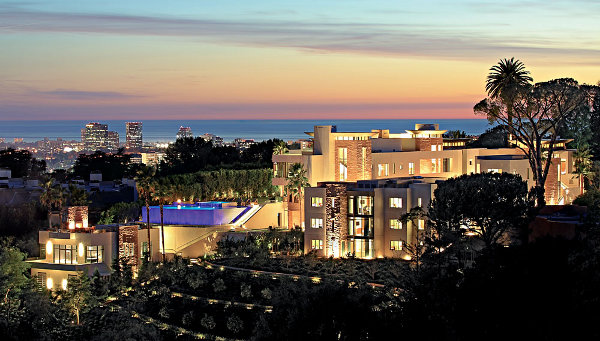 The service, staff and guest buildings beside the home's main entrance and motor court are linked by a footbridge, beneath which is an underground parking garage. The entrance has a big volume, which softens it a little bit and makes it a more inviting place to pause before entering the main rooms.
A sense of serenity and privacy is prevalent near the master suite, which includes a vestibule as well as dressing and sitting areas, courtesy the bleached-zebrawood panelling, and a fireplace from Spark Modern Fires surrounded by backlit honey onyx from Rubin Marble & Granite. Separated from the formal living area by pocket doors, is the parlour that was designed as a relaxing retreat.
As per the homeowner's wish, an intimately scaled library works as the perfect spot for some alone-time, or a hideout. The library's walls are sheathed by Zebrawood Panels and near to it, the fireplace surround happens to be covered in Italian-glass mosaic tiles from Bisazza.
The ultimate spa adjacent to the gym features Venetian-plastered elliptical soffit ceiling to maintain a light ambience. Materials and furnishings include white marble; Bisazza tiles; George Cameron Nash club chairs covered in white terry cloth from Perennials, and a console table from Nash's Cameron Collection; and John Boone cube stools.
Other amenities include a roof terrace overlooking the pool and barbeque terrace, terraced orchards, an open-air living room and what not! The house is an overwhelming mixture of every luxury, every design you could possibly think of, and every amenity you would want to live with. Now wonders this home gets the Ultimate Home award- enjoy the pictures of this dream-come-true-home.