With these furniture sets, it's all about funk and style. You will realize each of them has a vivid, innovative concept, making you wonder 'what were they thinking when they built these'? Utilitarian designs take a backseat as we see 15 of the most ingenious, cool and eye-catching pieces of funky furniture, ever.
Cafe Furniture with Compartments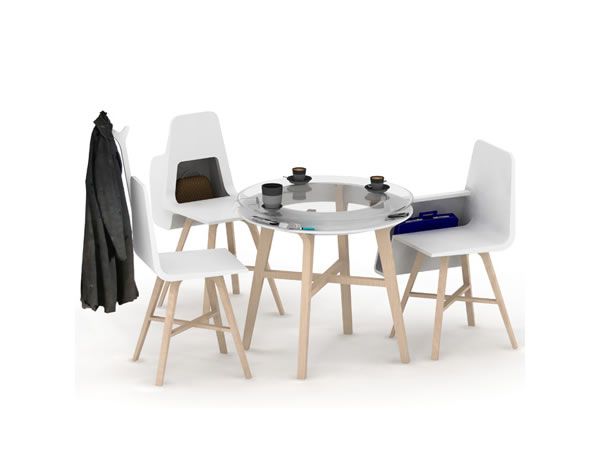 Ever experienced space problems for your stuff after walking into a cafe? Kaman Tung's smart set of cafe furniture has the solution: One chair has a compartment behind the seat, another has space for a laptop or briefcase in the arm and the third has a hook for coats. The table has a shelf below the glass surface for keys and gloves.
Minimalist Teak Bathroom Furniture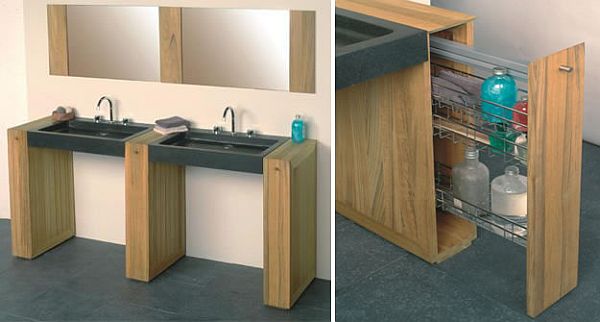 With compact sized living spaces, space becomes an issue. Mores so, in the bathroom! And, most importantly, the furniture should not take up much space. This teak furniture set from Bristol and Bath does not look like it has enough storage space, but the wooden supports are pull-out drawers that can hold all your toiletries.
'Stay at My Home' Sleeping Set for Guests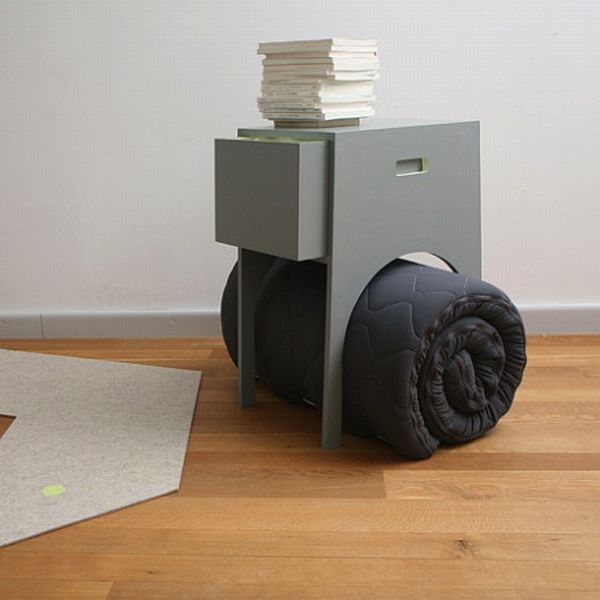 If you are the kind who love guests, then this furniture is for you. As welcoming as its name, the 'Stay at my Home' sleep set looks like an ordinary side table with a blanket rolled up beneath it, but is actually a full set of furniture for guests. The comfortable bed is made of soft foam, and stored within the drawer of the table are bed linens, a pillow and a bedside lamp.
KEWB Multi-Functional Living Room Set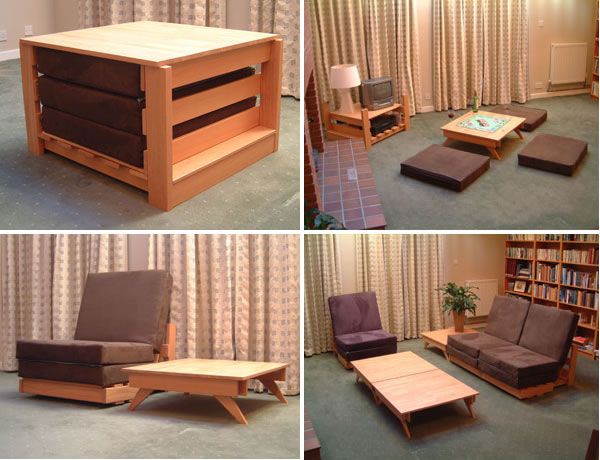 This compact little set of furniture by KEWB turns from a side table and chair into a shelf unit, a bed or a dining table and floor cushions according to your choice. Simple and multifunctional, this would be great in rooms which often have to be transformed into bedrooms for guests.
Kraft Paper SoftSeating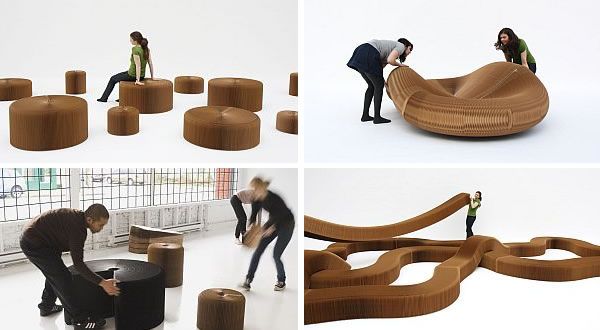 It's soft, it's beautiful, and it's eco friendly. Made entirely of 50% recycled Kraft paper, this 'SoftSeating' furniture set by Molo uses a flexible honeycomb structure that can be made into stools, benches and loungers. It can also be compressed flat and stored in a shelf when not being used. Flexibility in furniture usage is a big deal, and this furniture does just that for you.
Stone Patio Furniture: Uh?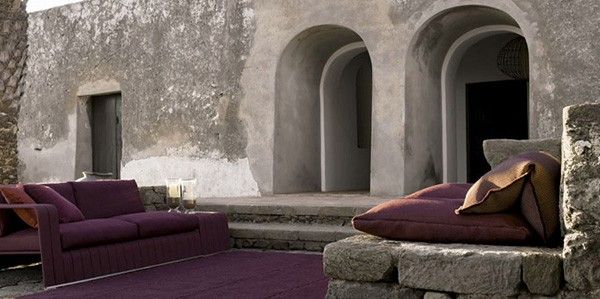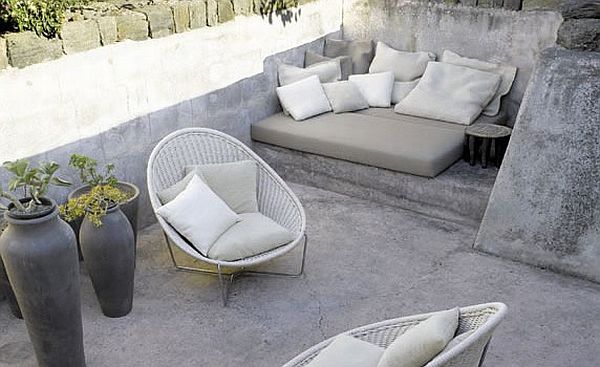 This patio furniture by Paola Lenti can make even stones come alive and welcoming: the soft welcoming textiles warm up the space. The distinct hues – buff and beige – that adorn the furniture and stone patio, blend together, and a deep eggplant, which give a remarkable contrast – makes this furniture set all the more enticing.
Stackable Furniture for Small Spaces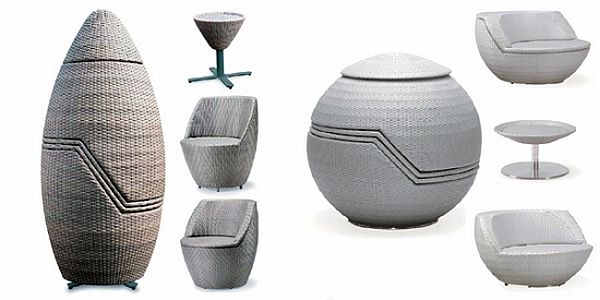 It's the in thing, and does not necessarily be cheap, stackable stuff. With even huge homes going for the cool, energy efficient living spaces, the trend is sure on the rise. These two sets of stacking furniture – Capsule Stacking and Golf Stacking – each transform in to a set of chairs and a small table. Stack them up again, and forget space problems.
M-cube Mobile, Modular, Multi-Functional Seating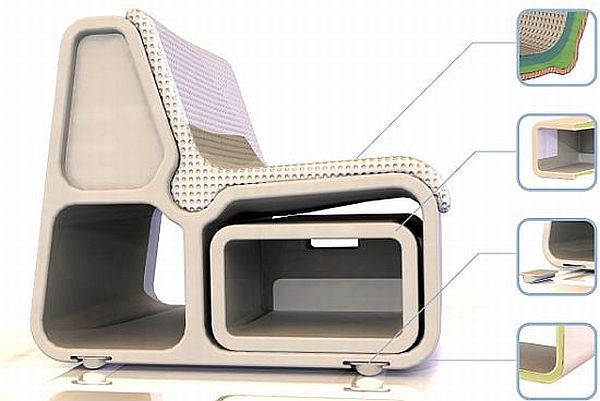 Intended for people living in high-density housing, the multifunctional M-cube seating unit adapts to jagged and tiny floor spaces to reduce mess, and increase furniture function. Ultra lightweight and featuring removable upholstery, this furniture is one-of-a-kind.
Bright Furniture Designs by Stanislav Katz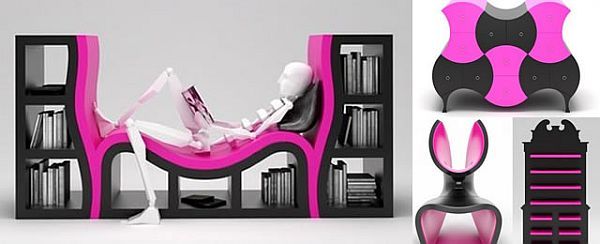 Designer Stanislav Katz has played with unusual proportions and colours for this wild, vivid design. Looking straight out-of-a-movie-set, the unusual furniture is gorgeous and eye-catching; especially the curvy bookshelf with a built-in spot for lounging and reading.
KurePod Dining Table & Chairs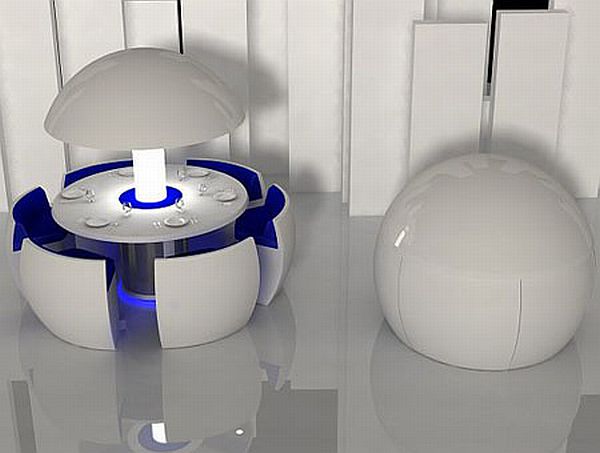 Still in the concept phase, this amazing design may become your favourite dining furniture. A minimalist piece of furniture, the Kure Pod Dining set by Fatih Can Sarıöz is a giant white sphere, but when you're ready to eat, it opens to reveal four seats, a tabletop, a lit central pillar and an umbrella-like roof with built-in lights. Definitely an idea that makes you wonder when it will actually be available, isn't it?
Wave Chaise Teenage Bedroom Set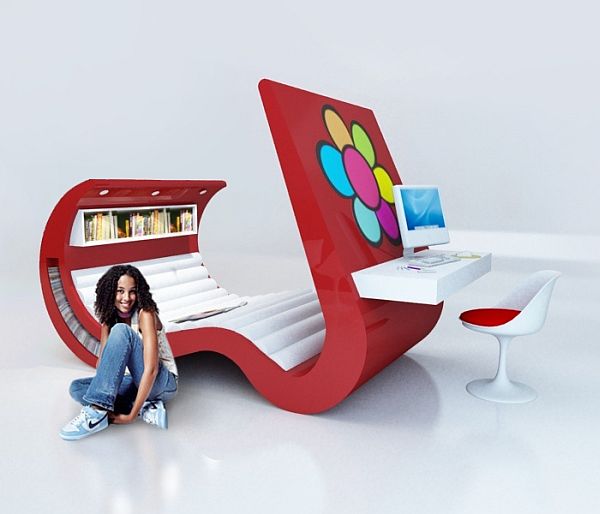 The Wave Chaise, created by designer Roberta Rammê ofBrazil, is a teenager's dream. The chaise has built-in media storage for books and CDs, and a place to hang a flat-screen television as well as a built-in desk. Simply put it's the unification of beauty, comfort, and functionality with intense colours and global hi-tech culture.
Poufman (Packman) Living Room Set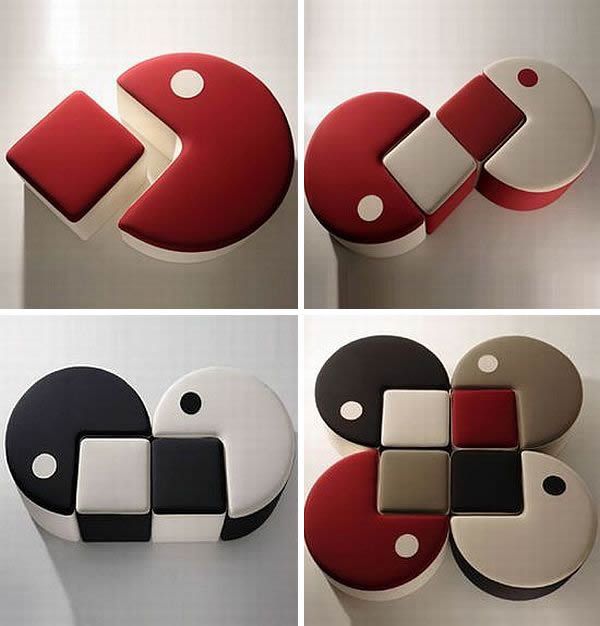 Italian company Qayot presents this Poufman living room set as a tribute to pop culture. The furniture fits together in various configurations to create seats and ottomans, using the retro imagery of the classic Pac-Man video games.
Illuminated LED Furniture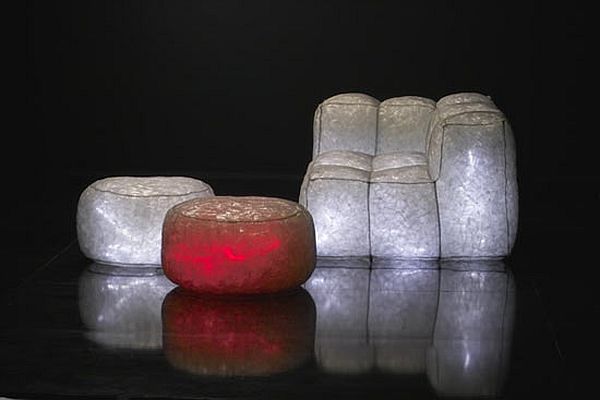 For people who love night time pool parties, here's the 'Stardust' series by Italian furniture company Meritalia. The lightweight beautiful furniture contains built-in low-voltage LED lights, which glow to illuminate these sofas, pillows, armchairs and footstools.
Furniture That Grows With Your Child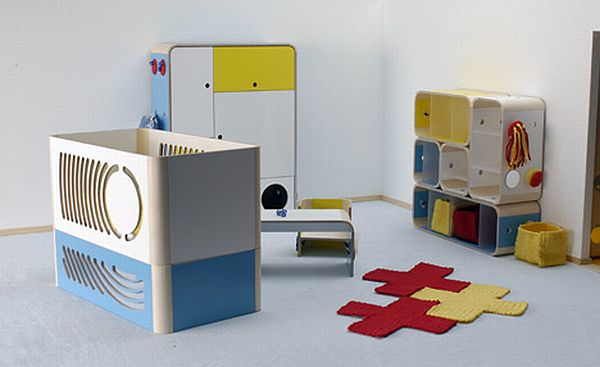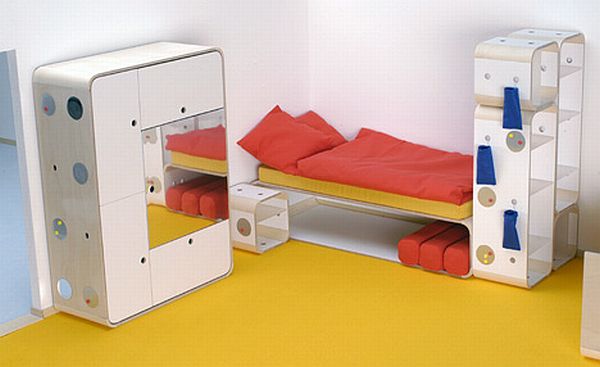 Designed by Carmela Niederhauser & Nadine Grau, this bedroom set holds potential to become your child's best friend – not literally though, but it's just been designed to fit all that a child needs from infancy to teenage. The set features a crib/bed as well as parts that can be transformed into desks, armoires, bookcases and the like.
Blooming Furniture Set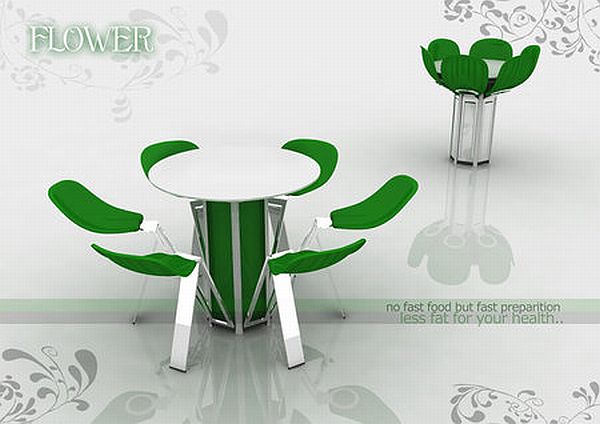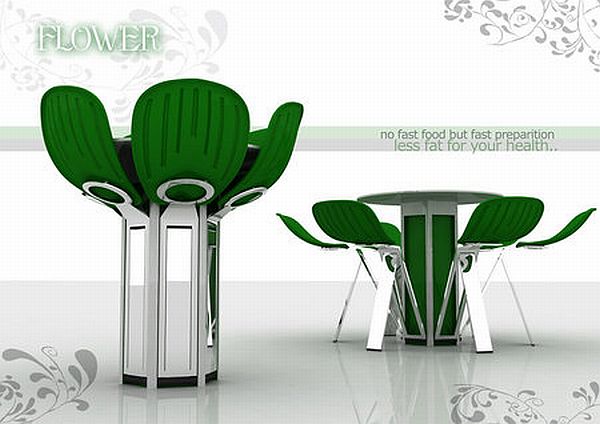 Fatih Can Sarıöz has another of its concept designs in the list. The blooming flower dining table set features six green chairs surrounding a simple green-and-white table, which gracefully open and close like the petals of a flower to unveil seating.
Like what you've seen above? There are many more ideas, which are just as cool. If you're in the UK you may want to give Funky Furniture Hire a go, as they propose a contemporary alternative to the standard chairs and tables that seem to have become the norm these days.
[With help from WebUrbanist]