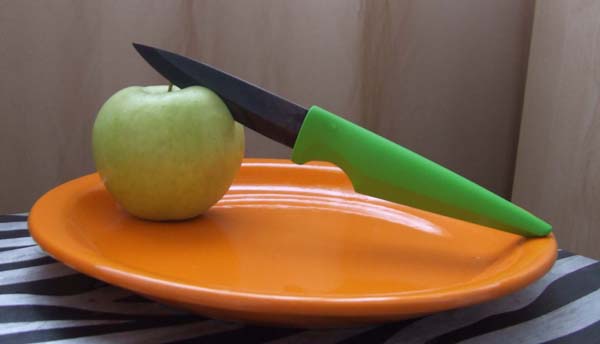 The Ceramic Lime Chef's Knife and the Ceramic Lime Utility Knife are exceptional helps in the kitchen. I tried them myself and I have to say that the weight, shape, materials and colors have interesting features. Easy to maneuver, each knife feels best when you use it on the right ingredients. The Ceramic Lime Chef's Knife's 15 cm blade is great for chopping, slicing, dicing or mincing, it really helps especially with slicing onions – my personal hell in the kitchen. The smaller one, with a 13 cm blade, helps a cook go in details when it comes to serving food.


The bright, vivid colors of the handle help me quickly localize the knifes in the kitchen, while the dark Damascus blade reminds me to admire its shape and power. Although strong, ceramic blades were not built to cut through bones, frozen food or other hard produce, so make sure you protect the beautiful green knife from careless repercussions and only carefully hand wash it to avoid any injury. Edge of Belgravia warns us that "over time, miniscule abrasions or chipping may occur" and ensure us that "this is normal wear for the hard material and does not reduce the superb sharpness of the blade."
No need for sharpening, because both knifes have durable ceramic blades. Stylish lime green handles ensure you have full control of the knife even when wet. The handle is made of a rubber that feels soft and also gives you the feeling of a safer hand when using any of the knifes. You can find out more about the Utility Knife here and the Chef's Knife here. Knowing that each knife is part of a limited edition series of 999 pieces, I'm happy to have these two in my kitchen.
PS: Two more knives will be offered to one lucky reader in a contest that we'll announce later today.