Modern sustainability and a bit of industrial charm is what defines this restaurant rehab in the historical Brooklyn Heights hood of New York City. It's dubbed the Colonie Restaurant and the whole job was envisioned by the creative architect Alex Meyers of MADesign. In his mind, recycling materials wherever possible would actually help maintaining the clean, rustic barnhouse feel of the restaurant, while at the same time, would add a tinge of modern to the whole place.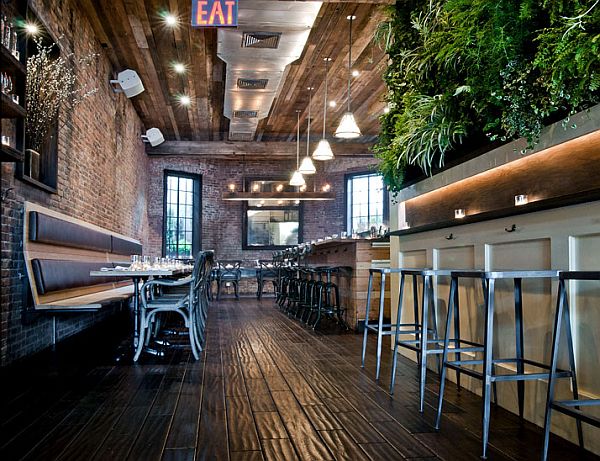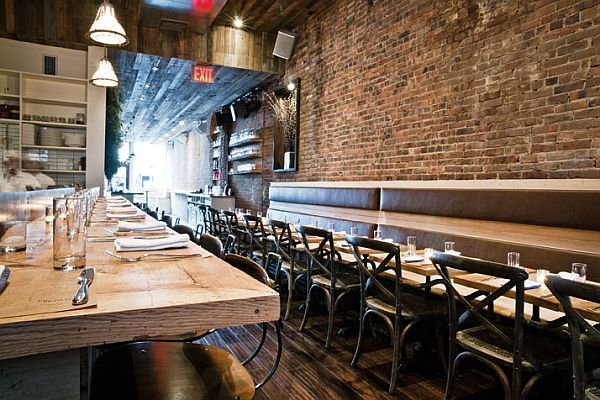 So why exactly is this a great sustainable design example? The restaurant features reworked, recycled church pews as tables to serve dinner. It has reclaimed wood for the floors, the tabletops and the ceiling. Speaking of the roof, a repurposed steel beam is now the main focal point when you enter the building as it acts as a chandelier right above everyone.
I'm not sure if Alex Meyers wanted to create such a friendly atmosphere and a familiar experience at the COLONIE restaurant, but if he did, he deserves all our kudos. Definitely sounds like a place I would love to spend my dinner at. Cozy and chic, yet so industrialized: that's the perfect match for a cool night out. You can find it at 127 Atlantic Avenue, Brooklyn, New York 11201.
Oh, and if the above didn't convince you, here's how Colonie is trying to win you over: "Check out our lush green wall, which supports 20 different species of plants and is made out of 100% recycled materials. Come see it in person!"
Neat!