The Stacked House was reconstructed by Indian architectural studio Architecture Paradigm. Located in Bangalore, India, the residence needed revamping in order to explore the modern family lifestyle that the inhabitants were searching for. Working with a 400 square meters property that features a sloped terrain from northeast to the southwest, the architects had to reformulate the initial floor plan that only contained room for three bedrooms. The client needed his son's family to benefit from a separate life without losing touch with the rest of the three generation household.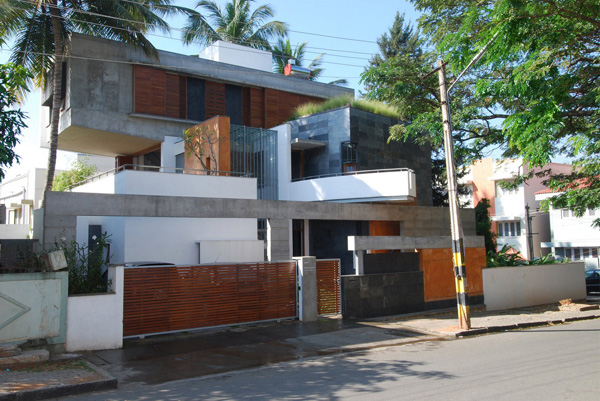 They accomplished this by adding a three bedroom unit on top of the existing structure for his son's family. Different sized volumes were added to keep an open structure that communicates with the outside spaces while protecting the inhabitant's privacy. The supporting structure was reinforced by columns and beams. The architects added character to the house through the use of different materials and design elements: glass skylights, ferroconcrete and glass bottle panels, wooden screens, pergolas and a conical skylight ventilation device.
The last two pictures show the house before the renovation and you can also see the former floor plan and compare it to the final result. Enjoy!