The perfect home is dictated by the owner's personality, aspirations and choices. I'm sure you will agree that this next apartment is a work of art.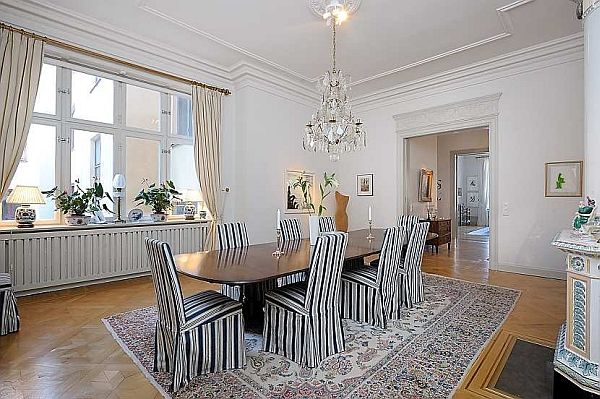 Combining traditional with modern this home is a stunning place to live in. The bright colors of the walls make the space feel airy and big. The traditional feel is given by some quality details, such as the beautiful fireplace, paintings and some classic pieces of furniture. On the other hand, the modern elements are found mostly in the kitchen and bathrooms, where you can see upscale stainless steel appliances, contemporary tile and a high style shower and bathtub.
In addition the dining area has a white cabinet-covered wall that have a counter top which can be used as a servery.
Swinging back and forth between traditional and modern this apartment is an oasis of beauty. It can be bought for 20MM Swedish kronor (with a monthly cost of 9751 SEK), and as you guessed, it's located in Stockholm, Sweden.