The almost psychedelic JWT advertising agency (Neuilly/Seine) was designed by Mathieu Lehanneur in collaboration with architect Ana Moussinet, to represent a "digital plant station".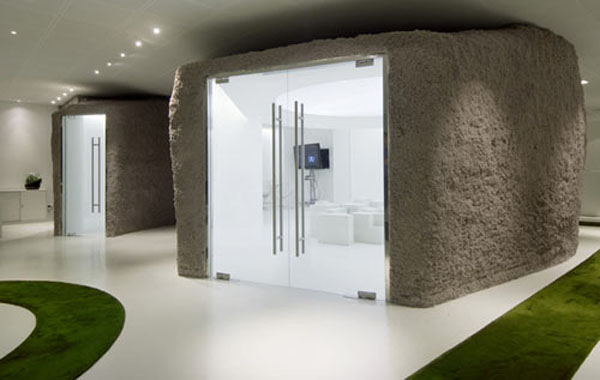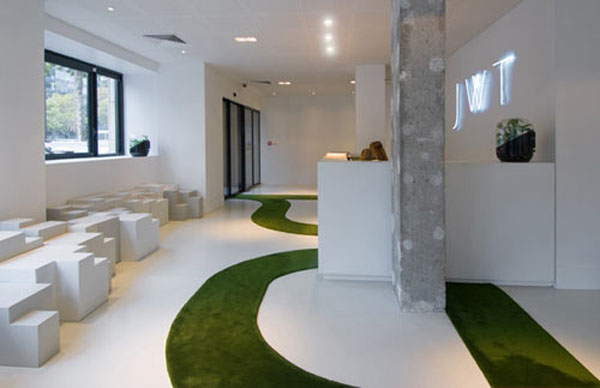 With an adventurous and intriguing layout, the unlikely combination of elements and materials, as well as design objects is meant to create an inspiring work-environment that would encourage brainstorming.
A reversal in spatial hierarchy also contributed to the concept, the chairmen and director's offices being placed on the ground floor, close to the hub and reception hall.
The meeting room is a space with rough cavern-like walls from recycled paper fibres that make for effective soundproofing and thermal insulation, and for a space that is mentally challenging, high-tech and organic. The immaculate white, the textures and the suggestion of natural elements contributes to an non-oppressive, airy space.
The design of the agency has not neglected the use of contemporary bar, in the installation acting as coffee break bar, a black tar meteorite, which can be regarded as a welcomed piece of chaos into the harmony, a mass of anti-design. Another wonderland feature is the plant jukebox, a creation of Scenocosme, which seemingly endows the cascading plants with music when brushed against. All in all, a very clean-aired, intriguing and creative space, a breath of fresh air in corporate design.