Structures that allow both uninterrupted panoramas of the surrounding nature and a great design are sometimes found in the most magnificent places. Evolver by Alice Studio is one of those structures: a spiralling viewing platform constructed in Zermatt, Switzerland as a project belonging to a group of students from the Ecole Polytechnique Fédérale de Lausanne(EPFL).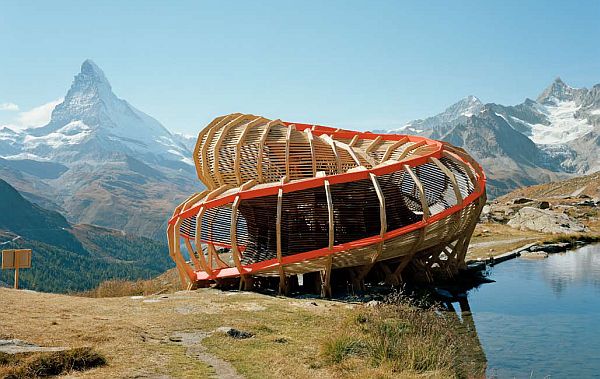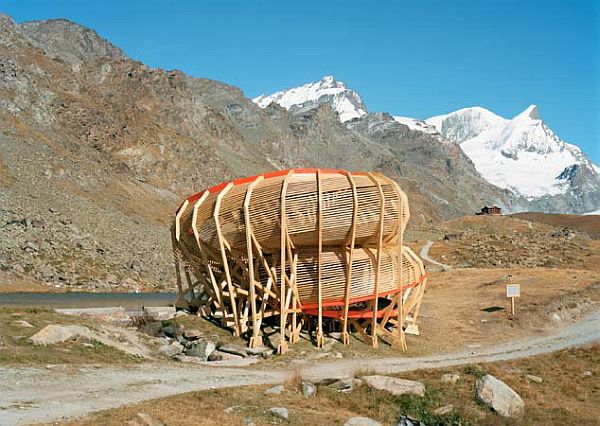 Twenty-four wooden frames form the structural spine of the project and an uninterrupted slit travels along a tubular path to offer a continuous 720 degree route with astonishing panoramas of the nearby Stelli lake and the surrounding mountains. Through the parallel wooden slats, the visitor can catch glimpses of the landscape. The framed view differs depending on the visitor's vantage point.
From Alice Studio about Evolver —
Evolver is an inhabitable sculpture erected for the Zermatt Festival, the renowned annual event for Chamber Music featuring the Berlin Philharmonics and many others. As an architectural artifact Evolver intervenes spatially on the panorama surrounding Zermatt and was designed and executed by a team of 2nd year architecture students from the ALICE studio at EPFL in Lausanne, Switzerland. In an effort to take full advantage of the site's extensive and astounding views, the project sits strategically next to the lake Stelli at an altitude of 2536m.

Its structure mainly consists of a succession of 24 rotating frames supporting an enclosed space that visitors are encouraged to enter. As he or she progresses through the space, a concealed but uninterrupted 720° movement is unraveling along a transformed panorama.

This transformation occurs while inside a person is moving along a selective string of openings only to be caught peeling off a sequence of unexpected views from the original landscape. Wobbling below and above a distant horizon, ground and sky have been re-orchestrated into an orbiting panorama by a journey that has already culminated to where it started: A loophole on the skyline.