Designed by the famous and talented Herzog & De Meuron Architects, the fantastic Vitra house is headquarters to a furniture and appliances company.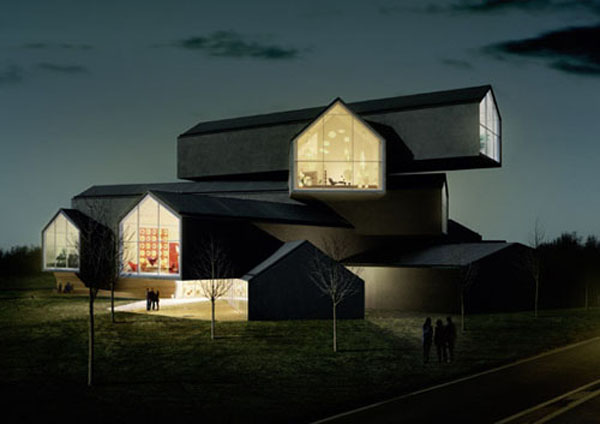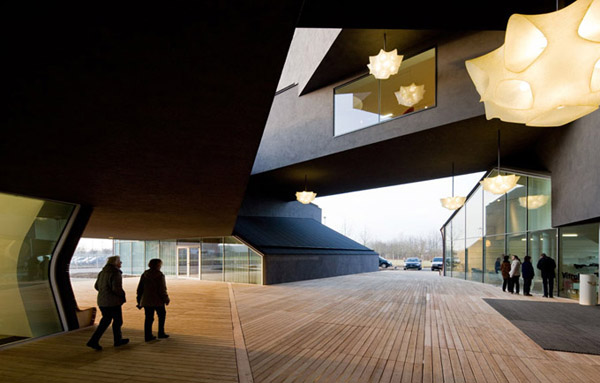 Located in the Vitra Campus in Weil am Rhein, in Germany, the building shares the site with works of famous architectural giants, such as the Zaha Hadid fire station, Tadao Ando conference pavilion, Frank Gehry Vitra Design museum and atelier, Alvaro Siza factory, Buckminster Fuller's Dome.
With a strong concept behind it, the Vitra buiding makes a post modern interpretation of the traditional house archetype and is also an exercise of stacked volumes' architecture. The concrete 'tunnel house' modules cantilever to all sides, fully glazed at the ends, allowing for panoramic views of the campus. Through the fluid curving of the module walls, an interesting dynamic is achieved on the inside and seating benches in wood veneer on the outside.
The inner spiral staircases uniting the levels make for fluid vertical inner spaces with intriguing perspectives, complemented by exquisite furniture and beautiful compositions of suspended light installations.