This spectacular complex by SAOTA encompasses a home and office, two separate structures connected with an underground oasis of hi tech, state of the art indulgence and entertainment, on the shore of Lake Geneva in Swizerland.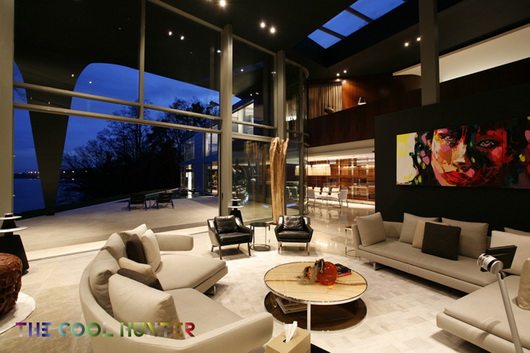 The dramatic main house is made up of rounded cubes and triangular masses, forming an L shaped living space. It houses the gigantic, two story, airy living room, light flooded and arranged with splendid lounge furniture , a colorful six foot painting by Francoise Nielly and a horse statue, among other decadent features. The façade is fluidly fringed by a black roof cornice flowing into a wedge shaped support element on the far corner, giving a magnificent illusion of scale.
The adjoining block shaped building features double façade, a glass sheet covered by a wall of staggered white stone blocks filtering the light in narrow strips, into a poetic Scandinavian inspired living space with cream and sand tones and the wood burning fireplace with a slender cast iron canopy.
The both fun and challenging part of Sow House is in the underground, next to the office, featuring a spa, sauna, pool and cinema.