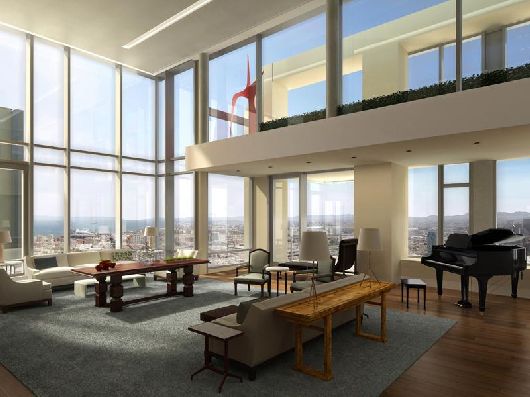 Located in the lush St. Regis Hotel & Residences is the newest and most pristine penthouse of the decade. Built by Orlando-based architects from Diaz-Azcuy Design Associates, this $49 million dollar penthouse boasts some of the most unique and specialized amenities.
The 20,000 square feet living space features two floors, 4 half bathrooms, 3 fireplaces, 5 car garage, in-home fitness gym, an in ground pool, and a library.
The living room is spacious and comfortable with the two-storey floor to ceiling windows that provide you a view of not only San Francisco, but of the expansive sky. You can just imagine the night view with the city lights and stars. The dawn and sunset times are a welcomed light show rivaled by few other places in the city. If you are musically inclined, it makes a perfect place for a concert with plenty of room for a grand piano.
The large bathroom has a wonderful marble floor that gives one a very clean look. The exquisite tub has water jets that will provide you with a relaxing, warm massage after a hard day at work as you lazily gaze across the city.
The library also has a splendorous view as the living area. A warm fireplace at one end provides both physical and visual warmth for those cool nights as the Bay Area is noted for.
With 6 full bedrooms and 6 bathrooms, a 360-panoramic view of the gorgeous San Francisco area and complete with everything you could dream of, that's definitely luxury at its best. Only if we could afford it … [via Sotheby]