Designed by Los Angles based architect Marmol Radziner for his young family, this 4,100 sq.ft. Vienna Way Residence is located on a large green lot in Venice, California. A perfect example of indoor-outdoor living, the house has been sliced lengthwise into thirds with the one-story wing on the south uniting with the two-story wing on the north through a sunken kitchen in the center.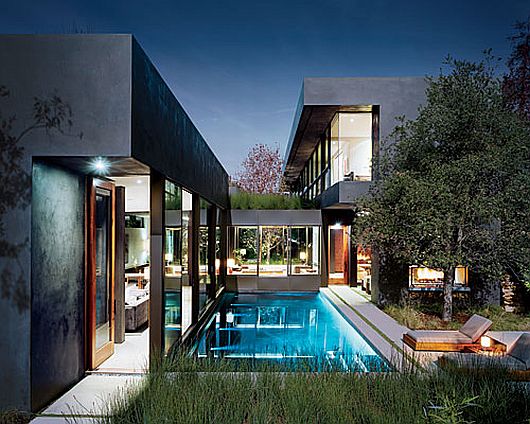 On the inside, elegant wooden furnishings blend well with the extensive use of glass and all those elegant sharp edges that make this home glow with appeal and uniqueness. And did we mention the stylish lap pool that will play the perfect host for any parties you're going to throw for your friends.
The countertops of the kitchen define the area as well as providing an inviting community gathering area for those interested in the preparation of the delectable food. A pass-through provides an effortless way to supply the hungry swimmers and party-goers with your food and libations.
The lack of privacy may or may not be suited to your taste, but all those fancy amenities and the overall design of the Vienna Way Residence make for an amazing retreat, one that you could only dream of before.