Located behind gates in one of Los Angeles' most expensive areas of Hollywood Hills, the luxurious residence at 8400 Grand View Drive, proves to be a true testimonial to modern perfection.
The house has a very daring architectural plan. There are 3 modern bedrooms and 4 lavish bathrooms all following the exquisite theme of using only the highest quality steel, glass and stone, but the real charmer is the amazing, relaxing living room looking across the city.
Yes, the views from the bedrooms are truly spectacular. Imagine waking up to such views in the morning. The view from the office area nearly makes you glad to work from home with the twinkling nightscape of LA, after a day at the office.
It has a spectacular infinity pool and spa offering mind-blowing views of the whole LA, disappearing walls of glass, floating stairs, cantilevered terraces and state of the art lighting. The waterfalls splashing into the pool are simply to die for.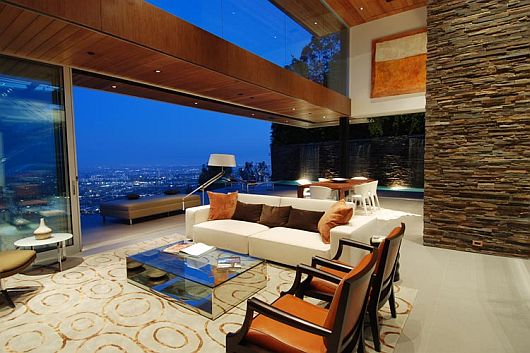 At the time of writing, this architectural masterpiece is for sale LAClassicEstates for a whopping $4.95 million. It's a bold attempt, but considering the stunning design and the privacy it has to offer in one of the busiest, nicest cities of the world, I know that it will sell to a rich someone who appreciates a good design when he sees it.
Update: sold for $4.9 million