We've all been there: you're hosting a dinner and you budgeted an hour to tidy up before guests arrived, but you're running behind. Or maybe you'd planned on spending part of your weekend cleaning, but life quickly became busier than planned. How can you pick and choose the tasks that will make the biggest impact? There's no shame in speed cleaning. In a perfect world, you would clean a little bit each day (or at least once a week) and never fall behind on your chores. But we don't live in a perfect world. Read on for 8 tips on how to speed clean your house in 15 minutes. Yes, 15 minutes!
Remove Clutter from the Living Room
Chances are, you spend most of your time in the living room. If not, it's likely the first room you see when you enter your home. Removing obvious clutter=instant face-lift. If you're in a hurry, you probably won't have time to put everything where it goes. If an item is easy to put away, stash it in its proper place. Contain other items in a basket or other receptacle until you can deal with them at a later time. [photo from CB2]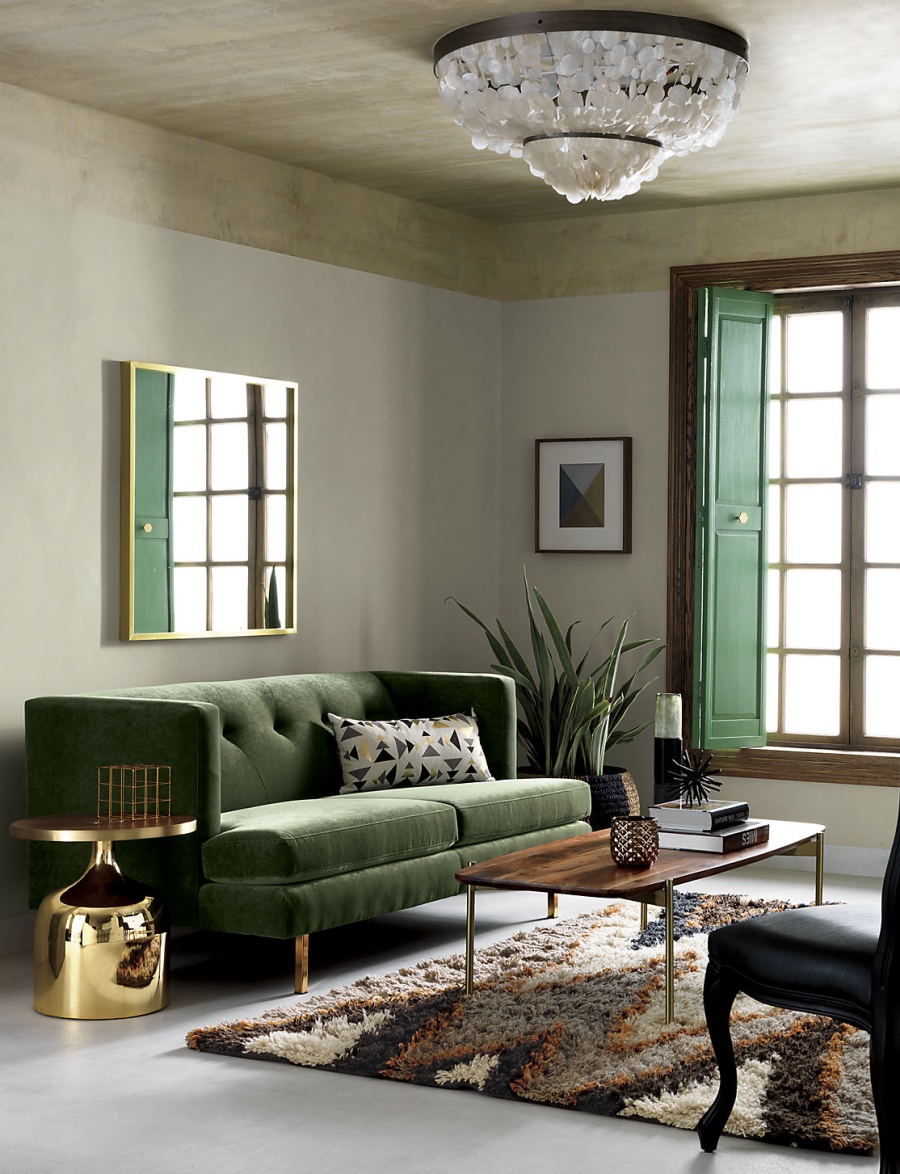 Make the Bed
If you're in a real hurry and you have guests coming over, simply close the door to your bedroom! If you have the time, it's amazing how making the bed can create a crisp, fresh feel, even in a bedroom that isn't perfectly clean. So tuck in those sheets, fluff the shams, and adjust the edges of the duvet until the top of your bed is a smooth surface that promises sweet dreams. [photo from West Elm]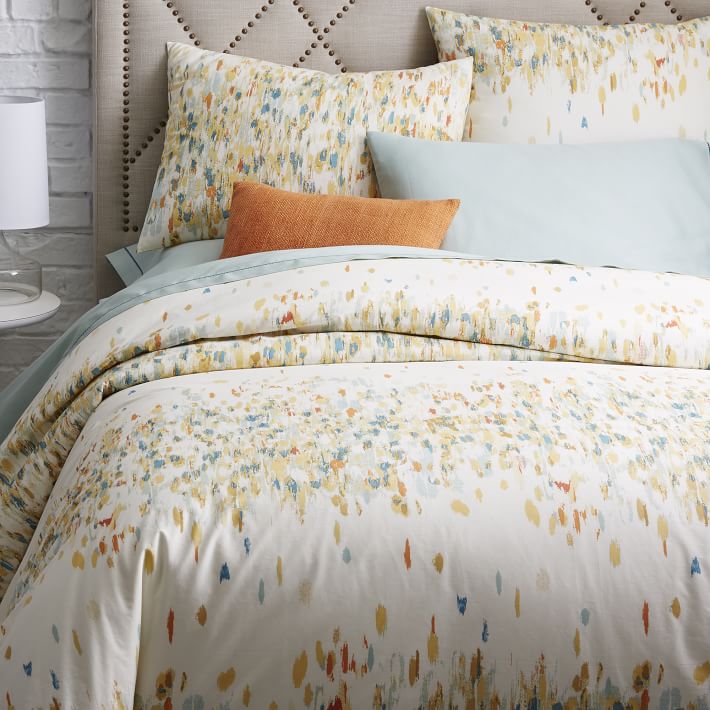 Load Dirty Dishes
There's nothing that brings the kitchen down like a sink full of dirty dishes. If you have a dishwasher, go ahead and load the dishes, even if it means quickly unloading the clean ones. If you have to hand wash your dishes but there's simply not time, stack them neatly in the sink after washing stray food down the disposal. And of course, remove dirty dishes from other surfaces of your home, such as the coffee table. [photo by Onyx & Ash via Justrich Design]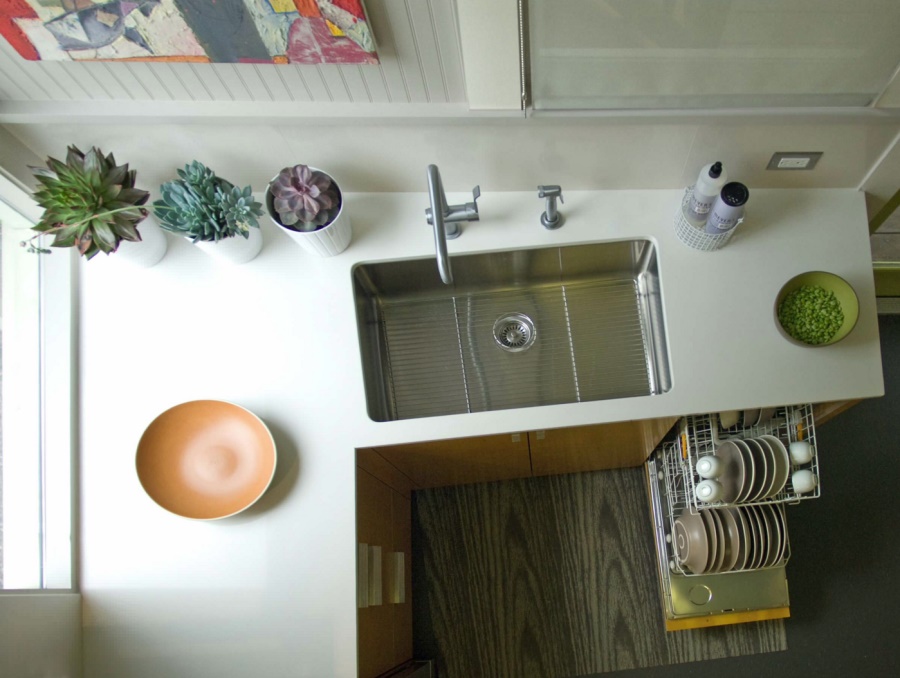 Wipe Down Kitchen Countertops
This easy task can be done in 30 seconds! Wet a paper towel with a surface cleaner and wipe down the kitchen countertops. Yes, it's that easy. If you have time, stash packaged food, bottles of sauces and other items in the pantry where they belong. [photo from Jamie Gold Kitchens]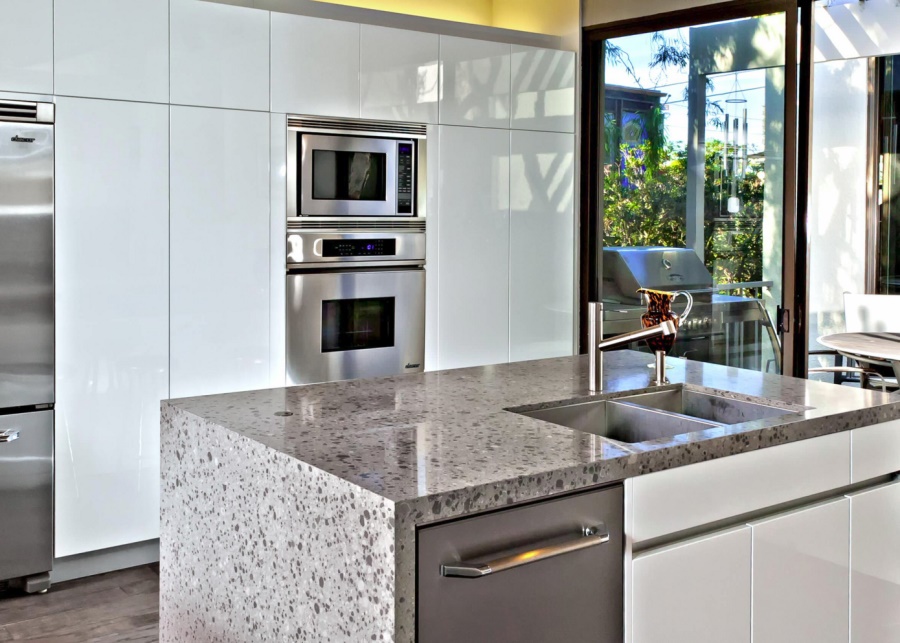 Clean the Surface of the Dining Room Table
This one is a no-brainer. After all, clean surfaces make the whole house seem clean, even if areas such as bookshelves and other nooks and crannies aren't clutter-free. So wipe down that dining room table if there are crumbs and other stray bits of food, and shake out those placemats so the tabletop is inviting rather than distracting. And if you're entertaining, set out some clean dishes for your guests. [photo from West Elm]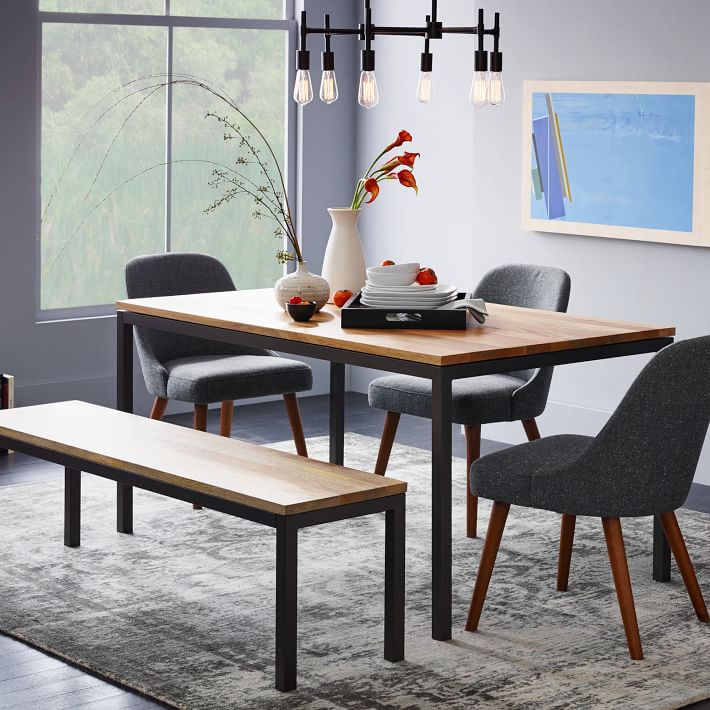 Wipe Down the Bathroom Counters
One of the most important tasks you can do when preparing for company is to clean the powder room. If you don't have time for a deep cleaning, simply wiping down the countertops can set a fresh, clean tone. Stash excess grooming products in the cabinets before you clean the counters. Bonus points if you put out a fresh hand towel! [photo from Mark Newman Design]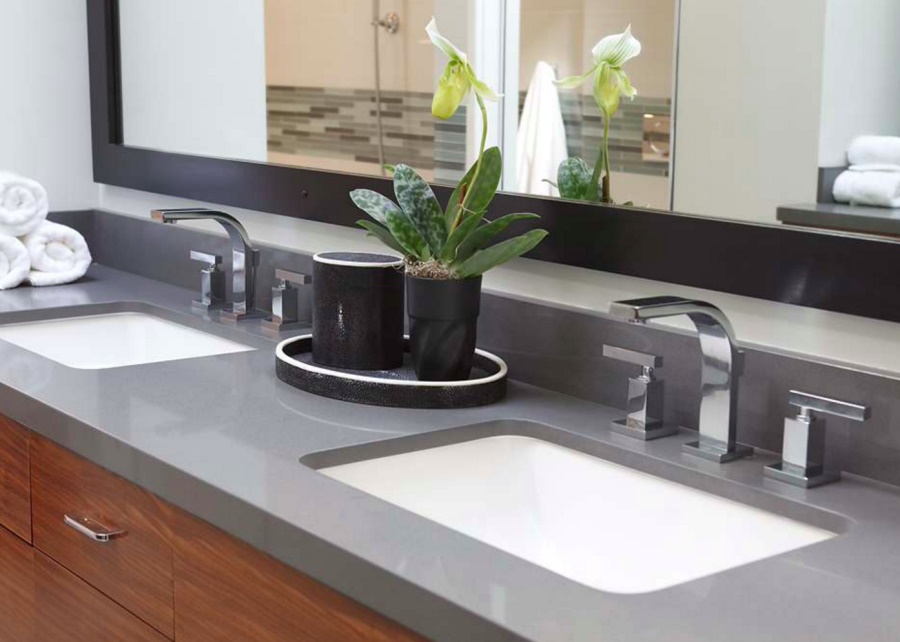 Take Stray Clothing to the Closet of Laundry Hamper
It's amazing how a stray coat here and a dirty pile of workout clothes there can give your interior a dingy feel. So pick up those clothes! The dirty ones go in the laundry hamper, of course. And if you don't have time to place the clean ones on hangers, simply drape them over the clothing rod and shut the closet doors, then make a point to hang them up the next time you head to your closet. [photo from Bolthole Design]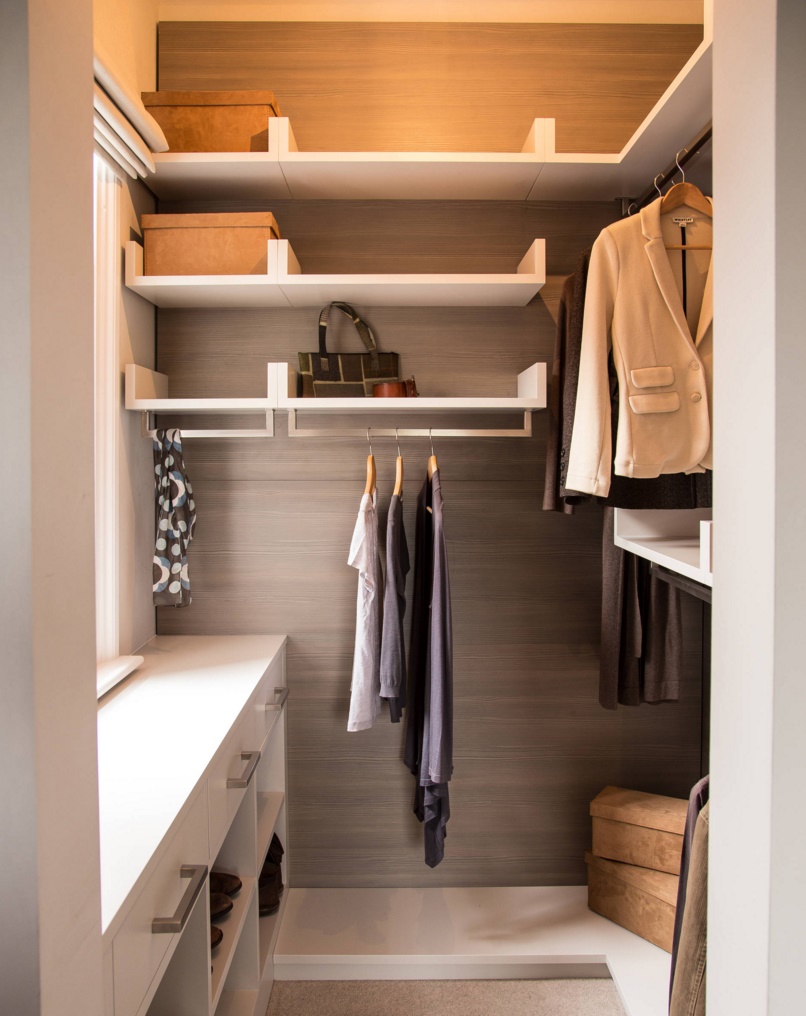 Spot Clean the Floor
No time to mop or vacuum? Take a dust cloth and remove loose debris from the floor if there are problem areas. Use a wet wipe or wet mopping cloth to spot clean dirty areas. It's not thorough, but it will get the job done if you're pressed for time! [photo by Peter A. Sellar – Architectural Photographer]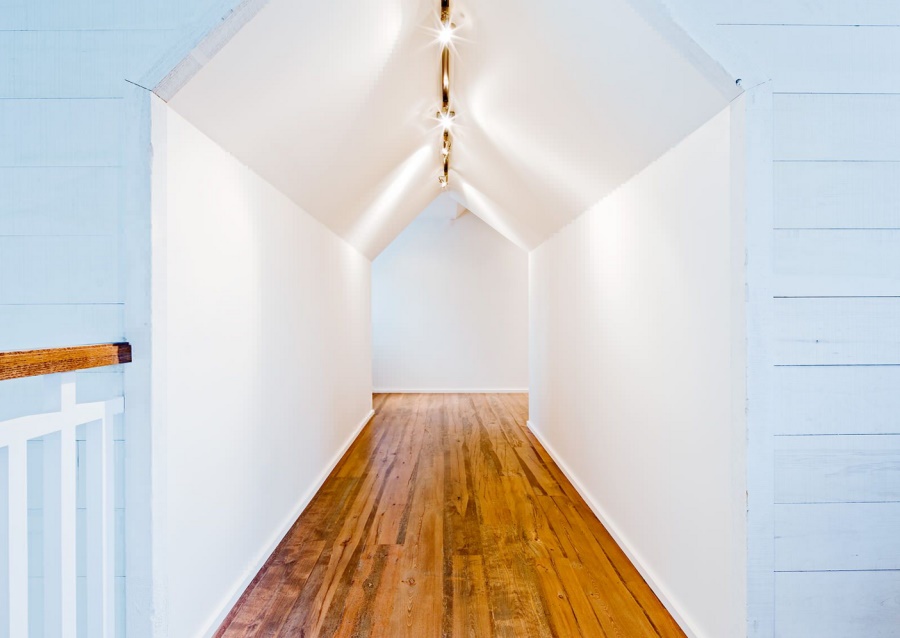 Happy cleaning! When you have the luxury of time, you can do a more thorough job. Until then, there's no shame in doing what you have to do to get by.