The invitations are out, the party theme has been decided, and all that's left is to finalize the decoration details. With so many ideas to choose from, the options can be overwhelming. You might want something that screams over the top or you might be looking to take a more subtle approach.
Either way, we know you would like your party to be unforgettable, so we found some DIY party decoration ideas you'll love and that will make it just that!
DIY paper chain garland
Nostalgia is likely to set in with this paper chain party decoration. As kids, we use to make these paper chains out of scraps of paper just for the fun of it. Well now it's time to put those repressed skills to good use as you create a festive party decoration. You can use this project to line walls or doorways or you can hang them from the ceiling to add a little extra pizzaz. [Courtesy of FloridianWeddings]
Repurposed Lit Umbrellas
Another creative idea that will achieve a charming ambiance uses umbrellas bought or rented then hung upside down among cafe bulb lights. This idea is fairly easy to duplicate and will wow your guests. Hang them outside for a summer party or over a dance floor for a little extra fun. [We need to thank Erin for the great idea]
DIY 3D doilies look great at any party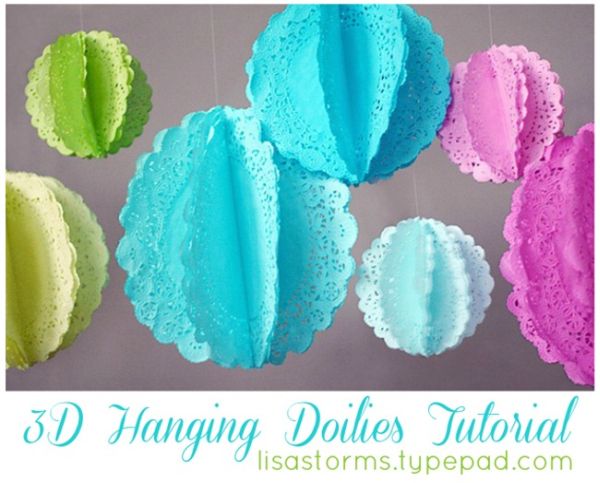 This crafty idea would look great at any party. The intrinsic design on the delicate doilies really adds that extra touch you've been looking for. All you'll need is paper doilies (use different sizes if you want to create the look here), food coloring, a glue stick, and some string for hanging. Make sure to visit UCreate for the full tutorial.