One of the greatest moments of childhood is when mother dear displays our amateur works of art for the whole family and guests passing through to see. Collages, pressed flower collections, even report cards hung proudly up with a magnet strategically placed in the corner, so as not to distract from our famous breakout piece. The older we get the less inclined we are to share our progresses-unless its on the wall of Facebook or feed of twitter- blame it on a abashment of our unrecognized talents, but deep down the feeling of being recognized never dwindles.
For Michelle Konar, she not only gets to hang up her original work she has the opportunity to share it with others as well. All this takes place from her tight yet inspiring 300sq ft. quarters. She is design extraordinaire, she is Etsy shop owner, she is SpacesTV Tiny Amazing Eclectic Spaces latest contribution to small space living!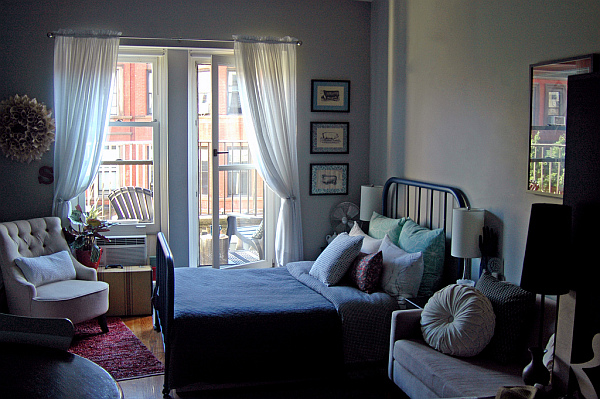 Though many miles may separate all of us from Michelle she was kind enough allow me to take advantage of technology and email all those DIY and Design Q's we've had. Now it is with great pleasure I reveal the A's to my fun and informative Q&A with Michelle Konar!
Q: As an Etsy storeowner and designer it's clear that you have a passion for design and infusing your space with abstract art. What advice would you give to someone updating their current or new space that will enable them to have a wow factor art piece or element without overpowering or being understated?
A: Creating a great piece of art does not have to be complicated! There are three things to consider when deciding on art for a wall– scale, color, and arrangement. By playing into these three concepts, you can turn your wall into a great conversational starter…. or into more of a whisper.
First, scale: really consider the amount of wall space you have. Nothing is more sad than a small framed picture on a big empty wall, so go large!…painting canvas in bright colors, framing beautiful fabric or papers, blowing up old family photographs or everyday items at kinkos, etc.