20 Modern Kitchen Stools For an Exquisite Meal
It's time to raise the bar. Does your kitchen seating meet your new standards? Do you have a high counter that would make a great dining space if only you had the right stool? Or perhaps you'd love a couple of low barstools to scoot up to the dining room table… Today is your lucky day!
Below we spotlight 20 amazing stool designs for the kitchen and dining areas of your home. Wood, metal, acrylic and plastic are the materials of choice, and we've got plenty of models to pique your interest. One thing they have in common: contemporary flair. But don't think these stools are all ultra-modern. There's plenty of vintage and rustic charm if you're searching for something with a worn-in feel. And don't forget those industrial pieces that bring a warehouse vibe to your space. A myriad of styles awaits you!
Wooden Barstools
Wooden barstools can bring a warm glow to a space, and they look extra chic when painted or topped off with a stylish finish. We begin with a pair of Felix Barstools, which exude retro style. A low back provides support without being overly structured. Chrome-plated legs add shine. [from Crate & Barrel]
For a similar look with a higher back, try the Scoop-Back Bar Stool + Counter Stool, which also comes in two heights and colors so you can find your perfect match. A bentwood body and chrome-plated legs add sleek style, as well as festivity. [from West Elm]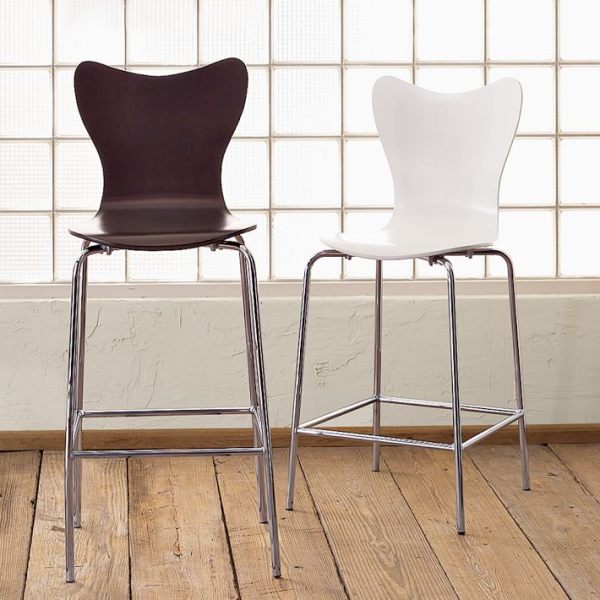 The Studio Bar Stool is pictured at the far right in the image below. Note how the wooden seat incorporates metal detailing. As you can see, this bar stool blends well with round backless stools. [from West Elm]
Looking for stools with earthy style? The Oak Tractor Seat Stool Collection is inspired by a vintage tractor seat. Metal legs add contrast and support, as well as modern flair. [from Restoration Hardware]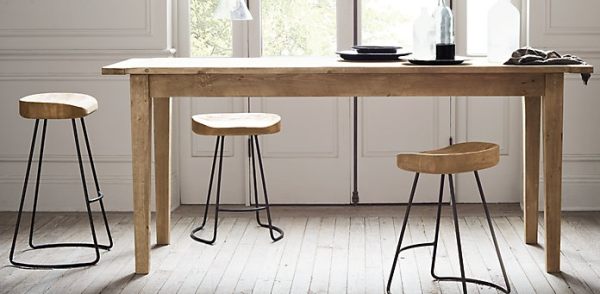 For an industrial look, try the Ribbon Bar Stool + Counter stool, complete with wooden seats and criss-crossing powder-coated steel legs. These stunning pieces are as interesting as they are well-made. [from West Elm]
The stools below almost have a metal appearance, thanks to angled design and a fresh coat of paint. But they are all wood! A Scandinavian-mod look is refreshing and crisp in shades of black, red and white. [from West Elm]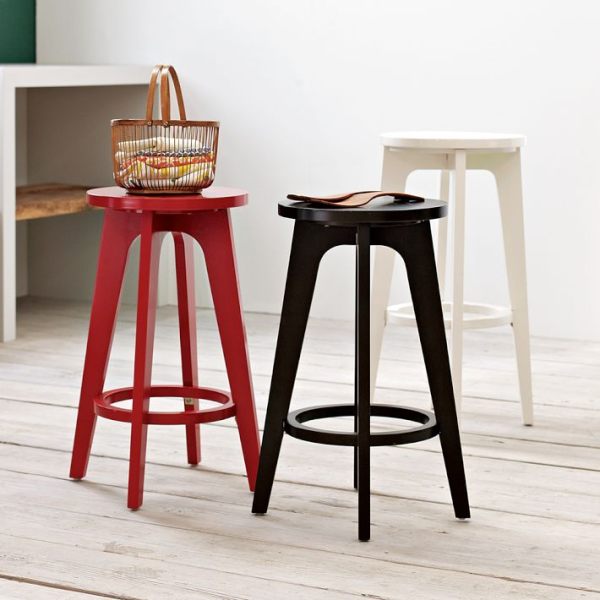 It's hard to resist the classic bentwood style of the Vienna Black Barstool. Based on a design from 1859, this piece is a staple for bistro kitchens big and small. If you're looking to brighten things up, you'll be delighted that the stool also comes in white. [from Crate & Barrel]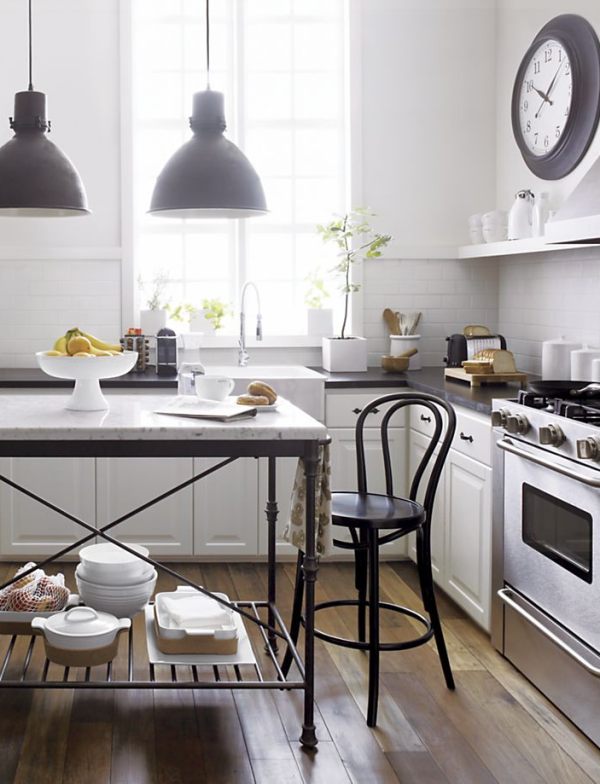 Metal Barstools
Sturdy and often industrial, metal barstools are often designed with a sense of mechanized grace or retro style. Take the Turner Barstools, which twist high or low to meet the desired height. Crafted of sheet and tubular metal, these pieces have an oxidized black iron finish. [from Crate & Barrel]
The Spin Barstools do just what their name proclaims–and a full 360 degrees of rotation at that! Made of contemporary brushed aluminum, they can exude 1950s charm when placed on a checkered floor, or modern minimalism in a more sparse setting. [from Crate & Barrel]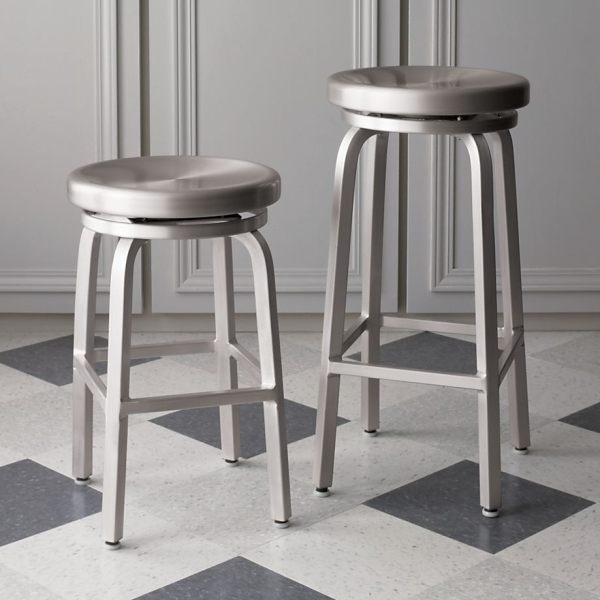 The Soda Fountain Stool Collection is striking with its clean lines and padded seats. Rather than conjuring images of '50s sock hops and glowing jukeboxes, these quirky pieces are based on 19th-century soda fountain stools. Antique in appearance yet undeniably modern, the stools are just the dose of whimsical style your contemporary kitchen needs! [from Restoration Hardware]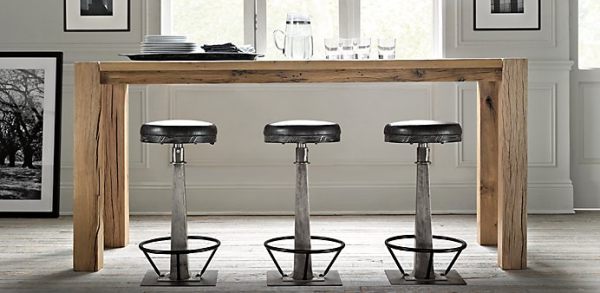 Is it a museum piece or a functional seating device? You decide! The Tractor Seat Barstool boasts a cast-iron construction with a claw-foot base. Billed as "rustic meets Rococo" design, the piece is wonderfully unusual, don't you think? Add a conversation piece or two to your bar… [from Restoration Hardware]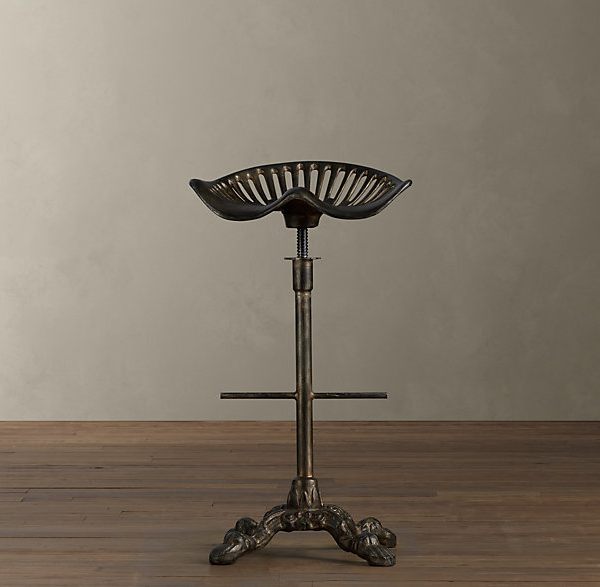 Looks like an army of stylish stools has arrived in the image below. The Vintage Toledo Collection combines materials like industrial steel, wood and enamel to create the perfect array of dark and light barstools for your kitchen or dining space. [from Restoration Hardware]
With their classic design, the Delta Barstools provide plenty of back support. Not to mention, two heights are available for your convenience. Solid yet subtle, these metallic finds are the perfect complement to a modern kitchen, like the charming space below. [from Crate & Barrel]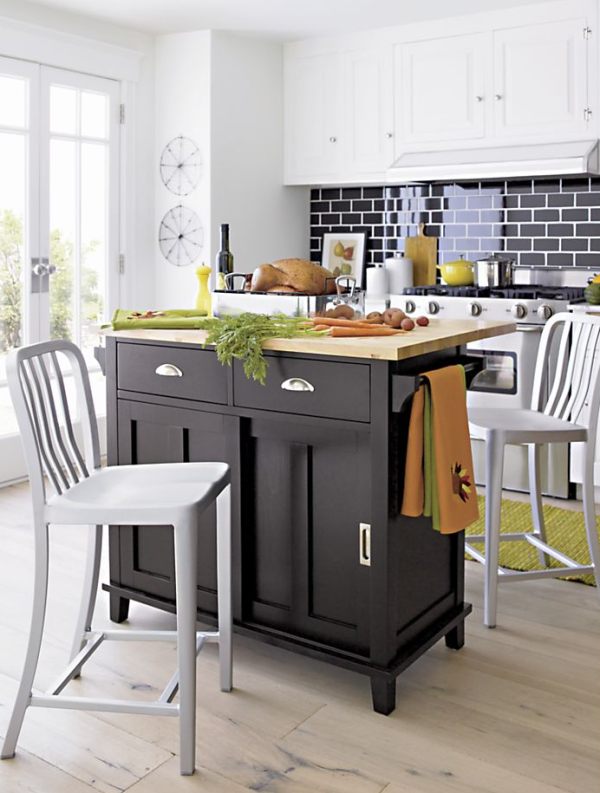 Acrylic and Plastic Barstools
Acrylic stools are oh so sleek. Because you can see right through them, clear acrylic pieces give the illusion of added space. The Vapor Barstools in the next image are perfect for surrounding a small table. They also shine under modern pendant lighting, as shown below! [from CB2]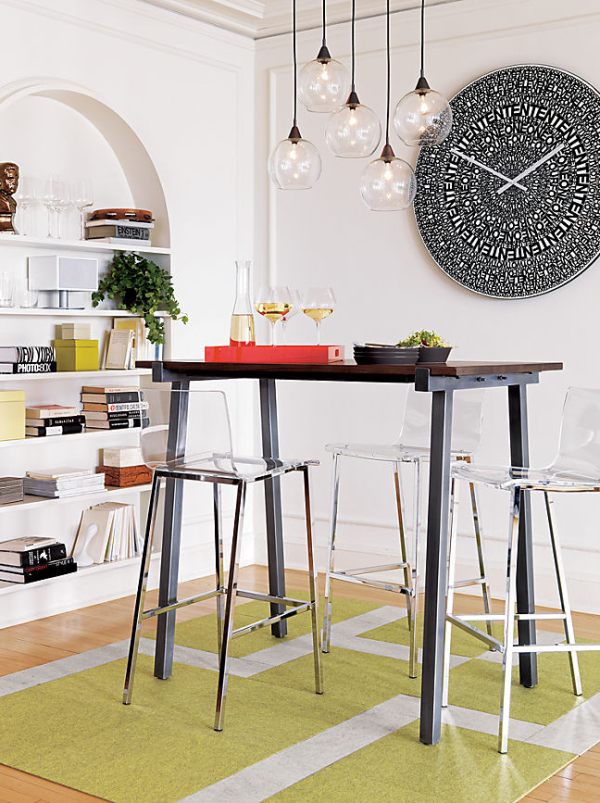 Clear acrylic stools are ideal for placement in front of colorful walls. Why: they allow their surroundings to shine through! The Baxton Studio Set of 2 Acrylic and Chromed Bar Stools are no exception! [from Mercantila]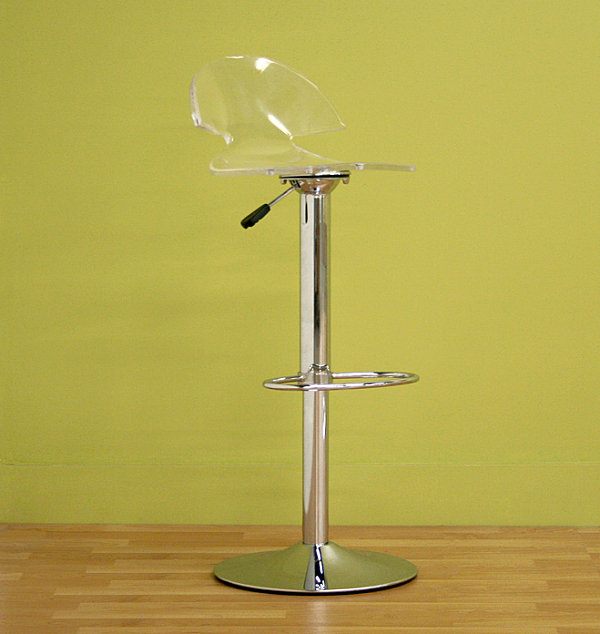 For a similar look, try the Baxton Studio Dessa Clear Acrylic and Chromed Bar Stool. Note how chrome is incorporated into the design of the seat, as well as the base. [from Mercantila]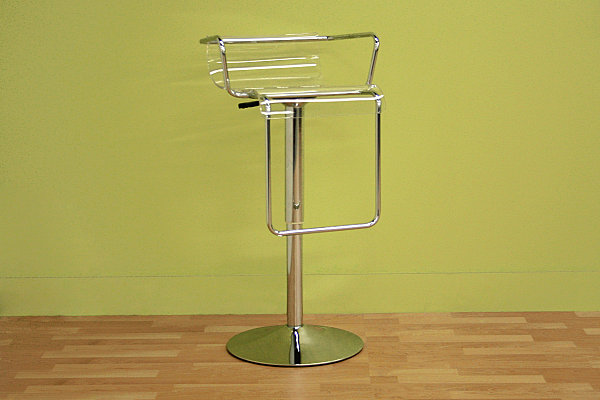 For acrylic style from top to bottom, check out this Set of 2 Liana Acrylic Barstools. Perfectly blending with any space, this pair of stools features non-marking feet so you can enjoy sharp style without floor scuffing. [from Mercantila]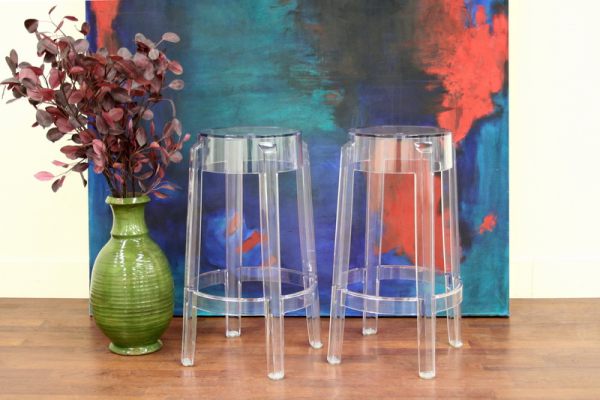 The Petite Barstools have wooden legs and Hirek polymer seats. These Italian-made pieces channel Eames with their glossy white design. [from CB2]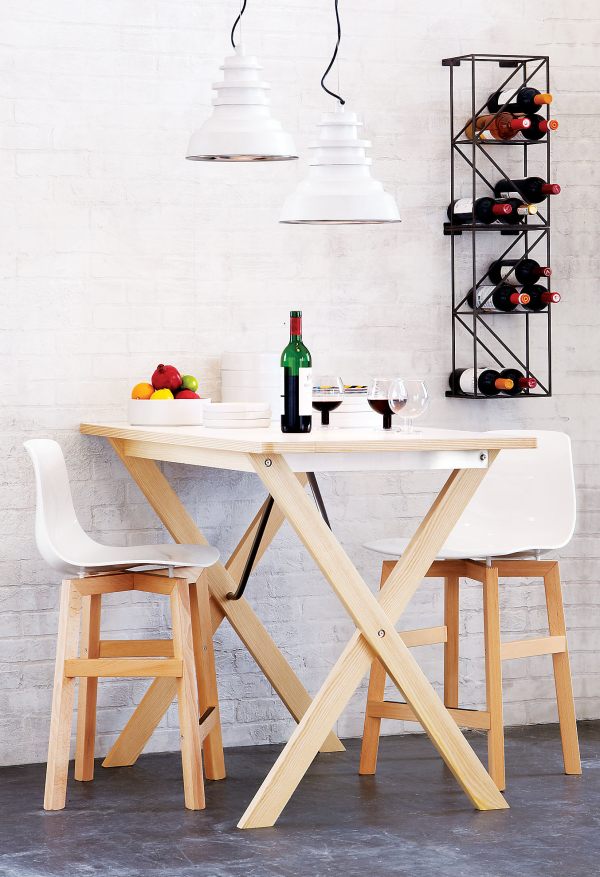 The Odeska Lacquer Finish Bar Stools have a high-gloss finish that gives them an acrylic appearance. Our favorite part: the way the underside of each stool adds a bright pop of color! [from Melrose Discount Furniture]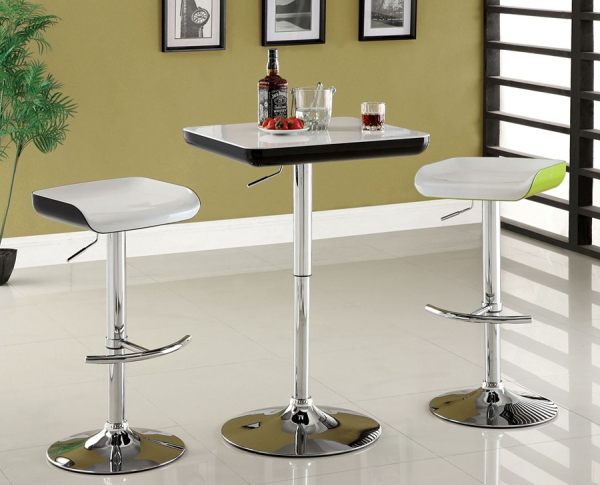 The Tiffany Counter Stool has a molded plastic seat that adds a strong dose of color to the kitchen! The stool is also available in polycarbonate. Not a fan of red? Order the piece in black or white. [from Room & Board]
Barstools are becoming increasingly interesting. What was once a quick addition to a tall apartment bar counter is now a chance to make a statement in the style of your choice. These days it's possible to choose a stool design that reinforces the style of your space, and all for an affordable price. Is your style more classic than cutting edge? Go with a piece that has a hint of antique flair. Are you wanting to make a minimalist modern statement? Try a clean-lined contemporary selection. A wide variety of barstool options await you…