When it comes to decorating your house, do you carefully arrange vignettes on tabletops and shelves? With a little patience and some strategic planning, each surface can become a mini-stage for your decor. Some people even revel in the joy of coordinating each design element, refusing to introduce pieces that clash with the style at hand. It is often these folks who are the most stumped when faced with the task of displaying family photographs.
There's no way around it–displaying pictures presents many challenges! Photos are taken at different times in people's lives with different cameras that reflect various levels of technology. In other words, the pics don't all match! Some photos may be in color while others are in black and white. Then there's the task of framing the pictures in a way that flatters them. How do you display family photos with style? We've collected an assortment of ideas to help you answer this very question!
Plan your arrangement before you hang the photos
When you're going to be putting a multitude of nail holes into the wall, it's a good idea to have a plan! And if you're renting, your landlord will thank you! Some people prefer a more hands-off approach and are satisfied with making pencil marks on the wall to represent nail holes, then hoping the rest falls into place.
However, many advocate a more involved approach, such as tracing the frames onto inexpensive paper (like wrapping paper), cutting out the tracings, then using painter's tape to adhere them to the wall. With this approach, the paper can then be moved around until the perfect arrangement has been found, and the nails are hammered right through the paper. Remove the paper, and all you have to do is hang the photos! For pictures of this process and ideas for wall gallery arrangements, check out some helpful tips from Woodrail Dr. [image from SAS Interiors]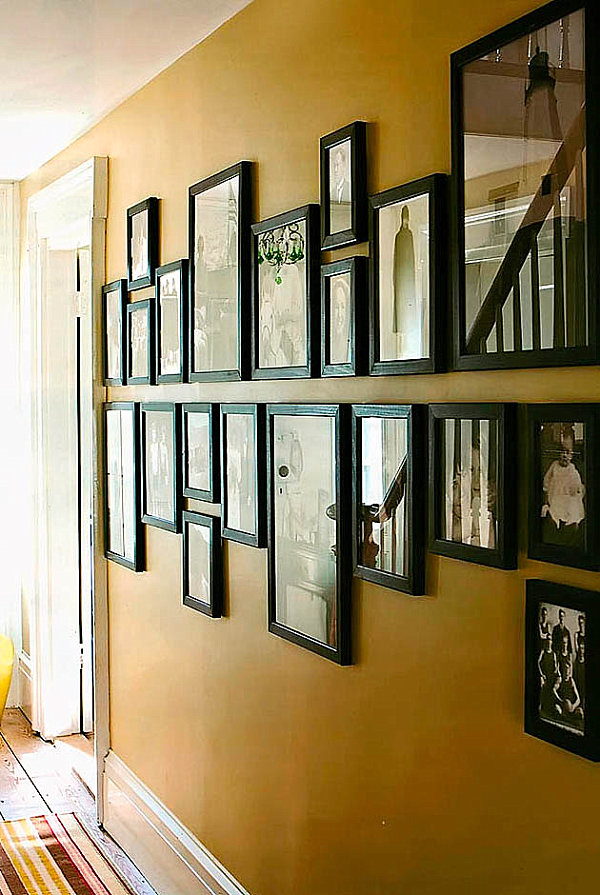 For another amazing picture hanging tutorial that includes the painting of unfinished frames, check out this blog post from Jen at Tatertots and Jello, who used adhesive strips to hang her pictures rather than nails. [from Tatertots & Jello]