They hold books and help keep us organized. They are bookshelves, and without them, our homes would be filled with piles of reading materials! But what if bookshelves could be as fun as they are functional? Today we explore ways to use bookshelves to heighten our design possibilities.
What if decorating your bookshelf were as important as decorating the living room? Below you will find our decorating tips, complete with visuals to illustrate the techniques we suggest. From shelves packed with books to shelves that make strategic use of empty space, you're bound to find an idea that meets your design needs. Who knew that books could be viewed as decor?!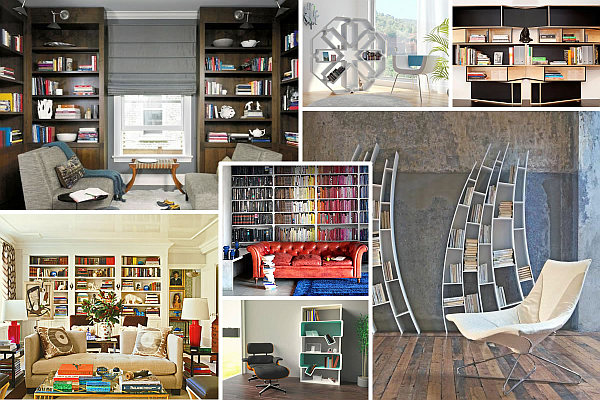 Bookshelf Display Strategies
We begin with some bookshelf basics. When you're planning your display, consider the function of the shelf. Do you need your shelving to hold a large number of books, or is there room to spotlight home decor treasures?
Idea #1: Balance books with decorative items.
If you have space to spare, throw some decorative items into the mix. Vases, statues and framed art are a few decor suggestions, as shown below. Note how a repetition of bright blue and white items helps unify the display.  [from Elle Decor via Knotting Hill]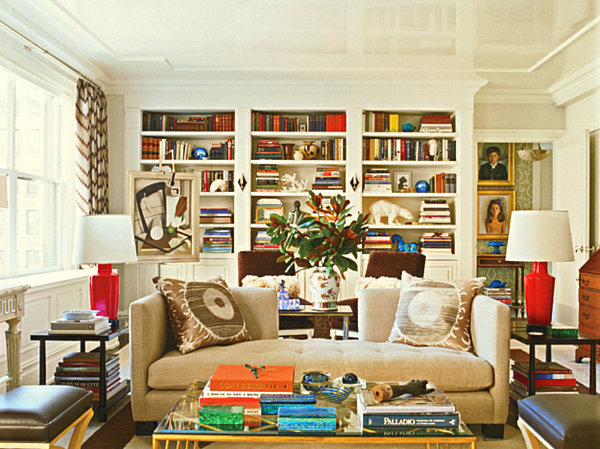 Idea #2: Create symmetry.
A sense of balance is powerful, and symmetry can truly anchor the room. In the display below, notice how books, vases and figurines are incorporated into the shelf arrangements. You don't see one side packed with books and one side featuring an abundance of empty space. This same unifying strategy can work for one bookcase with multiple shelves. Keep it simple by making sure that large items are balanced by other large items and no one area is strangely empty. [from Metropolitan Home via Knotting Hill]