Setting up a gallery in your home is always a special experience. After all, it is a collection of your most important memories and favorite art. Figuring out where in the home you want to set it up is always a big decision, so there are some great ideas for the three most common and useful places to set up wall galleries, which include the hallway, the living room, and the stairway.
Take a look at these styles and see which one of them would fit your home best. Inspiration galore, making it an effortless search towards finding the right option for you and your collection of displays.
Hallway Galleries
One of the most convenient places for setting up a wall gallery has got to be the hallway. First, there is a lot of unused room to cover with your most personal photographs. You really don't have to compromise on space. Second, it will turn the hallway from a dark passage into an emotional corridor. And last, it will give the hallway a purpose. It takes it from being a mere connection between rooms to a special gallery that will make you feel happy every single day as you walk through it.
With a lot of wall space to work with, there's almost no limit to how many photographs you choose to display in your wall gallery. Inspiration ideas for a hallway gallery are endless when you have the space to put up art, family pictures, or art pieces.
If you're going for a minimal look, a couple of bigger framed photos will work wonderfully! They will make the wall look filled but still retain an air of simplicity. The look of this wall gallery is the perfect balance, filling the space on the wall without crowding attention.
If your hallway is facing another wall, don't forget to make that wall a part of your gallery as well. It will help you create a gallery corridor, one that will almost feel like a room of its own. You can also leverage different sizes of picture frames, adding additional depth to the styling of your hallway gallery.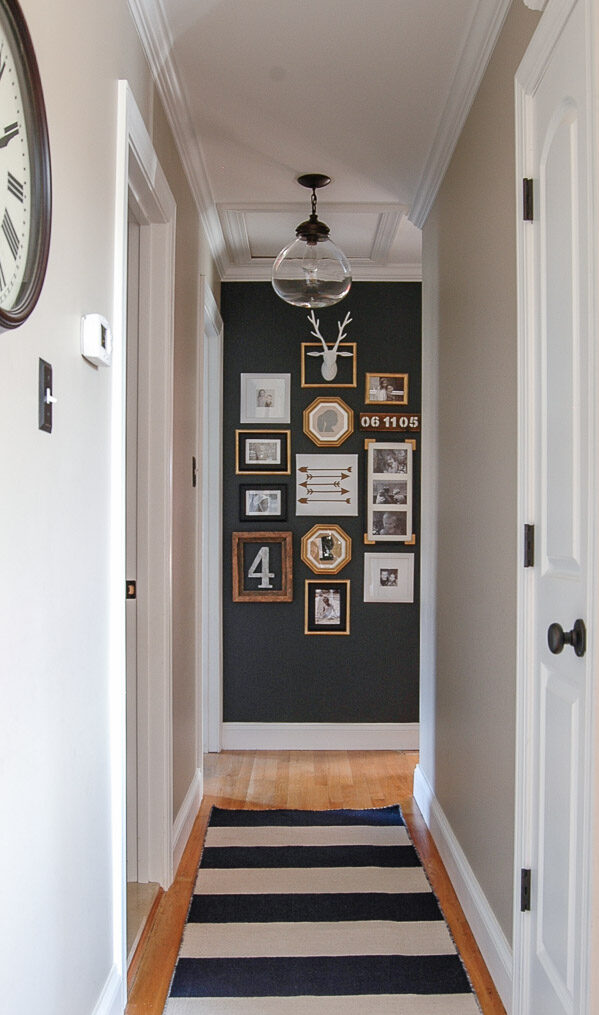 Here's another example of the wall at the end being made into a gallery. Even though it's at the end of the hallway, it affects it just the same. This idea is perfect if your hallways aren't too lengthy and you don't have much wall space to work with.
Do you want a bright hallway gallery? White is the color to run with! The entire setting will give your photographs a chance to stand out and be the center of attention. With the walls and picture frames being white, it will surely make your pictures stand out just that much more.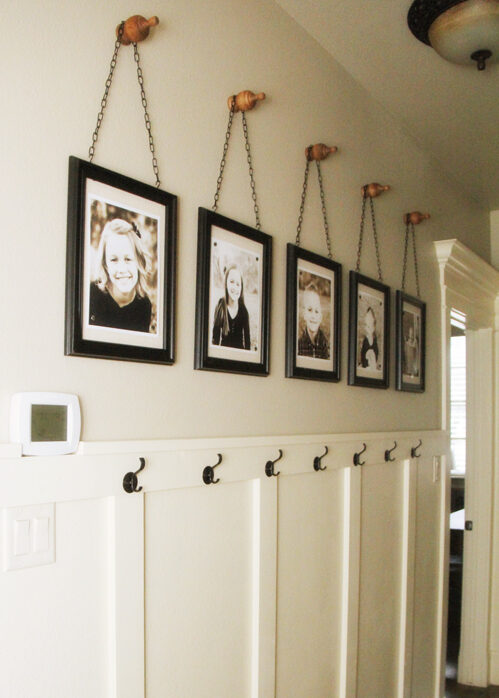 This is such a unique idea for a hallway gallery! Pick out some of your favorite portraits, like those of your children or other family members, and hang them in an innovative way, creating a precious horizontal wall gallery. You can also bring rustic character to your hallway by using unique ways to hang the picture frames, and consider going for black and white pictures.
Sometimes, a wall gallery can look like a super-sized collage of your most precious art pieces and family memories. This hallway holds many framed pictures, and yet it feels very breezy and spacious, just like an actual gallery!
Colorful hallways are an idea waiting to be pursued! They bring something so youthful to your home, and seeing as the world is full of colors, why shouldn't your hallway be as well? This colorful wall gallery is the perfect inspiration for the perfect use of color in a hallway gallery.
Here's another simplistic wall gallery that will tug at your heartstrings if you love minimal decor! To keep the main focus on the pictures that you are looking to display, consider painting the wall white and choose white picture frames.
Living Room Wall Galleries
Another area that is absolutely perfect for wall galleries is the living room. Naturally, seeing as it serves as a place for relaxing and socializing with your guests and family members. We can't think of a better place for a gallery full of happy memories or artistic paintings and photographs! Take advantage of your living room walls and turn them into a captivating wall gallery.
Don't be one to forget the corners of your living room! They are just as important and, as you can see in this blue living room, the perfect place to set your little wall gallery to showcase your favorite pieces of art.
This is a gallery worthy of its name. What a fantastic way to turn your living room into a work of art itself! You should consider wood picture frames for a natural look, and opting for colorful pictures can add personality to any living room.
Your gallery doesn't necessarily have to consist of several smaller pictures; choose one or two bigger ones that will stretch through the entire wall and make your living room look absolutely mesmerizing. This living room is the perfect example, as it shows how a large yet colorful art piece can fit even into a minimalist living room.
This wall gallery offers a whole new perspective! If you have a big window in your living room, build a gallery around it. It will draw attention to the window and light up your art pieces with natural daylight.
Make your wall decor match the rest of the interior to create a consistency of colors, like this beautiful living room wall gallery. Be careful to choose the right colors and piece sizes for your art gallery to match your home's aesthetics.
Your wall gallery can consist of different shapes and items, as you can see in this great example. Everything is allowed as long as it fits into your living room, but make sure that you choose furniture that compliments the styling that's displayed through your gallery.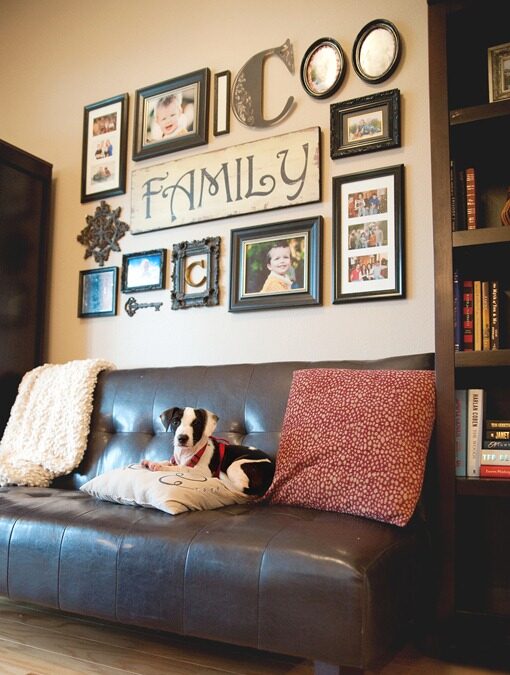 Here's another wall gallery with different shapes that provide some dynamic elements along the way. This one even has a personal theme to it, so it really belongs in the family space, which is the living room.
Stairway Galleries
If you live in a house, chances are you have a stairway that is just waiting to be decorated. Transform it from just another stairway to a personal gallery. The styling options are limitless; from minimal to full-covered, your stairway wall is in for a treat!
Look at how this stairway gallery displays the family memories on the stairway wall in a sentimental way that truly turns a house into a home. This type of gallery will make your home feel more inviting while also giving you the space to display your favorite items as well.
When your wall gallery fits into your stairway so perfectly that it seems like it was always meant to be there, you know you've made the best choice! Through this example, you can truly see how choosing the right pieces can make your stairway gallery that much better.
Have a lot of walls to cover on your stairway? No problem at all! Your gallery can be as big as you want it to be, so don't be afraid to cover every inch of it with your chosen photographs. Keeping in line with your home's styling will surely elevate the homey feel for you and others to enjoy.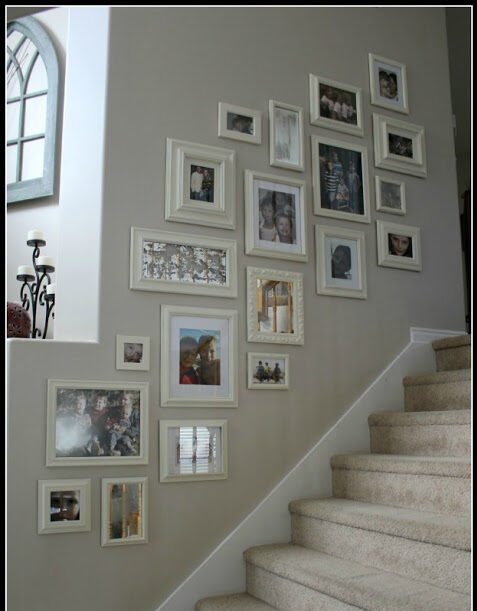 The stairway doesn't have to be big to earn itself a gallery. As long as there is a wall to cover, a wall gallery can happen. Just make sure to choose picture frames that are sized appropriately for the space, which you can figure out by planning ahead before starting your gallery collection.
Modern and minimalist styling is great, but that should never stop you from adding a gallery to your stairway. Leaving the stairway wall empty is a missed opportunity to showcase your family, art, or anything that brings out your personality.
A flair of color and natural art is the way to go when creating a stairway gallery that stands out. You should pick picture frames with colors that make your art the focal point, which is done quite tastefully in this example.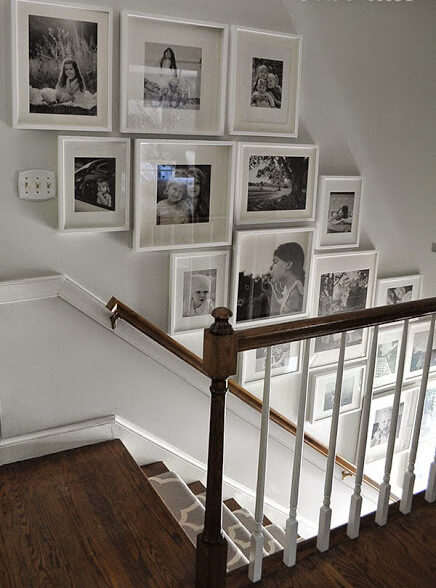 White can be the right color for your stairway gallery when you are looking to hang family pictures, especially if you enjoy black and white pictures. Not only will the white color direct attention to your pictures, but it will also blend seamlessly with the wall.
Not a space is left uncovered, leaving no room for a missed opportunity as every picture within this example screams a captivating story. Your guests will surely stop by to take a look, but they will always find something new to see when passing this stairway gallery.
There are no rules when it comes to decorating; just follow your inner vision, and what you come up with should feel like you. This wall gallery is exhibit A! Different colors and photographs all mixed together and it still looks amazing!
The last wall gallery is a vivid green one, standing out as a simple yet elegant option that anyone can be inspired by when looking for more color in a gallery or home styling. Should your stairway need something to liven it up, this idea is by far the safest bet!