Among the various sinks you can choose for your bathroom, a vessel sink is surely the most stylish and innovative one. With its independent bowl-like look it's a striking piece that draws all the attention to itself and has the power to make or break the room! There is a variety of vessel sinks to choose from, each and every one of them designed with precision. When picking out the right one, keep in mind the general decor of your bathroom, though you can easily let it take the lead and set the tone for the entire space as the trendiest piece in the room.
Round Vessel Sinks in White and Dark Tones
Round sinks with the recognizable shape of a bowl are perhaps the most popular vessel sinks. They have the power to make your bathroom look more elegant, classy and noble. The clean shape of a round sink carries a certain reputation and can undoubtedly assure your bathroom's wealthy appearance. We like to play around with contrasts and as there are surely many round sinks out there to choose from, the simple tones of white and black or grey are the ones that bring most calming energy into the space.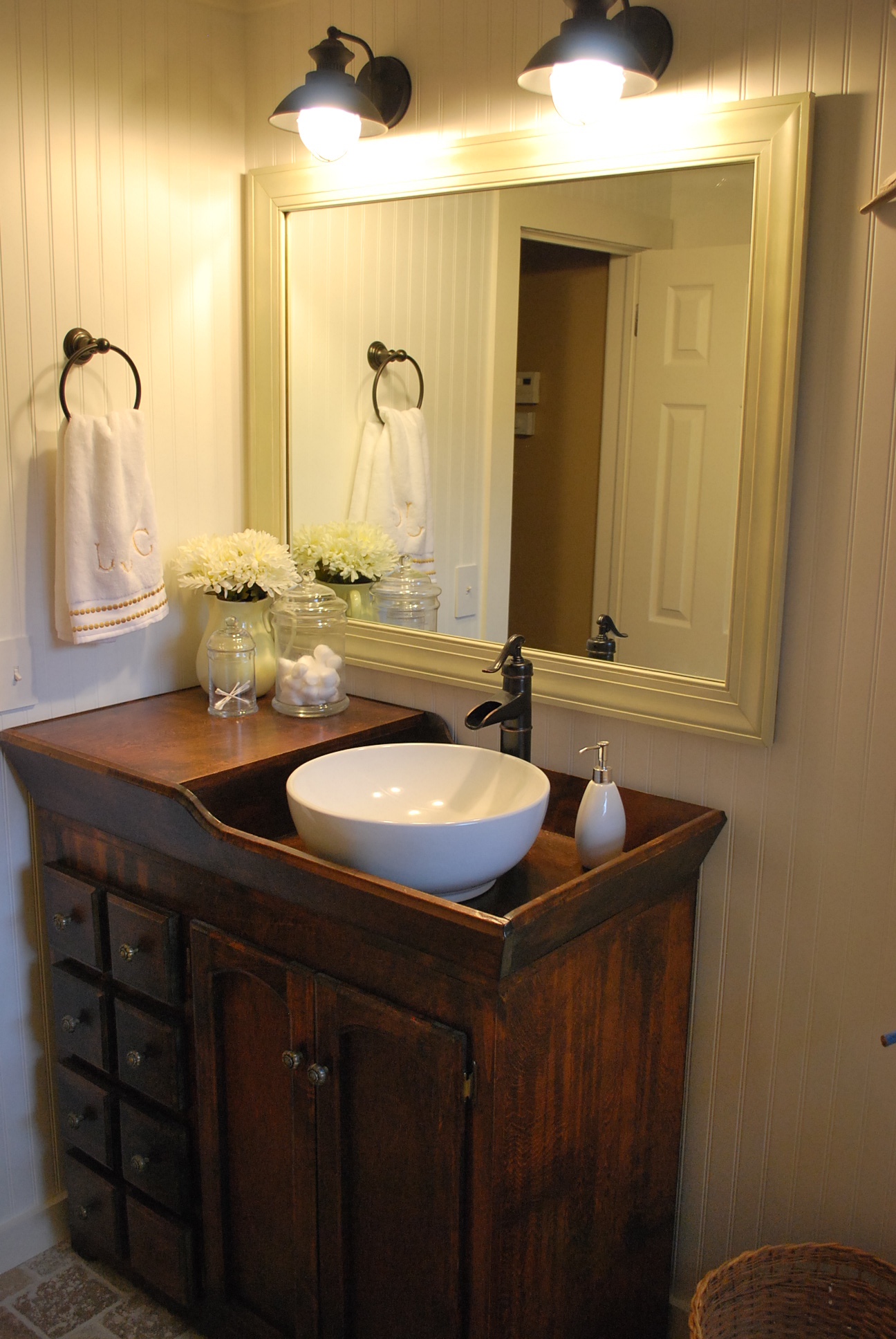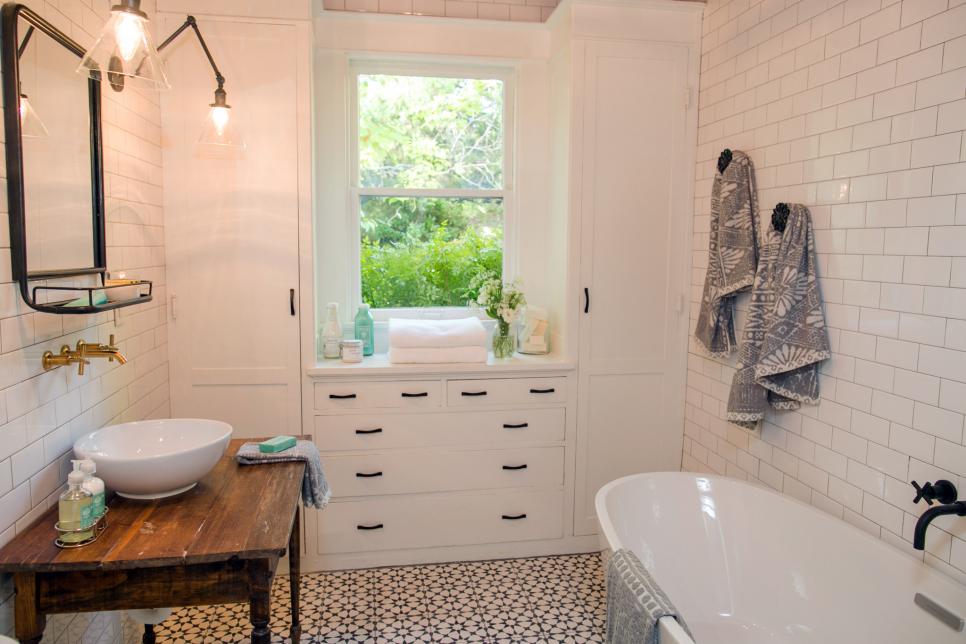 A simple white vessel sink set on a rustic table creates balance between old and new, countryside and elegance. The pairing gives your bathroom a noble but cozy appeal. The entire sink setting is simplistic and minimal; even so, the rustic elements fill the seeming emptiness of the space.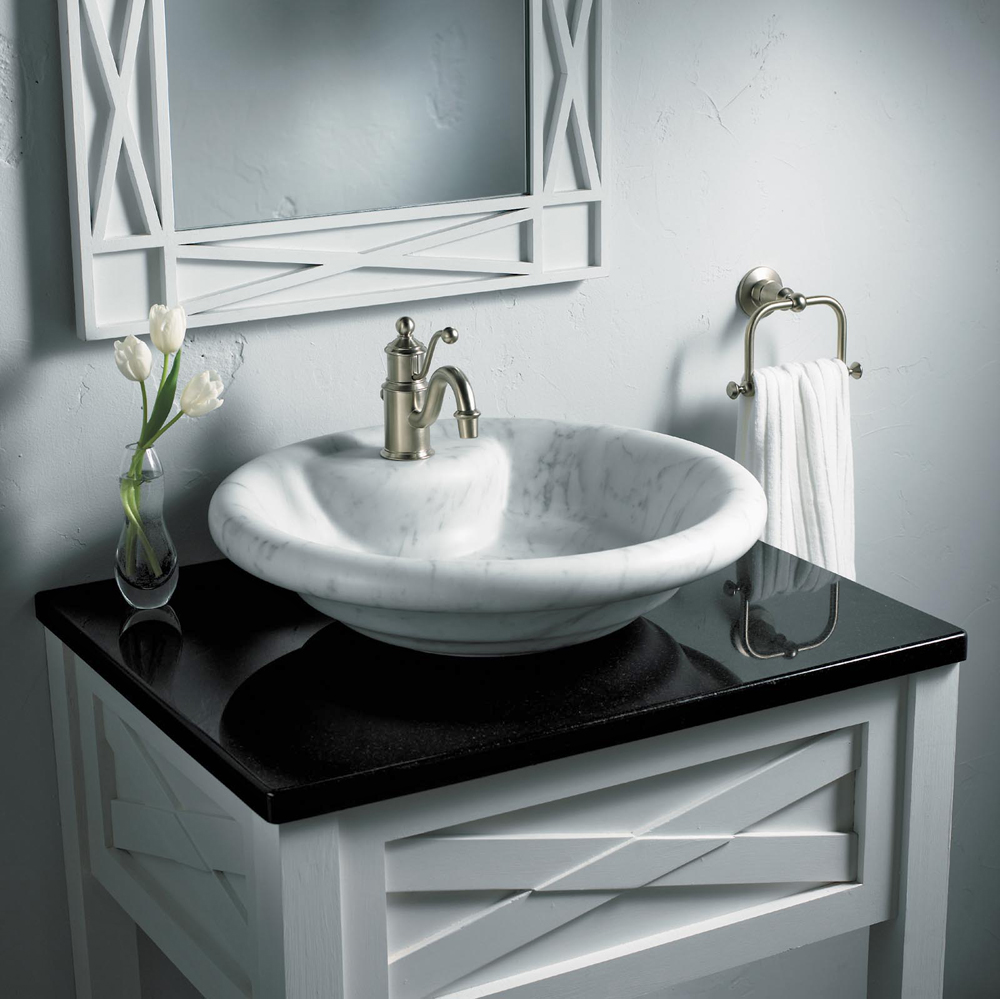 Marble is a very suitable material for vessel sinks as it immediately delivers the message of glamour and superiority.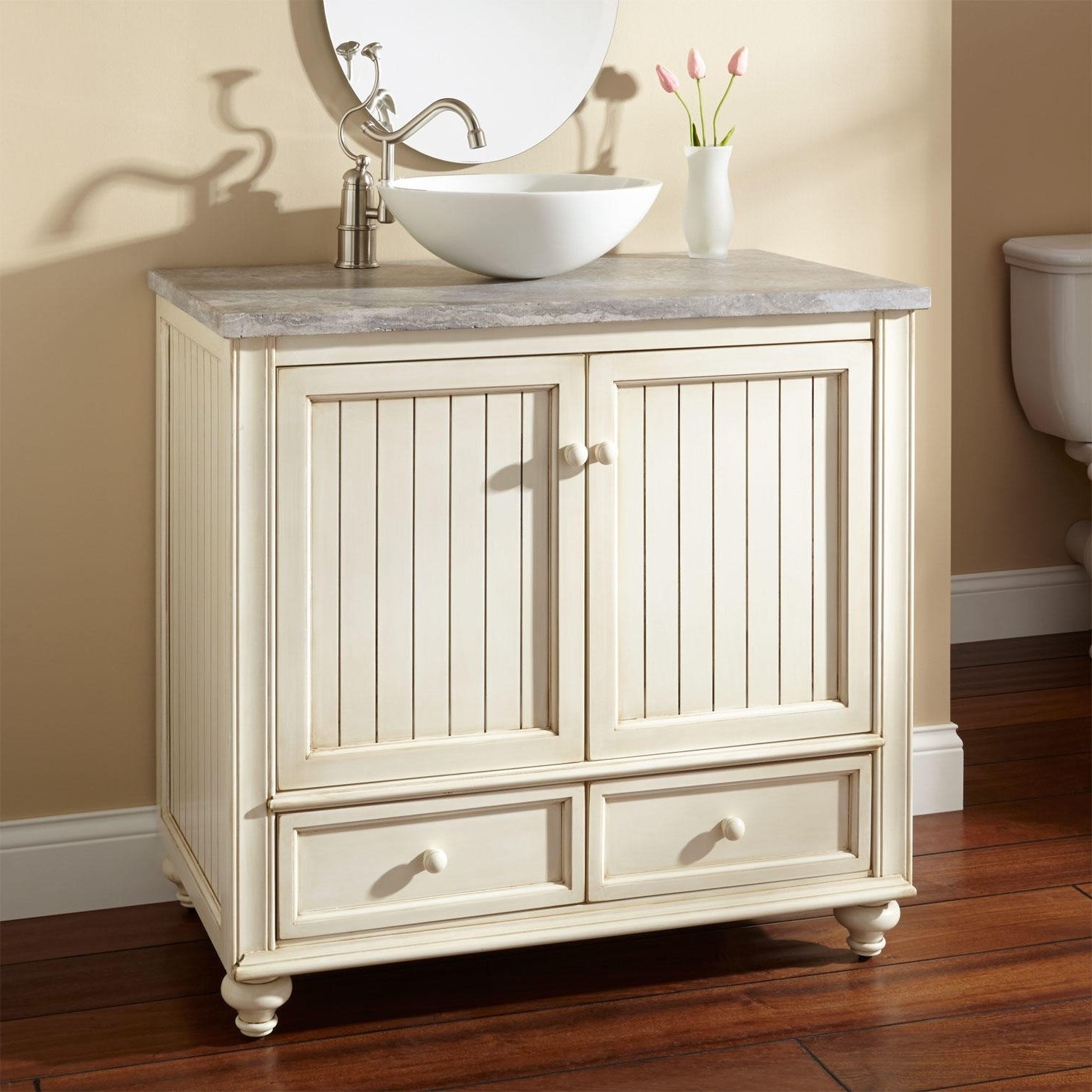 If you want your bathroom to be decorated in light tones, but would still like your vanity to stand out, choose a cream colored interior and pair it with a bright white vessel sink for the effect of gentle contrast.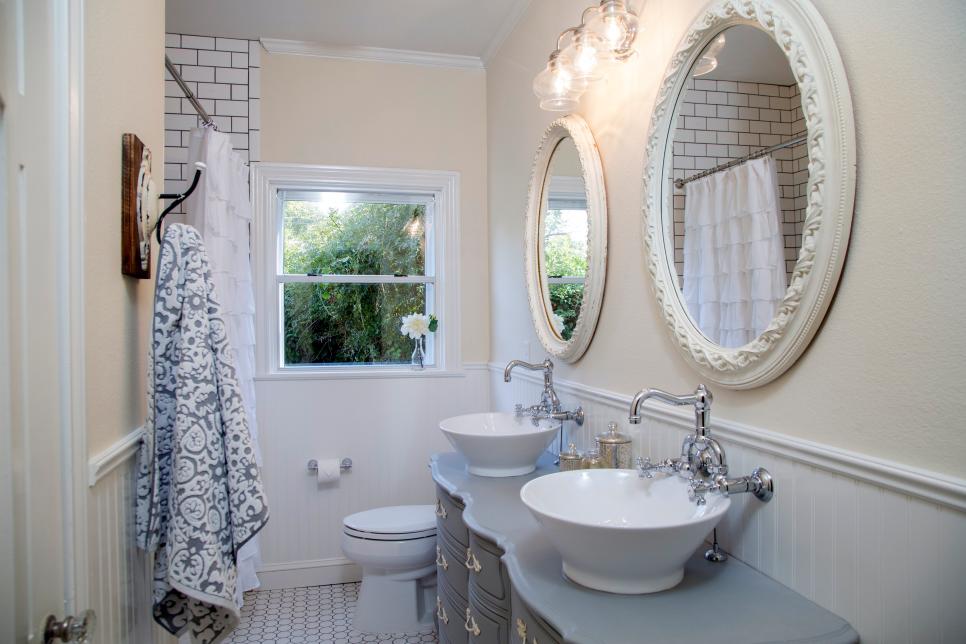 This bathroom, featured on HGTV, is smaller in size but nonetheless has a glamorous look thanks to the two vessel sinks!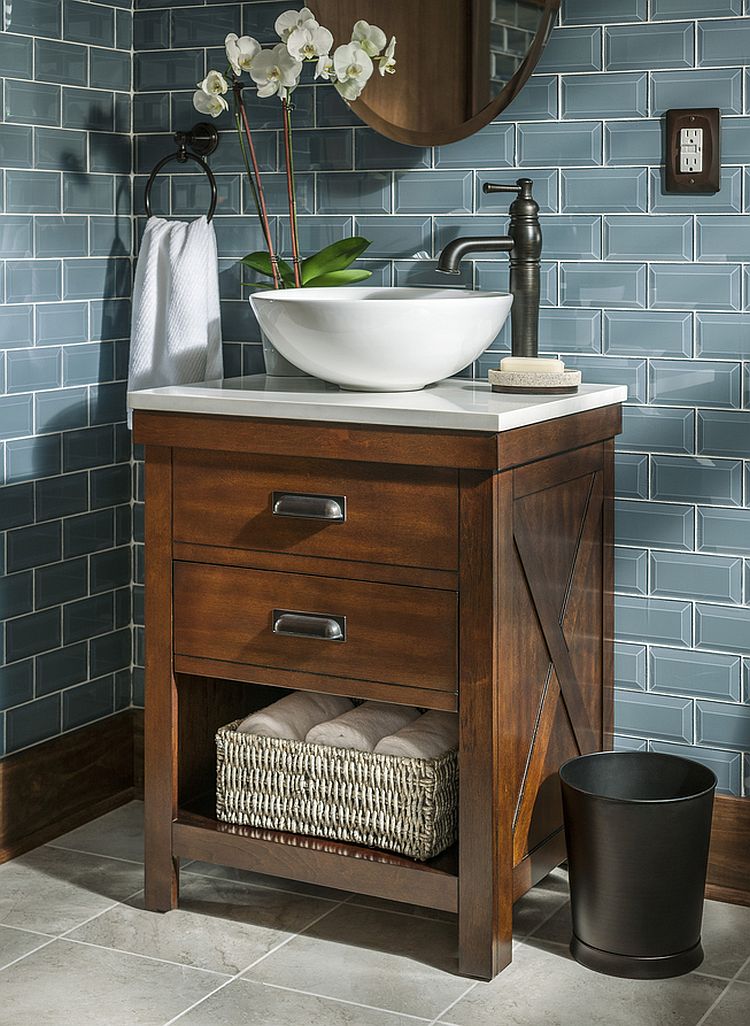 A stand alone sink creates a lovely purposed corner inside of your bathroom and gives off the feeling of independency and innovation. [on Lowes]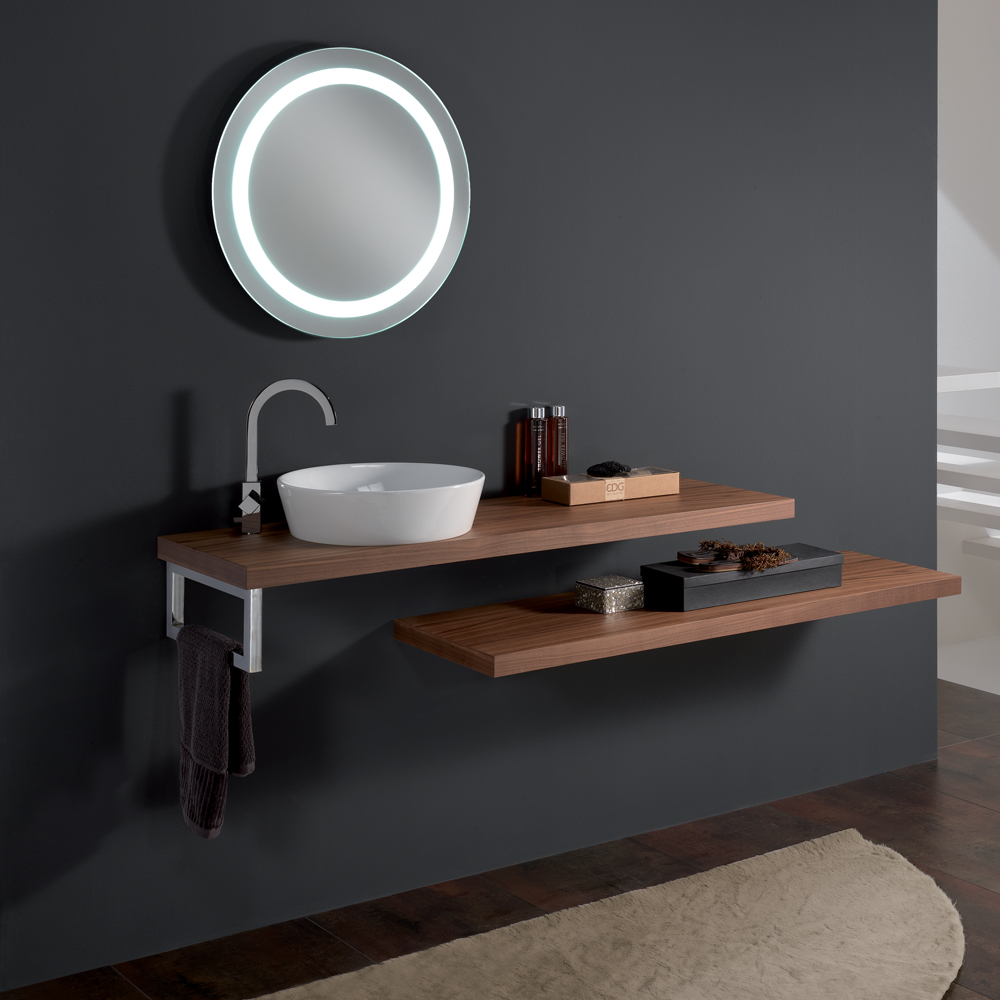 Among many benefits of having a vessel sink, one is surely having a lot of room all around the sink. Since bathrooms always need smart storage solutions, this can easily be one of them!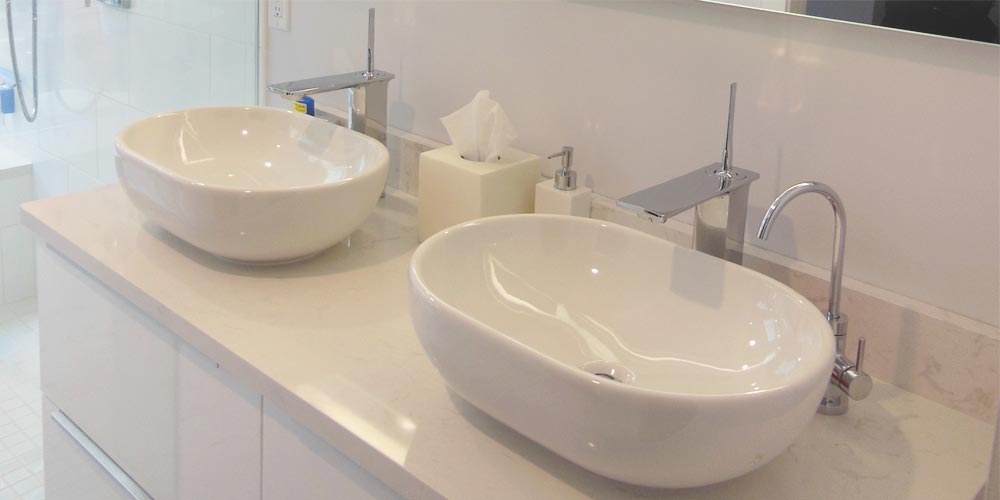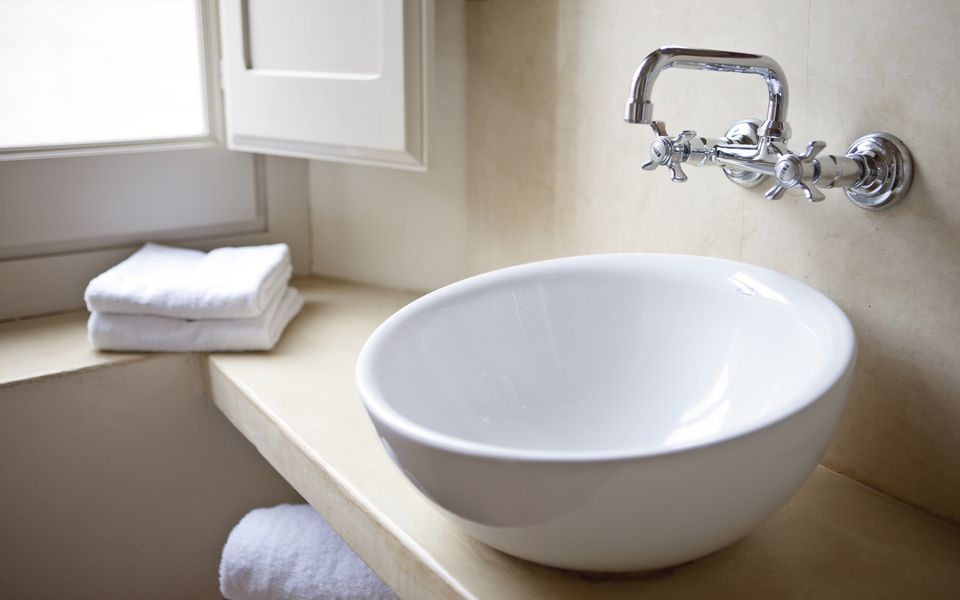 A round (or oval) vessel sink that perfectly matches the simplicity of the bright and minimalist bathroom is just what you need if you are trying to achieve a consistent, clean and spacious ambience. Seek inspiration at The Spruce for a sink installation that radiates serenity.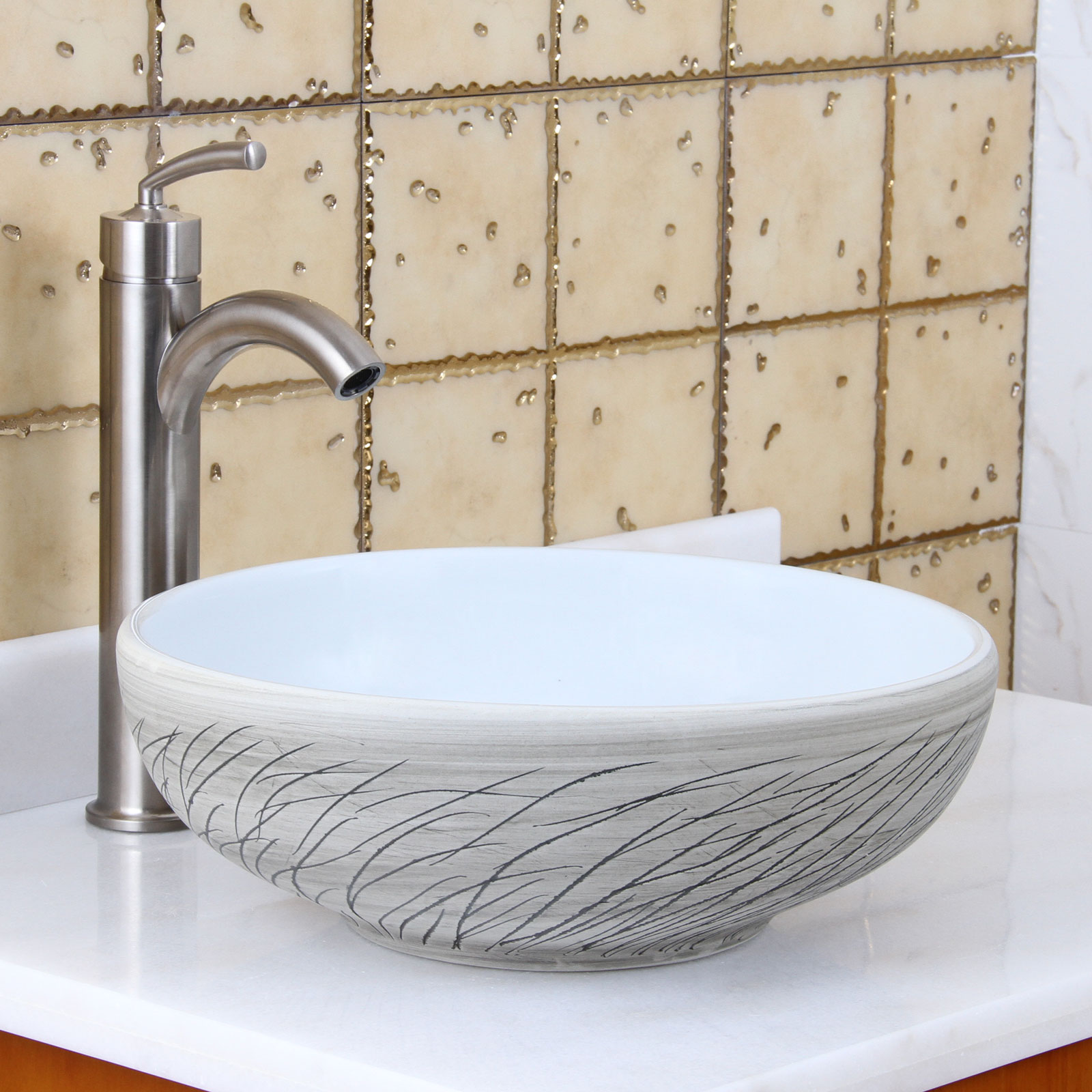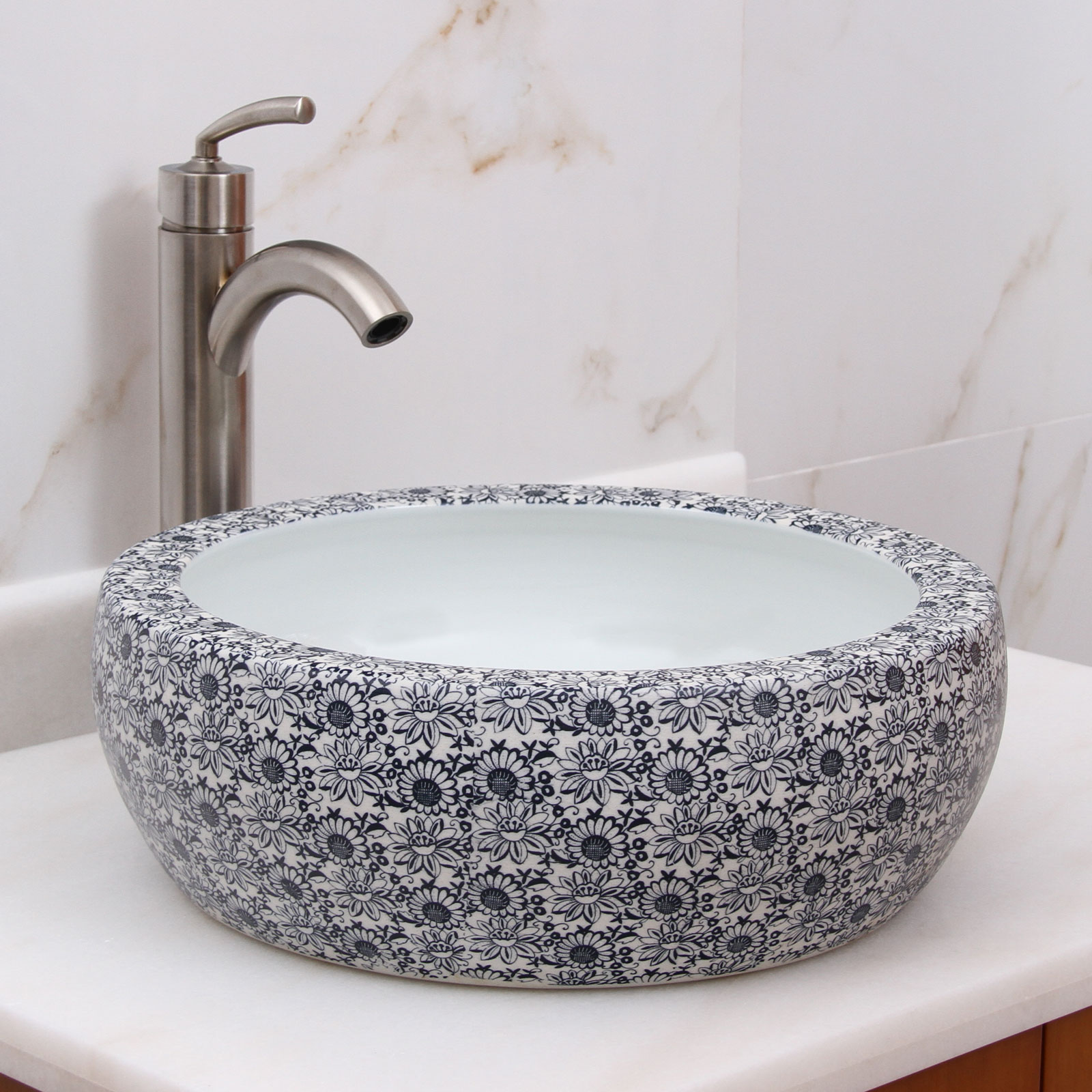 As it is in life, so it is in home decor: there's more than just black and white, dark and light. There are many shades in between and sometimes they are the perfect piece to capture the balance. Often decorated with creative patterns, the vessel sinks in-between will bring a completely unique element to your bathroom.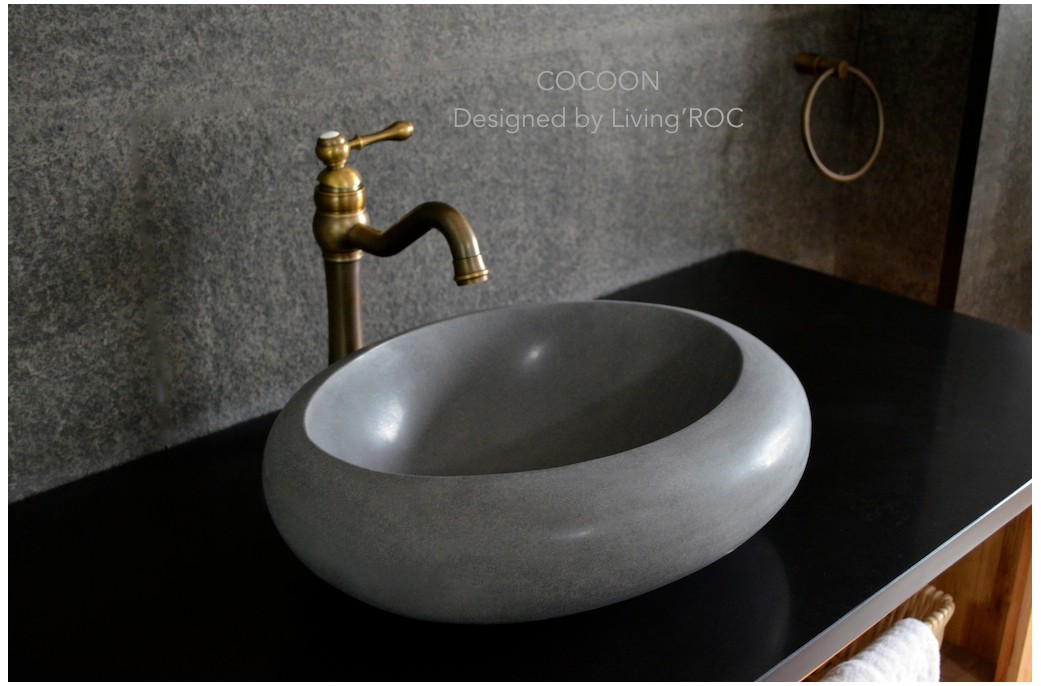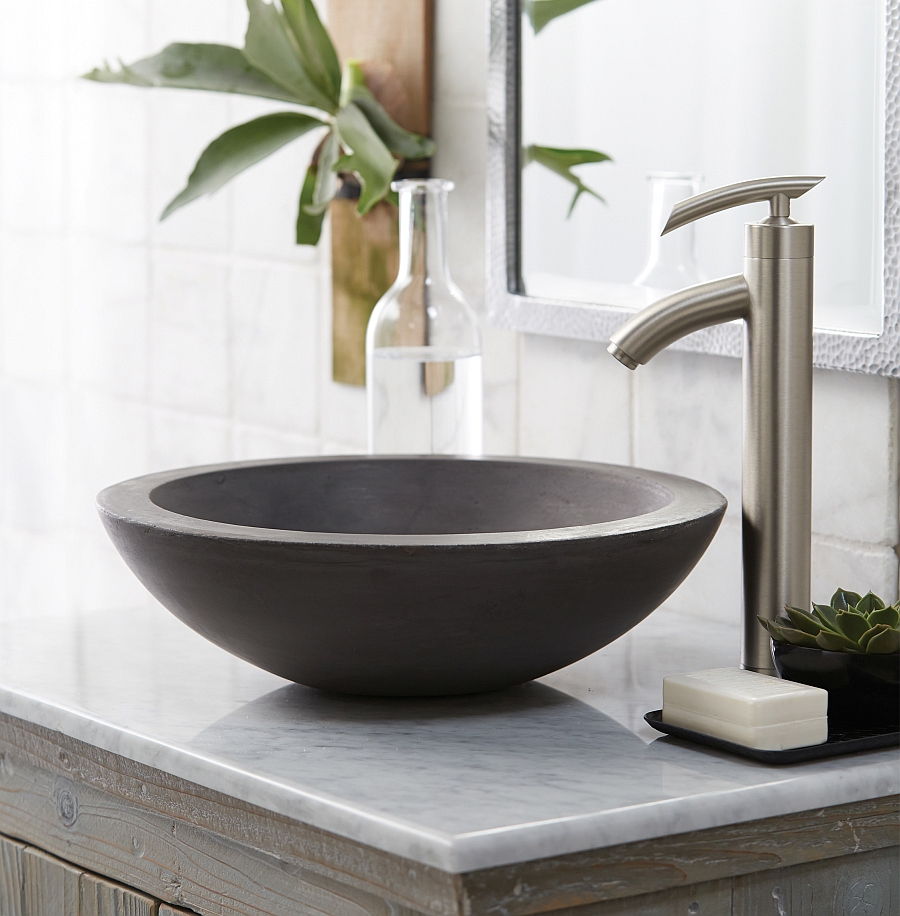 A gray vessel sink is a wonderful choice for a bathroom in need of calming, neutral tones. It has a very natural look to it, its organic feel a suitable companion for the smooth round lines. The round shape brings a contemporary theme into the space, while the raw gray look keeps it from feeling over the top.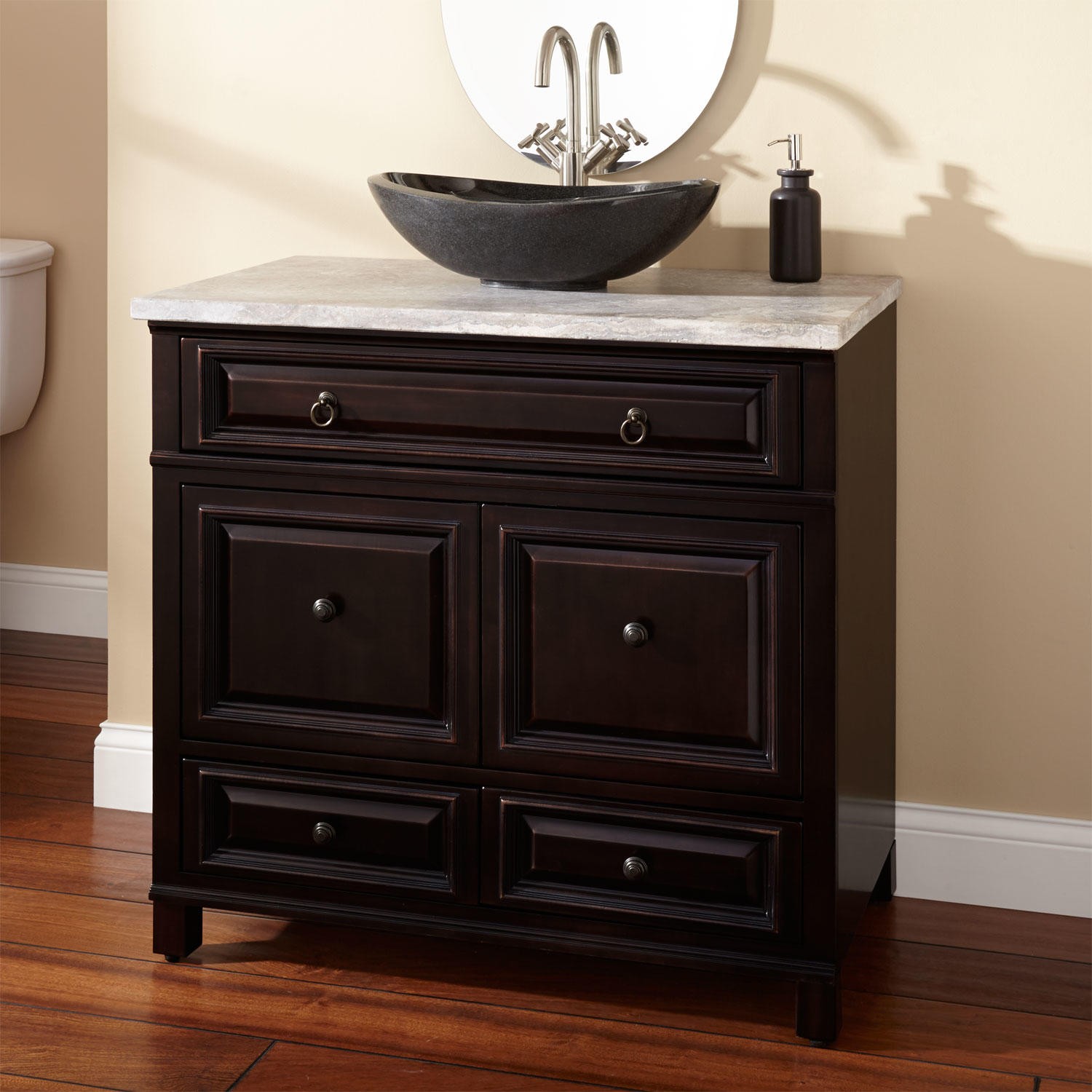 A darker vessel sink, especially one placed on a dark wooden vanity, is a compelling piece that can easily contrast the rest of the bathroom's light decor and so create the harmony between the two sides of the color spectrum.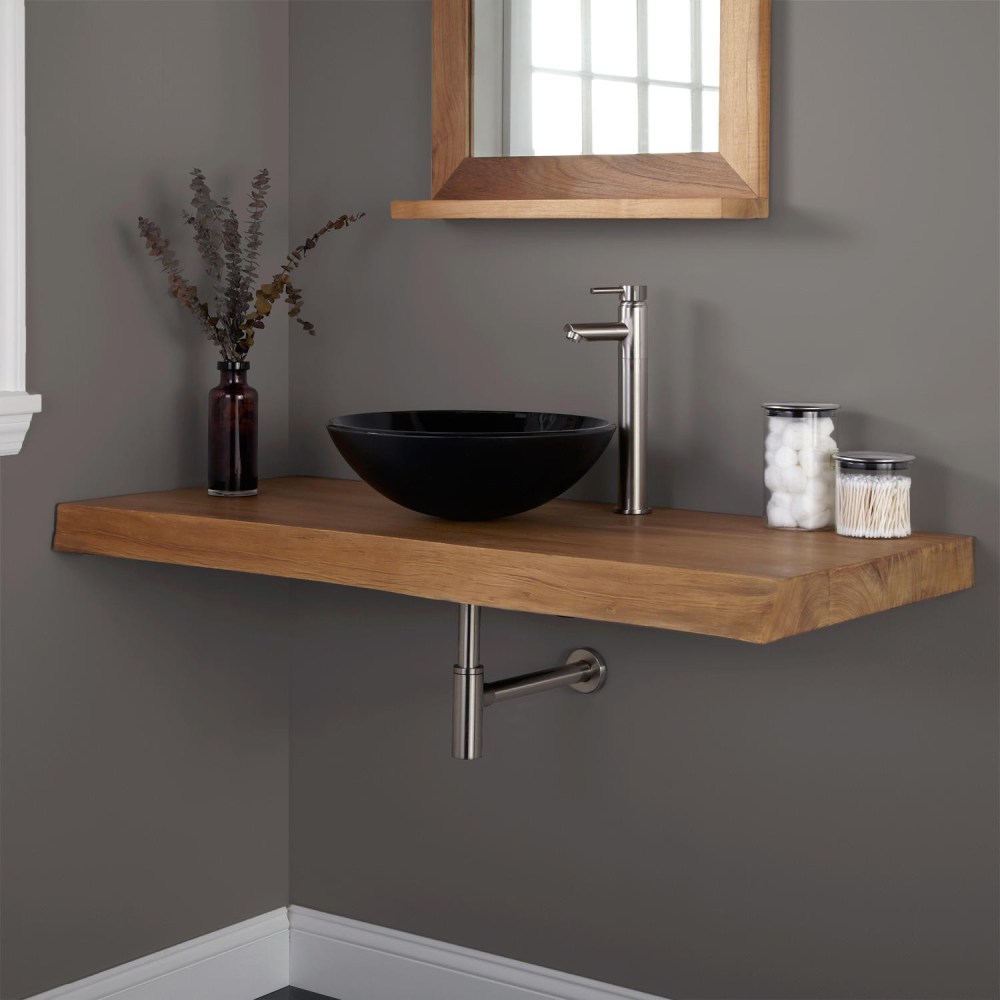 When you don't want to compromise on elegance and innovation, a black vessel sink is the obvious choice. It is absolutely delicate and extraordinary, flexible to work with any type of chosen interior.
The Orderly Appeal of Rectangular Vessel Sinks
The opposite of round is rectangular and where round sinks bring contemporary touch, rectangular ones hold onto order and tradition. With that said, you can still find very impressive and creative rectangular vessel sinks that defy the tradition and pave the way for unique bathroom pieces!
The true beauty of rectangular vessel sinks lies in their ability to adapt to the space that they are placed in and infuse it with a classic look. The white color certainly helps with that, as it doesn't always have to dominate the space – sometimes it's simply enough to reflect the rest of the interior or balance out the neutral shades with its brightness. If you are worried about your bathroom becoming too dim, a white rectangular vessel sink is a great element of lightness. [Image above via AT]
When placed in simple settings like Elite's ceramic rectangular vessel above, a white rectangular sink has a chance to truly shine in all of its elegance and vibrancy! However minimalistic, it creates a centerpiece in the bathroom without much effort, creating a clean and chic look with a luxurious touch, especially if you add some gold accents!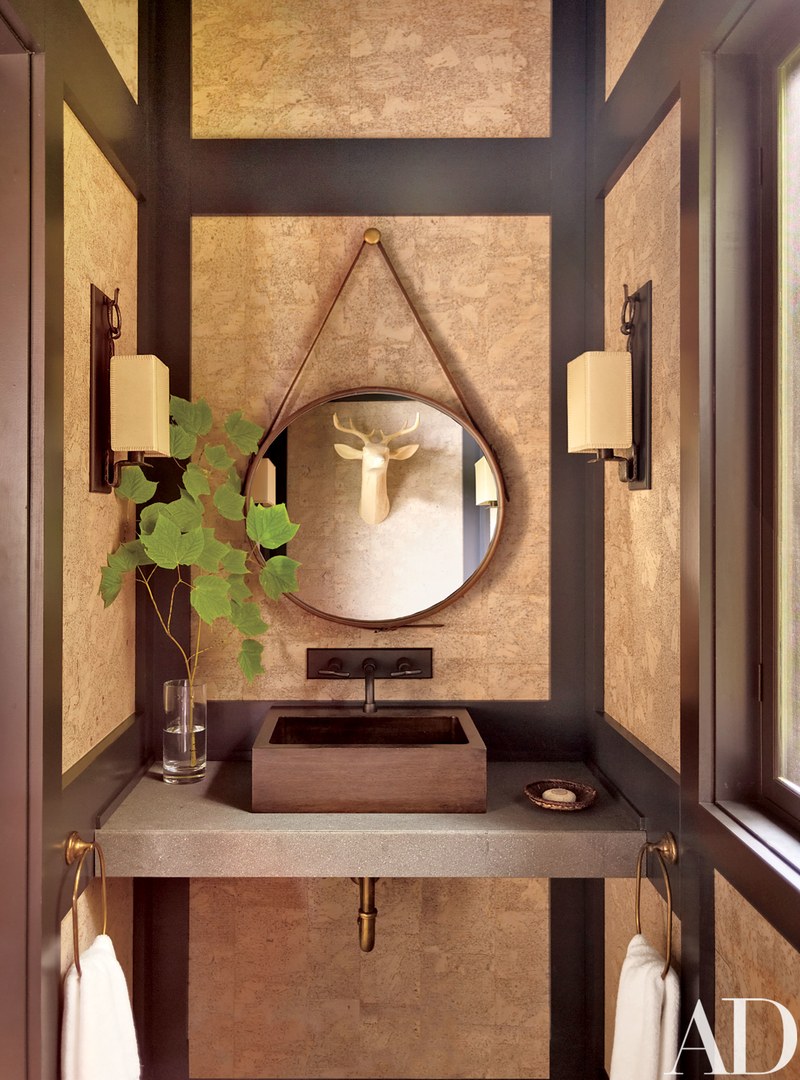 This is easily one of the neatest, most modern country-styled bathrooms. The wooden vessel sink fits into it with incredible ease and class. It is a wonderful example of how consistent the bathroom feels when your sink matches the interior down to a T! [via ArchitecturalDigest]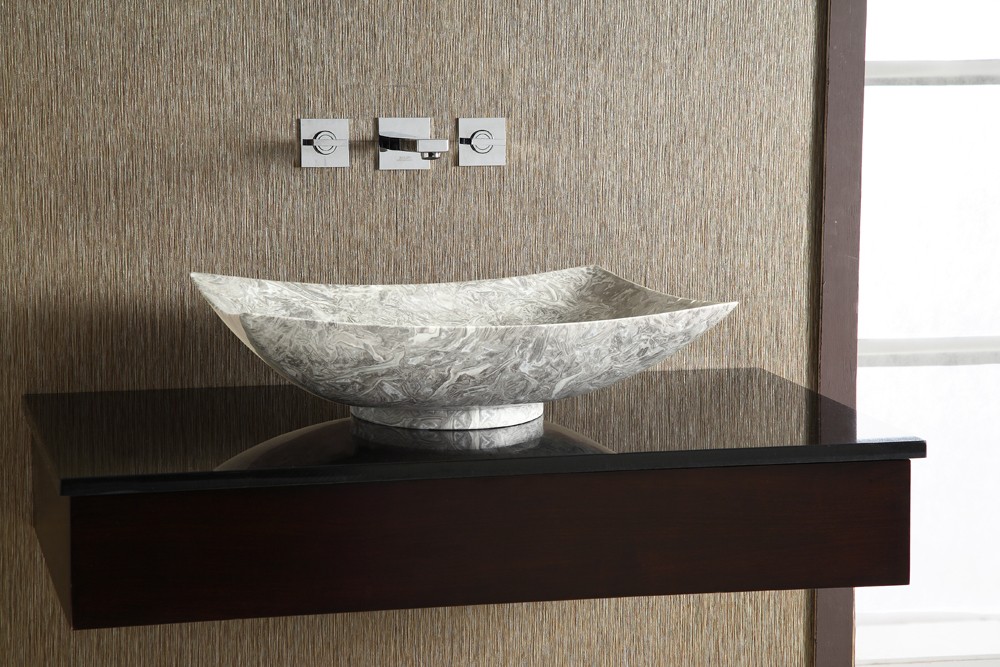 The reason why vessel sinks are so popular among lovers of minimalism is because they have a really clean look and their design offers no room for clutter! If you use a vessel sink in combination with wall mounted faucets, you get a great addition to an already tidy bathroom, one that assures even more space and openness.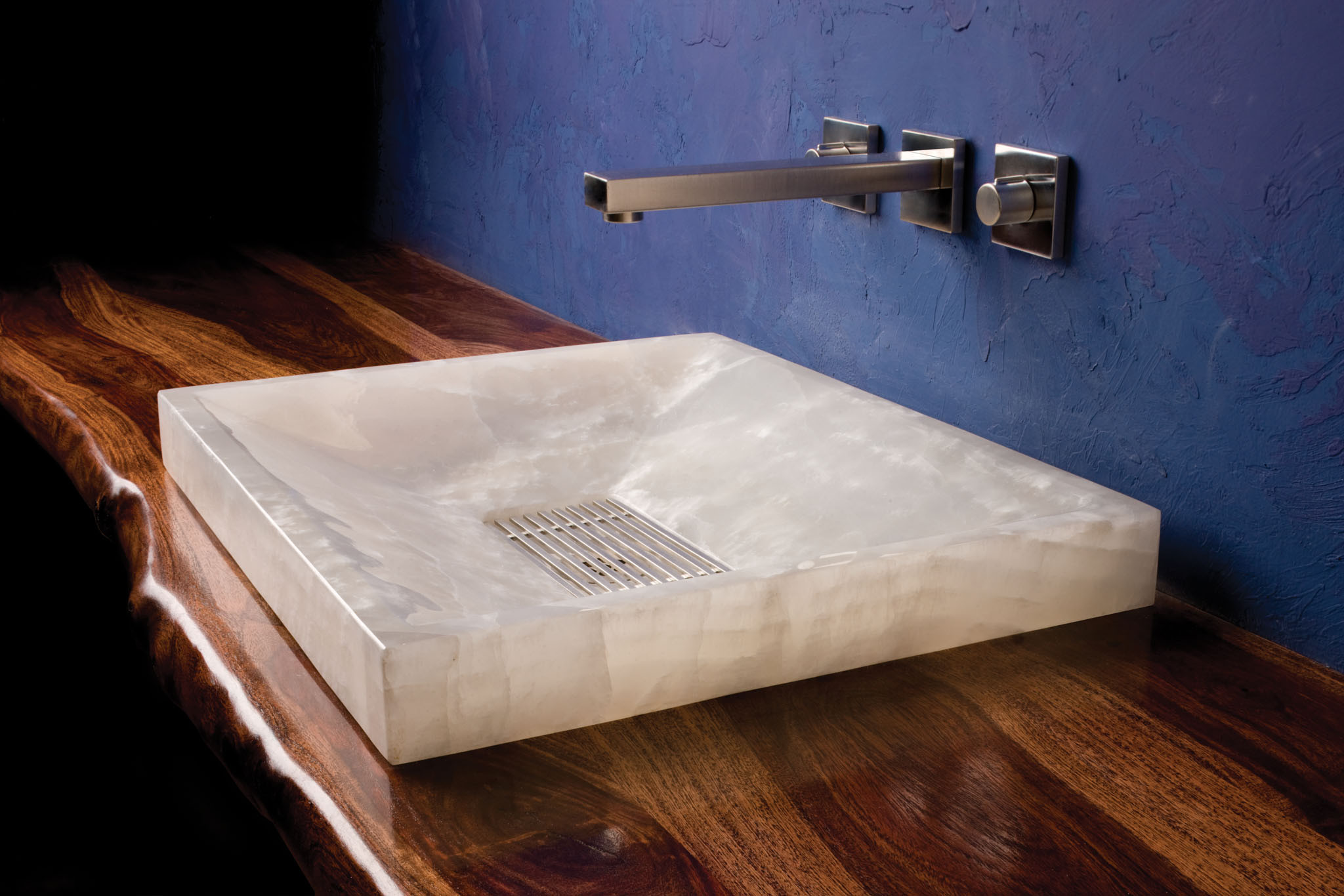 While the most traditional vessel sinks take the shape of a bowl and are very much lifted from the surface, you can opt for something smaller and subtler to keep both minimalism and modern interior within reach! [available from Stone Forest]
Through the Glass of a Vessel Sink
The fragile look of a glass vessel sink is a very special element for any bathroom. Whether you decide to leave the glass completely untouched and enjoy in its transparency, or you choose a painted glass that will reflect marvelous colors as the light hits it, your bathroom will be able to pride itself with a sophisticated and alluring element like no other!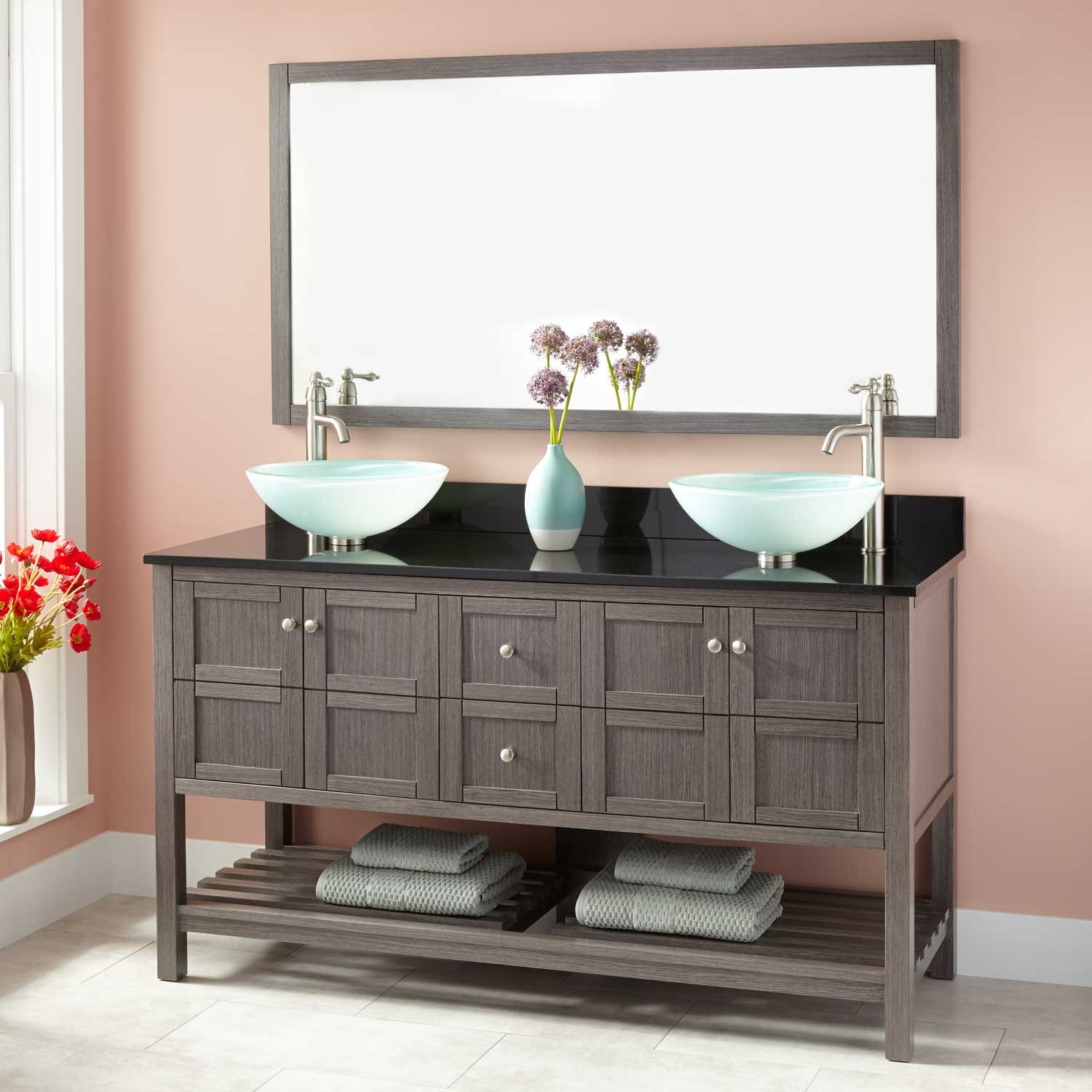 In a shared bathroom, two glass vessel sinks are a great way to assure the personal space and comfort that two people need in their daily ritual. The glass sinks will also add the necessary touch of charm and glamour to the room!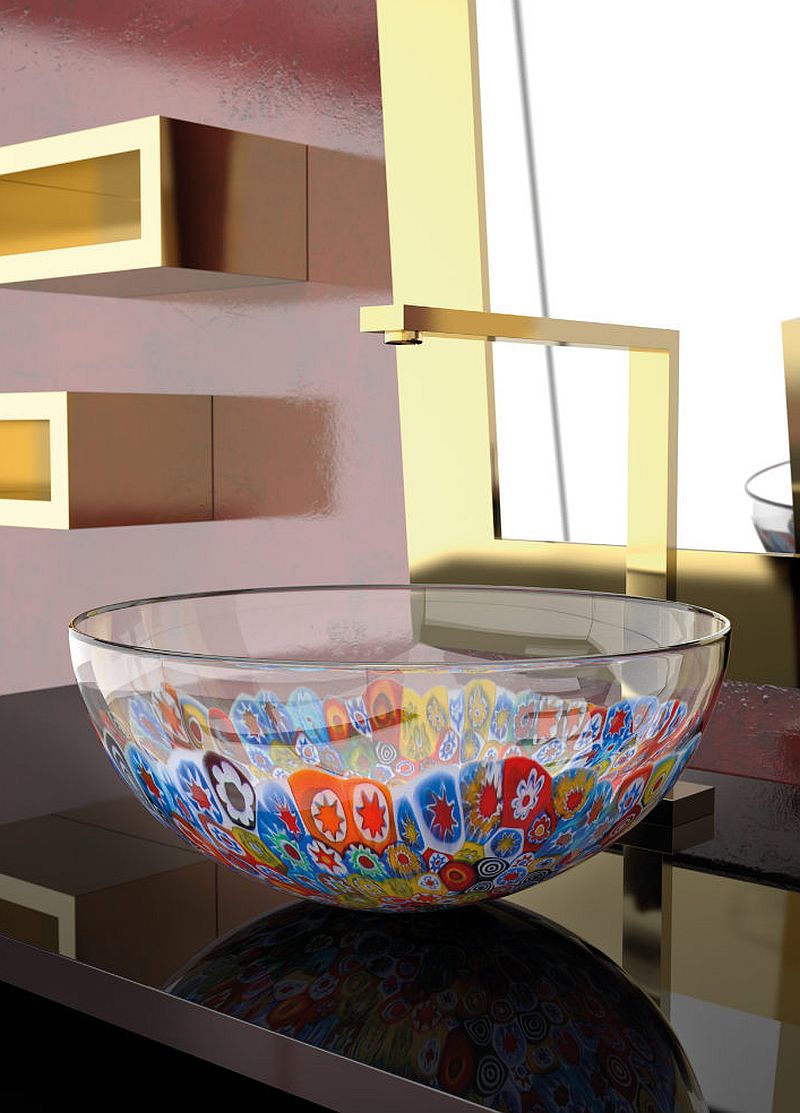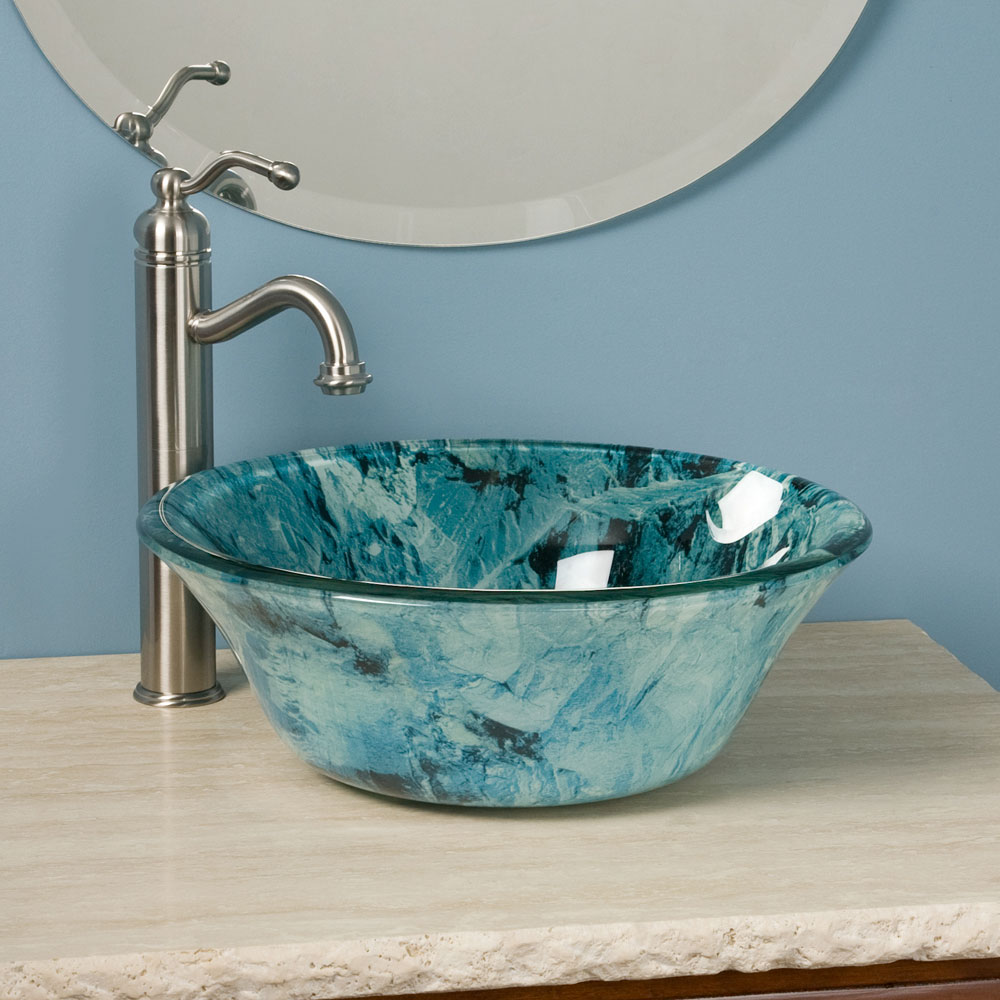 Painted glass is always a treat. A vessel sink made of decorated glass is captivating and innovative, a functional and essential bathroom piece that we can easily call a work of art. It could be a decor element in and of itself, but the fact that it gets to be a part of your morning and evening routine is what makes its appearance even more important and monumental.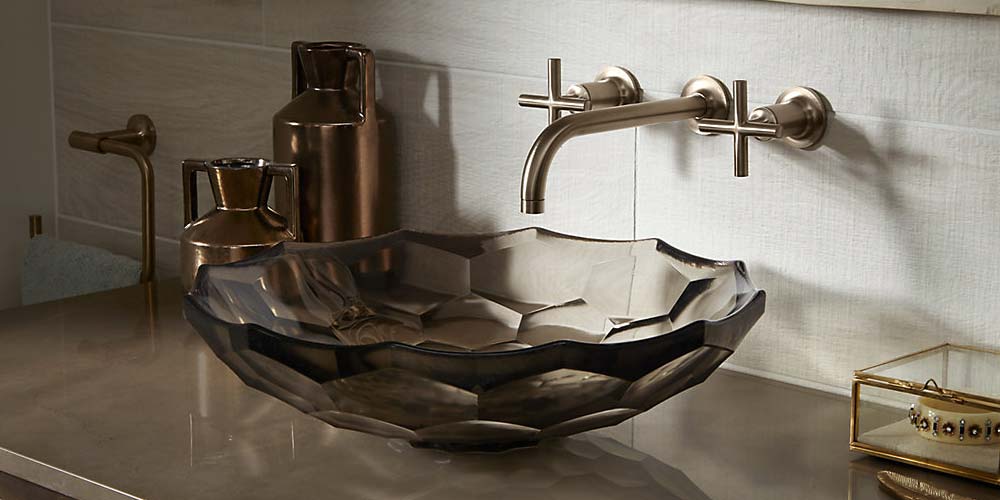 If simply having a glass sink isn't trendy enough for you, scout one with a dynamic and unique shaping that could be the symbol of edgy and modern within your bathroom.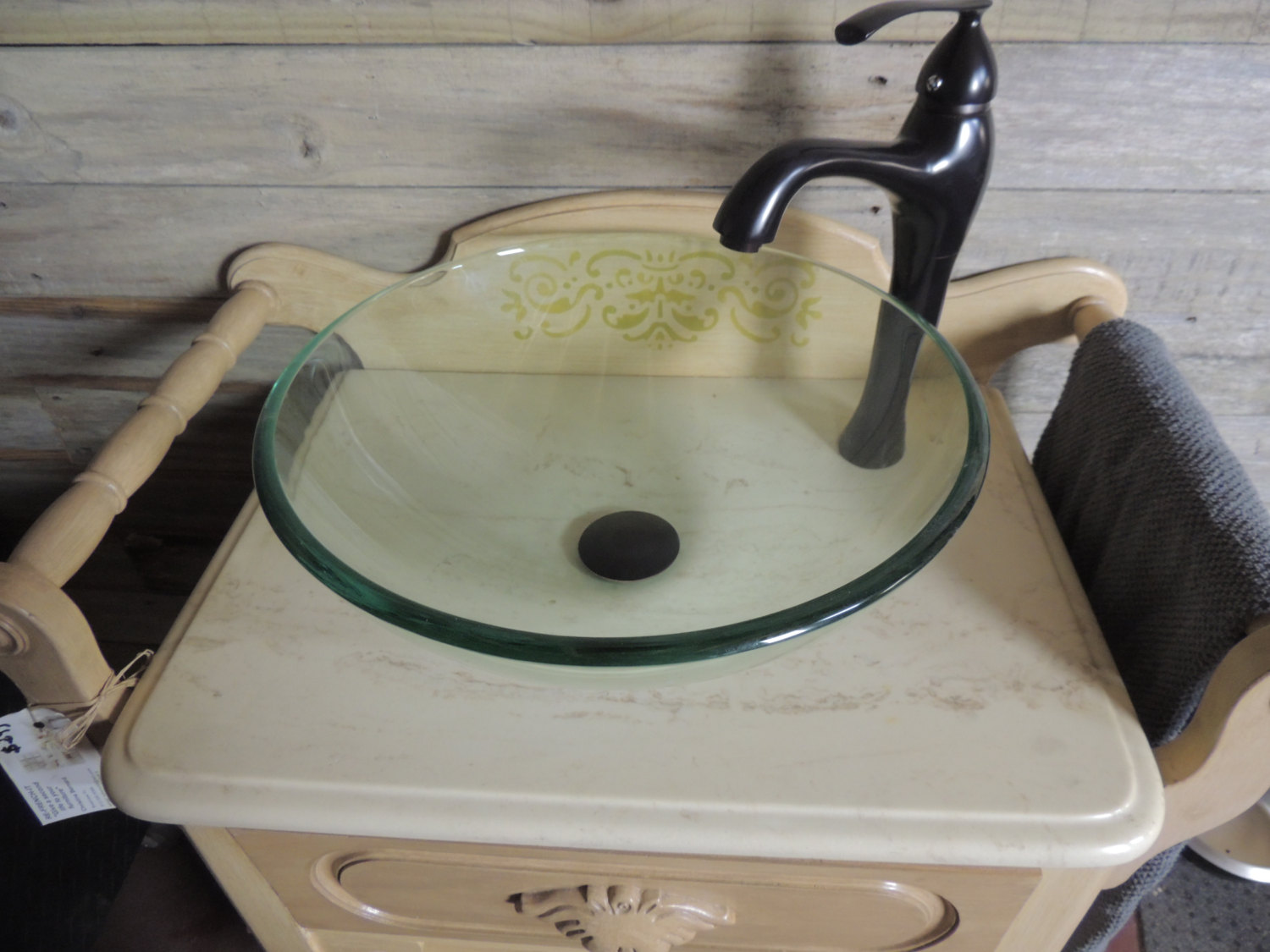 But sometimes, simplicity works best – like this rustic vanity on Etsy. A plain and transparent glass sink is a beautiful piece to include into a bathroom of any size. It doesn't clutter a smaller space (due to the transparency) and almost blends in with the surroundings in a bigger one.
Raw Beauty of Stone Vessel Sinks
The element of stone carries rawness and blesses our bathroom with a rough natural look. Its primal appeal and how it feels to the touch are ideal for anyone who loves natural materials in the house and likes to channel the energy of the outdoors and bring it inside. Stone vessel sinks are captivating to look at and embody the beauty of a raw material.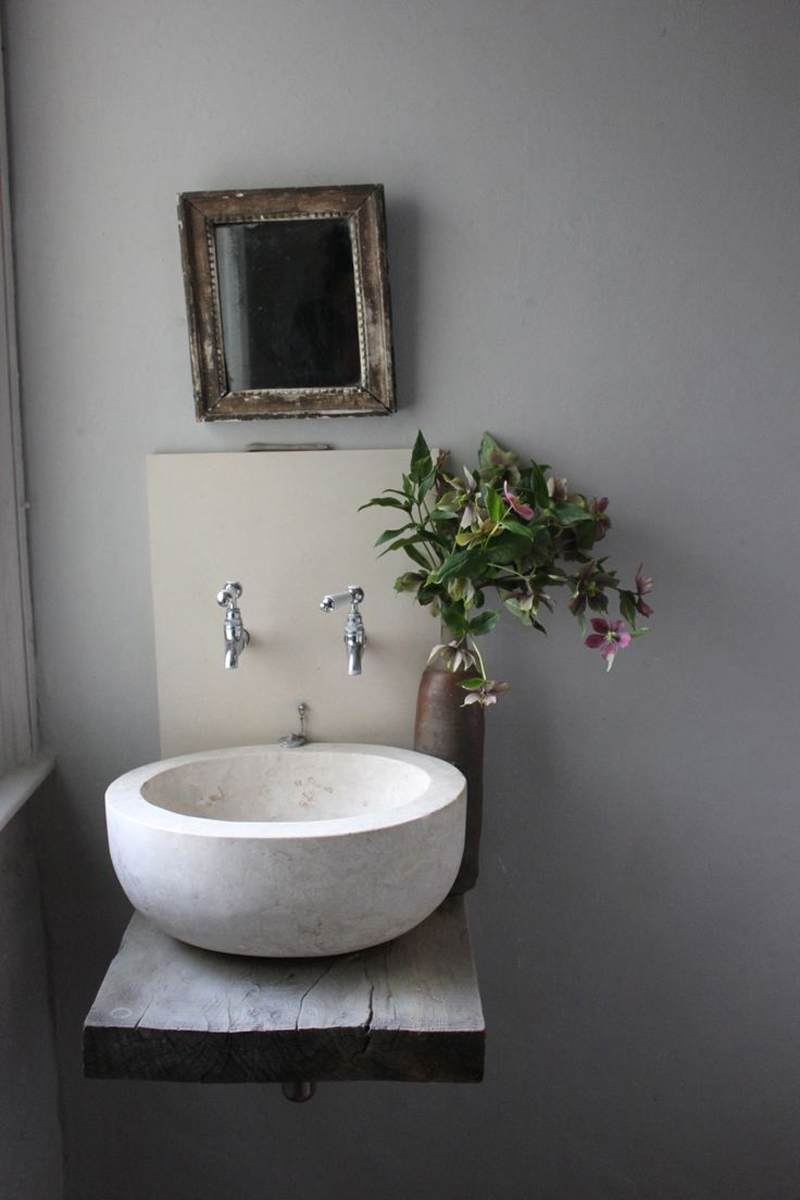 This rustic bathroom setting combines the stone sink with an antique mirror and wooden surface, proving that incorporating other natural materials together with the vessel sink is a fantastic idea! A rustic bathroom will absolutely be the perfect home for a stone vessel sink.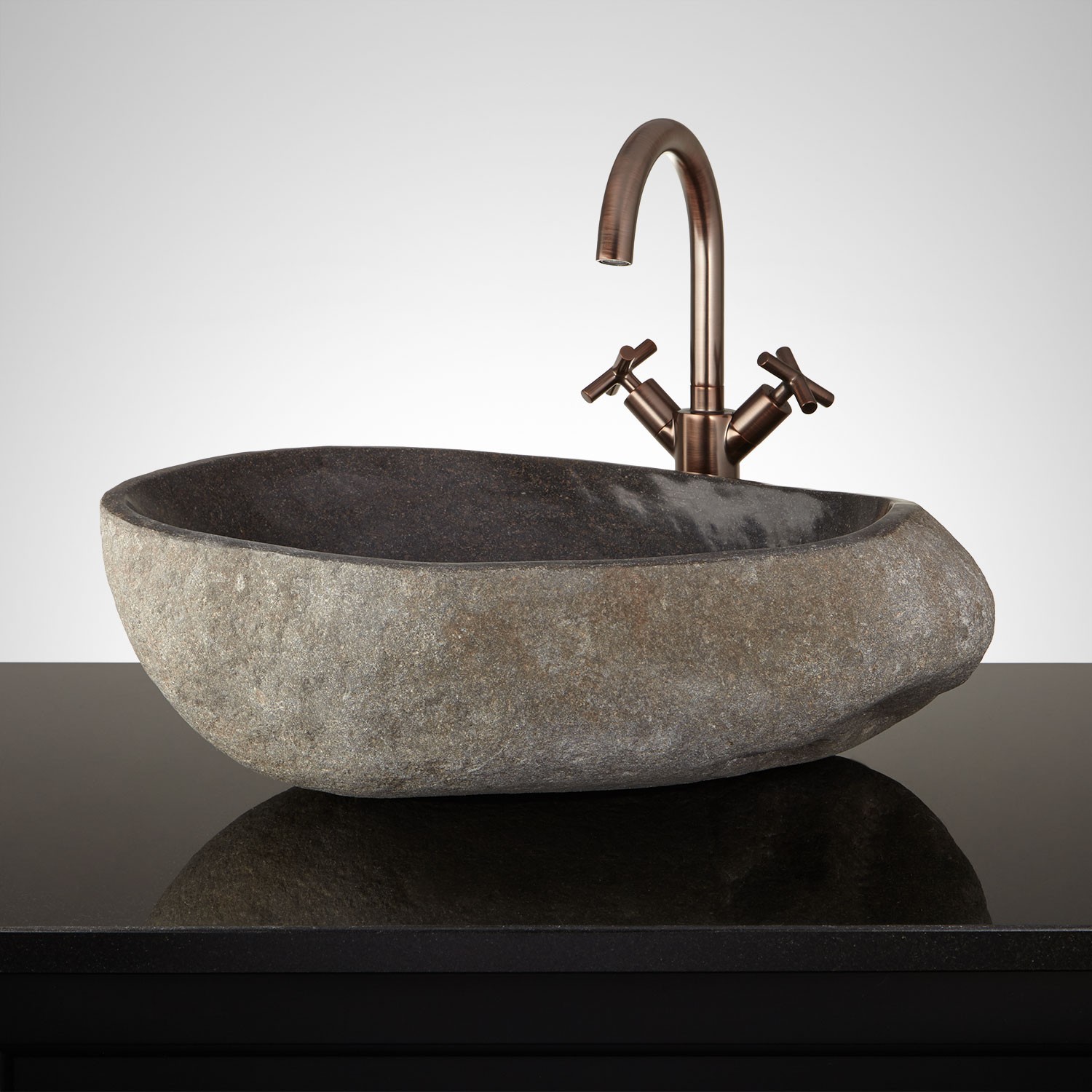 For a truly raw and unprocessed look, pick a vessel sink that looks almost as a pure stone, without much alterations.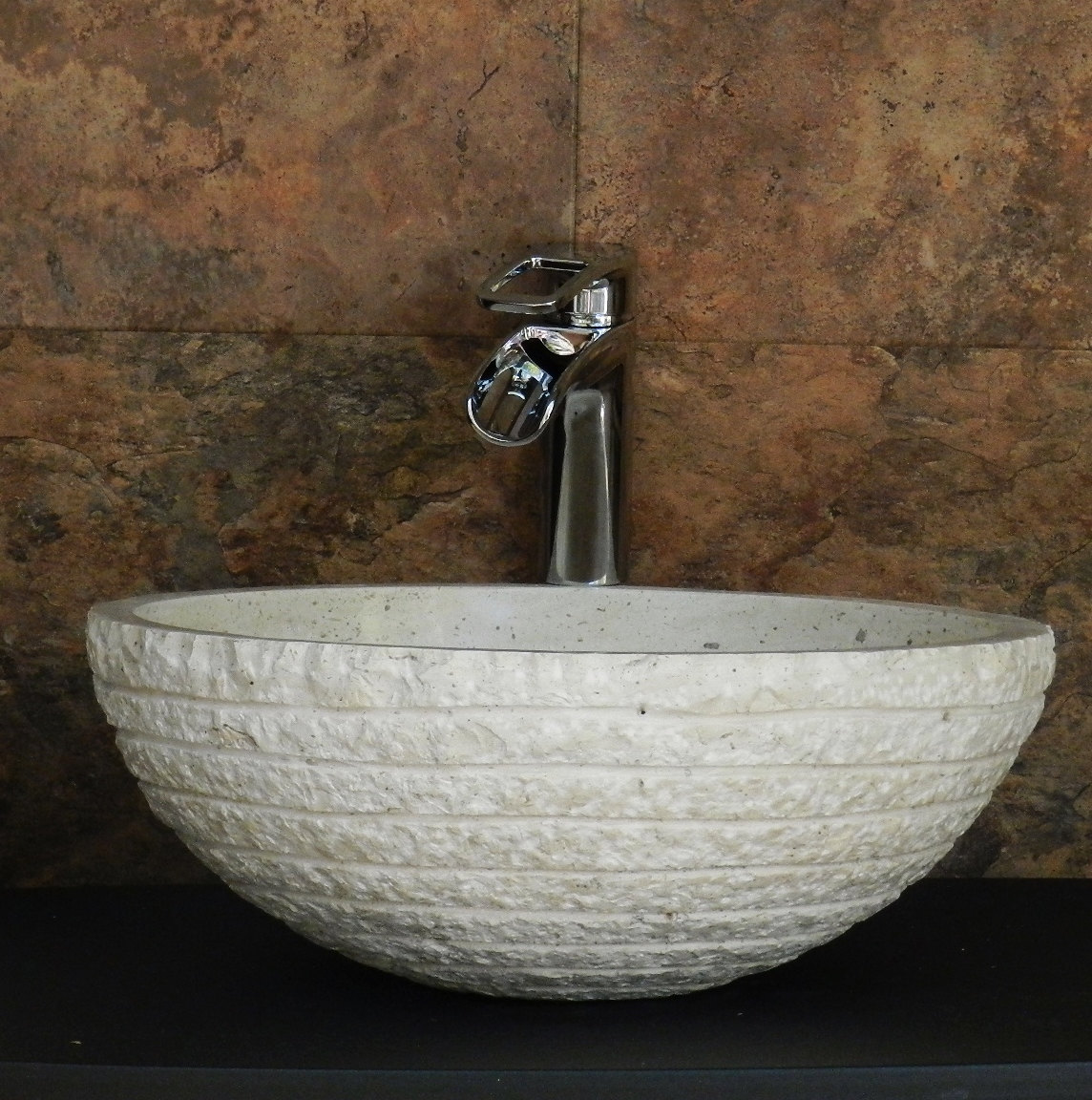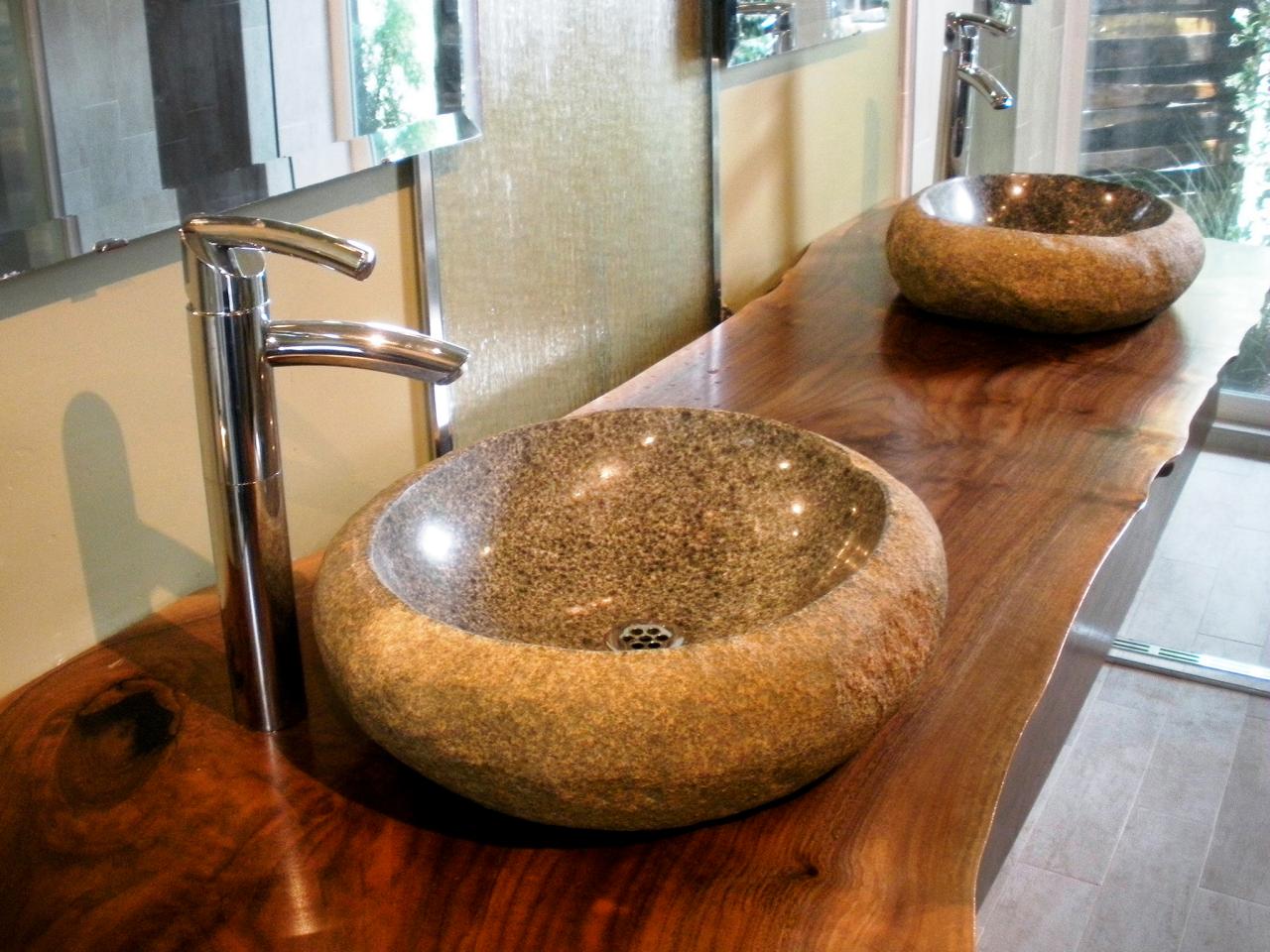 Even when they are processed and neatly shaped, stone vessel sinks still have that organic feel to them; a certain striking appeal that works well both as an elegantly shaped stone bowl and a rough round sink that's coarse on the outside and smooth on the inside.