Throwing a tropical party has never been easier, thanks to current trends in breezy decor and summery supplies! From festive drink adornments to seasonal greenery and produce, preparing for your next fete is as simple as collecting a few key items. Keep reading for hassle-free ideas and affordable decor options that will make preparing for your tropical party as chill as a beach vacation…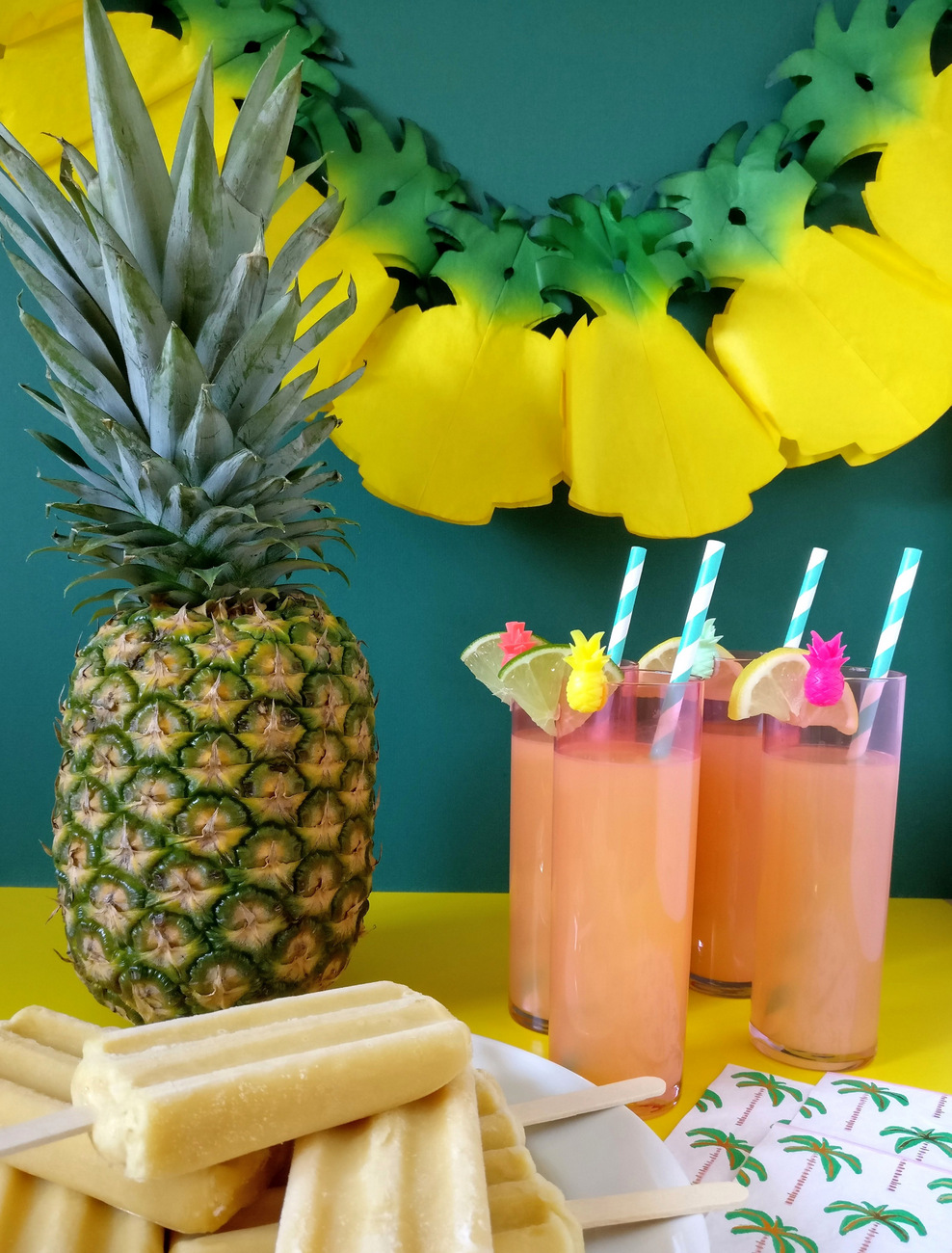 Setting the Stage
It all starts with eye-catching decorations that set a tropical mood. Good thing you have plenty of seasonal options to choose from, including palm leaves, vibrant flowers and produce such as watermelon and pineapples! Whether you create a table centerpiece with a trio of large tropical fruits or you top off your spread with flowers such as lilies and proteas, don't hesitate to mix real and faux selections!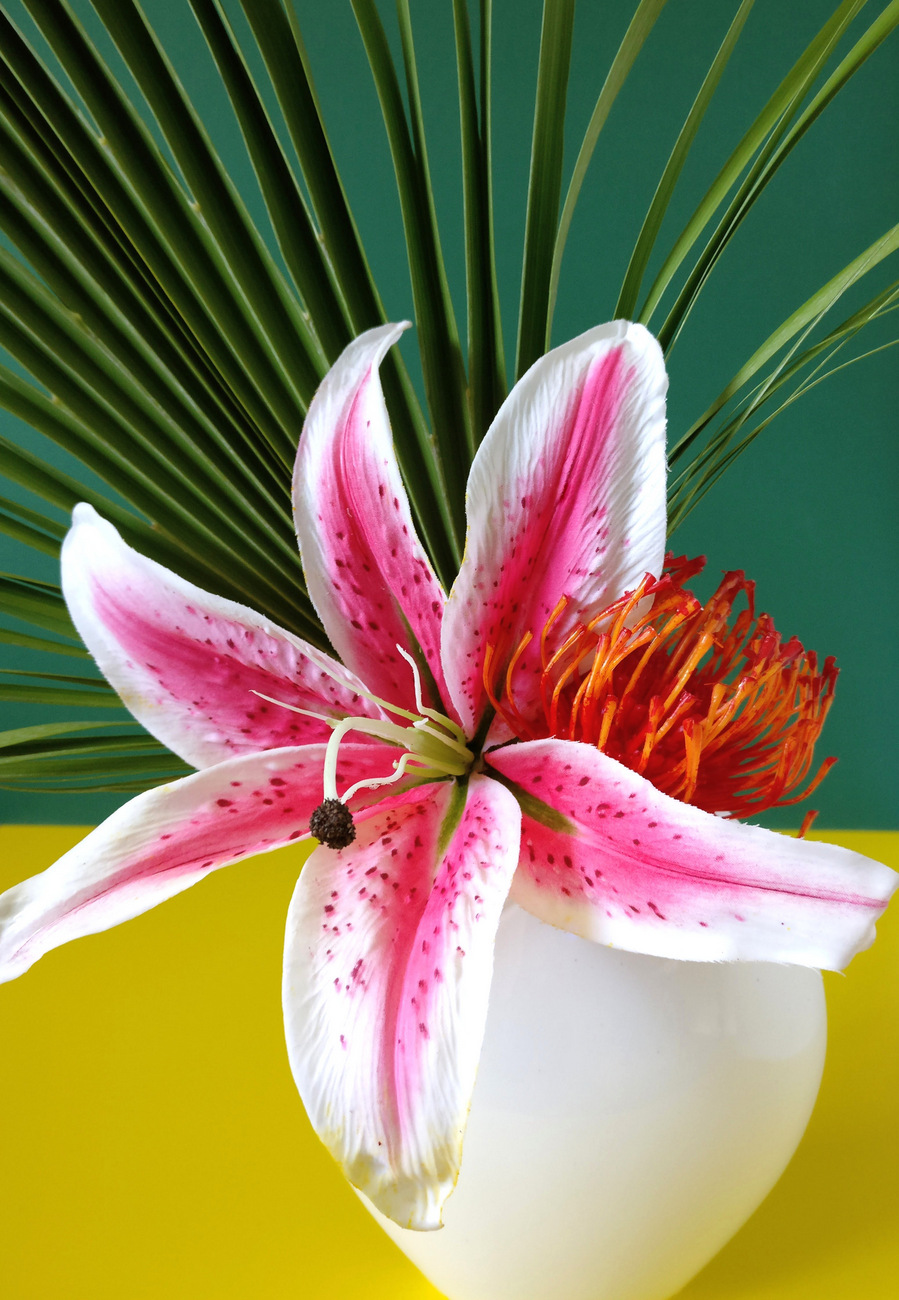 Below you will find many of the items featured in today's post! Click on the links under the montage for purchasing info…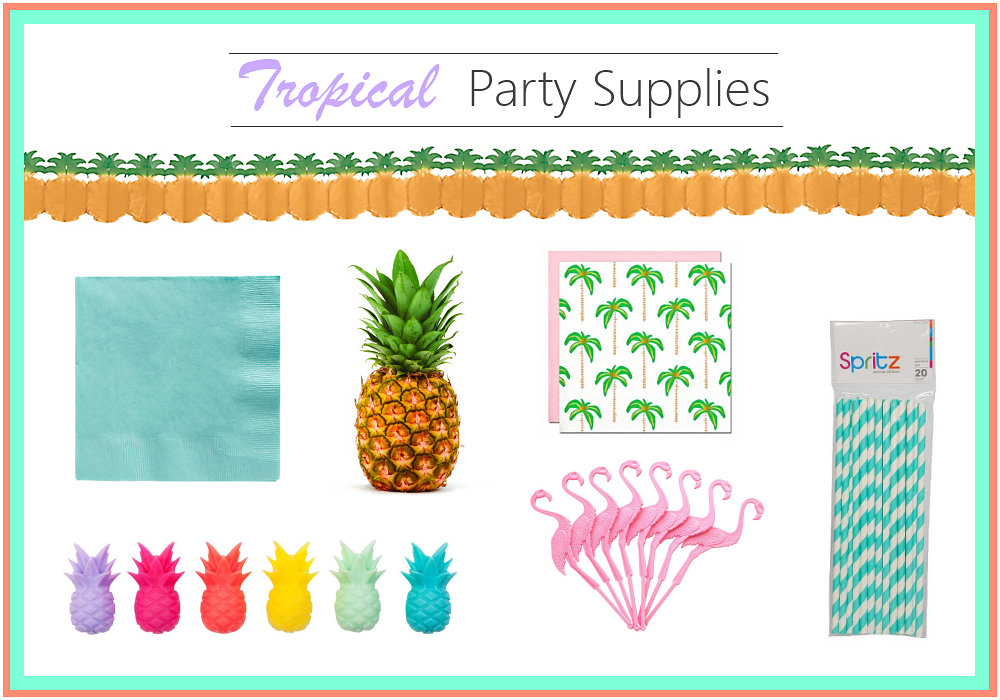 pineapple garland, aqua napkins, palm tree napkins, striped straws, flamingo swizzle sticks, pineapple glass markers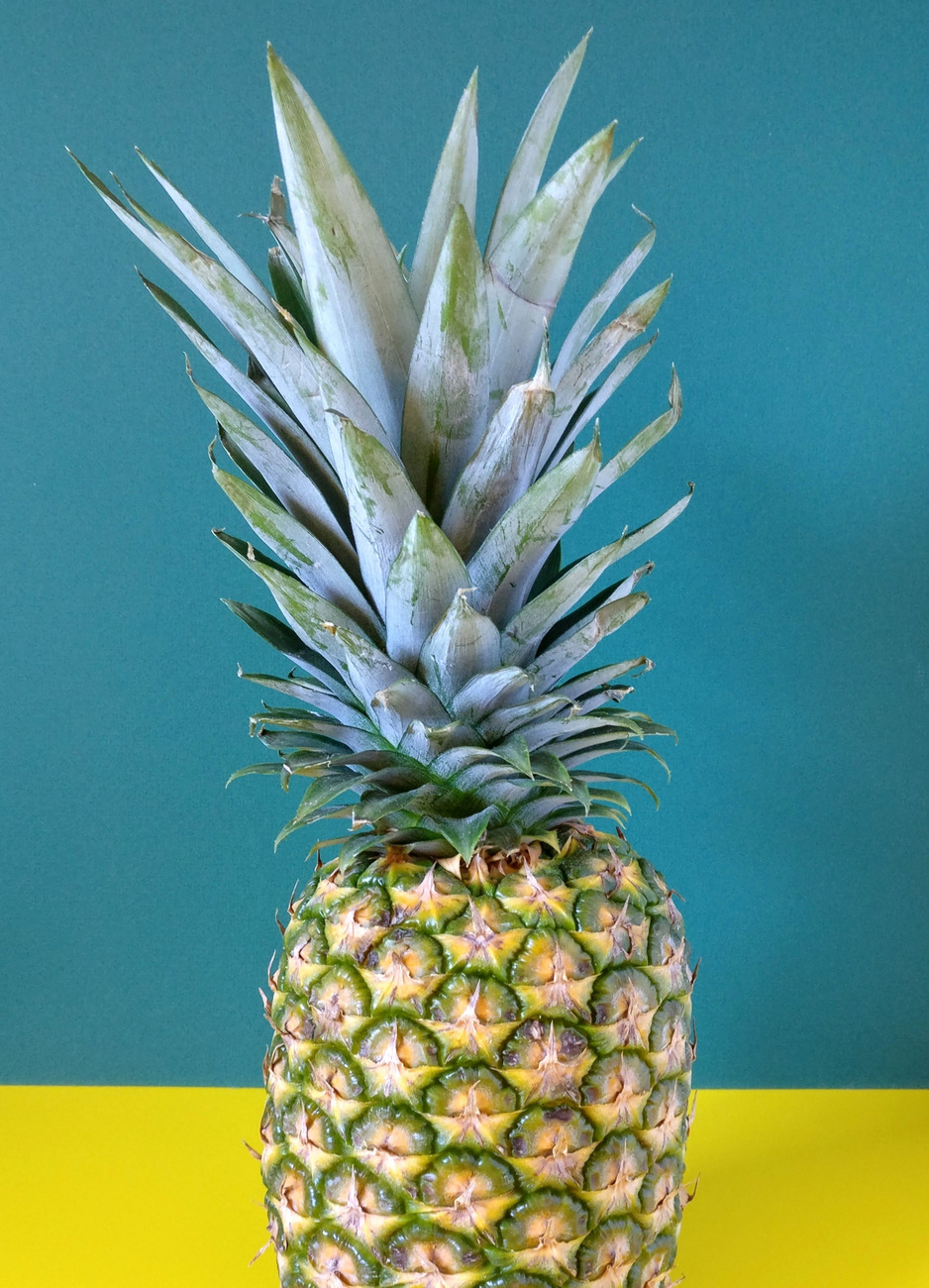 We love the simplicity of pineapples when it comes to tropical party decor. They're budget-friendly, bold, and instantly festive! Speaking of festive, check out the colorful drink embellishments that follow…
Festive Drink Supplies
For an easy tropical punch idea, mix equal parts pineapple juice, cranberry juice and orange juice, then top it all off with a splash of lime juice, a dash of orgeat, and as much sparkling water as you desire. To make it extra tropical, double the amount of pineapple juice! Hint: this recipe becomes a mai tai cocktail when light and dark rum are added!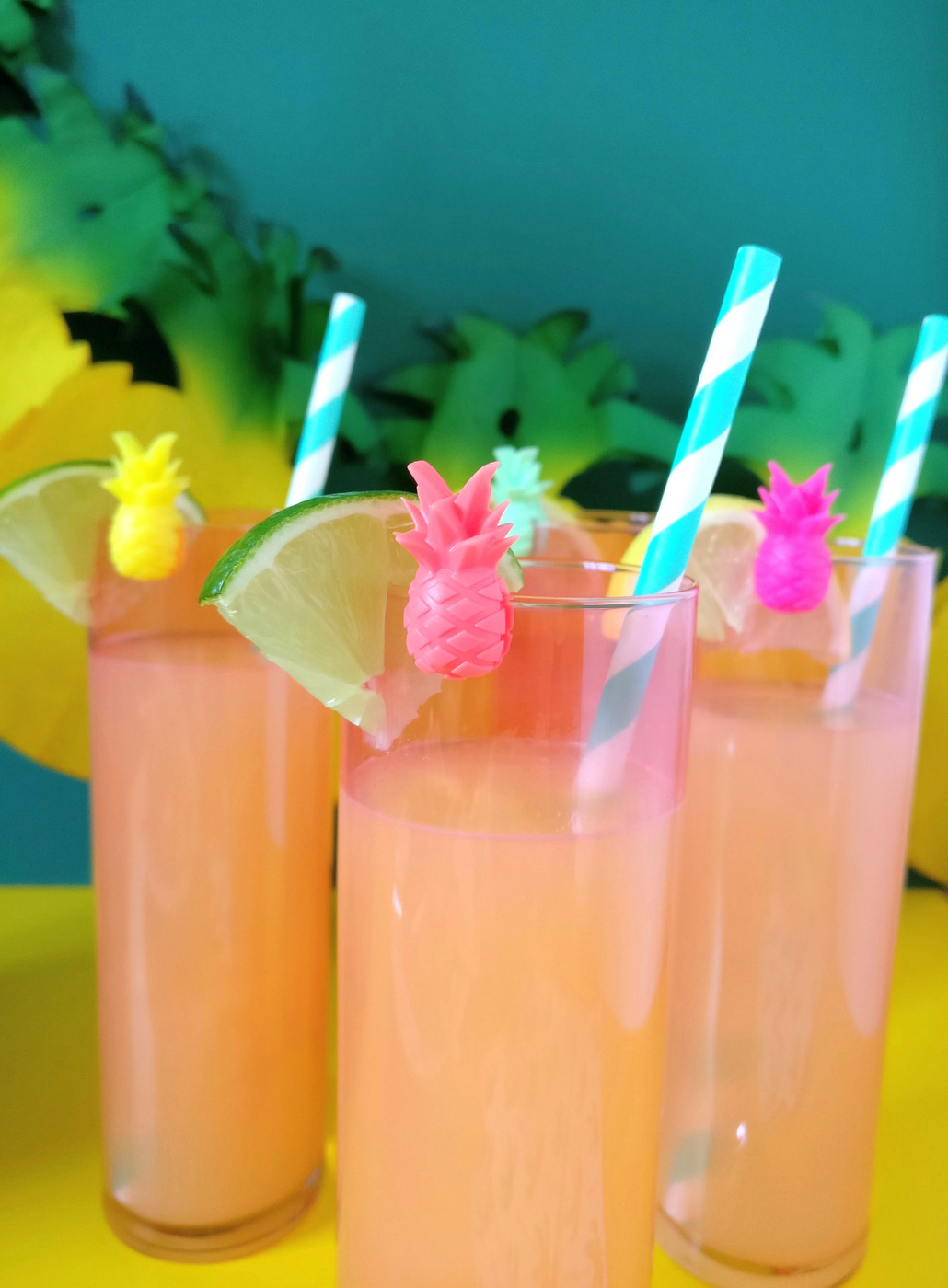 Make your drinks pop with special touches like fresh fruit garnishes, party straws and flamingo drink stirrers. These Pineapple Glass Markers from Sunnylife are an easy way to add color, fun and organization to your party. Don't forget the cocktail napkins, which can add pattern, especially if you choose a tropical design like the one featured on the palm tree napkins below: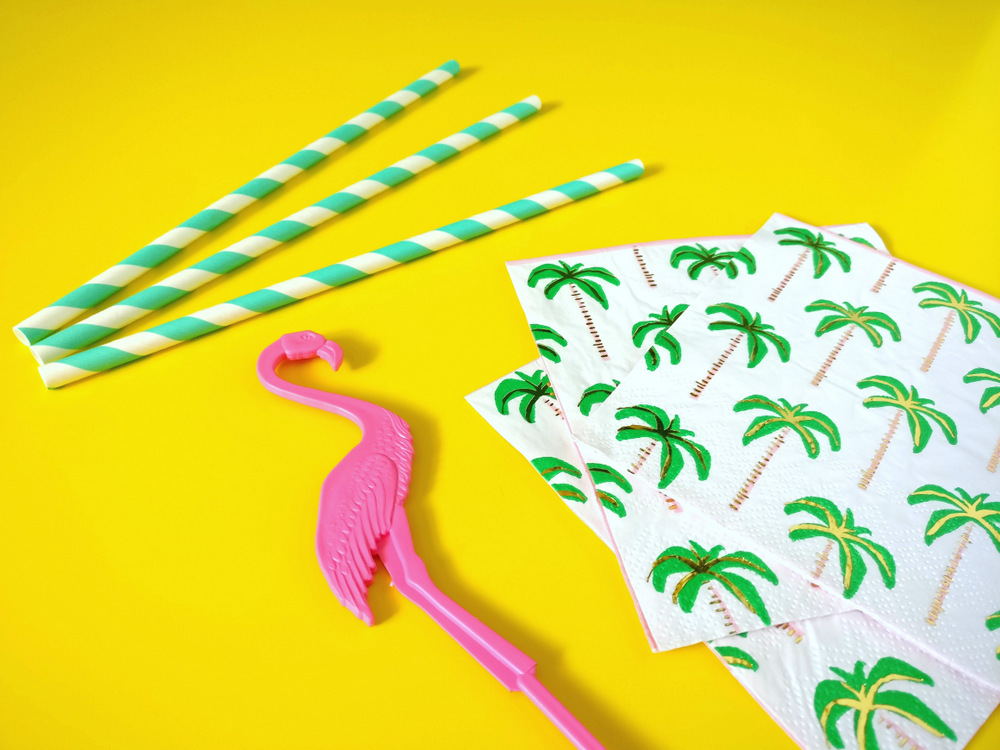 The pink cylinder champagne flutes featured in today's post were a CB2 purchase. While they're no longer available, you can now enjoy them in iridescent and smoke brown, as well as clear. Cheers to an unforgettable fete!
Sweet Treats
Who says you have to slave away in the kitchen to make your tropical party a hit in the food department?! If you feel like firing up the grill, more power to you! If not, sticking with a few key munchies will get the job done. Fruit skewers, a cheese plate, fresh veggies with dip, and this goat cheese aioli (served with potato chips) are a few of our favorites. Let dessert make the biggest statement with summery favorites like popsicles.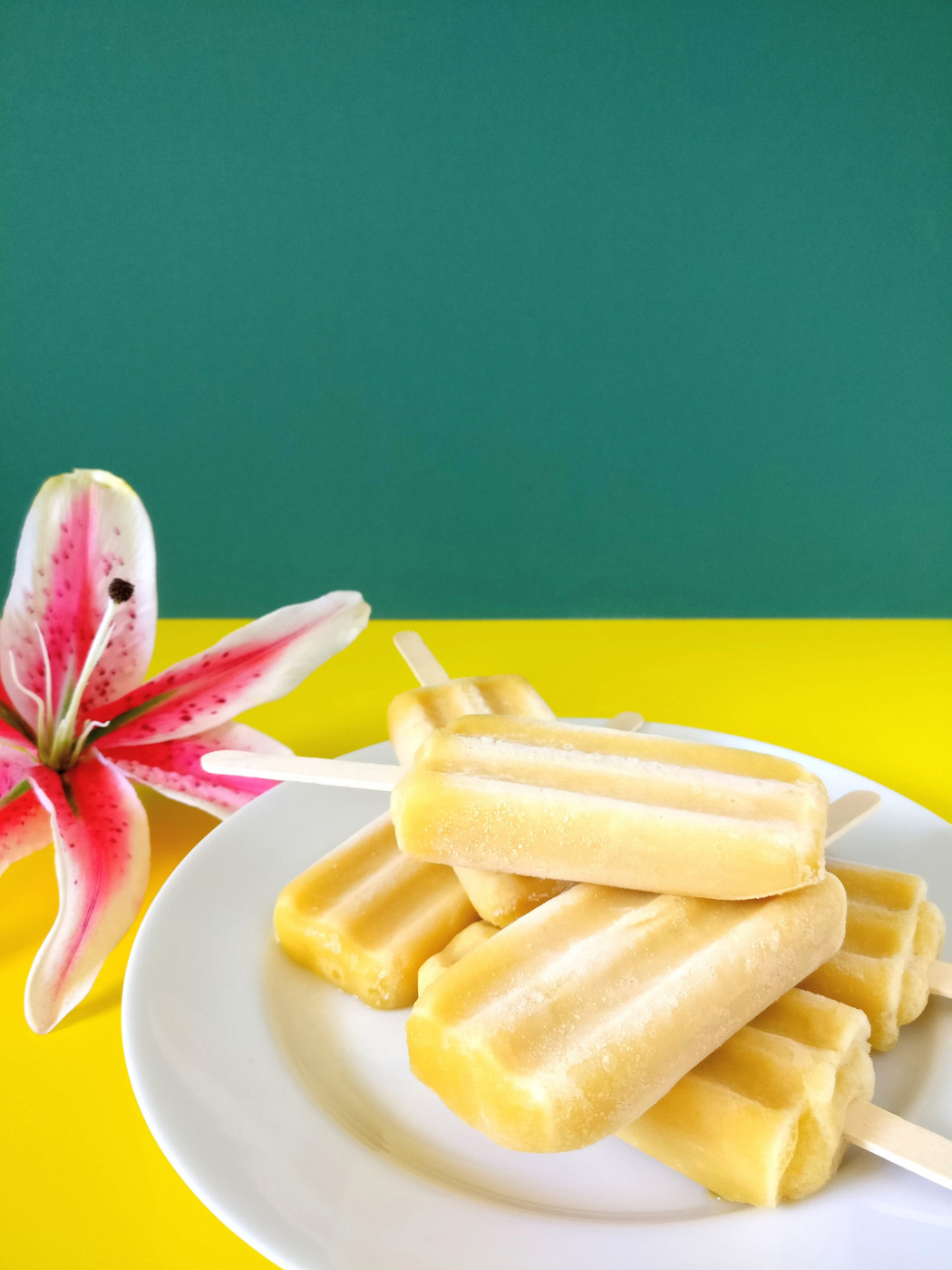 Whether dessert is homemade or store-bought, jazz it up with a tropical topper, and you're set. We love using tropical drink stirrers as cake toppers, an idea we picked up from Oh Happy Day. In fact, these Flamingo Swizzle Sticks can be found in the Oh Happy Day Shop!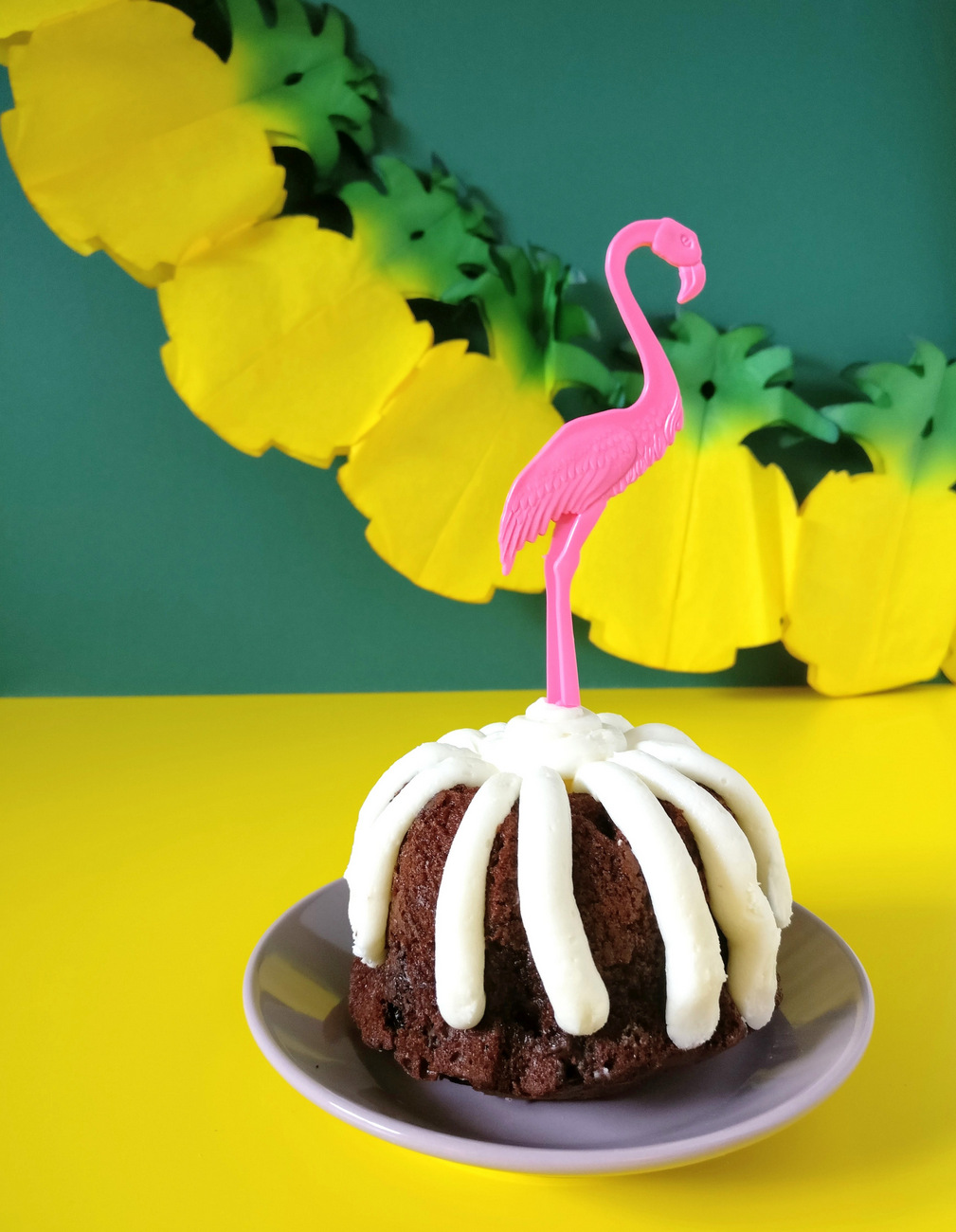 Summer is reason enough to celebrate. The warmest season of the year is also the most laid-back, so don't stress about entertaining. Make your tropical party easy, affordable, fun and stylish. Enjoy, and thanks for reading!