As kids, we all loved treehouses. They were the exciting little escape into a fantasy world where we could play high above the ground and plot our adventures. As adults, some of that adventurous spirit still lies within us, but now it's mixed with a dream of a luxurious home and a peaceful getaway. When we combine these philosophies we get a modern version of a treehouse – a beautiful house among the trees that can serve as a permanent residence or your favorite vacation spot. Check out some of the most inspiring modern treehouses down below!
Blending Modern and Natural
A treehouse is closely connected to the nature, but that doesn't mean it can't carry a strong modern look that blends with the natural elements and creates a harmonious setting that highlights the best of both!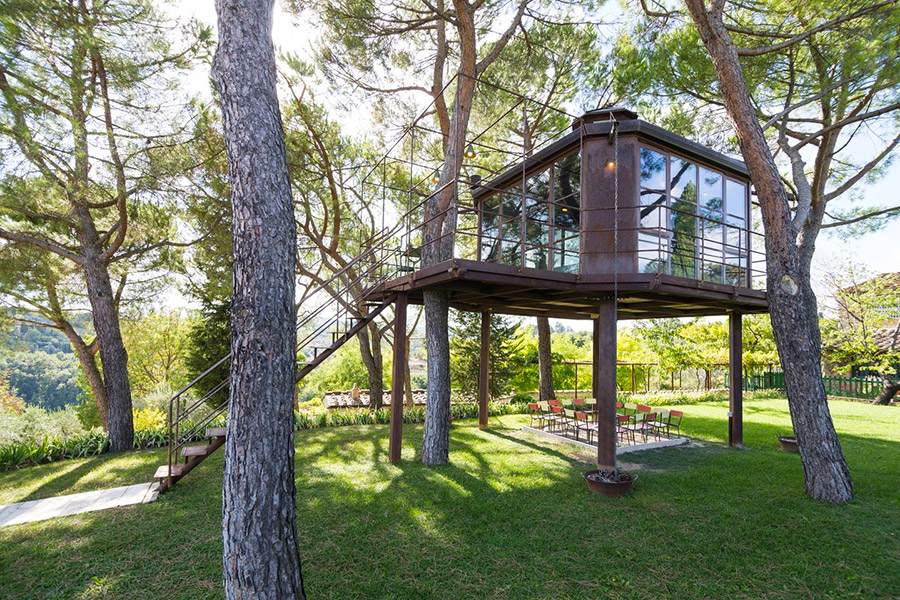 Treehouses have some of the most amazing views! It would be a shame to limit yourself to only watching the natural surroundings from the deck or a small window. A treehouse with glass walls doesn't just offer a fantastic view in all directions, it's also incredibly spacious and luminous! [Casa Barthel Treehouse]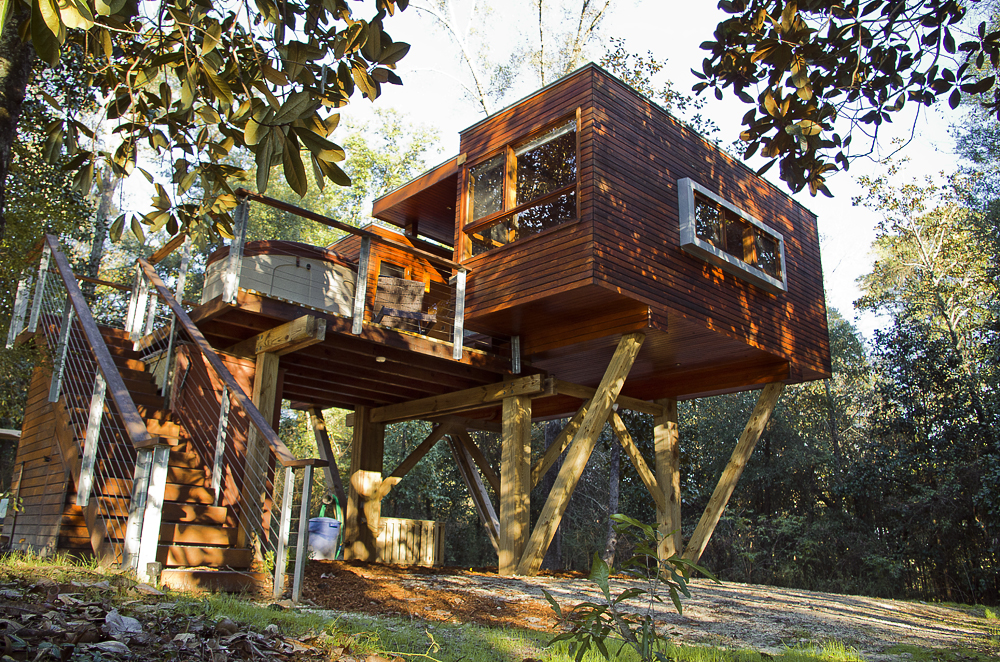 This beautiful wooden treehouse by Coldwater Gardens is perfect for the natural environment it is set in, the polished look and dynamic design the only two features showcasing its modern style.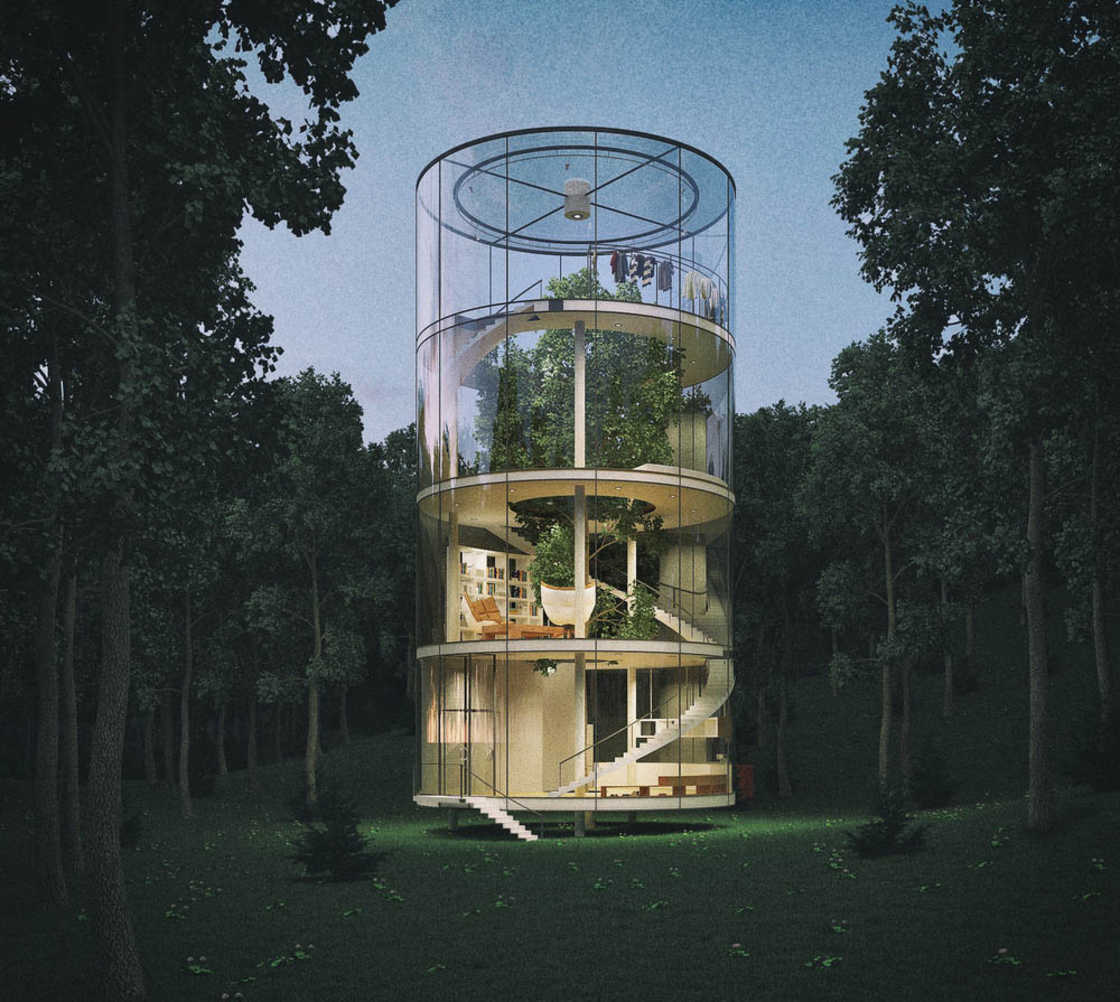 A unique vertical design is ideal for a house that's built around a tree! It brings an element of nature onto every floor of the home where the transparent wall offers a 360° view of the landscape. [via Ufunk]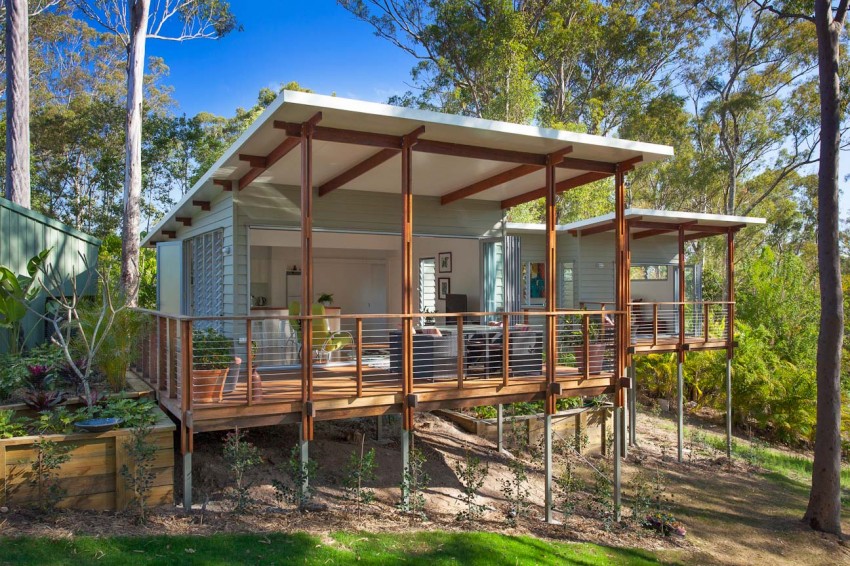 A house that combines the wooden exterior with gentle pastel shades truly represents the newer concepts of modern housing design and captures a fresh and bright look! [by Kim Alexander builders in collaboration with Baahouse + Baastudio]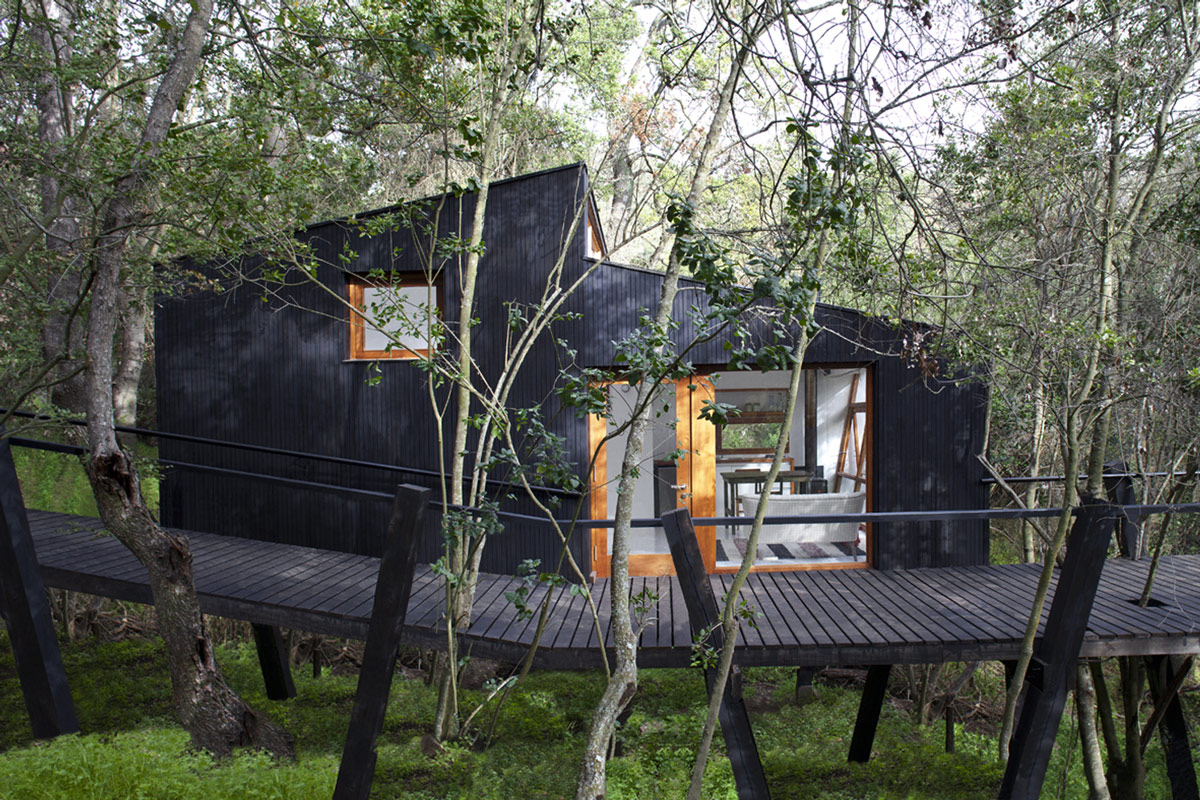 A black treehouse sets itself apart with a stunningly elegant exterior that feels sophisticated and contemporary, a reflection of the latest dark decor trends. [Casa Quebrada by Santiago based studio UNarquitectura]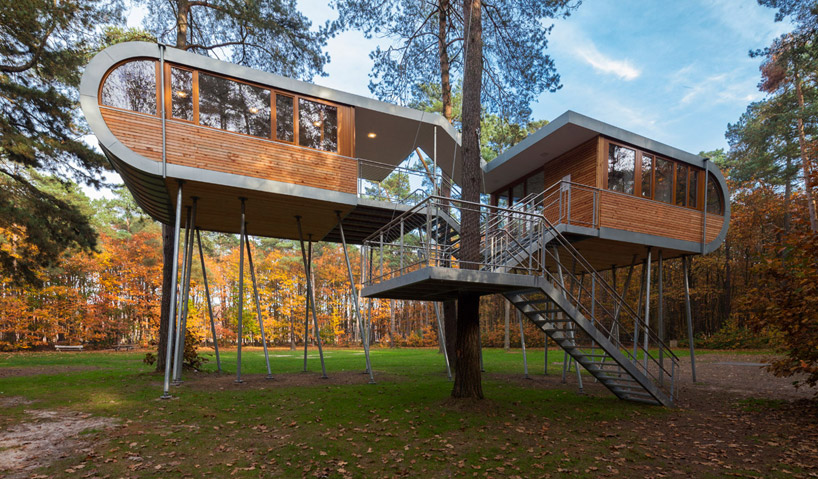 A treehouse with a dynamic design is a modern sanctuary within a peaceful nature. The combination of silvery hues and light wood is a classy choice, not to mention the innovative way the staircase is built around the tree! [baumraum: treehouse in belgium]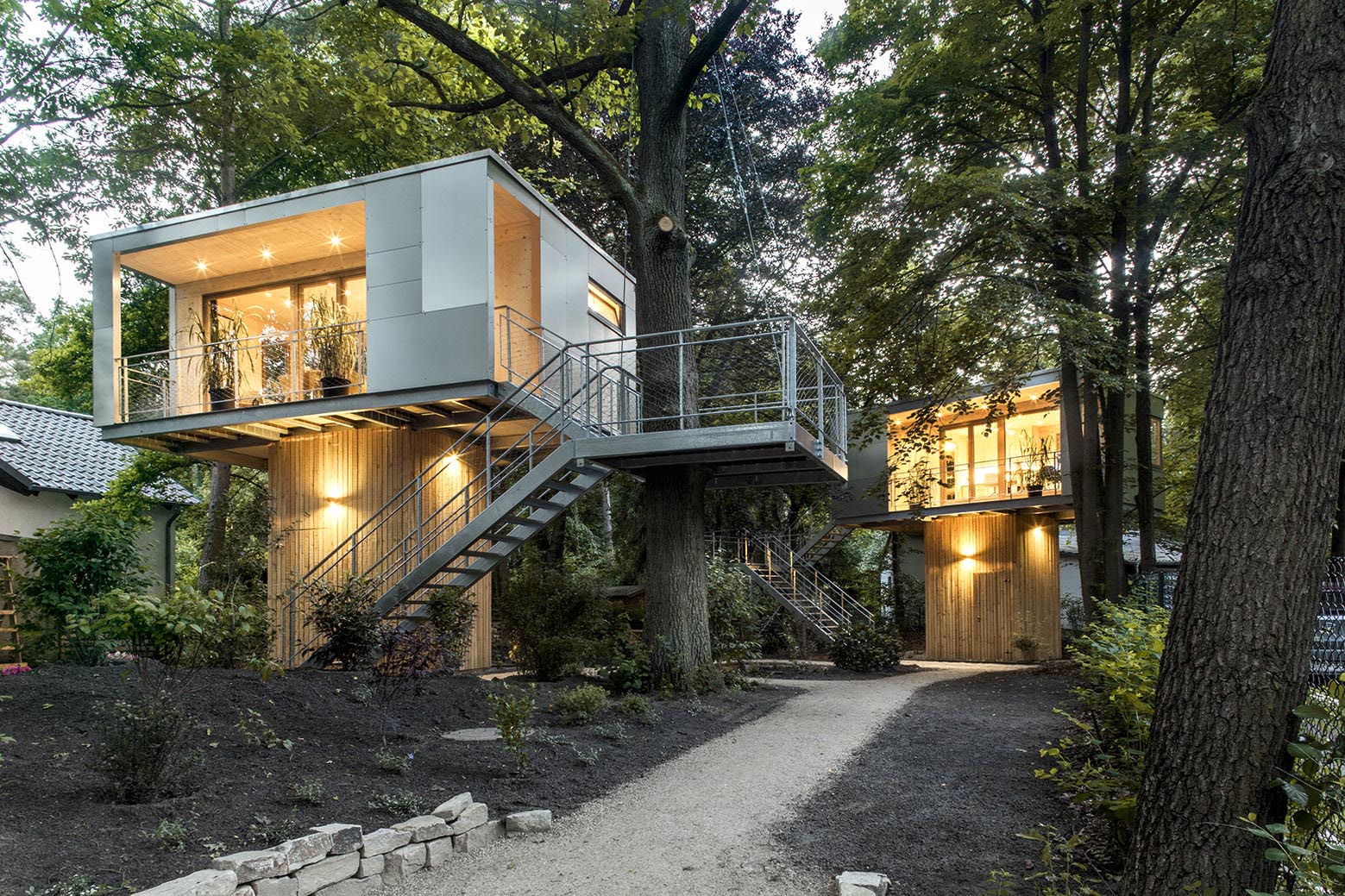 Another one by German-based Baumraum. Neutral tones are always a great option to pick when we're working with nature! They have a sleek look and matte surface that allows the rest of the home to be illuminated with warm yellow lights.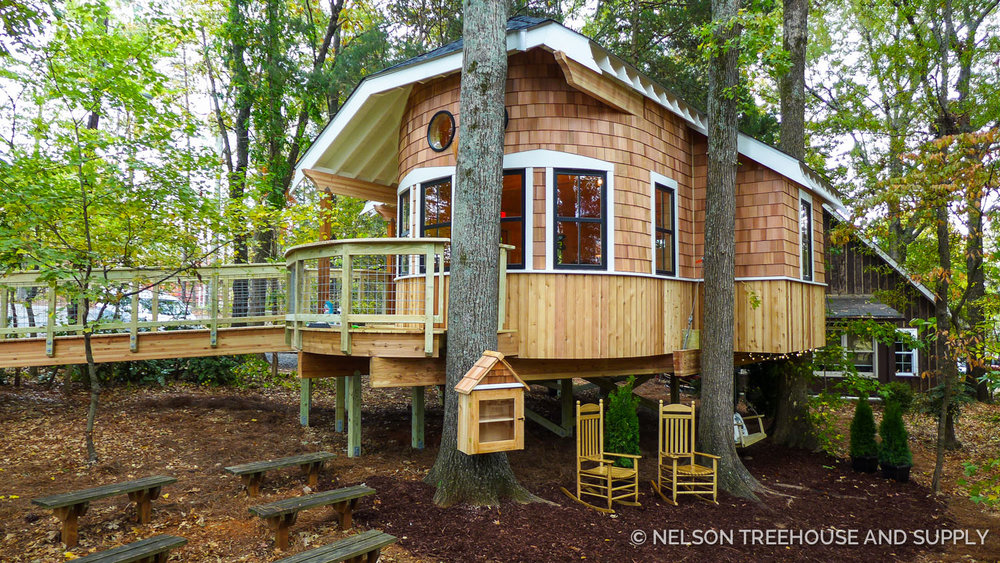 Different styles of wood pair with each other really beautifully and have the power to create a fairytale-like wooden treehouse that will be adored by children and fully appreciated by adults!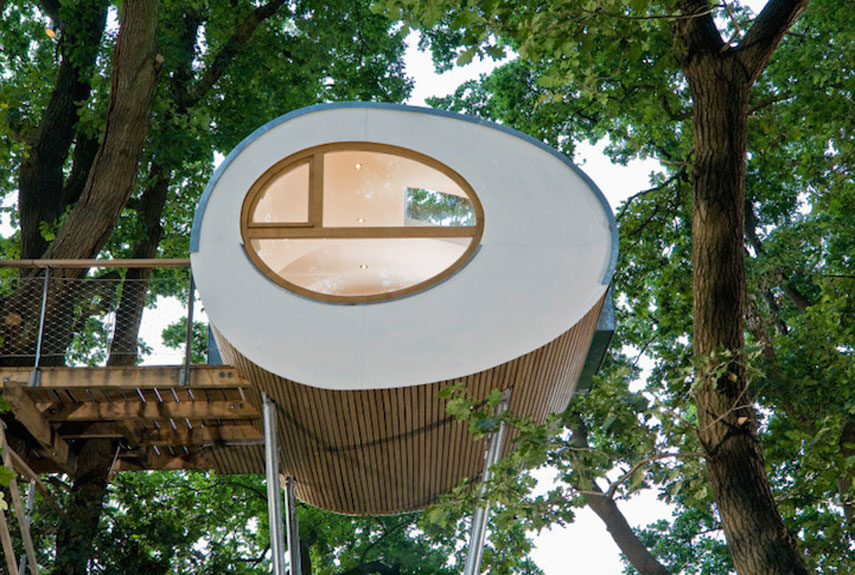 A little treehouse pod can be a fantastic way to bring the popular concept of minimalism into the free-spiritedness of the forest! The tiny simplistic design looks incredibly cute and feels like an interesting place for an overnight stay! [courtesy of CountryLiving]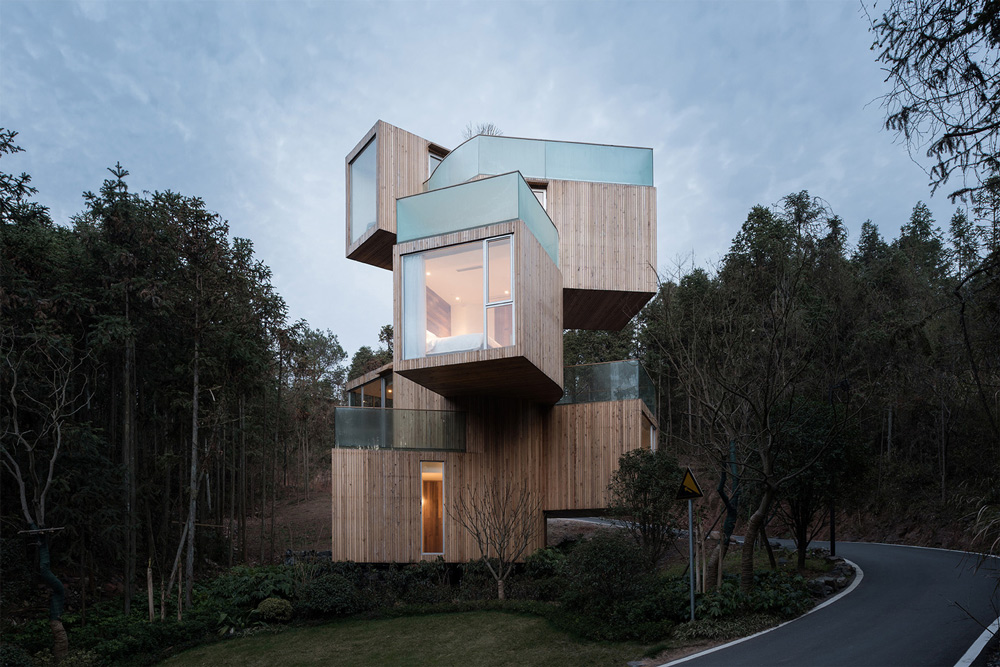 If we're talking about modern treehouse designs we simply cannot go without mentioning this unique home that has a stunning one-of-a-kind design! It has all the elements that modern houses are striving for: a lot of light, a refined exterior and incorporated greenery!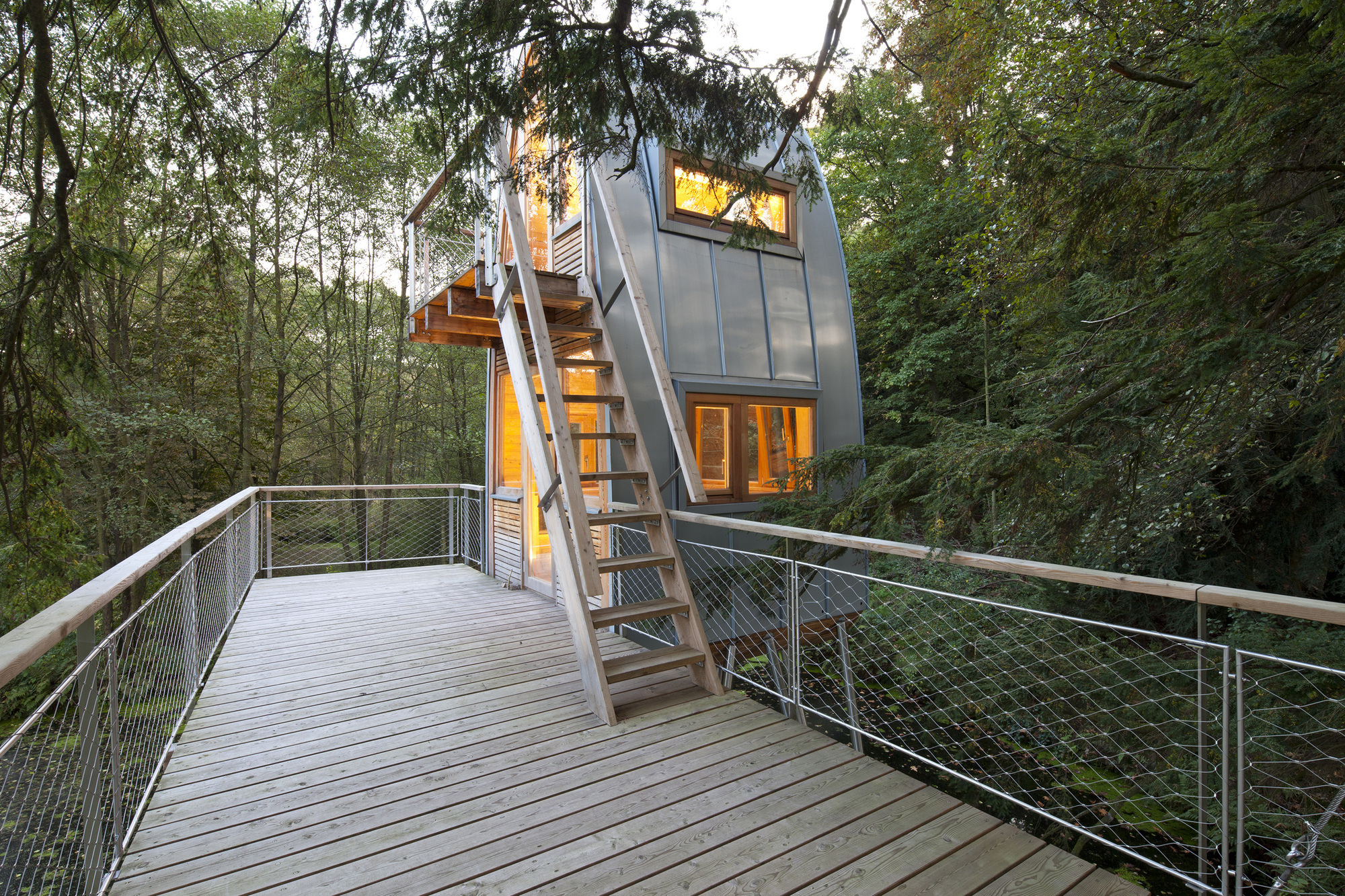 A tin house with an interior illuminated with yellow lights is an eye-catching element within a forest that surrounds it. The beautiful deck is a wonderful place for observing the natural ambiance! [Treehouse Solling, featuring Baumraum's signature style]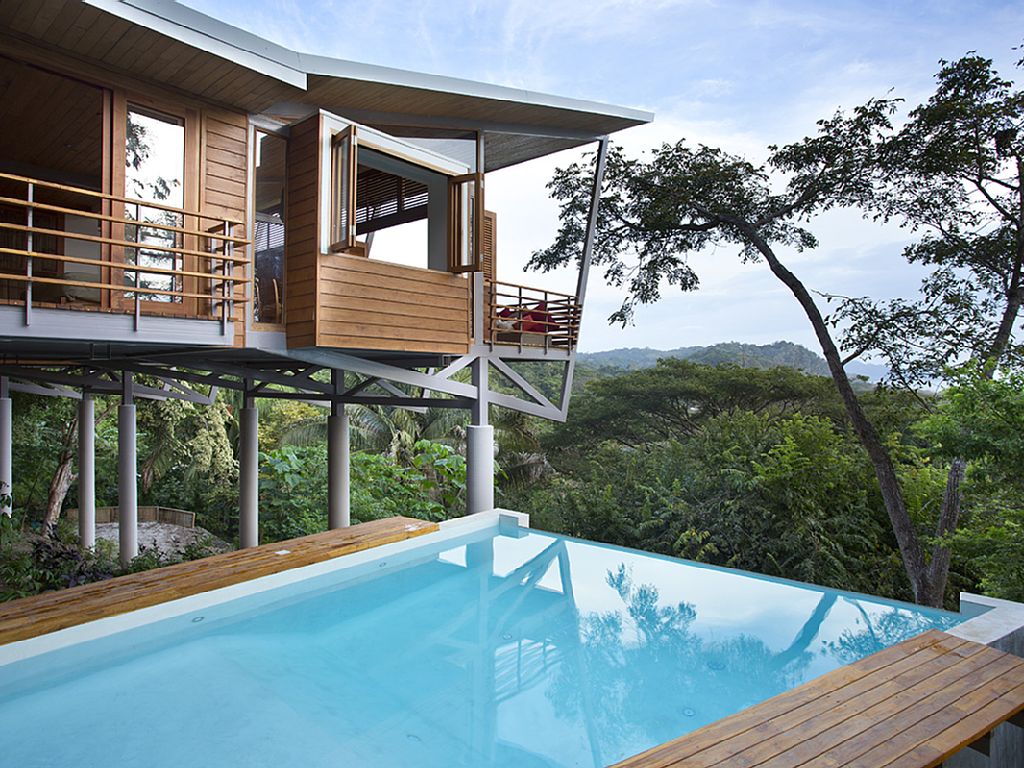 This getaway place takes the treehouse luxury to another level with a contemporary design and a big pool! Sometimes when two worlds collide, they end up blending into something outstandingly beautiful! It's available for rent starting at $622 per night. Sleeps 7.
Hidden in the Forest
Some treehouses are buried deep within a forest or set up high above the ground, blending in with the trees and offering an amazing view of everything around it as well as a lot of privacy!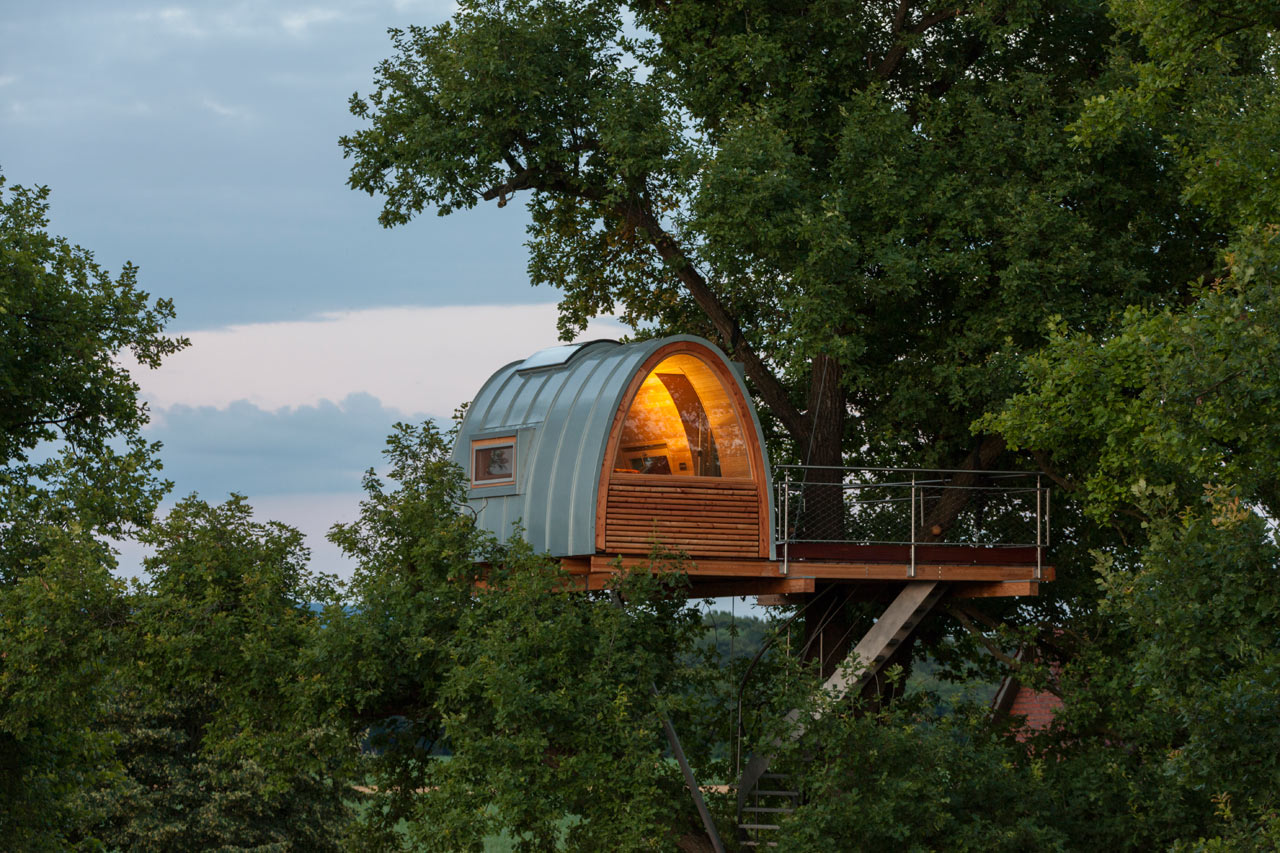 This stunning treehouse bungalow offers an incredible view from just above the treetops and is considered a dream vacation place for anyone who loves the sight of a beautiful landscape. [via Design-Milk]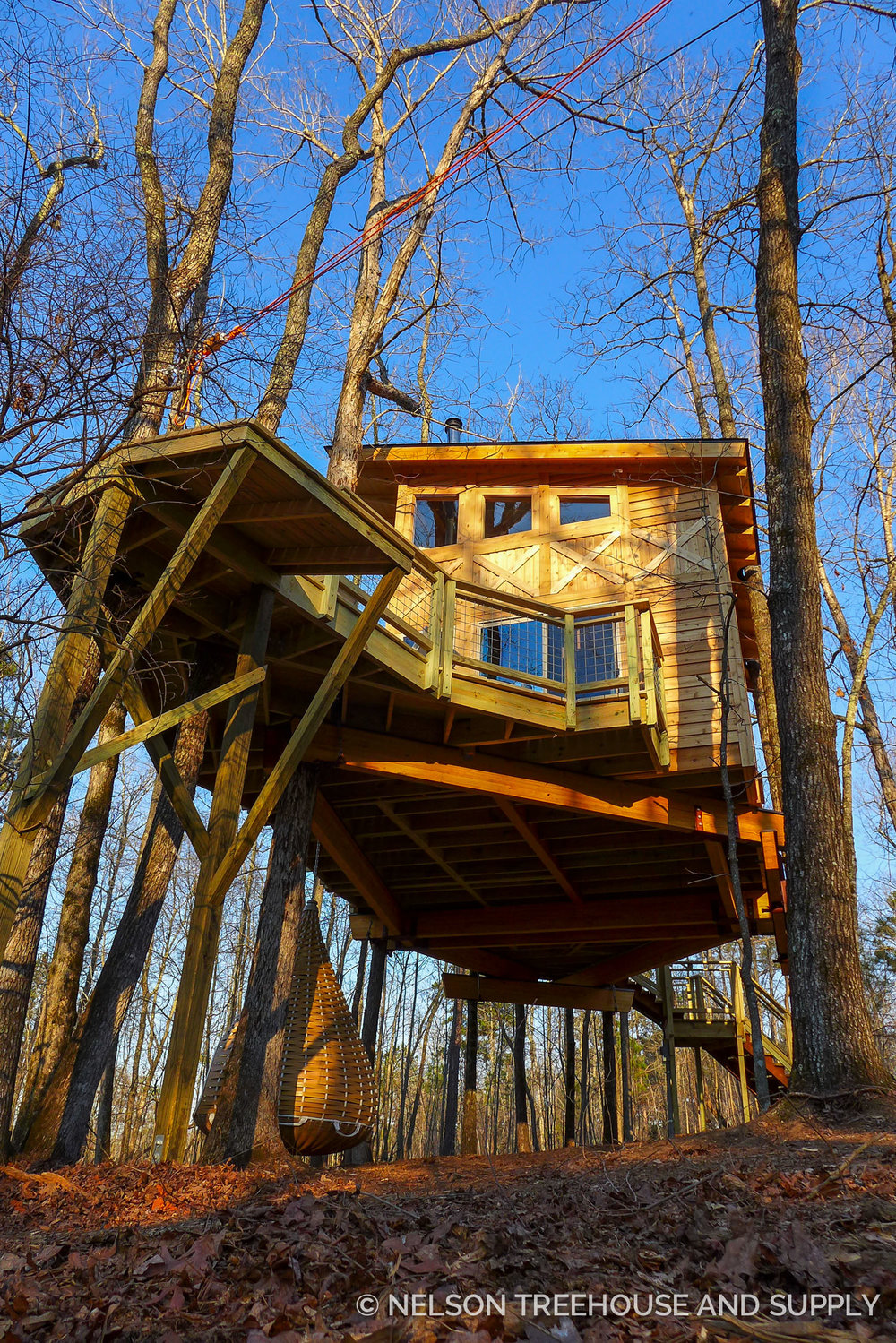 Celebrate nature with a treehouse made completely out of wood! It blends in perfectly among the trees, serving as an intimate hideaway that doesn't have to sacrifice comfort.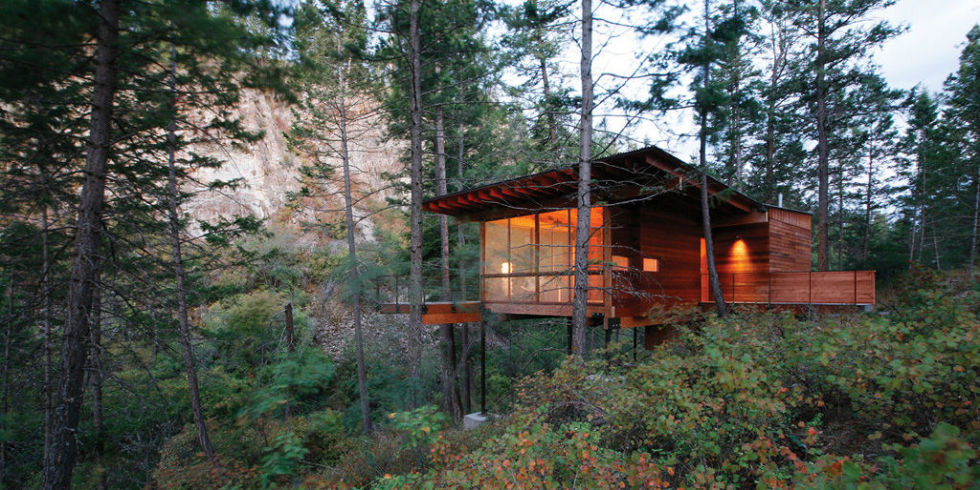 This serene treehouse built with polished red wood is such a sight for sore eyes! Its distinct wooden exterior makes it stand out among the greenery while the subtle lighting creates warm and cozy atmosphere. [Cabin on Flathead Lake by Andersson Wise Architects]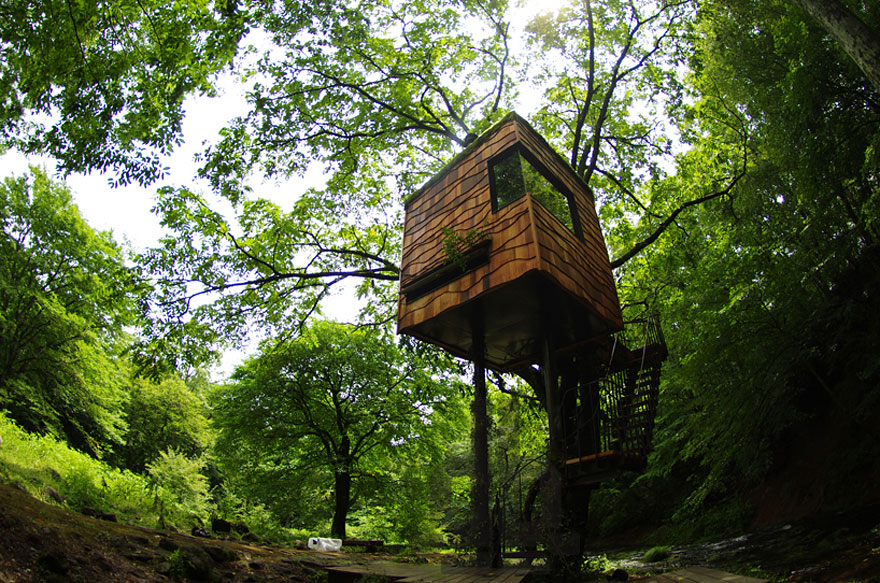 A tiny treehouse has the potential to feel a part of the trees it is set amongst, especially if they have vibrantly green leaves and the house has a corresponding wooden exterior.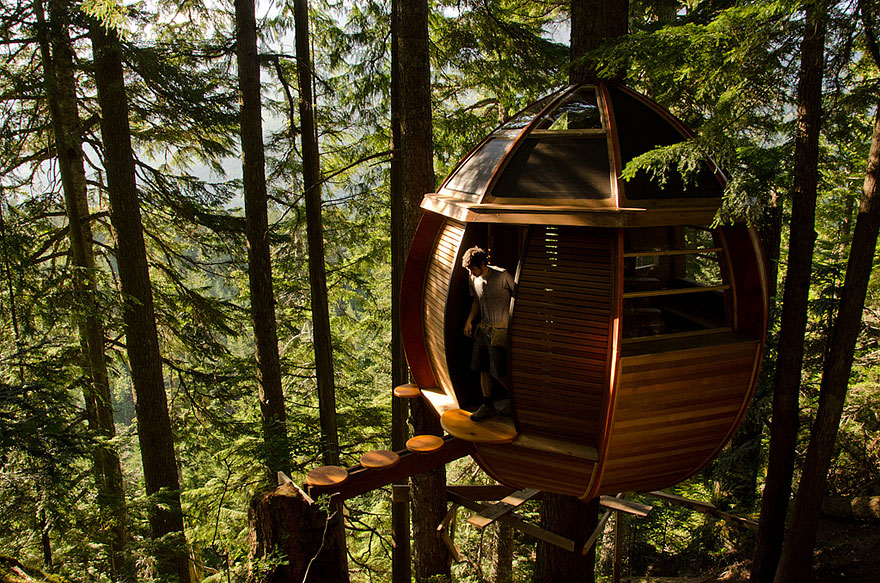 A small treehouse high above the ground may not be for the faint-hearted, but it is the perfect destination for those with an adventurous spirit that want to get the most out of their temporary residence! [via Flickr]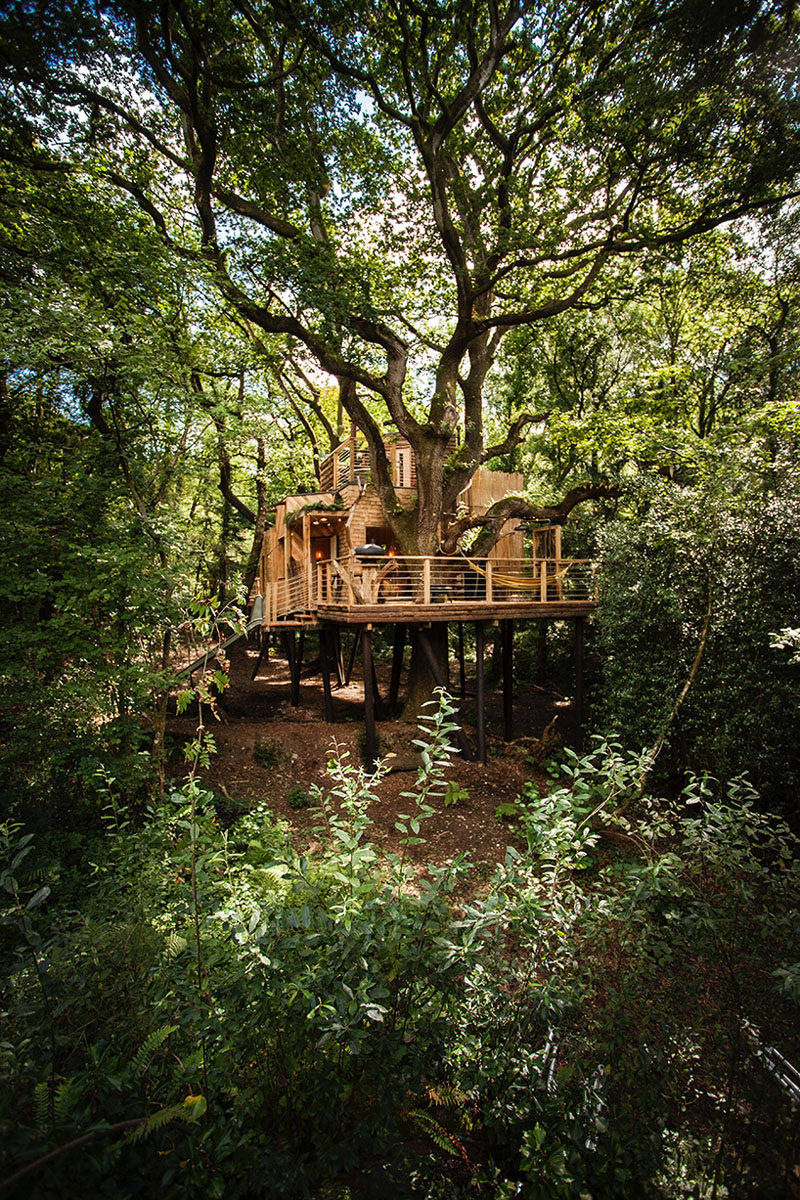 A big treehouse hidden deep within the forest can almost be overlooked if you don't look closely! It's built around a strong and powerful tree and appears like something out of an adventure book! [The Woodman's Treehouse: Design by Guy Mallinson Woodland Workshop and Keith Brownlie from BEaM]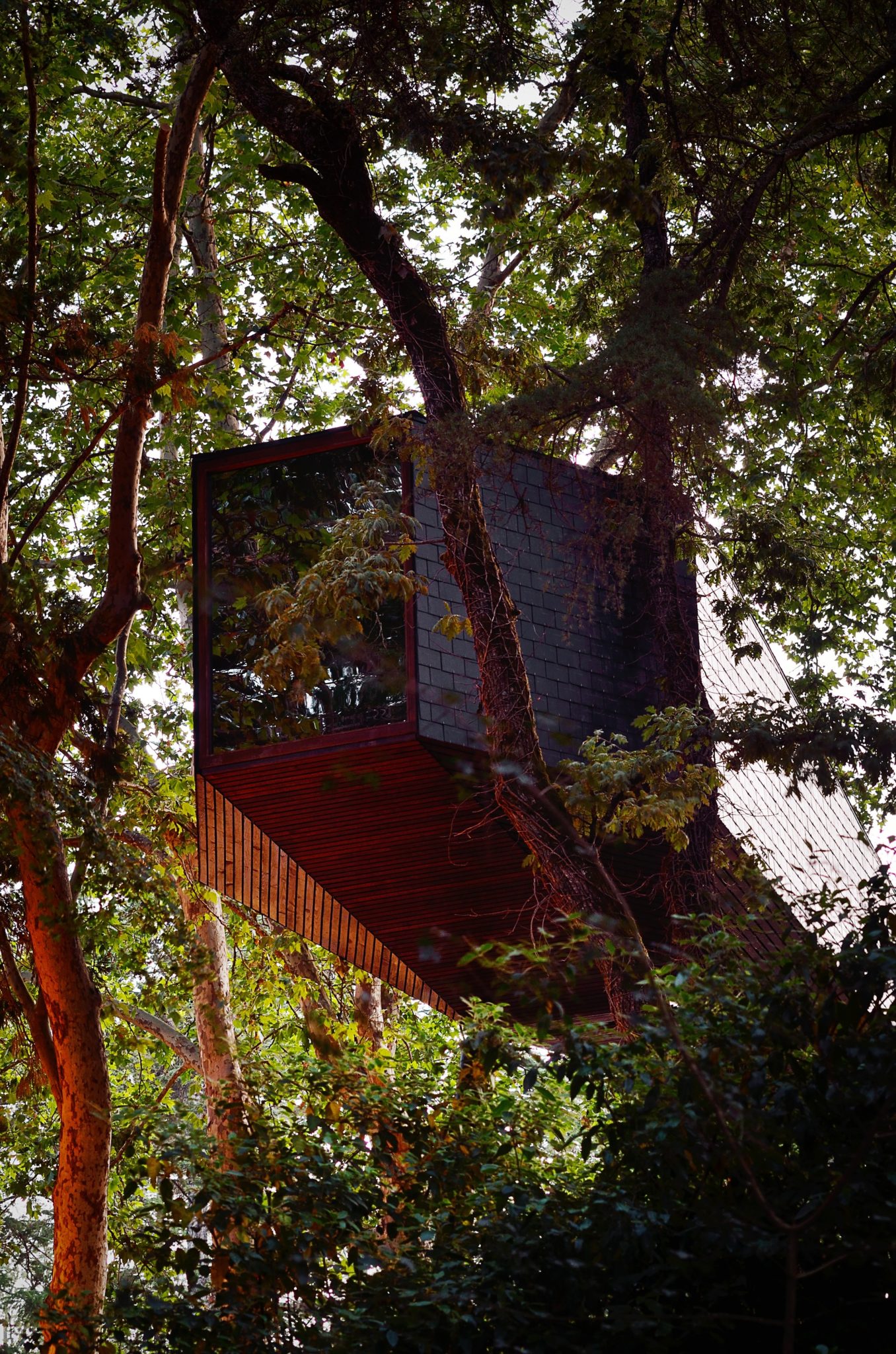 A wooden treehouse with a geometric design that is situated near the highest treetops has a big glass wall that lets the light in, opens up the space and offers the most incredible view!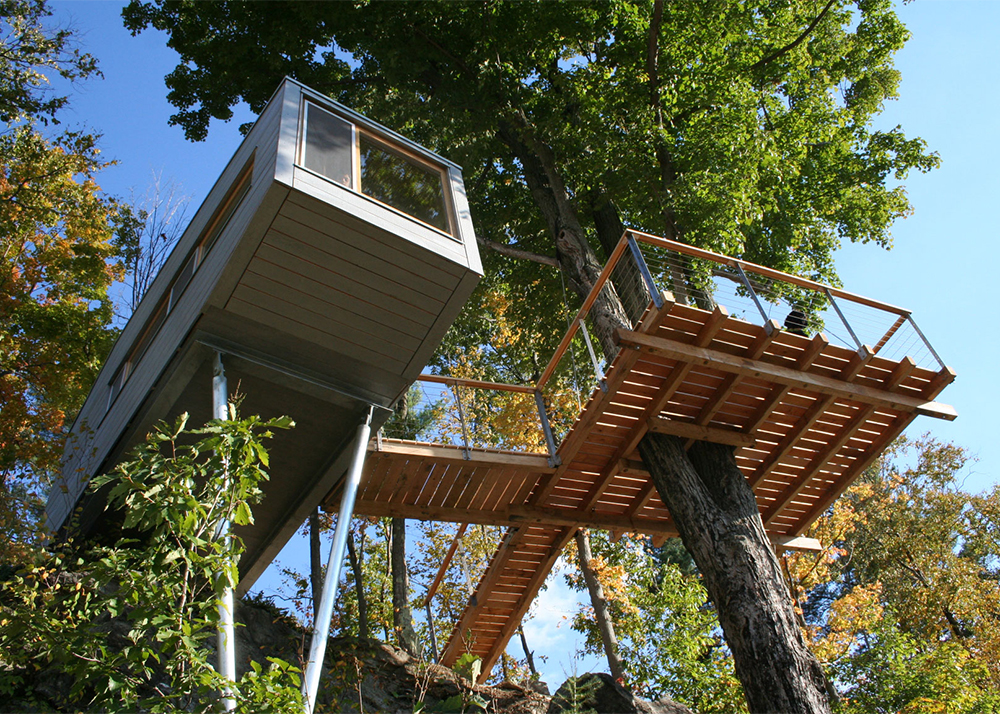 A treehouse deck is definitely one of the best places to observe the nature from, especially if it's built in the cool shade of a big tree. It makes the whole treehouse experience even more authentic!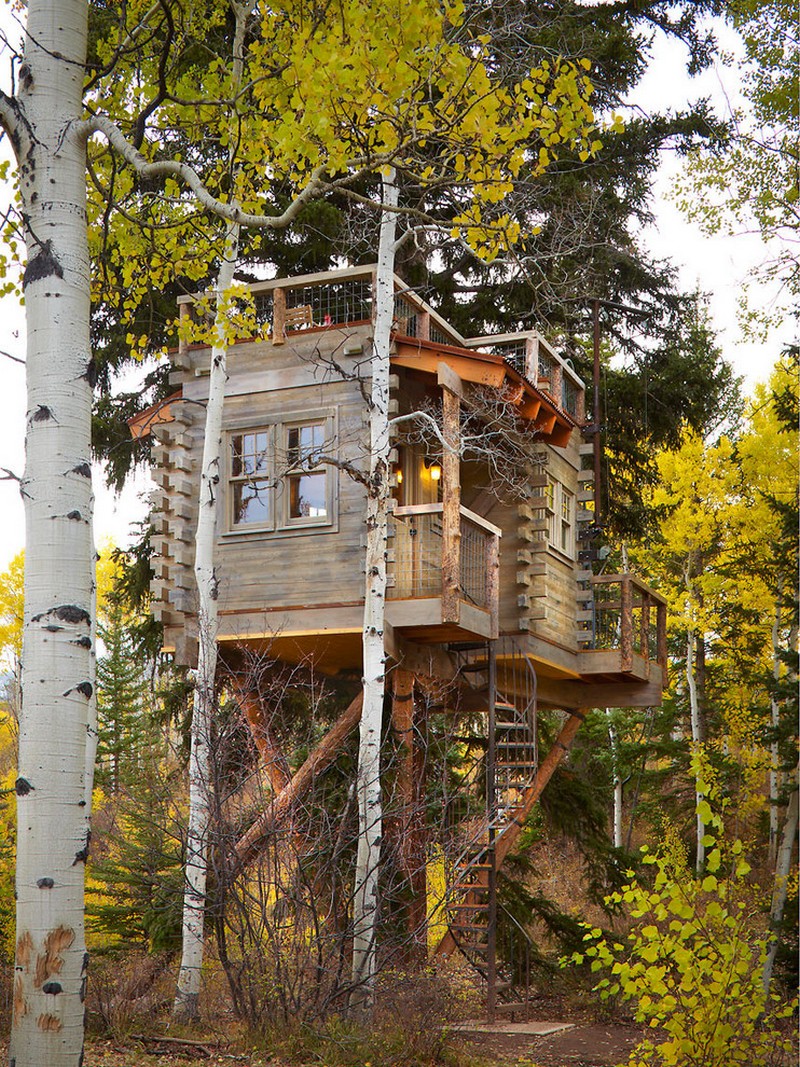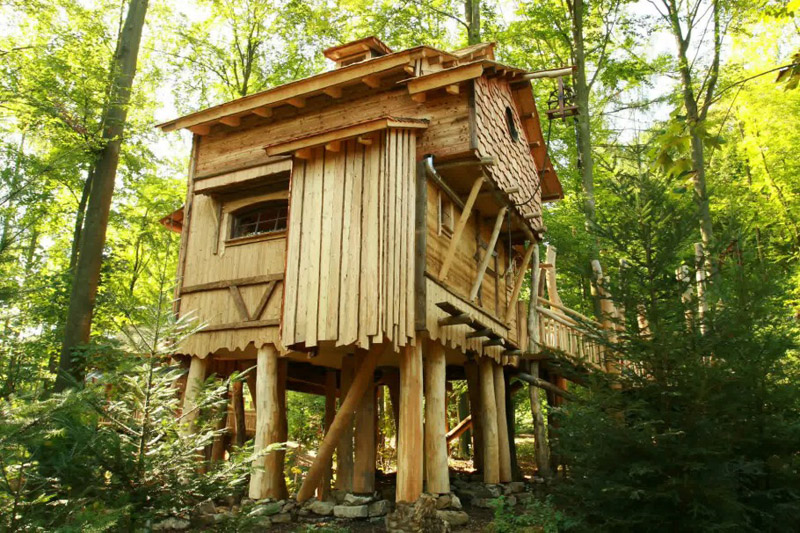 A big wooden treehouse may not look like the most modern option when you first see it and it definitely has a rustic undertone that always comes with wooden exterior. But the dynamic shape of the house and creatively set up staircases are what lets us in on the secret that current trends have indeed influenced even the treehouses that are buried deep in the woods!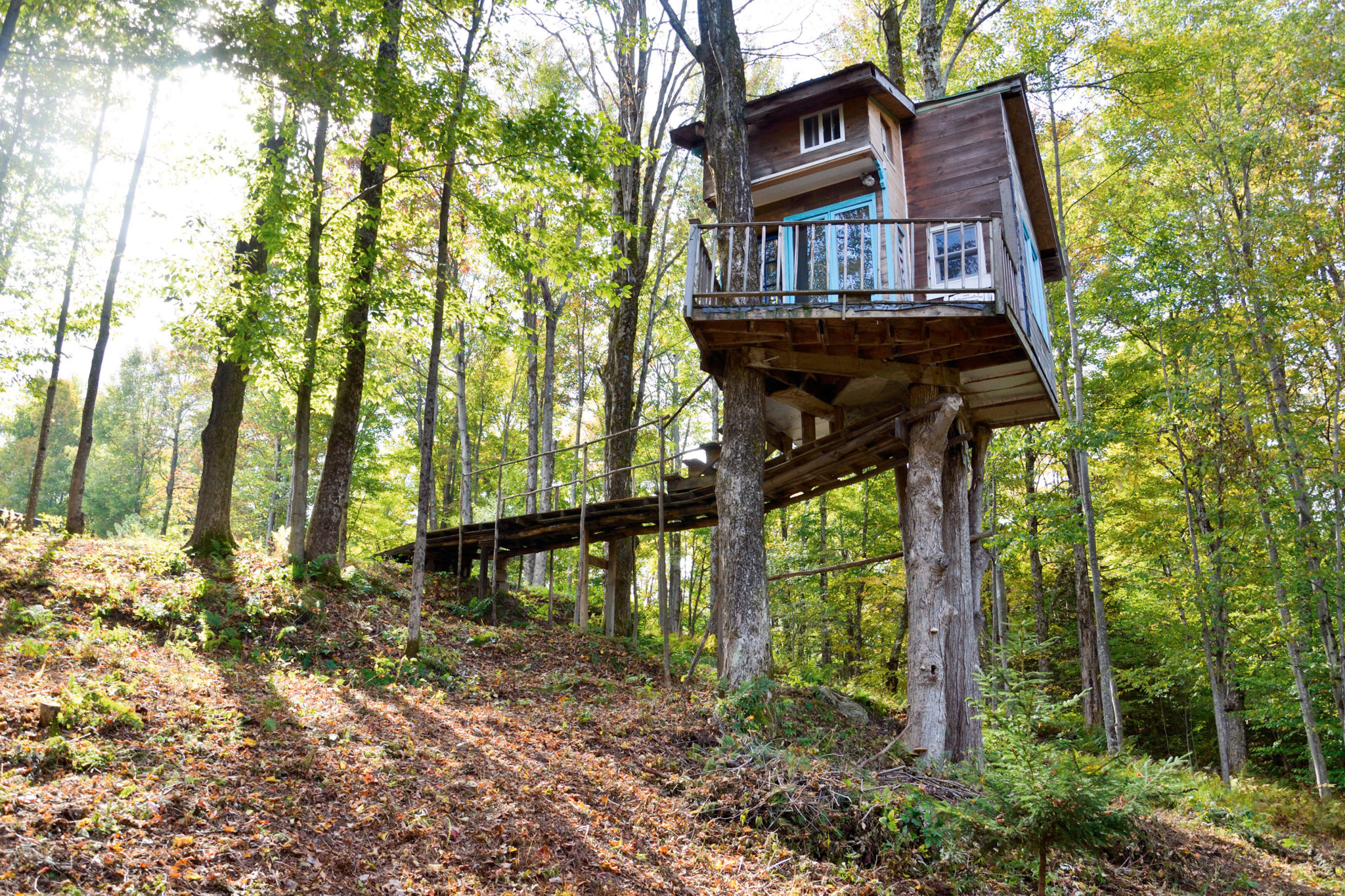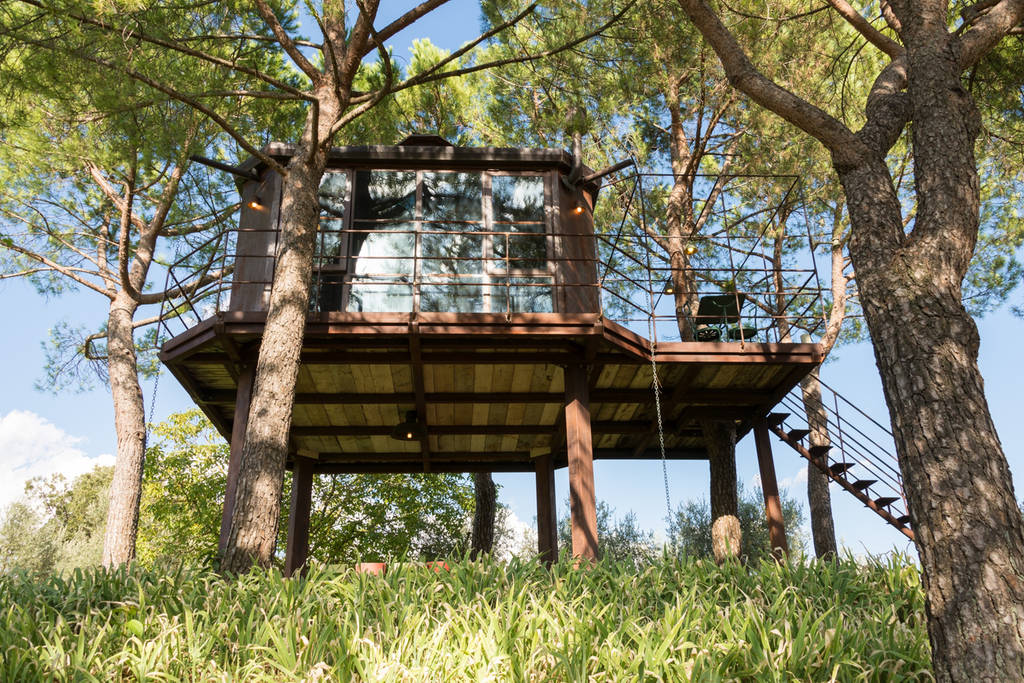 When a treehouse proudly carries the shade of brown that so closely matches the trees, it feels like it has always been a part of them and grew on the trees completely organically. The big windows are a salute to modern decor concepts that advocate for well-lit open spaces. Combining the natural and the modern has never looked so harmonious!
Unique Twist on a Classic Concept
When a classic concept is used to create something new and innovative it's always a treat! Occasionally a modern treehouse pops up that strays away from the traditional design, but still manages to capture all the special things we love about treehouses!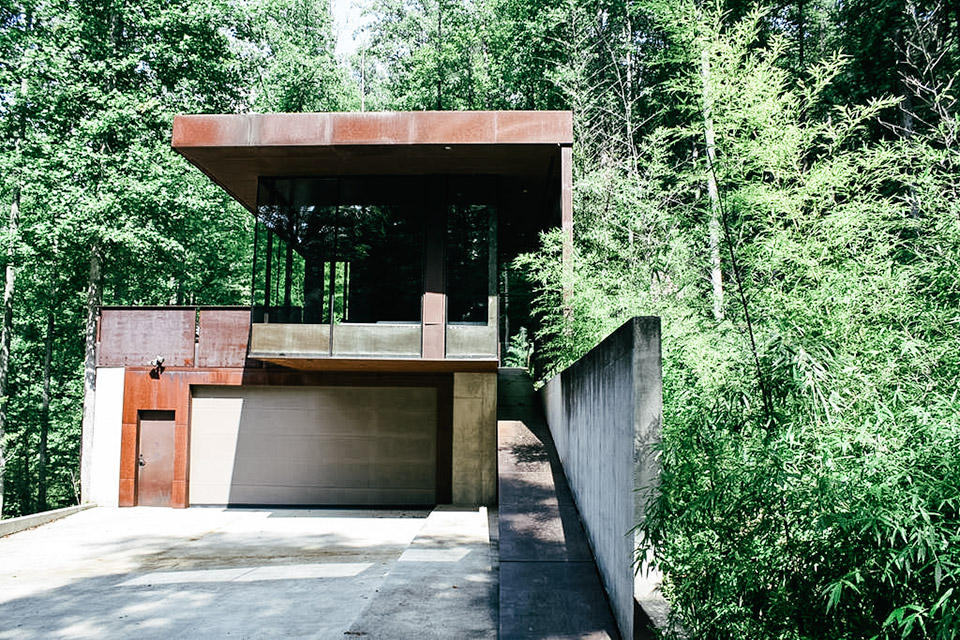 A modern treehouse doesn't necessarily have to be lifted from the ground to capture the magic of a house situated among the trees. The industrial presence of this treehouse really stands out against the natural backdrop. It's available to rent on Airbnb and should cost some $250 per night. Sleeps 2.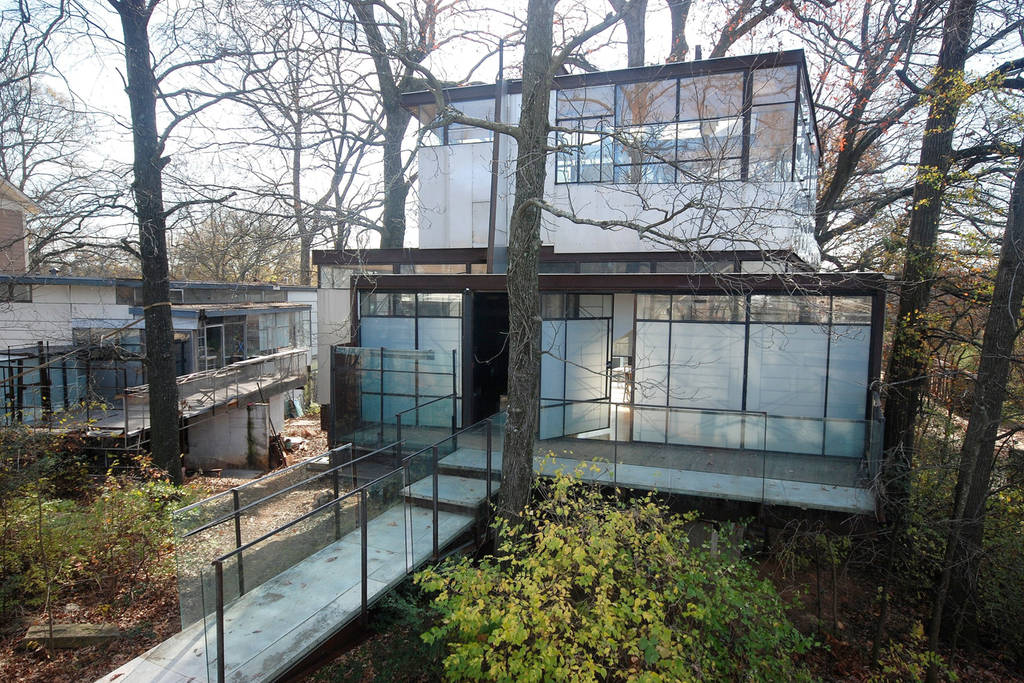 A glass treehouse is easily the epitome of modern treehouses! Illuminated with daylight at all hours of the day, staying in the house will not even feel like you are indoors! Another Airbnb property, you can ret this for 4 guests and should cost some $500 per night.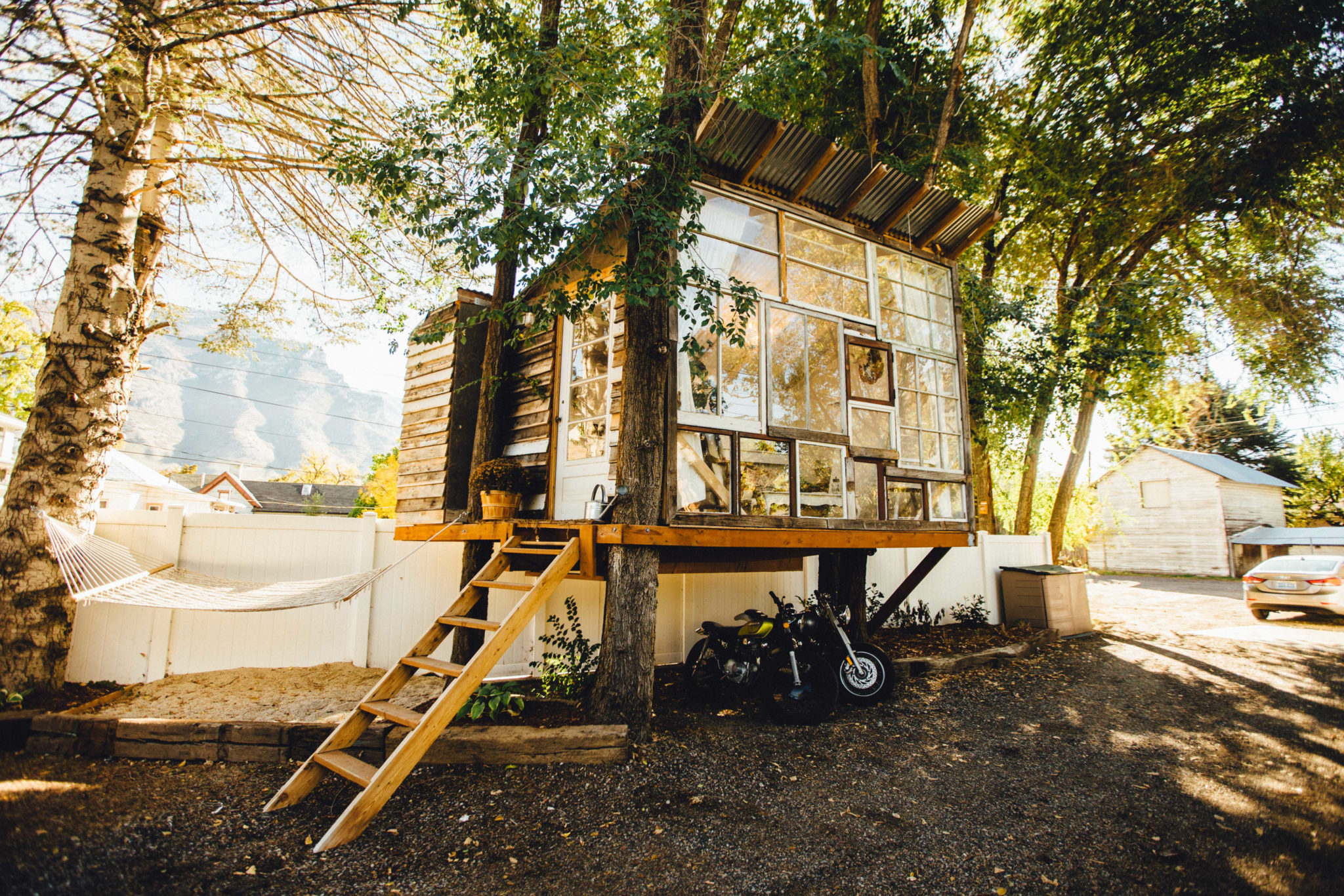 It's a mistake thinking that treehouses are only suitable for people who aren't afraid of heights. You can easily draw inspiration from this traditional treehouse but build it closer to the ground! The little house won't lose any of its charm!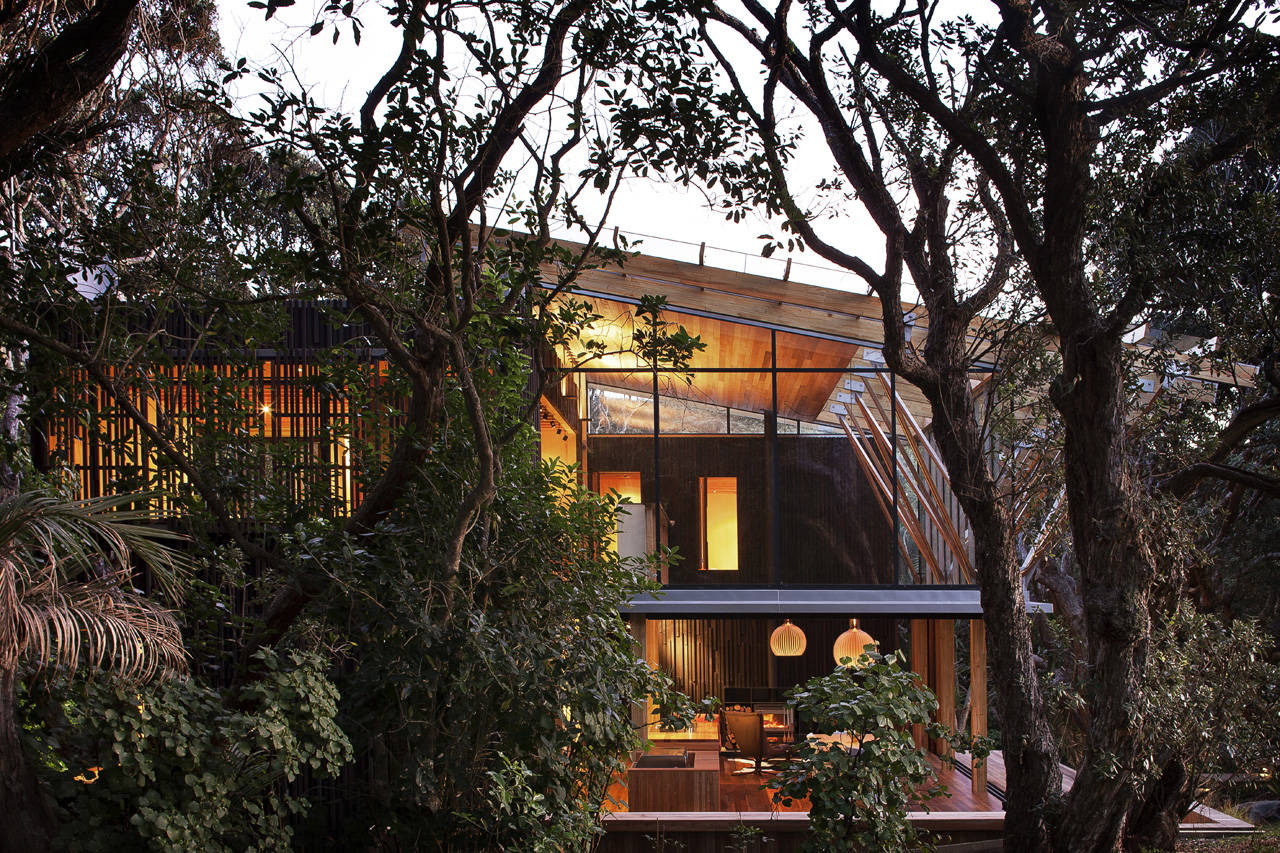 Luxury has a way of always fitting in – even in the pure nature. A big, open and well-lit house that is placed in the midst of a forest is the ideal home for people who crave privacy and peace but don't want to give up the comfort of enjoying a luxurious house!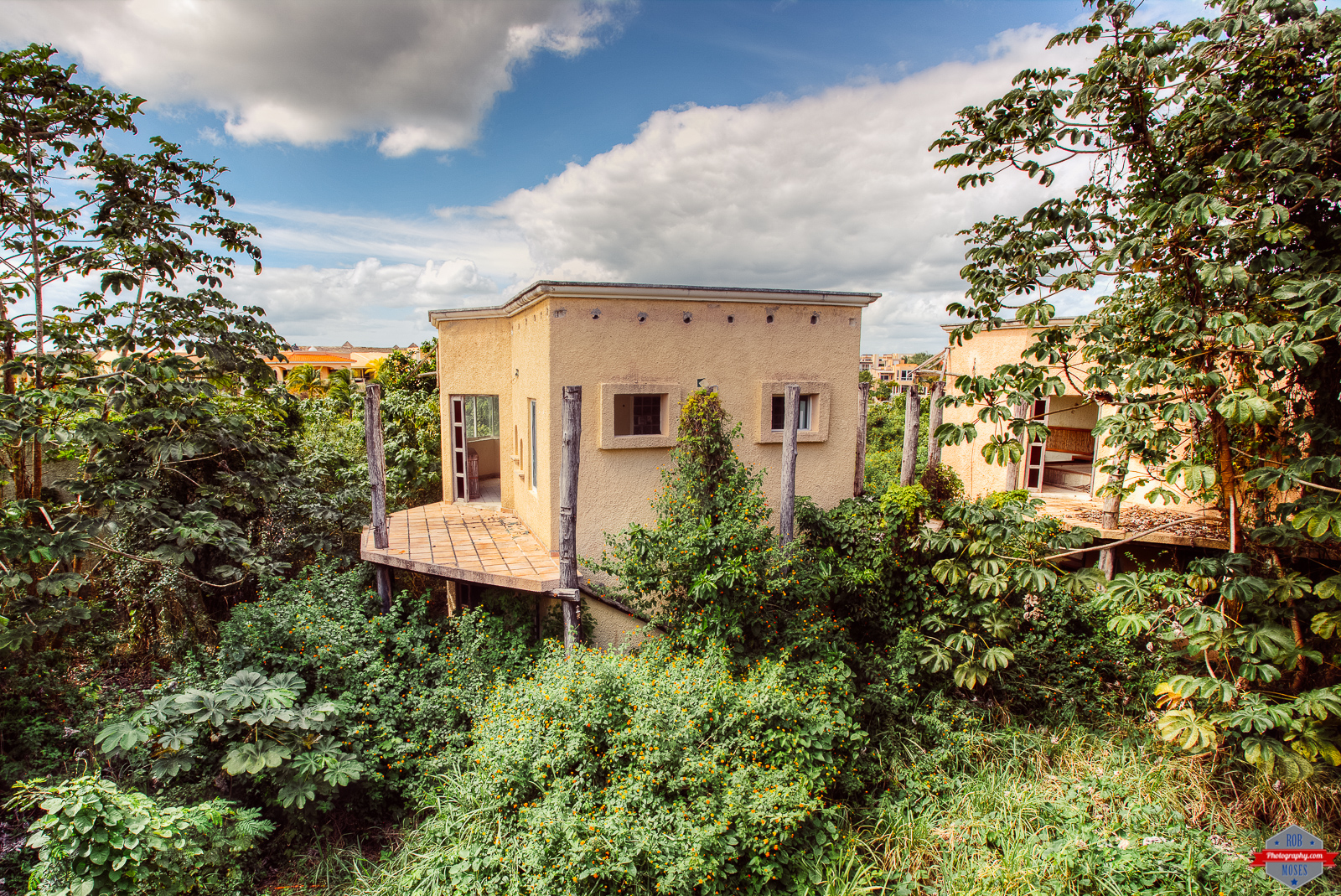 The concept of a treehouse can inspire a house set in the clearing among the trees, still lifted above the ground but clearly setting itself apart from the nature with a noticeable sand-colored exterior.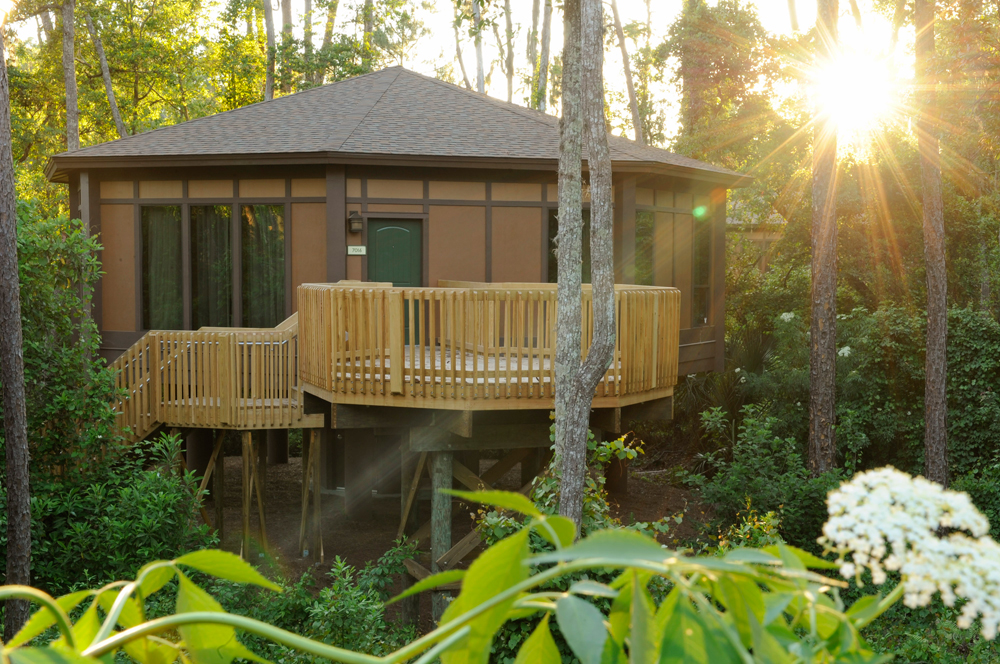 When the color scheme of the treehouse matches the surroundings down to a T, the little house has the tendency to completely blend in and can usually benefit from an element that stands out just a little bit, such as a light fenced deck.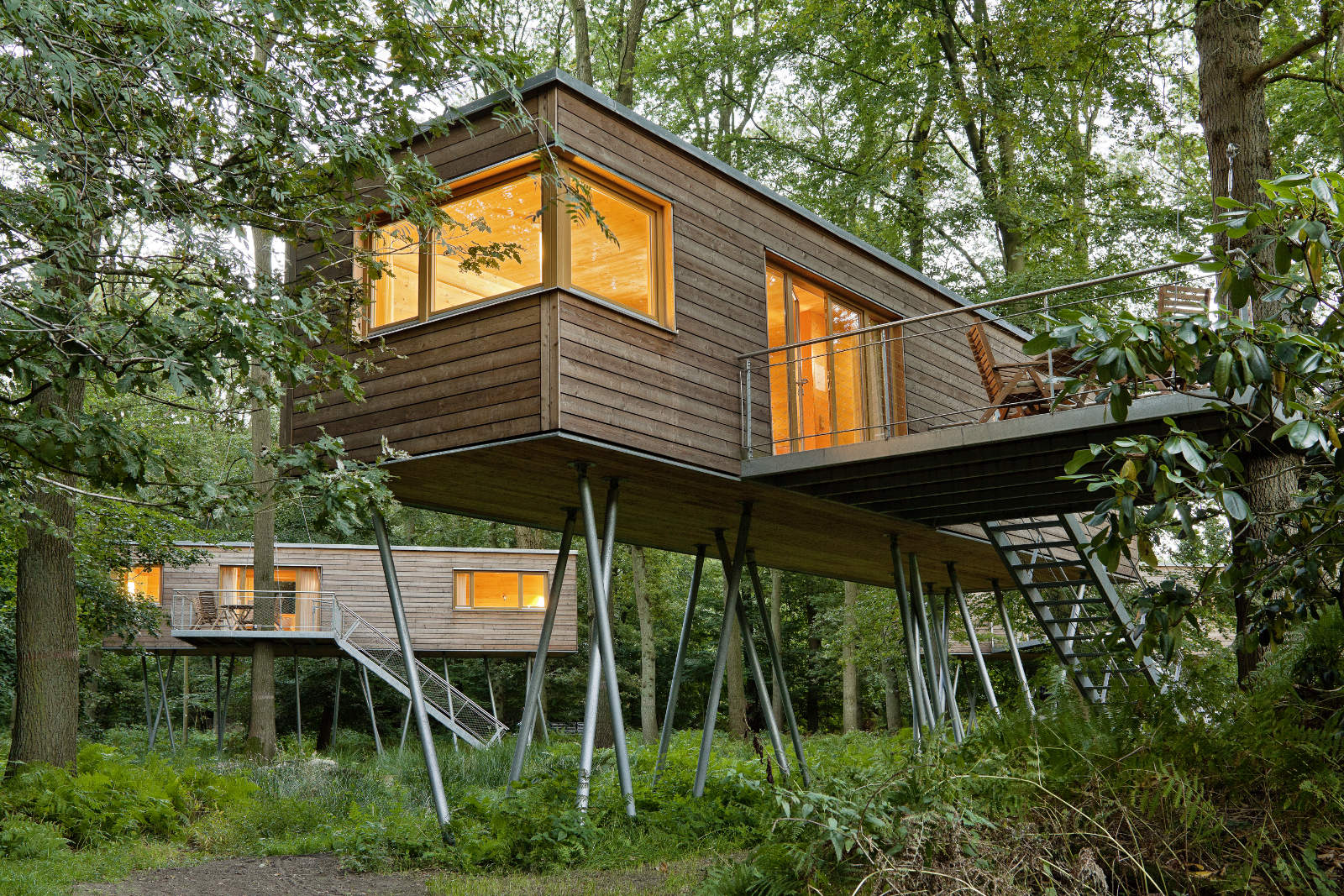 Gracefully built wooden treehouses are the perfect place for busy people who want to enjoy in the peace and quiet of the nature from the warm and cozy comfort of a lifted tiny house!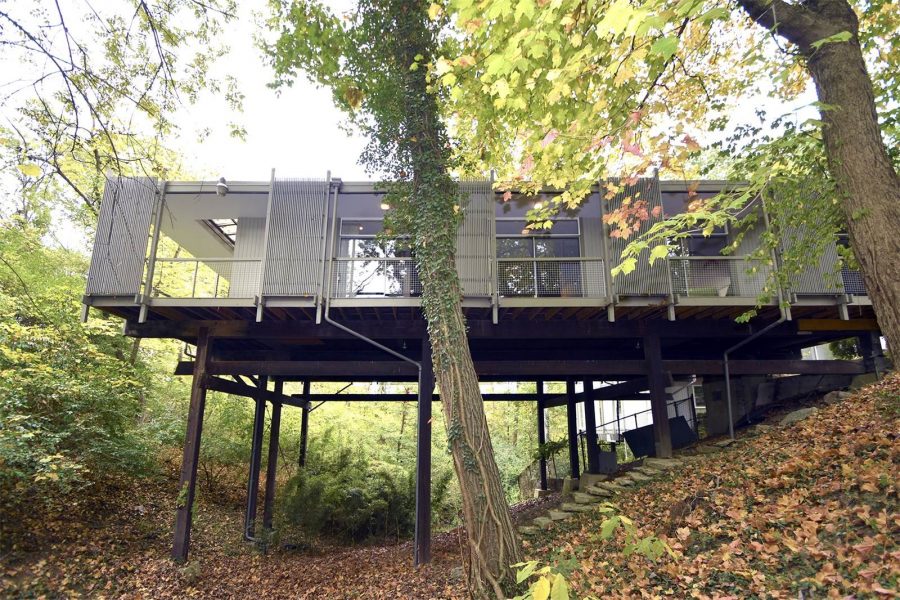 This modern version of a treehouse has a very industrial look to it and almost has a camouflage-like color. It's definitely a big installation that stands out between the trees and feels as if it has always been a part of this setting! It's a Mid-Century Tree House in Clifton that could be yours for a "mere" $549,900,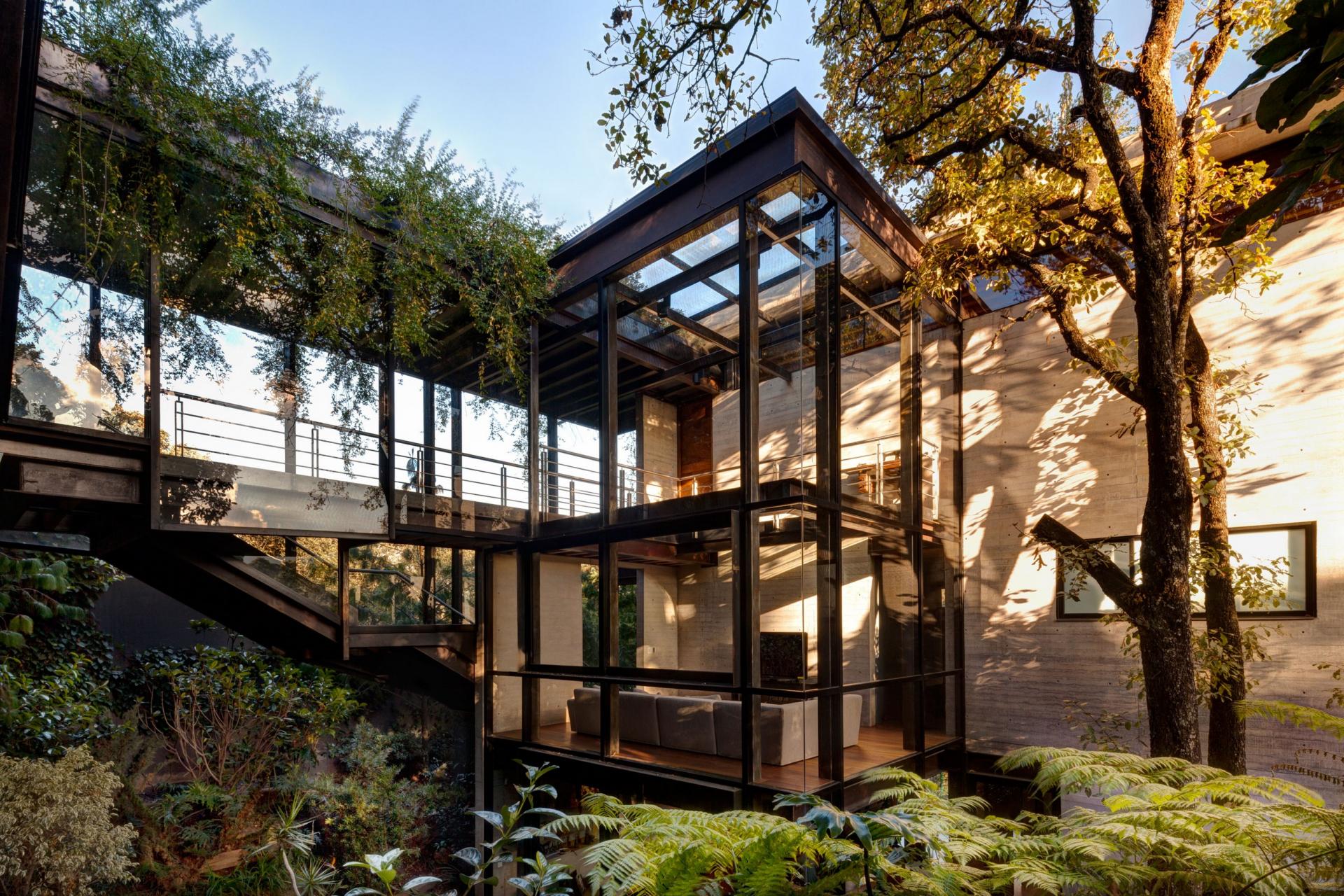 In order to feel like a part of nature itself, transparent walls all throughout the house are a must! To an outside observer, the house almost isn't visible due to the marvelously clear glass! [via Inhabitat]