Summer cocktail party season is upon us! Make a big impact during cocktail hour with a few key essentials. In fact, we've rounded up 20 stylish finds, in case there's anything you've forgotten! From fabulous barware to special finishing touches, check out the breezy, festive items below and celebrate summer in style…
Sips and Snacks
It goes without saying that a great summer cocktail party requires quality cocktails! Make them special. The Pearl Diver is a great place to start, as it features not one, but three different styles of rum! [featured at Camille Styles]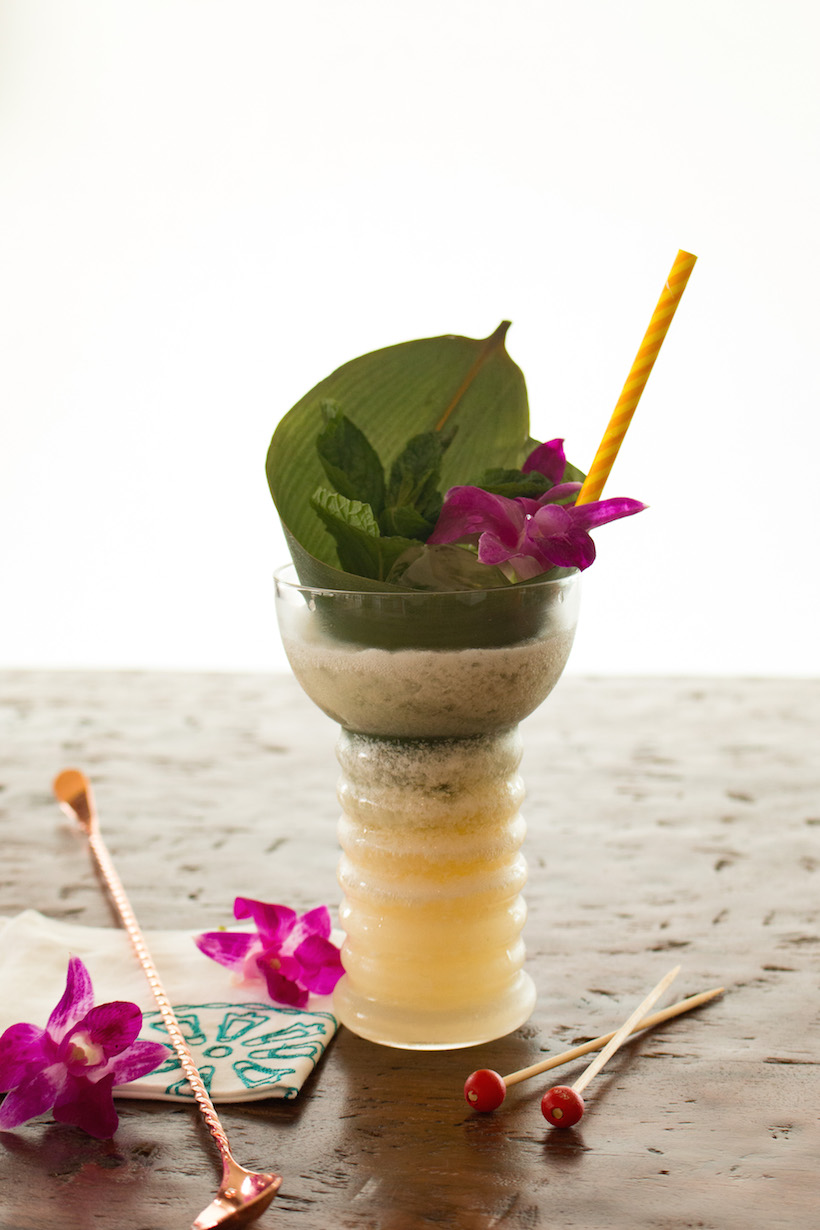 Don't forget the straw! Stripes are always fun for summer… [photo from Camille Styles]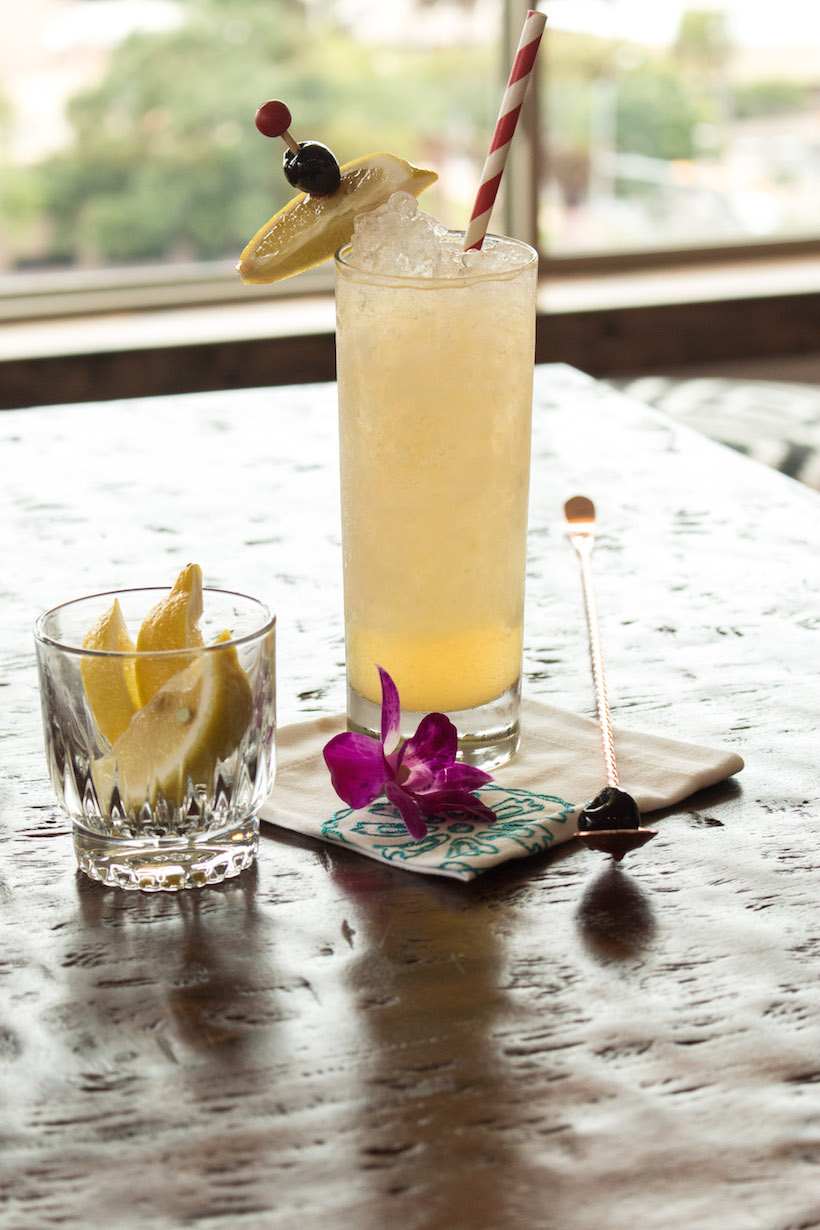 One of our favorite sources for cocktail inspiration is A Beautiful Mess. Not only is this blog filled with refreshing cocktail recipes, the styling and photography are fabulous. These amazing fruit and tonics feature fruit-infused ice cubes, created with these large ice cube trays. Top with gin and tonic water, and you have an instant summer beverage!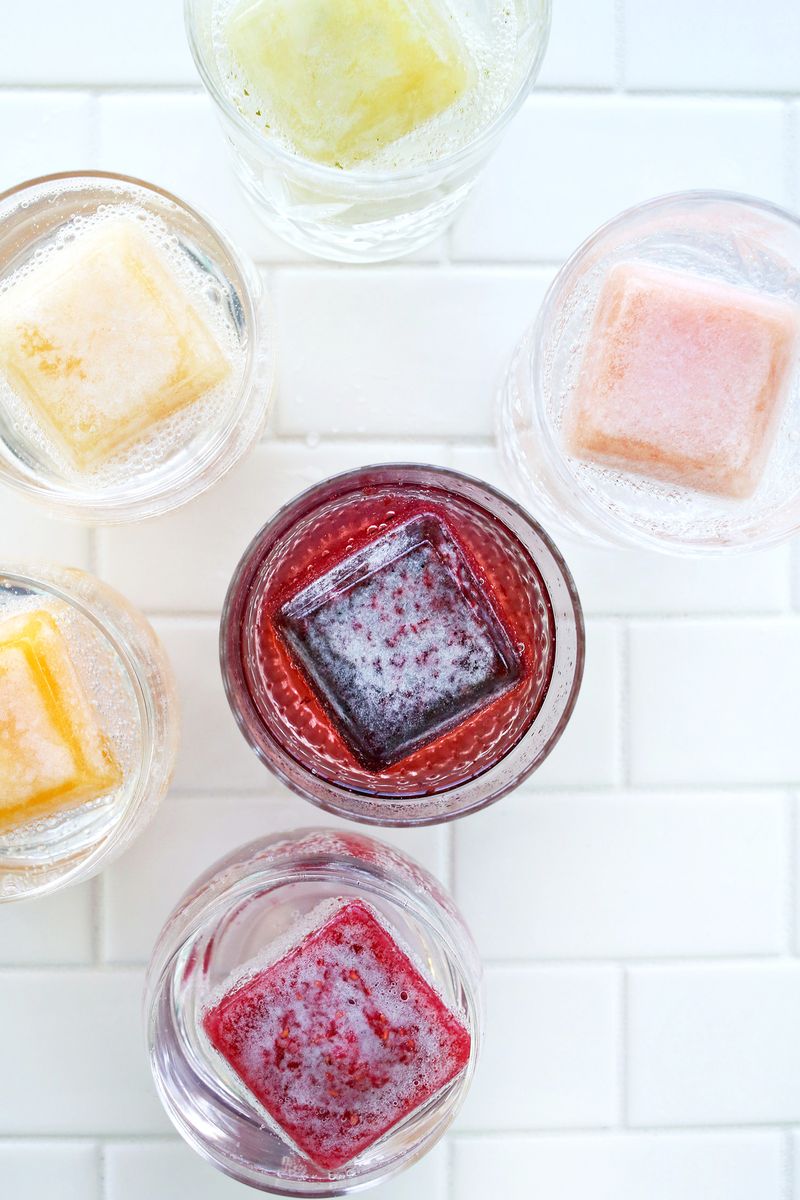 Vary the cocktail action with some boozy popsicles that will instantly evoke the festivity of summer. These Strawberry Mojito Popsicles are as lovely as they are delicious! Get all the details at Paper & Stitch: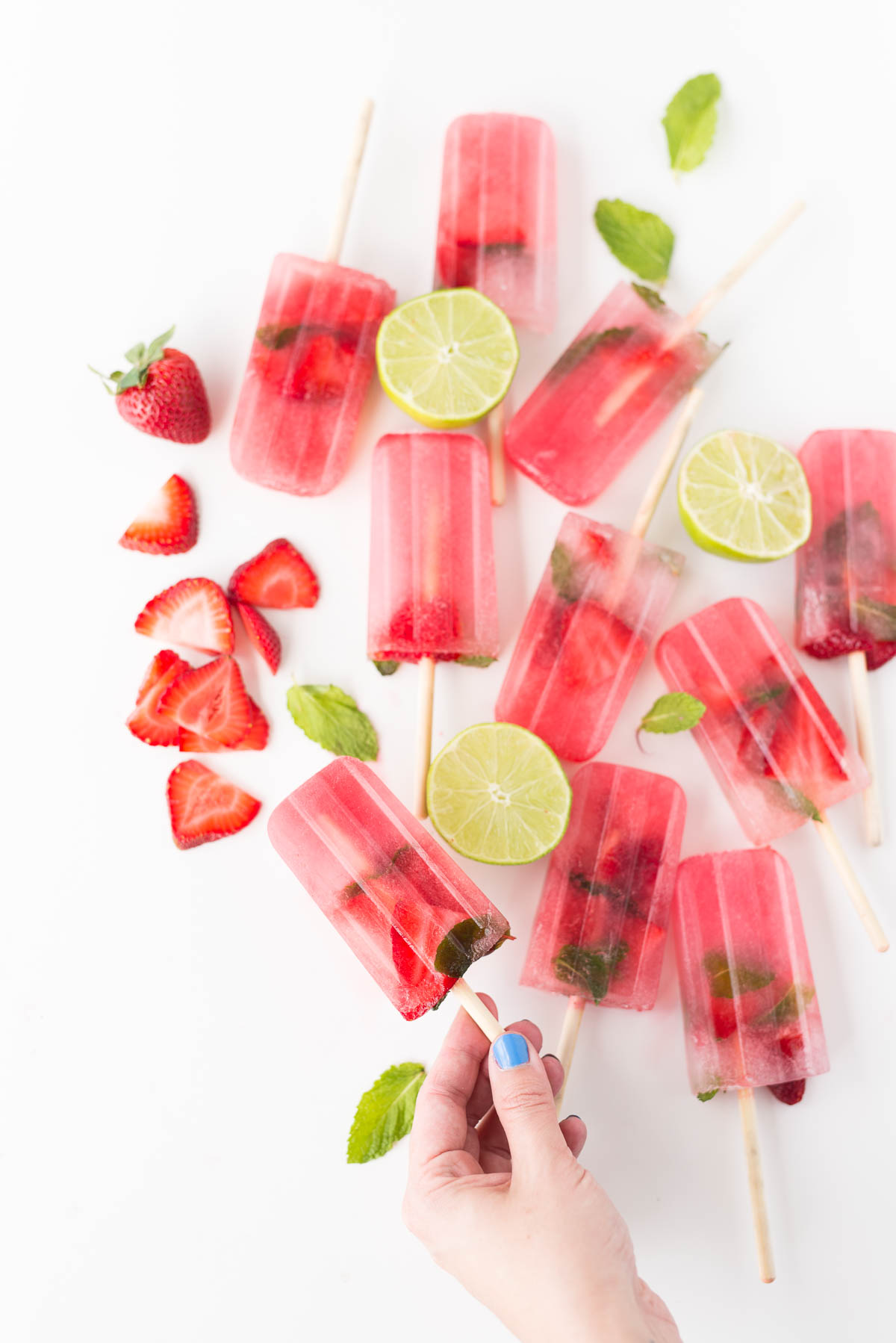 Colorful appetizers don't hurt either! This Watermelon Salad with Cilantro and Cotija from Freutcake can easily double as a fruity starter snack for your cocktail party. Add some toothpicks so guests can grab and enjoy: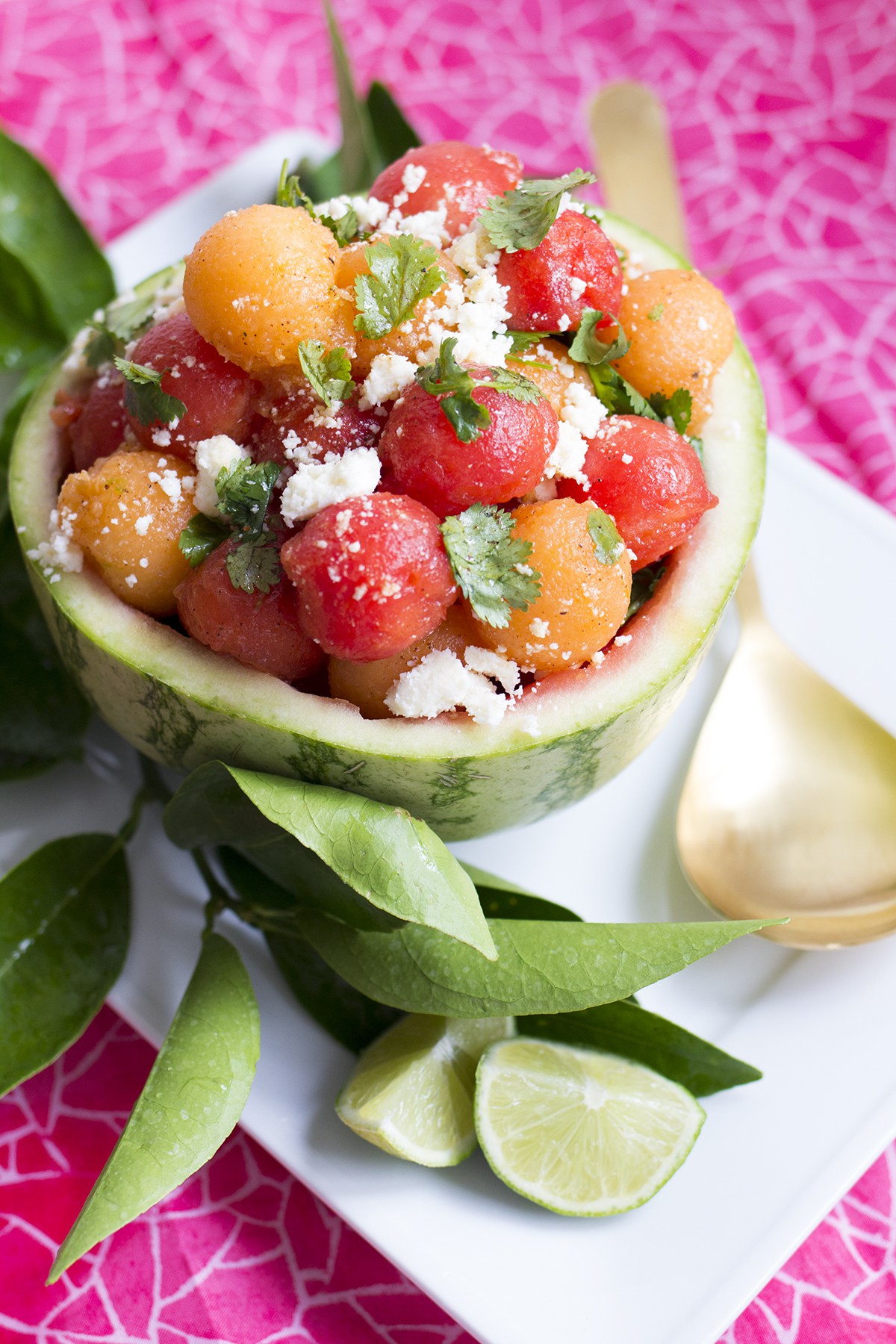 Sensational Serveware
Serve up a sensational cocktail party with classy plates, serving pieces and cocktail glasses. These Marie Coupe Cocktail Glasses from CB2 are only $3.95 apiece!…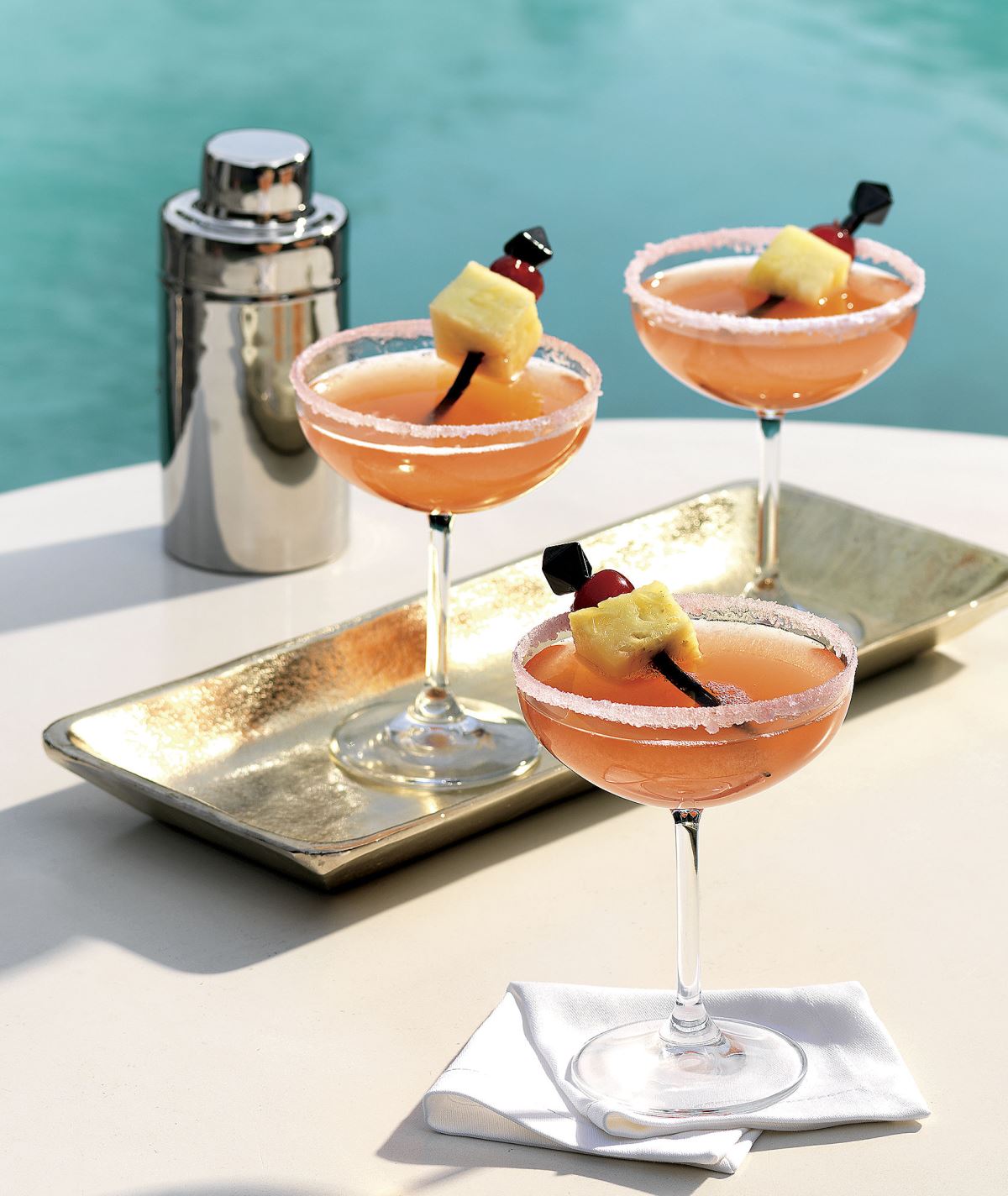 Make your party special with DIY cocktail glasses. These Mid-century Modern Style Starburst Cocktail Glasses from Palm Springs Style were created by Studio DIY blogger Kelly Lanza. Liquid gold leaf dresses up ordinary glasses with retro-style starburst patterns, and we're loving the results!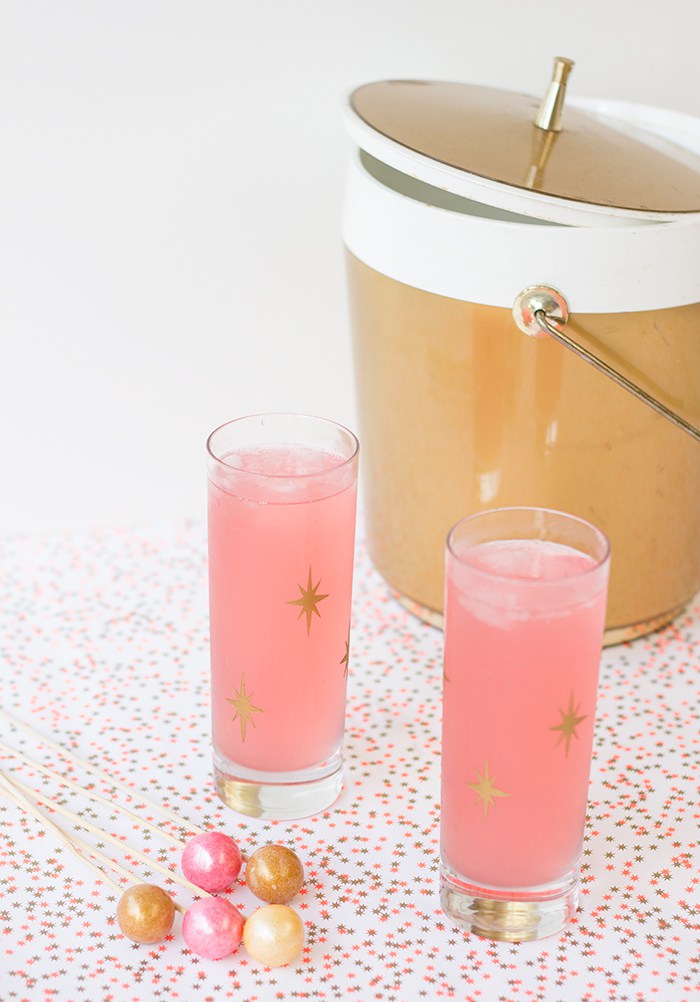 Whether you're transporting drinks around the party and offering them to guests or you're setting up an open bar where guests can serve themselves, punctuate your display with a serving tray. These Zuma Trays from Crate & Barrel are available in a range of colors: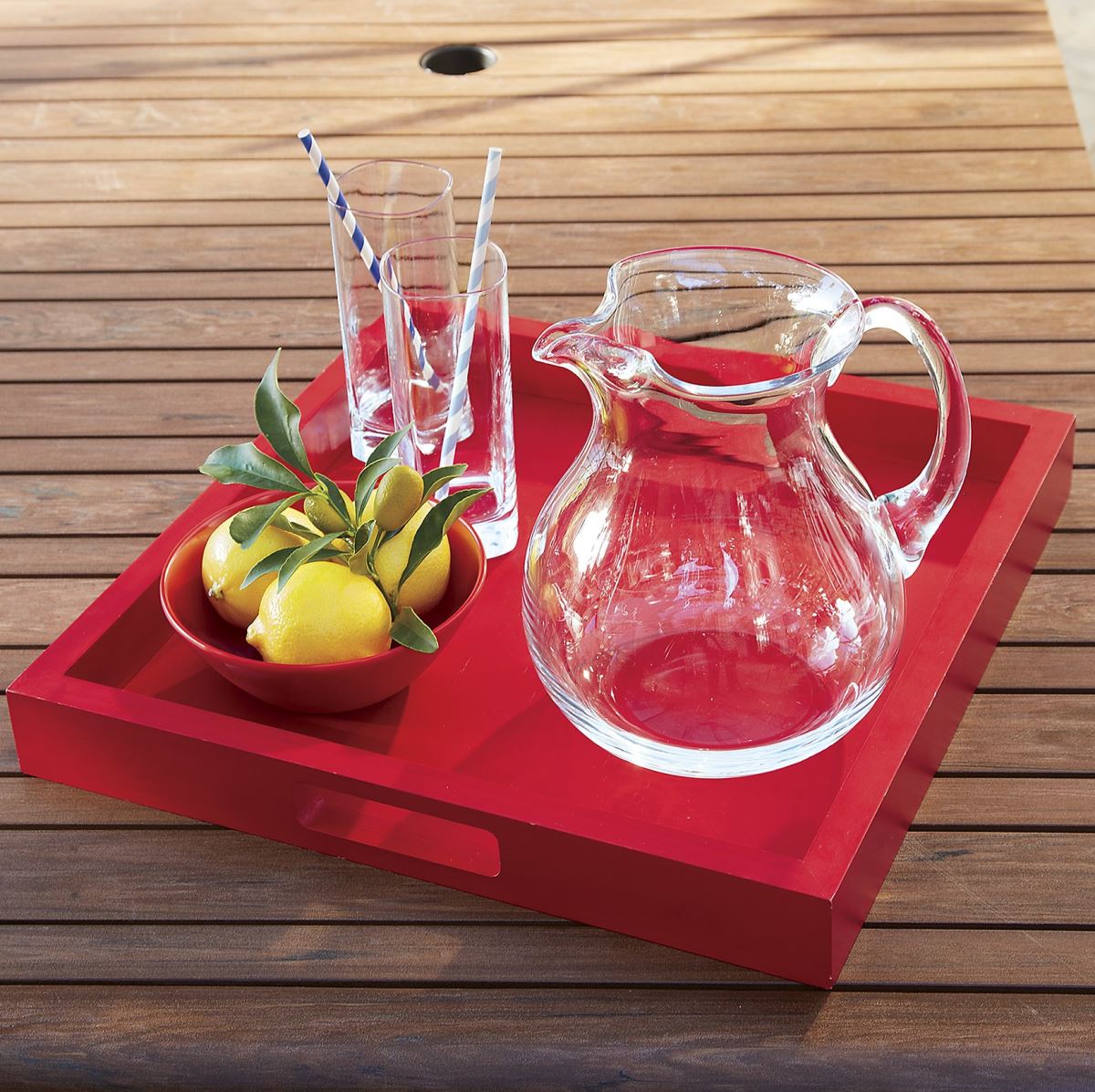 When it comes to cocktail party essentials, there's no shame in disposable plates! Especially when they're this cute… [summer picnic from Random Acts of Pastel]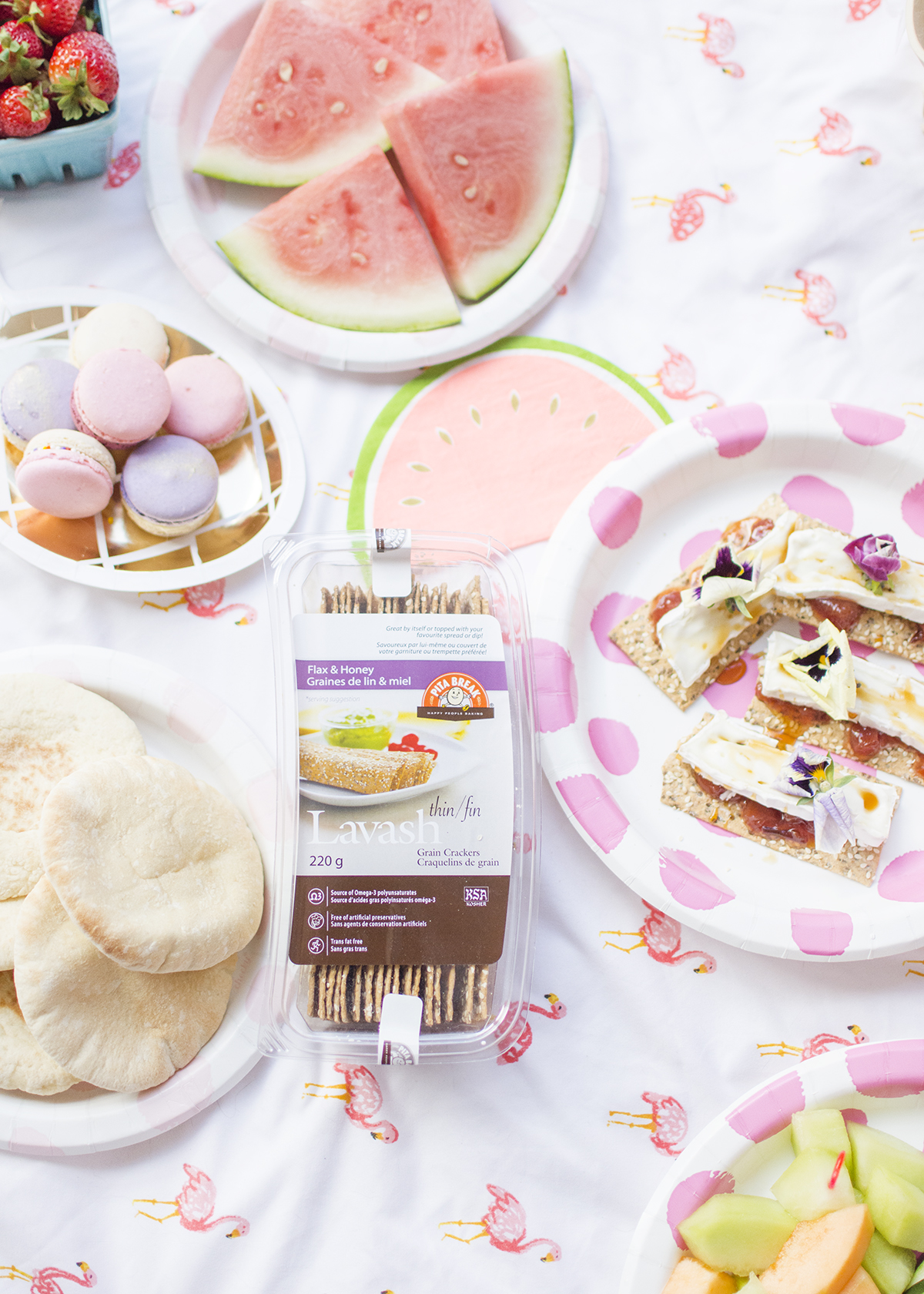 Disposable utensils are perfectly acceptable, and there are many stylish options at the ready. But if you're looking to invest in some party-perfect flatware, CB2 offers mini versions with this cocktail cutlery, sold in sets of 6 (such as mini cocktail spoons).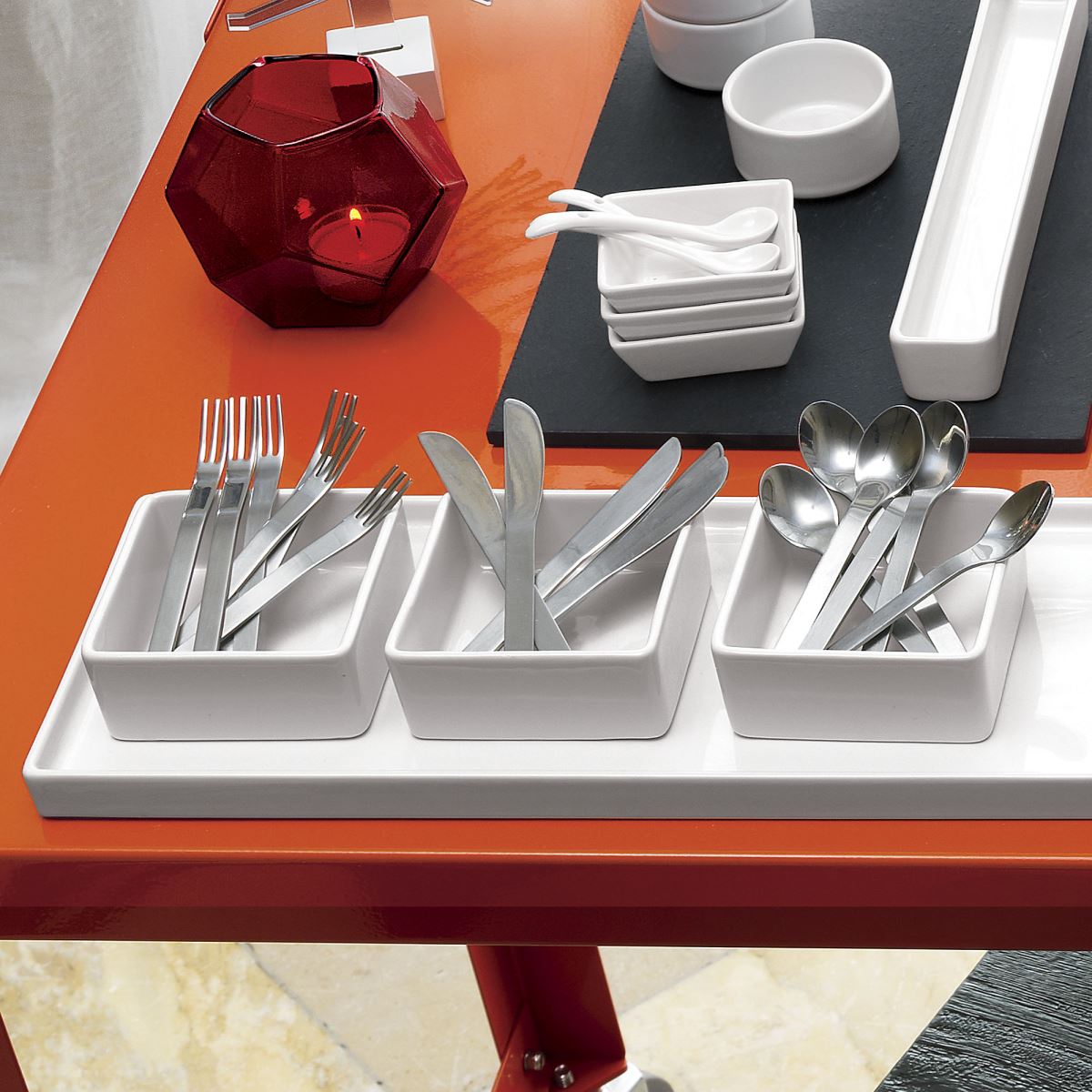 Don't forget the napkins! This Set of 8 Spectra Cocktail Napkins from Crate & Barrel brings a rainbow of color to your summer party: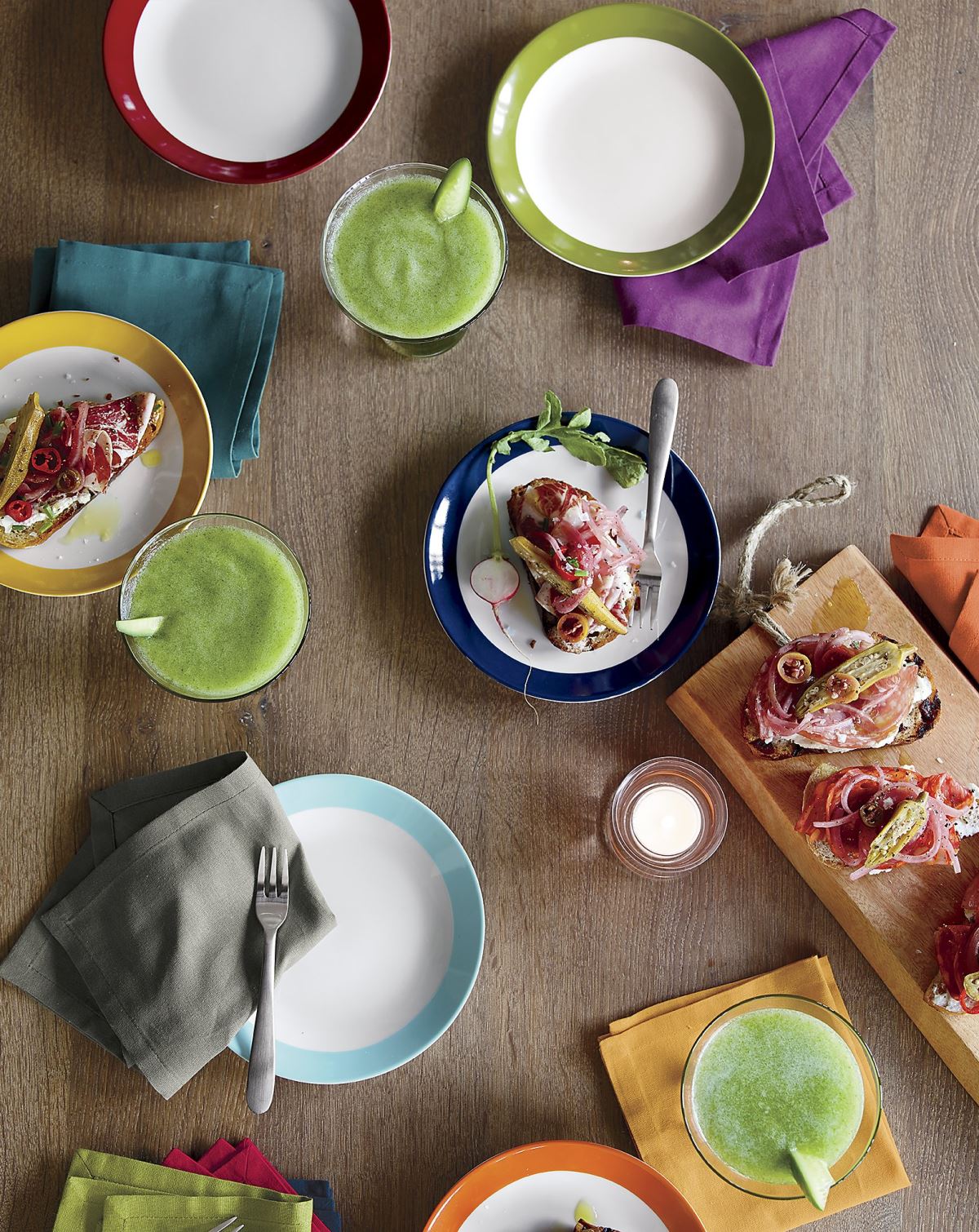 Anchor your cocktail party spread with a summery table runner, like this Fishnet Woven Runner from West Elm: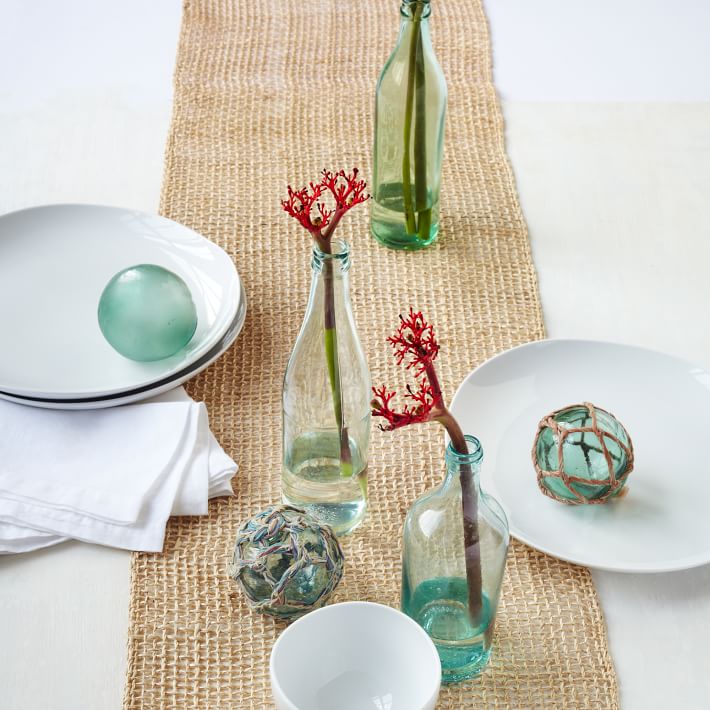 And of course, now might be the perfect time to invest in a barware set, like this Mixology 7-Piece Barware Set from West Elm: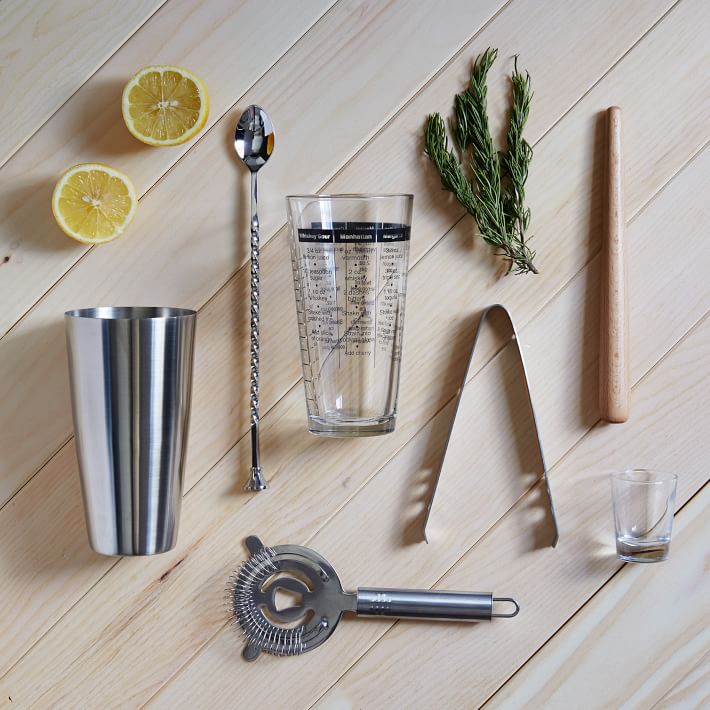 Big Ideas
Let's talk about living large at your cocktail party, shall we?!… Make a statement on your patio with CB2's Dolce Vita Outdoor Bar Cart (shown below). No bar cart? No problem! Moving a small table outdoors and topping it with bar essentials will do the trick if you're on a budget.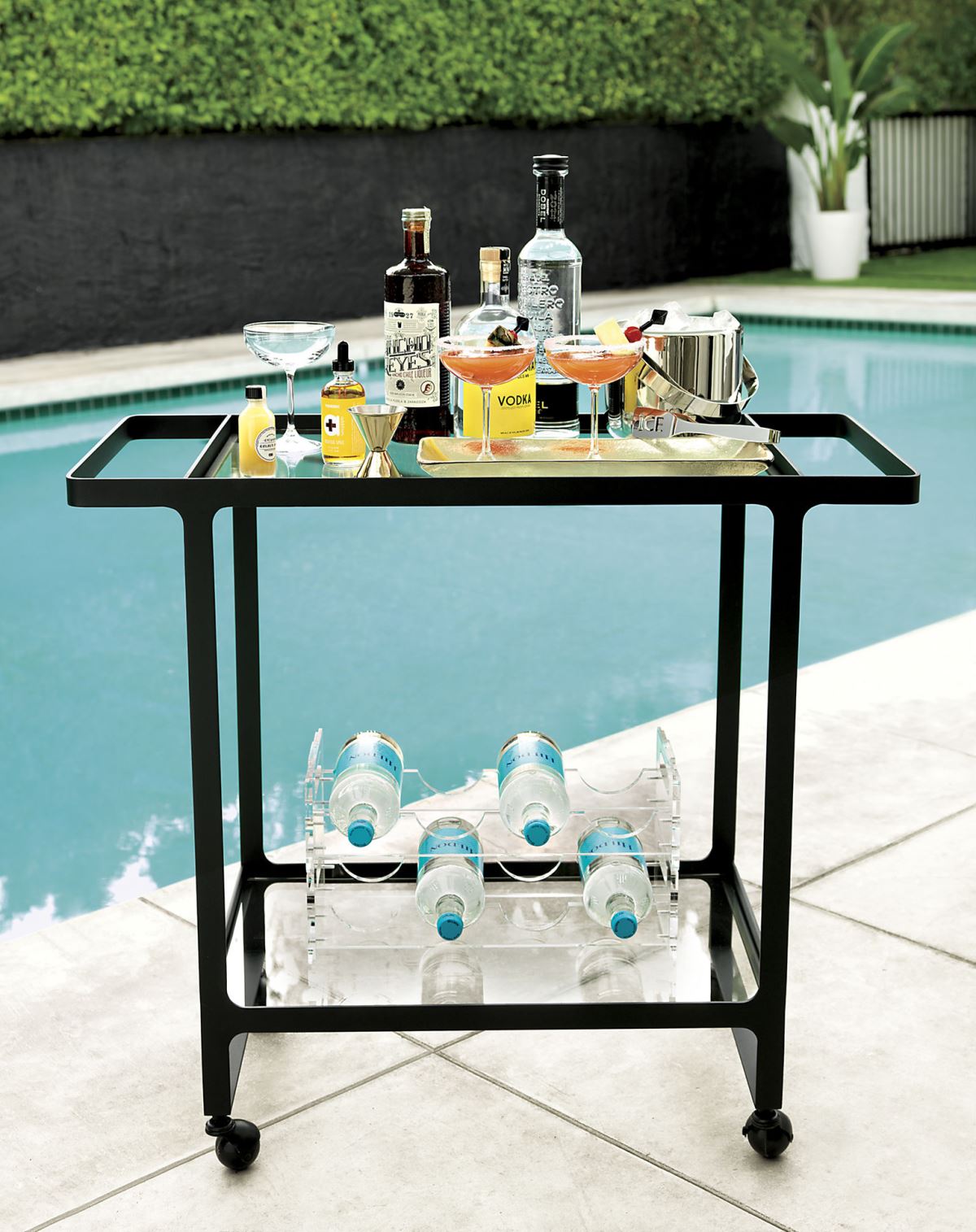 There's nothing like a party to inspire a few big purchases, especially if you've been thinking about them for awhile. Ready to expand your outdoor seating possibilities? This Lucinda Mint Stacking Chair is on sale at CB2 for only $64.95. Enjoy them, then stack them!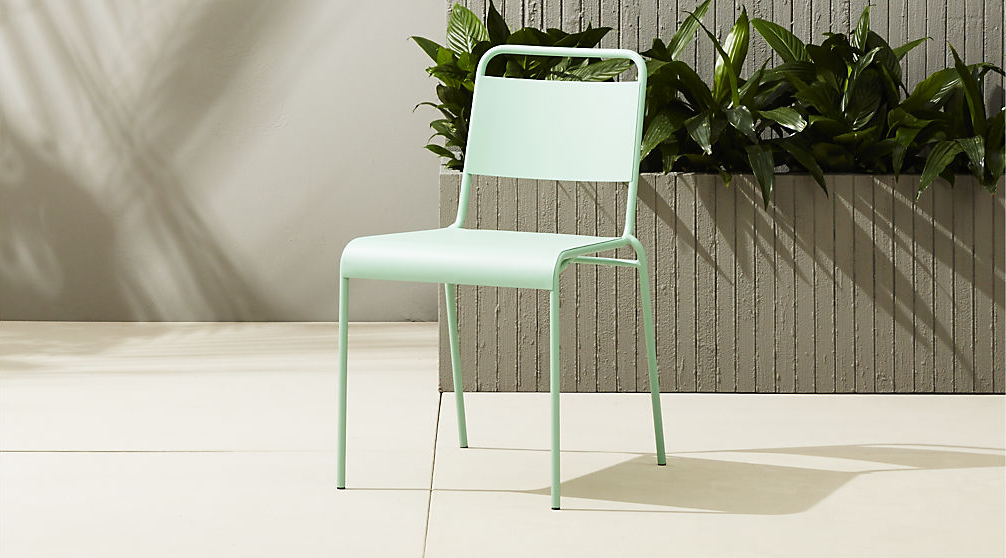 Finishing Touches
When it comes to finishing touches, there are many ways to "ice the cake" that is your summer cocktail party. For starters, there's power in tropical greenery. Nothing says summer like a giant monstera leaf. If you feel extra crafty, you can paint it and create a vivid party accent. Get all the DIY details at Mirror80: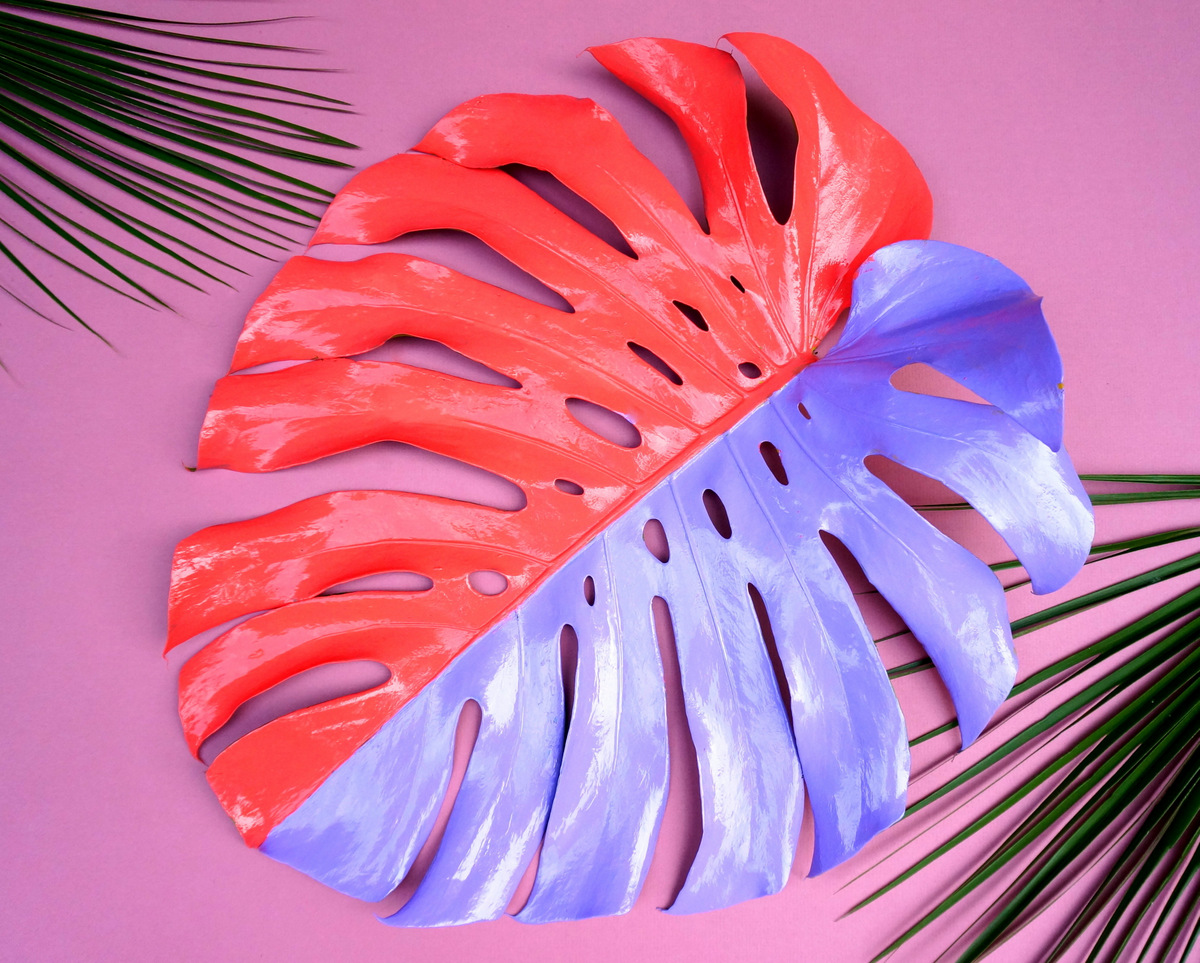 We're currently loving this embroidery thread-wrapped toothpick idea from A Beautiful Mess, which is the perfect way to add garnishes and delicious bites (such as olives and citrus slices) to your favorite summer cocktail. Check out all the details here.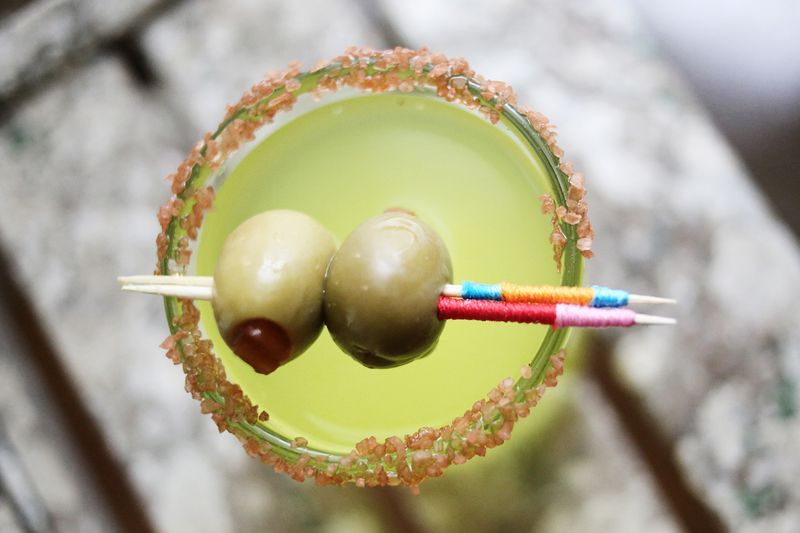 Speaking of garnishes…they will definitely vary depending on the drink you choose. But we love the idea of catching people off guard with a creative and clever garnish. Like the macarons in these Clementine Violet Jam Chambord Mimosas from Random Acts of Pastel: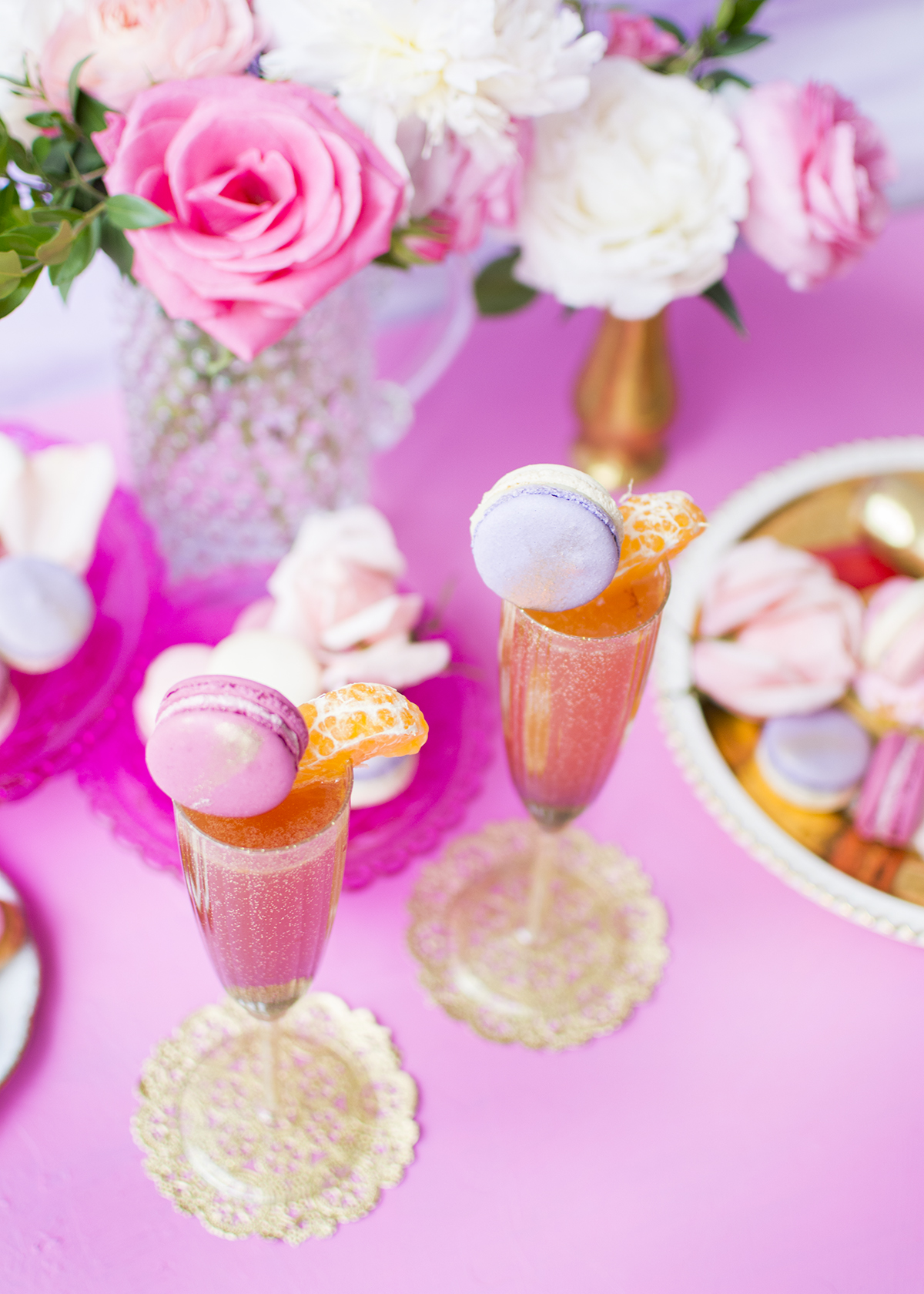 Another fun way to top off a festive summer cocktail party is through the use of confetti. Yes, confetti! Sprinkle it on your tabletop and instantly up the style factor of your fete. [photo from A Beautiful Mess]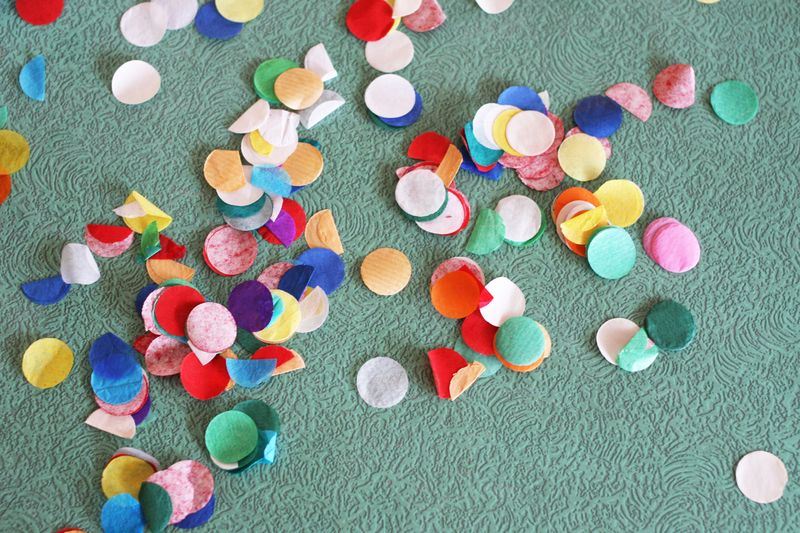 Last but not least, give guests a parting gift as the evening wraps up. We're fans of air plants as a fun party favor alternative to edibles! [photo from Mirror80]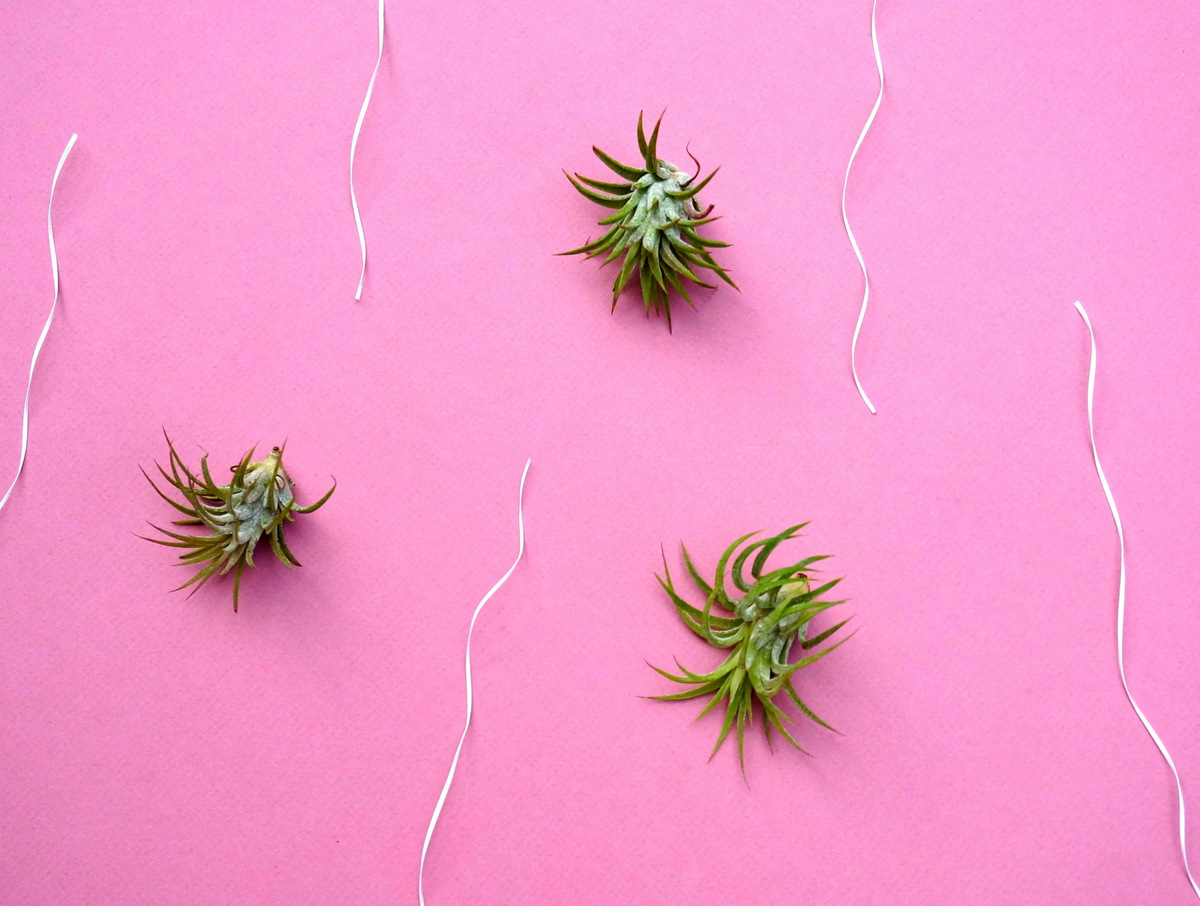 Are you entertaining this summer? Enjoy the warmest season of the year in style!