When it comes to our homes, we should be much more deliberate in the choices we make and think about how they can affect the way in which we live. With the imminent arrival of spring (at least in the northern hemisphere), many people will begin to focus upon fresh perspectives and new ideas. The opportunity of a spring clean is a time to clear away the clinging vestiges of winter: to sweep, store, declutter and purge. This time is cathartic and healing, greatly benefitting mind, body and spirit as well as our homes.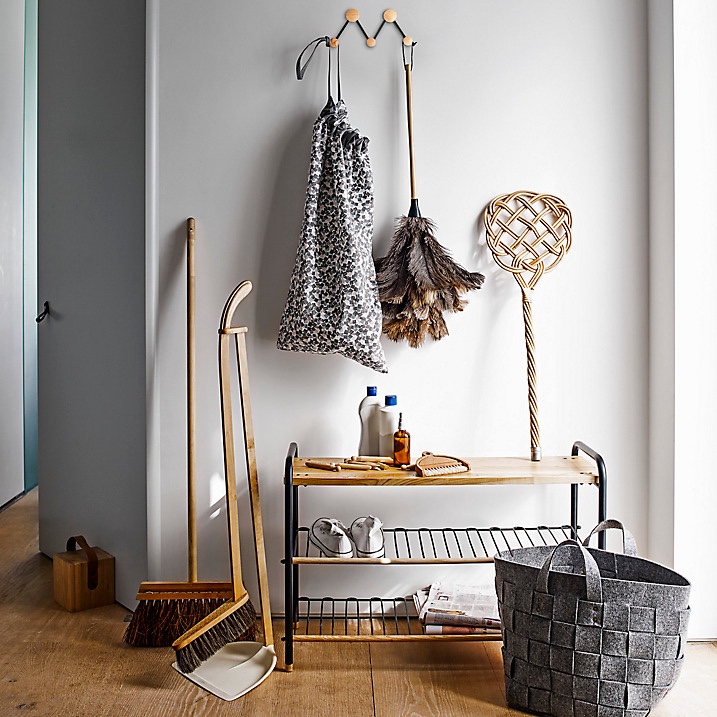 Image © John Lewis Partnership 2001 – 2016.
For this writer, order, cleanliness and every item in its place is a must for my personal temperament. I moderate this by carefully curating the objects that I choose to surround myself with. The execution is quite simple: I avoid unnecessary excess and clutter, opting instead to live only with those things that I truly love. My spring clean will inevitably include a review of my values and my home.
Objects suited to a cleansing spring clean, from brushing to DIY and better air quality, include:
Brushes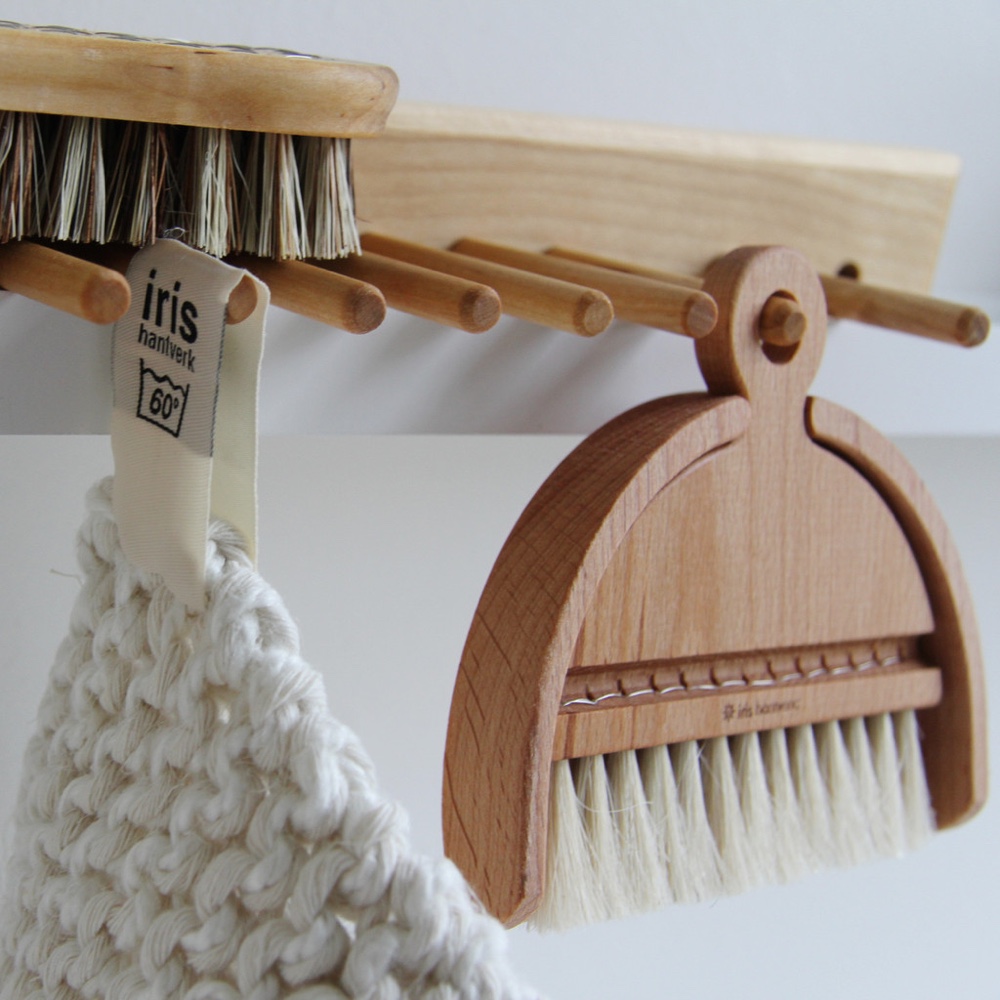 Crumbs. For those with exacting standards, little morsels of bread, cakes and biscuits that mar tabletops and counters can be swept away using this beech and horsehair table brush set. Handmade by visually impaired craftsmen at Iris Hantverk in Sweden, each brush is produced in accordance with a time-honoured nineteenth century Swedish tradition. Image © Tea and Kate Ltd.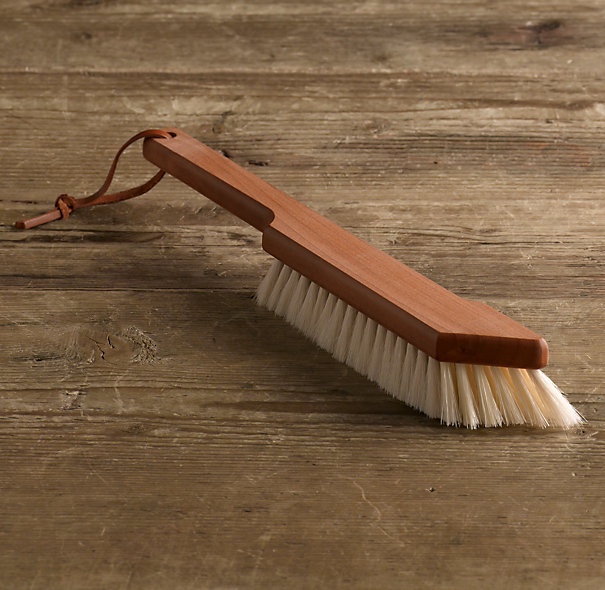 For those rarely thumbed books collecting dust on shelves, this book brush is a must. Made with pear wood, the brush has both soft goat hair (for dusting pages and edges) and harder bristles (for removing stubborn dirt on spines and covers). The brush comes from Redecker, a small German family hand-making brushes since 1935. Image © 2016 RH.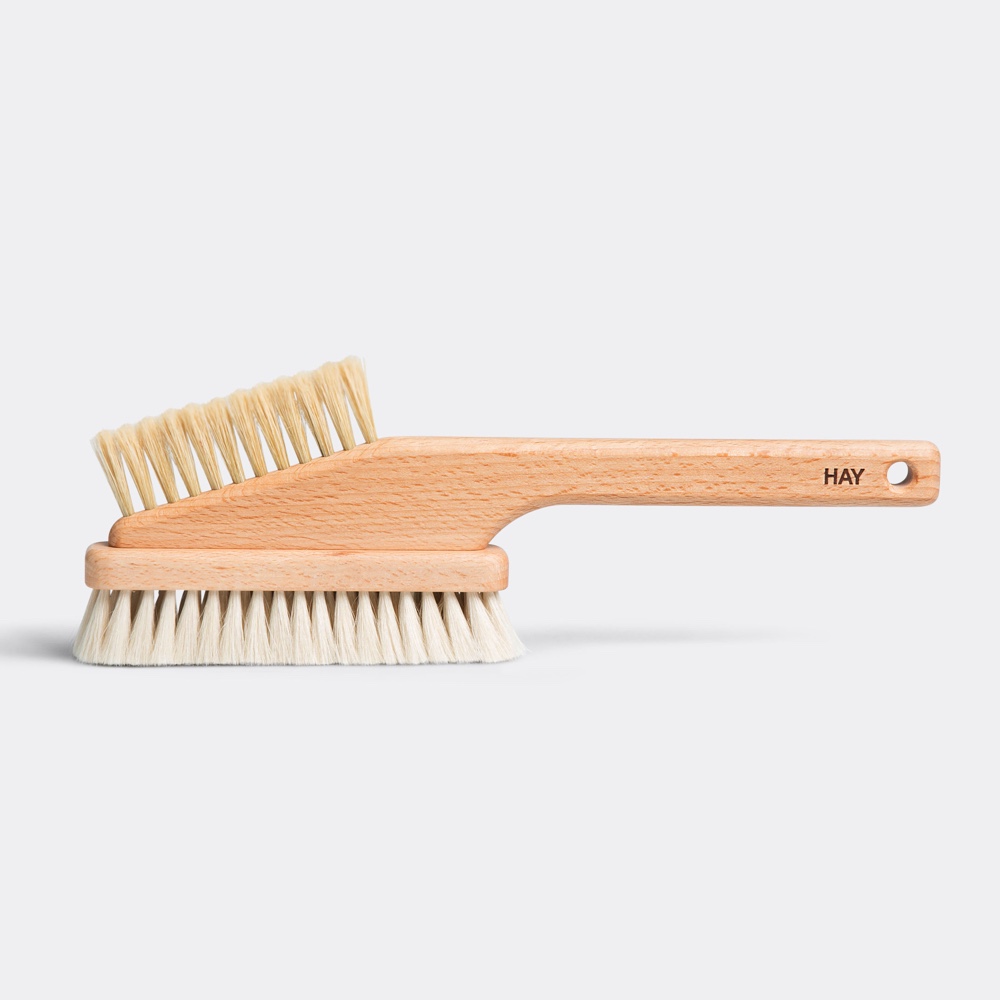 This popular computer brush from Danish manufacturer Hay is perfect for keyboards and screens. Its matt lacquered beech handle and soft mixture of horse hair and natural bristle make the brush a stylish and handy office friend. Image © 2015 WallpaperSTORE*.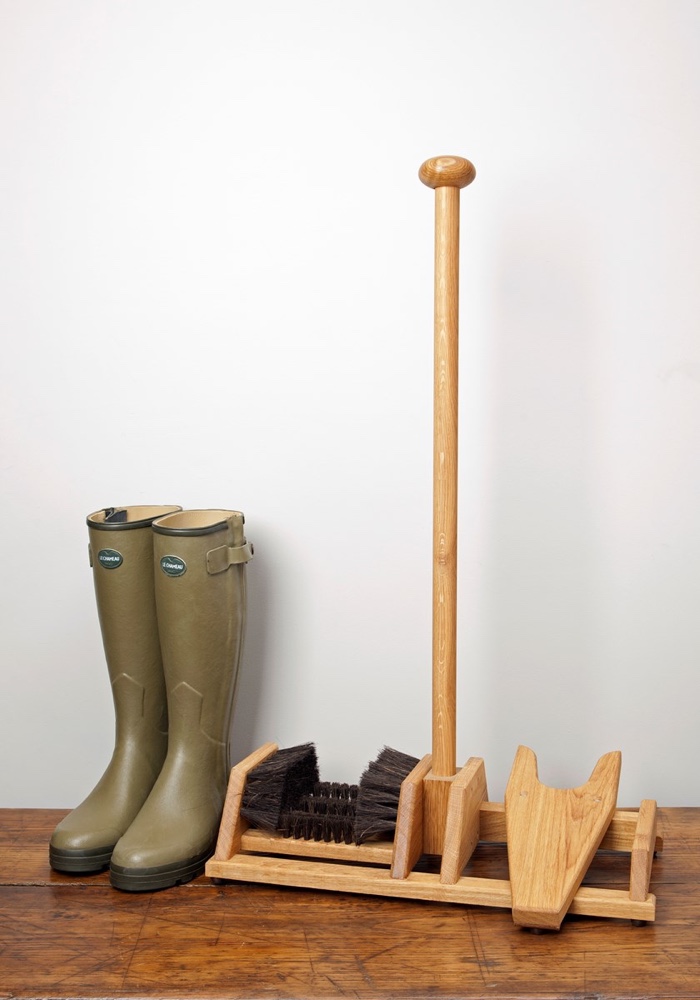 This oak Foot Scraper and Boot Jack by Lissom & Muster will clean shoes without the need to bend over. It is handmade by a small German family company. Image © Lissom & Muster.
Tools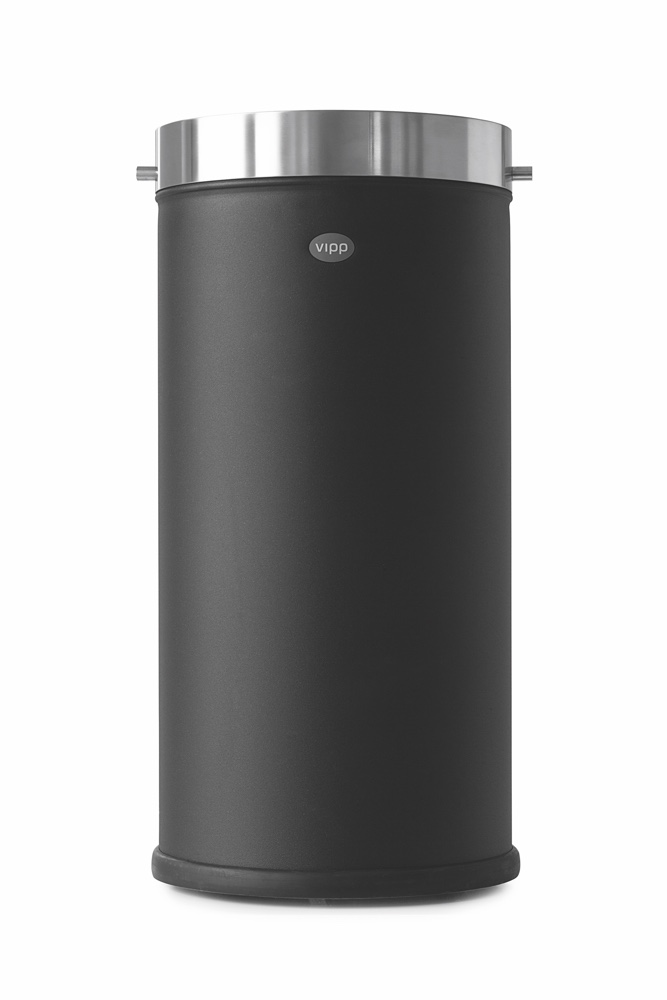 Holger Nielsen, the founder of Danish company Vipp, designed a handsome office bin for the company in 1985. Originally made in three sizes as a special order for Copenhagen's Illums Bolighus department store, the bin's medium size remains in production today. Perfect for a home office spring clean (and as a year-round office companion). Image © Vipp.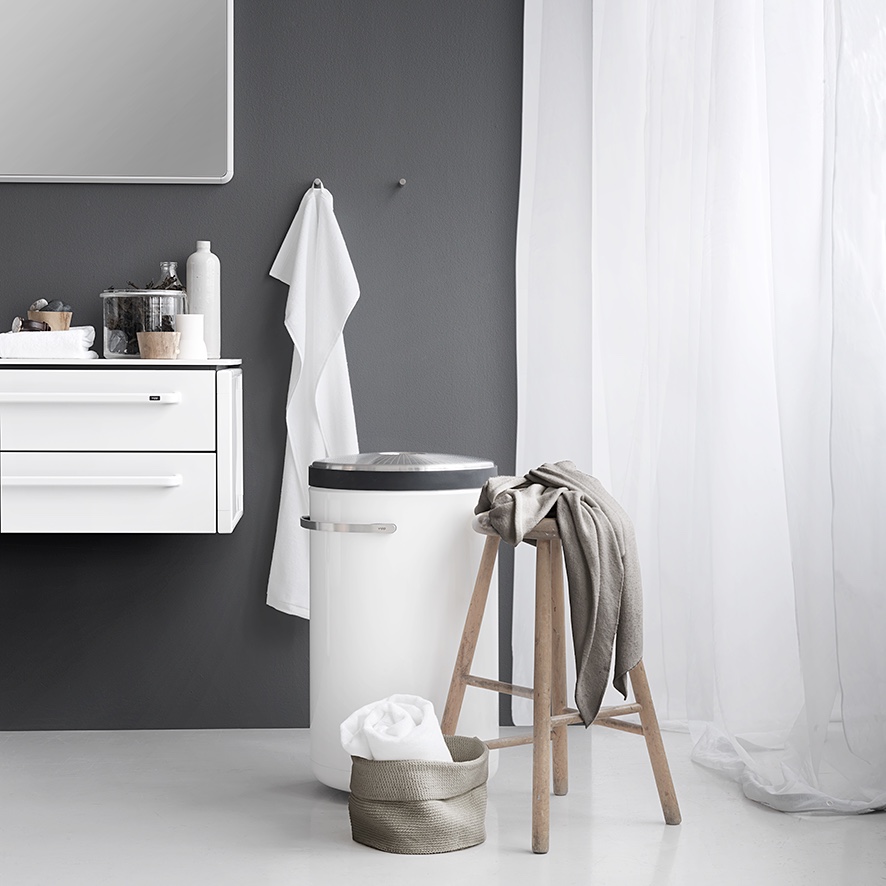 Also from Vipp is this rather good-looking laundry basket. The basket serves a useful household function and is made in Vipp's classic white or black powder-coated steel. To ensure thorough ventilation of dirty laundry, the basket's stainless steel lid has 1920 small perforations. Image © Vipp.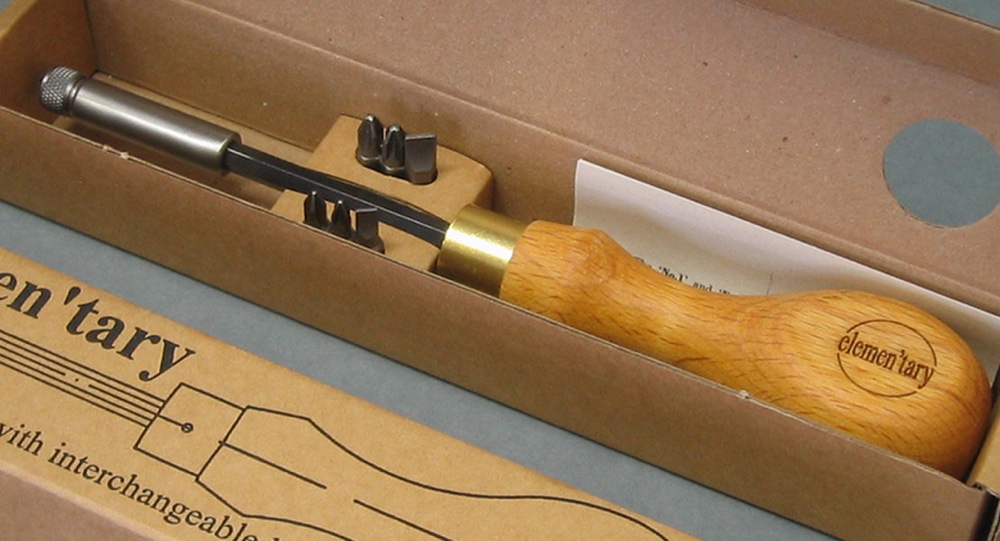 Time for a spot of DIY? This screwdriver set from elemen'tary Design is certainly winsome. Screwdriver handles are made from beech and dipped in linseed oil, and the set's presentation is pristine. It is all made by hand in a small London workshop. Image via TheScrewdriver.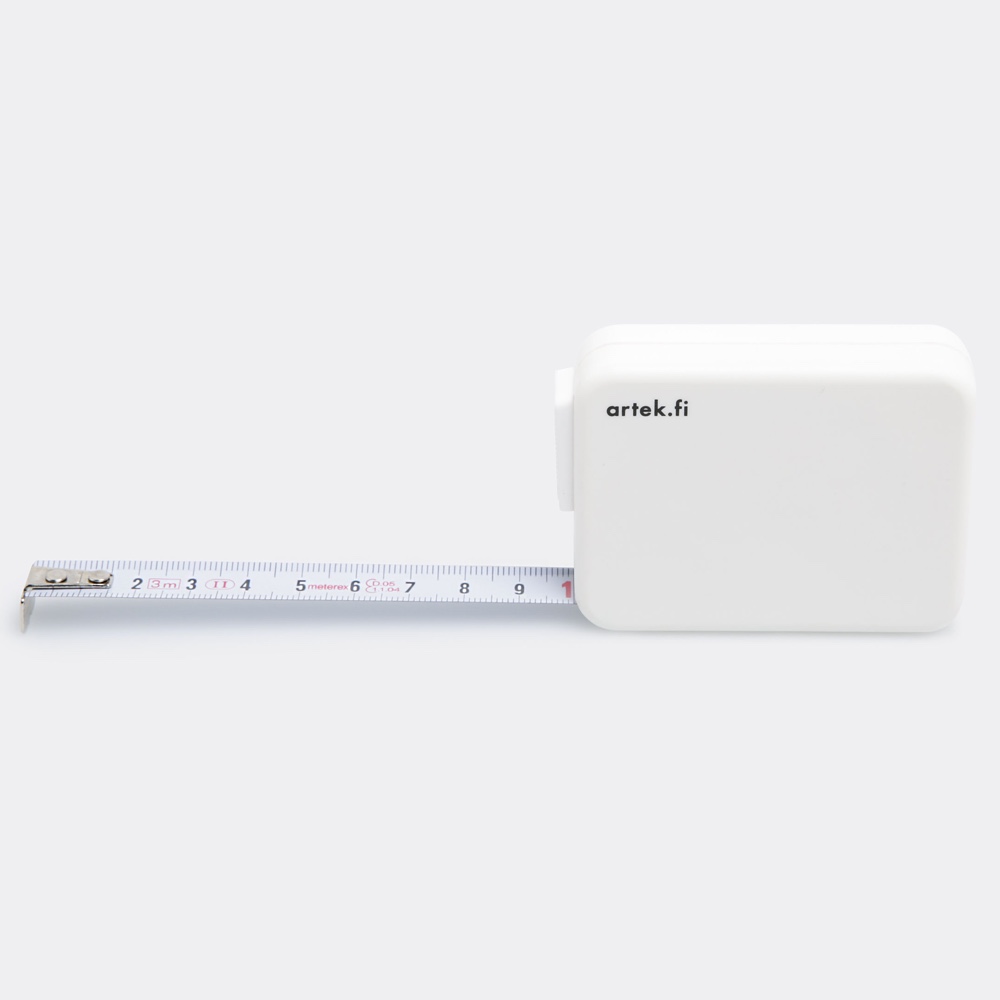 Artek's tape measure is an elegant and no-nonsese piece. Perfect for DIY chores. Image © 2015 WallpaperSTORE*.
Storage
The Humbug Trug, by the Cuckmere Trug Company, is a fun and elegant holder that has been crafted from Latvian and Finnish birch plywood. It would make the ideal receptacle for those choice cleaning brushes and tools. Image © THE NEW CRAFTSMEN 2012-2016.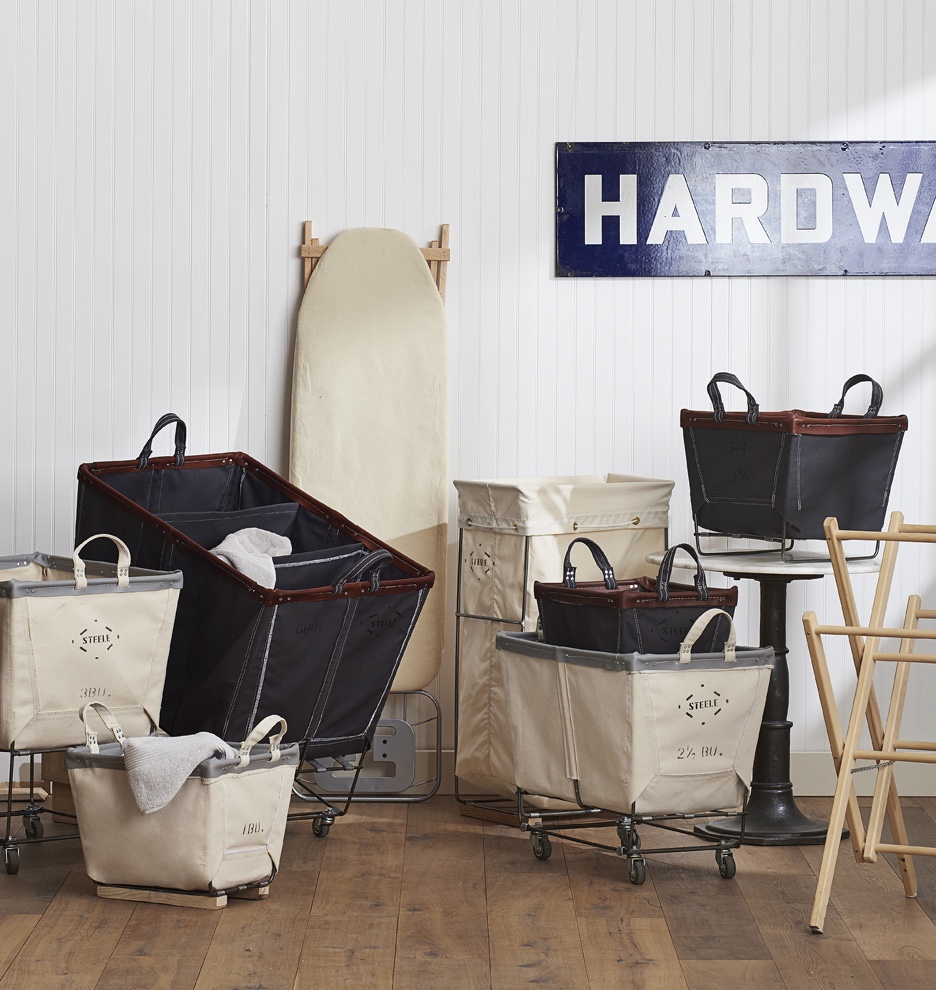 The Steele Canvas Basket was first manufactured in 1921 by a family firm working out of Cambridge, Massachusetts, USA. This versatile basket, made with a durable industrial cotton canvas that covers a steel frame, was once used as a means of servicing New England's coal and textile industries. A leather trim adds a hint of luxury and the "STEELE" logo is hand stencilled on every product. Still family-owned, run and made in Massachusetts, the Steele Canvas Basket is an enduring piece of America's craft heritage. It is available with castors and runners and is a great place in which to store winter wares. Image © 1997 – 2016 REJUVENATION INC.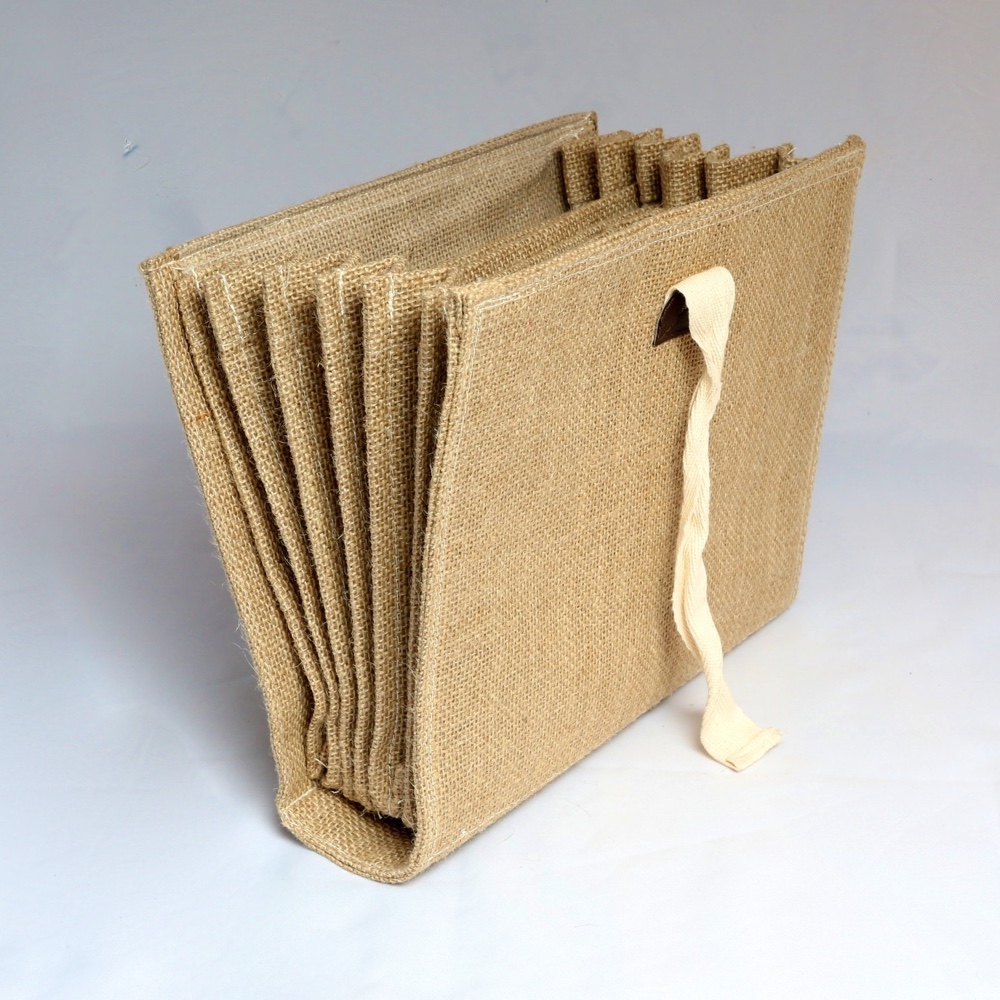 This Gardener's Seed Storage Bag is made from jute by a women's cooperative in India. Image via Plain Useful.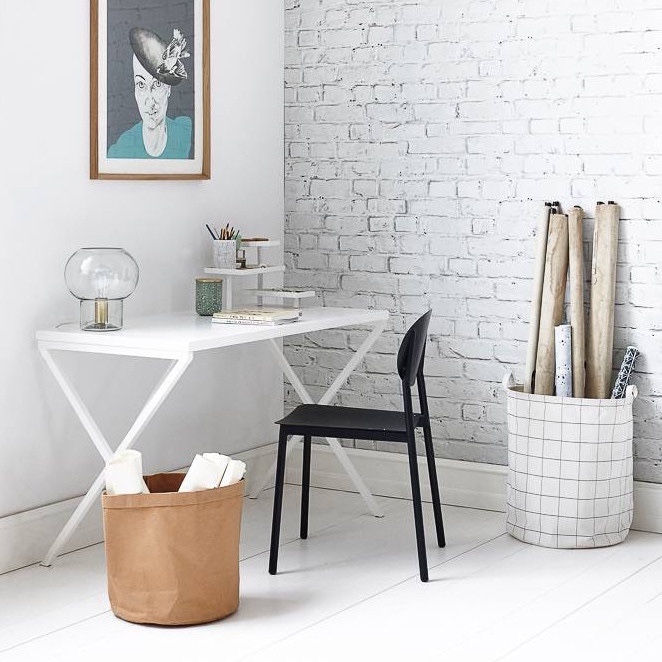 Why not make use of laundry bags to store non-laundry items such as rolled posters? Image © Tea and Kate Ltd.
Fresh ideas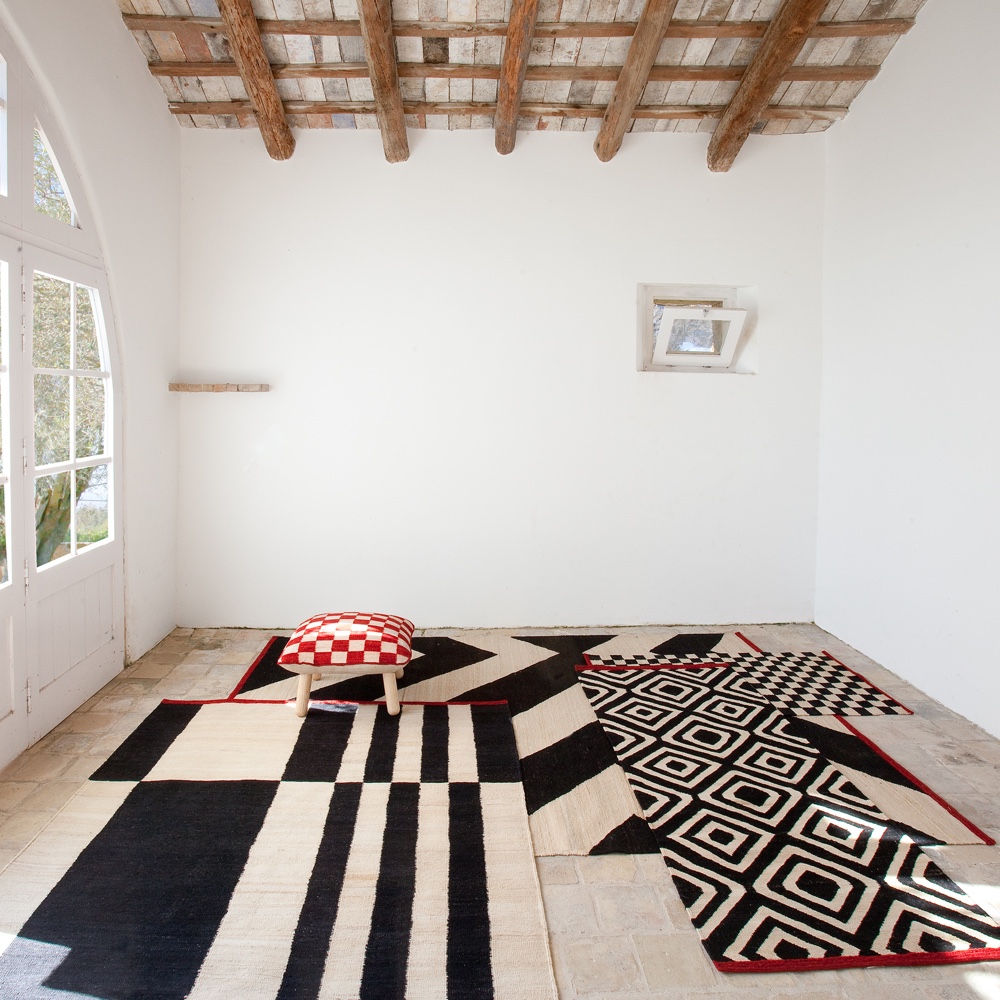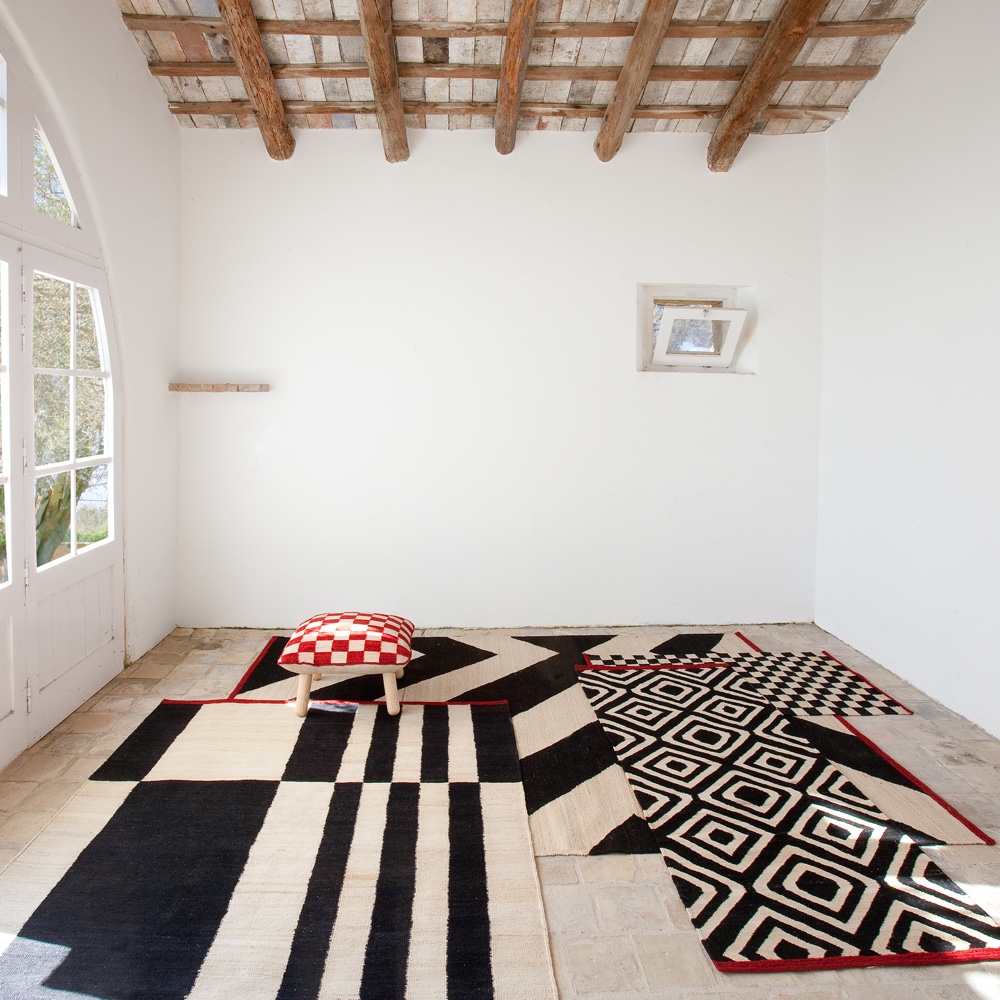 "Did you know that rooms with rugs contain up to eight times fewer airborne dust particles [so] hugely enhancing air quality?" (Source: nanimarquina) The Mélange collection by Spanish designer Sybilla for nanimarquina is a series of geometrically patterned rugs that offer a fresh and contemporary perspective on the customary flat-woven kilim. The Mélange collection is skilfully made by hand in Pakistan using Afghan wool; kilims are dyed by hand. Afghan wool fibres can feel a little coarse, yet this quality is reassuringly honest and tactile. Image © nanimarquina.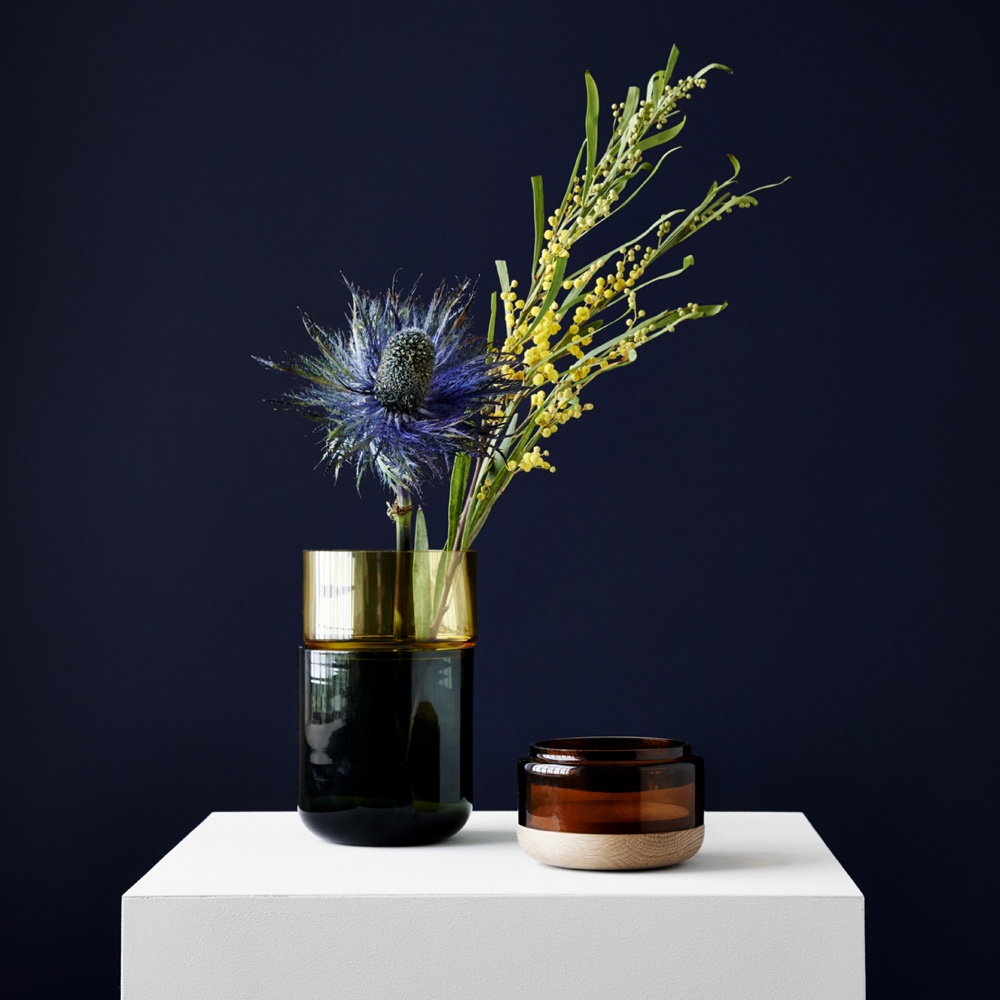 Based in Copenhagen, design brand New Works is creating objects that connect the disciplines of design, craft and art. The studio's products are sculptural and geometric in form, intended to be both practical and aesthetic. The brand's Pi-No-Pi-No vase has a flexible (put together and pull apart) design that ensures it works with blooms big and small. Pi-No-Pi-No consists of green, amber and brown vases, glass rings and an oak lid. Images via New Works.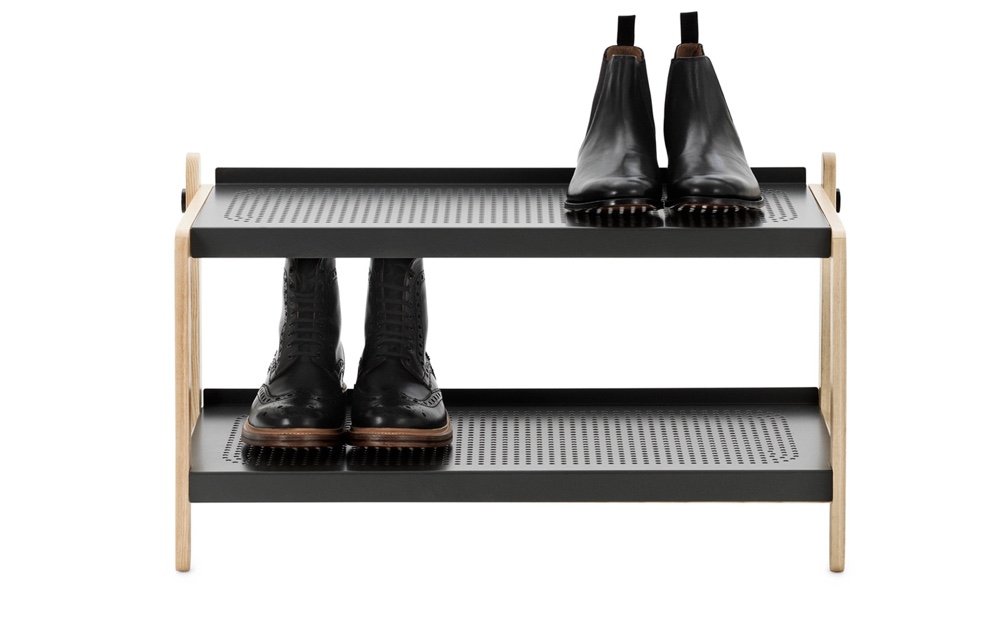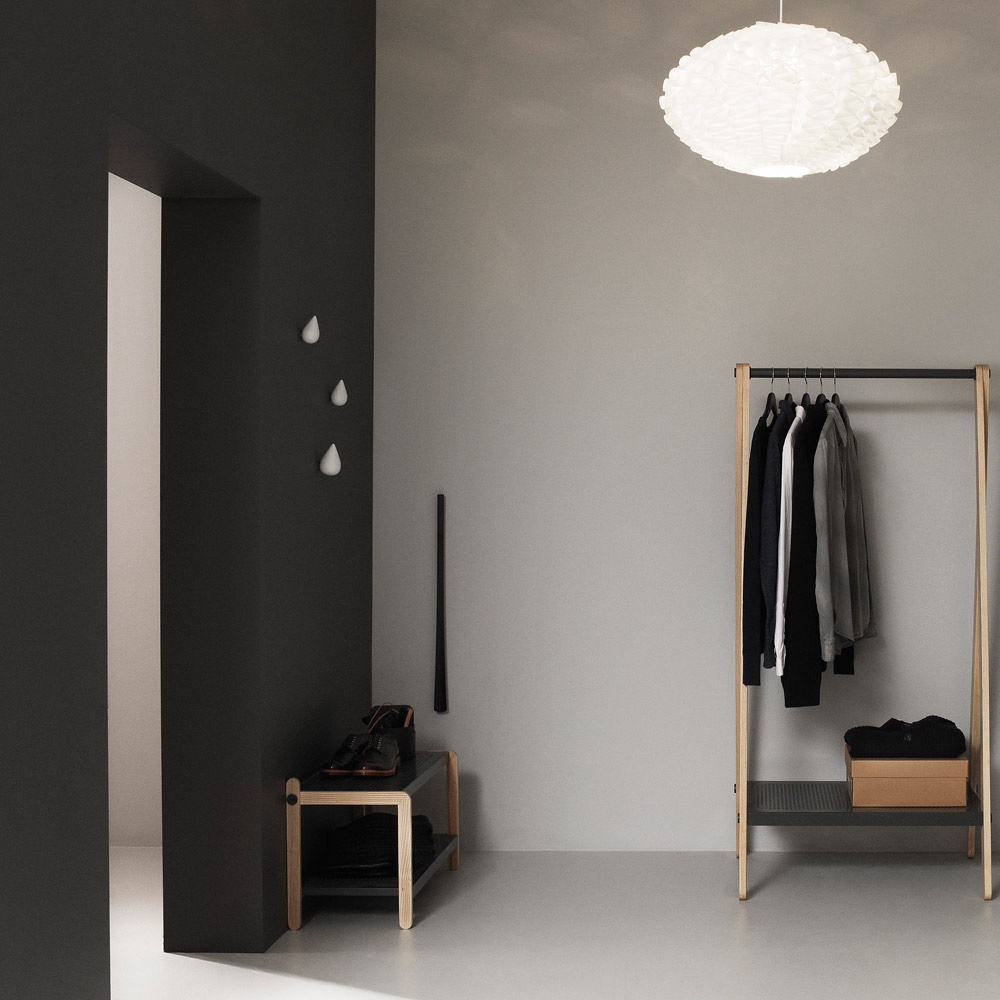 No shoes indoors. Place shoes and boots on the Sko shoe rack from Normann Copenhagen. Designed by Simon Legald, the rack has an industrial and clean aesthetic. Image © 2015 Normann Copenhagen.
Happy spring cleaning.