Whether you're living in a small space, on a tight budget, or you just want to keep things simple, a small Christmas tree is a great way to add a festive touch to your home for the holidays. Add a tree to the mantel, your coffee table, or even your dining table, and you're set. Not only is there a mountain of stylishly designed options to peruse, there is an equal range of sizes, from tabletop sisal trees to charming petite trees for the corner of the living room. Keep reading as we round up some of our very favorites and introduce you to a few options you may not have considered.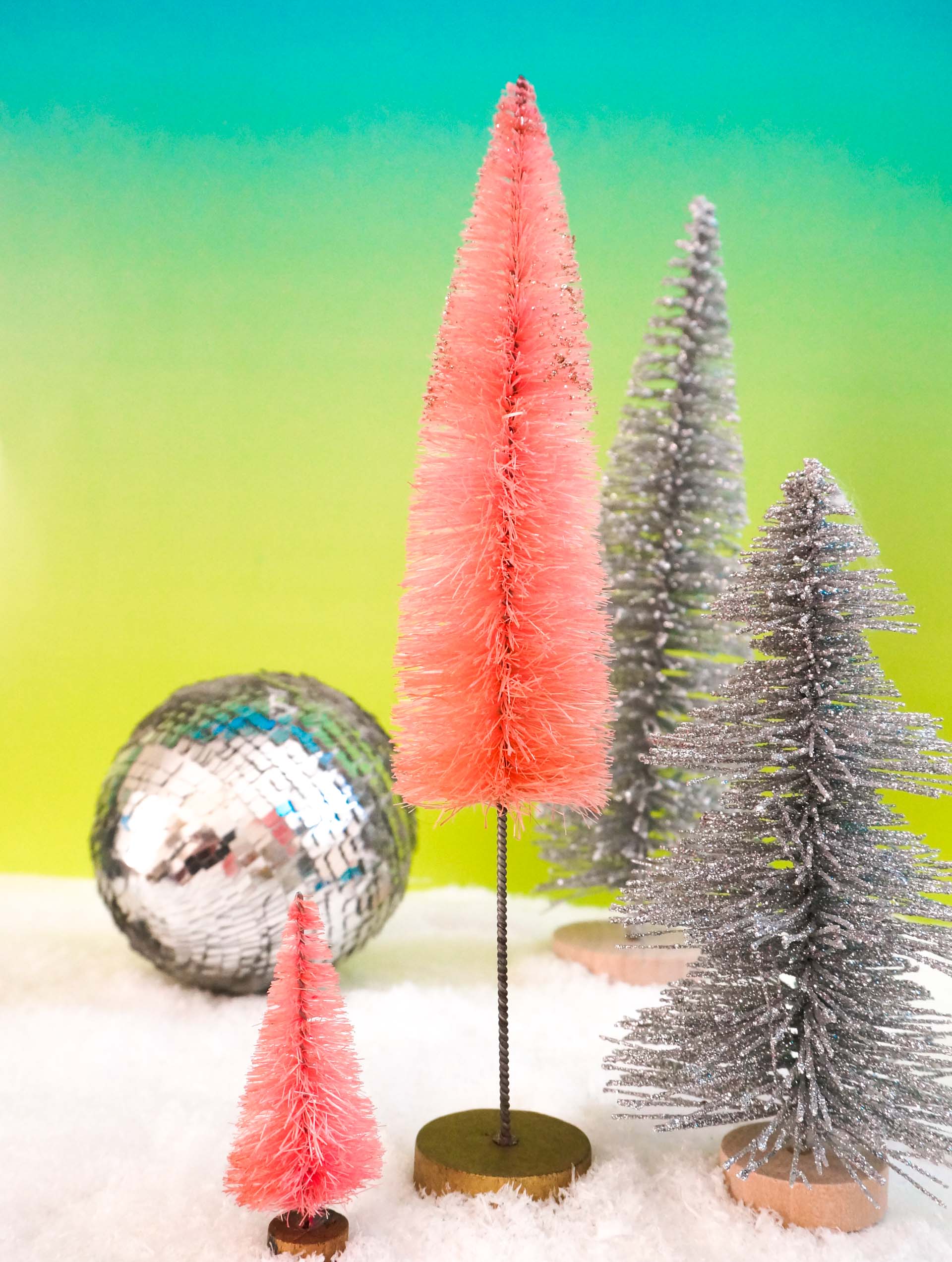 Bottle Brush Trees
Bottle brush trees are the budget-friendly holiday darlings of the design world. Hassle-free and easy to store, they instantly bring home a cozy, festive feel, as they channel a vintage vibe. Now more than ever, top brands and artisans are offering their own versions of these beauties, and prices span the mid-range (for handcrafted, hand-dyed options) to the super affordable, shown below by a collection of metallic trees from Target: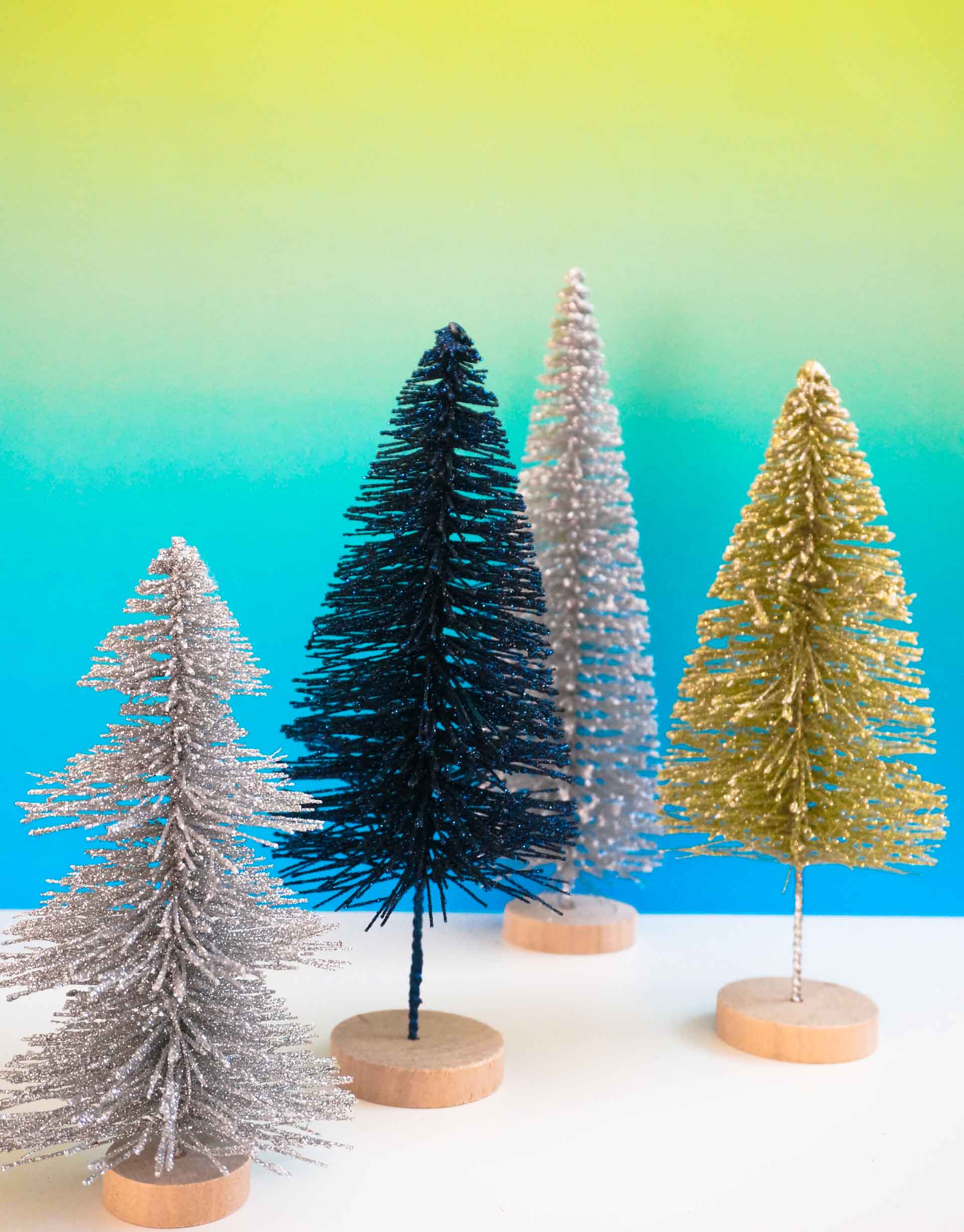 There are also some very high-end options for collectors, but it's definitely possible to get a designer look for less, especially when arranging a grouping of bottle brush trees in interesting colors. Go for a rainbow of colors, or stick with one color family for a cohesive look. Below we see green and blue selections from Terrain: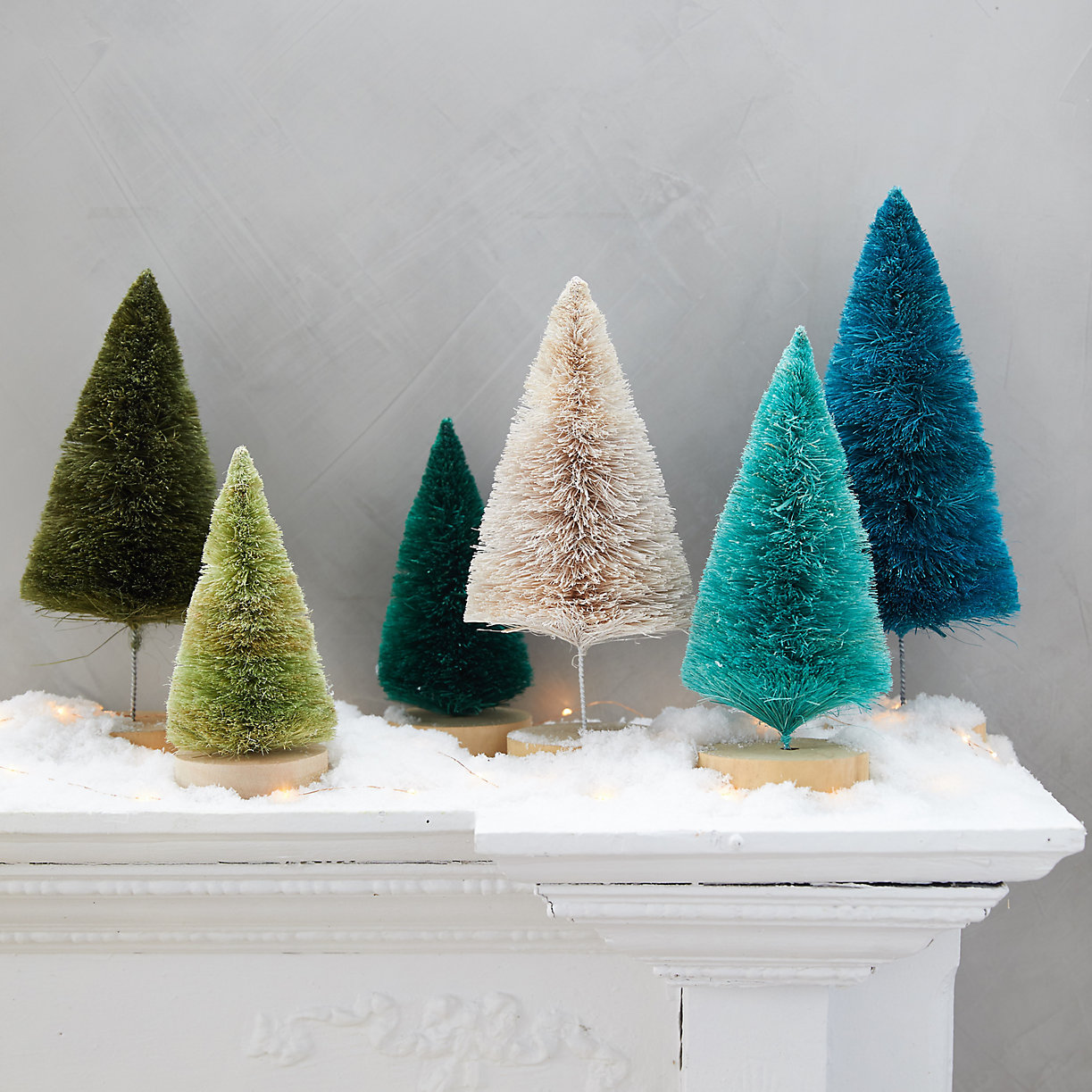 Glitterville Studios' Rainbow Forest Trees come in a range of sizes and colors. Hand-dyed sisal creates a stunning array of radiant hues. When it comes to these vivid creations, the more the merrier!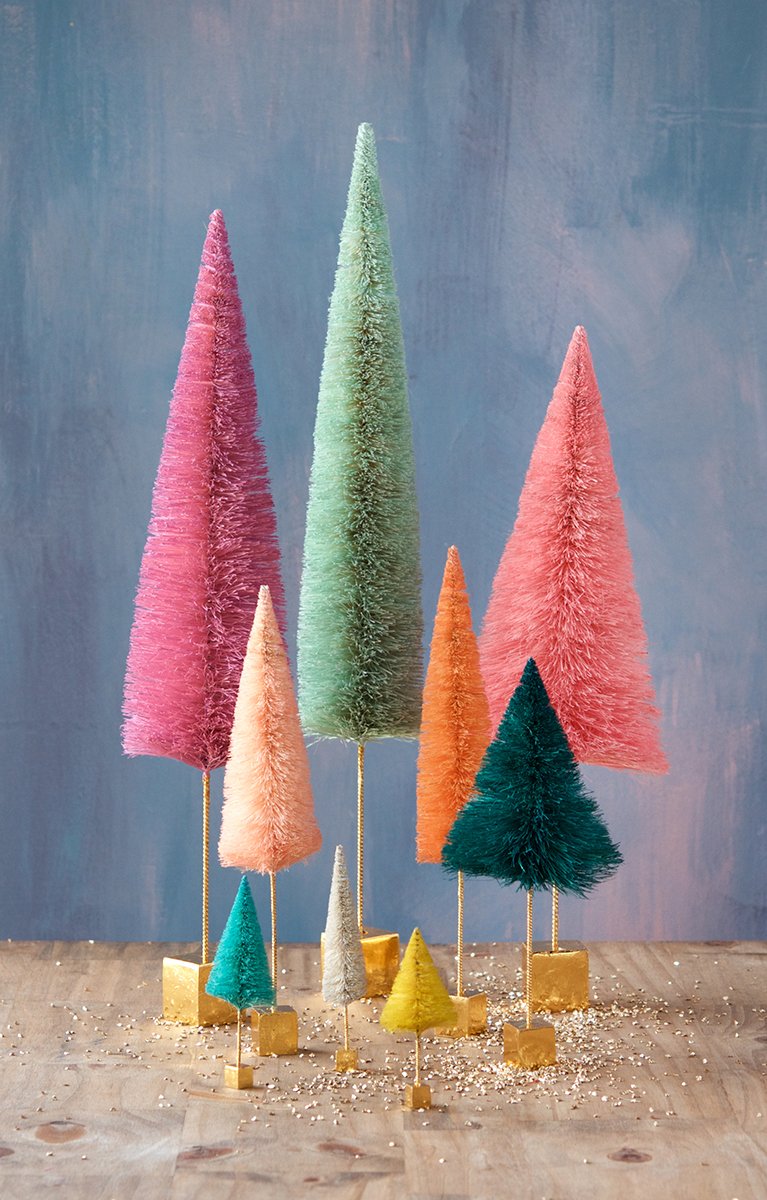 Also from Glitterville Studios, these Fuzzy Trees look good enough to eat! Like bundles of cotton candy, they bring a dreamy brand of charm to the surface top of your choice. Instead of being crafted from sisal, these trees are made from cotton, resin, and plastic. Plenty of puff and fluff!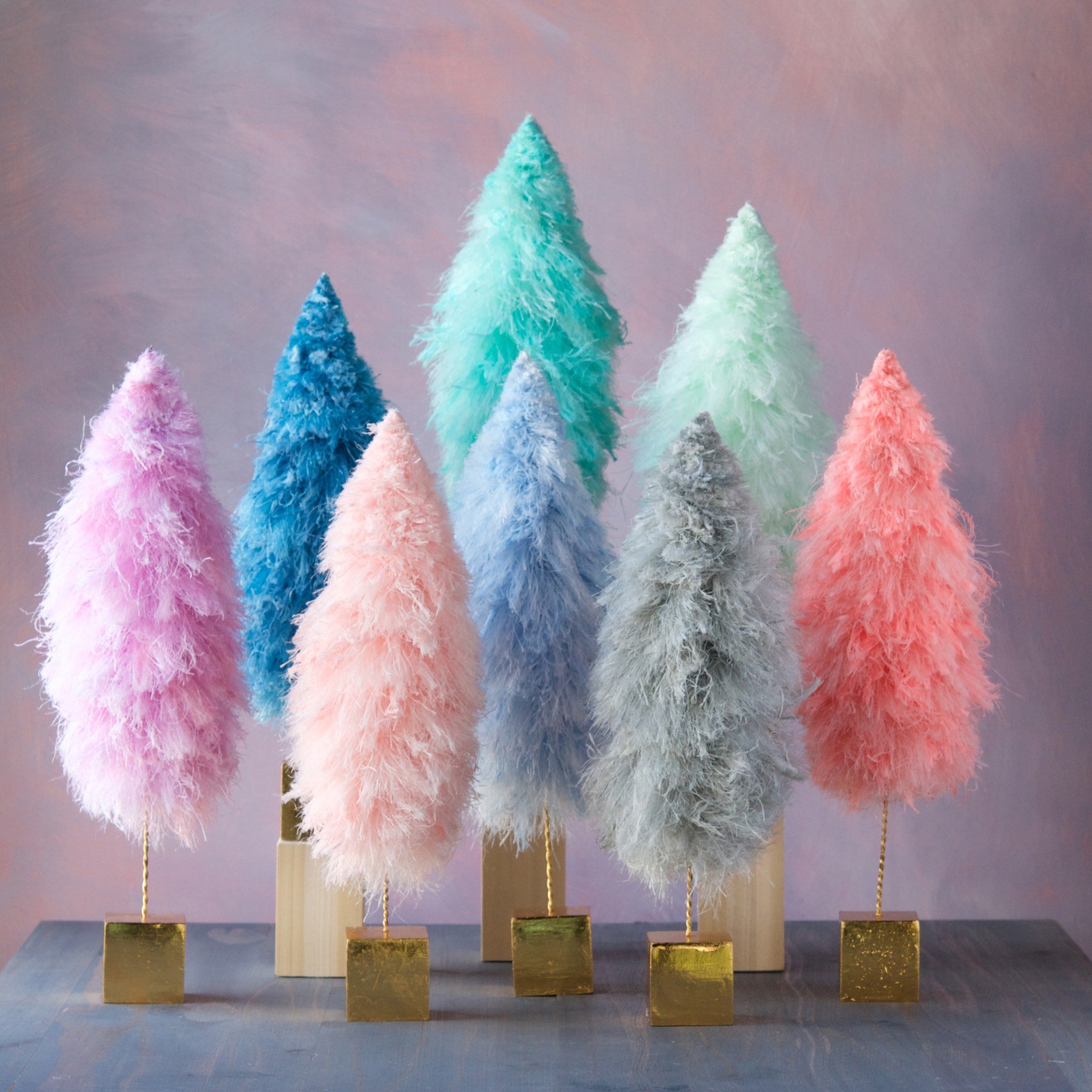 Embellished Trees
When a small Christmas tree is adorned with baubles and beads, the result is nothing short of magical. From craft store finds that fit any budget to designer trees with a price tag of over $100, there's something for everyone! Vintage-style decorated trees feature pearls and mini ornaments in this next featured photo: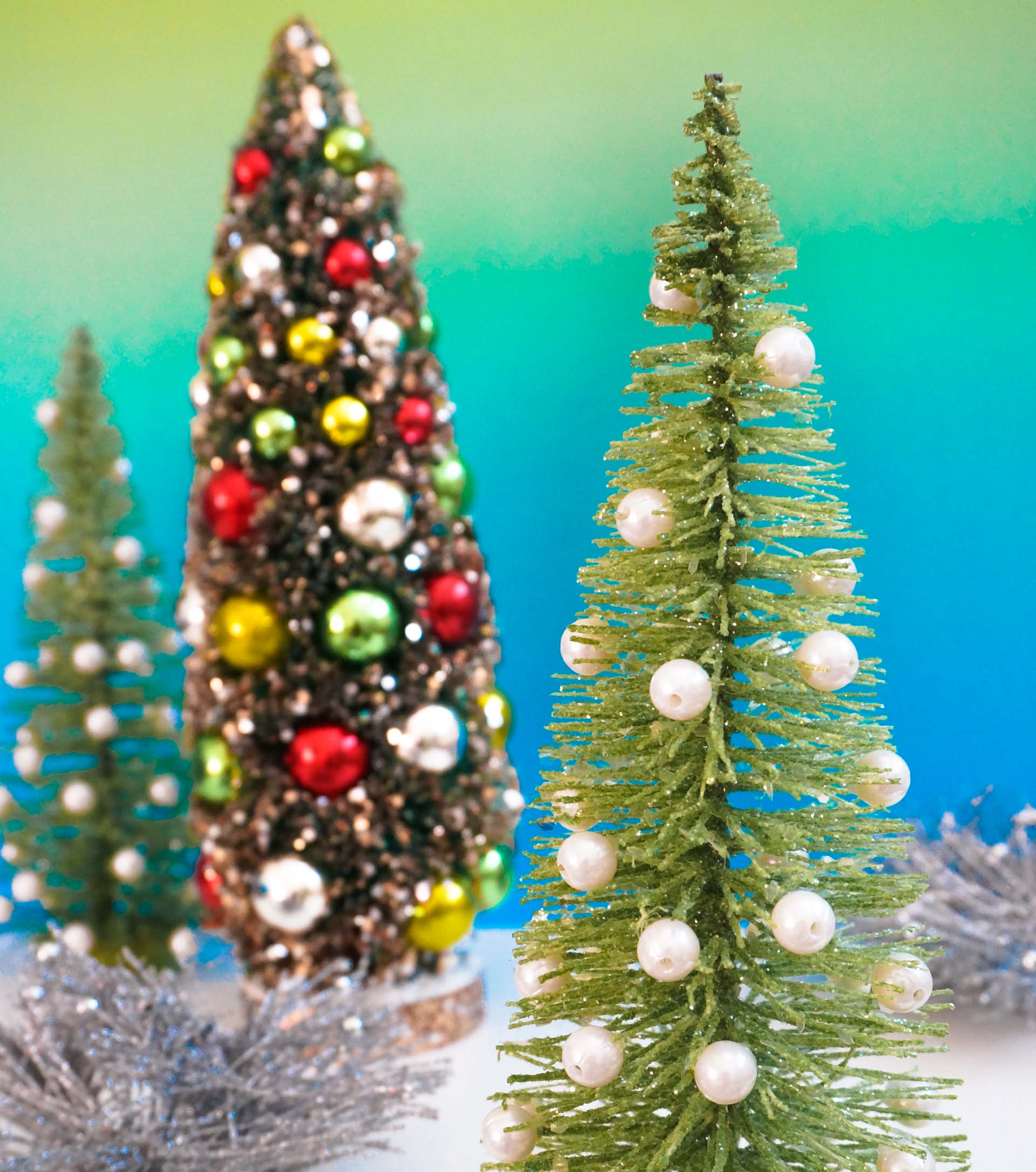 Glitterville Studios' Rainbow Tree sells for $142, but with glass ornaments in every color under the sun, this work of art channels a candy-shop, gradient-style feel that's the perfect display of holiday magic. At 19 inches tall, it's substantial and striking. Don't be surprised if a pot of gold or a unicorn pays this eye-catching tree a visit: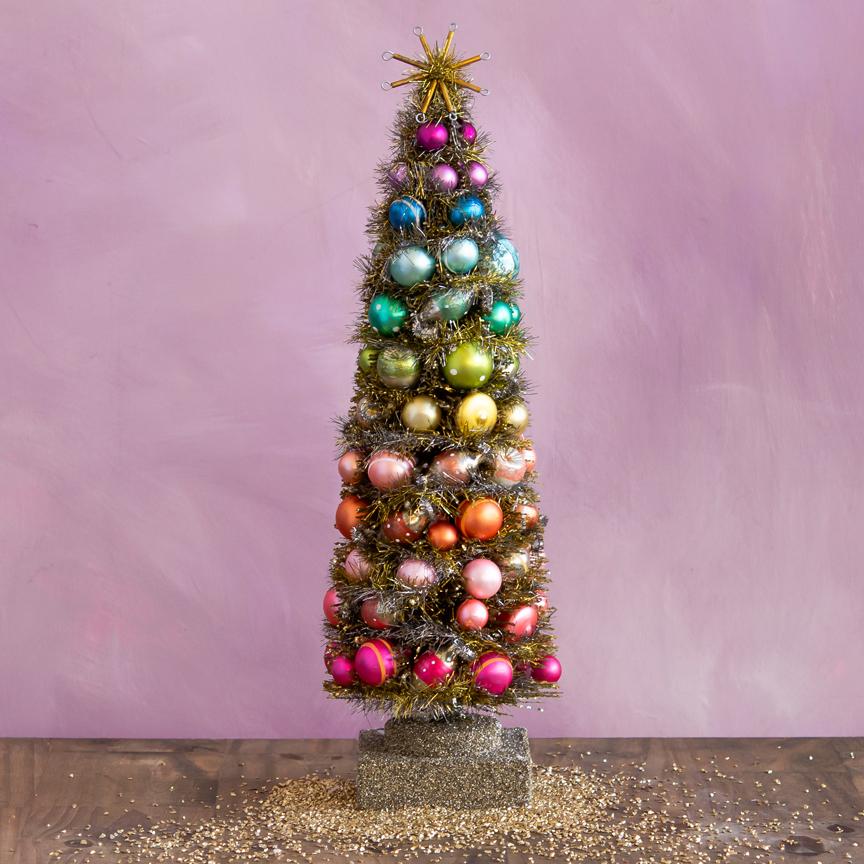 Once again, Glitterville Studios knocks it out of the park with these Fruity Sisal Trees, bringing an unexpected tropical twist to holiday style. Guaranteed to banish the winter blues with a much-needed dose of color, these trees are also great for displaying at holiday cocktail parties. Choose from watermelon, orange, banana, kiwi, lemon and pineapple options: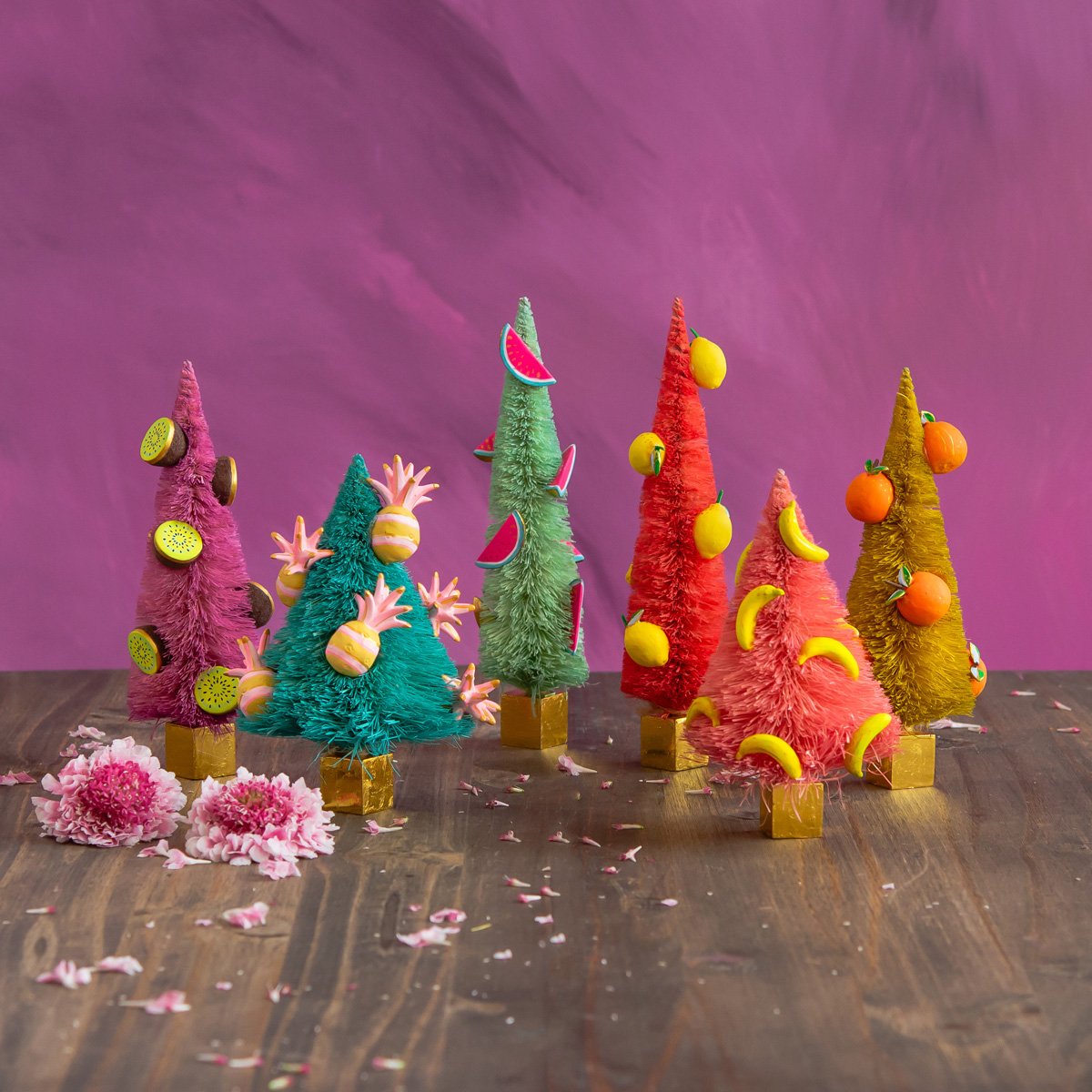 For a more classic approach, check out Target's Opalhouse 24″ Tinsel Tree with Ornaments. It's everything you need for the ultimate no-fuss approach to holiday decor. Voila! Christmas is served at your desk, table, shelf or mantel: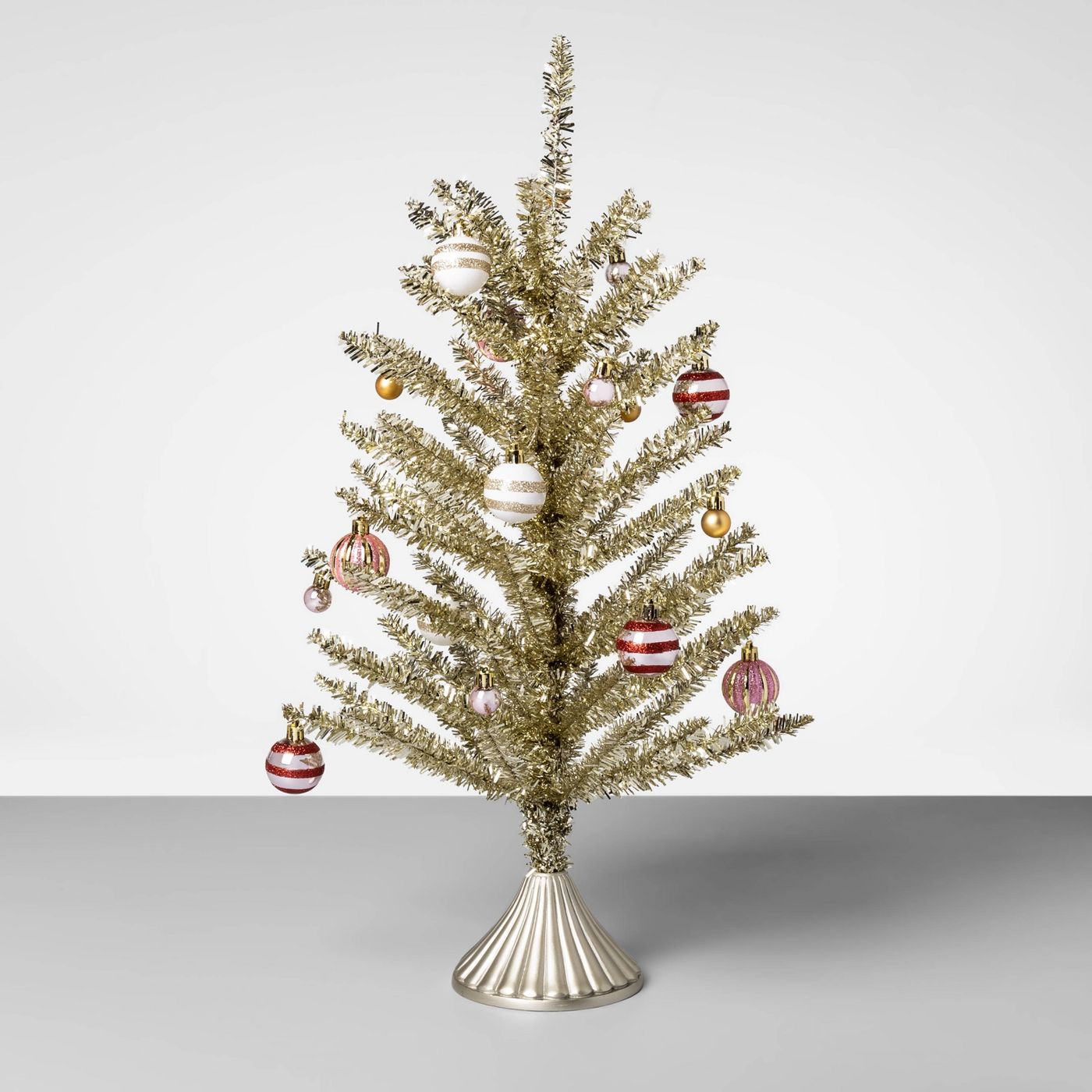 Glass and Ceramic Trees
Glass and ceramic bring their own special version of holiday style to the small Christmas tree, often creating an elegant or vintage mood. Speaking of the past, this Mini Vintage Ceramic Tree from Crate & Barrel is an update on those charming light-up trees of yore. White glaze and LEDs in vibrant colors carry this little piece of yesterday into today's design world: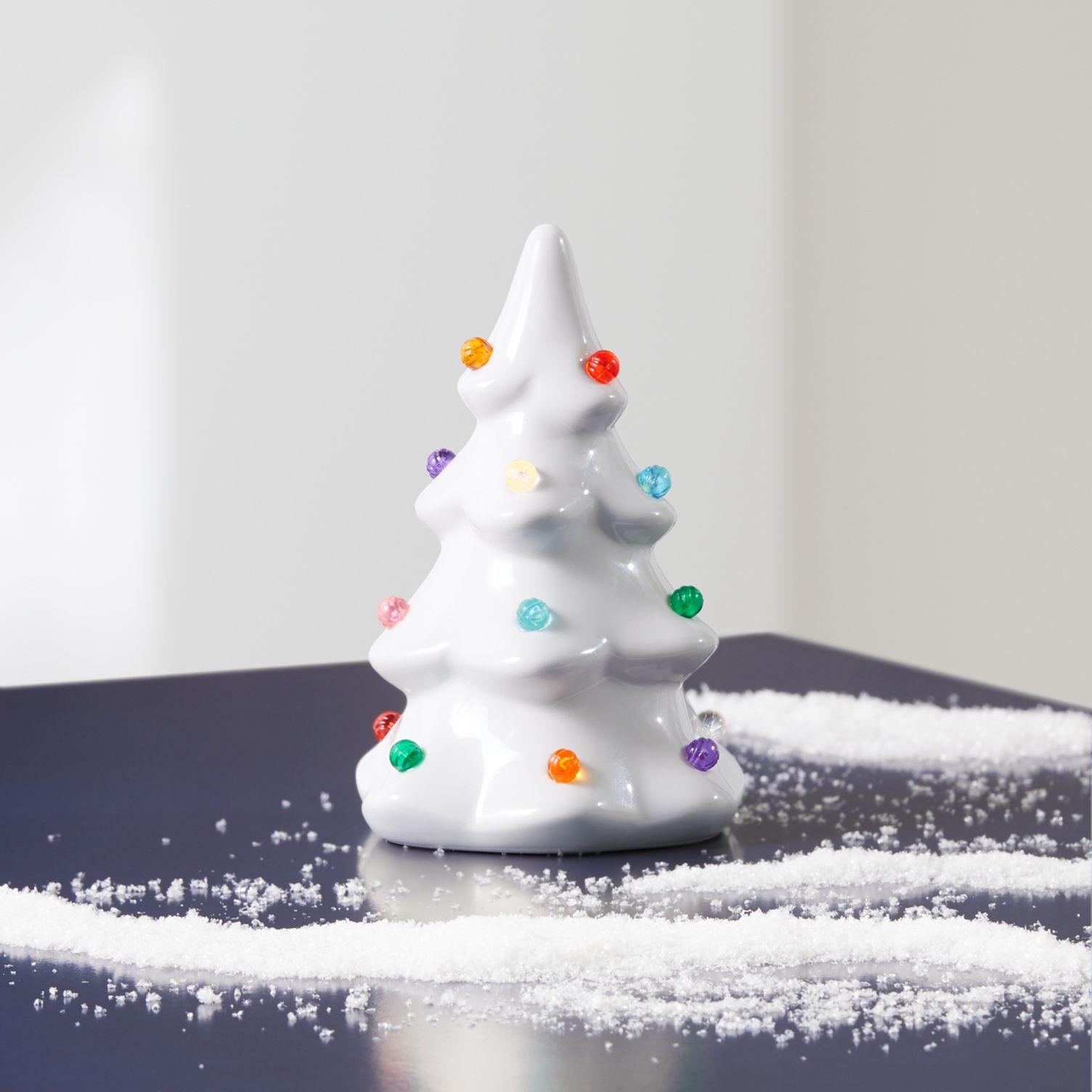 CB2's Large Frosted Resin Tree can be combined with the brand's medium and small versions, or it can stand alone. With a smoky grey tone that can't help but hint at the beginnings of blush, this polyresin and stone tree also wows with its faceted surface: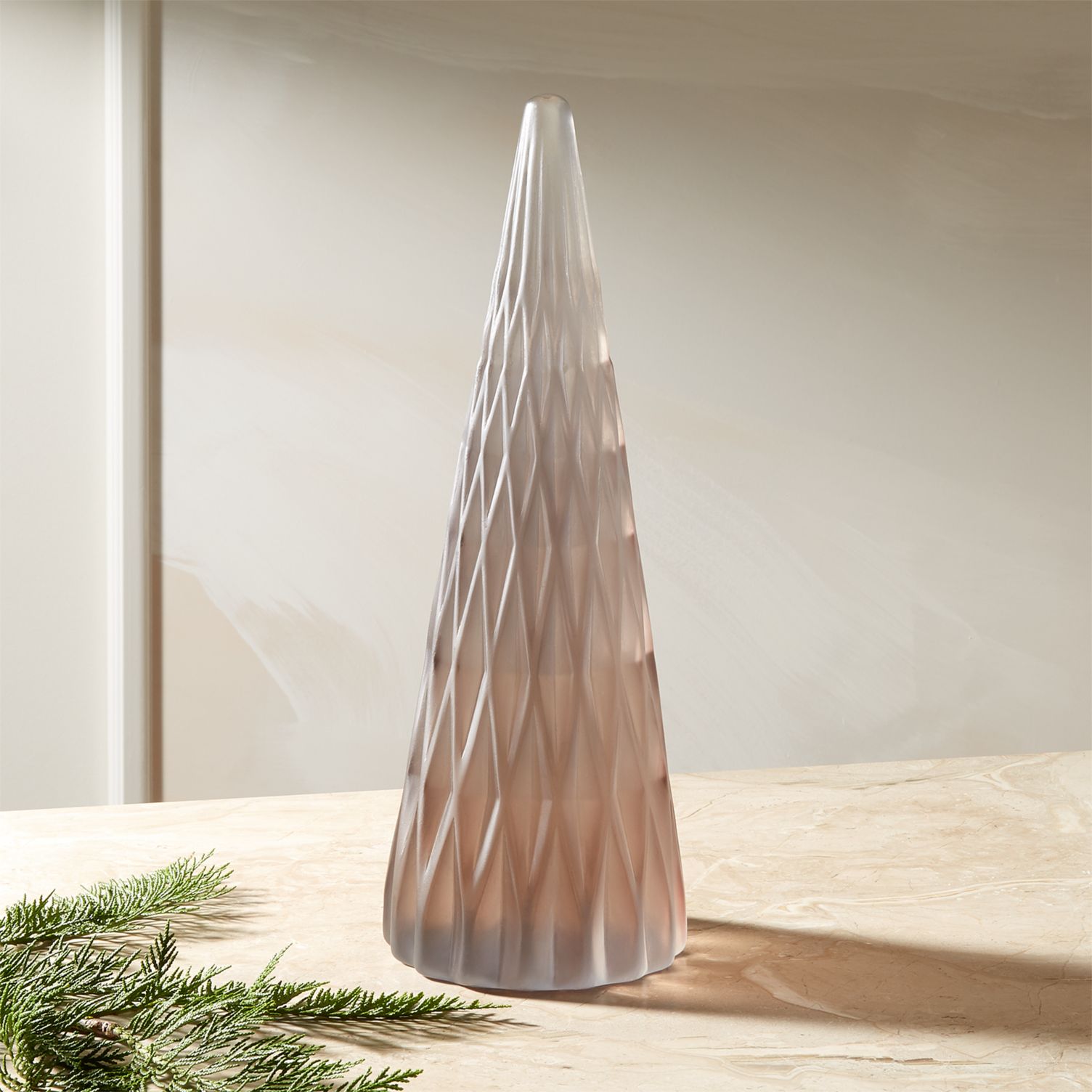 For a burst of color, check out this trio of MoMA LED Light Glass Christmas Trees, available at Urban Outfitters. Available in pink, blue and white, each tree comes with built-in string lights that create a warm holiday glow. As you can see, they work beautifully in a grouping: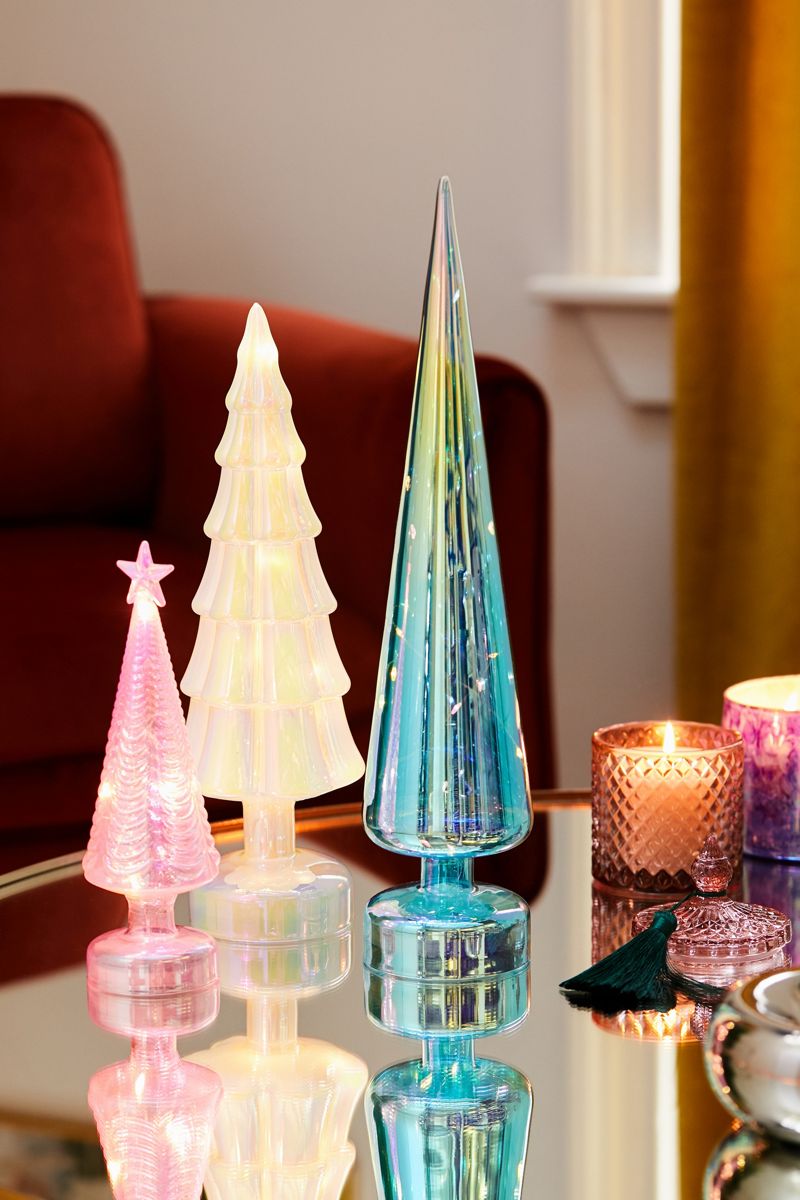 How fabulous are these iridescent Glass Tabletop Trees from Balsam Hill?! Stately and sleek, they ensure that the current rainbow trend makes a holiday appearance. Glittered swirls add plenty of sparkle: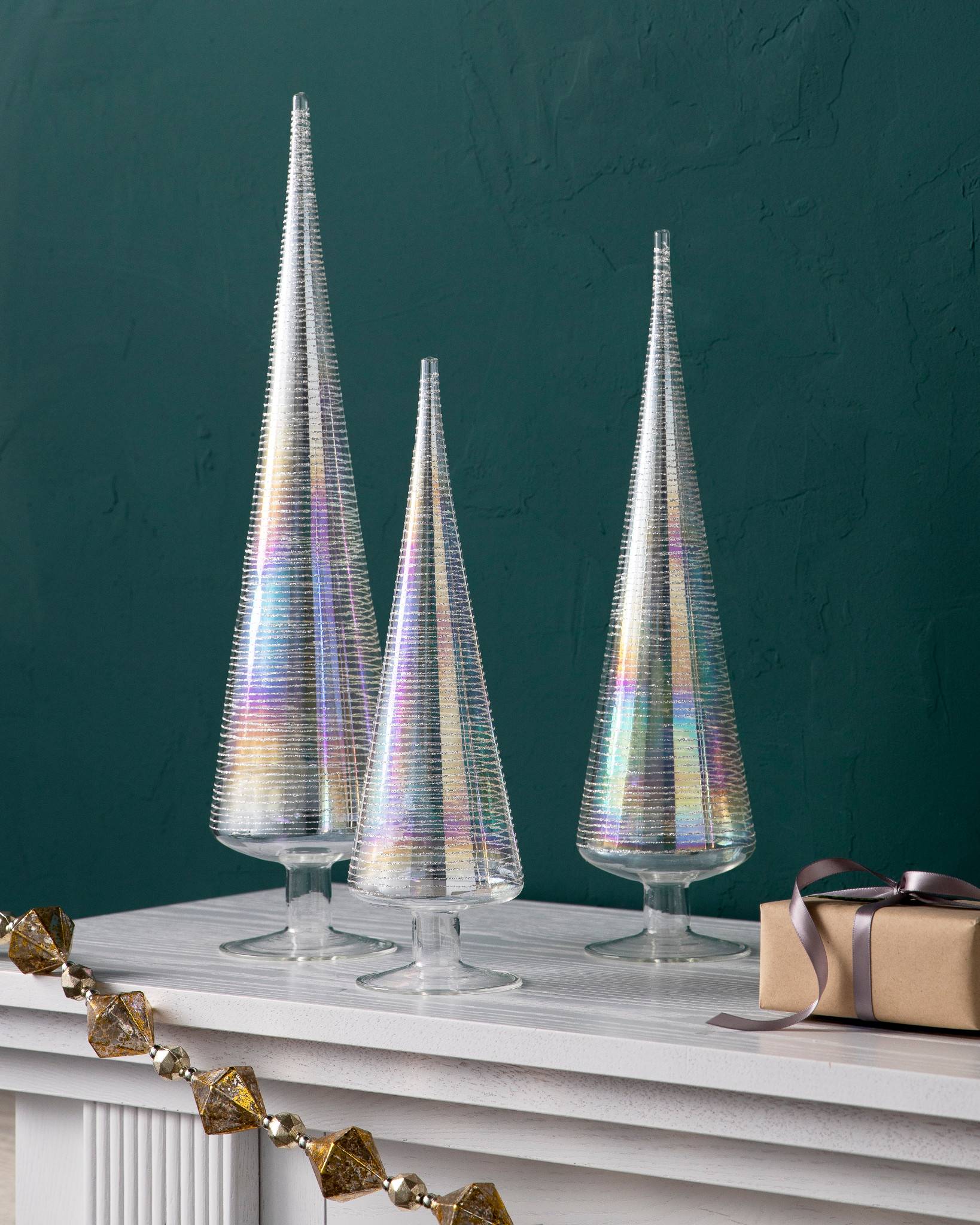 Freestanding Trees
Perhaps you're looking for a tree with the height to stand on its own. No tabletop or mantel needed! This three-foot small gold tinsel tree from Target can be used as your main tree, and it even comes with a ready-to-display base for easy setup. No need for a tree skirt or even ornaments if you choose to go the hassle-free route! It also makes a lovely complement to a larger tree in your space, especially when purchased in multiples: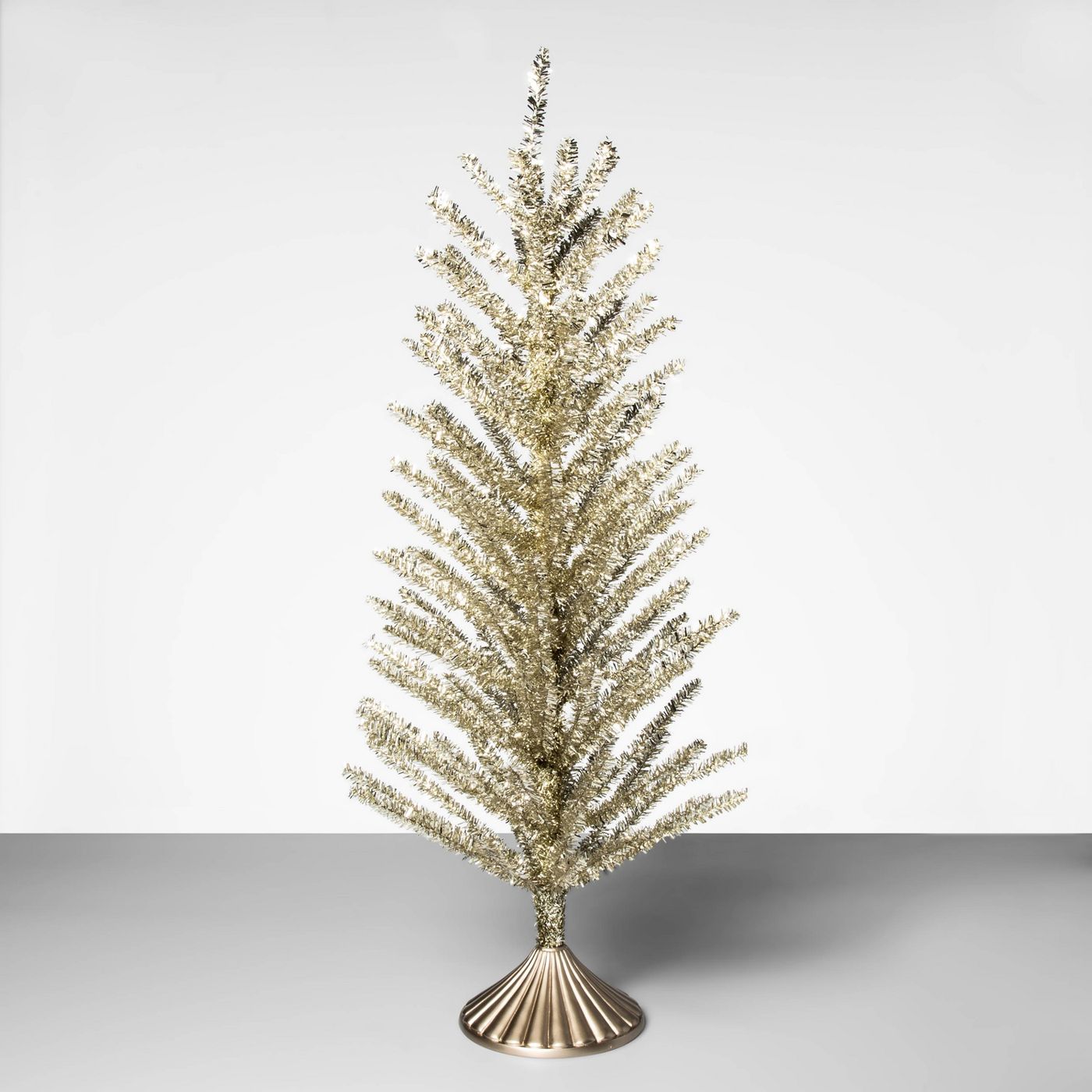 For larger freestanding options, you can't go wrong with a pencil tree (like this silver tinsel selection from Target), and you can also go down the flocked path with these lovely trees from Terrain, shown below. Let it snow, let it snow, let it snow! It's hard to beat a tree that was modeled after an unsheared, real-life version found in the woods by the Terrain design team!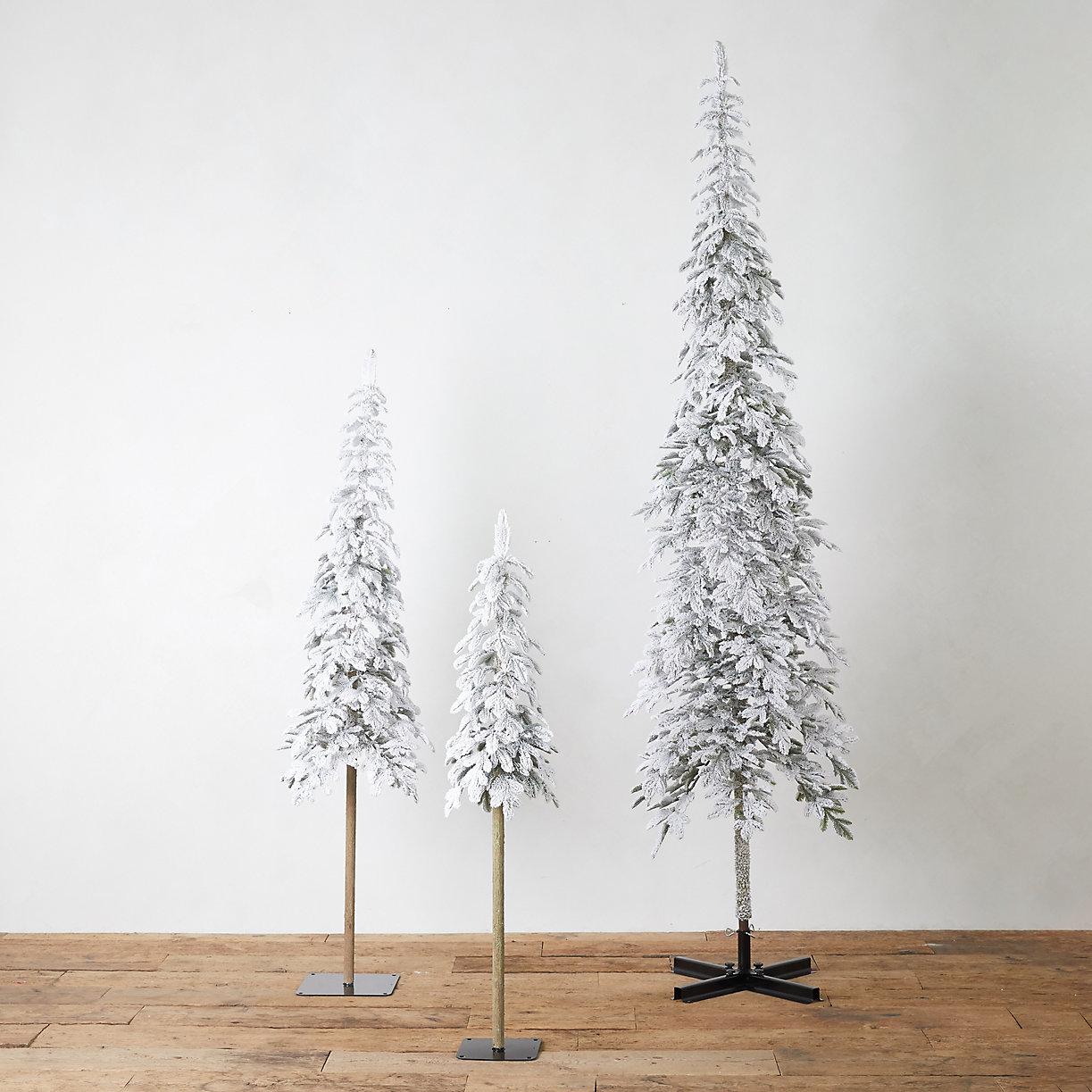 For an option that celebrates holiday greenery in a realistic form, CB2's Potted Pine Tree is a convincing take on faux foliage. Potted in a modern white ceramic planter, this 2.5-foot-tall tree can easily stand alone in the room of your choice. It's also small enough to display on a tabletop if that's your preference. Modern Christmas style has never been this simply perfect: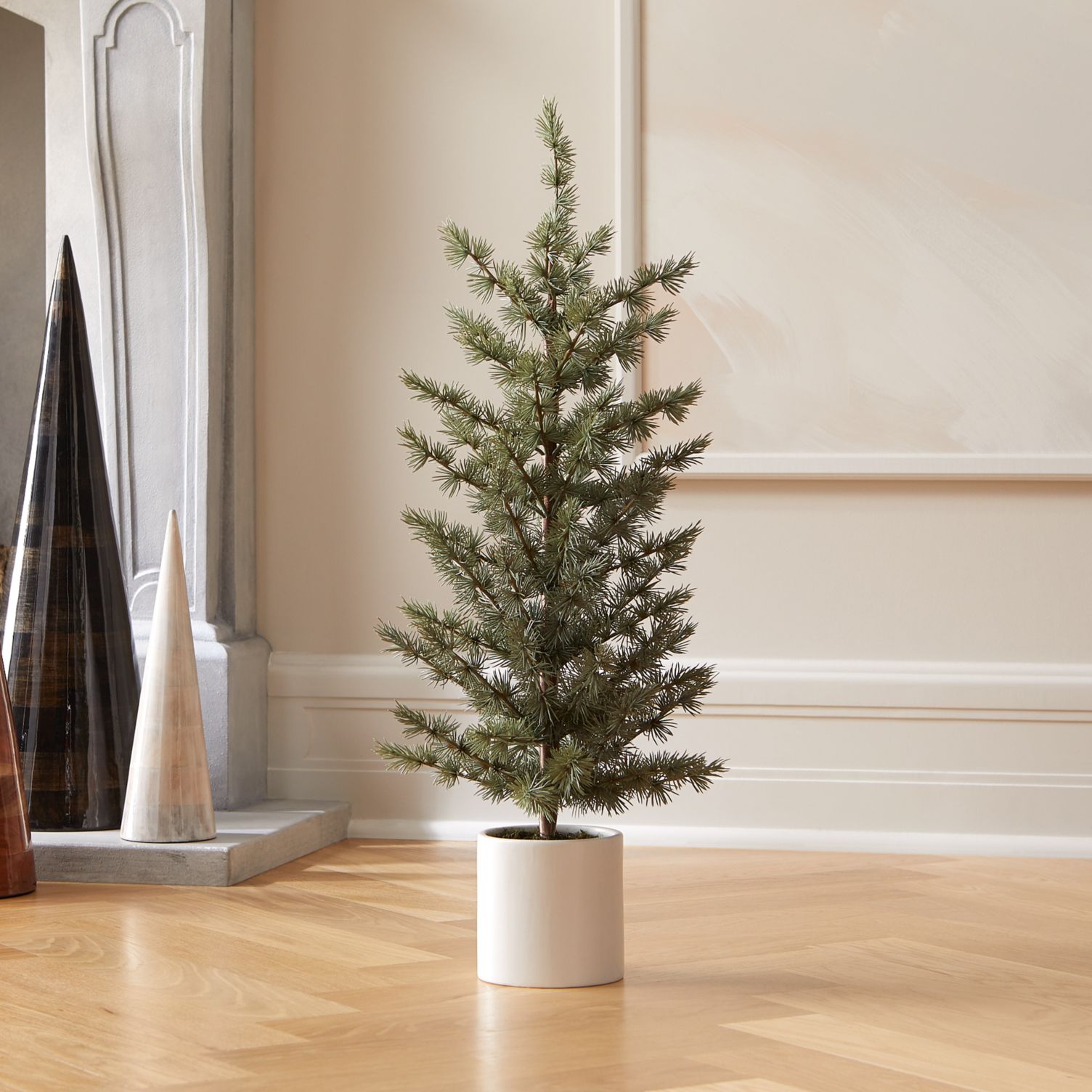 When it comes to petite trees, do you prefer the bottle brush variety, the breakable kind, pre-decorated options, or something that stands alone? We at Decoist hope today's post has led you to a small Christmas tree of your very own. Happy Decorating!