They say that fashion is cyclic in nature and trends tend to repeat themselves once every 20-30 years. The same often seems true in the case of home design as interior décor, accessories and hues that were shunned in the early 90s for a more 'modern' look are now making a comeback. One of the most popular trends in recent times has been the desire to turn the contemporary home into a relaxing, personal sanctuary that is detached from the fast-paced urban jungle that surrounds it. A move to styles such as vintage, retro, rustic, industrial and farmhouse reflects this desire of homeowners. And it is a big part of the reason why sliding barn doors are finding space in contemporary homes.
If you are a touch coy about adding the barn-style door to your bedroom or bathroom, then the living room is the next best option indeed. There are many ways in which this can be accomplished, and in some cases you can even use them as just an aesthetic addition. Impressive, imposing and yet surprisingly adaptable, these 25 beautiful inspirations will get you started.
Snug, Woodsy Charm
Some of the advantages that come with adding a sliding barn-style door to your living room are obvious. For starters, the wooden barn door adds a unique texture to the contemporary living space that turns it into an instant focal point. If you already have a rustic or farmhouse theme going in your home, adding a barn door becomes even easier. The sliding door also saves up on precious square footage when compared to conventional doors that need additional room to swing open.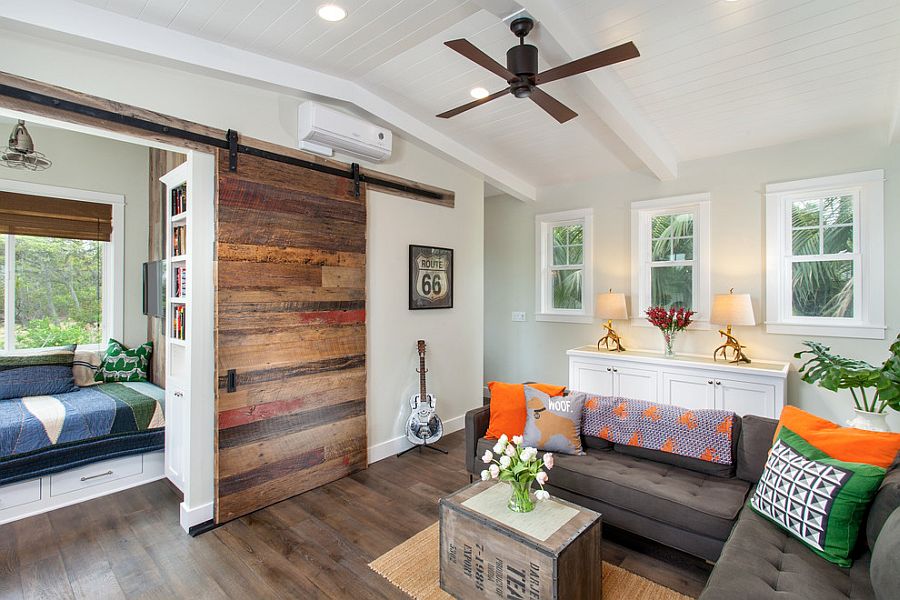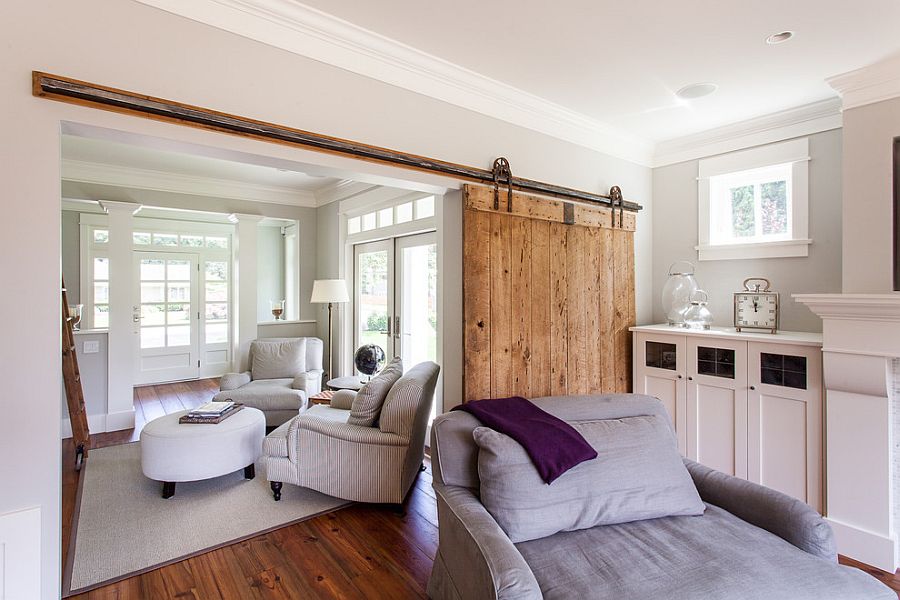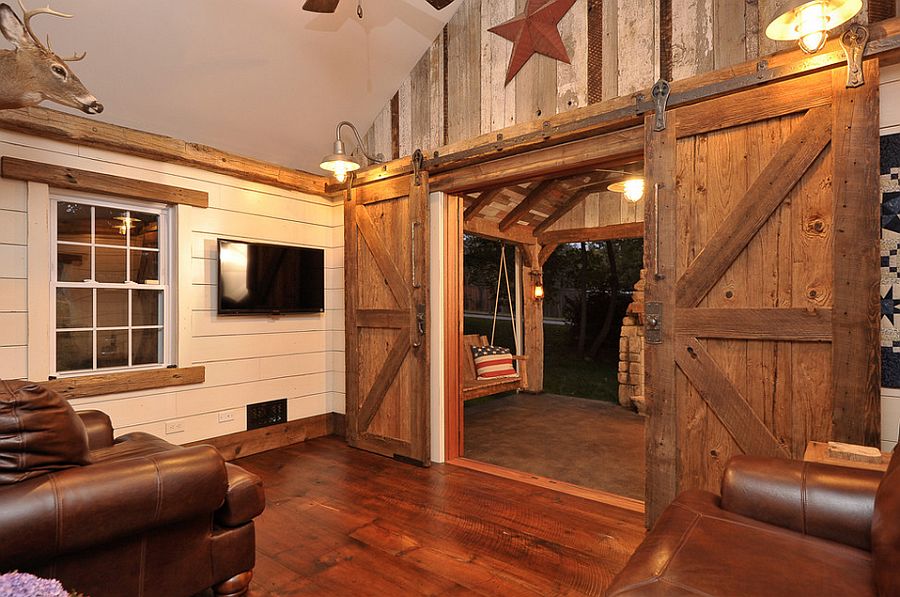 But the barn doors in the living room need not be used just to separate it from kitchen, dining room or bedroom next to it. They can be used to hide away a lovely reading nook, a small home bar or even a giant shelf or two with ease.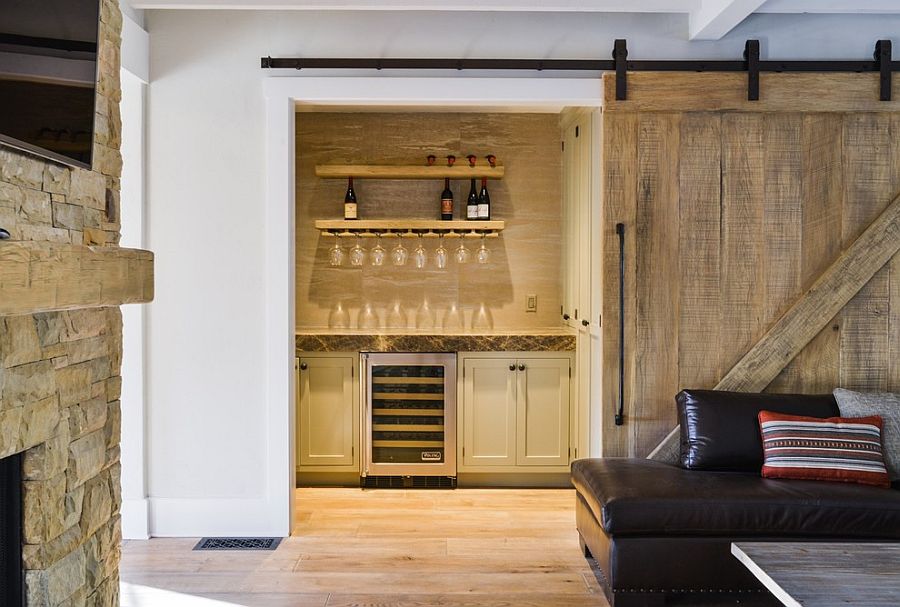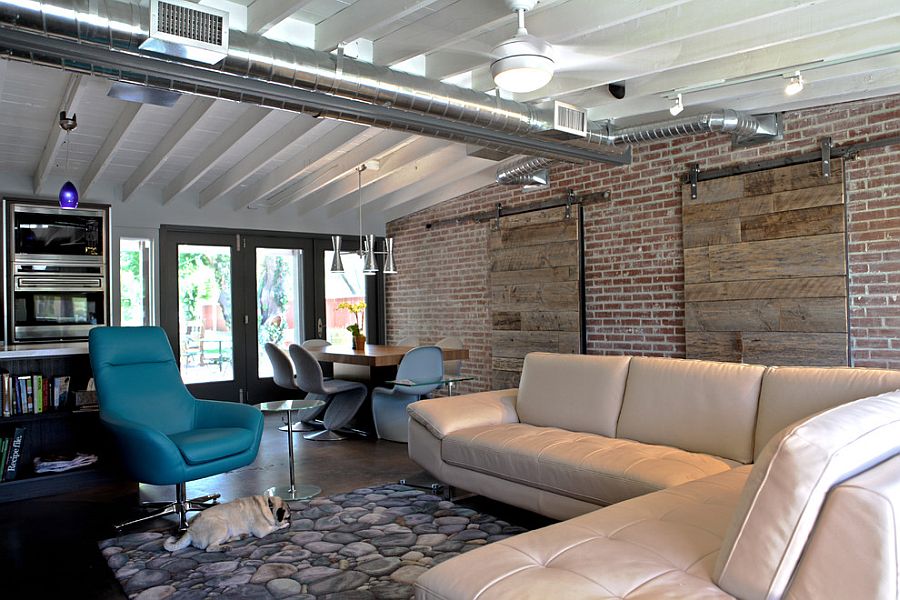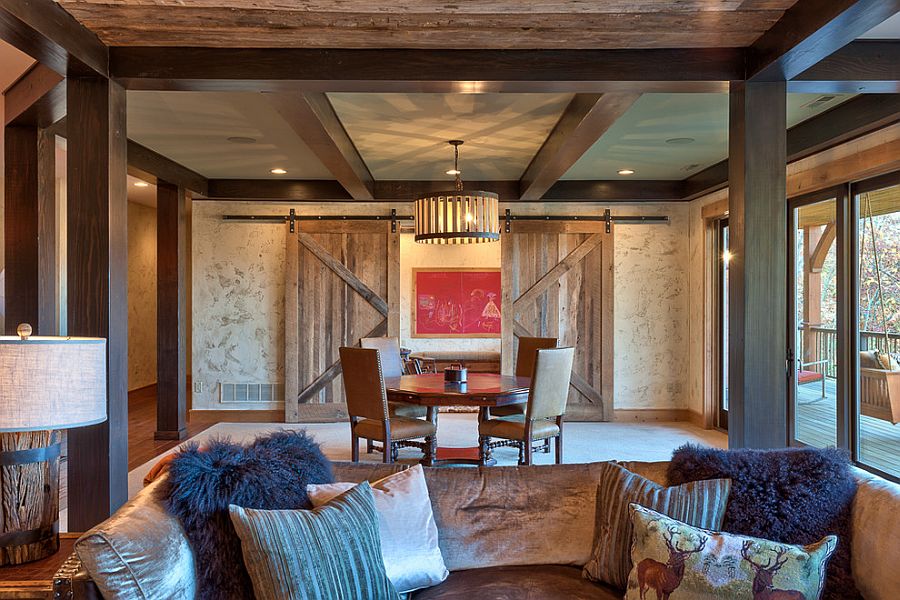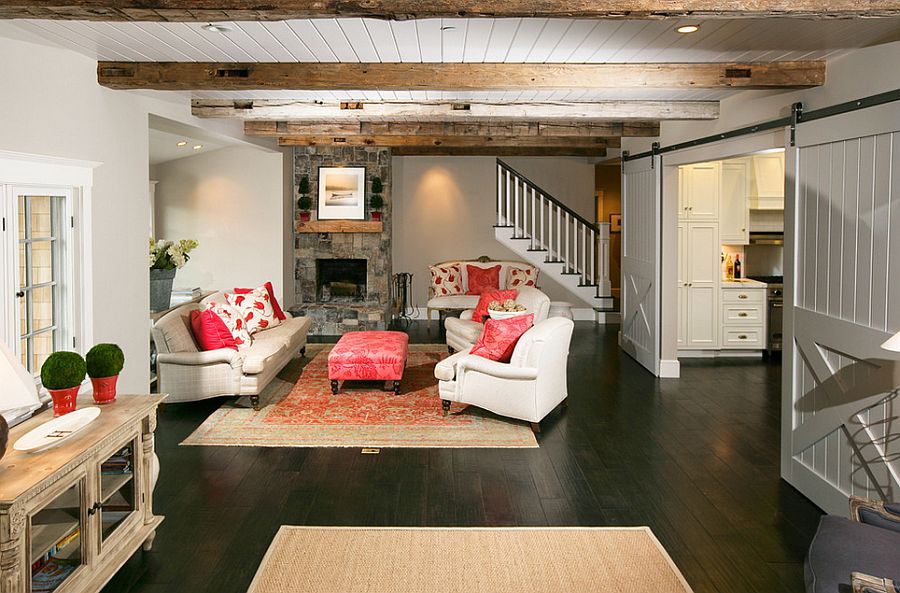 Modern Living Spaces with Barn Doors
As we alluded to earlier, the sliding barn door seems perfectly at home even in modern living rooms and often ends up becoming the showstopper in an otherwise monotonous setting. There are different ways you can tweak the classic barn door to ensure that it feels appropriate in a posh, cultured living area. Picking a door in a stain of wood that complements the color palette in the room is a great start indeed. Painting it black or gray is another popular option, and this gives the barn doors a more refined appeal. For those still not comfortable with the barn door in heavy wood, alternate options with glass panels and wooden frames could be the way forward.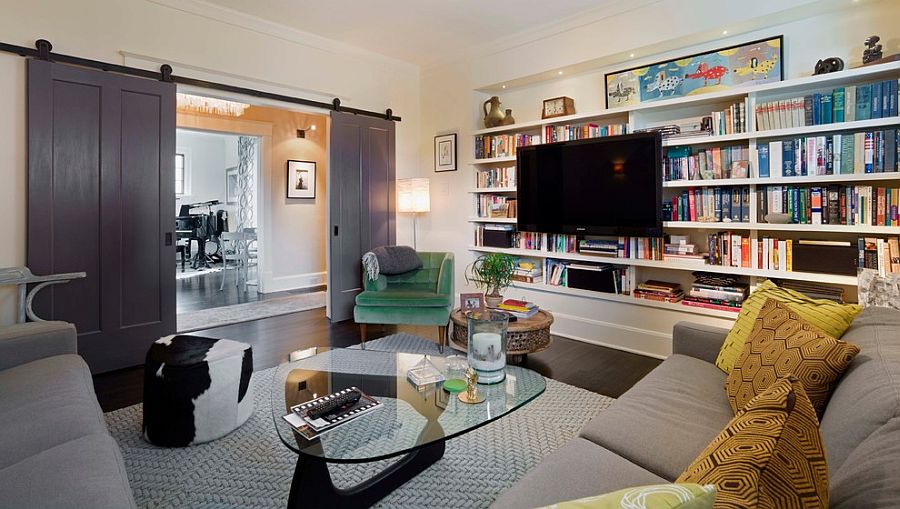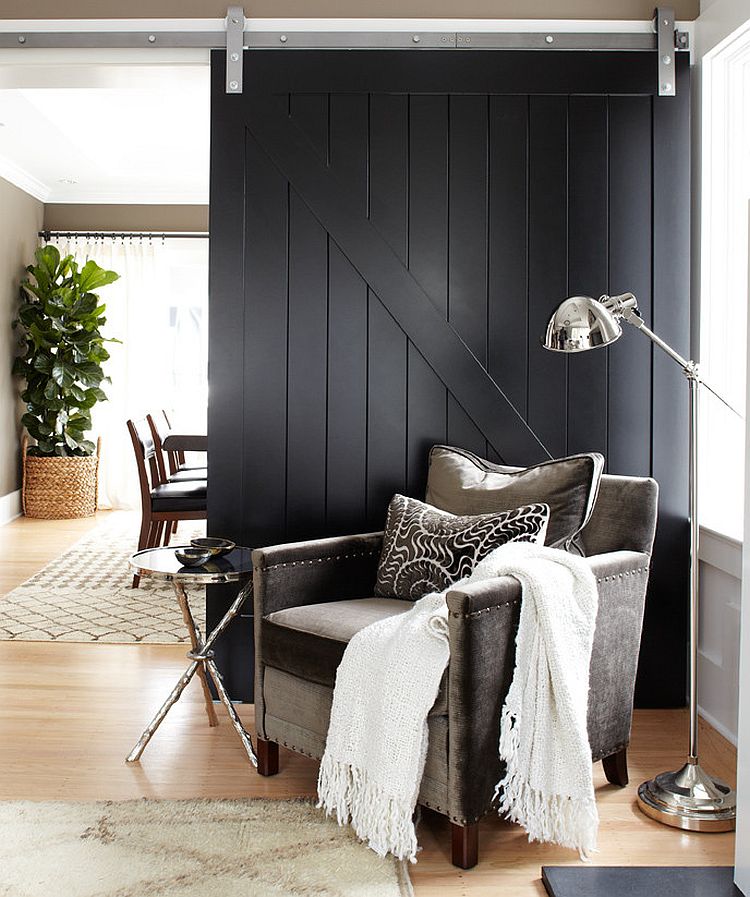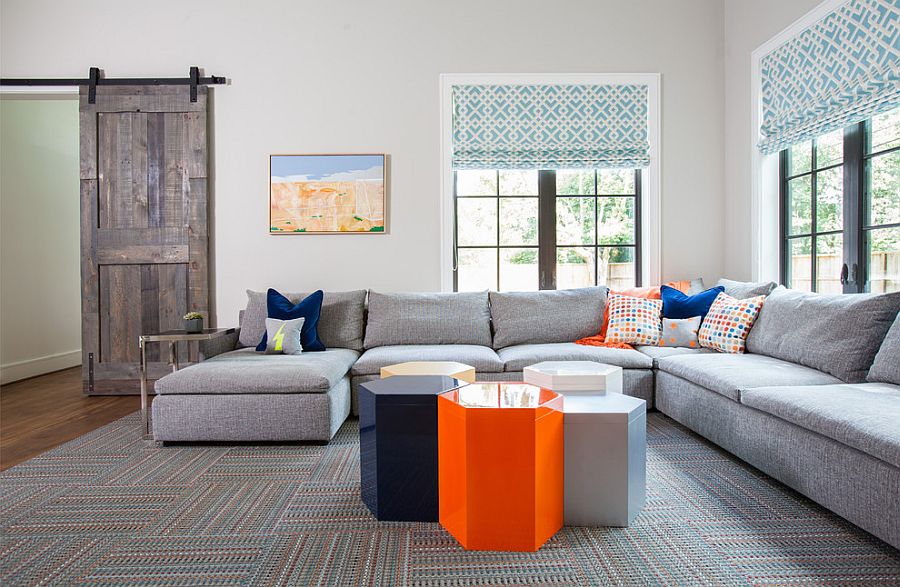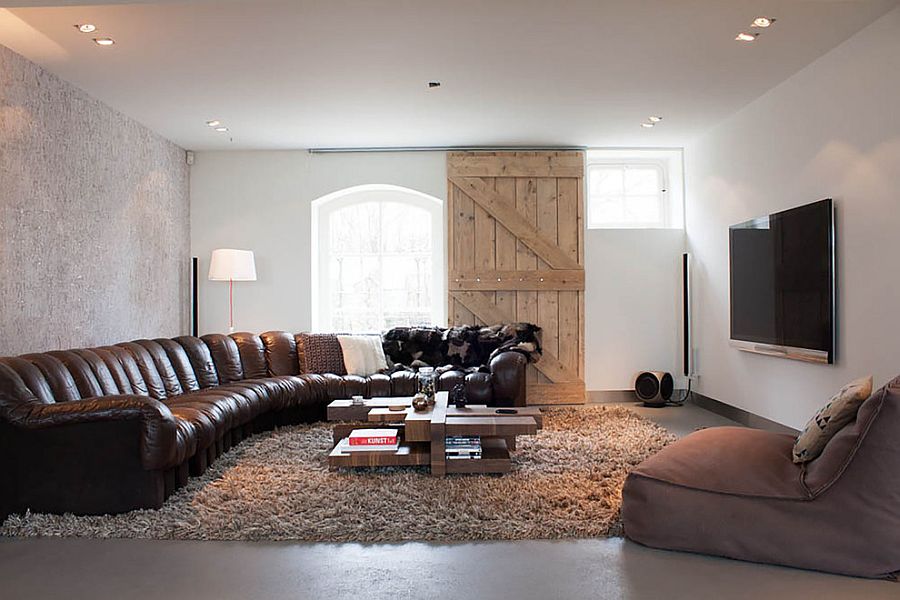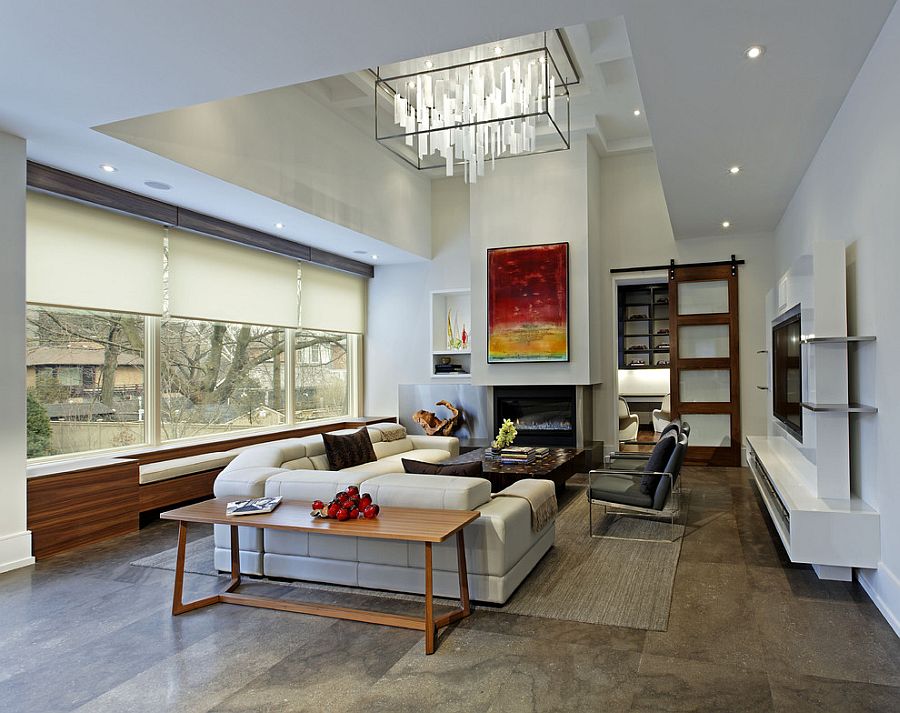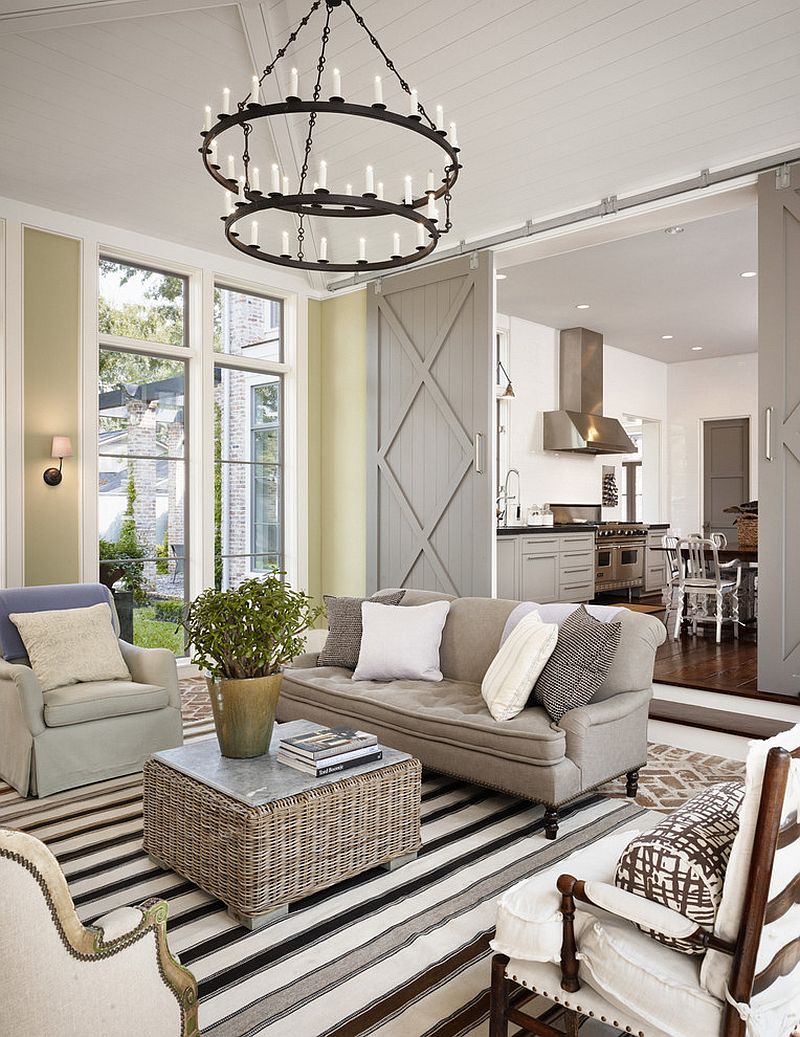 Colorful Siding Doors
Maybe what your living room needs is a touch of color to enliven it, and the giant sliding barn-style door is a perfect way to do this without turning to more common options like the accent wall. Instead of stoic black or neutral gray, a sliding door clad in colors such as red, yellow, green or even orange can instantly enhance the color scheme of the living room while creating a bright focal point. It is best to repeat the color you use for the barn door elsewhere in the room by using accent additions and decor to give it a more elegant vibe.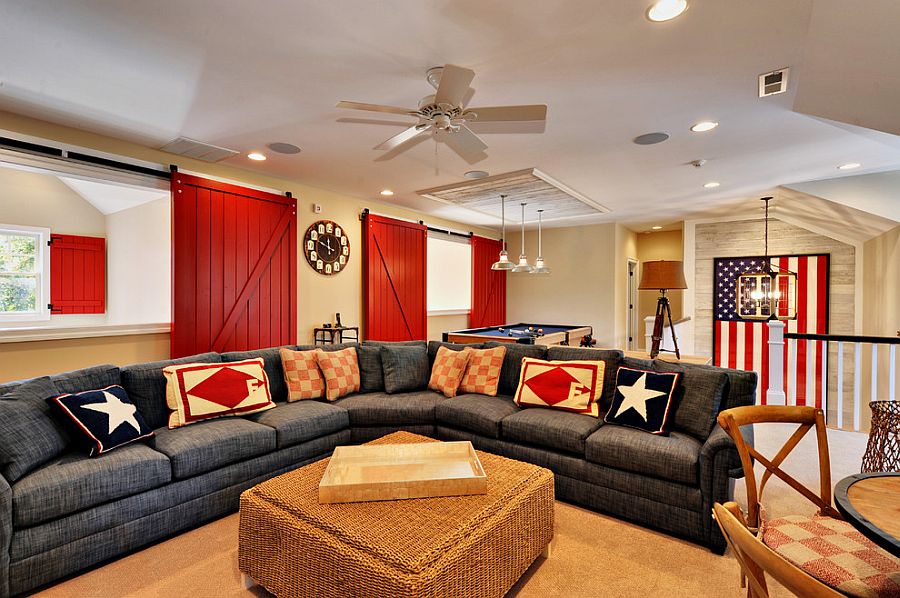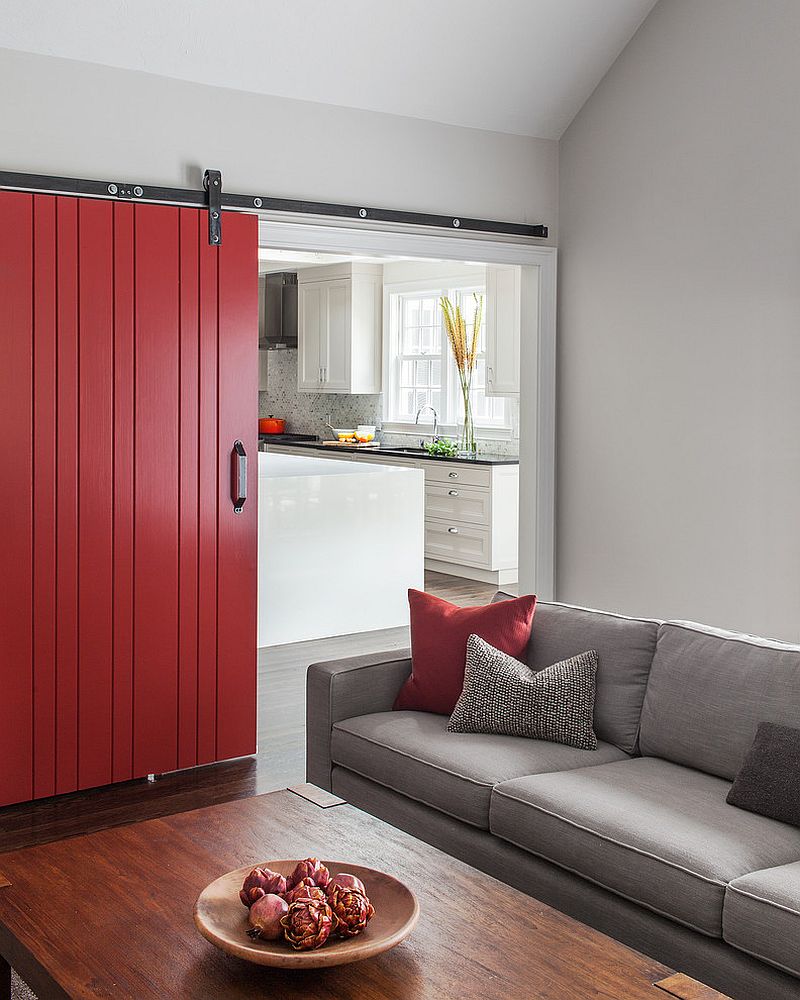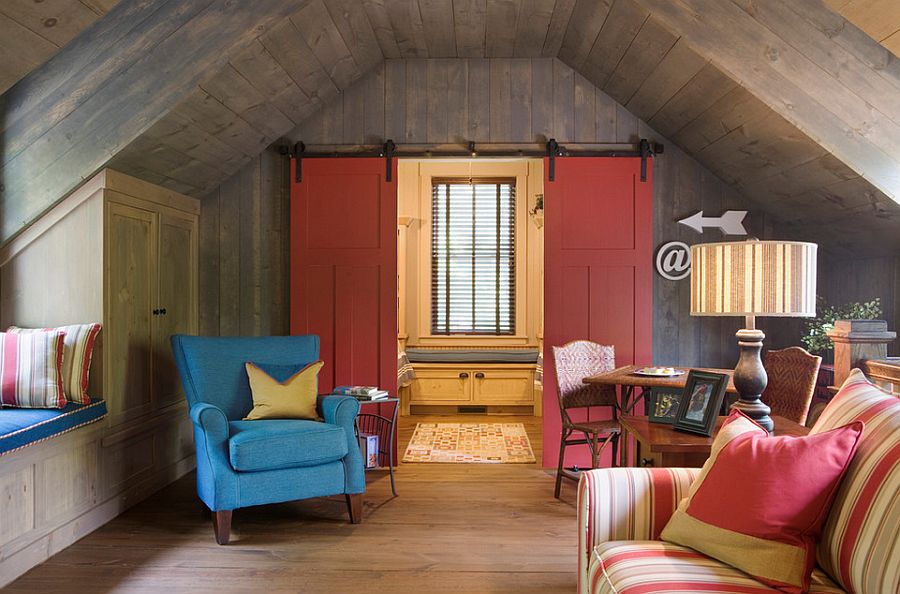 Reclaimed and Reused
Salvaged wood is as an easy way to give any room a sense of coziness, distinct style and unique character that comes with its wear and tear. It is one of the hottest trends in the world of home design in 2015, and your barn-style door perfectly fits this billing. Instead of opting for a brand new barn-style door custom-made for your living room, pick a used door that brings along with it a touch of history and a whole lot of personality. Reused barn-style doors can also come in metal, and they tend to add a rustic-industrial vibe that is truly distinct.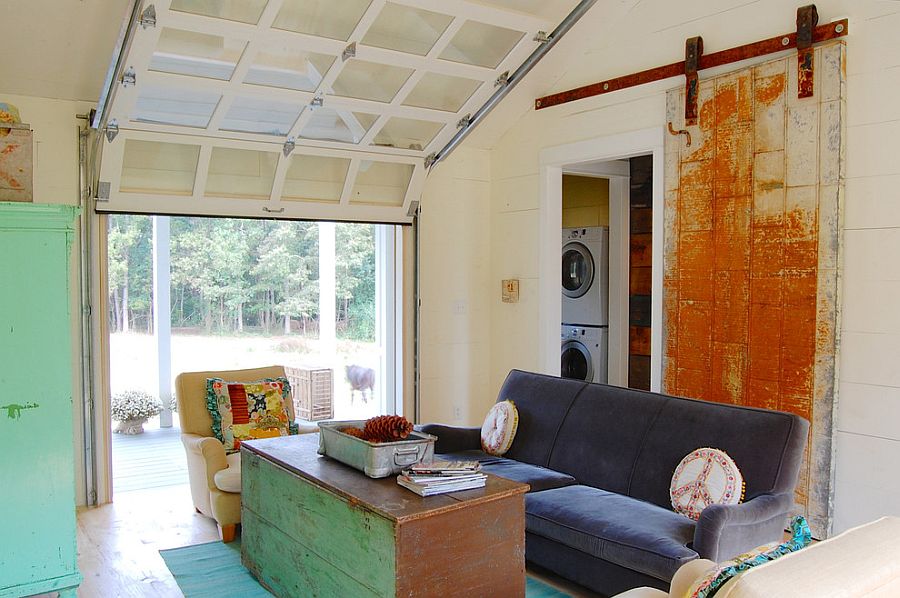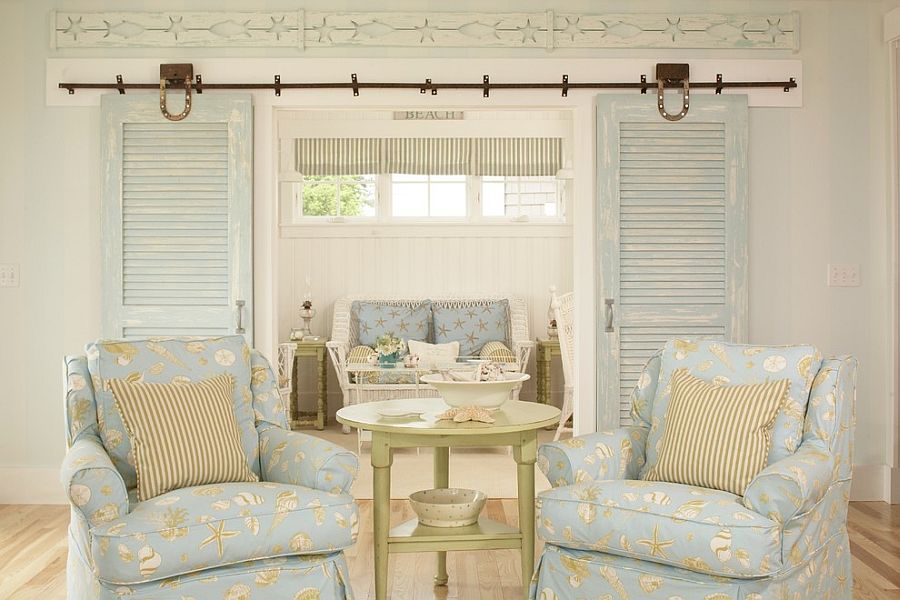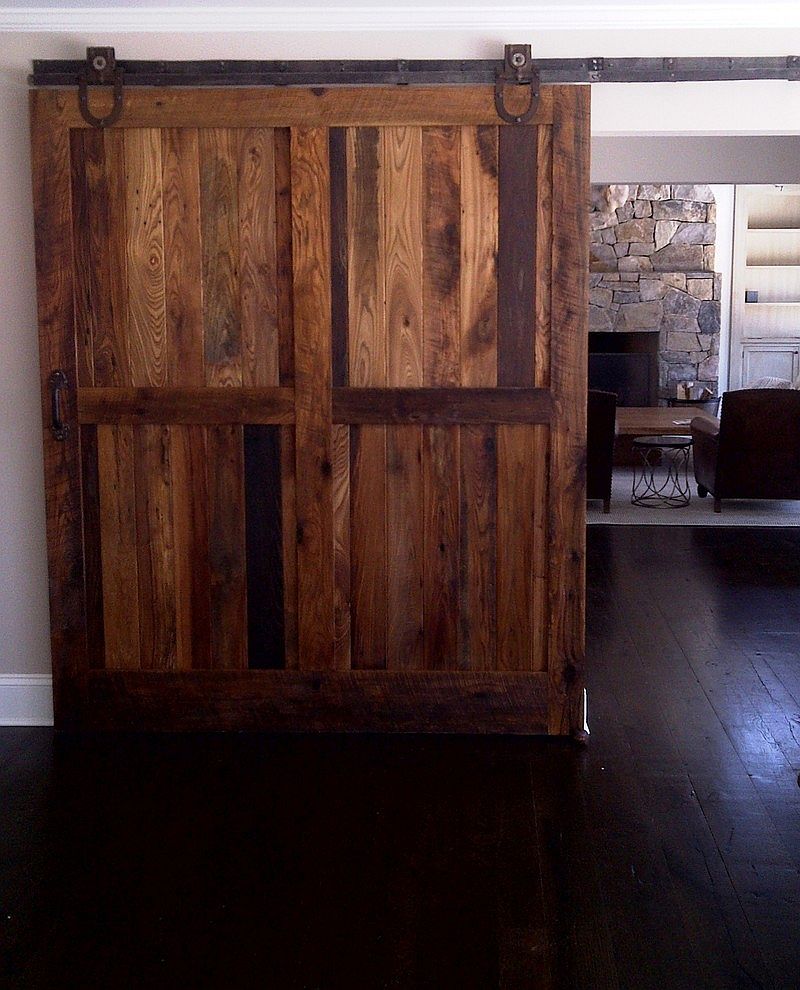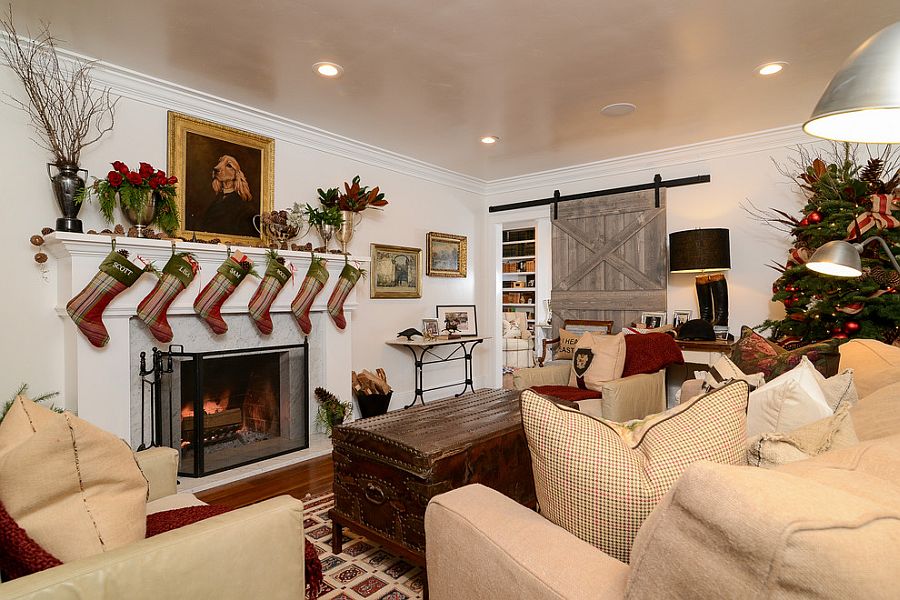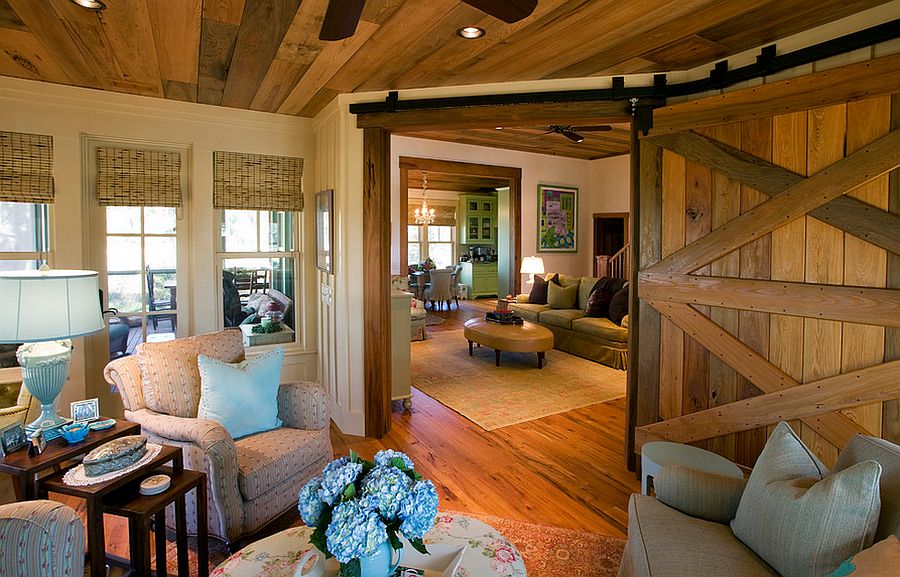 Television – Out of Sight!
Finally, we have the sliding barn-style doors for the living room entertainment system or television, and these are our absolute favorite. Often much smaller than the gigantic barn doors used elsewhere, they still carry with them the same aura and distinctness that one expects from their larger cousins. With many of us finding the TV in the living room as an unnecessary distraction or even an eyesore, this is indeed an uber-cool way to hide the television.