A home office is a sacred sanctuary to anyone who earns their living by running their business from home. It is the place where our best ideas are born, where we do most if not all of our work, the place that feels like a little home within a home. Naturally, we want it to be decorated in a way that fits our style down to a T, making us feel comfortable by infusing the room with an air of familiarity. If you are in love with rustic interiors, spy these amazing rustic home offices and get inspired!
Finding the Right Desk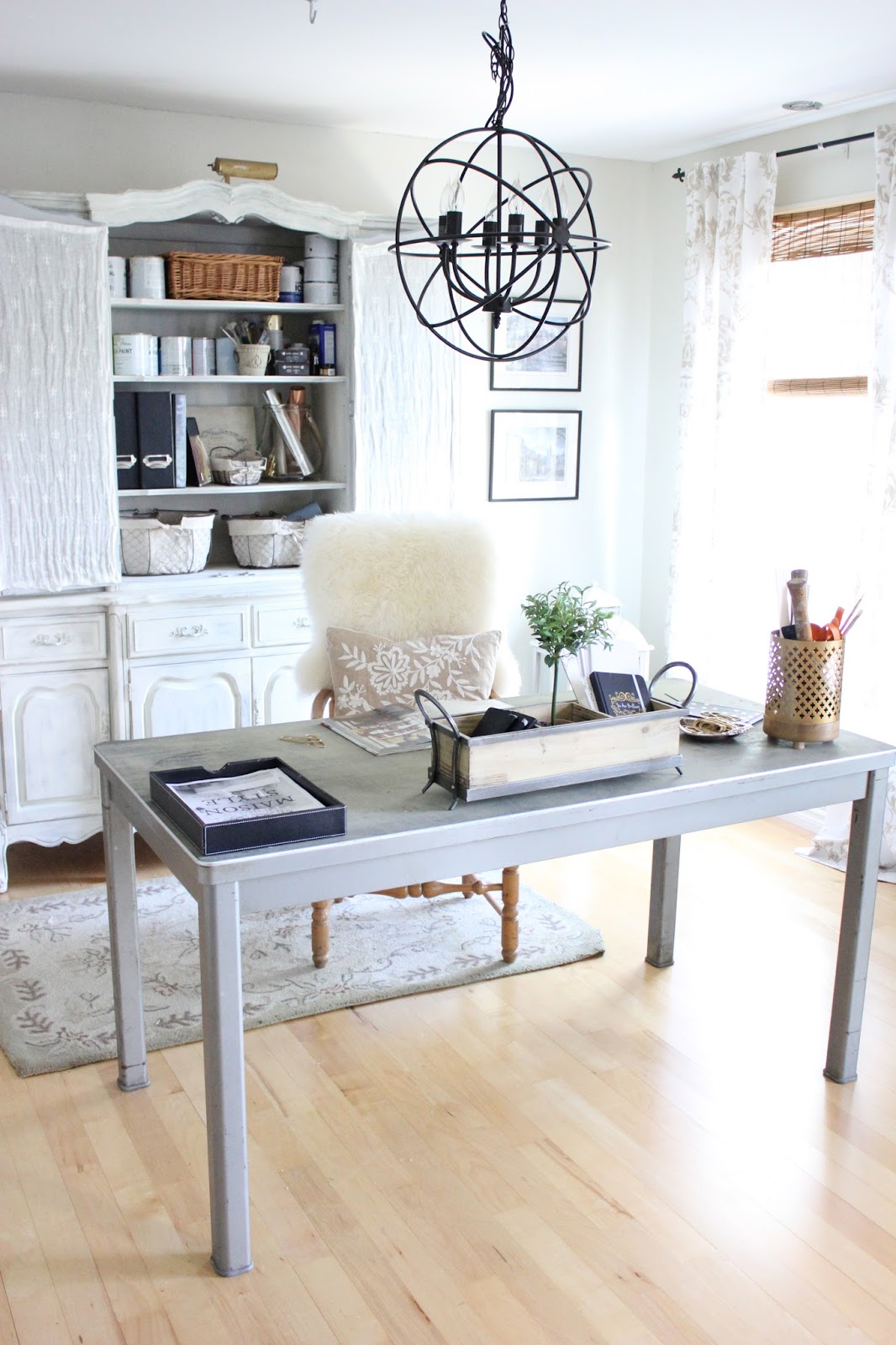 Maison Decor offers a view into an office that feels very spacious and bright, something that would seem to be an opposite of the classic rustic interior, but with a carefully chosen country furniture you can have the best of both worlds!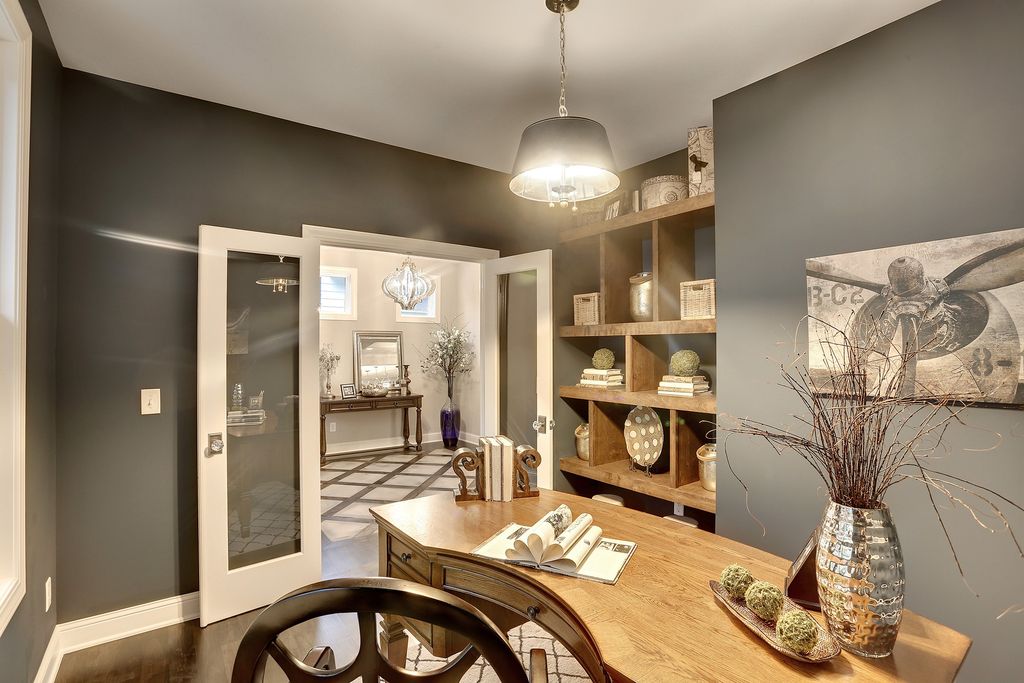 Neutral color tones are a sure companion of rustic interiors; this grayish home office feels like a prototype for simplistic, rural home offices where every elements feels vintage.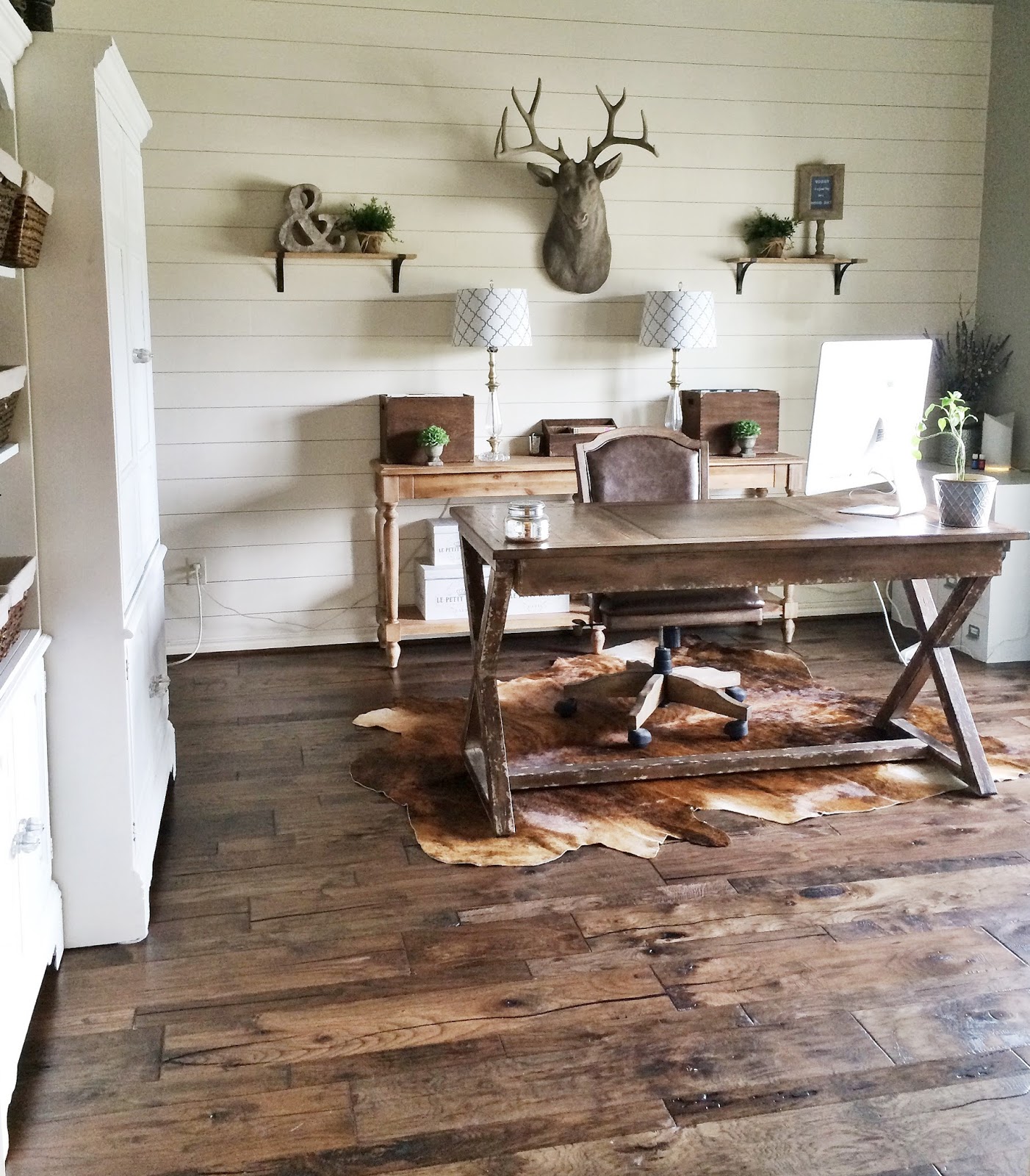 To give your rustic office some freshness, bring in a white cupboard or a custom white wall that will give your wooden office a whole new light and make it an uplifting space to work in. [via Remodelaholic]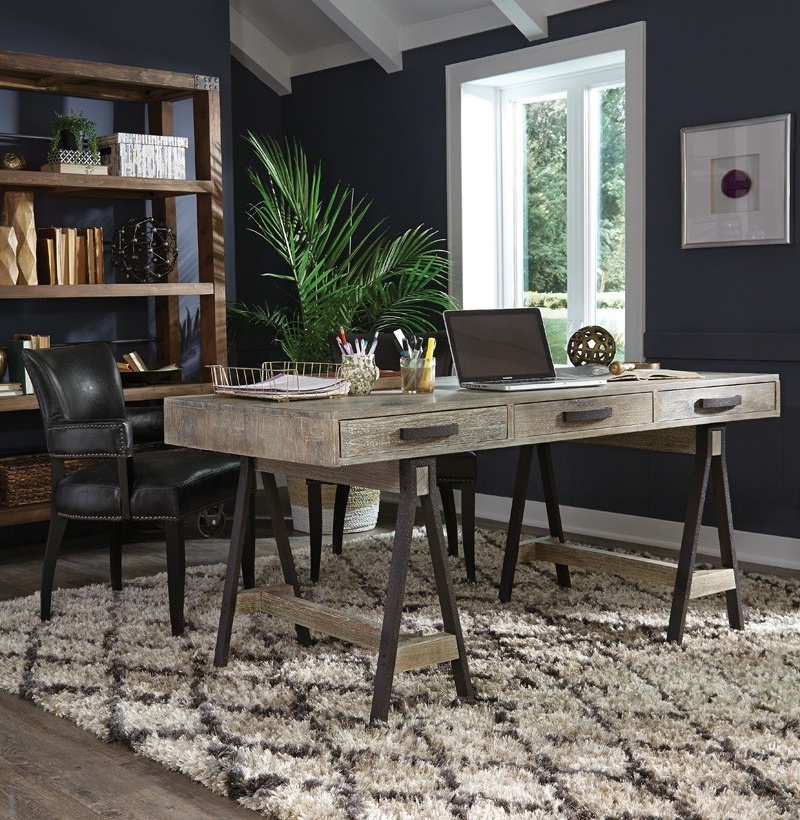 The dim ambiance of this office space is a wonderful creativity corner for those who prefer to work in darkened rooms. Make the best of it by placing the desk in its center and adding some greenery for a livelier effect!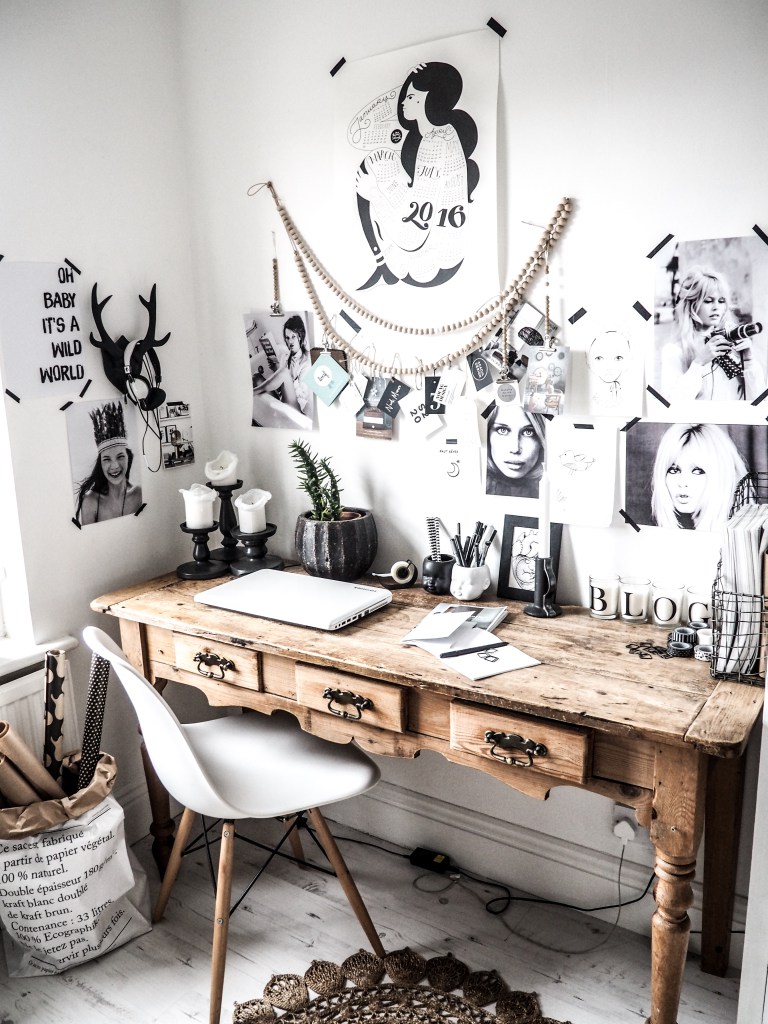 We found out from Kate that a desk can set the tone for the entire office. The rustic desk stands out in an otherwise dynamic and contemporary-styled room, bringing a countryside warmth to it. Agree?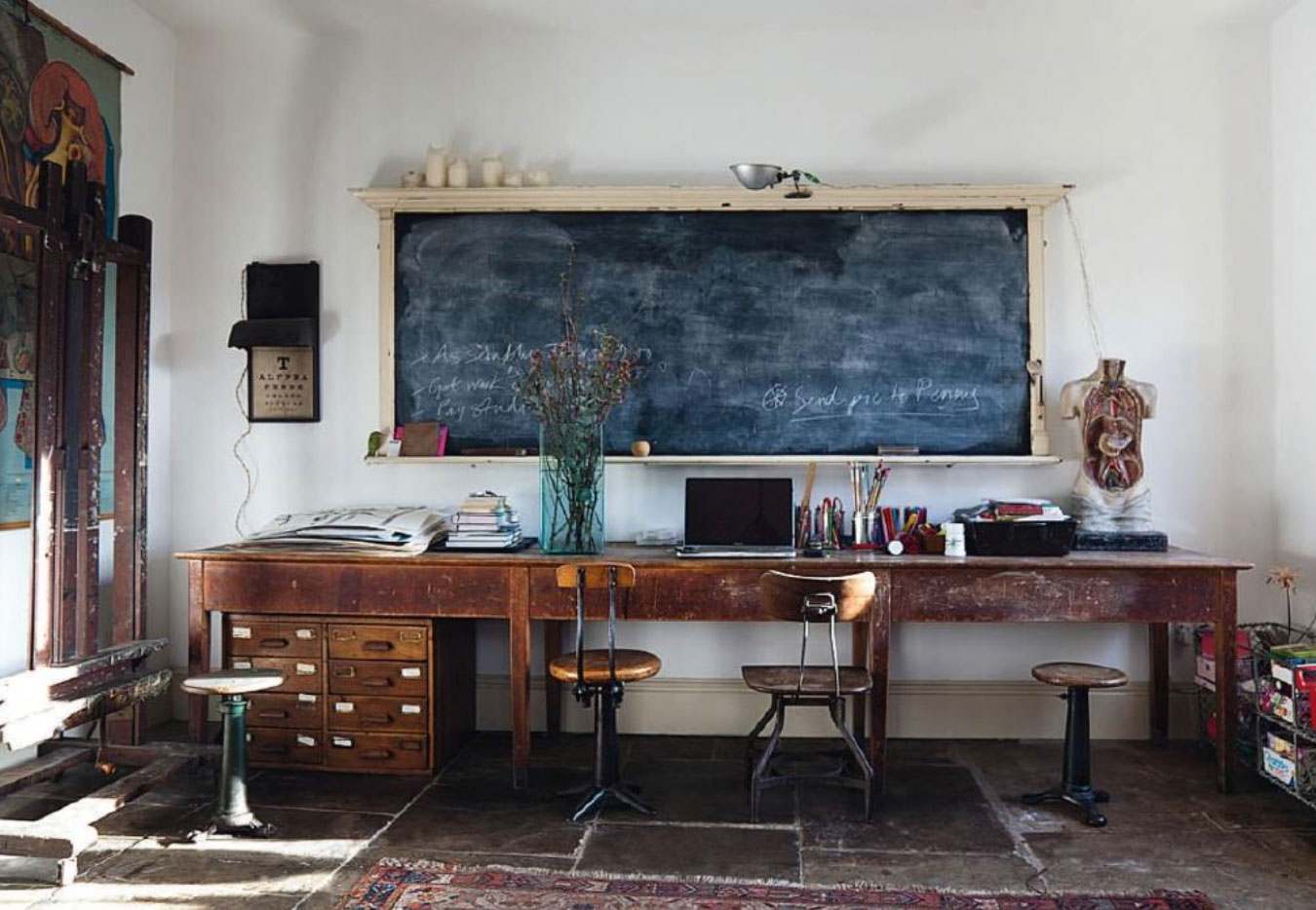 A desk that extends over the full width of the room is a great way to maximize the room's potential of a workspace. Place a blackboard on the wall to serve as a memo board and you will be richer for an incredibly useful, rustic office!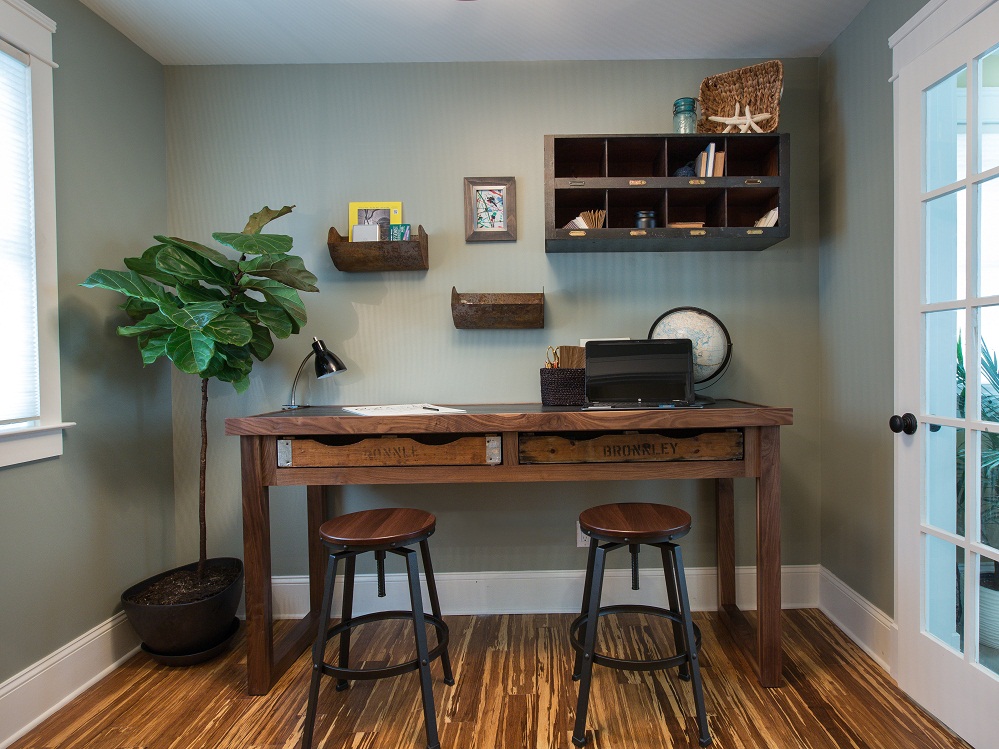 If your home office is very small, it pays off to use some simple stools with a smaller desk to make sure the space remains open and breathable, like this example by Modern Desk.
Shelf Space for Books and More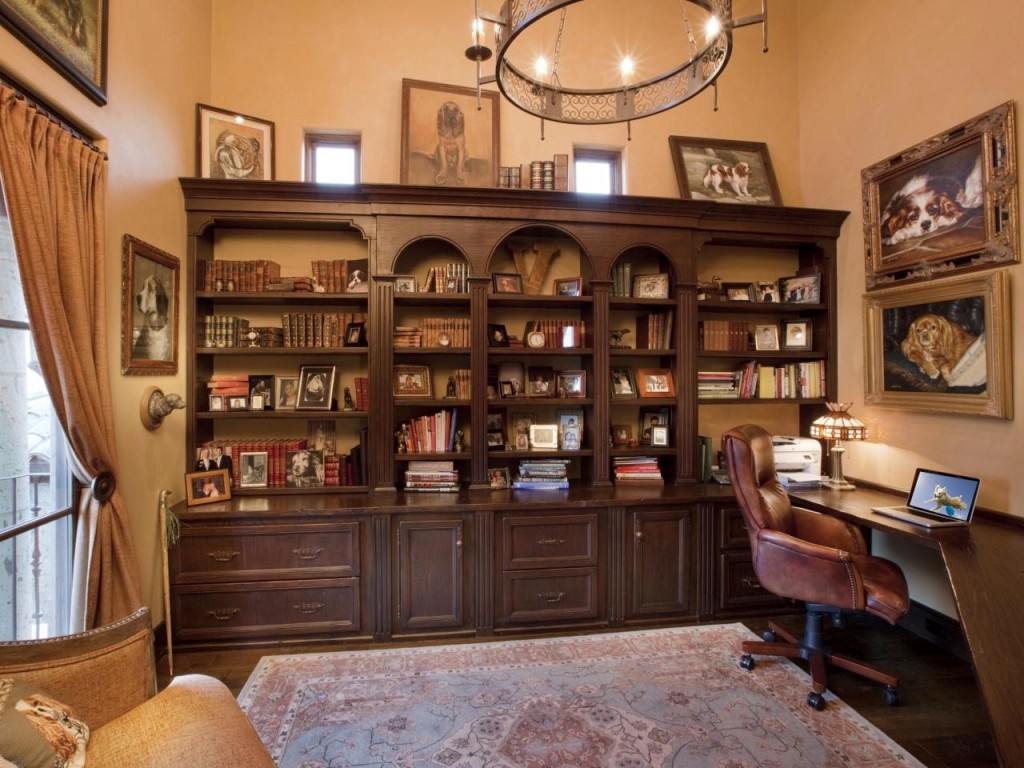 If your work doesn't require much desk space, a smaller desk is the obvious choice, as it will leave a lot of open space that can be used for lounging when you're taking a break from working.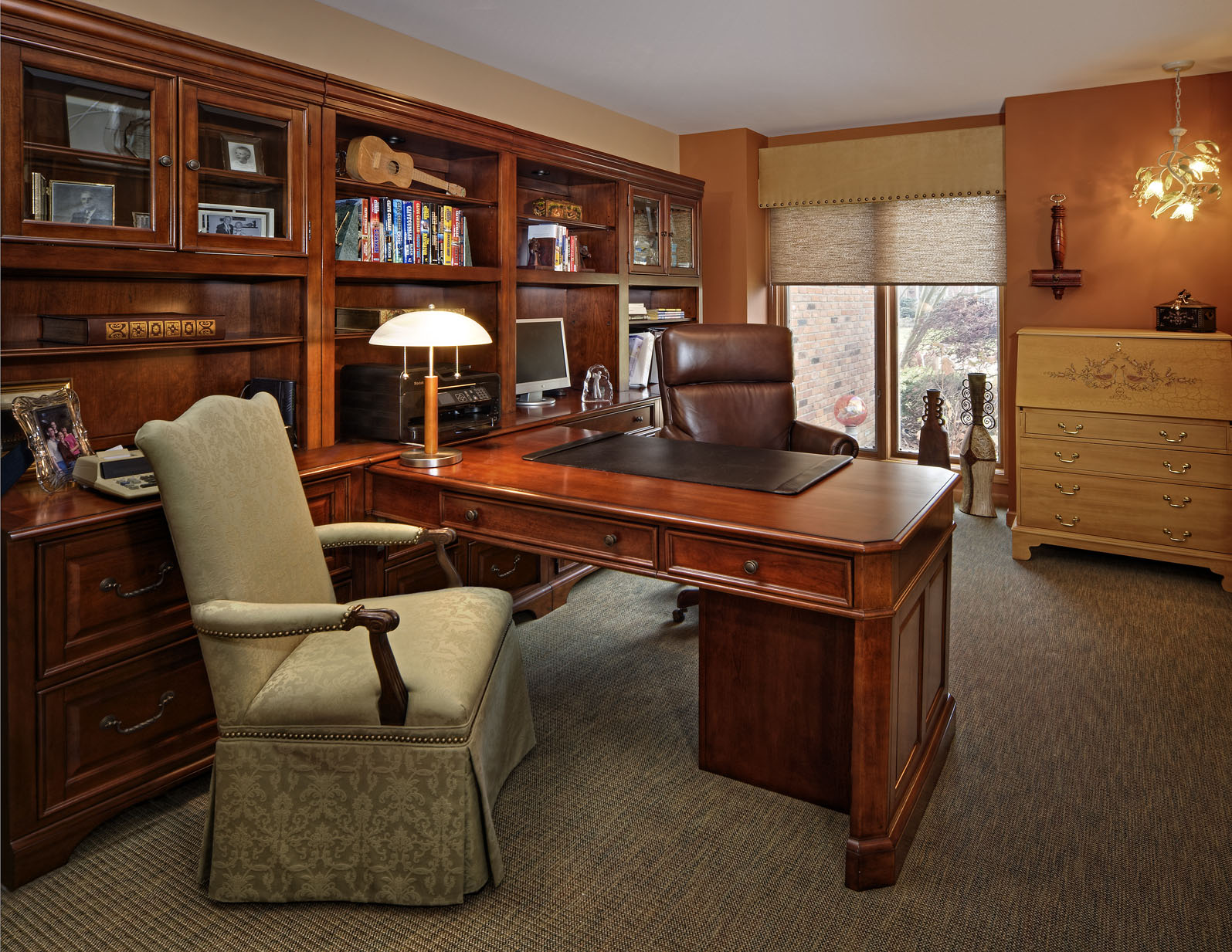 Placing a desk in the center of your office is a smart way to assure its authority over the room. For an additional layer of comfort, add upholstered chairs that will enhance the room's welcoming style.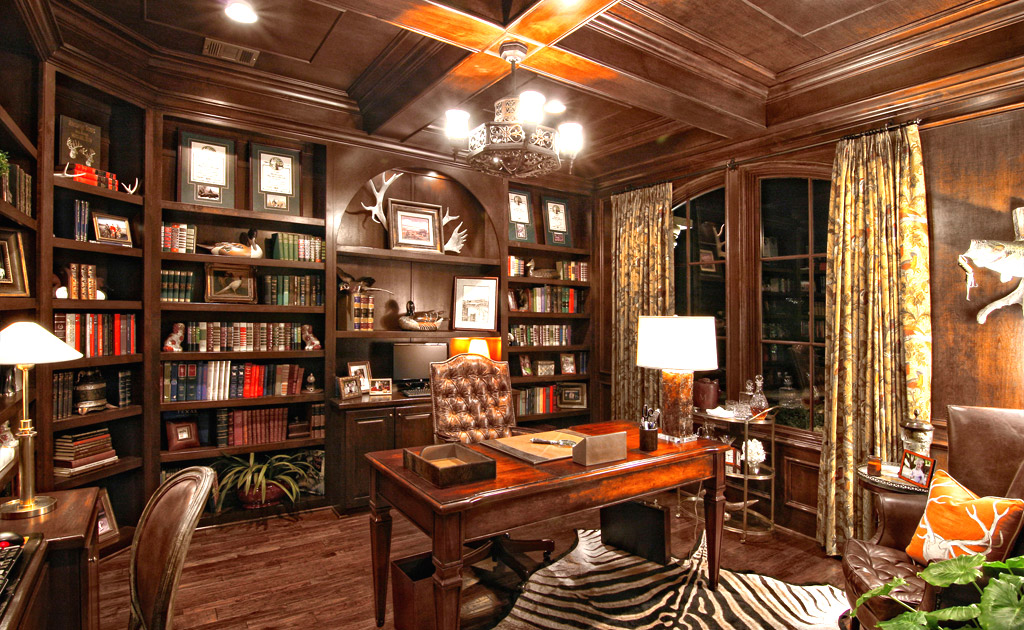 Channeling the silent energy of the library and making the space feel warm and intellectual, this rustic office prides itself with striking elements such as the big bookcase and old-fashioned leather chairs.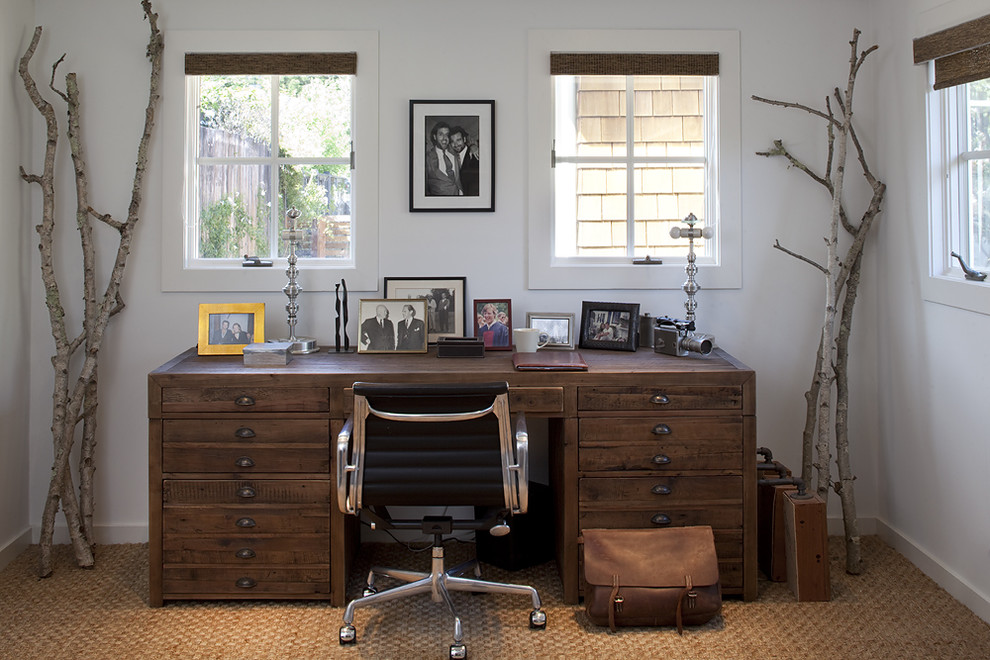 Bringing the feel of nature into our living space is what makes rustic decor so popular. Take your farmhouse office to the next level by decorating it with some simple tree branches, truly capturing the essence of the countryside!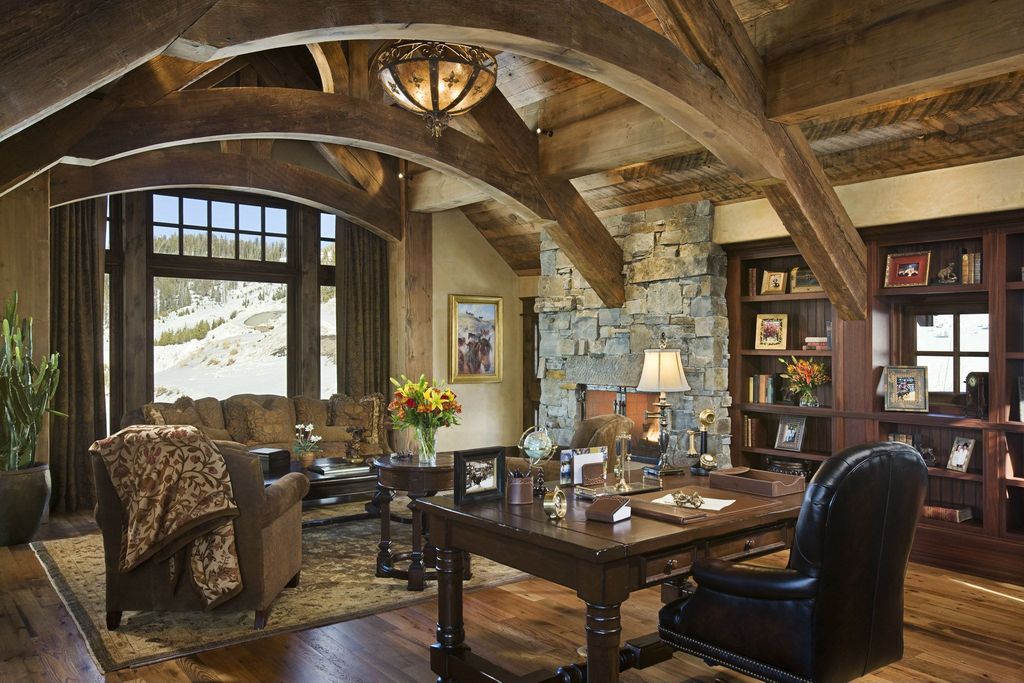 If your office serves not only as a creative space for you, but also a place for the most important meetings with your team or business partners, it is up to the office's interior to appear spacious, soothing and inviting. Adding a vintage sitting area to it will have great results!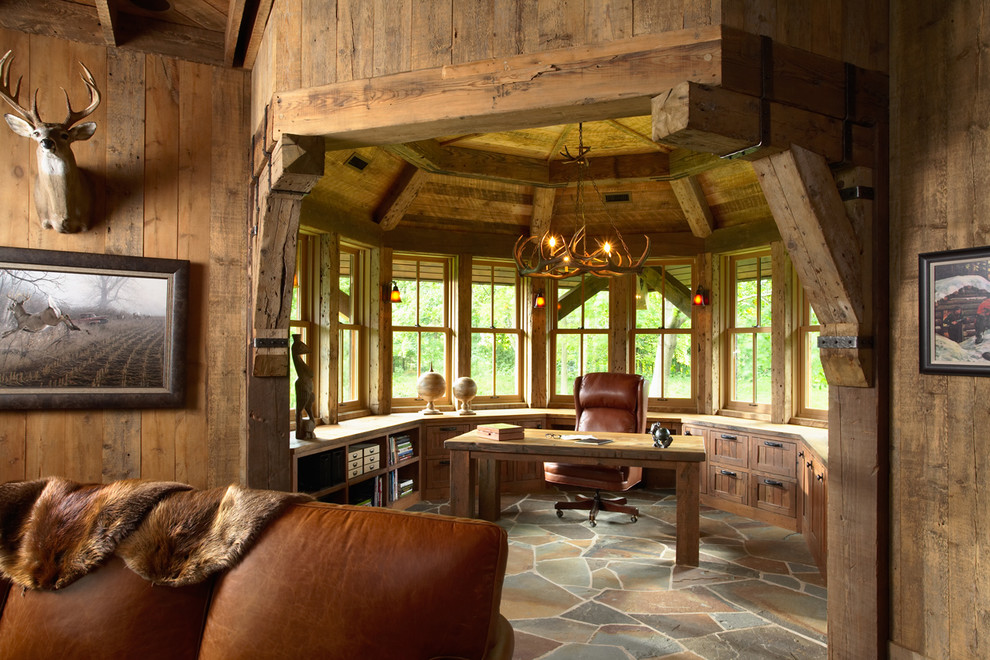 Some offices have that special and significant cabin feeling, blessing you with the perfect view out into the nature as well as keeping the space bright with natural lighting, all thanks to the big windows that extend all through the half-circled wall.
Weave in an Air of Modernity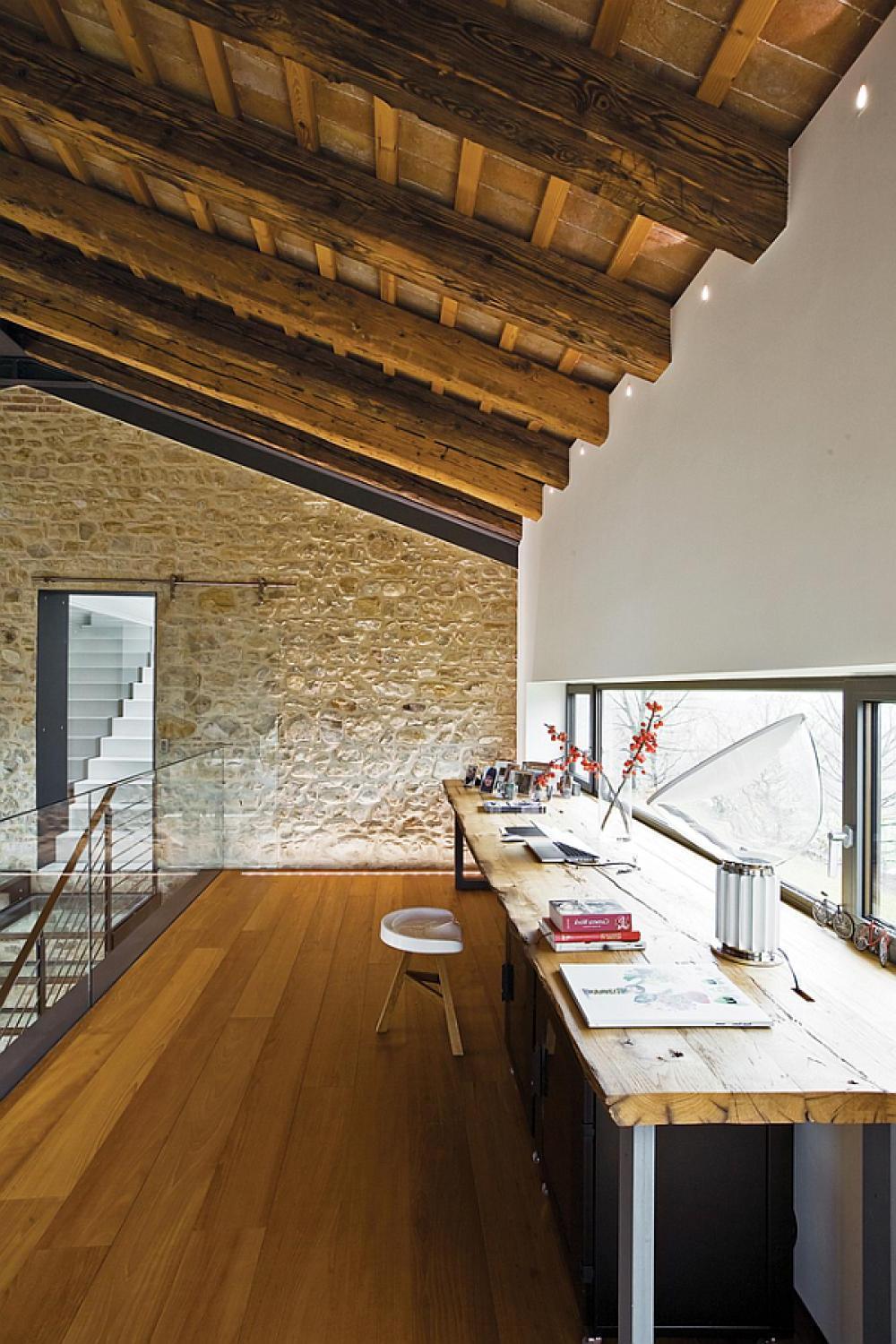 How about an office that feels like a studio? The complete openness of the space and the workspace extending all throughout it will add a new dimension to your home. The visible beams and raw wooden desk make this room farmhouse at heart!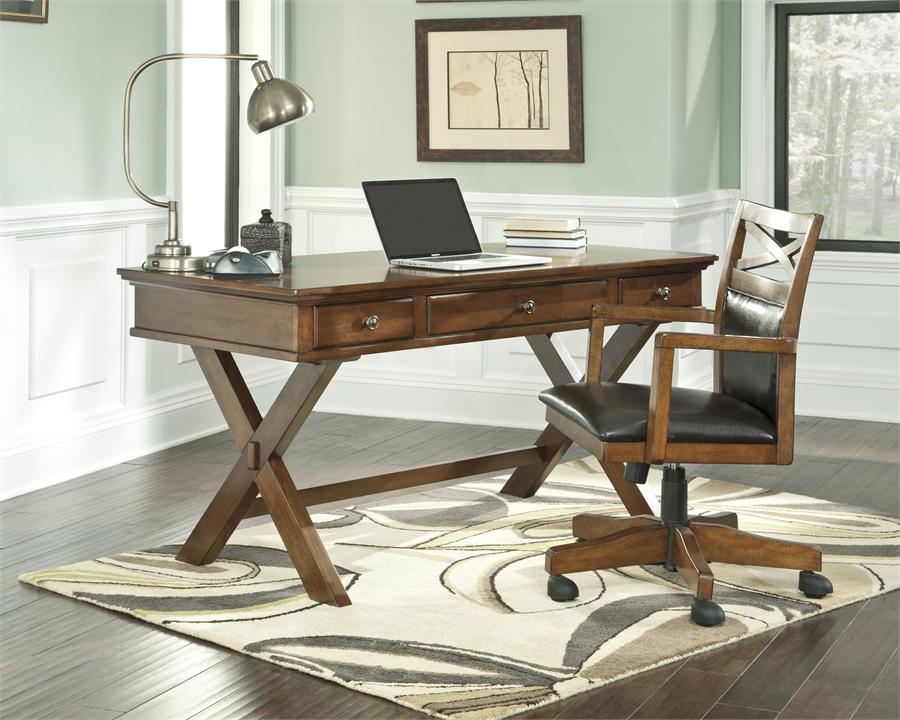 The country wooden table and the matching chair are the center of everything in this smaller office by Designs Dreamer, balanced wonderfully by the walls painted in a subtle shade of olive green.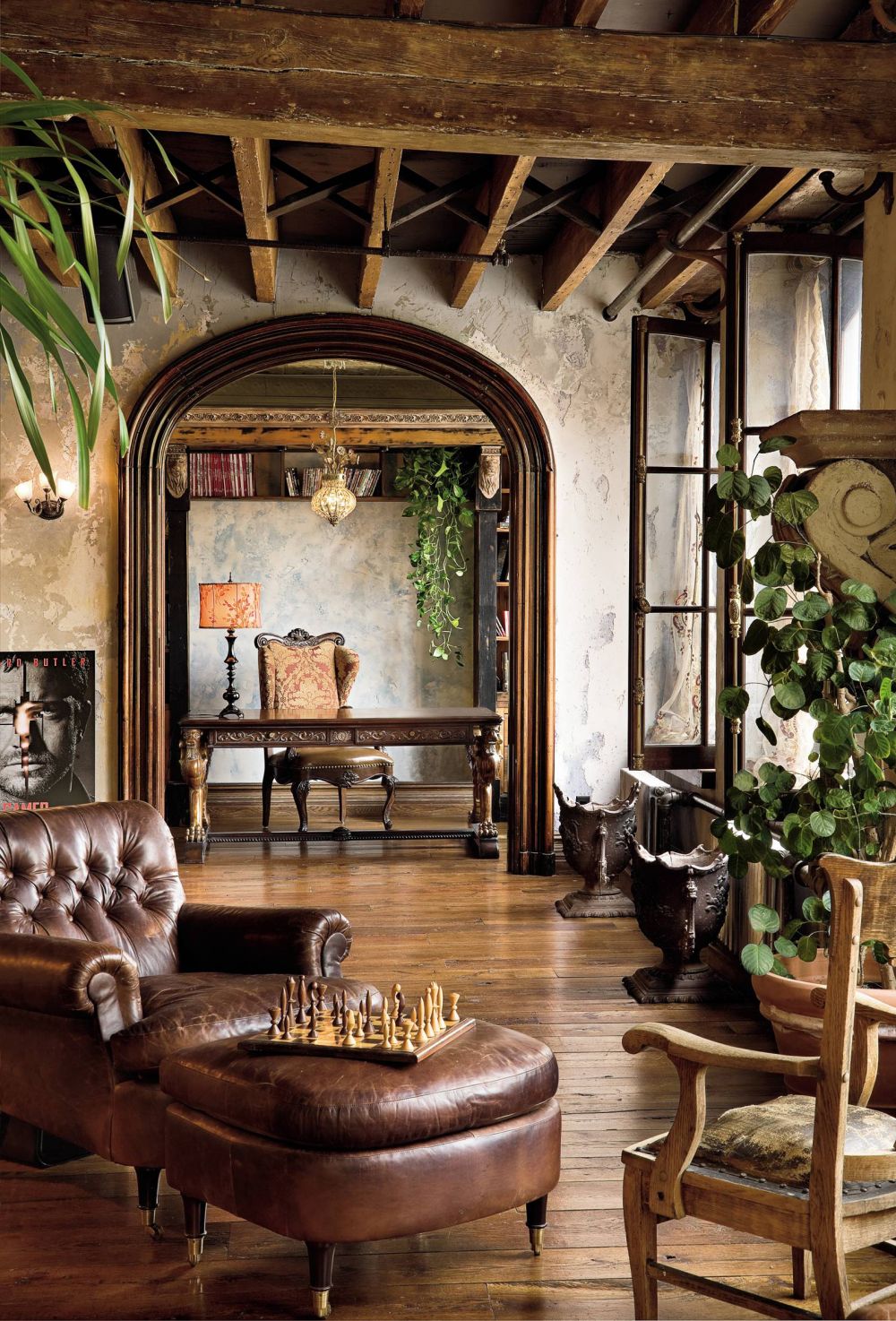 Having an open office with a leather armchair to lounge on is a great way to decorate it in an antique style and give it a sophisticated, noble touch.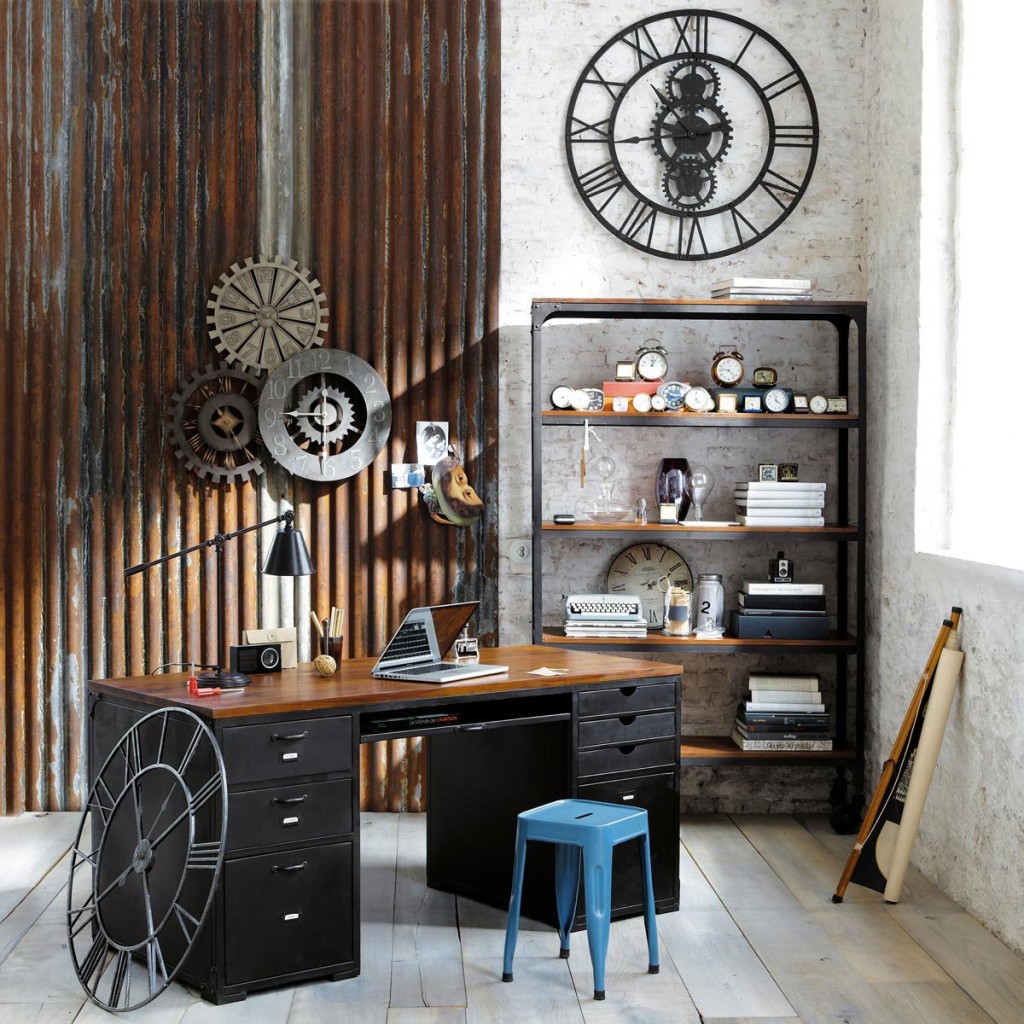 This rustic home office carries many elements of steampunk, creating a unique and innovative workspace with edgy decor that highlights the beauty of a disorderly looking interior.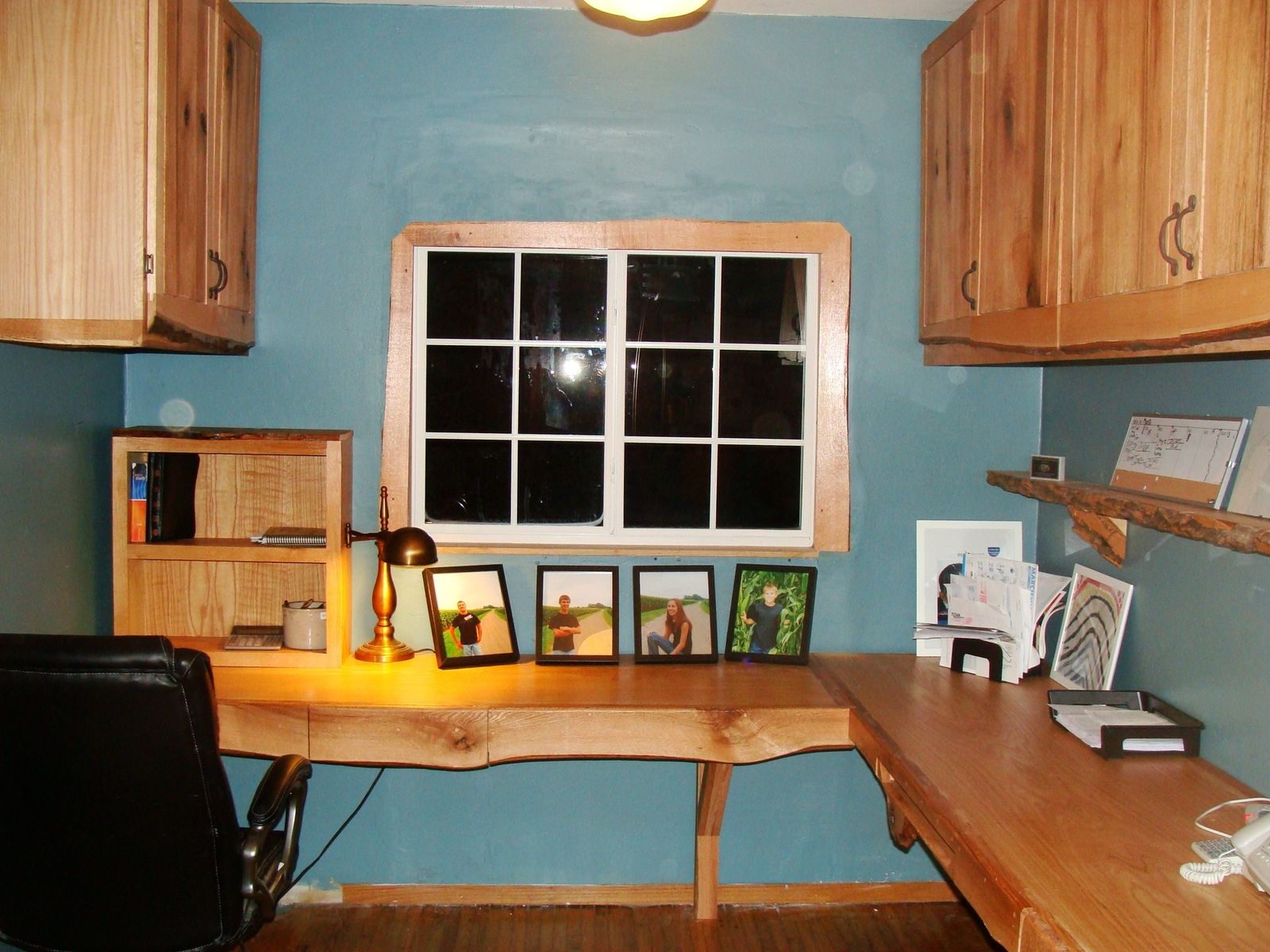 When dealing with a tiny office space, a corner desk can be of the essence in order to get the most out of the room. This raw edge table utilizes all of the working surface within a small office and emphasizes its rustic look!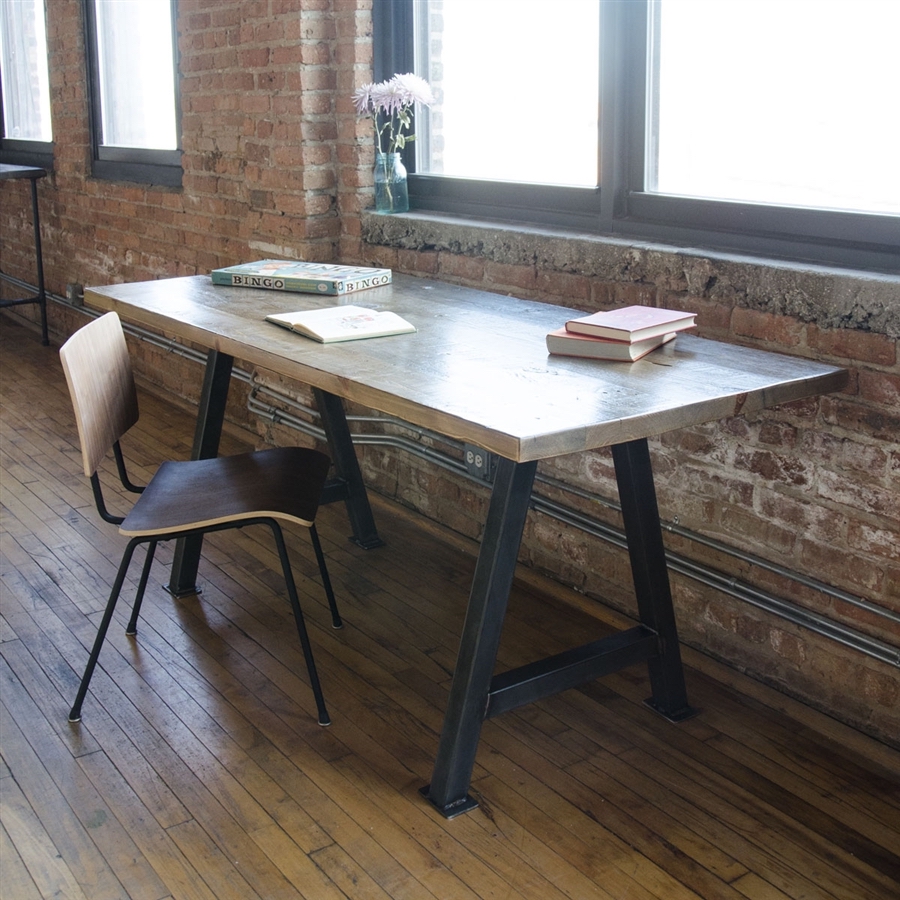 Mixing rustic and industrial decor is a true treat, but even more so when you set your desk next to a window and get to admire it in the sunlight! A well-lit office plays a big part in one's productivity, so make a good use of that window!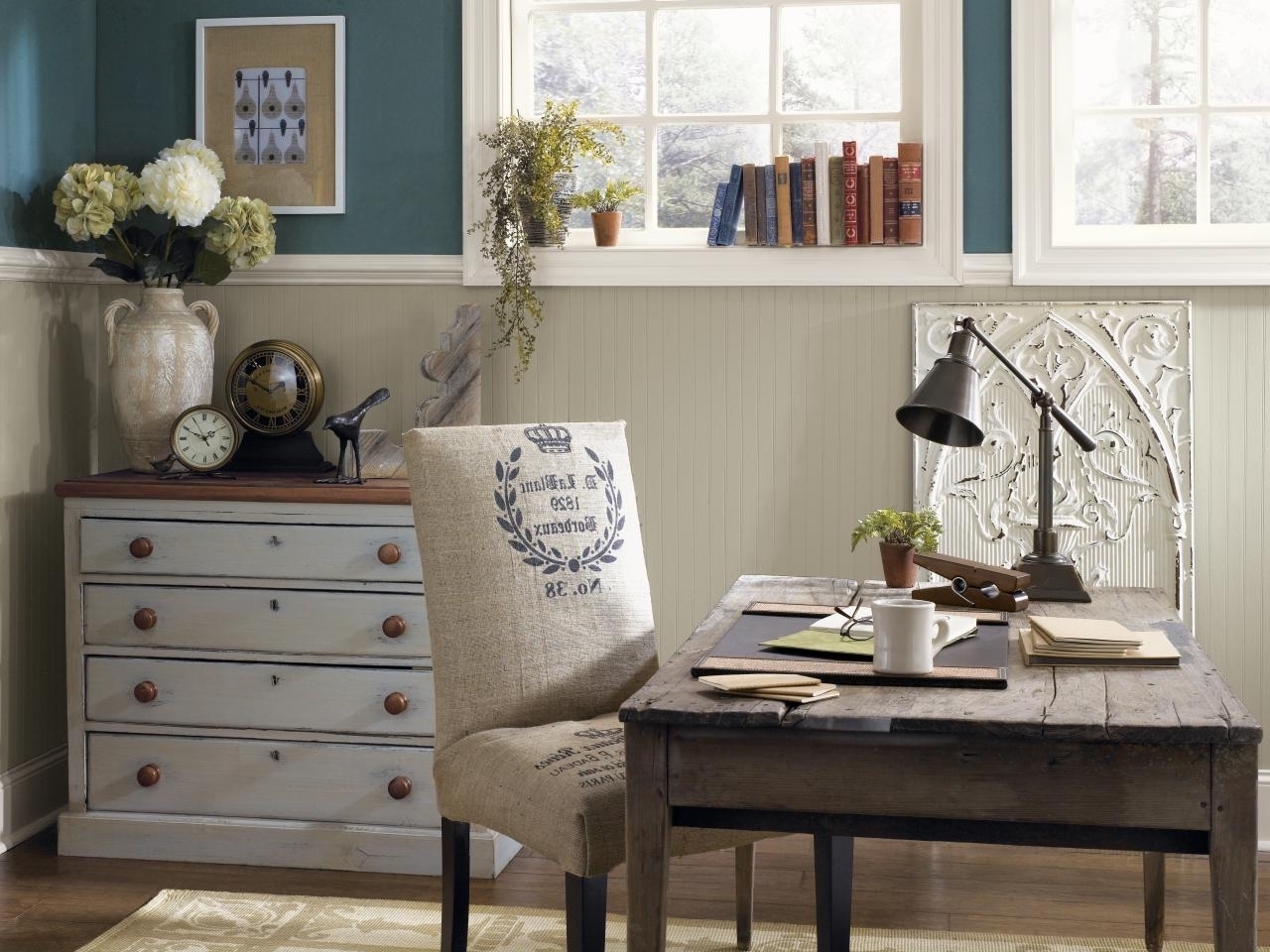 Don't be afraid of adding some color to your rustic office – colors actually enhance its countryside feeling and give the space a much needed boost, so your working area can look a bit more diverse!
Lighting, Color Scheme and Decor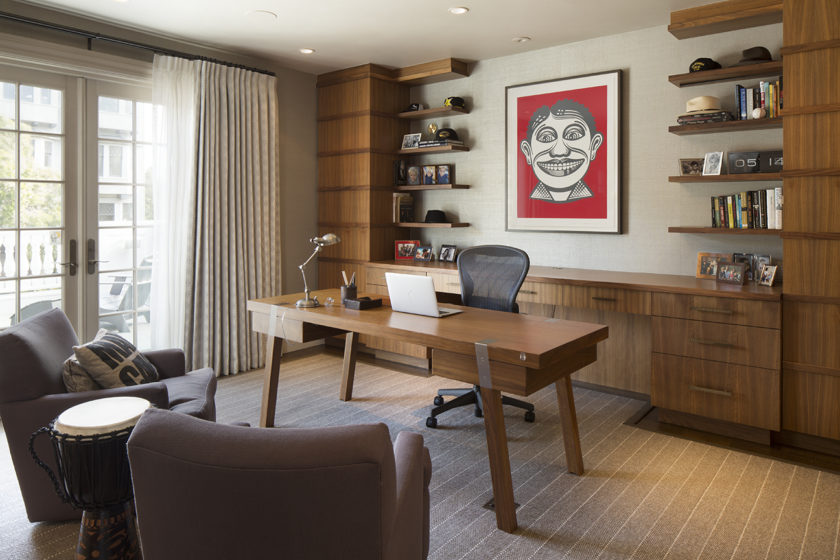 This clean and elementary office is clearly defined by the wooden cupboard installation and the clean-cut desk, only contrasted by the vivid red art in the center of the wall.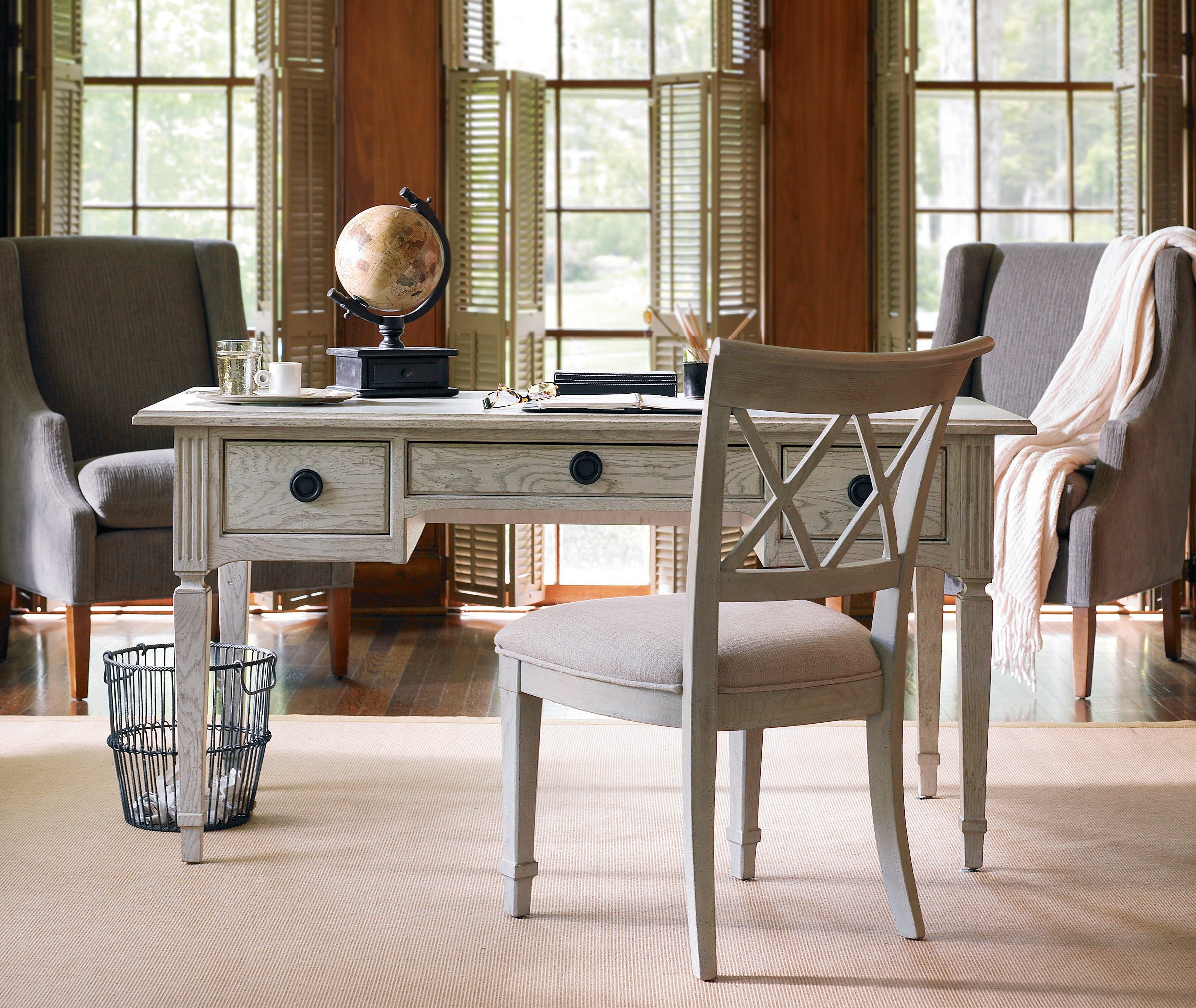 Choosing a wood of lighter shade vastly contributes to the overall peaceful and cooler feel of the room, making it a very pleasant space to work in.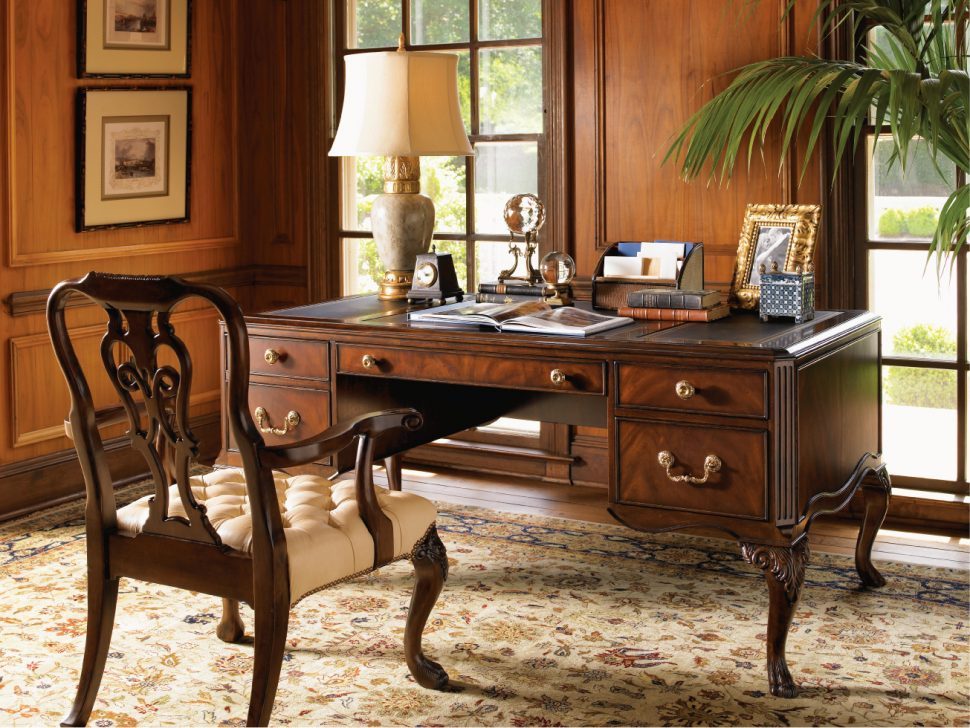 This antique home office can brag with an incredible vintage desk whose styling is perfected by the old-fashioned lamp placed neatly upon it, creating a genuine countryside undertone.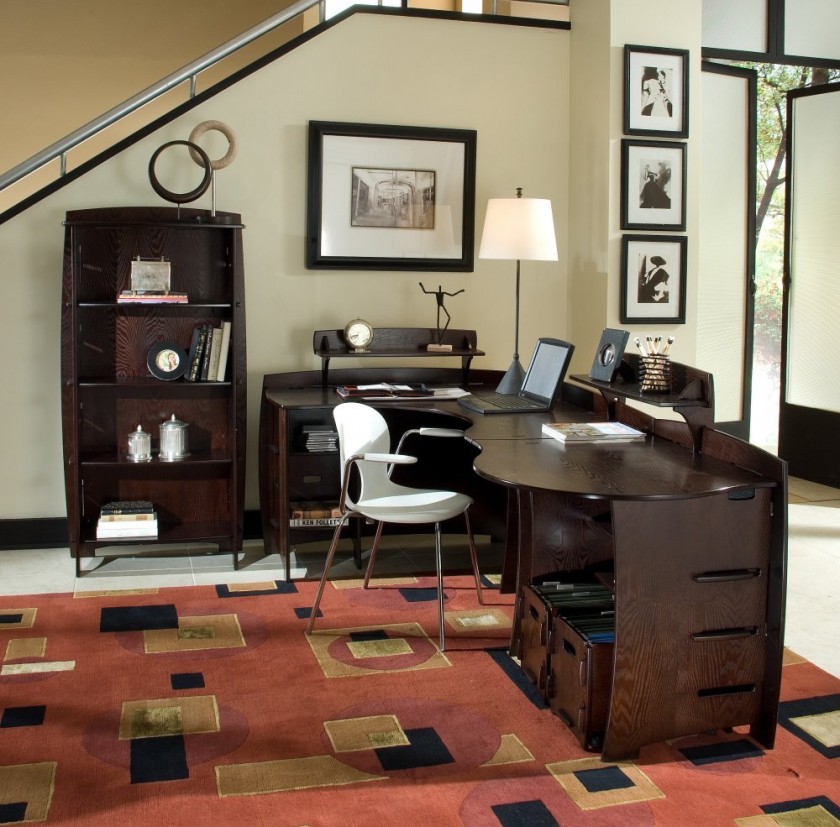 If your rustic home office calls for some modernism and dynamic, add some contemporary elements to it in order to break the consistency created by dark wood. You can spy some great ideas at Artsmerized, such as a modern desk chair and a colorful rug!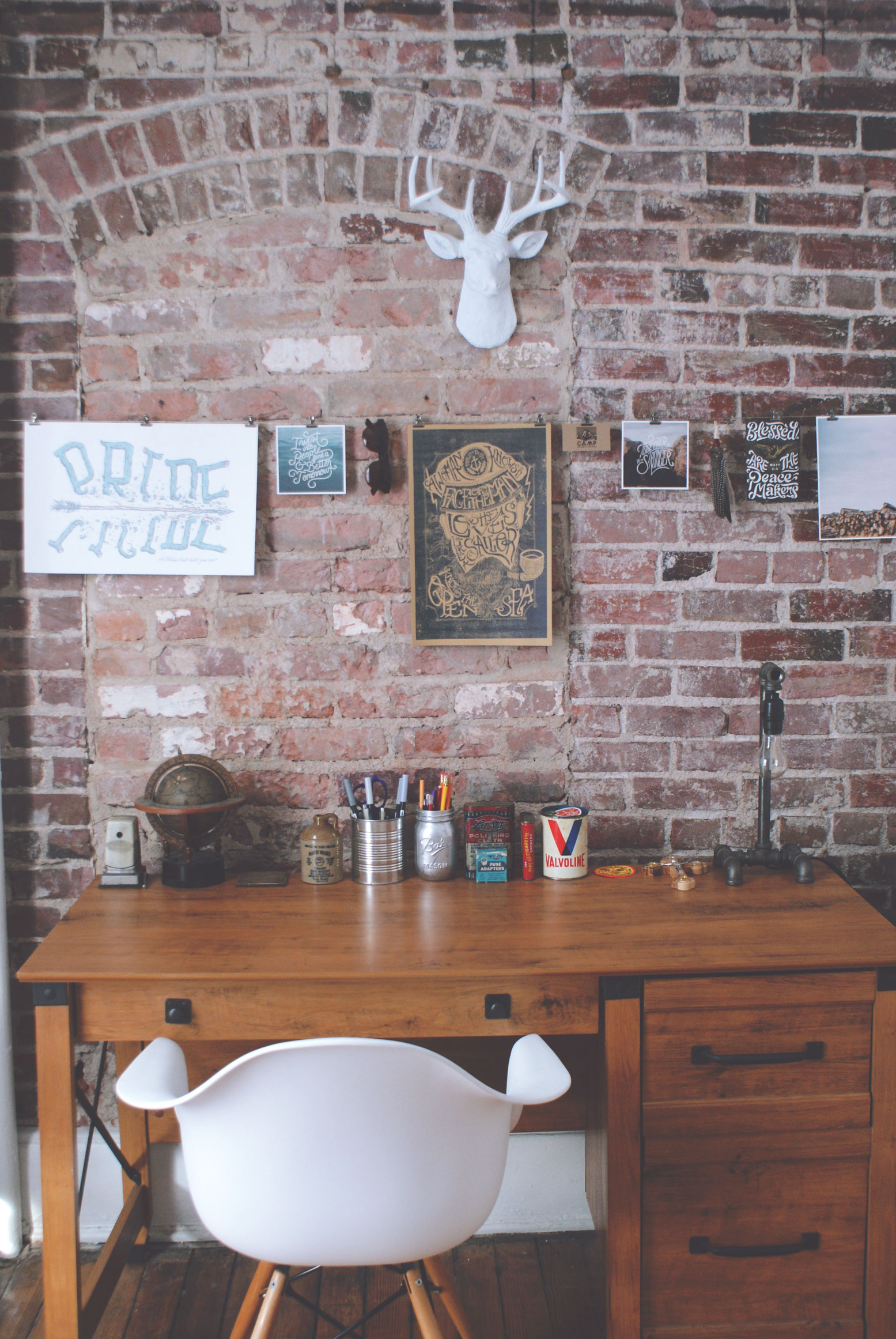 A home office with an exposed brick and rustic interior will create a fusion between raw construction material and natural wooden pieces, manifesting a unique and daring creative corner!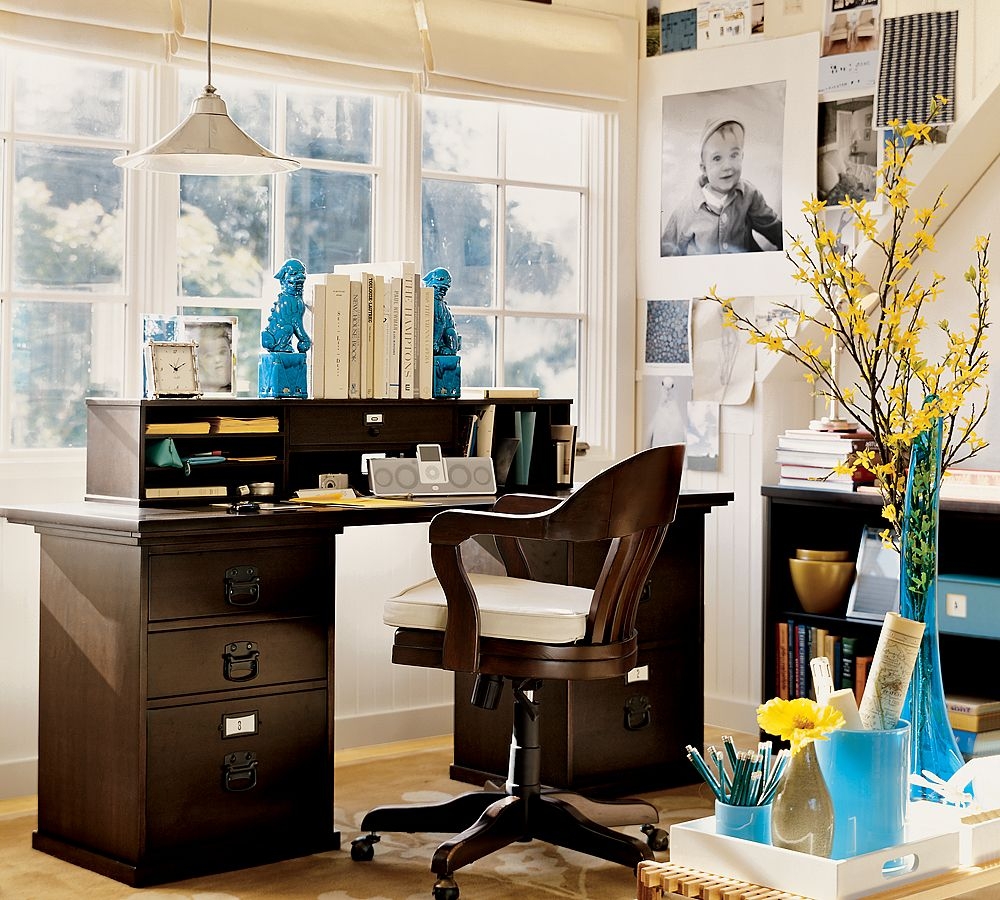 Using dark wood furniture in a small office can quickly become repetitive. Adding some bold colors to make the space seem more bright and inviting would be a great choice, judging by the lovely home office pictured above!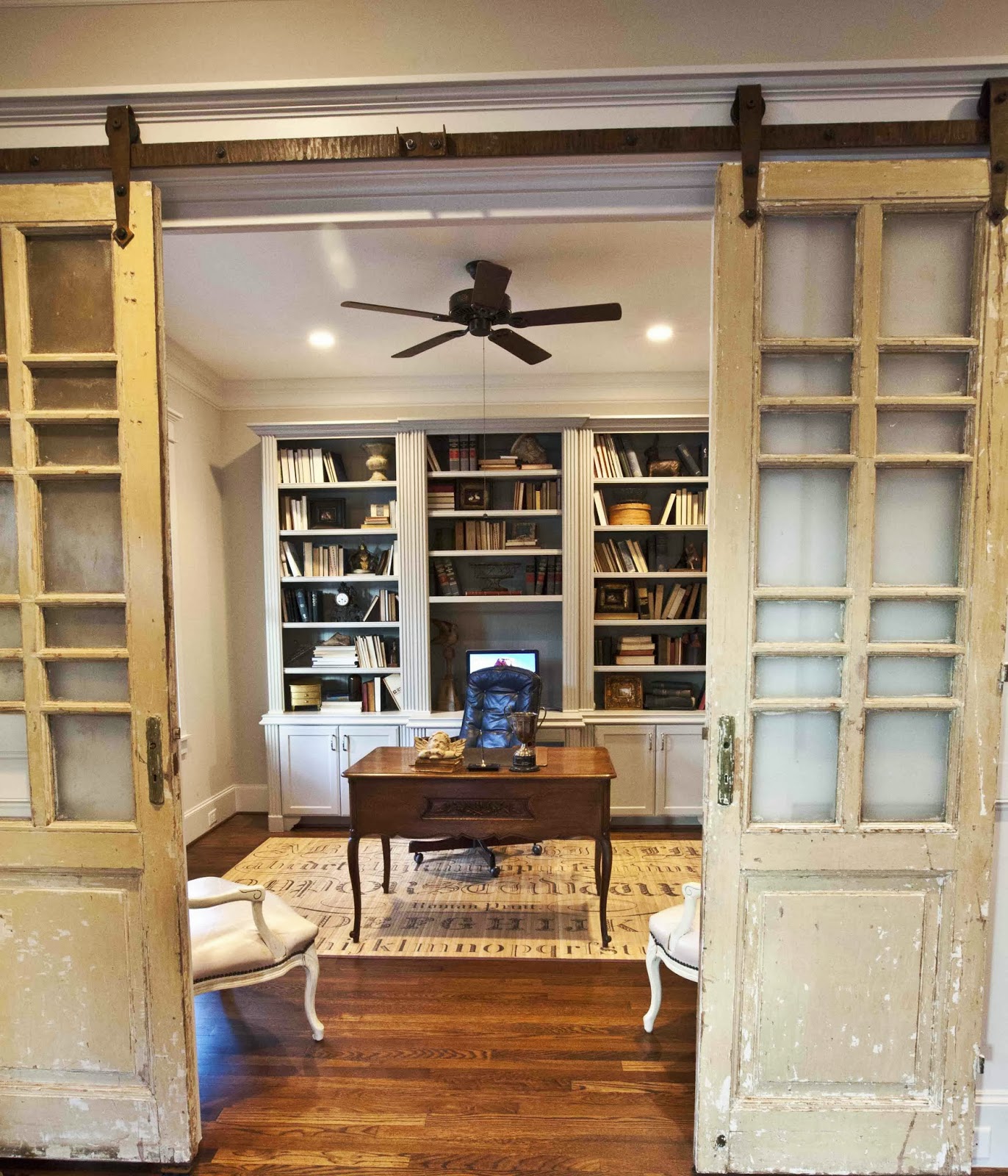 What could be better than a pair of barn doors leading into your rustic office, where an antique desk is waiting for you to sit down to it and start creating your best work! We call this a true farmhouse perfection!