Today's modern nursery is often an eco-friendly one, as we know more than ever about the harmful effects of substances such as lead, VOCs and formaldehyde. While an increasing number of furniture companies are making non-toxic strides when it comes to pieces such as cribs, dressers and changing tables, it can be tricky to find the right carpet or rug for your little one's room. Many choose wool rugs for the nursery, but today we're exploring a range of nursery rug options provided by FLOR carpet squares.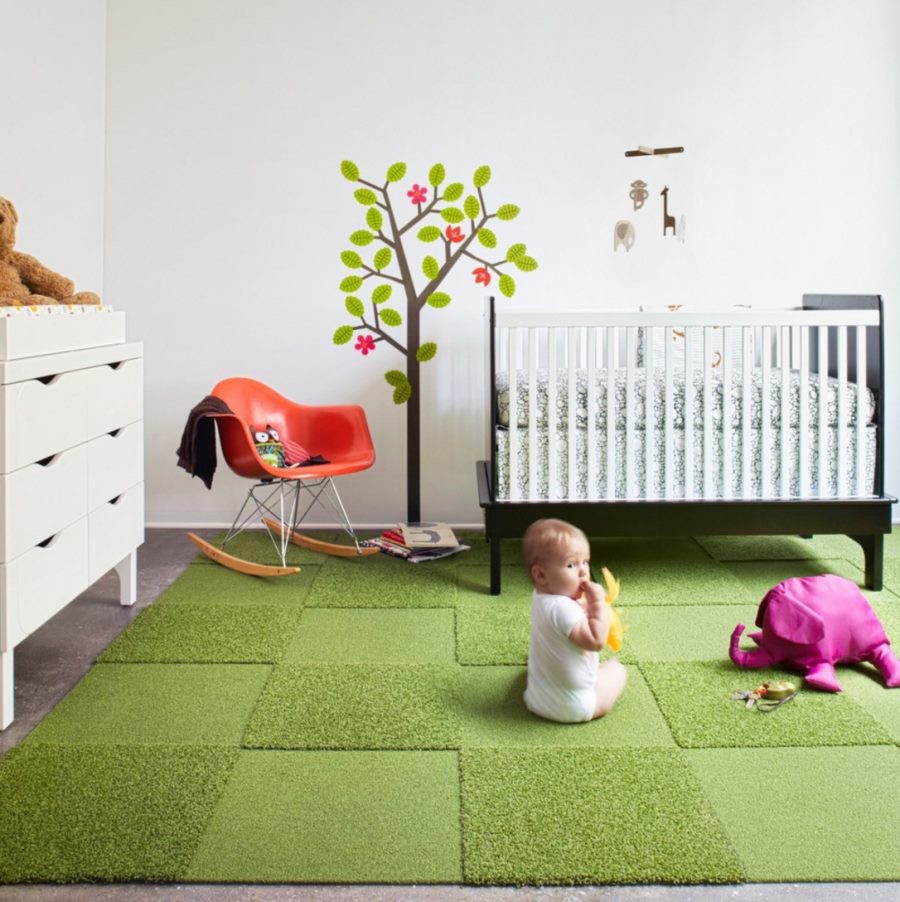 About FLOR
Not only does FLOR offer consumers the convenience of being able to clean and replace individual squares rather than the entire rug when staining occurs (a great solution for kids' rooms!), the carpet tiles are made from renewable and recycled resources. Plus, they're recyclable. Washable and modular carpet tiles that are environmentally friendly? We're on board! As always, we at Decoist encourage you to do your own research when seeking out child-safe products. Ask your manufacturer of choice about its practices, and request a Material Safety Data Sheet (MSDS). [below: Jump Jive by FLOR]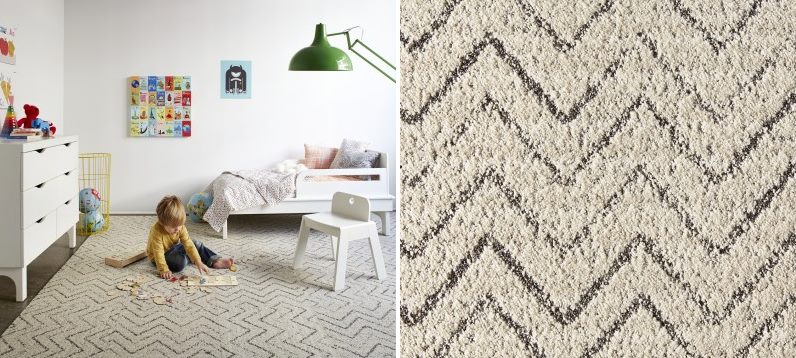 While FLOR tiles are made from varying amounts of recycled materials, the website claims that "most FLOR face fibers are nylon, PET and nylon blends. Our backings are a vinyl composite, increasingly made from recycled materials. FLOR carpet tiles meet or exceed the Carpet & Rug Institute's Green Label Plus standards for VOC emissions (Volatile Organic Compounds) and are recyclable." We at Decoist recommend calling the company with questions about the specific style you have in mind should you have questions. [nursery/FLOR rug below featured at Project Nursery]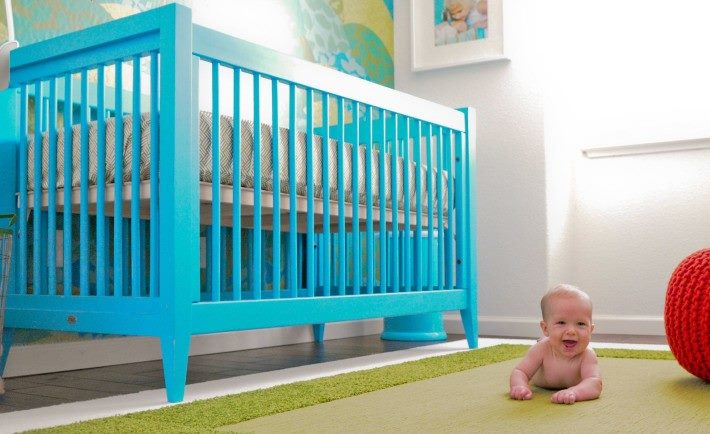 Checkerboard Style
One of the most popular FLOR rug styles for the nursery involves a checkerboard look. You can either order the piece as a pre-assembled area rug, or you can customize your own rug using the carpet tiles of your choice (such as Rake Me Over Lime and Feeling Groovy Lime styles). We're loving the monochromatic effect below! [from ZeroEnergy Design]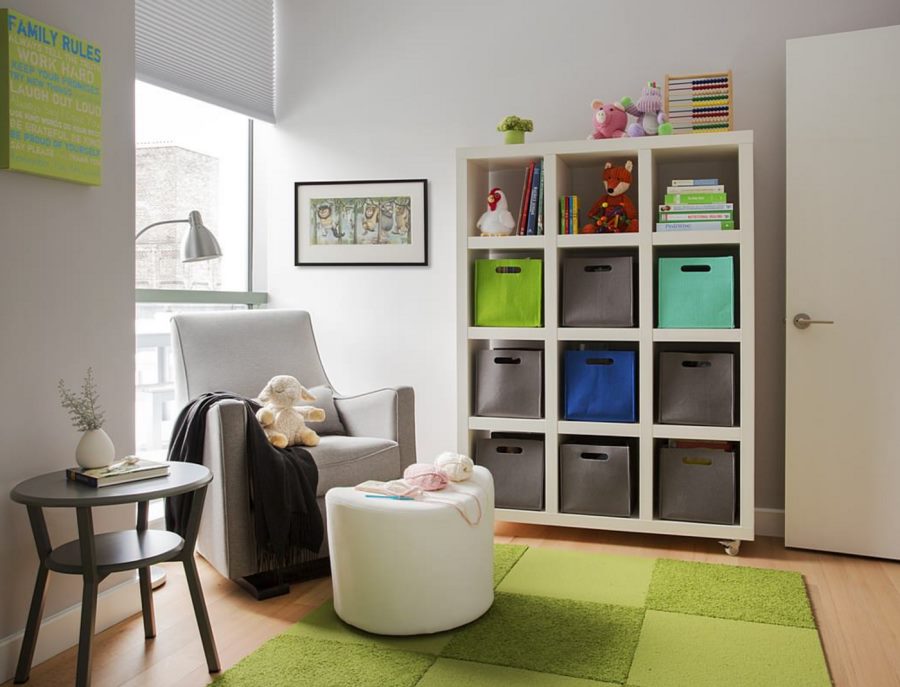 While this next nursery features wall-to-wall carpet, the checkerboard pattern illustrates how FLOR tiles in different hues can be combined to create an ideal nursery flooring solution. [from Victoria Elizabeth Design]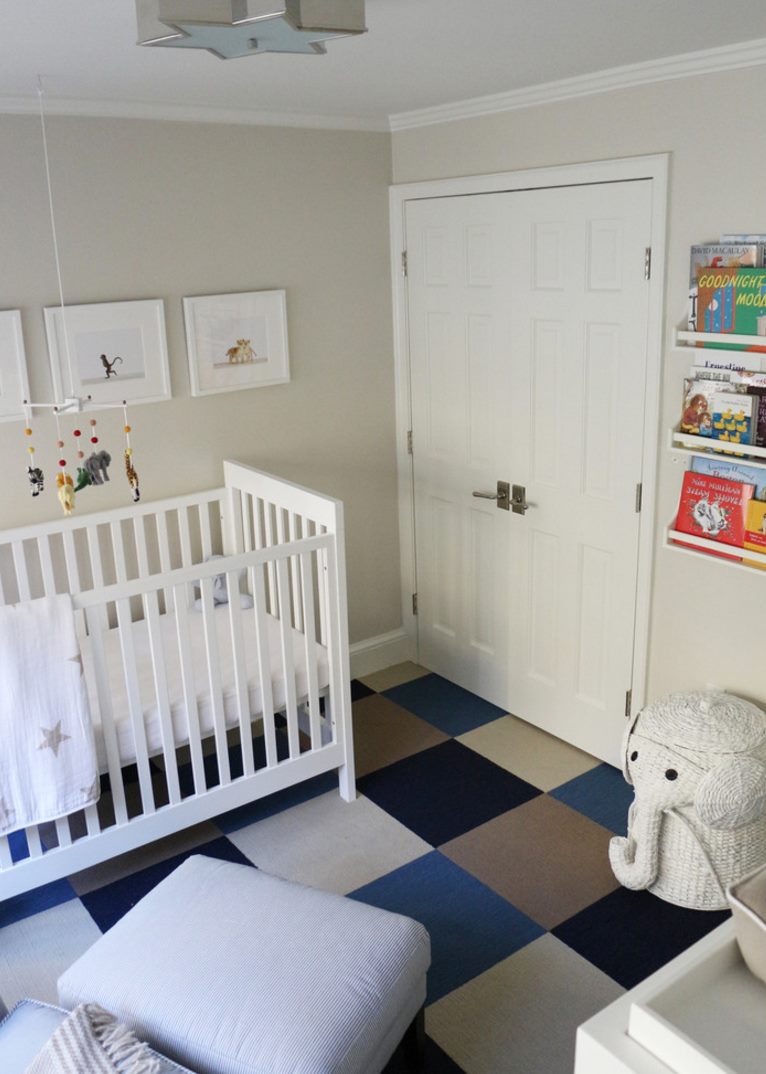 Creative Solutions
Feeling creative?! You'll love the vast array of rug options that FLOR carpet tiles provide. Create your own design, or purchase a rug that's been cleverly designed with colorful flair, such as the Heaven Sent 8 Design below: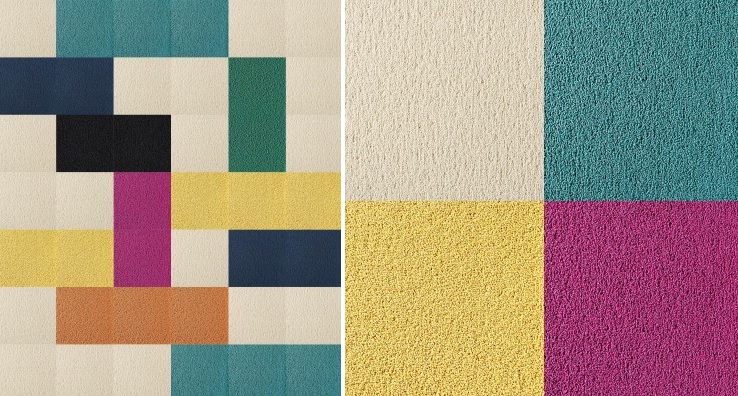 Combine tiles of different colors, patterns and textures for a multi-dimensional piece that creates the exact look you're going for in the nursery. Bonus points if the rug is as intriguing as this next selection. [from Blu Sky Living]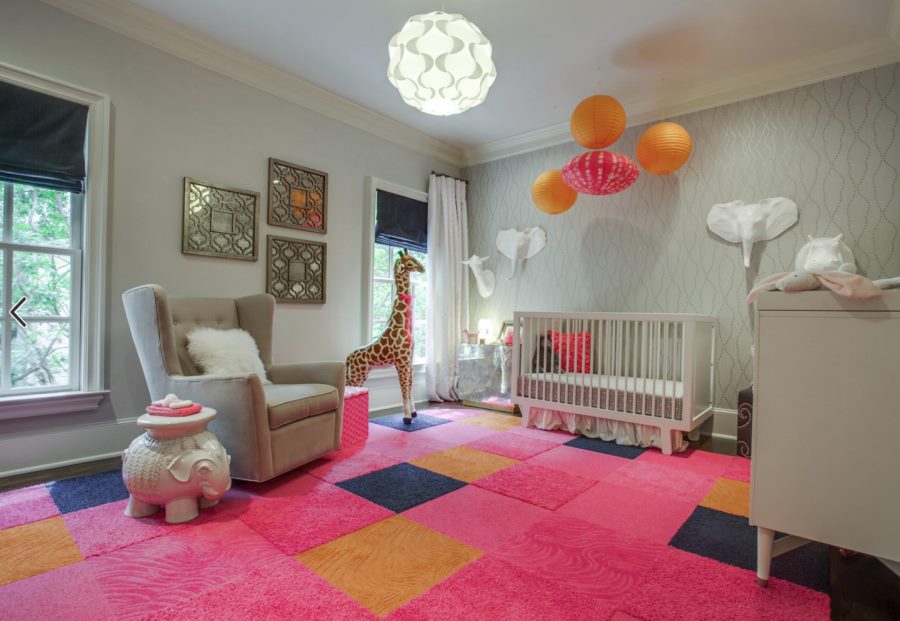 We now feature two custom FLOR rugs that take asymmetrical design to an entirely new level. For starters, the pastel stripe at the end of the patterned rug below is unexpected, yet it incoprorates the room's main accent hues in a wonderfully off-beat way. [photo from Modern Kids Photography for Regan Baker Design]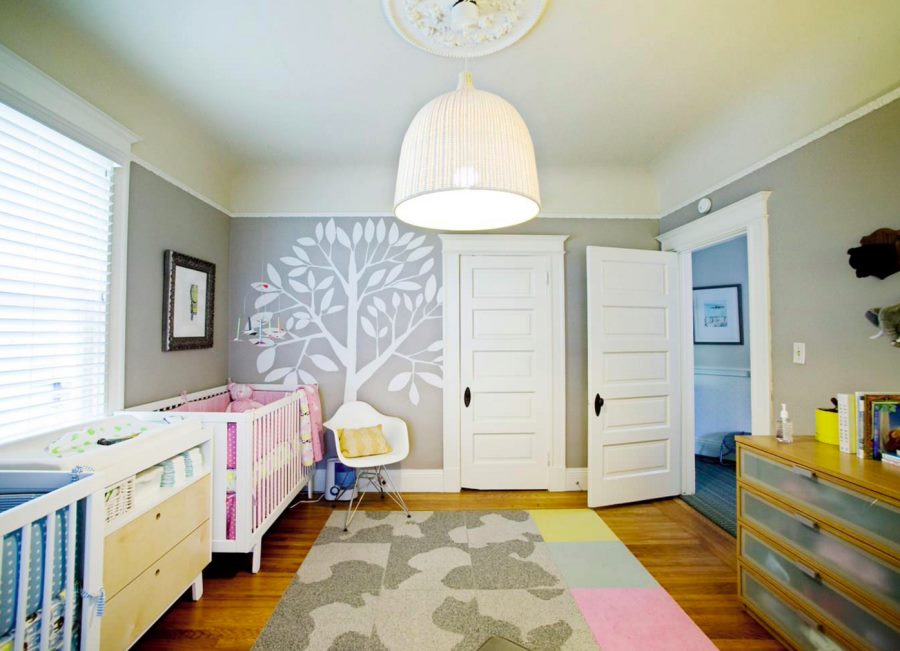 And in another nursery by Regan Baker Design, we once again see the power of a bold stripe at the edge of a custom FLOR rug: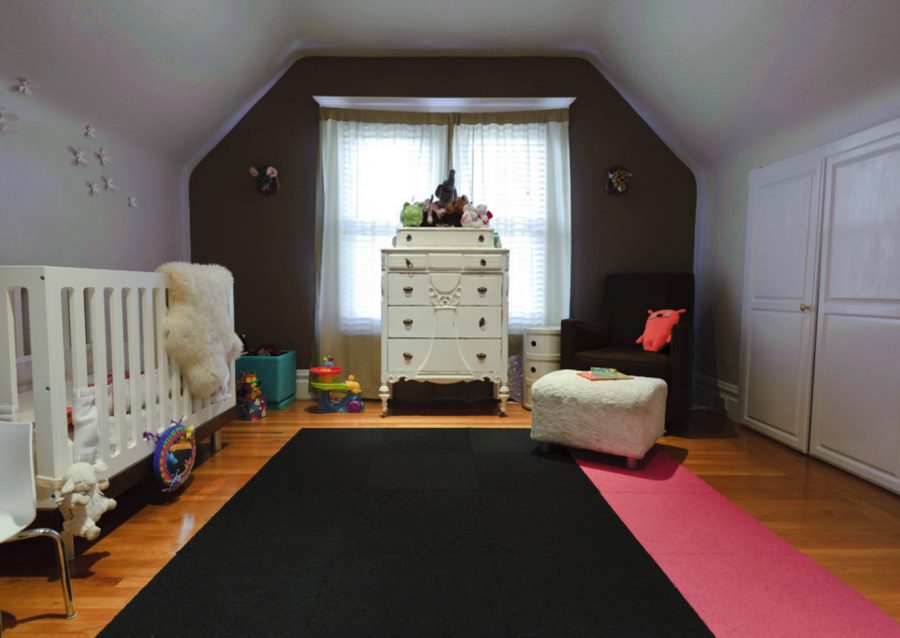 Last but not least, we shine the spotlight on the Rake Me Over 2 Cut Design. Diagonal cuts create the triangle effect, and below we see the rug as a whole, as well as a close-up of the carpet tiles. A rug like this would thrive in a modern nursery with powerful accent hues.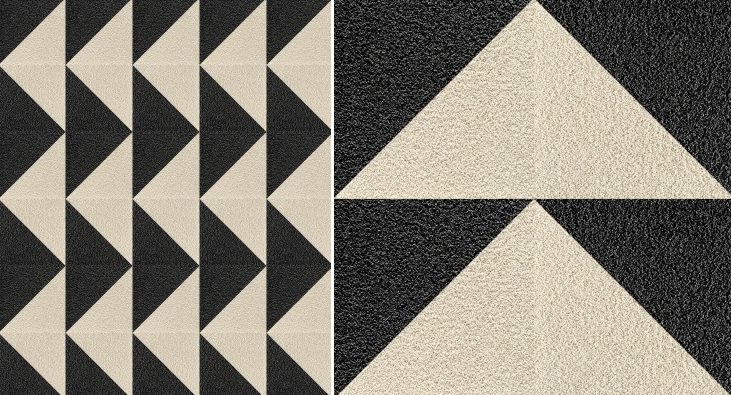 Would you custom design a rug for your nursery using modular carpet tiles? Share your thoughts by leaving a comment below. And don't forget to check out more amazing rug possibilities at FLOR!