If you're decorating your nursery and wanting to make a big impact with an accent wall, there are endless possibilities for creating a festive focal point. From wall decals to framed wallpaper, clever solutions abound, so keep an open mind as you search for ideas. In fact, sometimes a simple painted wall can do the trick, especially if the color is striking (like the rich blue below). But paint is just the tip of the iceberg… Continue reading for a slew of interesting ideas as you prepare a special room for your little one. [photo below from Mary Wyar Photography]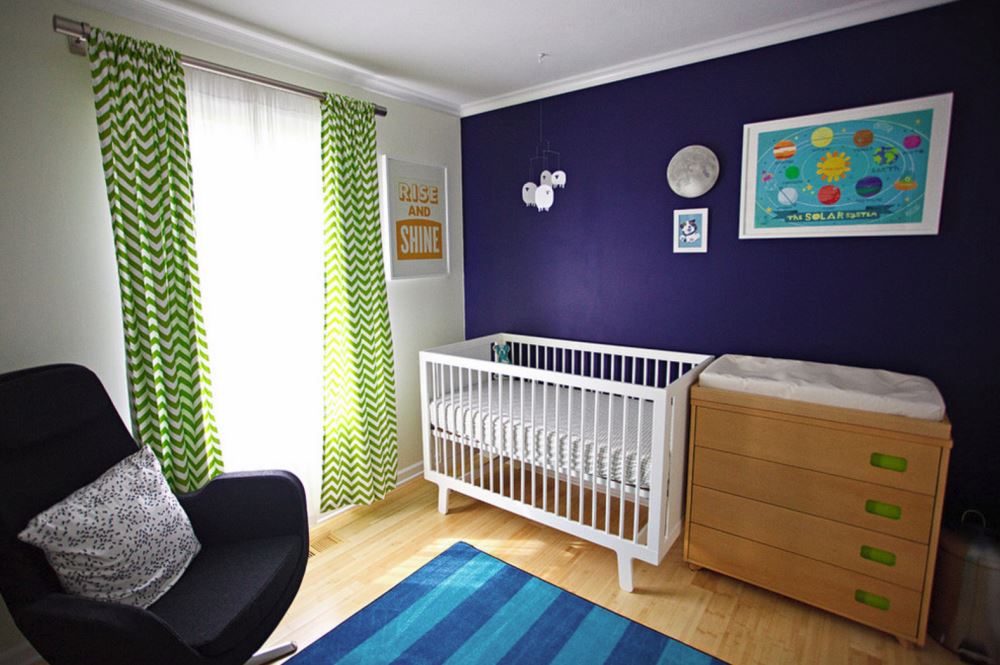 Unique Wallpaper
We know that wallpaper is making a comeback. A popular nursery trend: wallpaper in motifs that can grow with your child. These patterns and prints are classy yet kid-friendly. The best part: they have a timeless quality that allows them to be just as relevant as your child becomes a pre-teen, teenager and young adult! Below we see Dalmatian-print wallpaper in a tropical nursery from Project Nursery: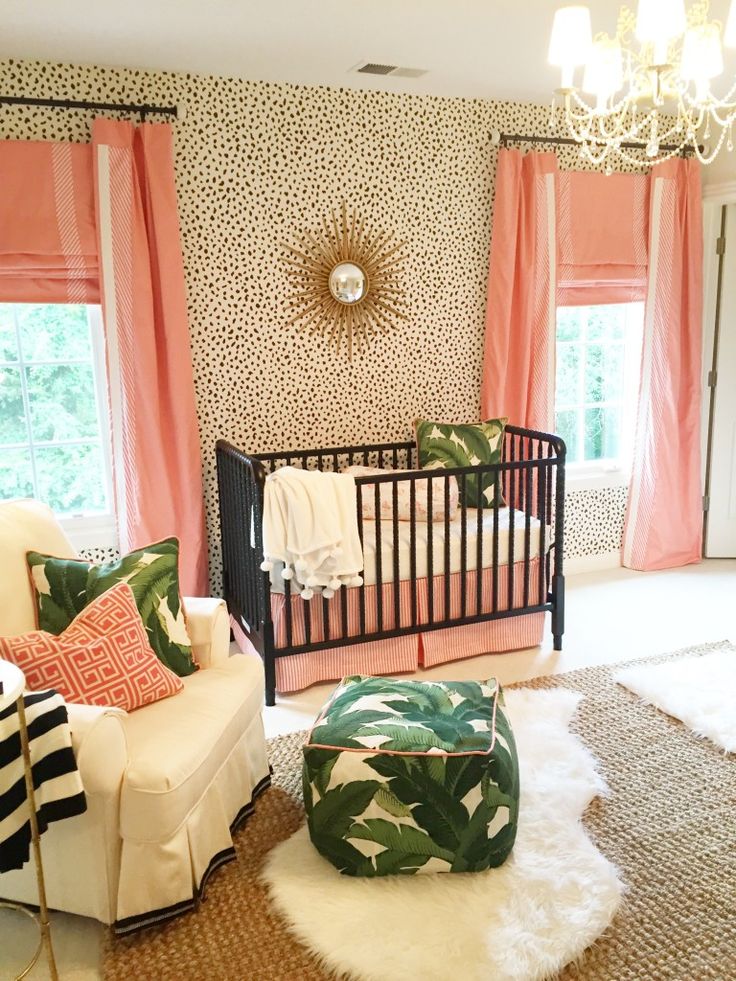 Subtle wallpaper designs can make a big impression without hitting you over the head. Soft hues such as grey and white create patterns that are compatible with even the lightest of pastels. [photo from Sam Oberter Photography for Studio Robert Jamieson]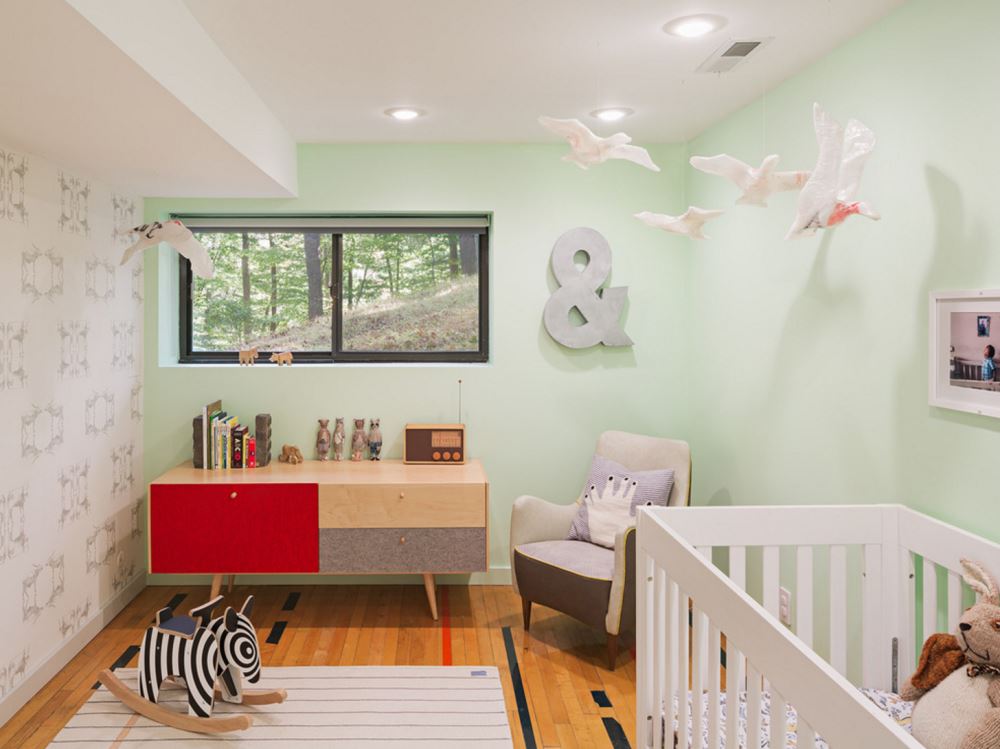 Once again, we see the beauty of grey and white wallpaper, this time set in a nursery filled with neutral tones. Note how the pattern beautifully offsets the gold-toned mirror. [from Lonny]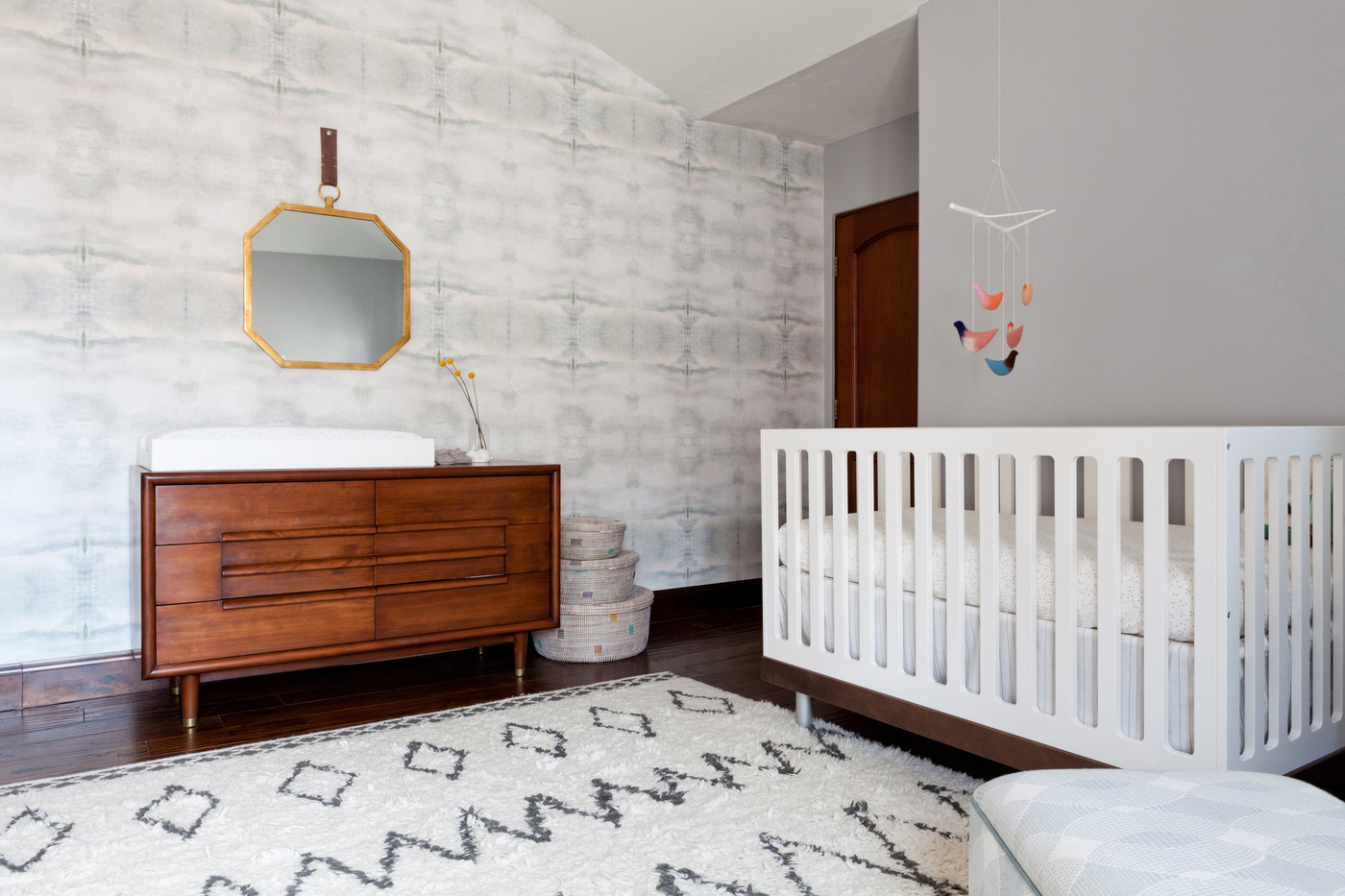 When wallpaper is combined with striking artwork, the accent wall commands attention. Hello, Zebra! Meet polka dots… [from Turnstyle Design]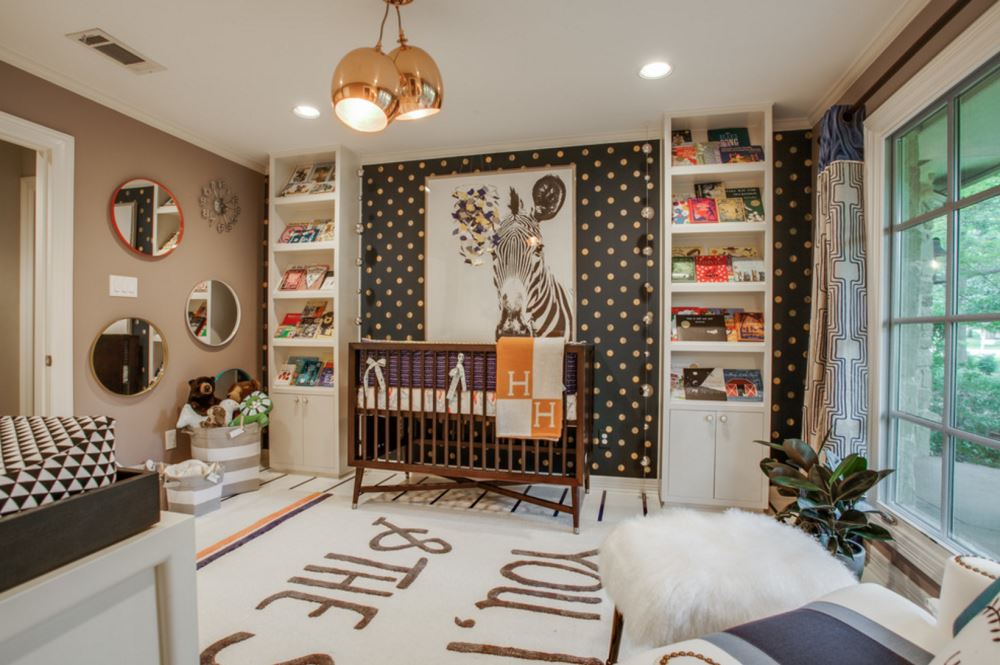 If you don't want to commit to wallpaper, you can always frame a section of your favorite pattern for a focal point that truly stands out! [from Lonny]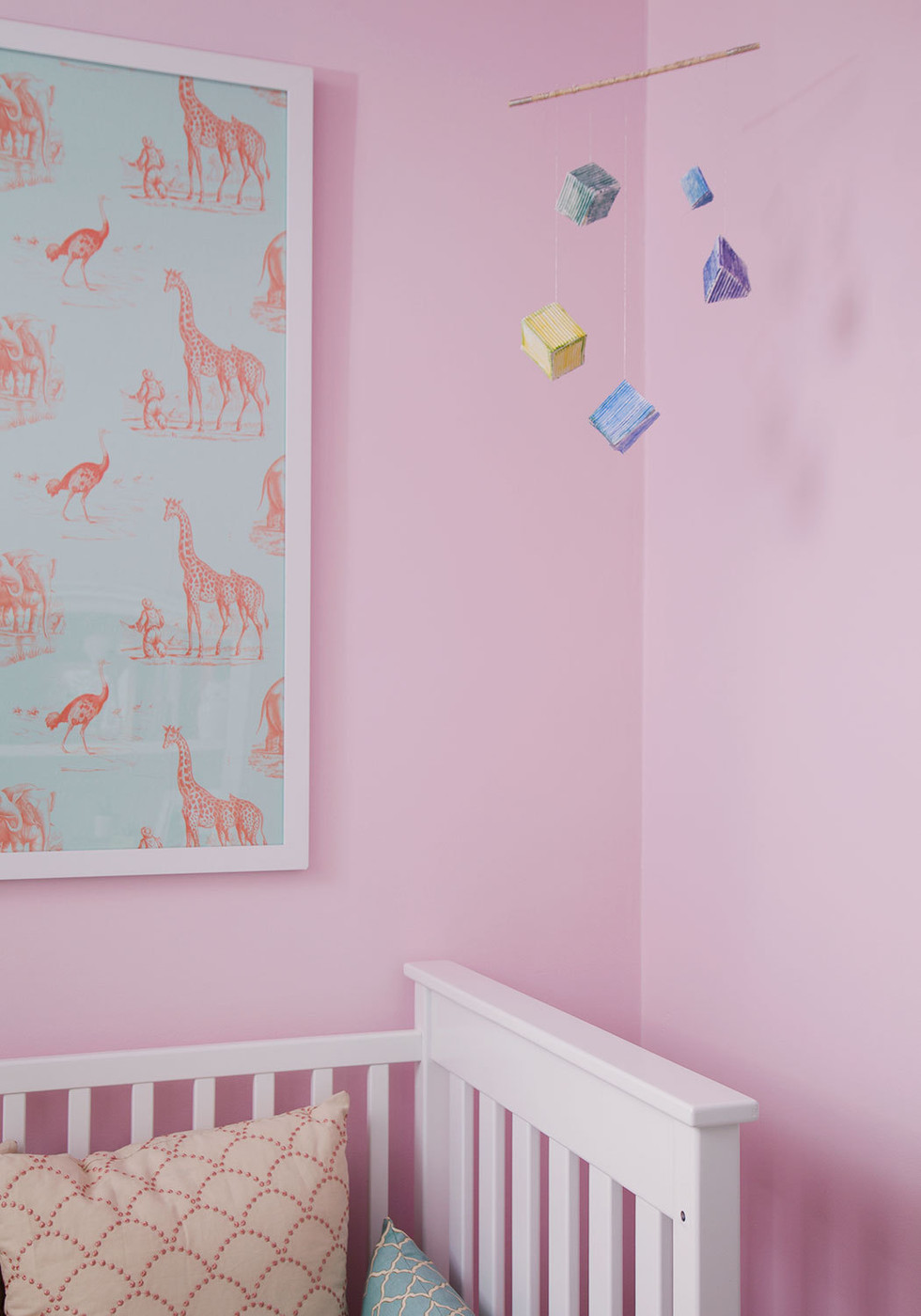 Modern Decals
We now move on to decals, with an emphasis on modern designs. Note that "cute" designs still abound (hello, owls and flowers), but a different take on the decal concept involves abstract forms with geo flair. We're smitten with these Basic Trig Decals from The Land of Nod, which are easy to peel and stick on non-textured surfaces: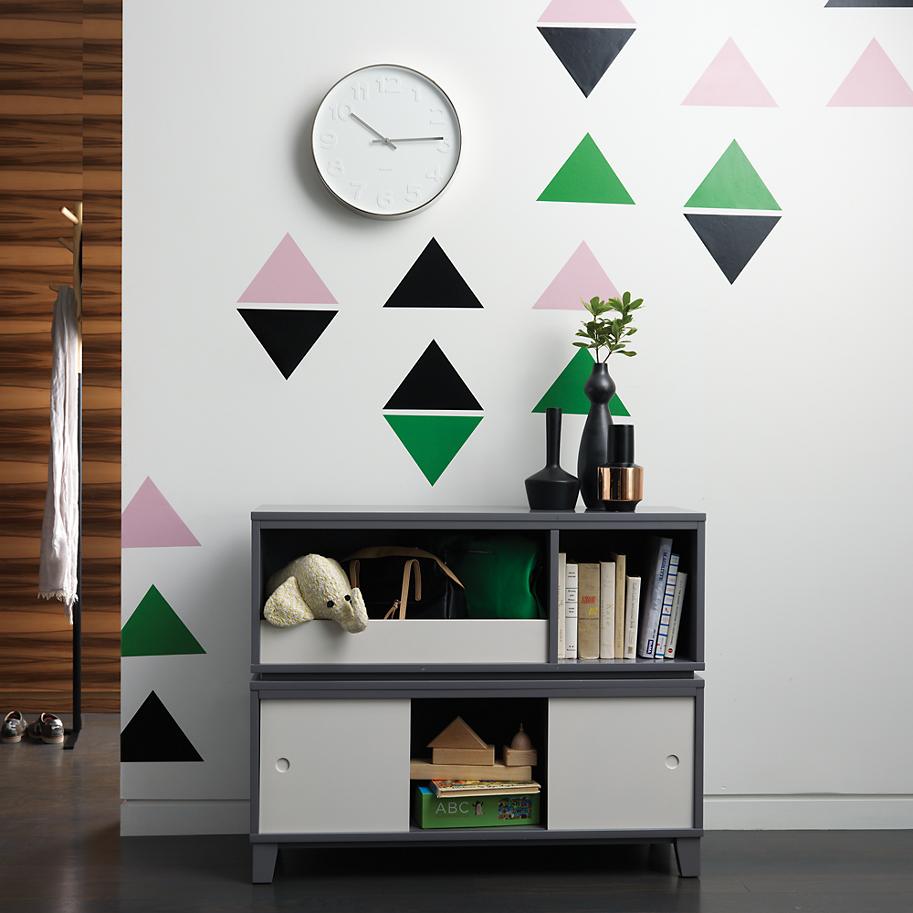 Next we see the same decals in white, adding a subtle pattern to this light, bright nursery wall. Consider a tone-on-tone approach for an unexpected twist: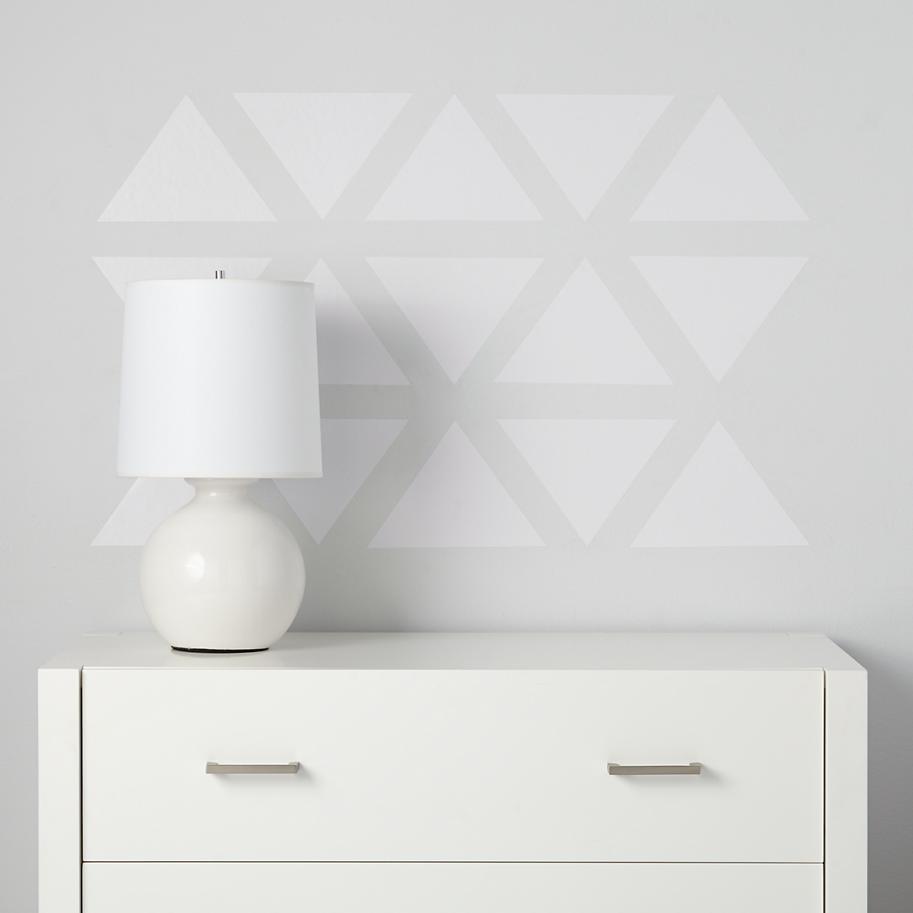 weeDECOR offers eco-friendly decals that are free of lead, phthalates, PBA and PVC. Not to mention, they don't emit VOCs, so you can breathe a sigh of relief knowing your baby is breathing fresh air! This set of cloud wall decals includes 50 stickers that can be arranged in a pattern to mirror the feel of wallpaper. Biodegradable matte fabric is the material of choice, making these decals reusable! Good news: weeDECOR honors custom requests, so it's easier than ever to personalize your nursery.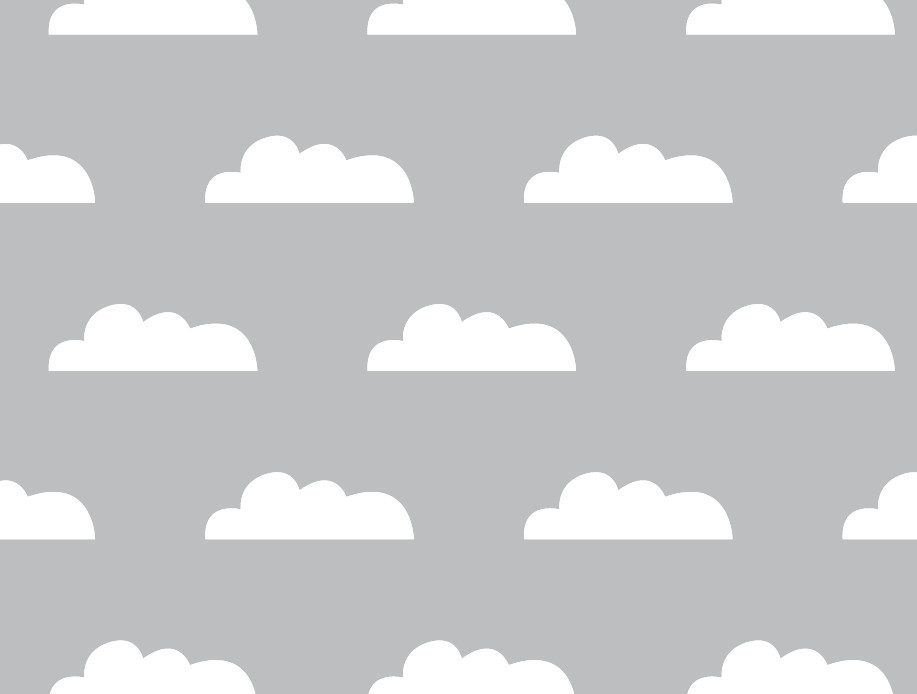 We're also intrigued by the brand's sprinkles decals, whether they're used to add color to a white wall or a layer of whimsy to a painted wall: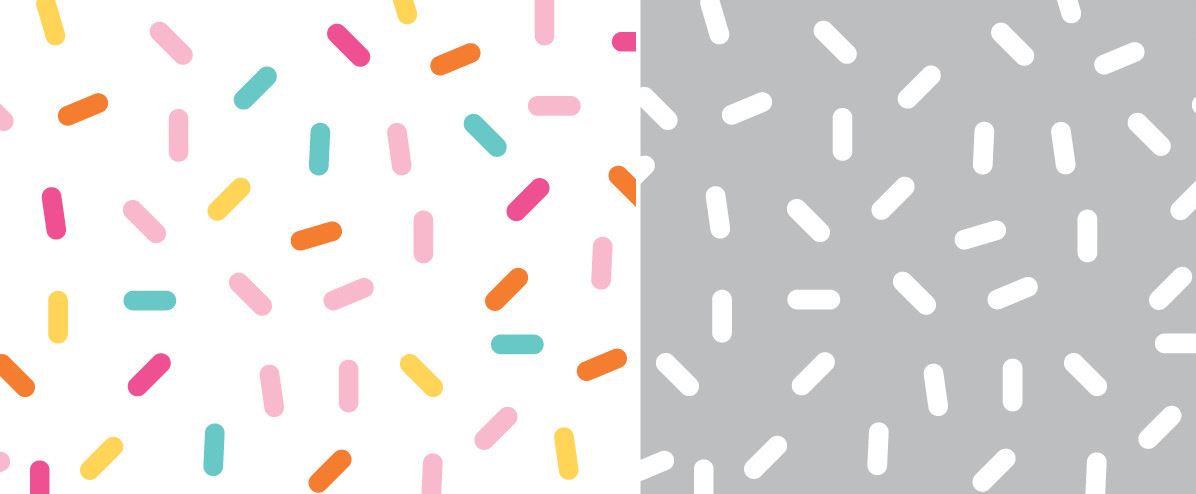 Eye-Catching Wall Art
Don't underestimate the power of wall art in the nursery. One option is to create an accent wall with a long mural-style piece. Consider keeping it lightweight if possible for added safety. [from Lonny]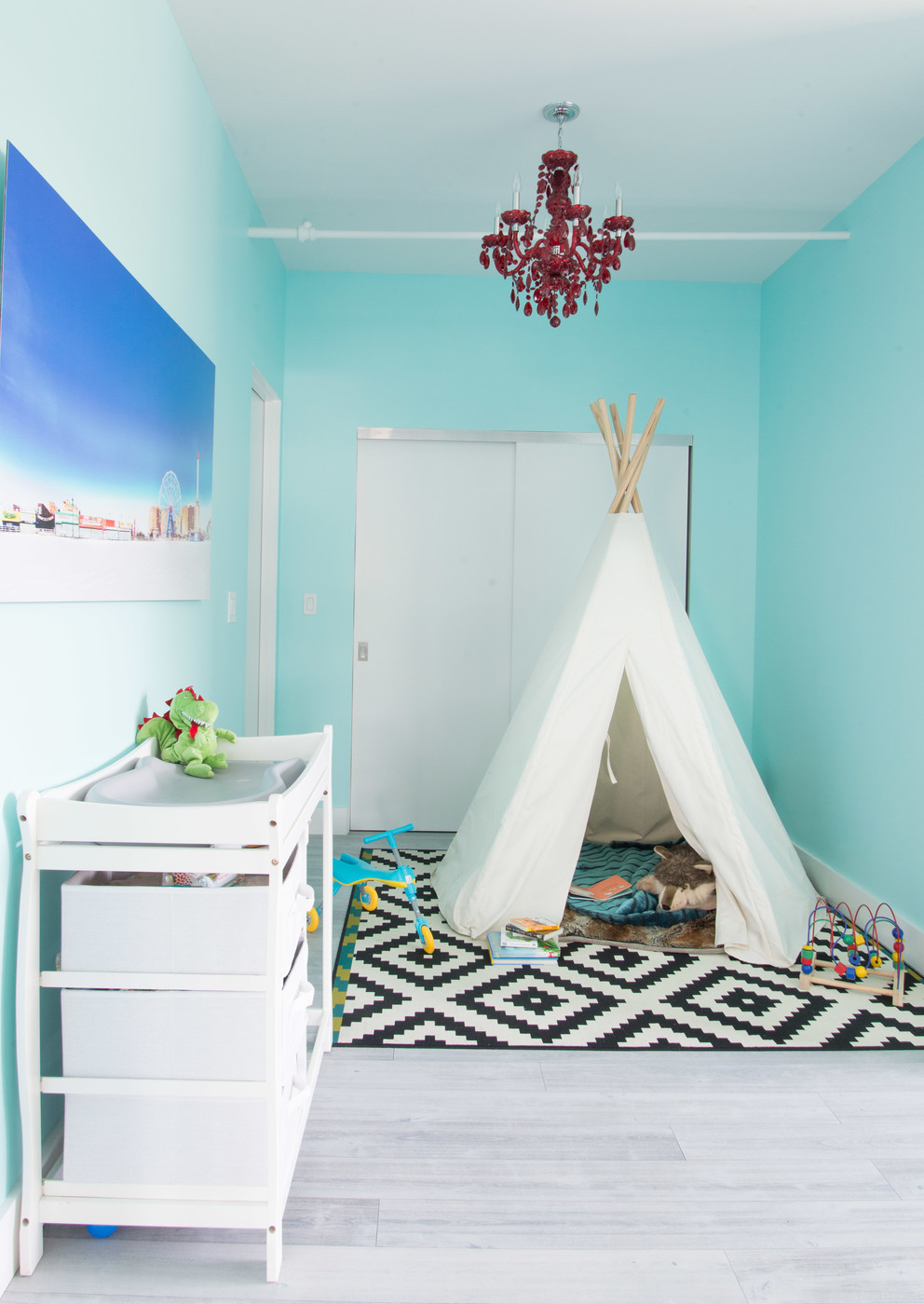 Sometimes less is more. A gallery wall is tempting, but when the artwork is unusual, all you need is one interesting item. [photo by Pepper Watkins for E/L Studio]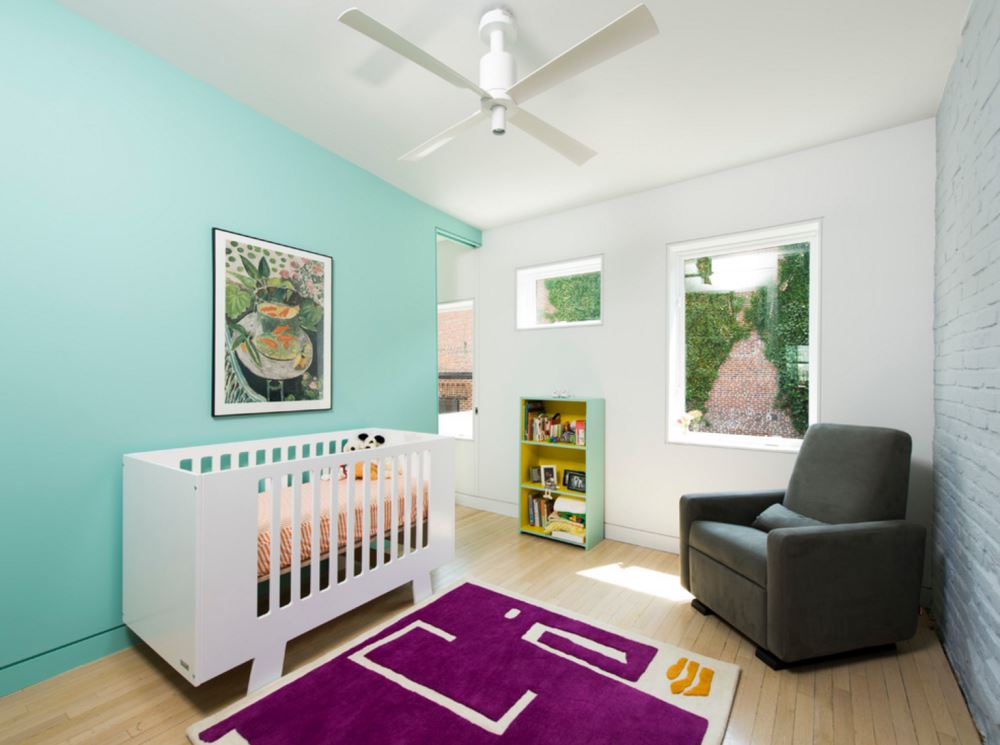 This Stacked Watercolor Wall Art from The Land of Nod is created by artist Malissa Ryder. A blend of soft hues, the piece has the power to be seamlessly mixed and matched with other wall art selections. Does it inspire you to try creating your own?…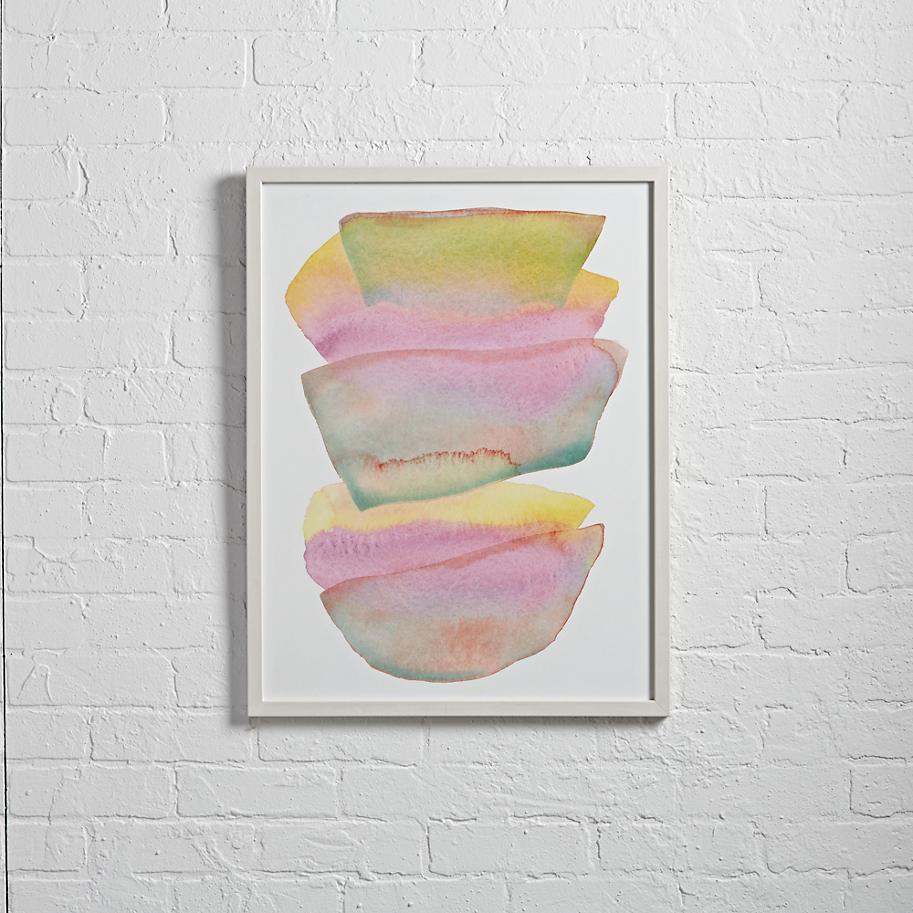 Wall hangings are one of today's top trends. Why not bring some of their charm to the nursery? This giant piece couldn't be more eye-catching! Keep in mind that hanging strings and cords can be a strangulation hazard, so place them high on the wall to prevent injury. [from Lonny]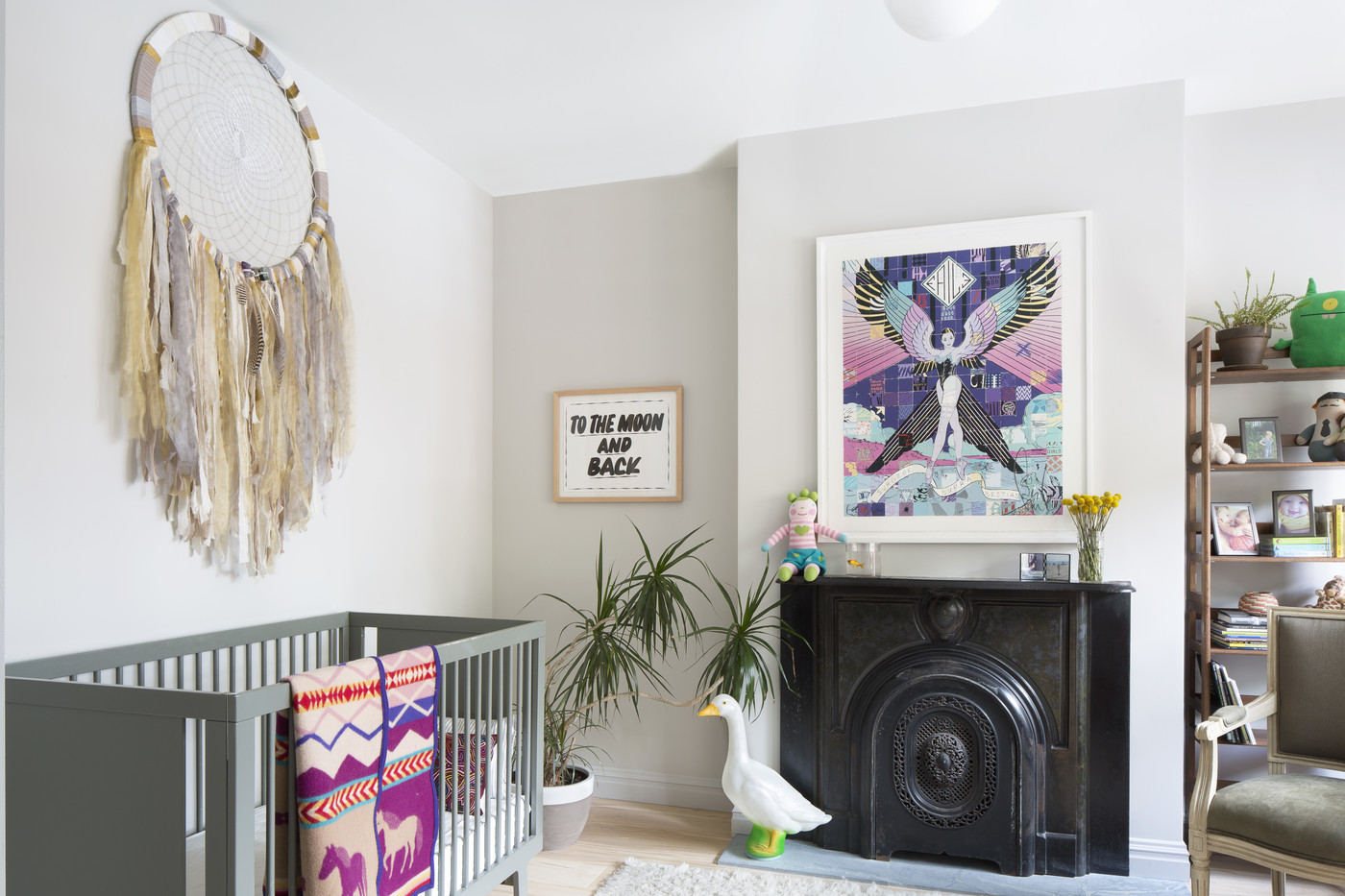 Attention-Grabbing Walls
We end today's post with a collection of walls that showcase unique design strategies. Wooden slats create an instant accent wall in the modern nursery below. [photo by Derek Skalko for S2 Architects]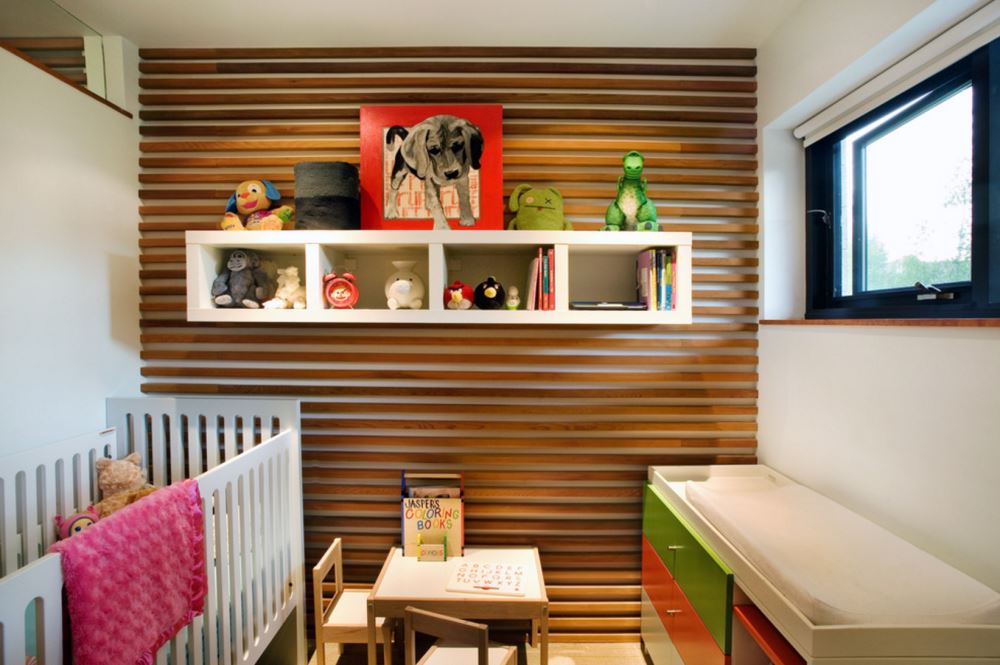 Like the wallpaper in the next image? Look again…this design was painted with the help of stencils! [from Niche Interiors]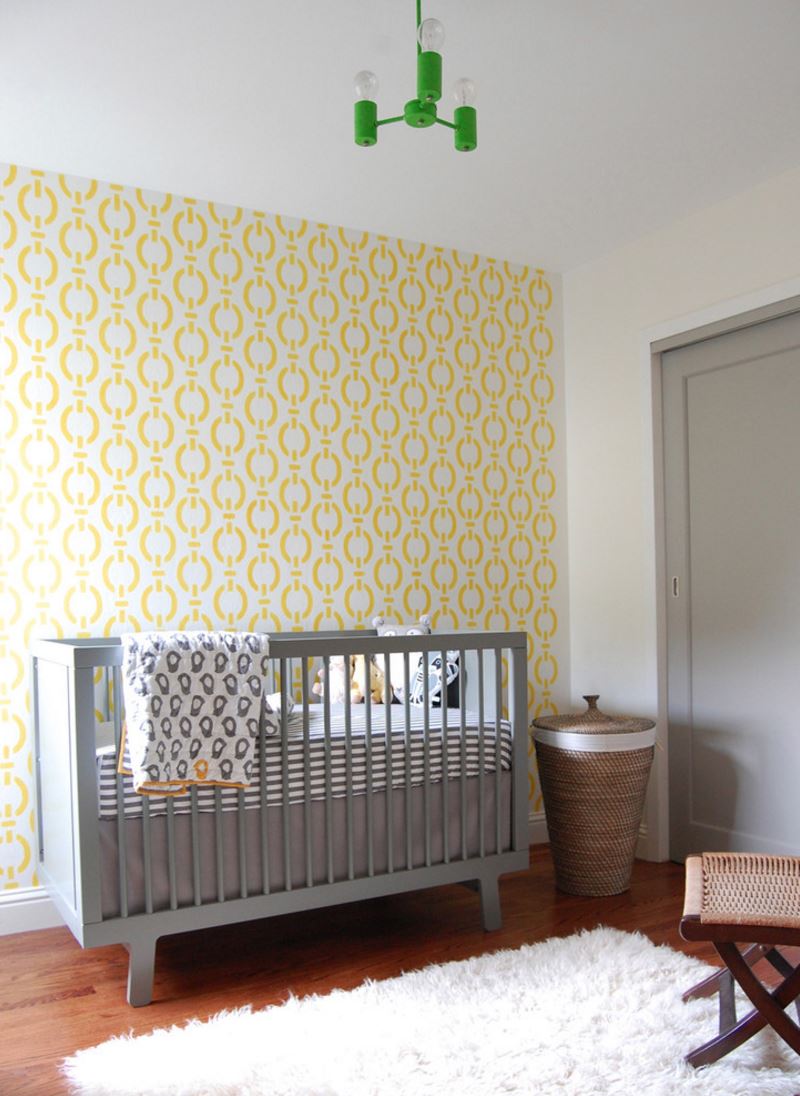 Similarly, the trees below are NOT wall decals. They are hand painted. Consider projecting an image onto the wall to guide you in creating a hand-painted design that is sure to become the focal point of your nursery. [from Jen Talbot Design]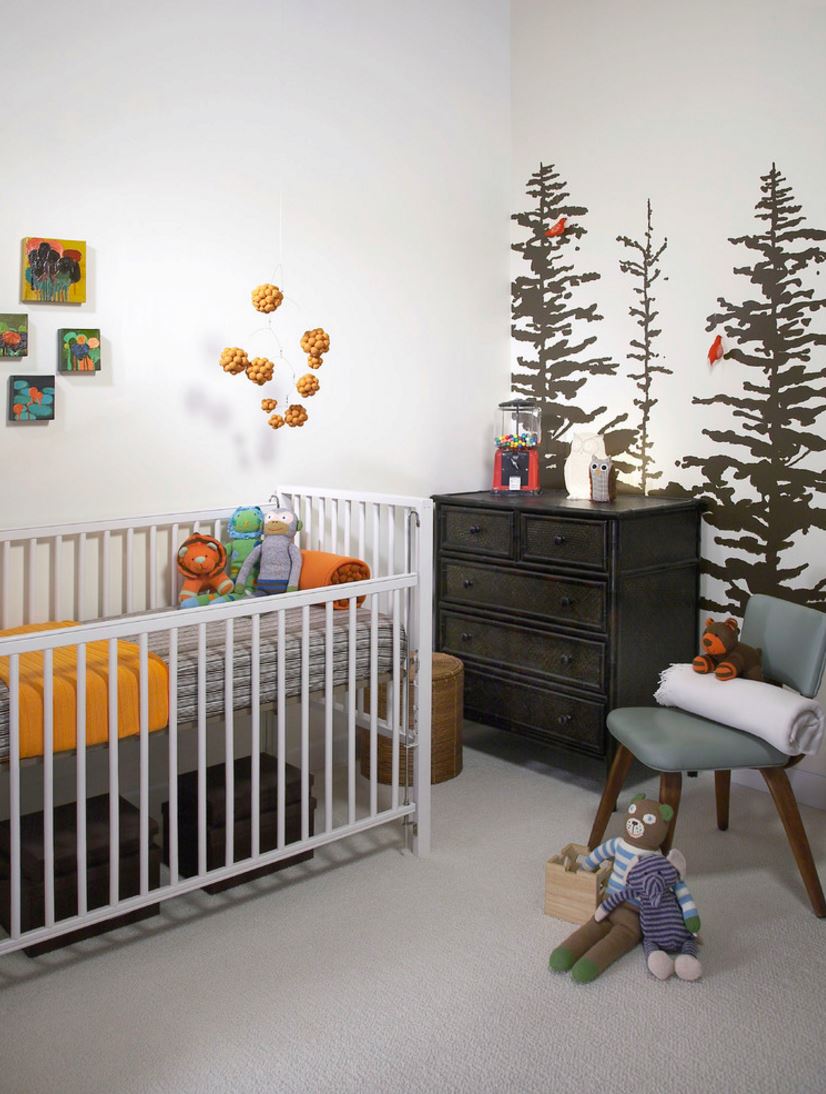 There's nothing like a 3D wall statement. Arrange smaller pieces to form an installation-style design that brings your nursery accent wall to life! [from Houzz]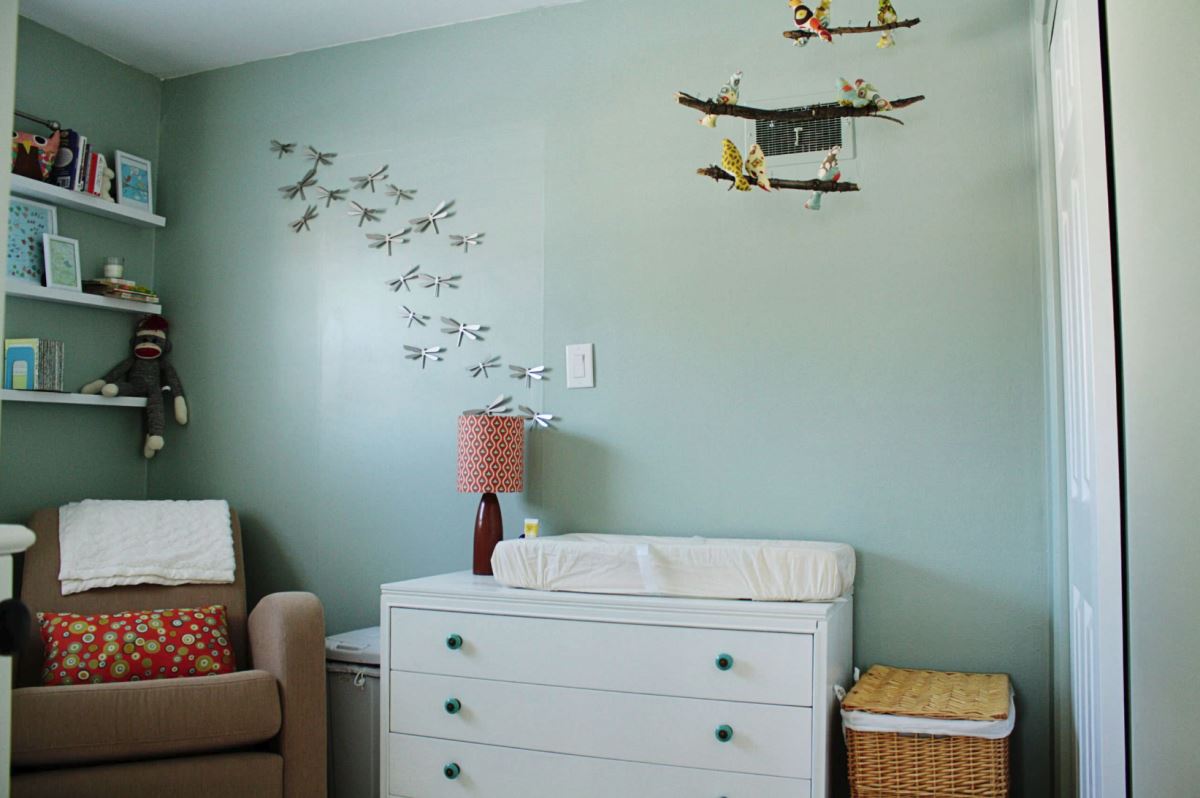 Last but not least, this nursery wall features a series of hanging clouds that form a bold yet whimsical pattern against the aqua wall. The photo appears to be a 3D rendering, and we're loving the creativity it's sure to inspire! [featured at Decorate 4 Baby]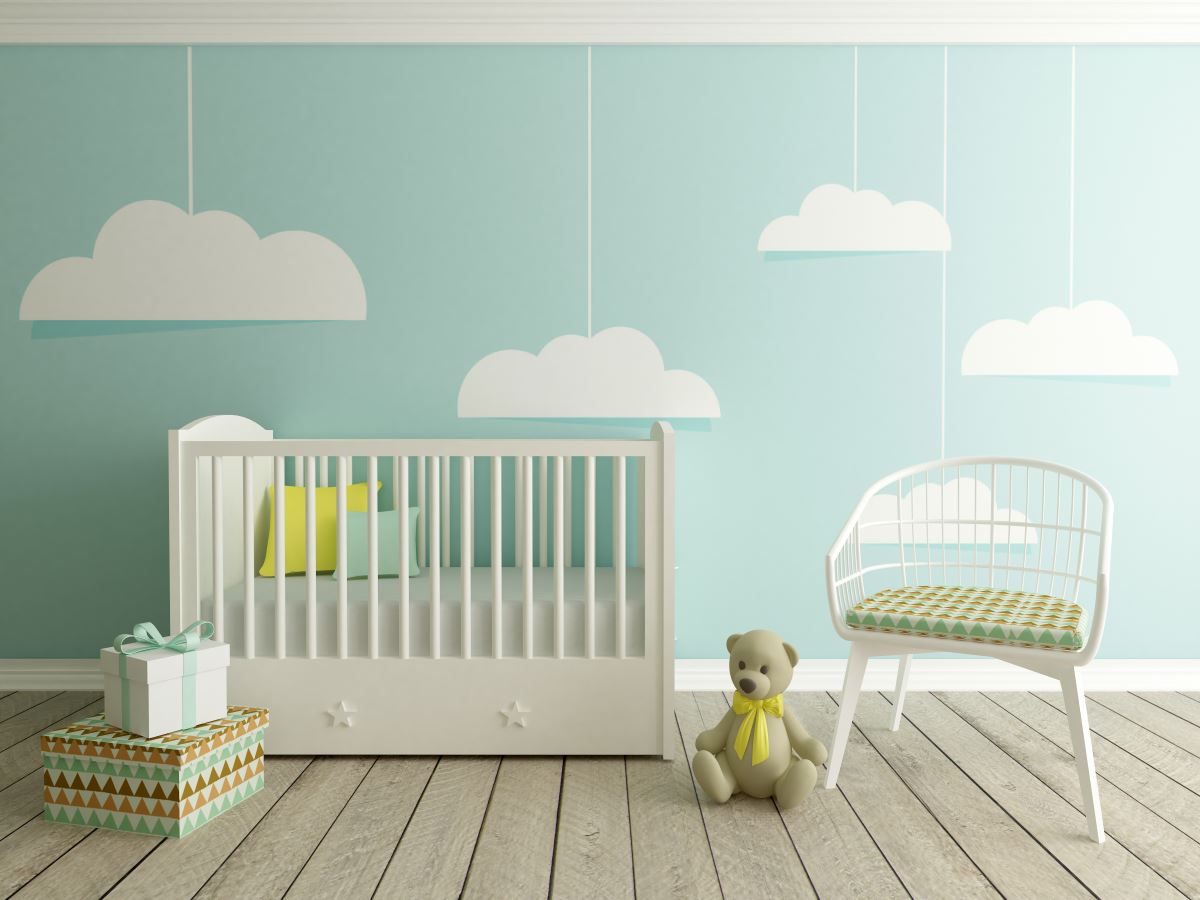 Which of today's nursery wall ideas is your favorite?!…