Spring is a time of fresh blooms, fresh starts, and fresh new collections from top brands and designers. Whether you're choosing a spring color palette or you're curious about this season's top design trends, today's post features beautiful new finds from some of the top spring collections. Fabulous florals, unexpected pops of color, and a new take on neutrals can be found in the images that follow. Keep reading for inspiring vignettes and interesting styling ideas with the power to spark your next spring design project!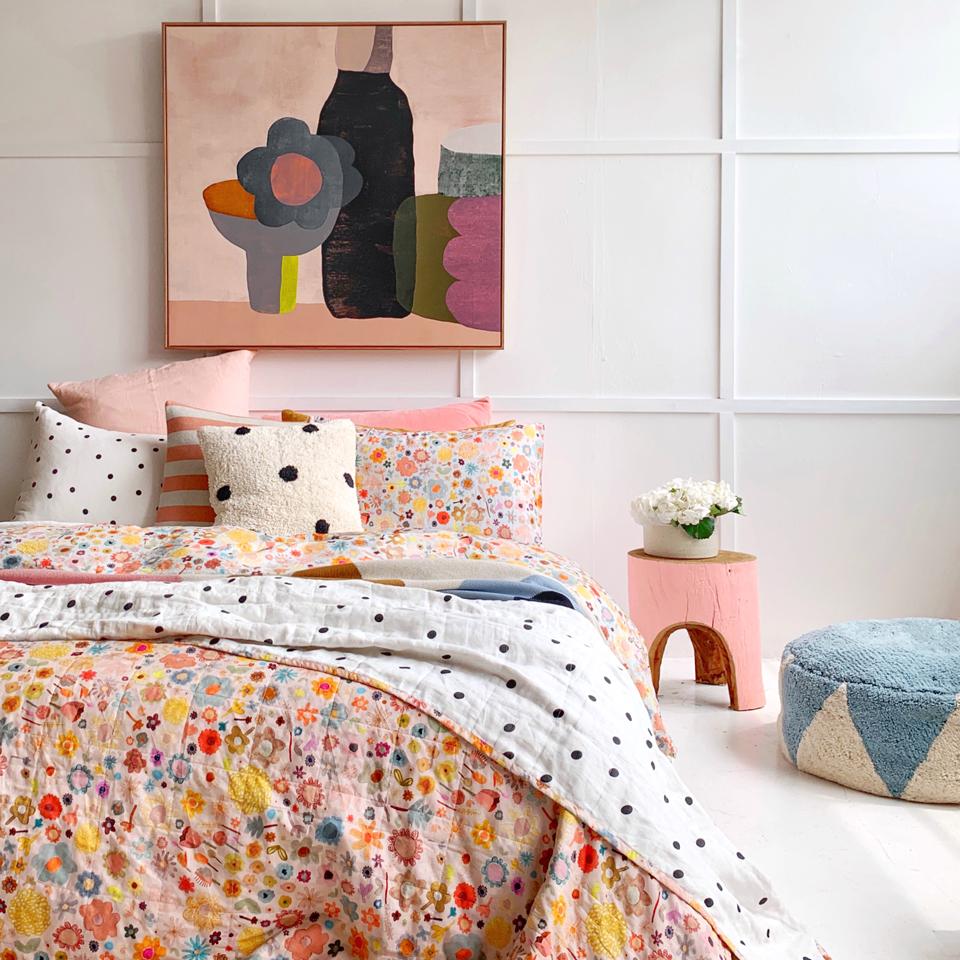 Floral Fever
We begin with a true spring favorite: florals. It's hard to go wrong when beautiful blooms are involved, and Australian brand Castle is currently showcasing some vibrant, visually stunning new designs. Below we see Castle's Little Garden bedding, which features a rainbow of floral designs on a dove grey base: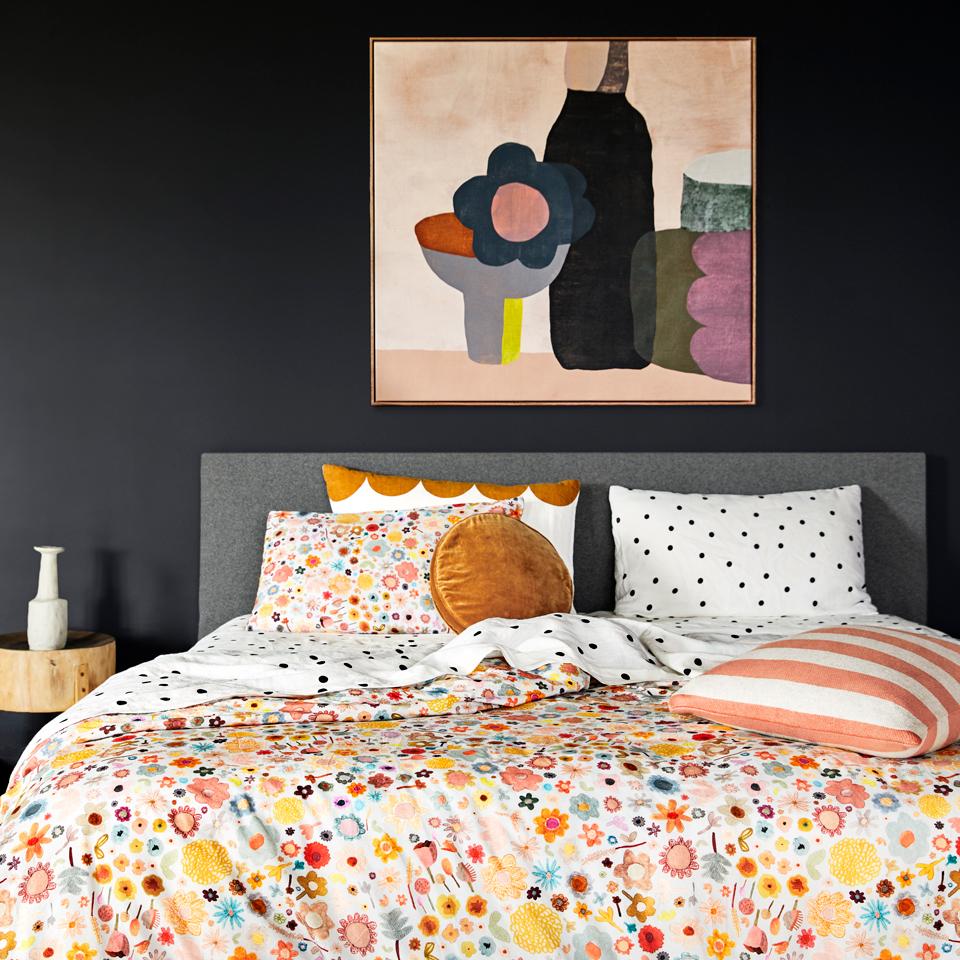 Castle's Melon Circus Floor Cushion packs a lot of punch into its round form, doubling as a side table of sorts in the next featured image. Also note that this piece comes in blue (shown at the top of the post). Did we mention that in addition to pulling double duty as furniture, the cushion makes an excellent foot rest?!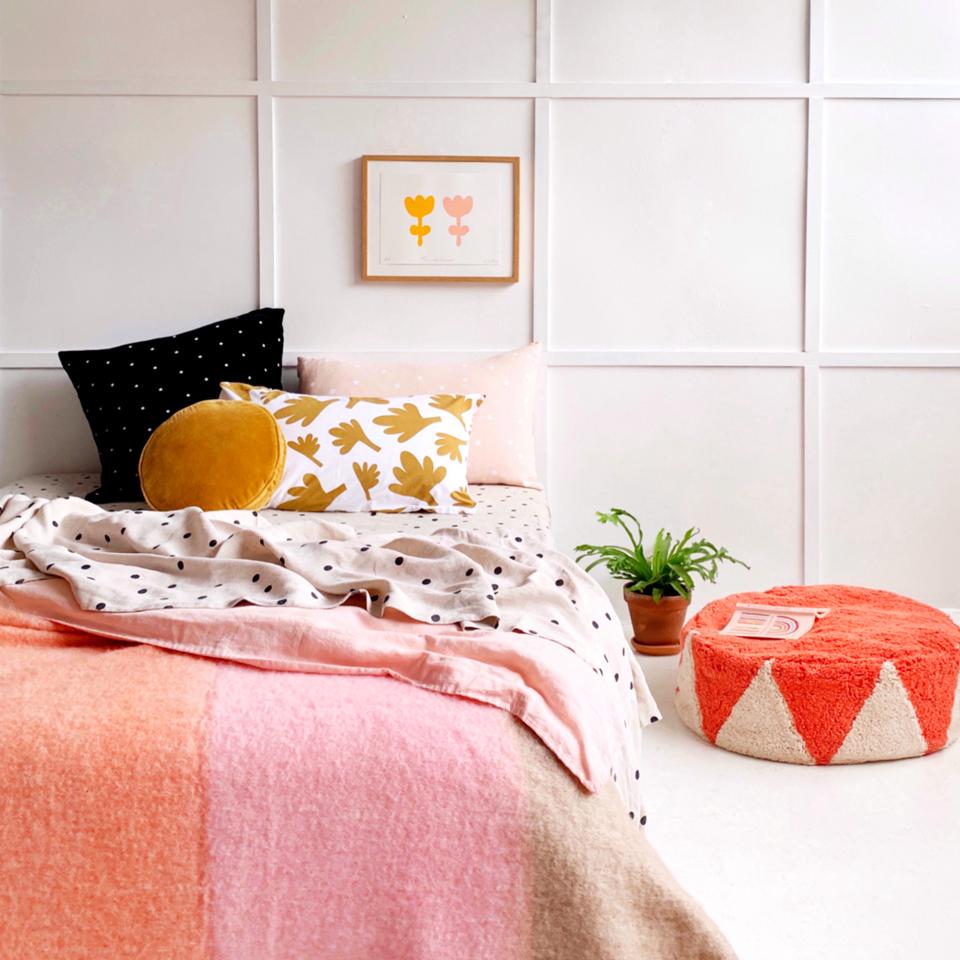 Another Australian brand favorite, Kip&Co is serving up a big dose of radiance this season, starting with the Haystack Velvet Petal Decorative Pillows shown below. Made from thick, luxe, 100% cotton velvet, these floral beauties have the power to be the focal point of your bed or sofa. And don't hesitate to throw one on your favorite accent chair for a burst of spring color!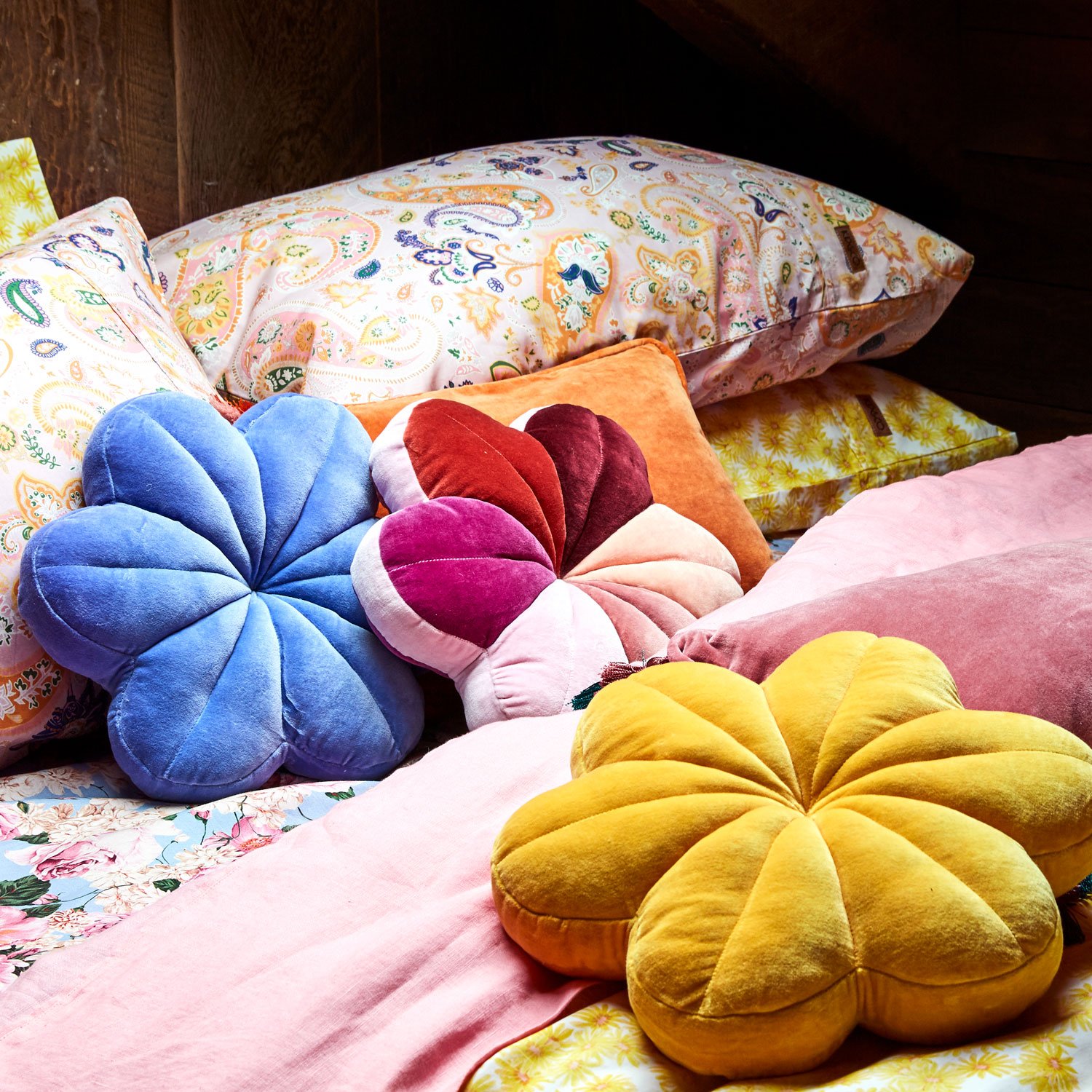 Titled "Heartland", Kip&Co's new collection is grounded in color and beautifully intricate patterns. Even just one drop of design goodness in the form of the Gallop Teal Tassel Decorative Pillow can transform the look of your space for spring. Once again, cotton velvet is the material of choice. Look a little bit closer and you'll see horses in that floral pattern. Hence the "Gallop" in the product's title!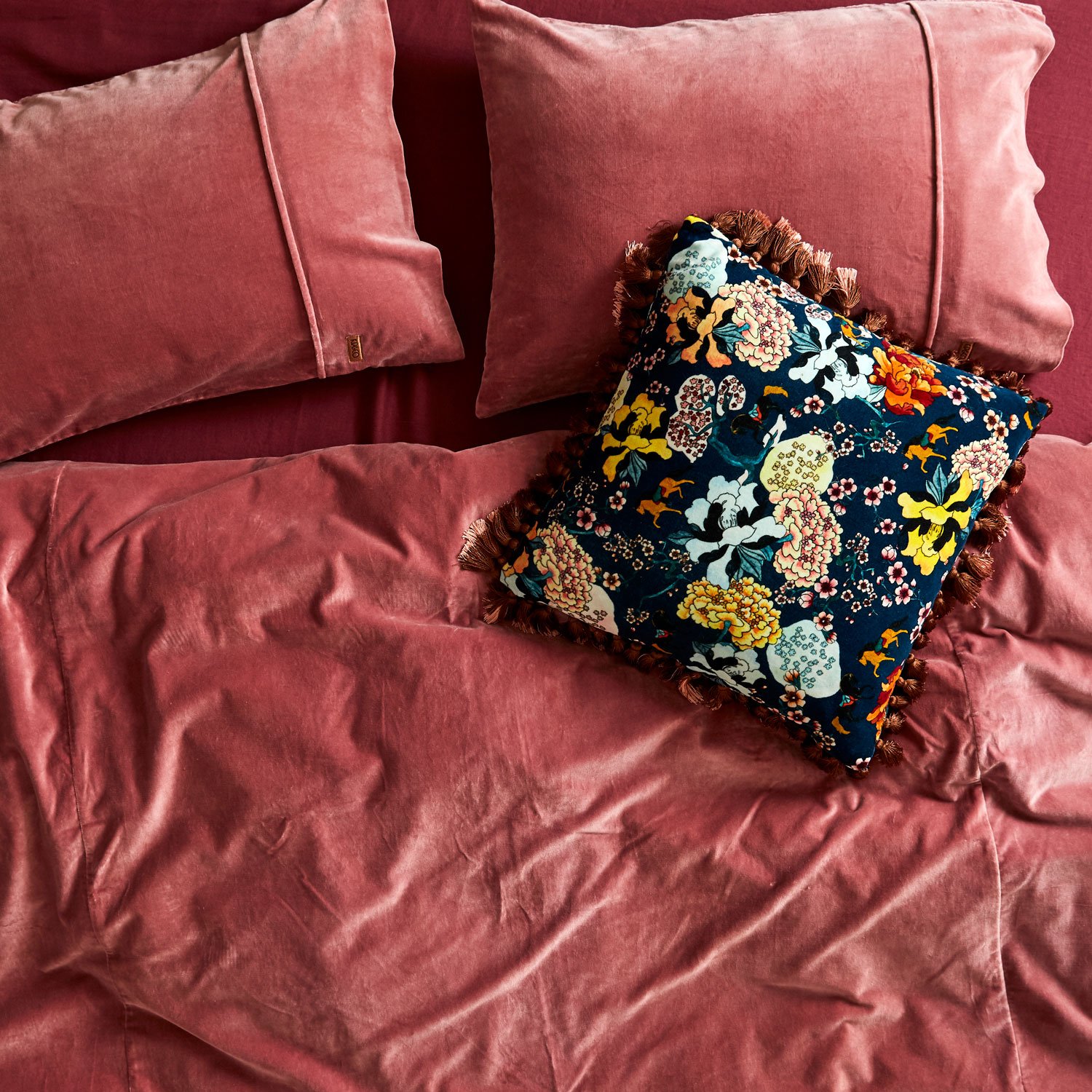 A Touch of Teal
On the runway and in the realm of interior design, teal is making a big statement this season. Our recent spring palette post showcases ways to incorporate a range of blues, greens and pinks. Teal works beautifully when combined with rosy hues, as shown in the blend of the chair, pendant light and artwork below (from Anthropologie). Natural elements such as wood can add depth and earthy interest when juxtaposed with teal: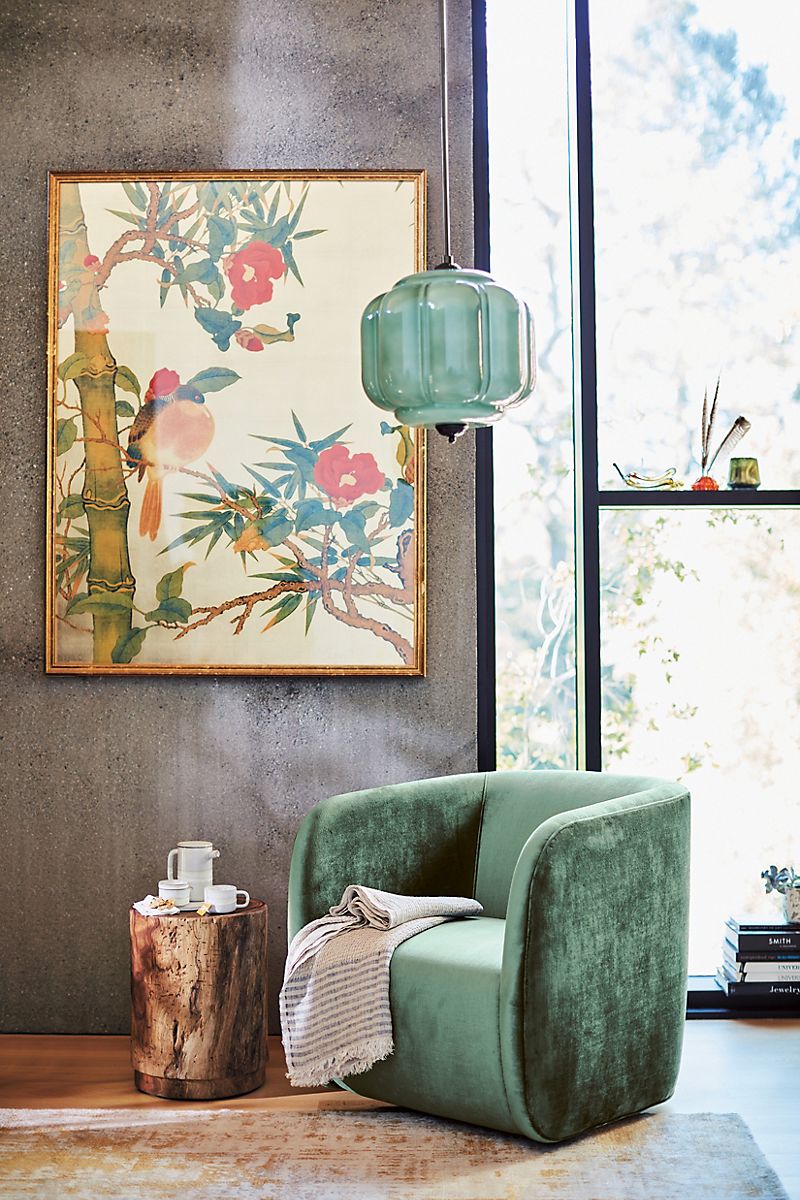 Urban Outfitters is currently featuring a teal tasseled bed blanket by Kip&Co. Instant bedroom makeover, anyone?! Both crisp and textured, this textile showcases a cotton weave, as well as chunky tassels that provide just the right amount of fringe. When combined with white bedding or when placed next to a white wall, this blanket is fresh as well as refreshing: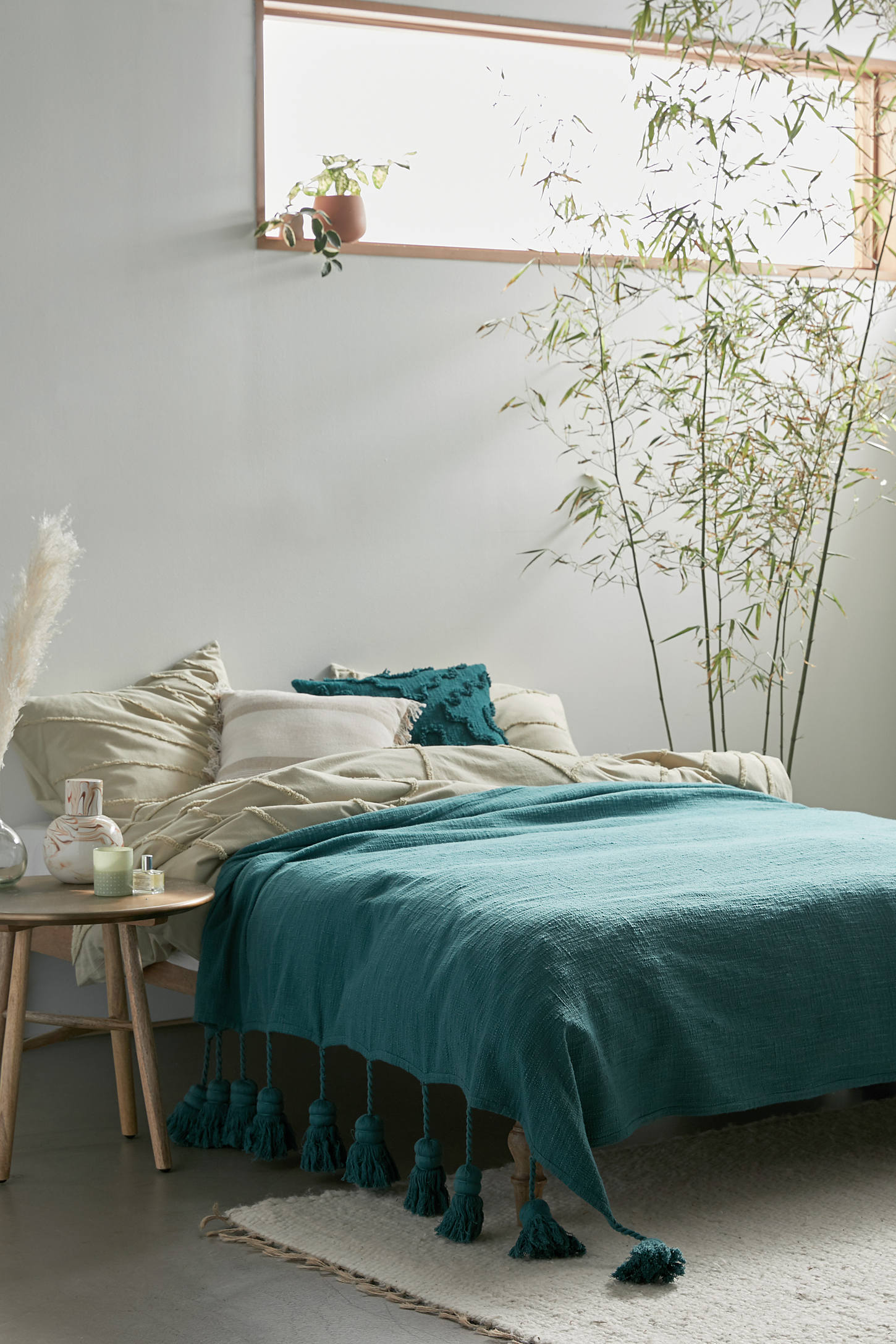 Apt2B is showcasing the color teal in its new spring offerings, and we're loving the saturated, brighter teal of this Malcolm Swivel Ottoman. Once again we see the power of teal and white, especially when lighter shades of teal are introduced (check out the throw blanket draped over the arm of the couch):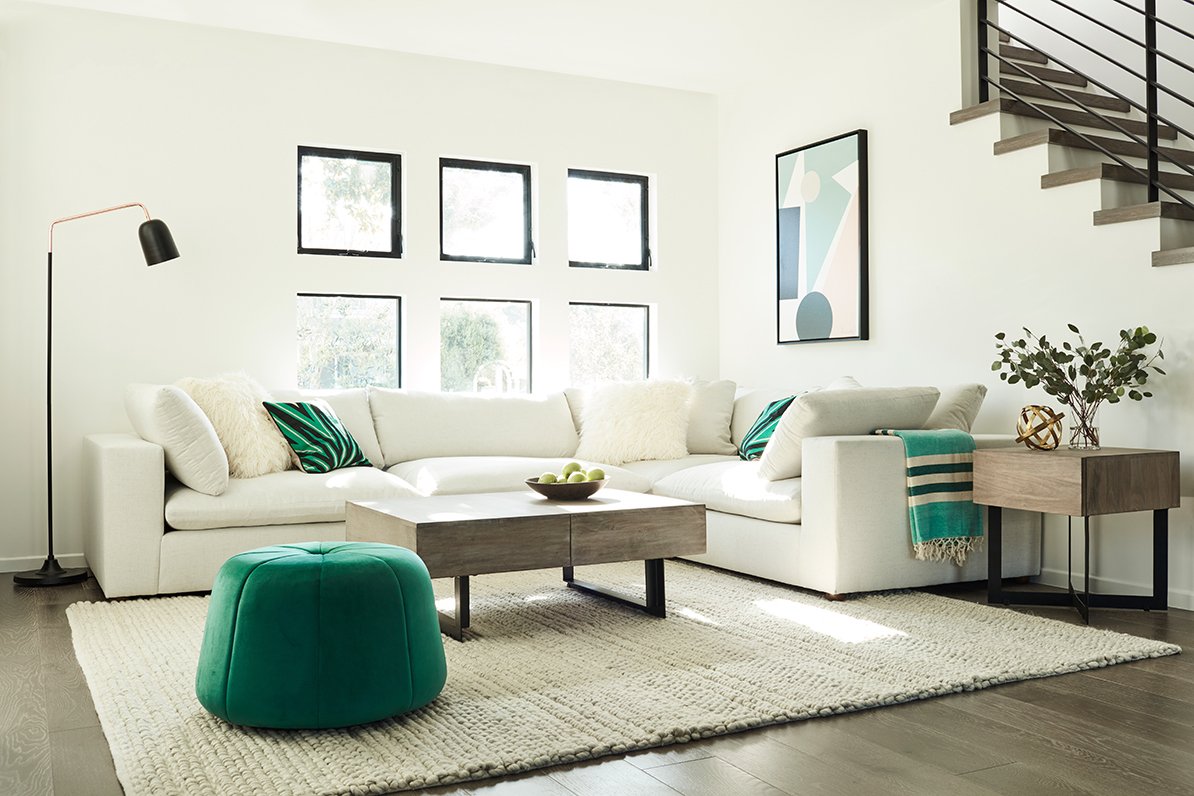 If you're like us and you just can't get enough teal, check out Apt2B's Miles collection, including the Miles Loveseat showcased below. Tapered legs and clean lines create an elegant take on Midcentury style, while the teal fabric feels very on-trend.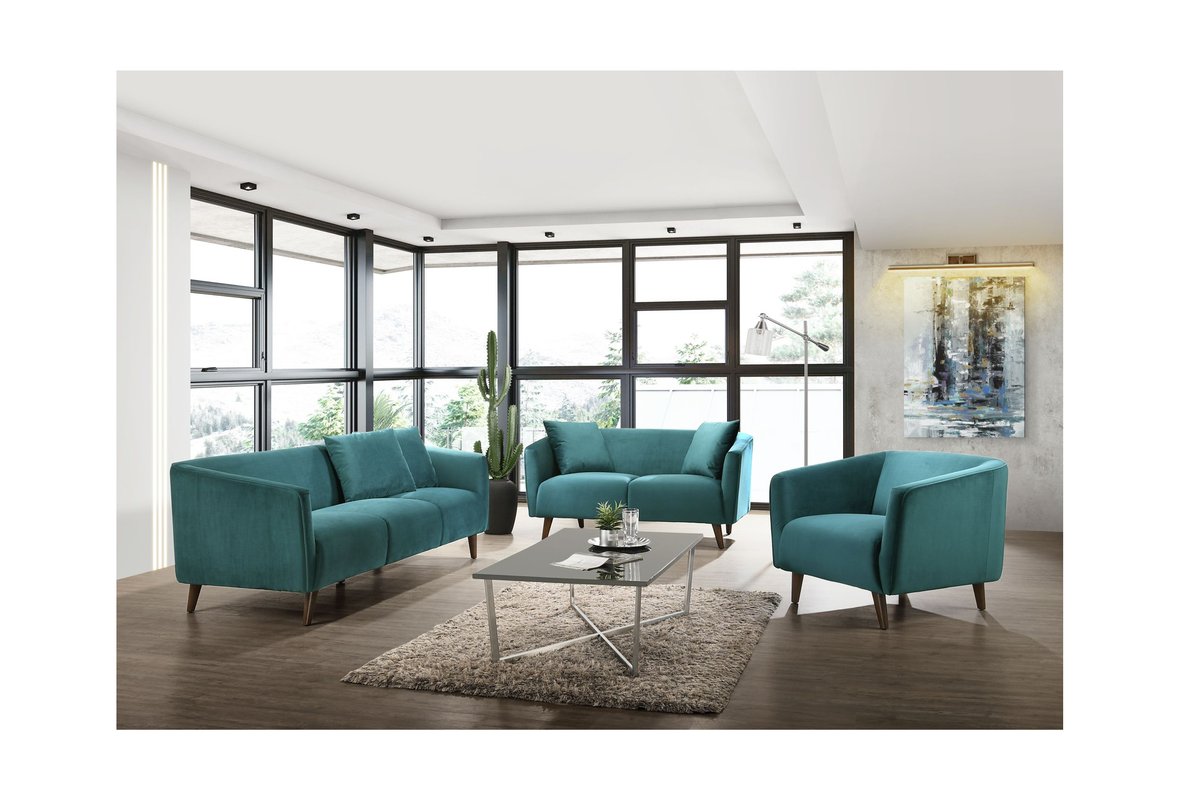 Sleek and Neutral
While spring design is often associated with bright colors, consider the possibility of neutrals being just what you need to make a fresh start in your interior. A chic take on neutral tones can be found in the new collections of brands such as ferm LIVING, which takes Scandinavian style to new heights. The Opal Shade below hangs in a room featuring hues such as olive, brown and cream. The result is an overall feeling of uncluttered warmth, where shape, form and texture can truly shine: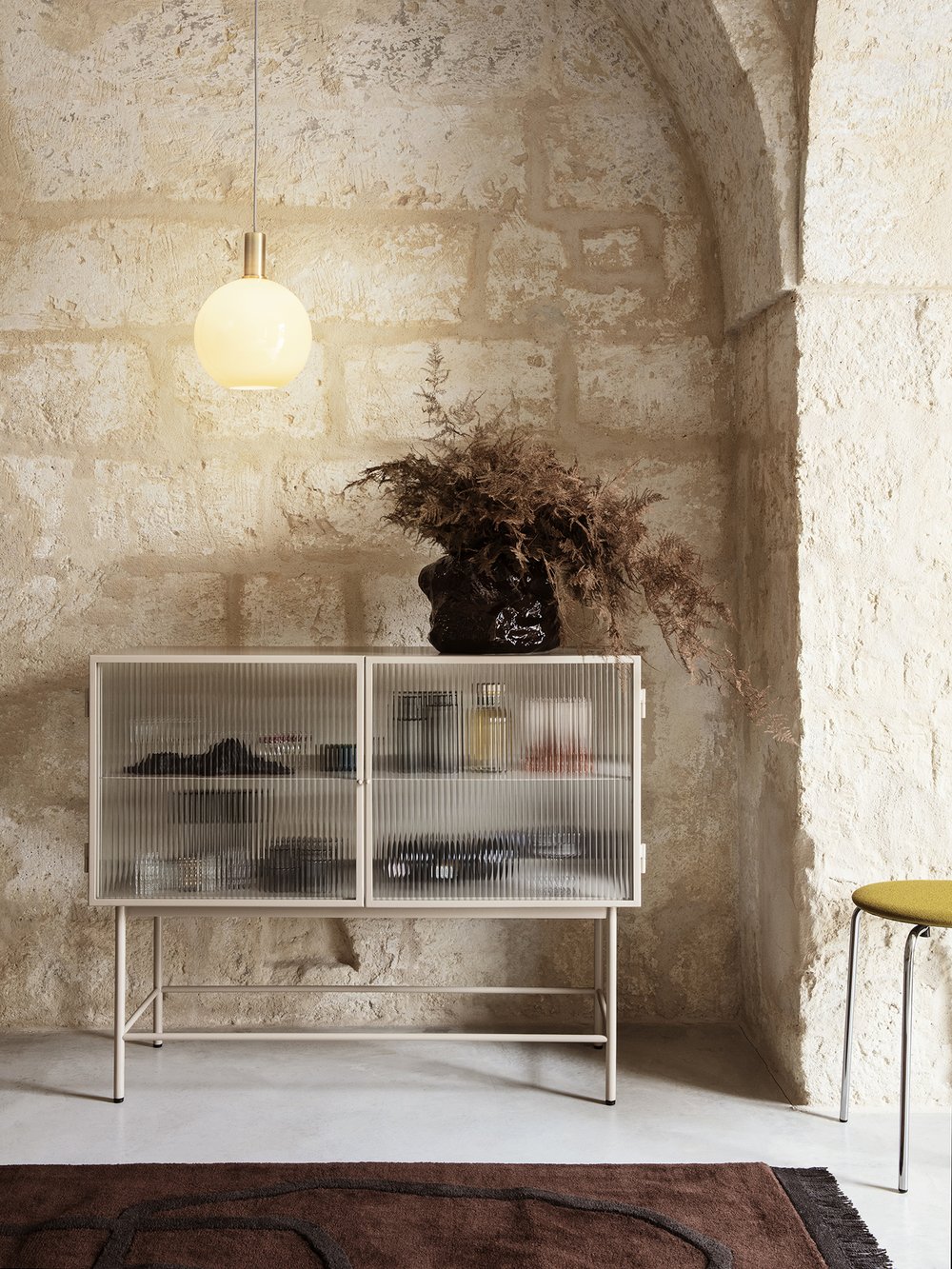 This warm feel can easily transition to summer, as shown by this light-filled photo featuring ferm LIVING's Flow tableware in Yellow Speckle. A semi-matte glaze finishes off each piece, which can be used as decor in addition to serving as functional dishware.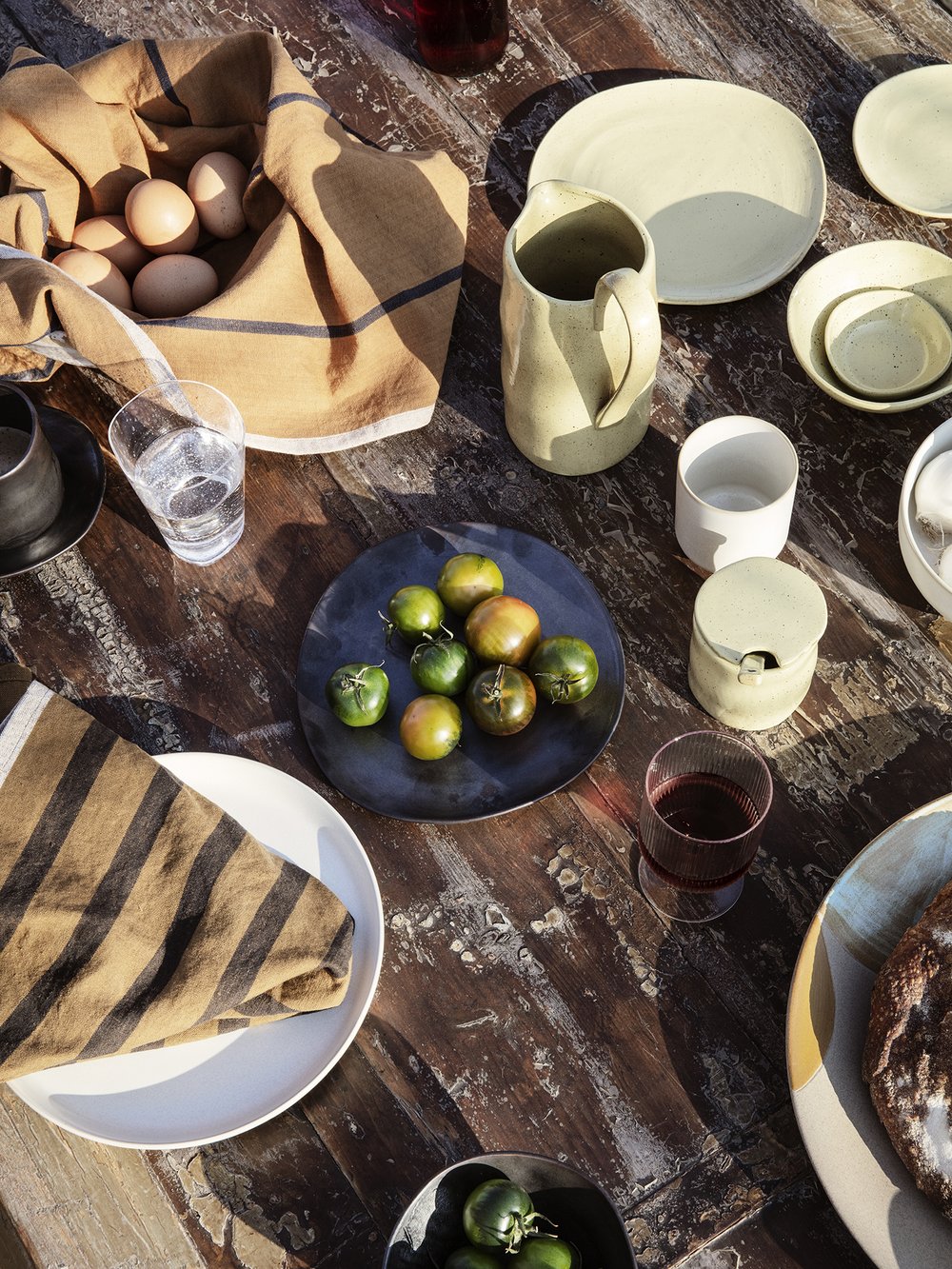 Which colors are ideal for an overall neutral feel? Consider hues such as sand, brown, grey, navy and black. Even color in small doses makes a big impact, as shown by the blue stripes on the Hale Tea Towels below. When dark, light and medium neutral tones combine, even tiny touches of vivid color pop with punctuation: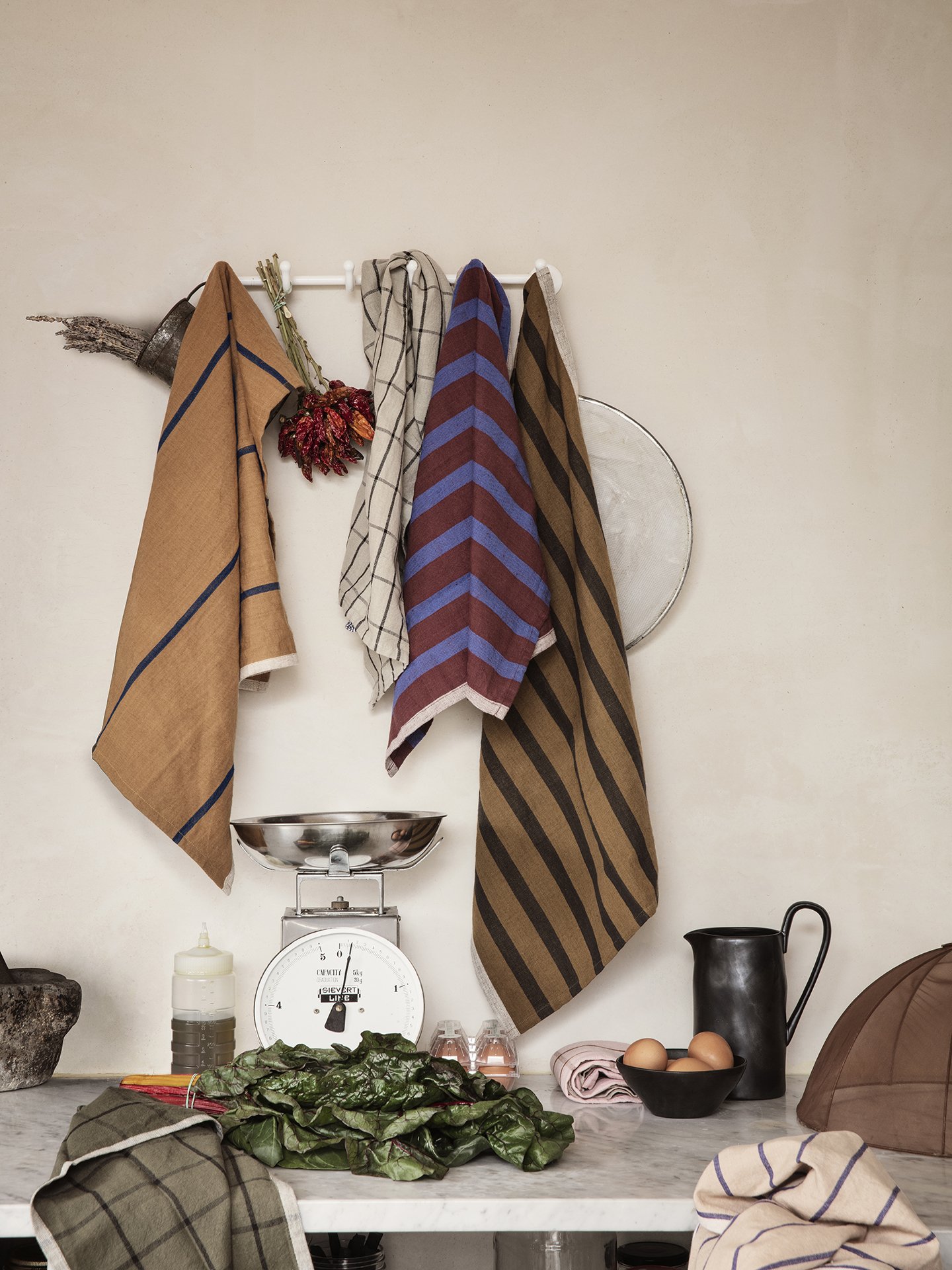 Unique Collaborations
We end today's post with a reminder that new designs often involve more than new product lines. Art & design shop/creative studio Cool Machine recently announced a collaboration with interior set designer Charlotte Taylor and 3D artist and motion designer Danil Tabacari.

To celebrate Cool Machine's new website, the duo has created a series of pictures that showcase the brand's use of texture, color and composition. Featuring items for sale on the site, such as the Gradient Vase, the 3D renderings convey a sense of artistry that elevates modern decor to gallery-level design. Let them inspire you in your creative projects as you see new possibilities for the objets d'art in your life.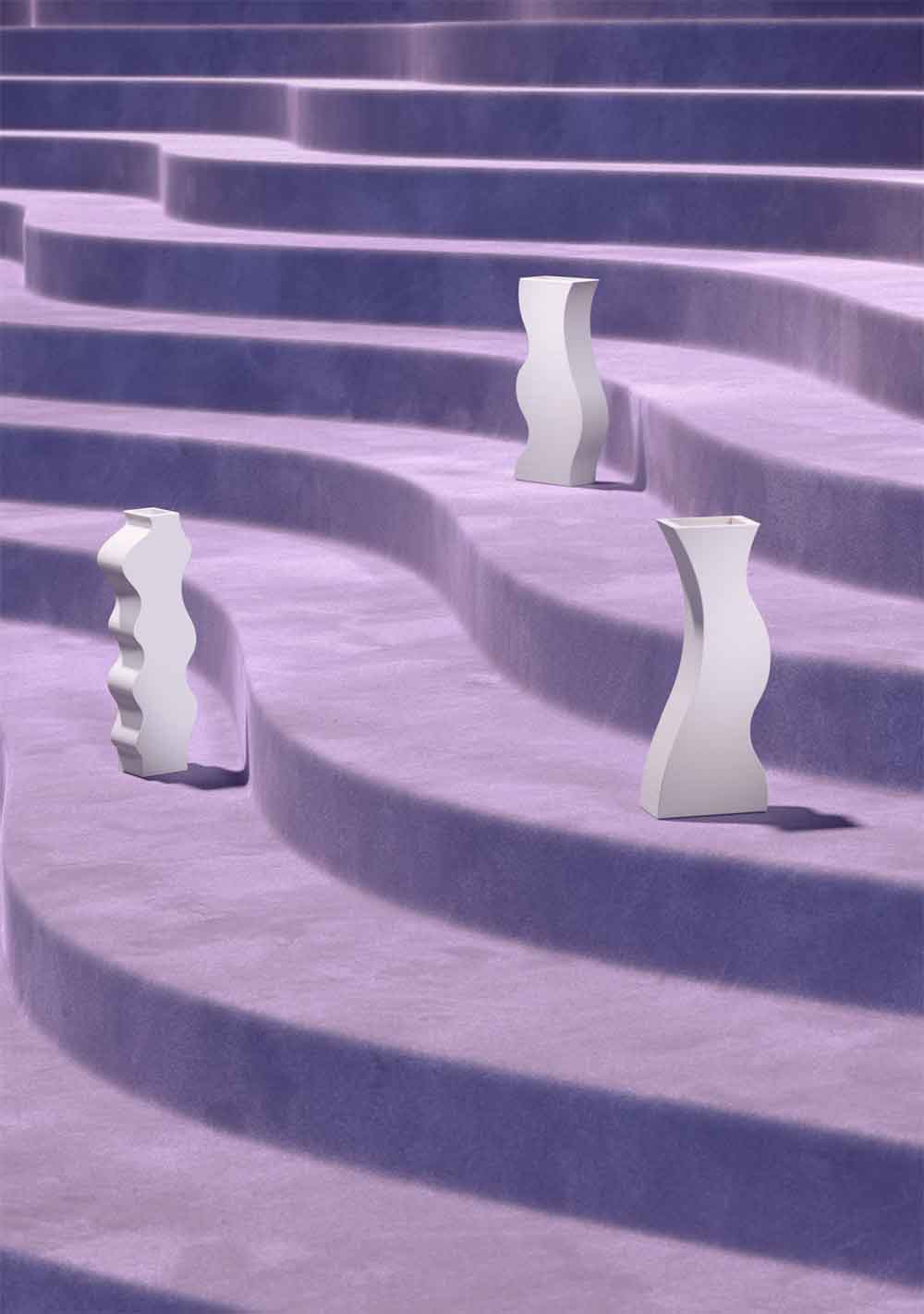 As you browse the spring collections and round up your favorite new finds, don't hesitate to look for themes, colors and trends that appear in more than one place. These similarities reflect larger sources of inspiration, as well as styles that resonate with design lovers like yourself. When it comes to this year's crop of new offerings, are you a fan of florals? Do you enjoy a shock of bright color such as teal? Perhaps you prefer to stick with neutral tones and serene Scandinavian motifs. Or maybe you're always seeking the most unique work from artisans who create sculptural images and products. Whatever inspires you the most, enjoy basking in the glow of beautiful decor and intriguing palettes.
We at Decoist wish you a creative spring, filled with design projects that bring you joy. Thanks for reading!