With the growing popularity of colorful geo forms, clean-lined style and abstract motifs, artisans are putting a modern spin on tried and true processes. Take ceramics–this is not your grandmother's collection! Behold a new wave of breakables, filled with angles, candy colors, speckles and free-form designs. Below we feature five of our favorite sources for modern ceramics. Enjoy this collection of contemporary vessels in all of their dotted, vibrant-hued, gold-leafed glory…
Lindsey Hampton
Vancouver-based multidisciplinary artist and designer Lindsey Hampton creates sleek yet inviting ceramic pieces that celebrate color, form and pattern. From dishes and mugs to planters and lighting, her works are stunning and strong without begging to be noticed.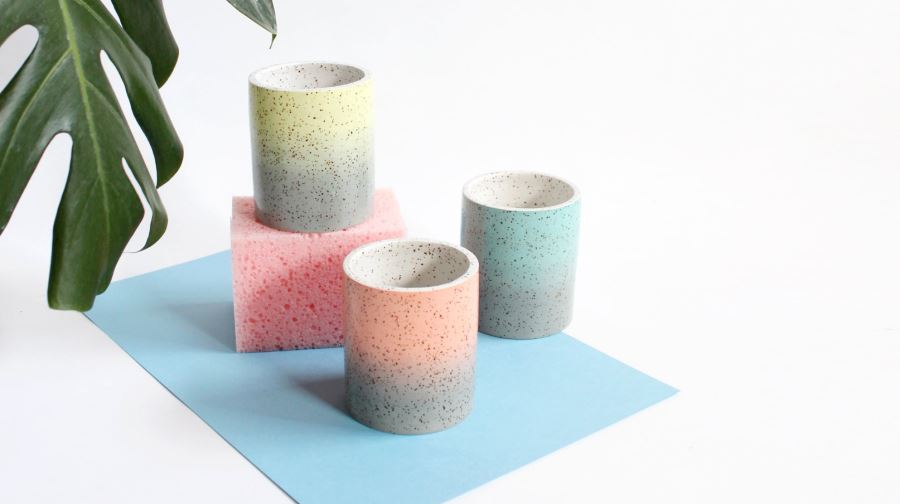 Take Hampton's Angle Handle Mugs, which feature speckled stoneware and geometric handles in colors such as coral: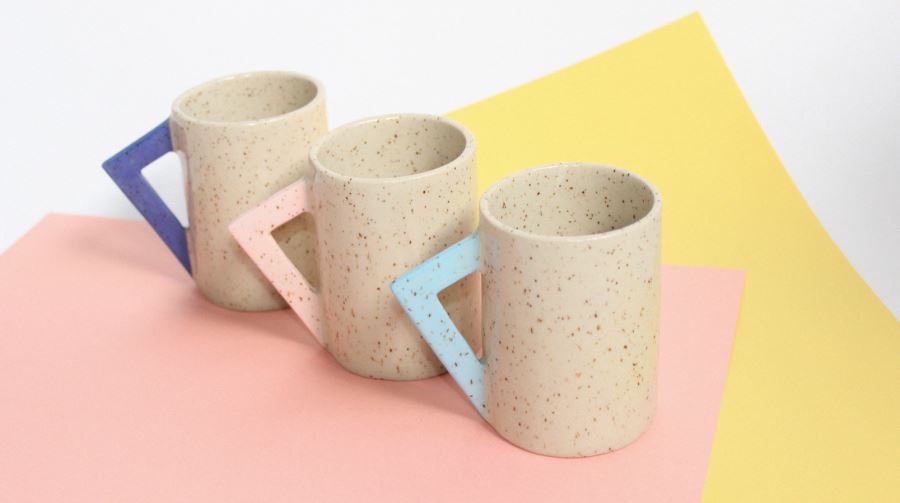 A soft gradient of color can be seen on the Slope Vase, also featuring speckled stoneware. The combination of soft hue and neutral tone is subtle yet alluring: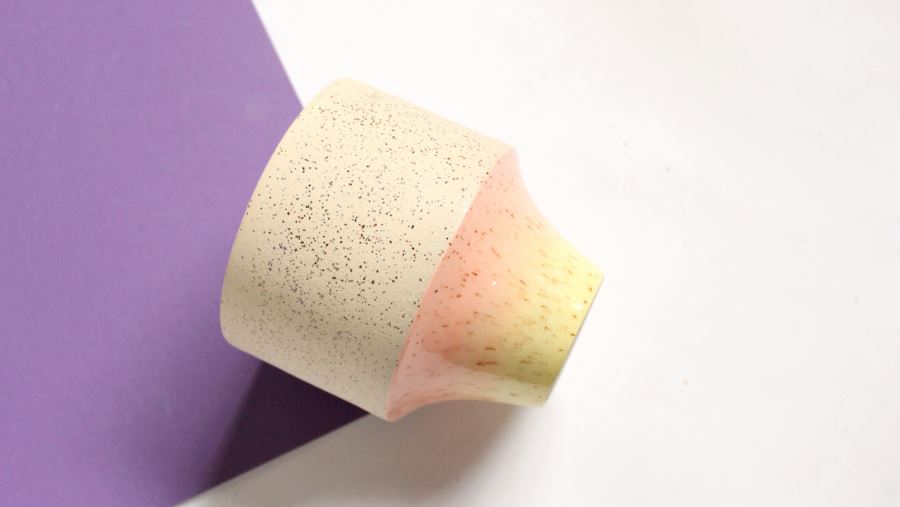 Hampton's Peyto vessels (such as Peyto Vase #3) feature white stoneware with matte exteriors in hues such as blue, lilac and white: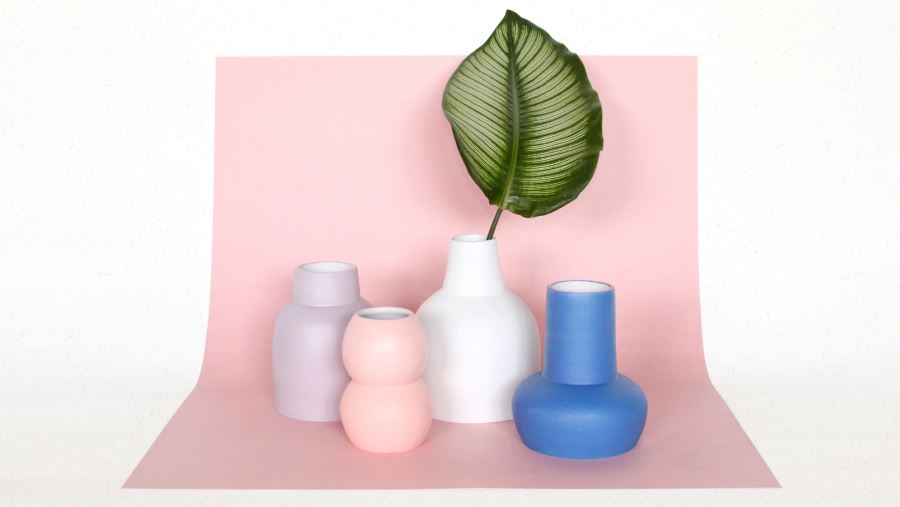 Browse the artist's shop for more interesting offerings and gorgeous product photography…
The Object Enthusiast
If you regularly read design blogs, perhaps you've come across the ring dishes of The Object Enthusiast, which are beloved for their geometry, whimsy and giftable quality. Yet there's more here than ring dishes. Lovingly crafted by Emily Reinhardt, the creative works of The Object Enthusiast are filled with personality. Below we see the Red, Black + Gold Ceramic Bowl, featuring a deep red clay body, a glossy black glaze, and dash marks in 22k gold: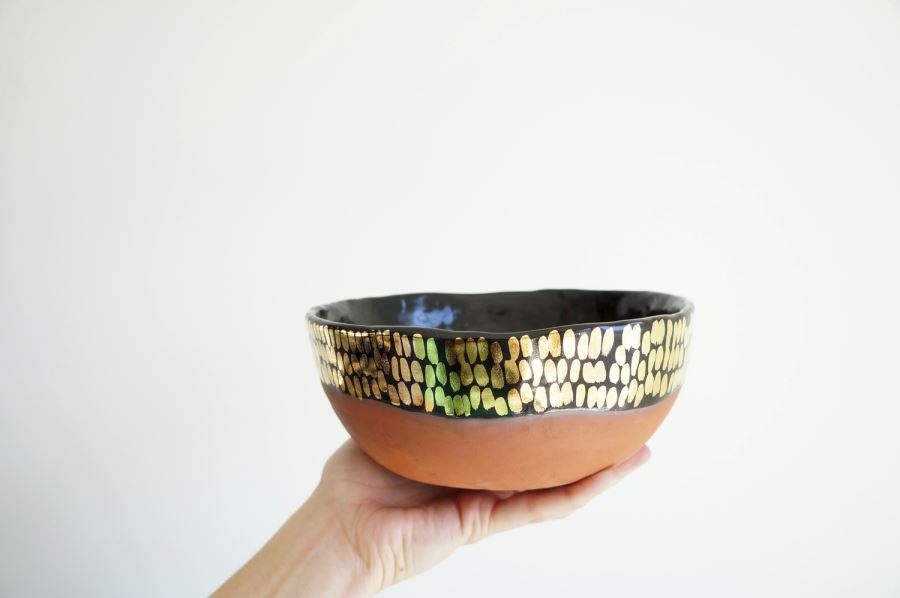 Also offered by The Object Enthusiast: trays, mugs, vases and more. But since we professed our love for Reinhardt's ring dishes, we figured we'd feature them! As with the bowl above, the Mini Navy + Gold Polka Dot Ring Dish showcases gold detailing. Not to mention, it's created from brown stoneware clay. Here's a trio of these dishes to admire: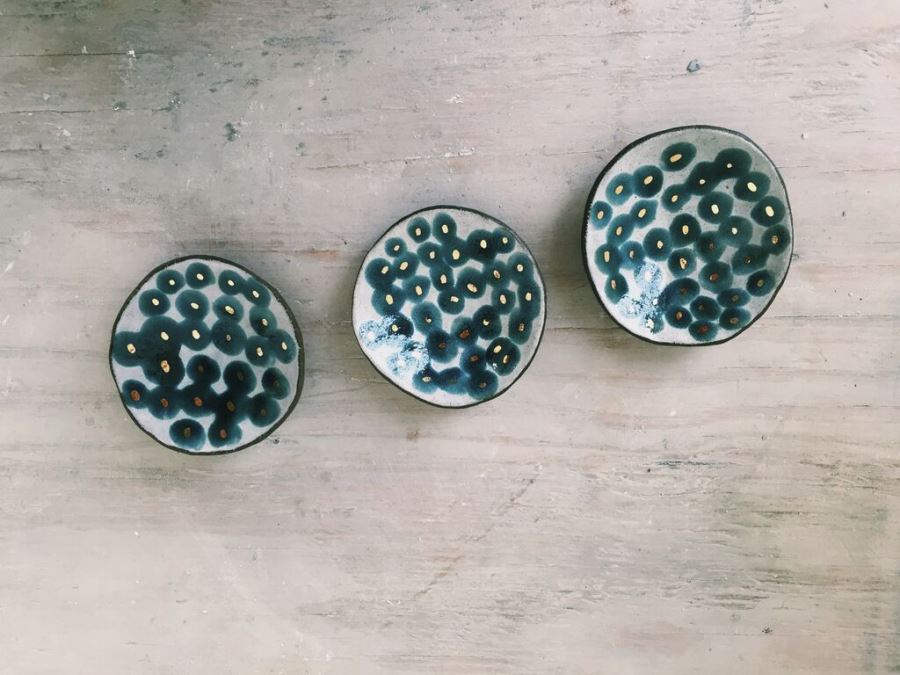 The White Planter + Golden Stripe is a wheel-thrown planter embellished with a simple golden band design. It's precisely this combination of simplicity and boldness that makes the works of The Object Enthusiast so alluring!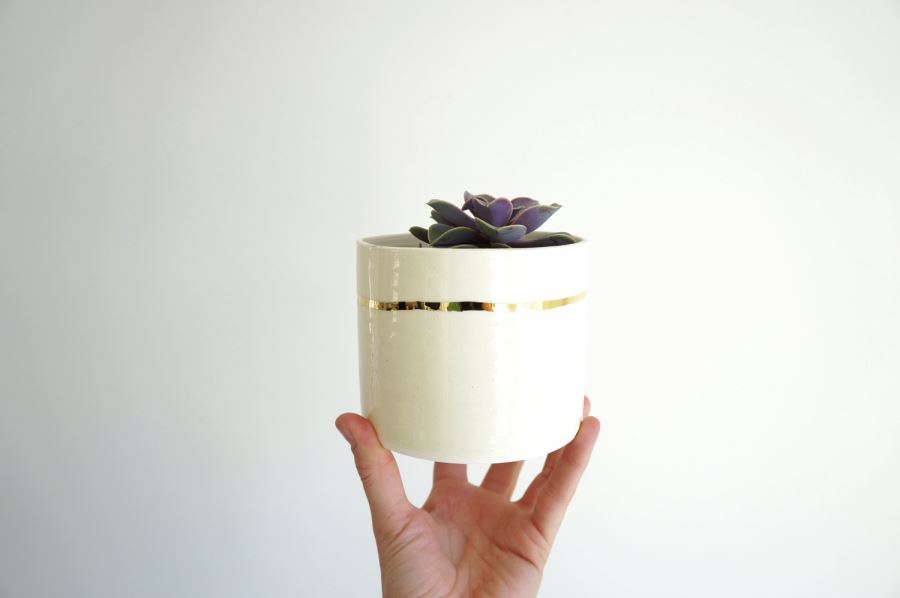 Here's one more ring dish to dream about, this time hexagonal in form. The White Hexagon Dish with Golden Ring features a circular embellishment in the center. As with the artist's other dishes, this one is food-safe, giving it possibilities that transcend the containment of jewelry!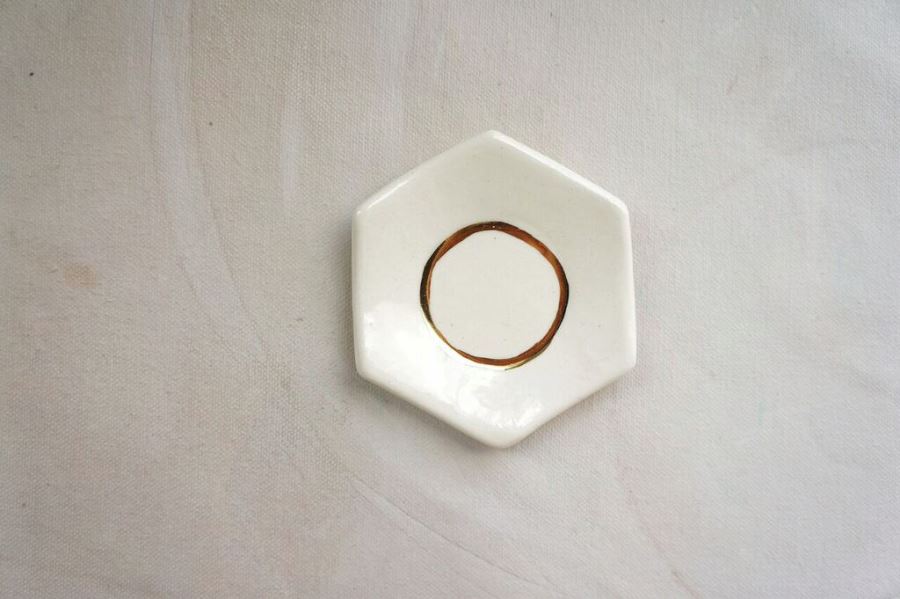 Check out The Object Enthusiast's full range of offerings here.
Bean & Bailey
When Anderson Bailey and Jessie Bean partner up to create slip-cast ceramics, the results are fresh and modern. Bean & Bailey works include vases, cups, bowls, planters and more. The look is geometric and pure, with soft yet striking accents of color and pattern. Below we see the Two-Tone Vase: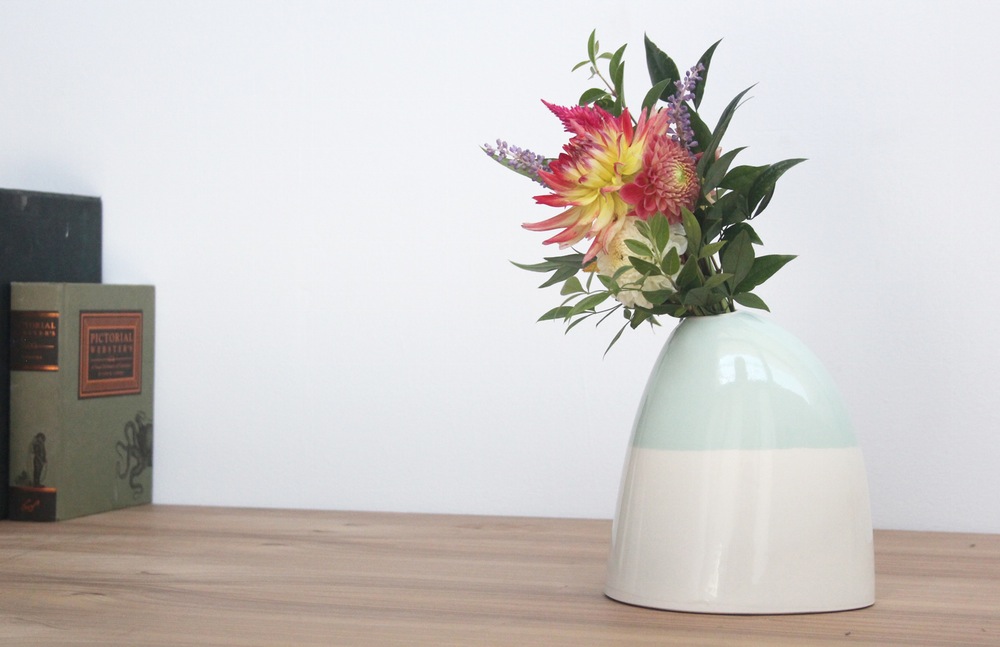 Use Bean & Bailey's pastel Mugs to hold items such as hot chocolate, tea and juice. An asymmetrical look makes these pieces true standouts. And yes, Bean & Bailey products are food-, microwave- and dishwasher-safe, but washing them by hand is still recommended: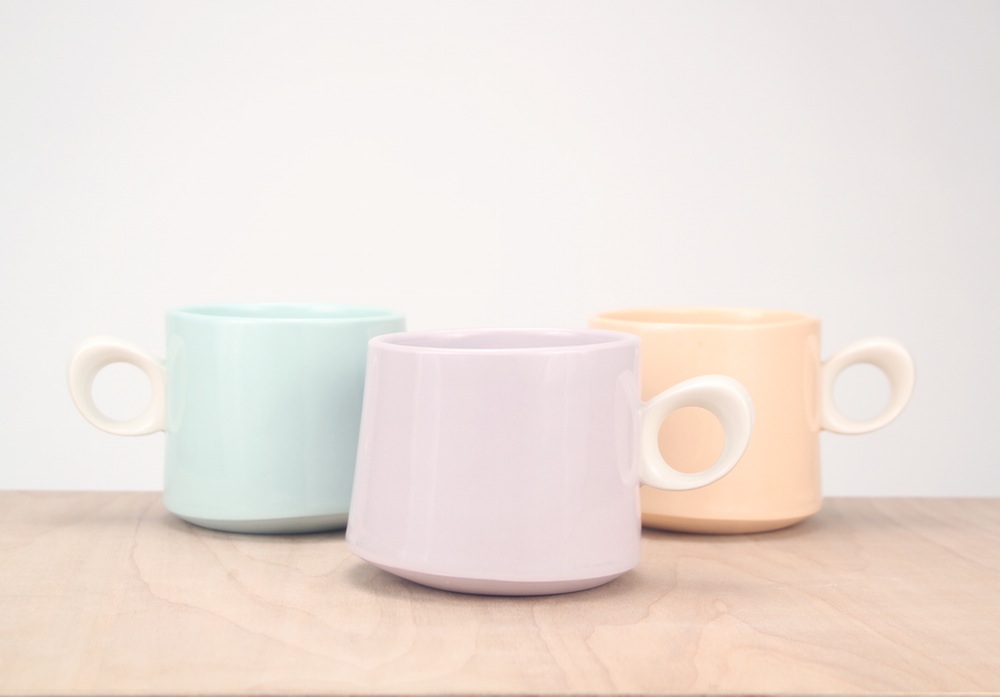 Geo style is alive and well in the Faceted Olive Bowl, which can hold fruit, yogurt and condiments in addition to olives. A glazed interior and matte exterior create visual interest.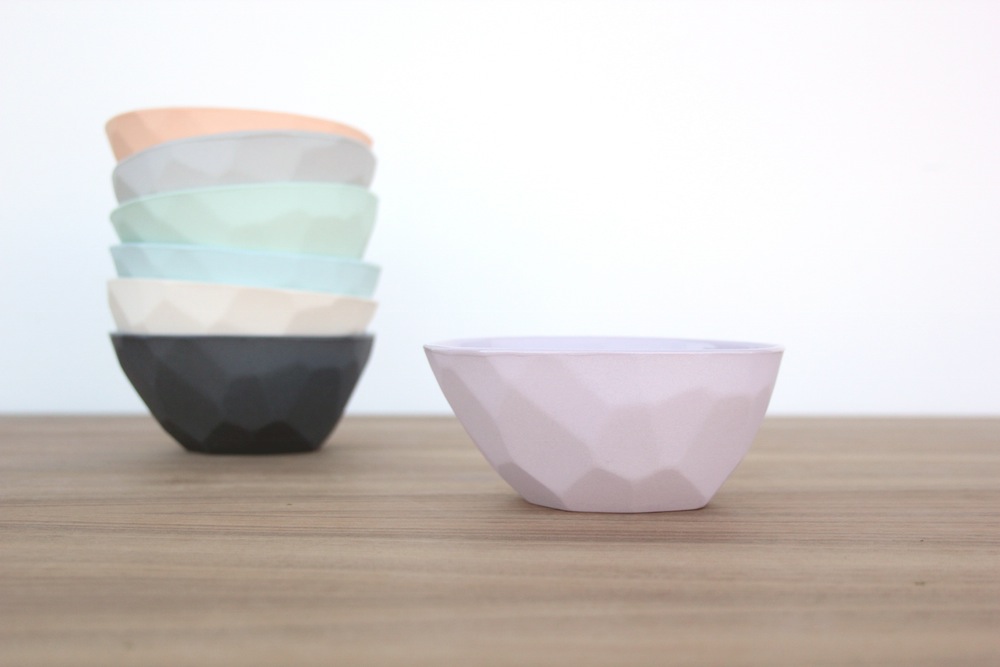 Lines of colored slip decorate the Splatter Tumblers, which are 16 oz tall and perfect for holding iced tea, beer and more! Each piece is a hand-cast work of art, so no two are exactly alike: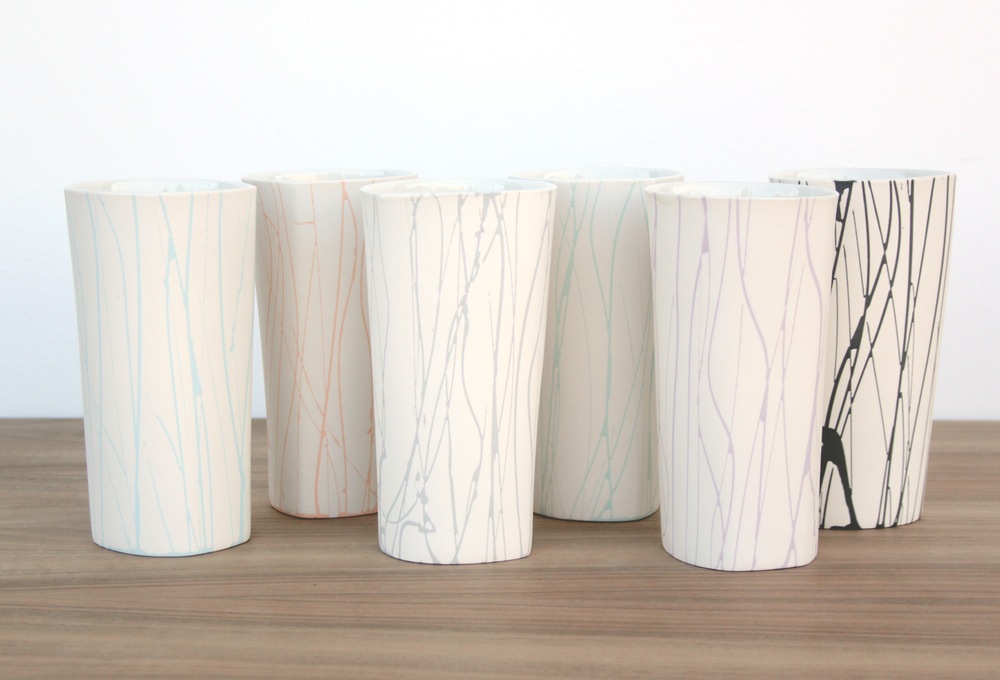 Shop the whole Bean & Bailey catalog here.
Suite One Studio
Suite One Studio creates delicate yet powerful porcelain pieces that combine elements both old and new. Uniquely formulated handmade glazes accentuate each work. Below we see a range of offerings, including the Ring Dish in Rose with Gold Splatters and Gold Rim: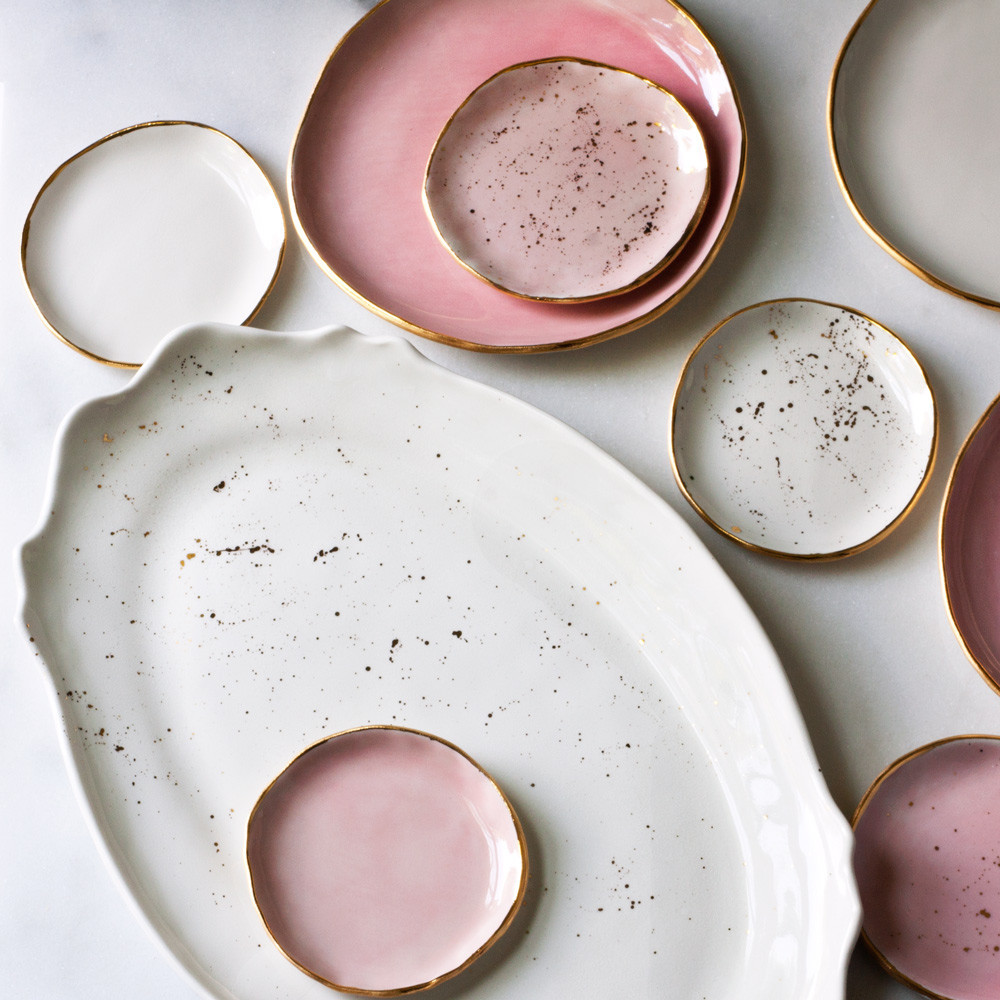 Owner, designer and ceramicist Lindsay Emery is dedicated to making mealtimes more beautiful, and items such as the Burlap Tray in Rose with Gold Stripe are proof of her vision. An off-center stripe of genuine gold brings this piece to life: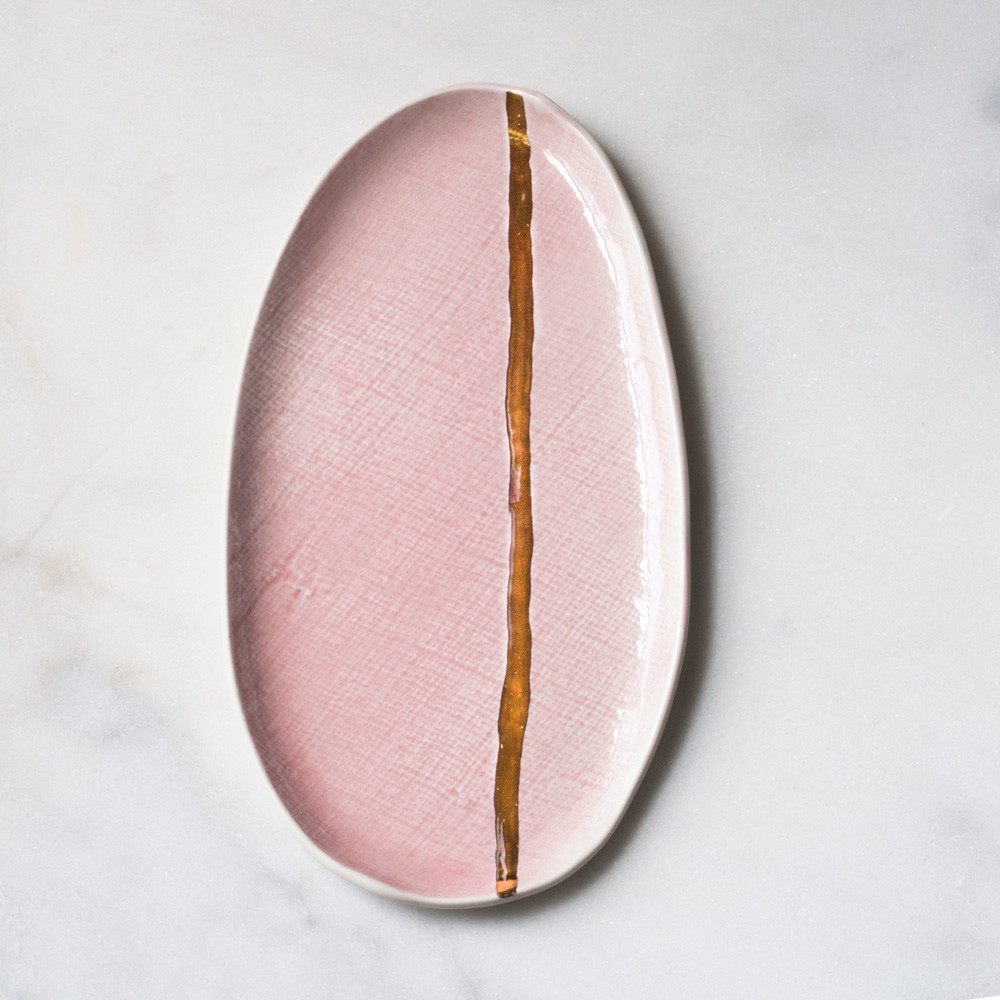 How gorgeous are these Dinner Plates in Mint Watercolor Swirl?! Each one is hand shaped to create an off-round form, and a touch of watercolor glaze evokes a truly serene feel: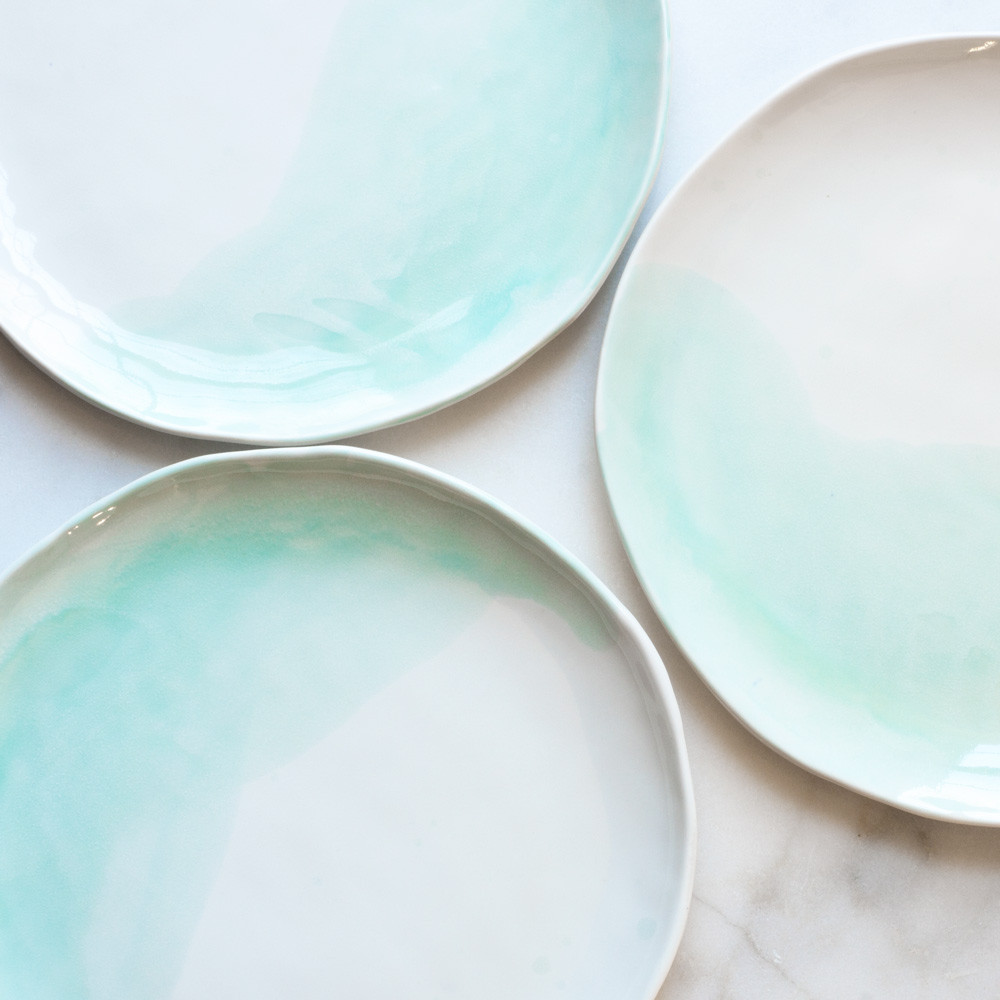 More gold detailing can be found on the Confetti Mini Bowl in Navy with Gold Brushstroke Confetti, which showcases whimsical gold brushwork. The interior is glazed, while the exterior is sanded to create a smooth finish. Use the item as a prep bowl, a vessel for salt or pepper, a jewelry container, and more!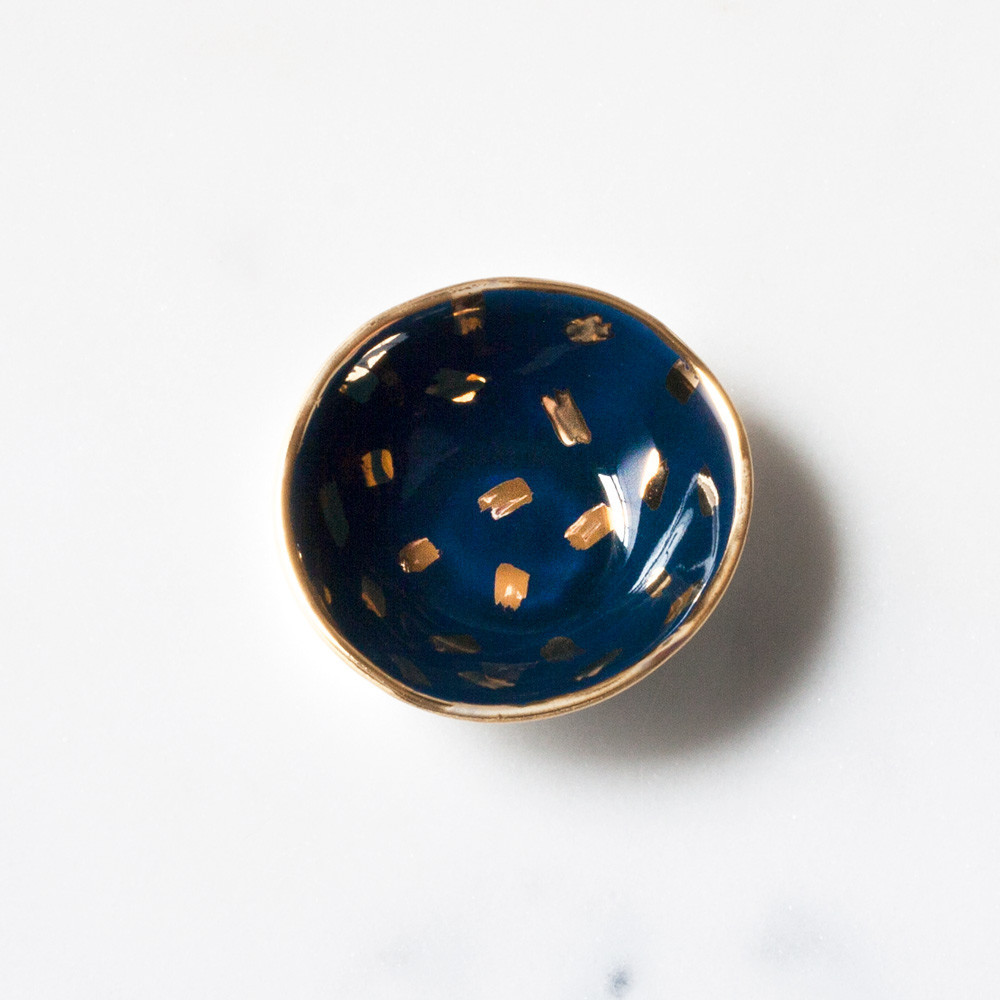 Don't forget to check out Suite One Studio's full range of products!
Recreation Center
We end today's post with a collection of sculptural ceramics from Recreation Center. Founder Josephine Heilpern brings modern vibrancy to her pieces, as well as a range of patterns influenced by the likes of the Memphis Group! And it goes without saying that the product photography is out of this world…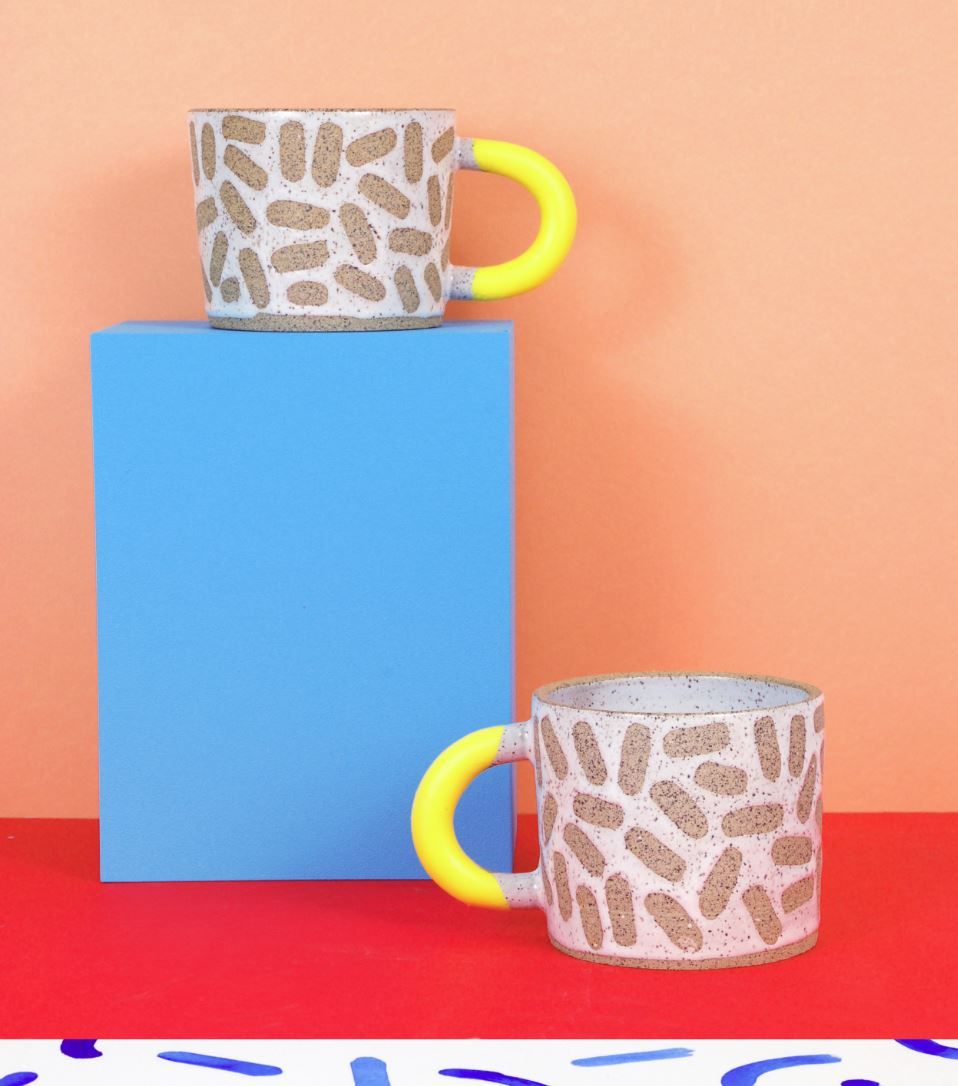 Above we see a duo of Rubber Dipped Raw Mark Mugs, while below a Raw Mark Pitcher holds a red rose. The handles of these items are dipped in bright yellow rubber to create a bold contrast. Speckled clay is the material of choice, and a high-gloss white glaze beautifully complements raw details.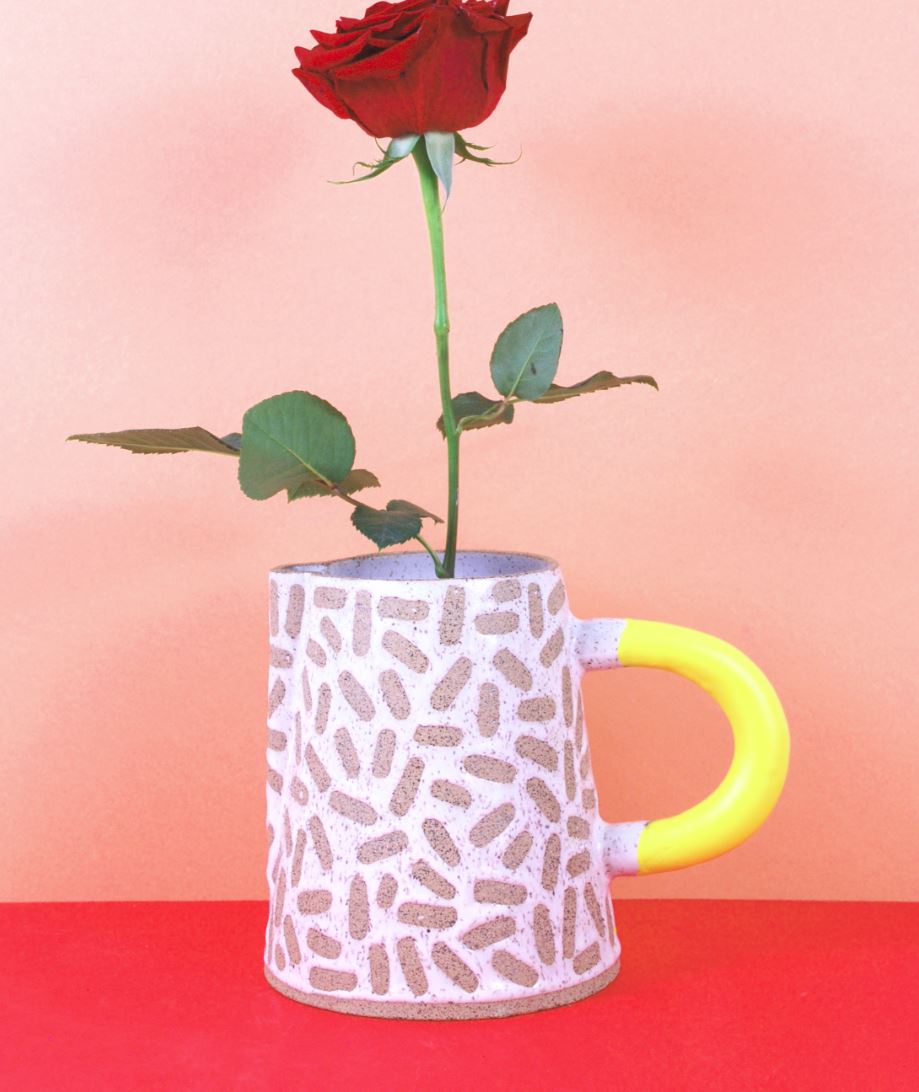 Next up: the Large Sphere Dalmation Pitcher (pictured with the small version), a piece that is wheel-thrown in speckled clay. Once again, rubber-dipped handles and sculptural forms make a big impact: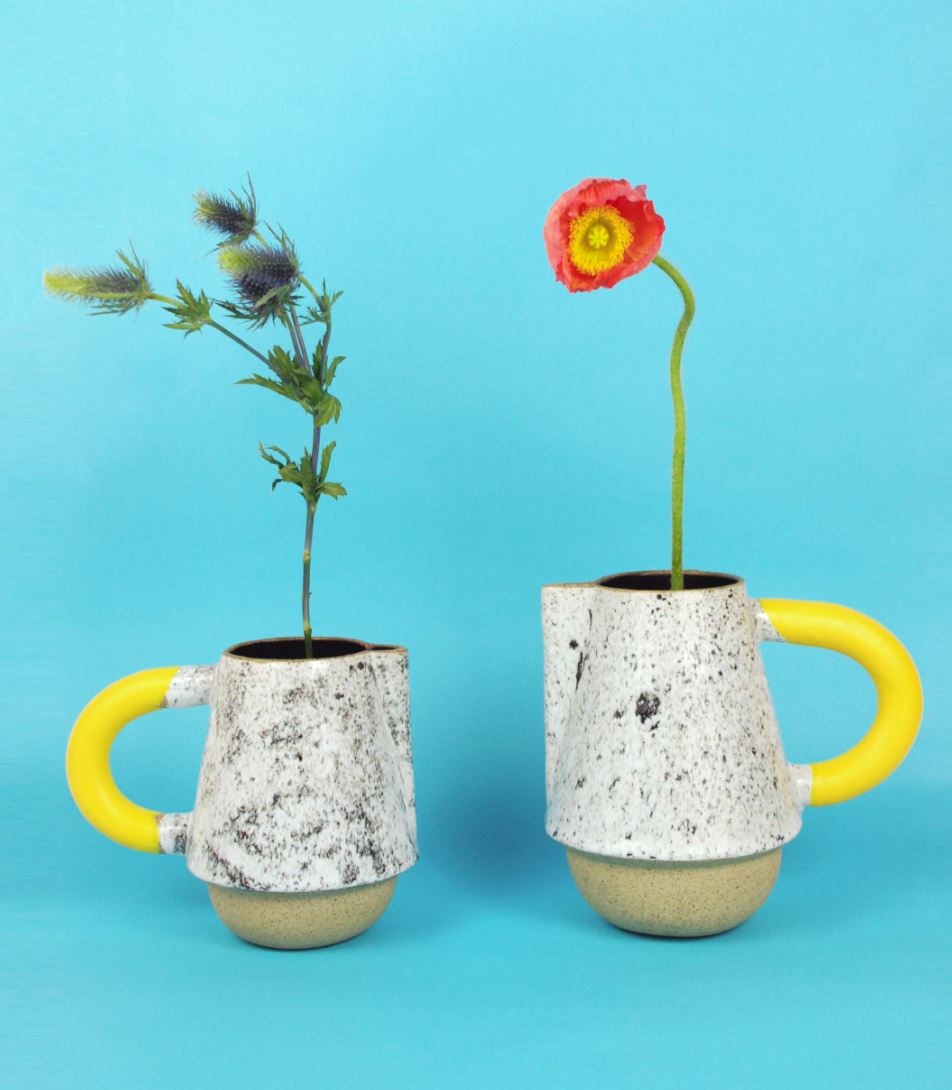 When the colors and patterns are this vivid, the design possibilities are endless! Shades of blue surround the grid vase below, which has us dreaming of azure skies and retro-modern style: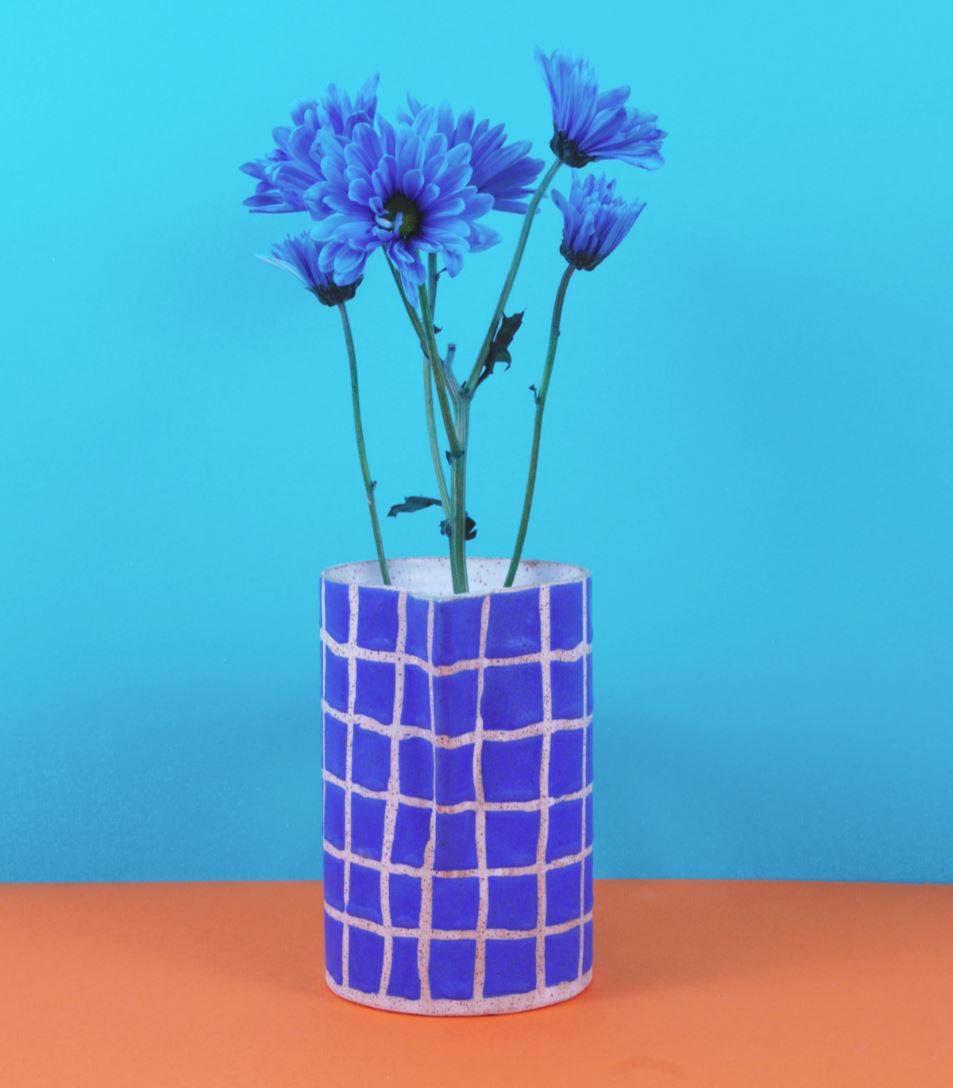 Shop for more Recreation Center treasures here. Now it's your turn: tell us about your favorite ceramics featured in today's post. Will you be adding a dose of modern style to your interior this season?…